Papertags & Labels
Here you will find our tags and labels in all kinds of sizes and shapes for every occasion. Decorate your gifts with individual and self-stamped tags.
Stamping on paper tags
All kinds of shapes & sizes
Our paper tags are ideal for stamping and are characterized by their smooth and uncoated surface, which makes the motif print very detailed and clear. They come in all sorts of shapes and sizes, so you can use them for all sorts of occasions. All tags have a small pre-cut hole, so you can feather yarn through them and easily hang the tags anywhere.
Pendants for unique birthday gifts
Decorate your gifts and cards with homemade tags and give them an individual touch. You can find many more party motifs under: Stamps Birthday.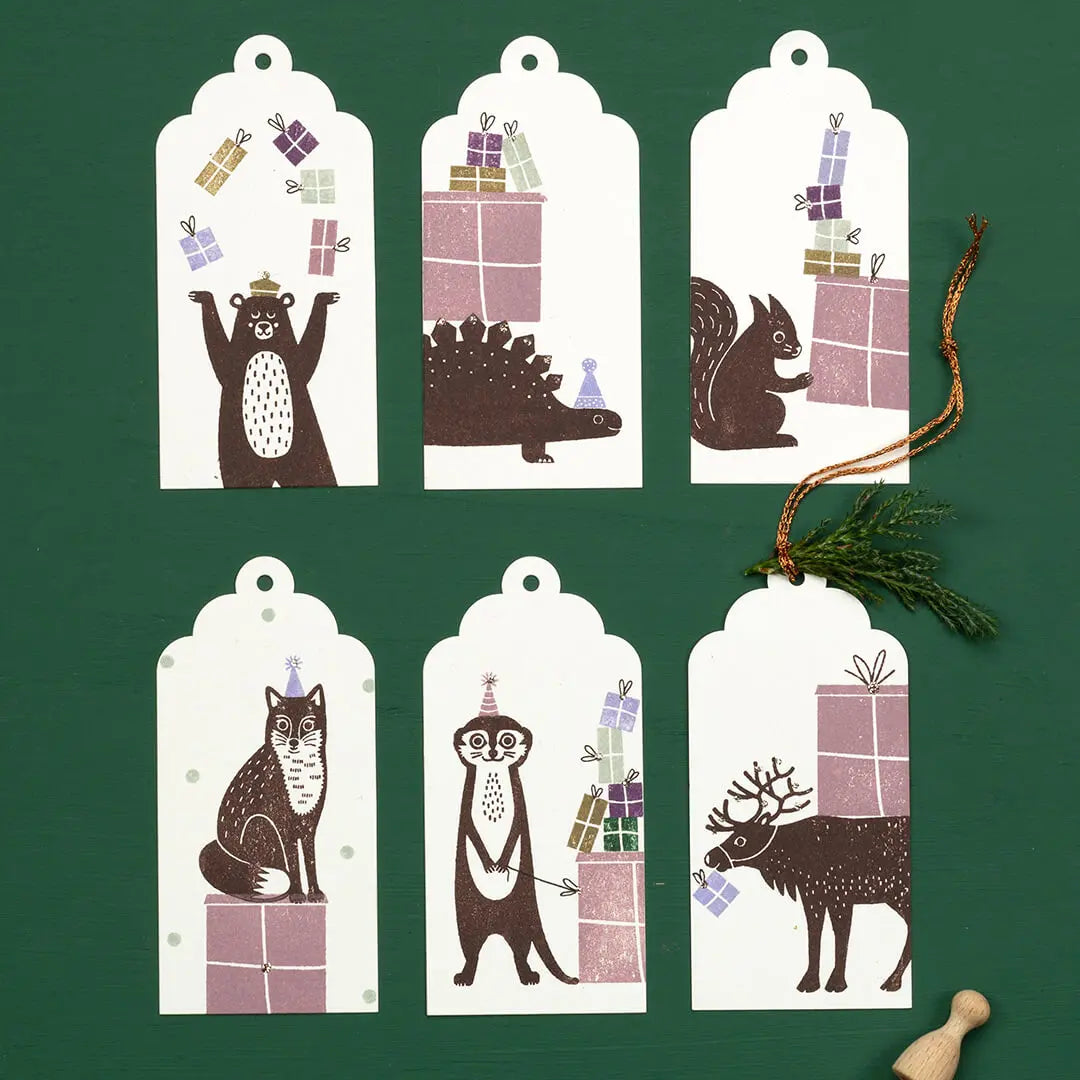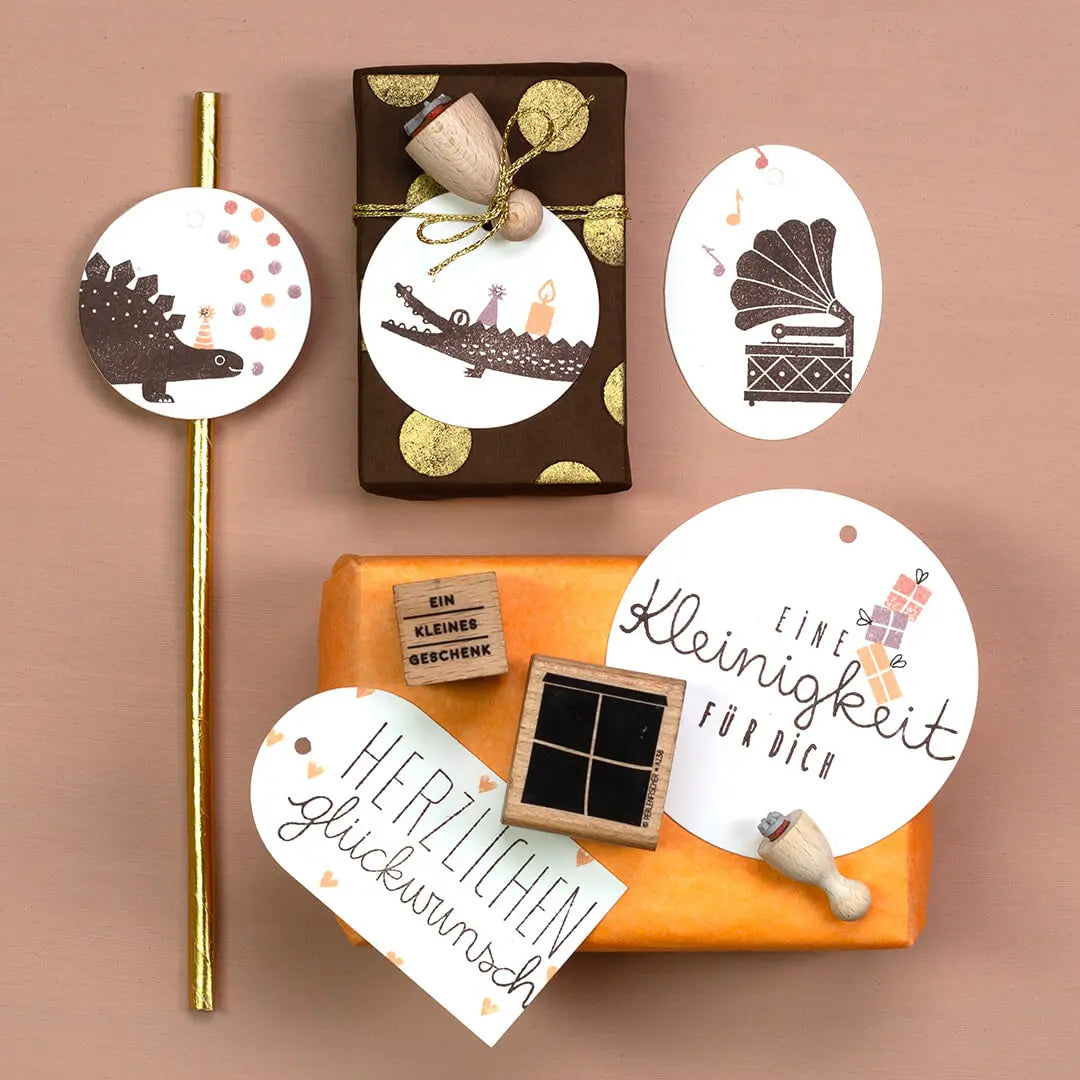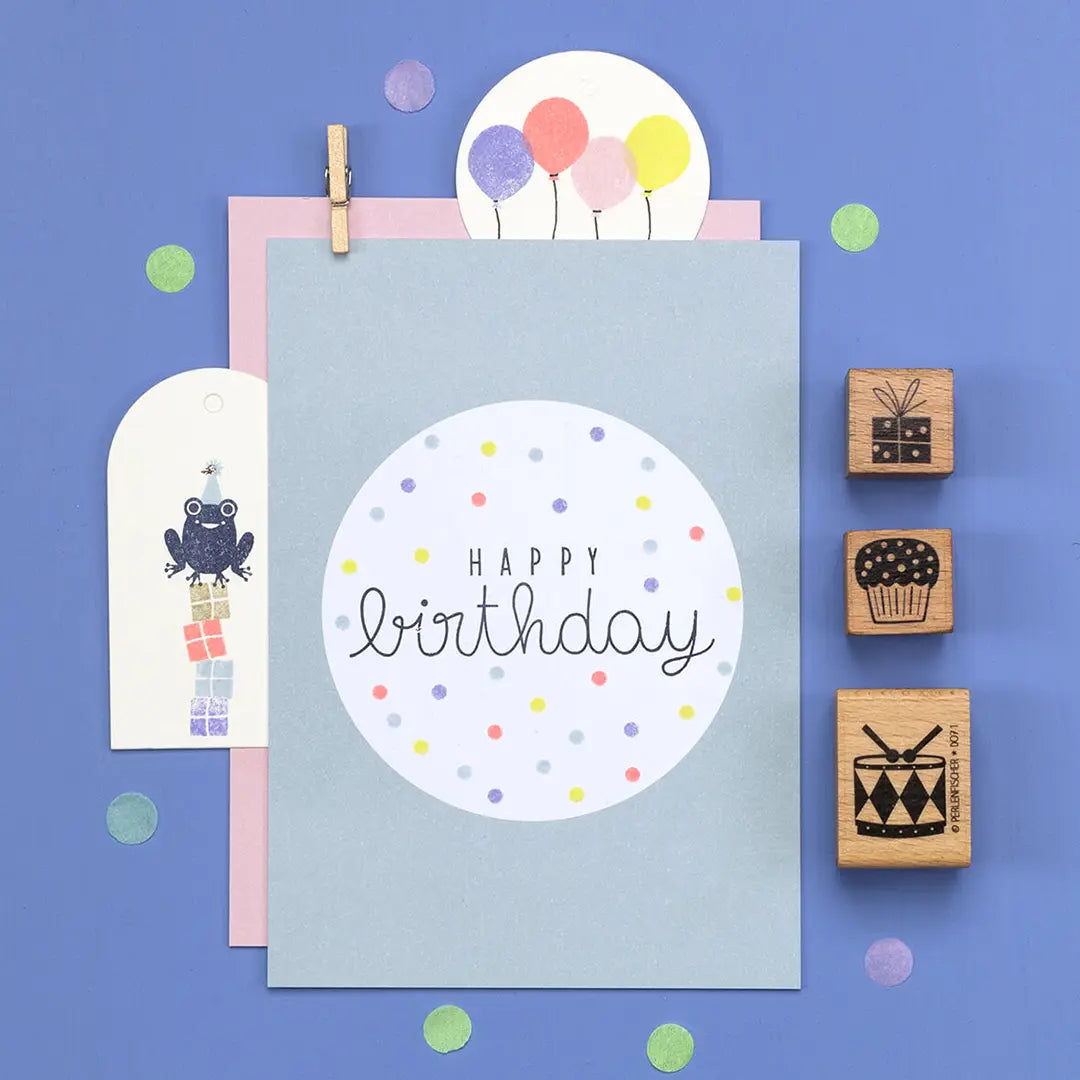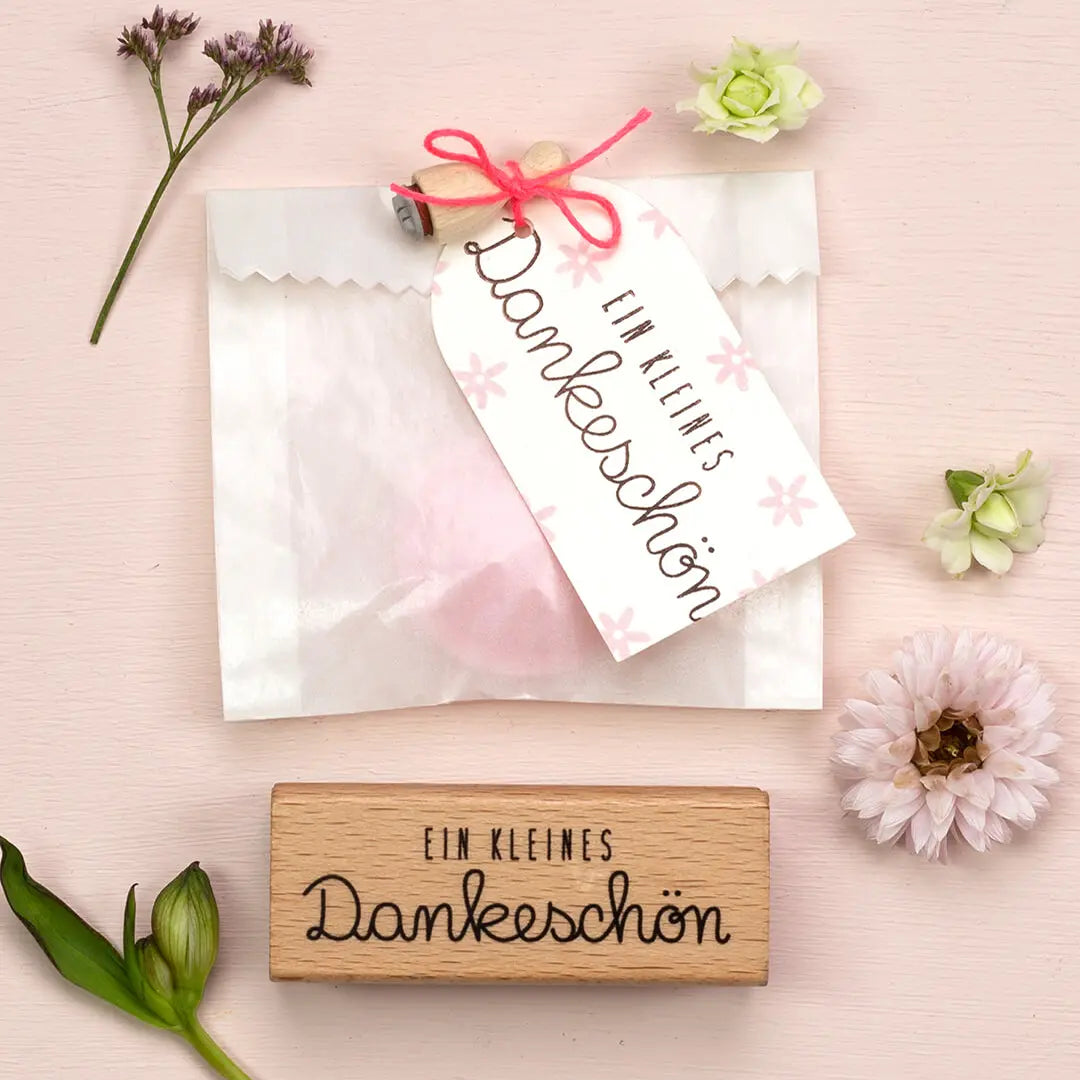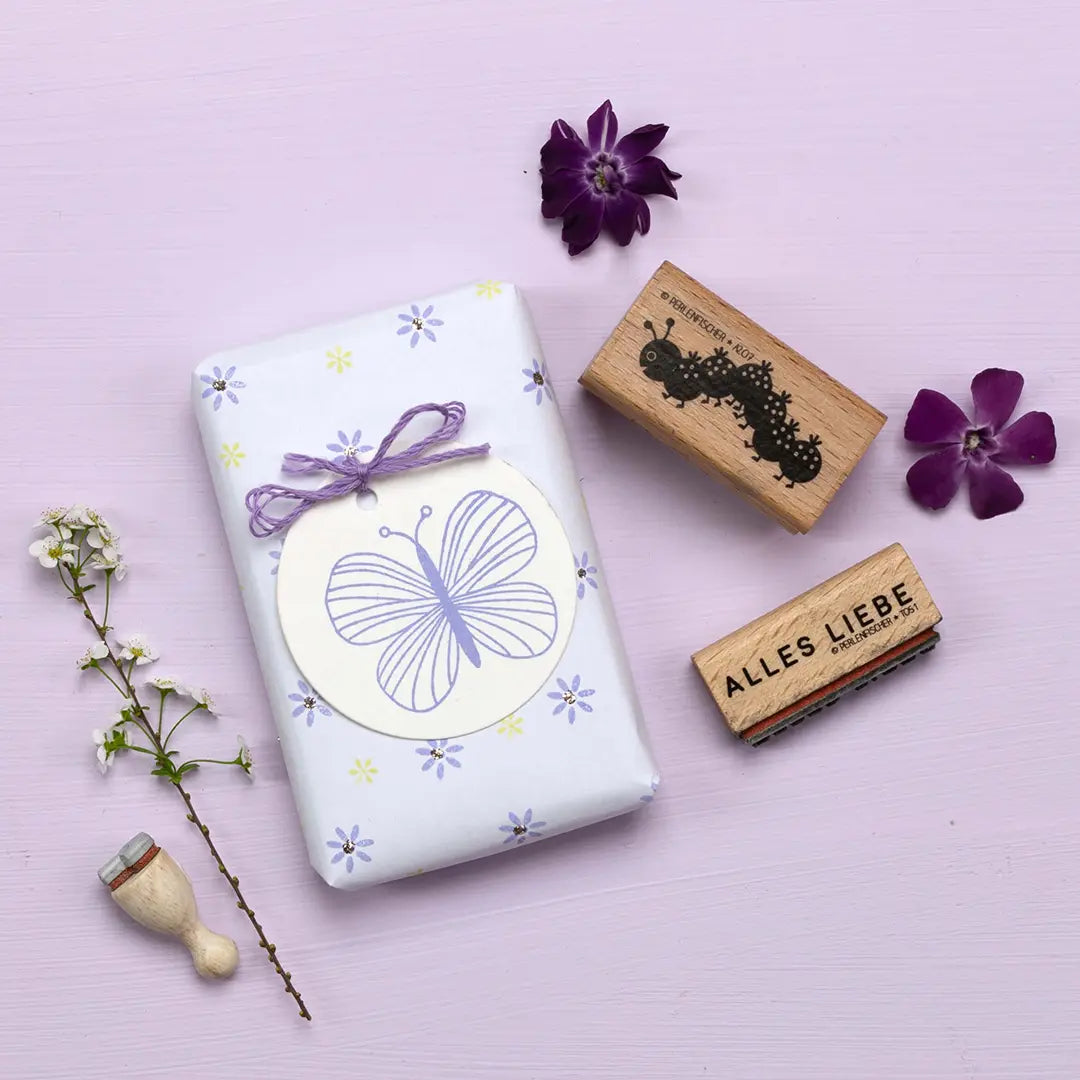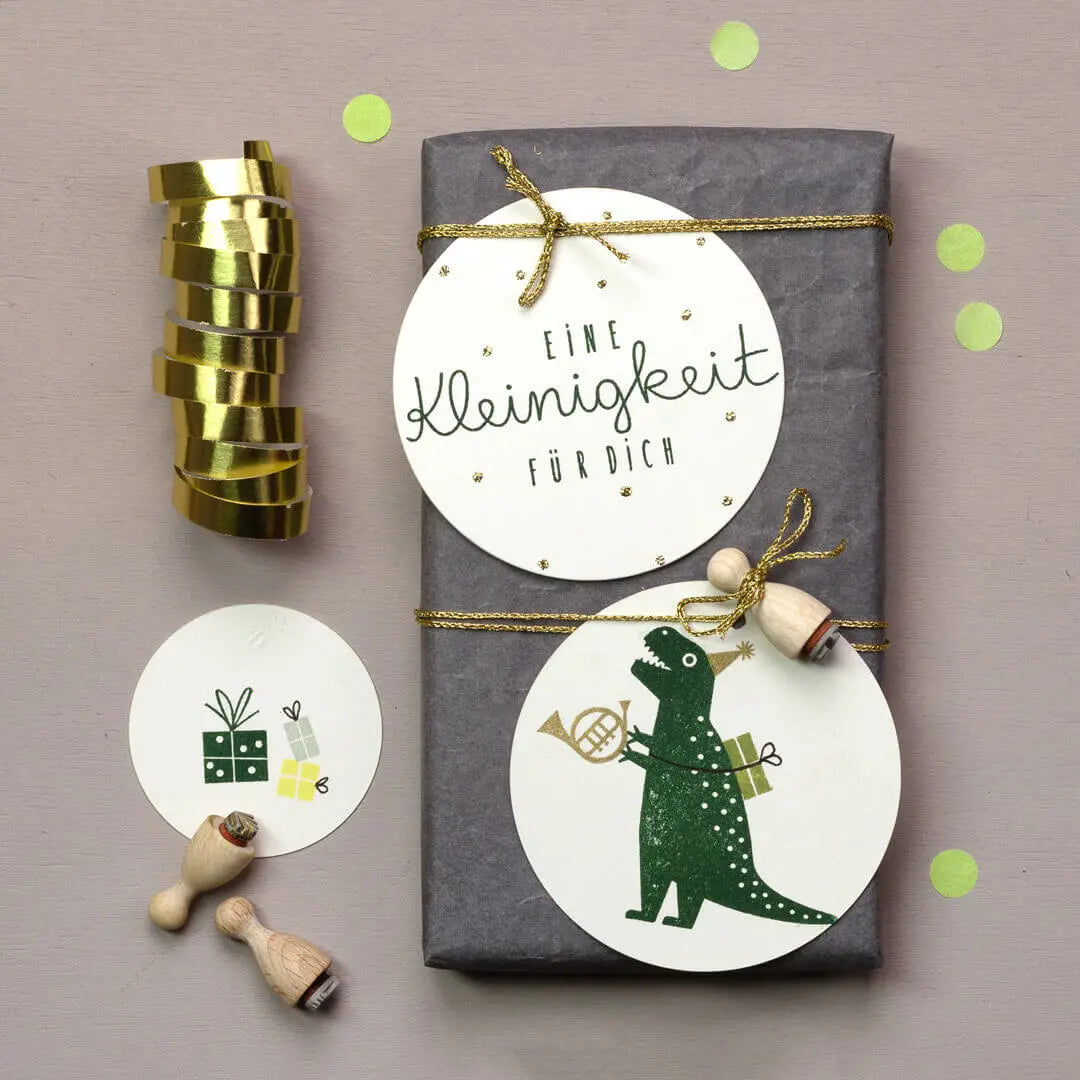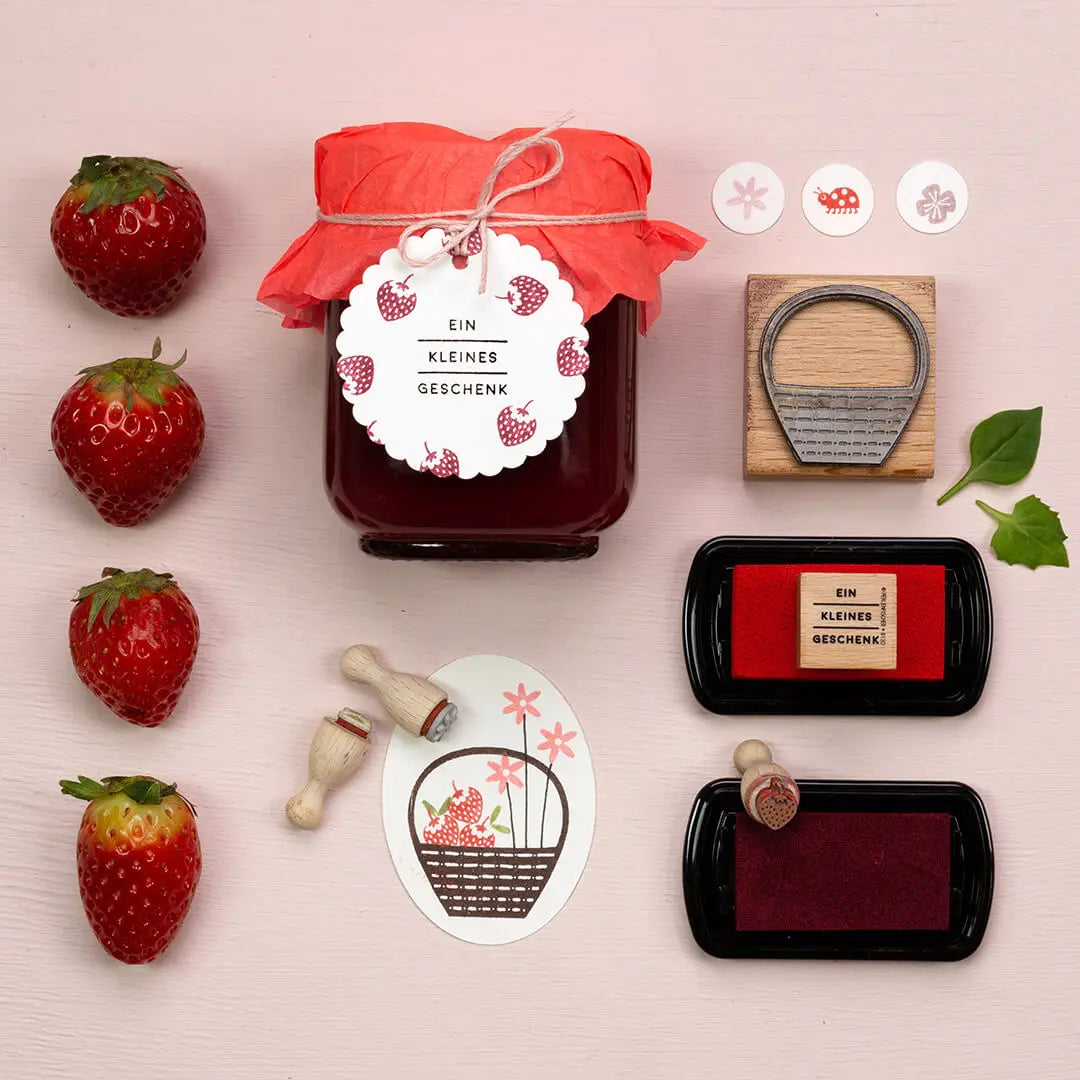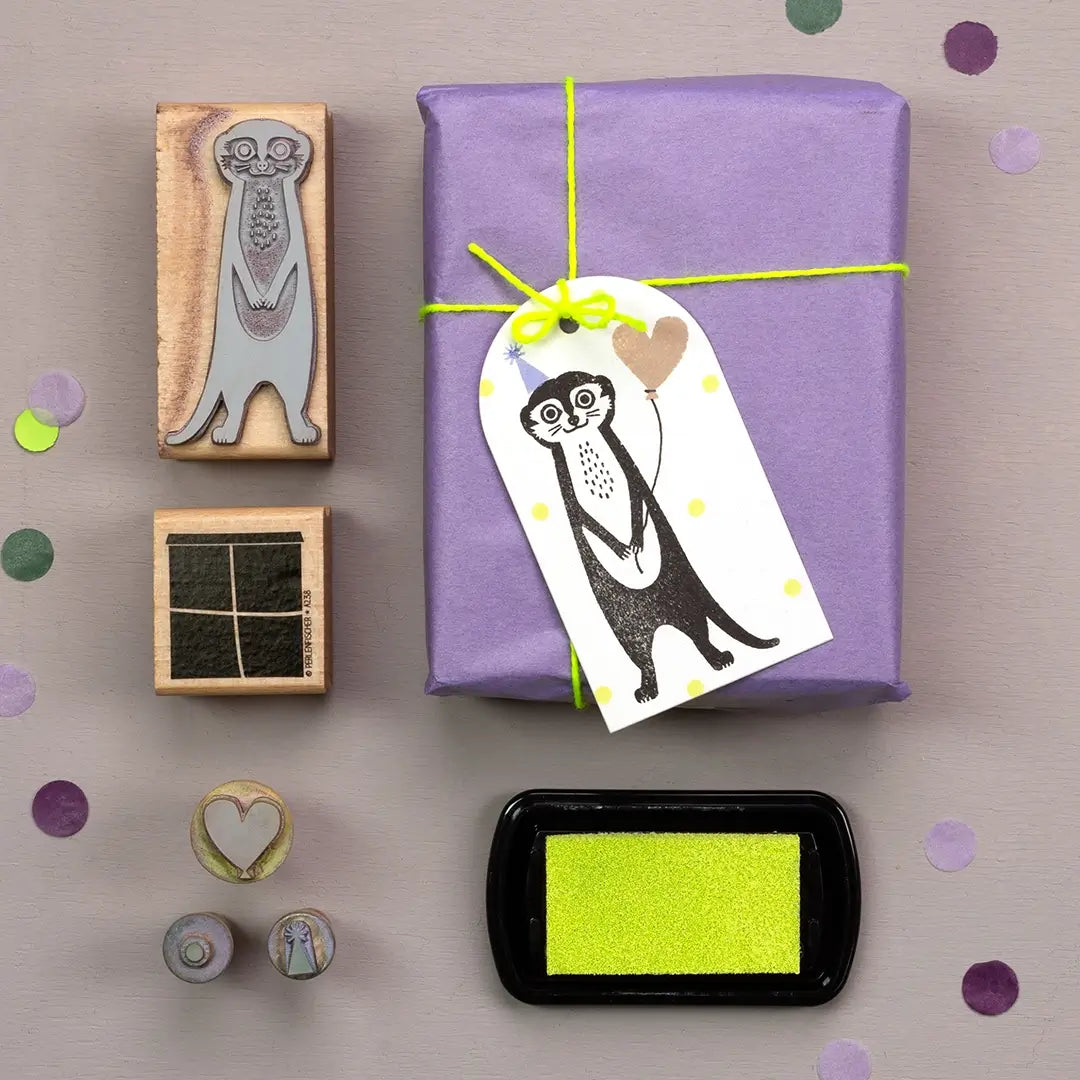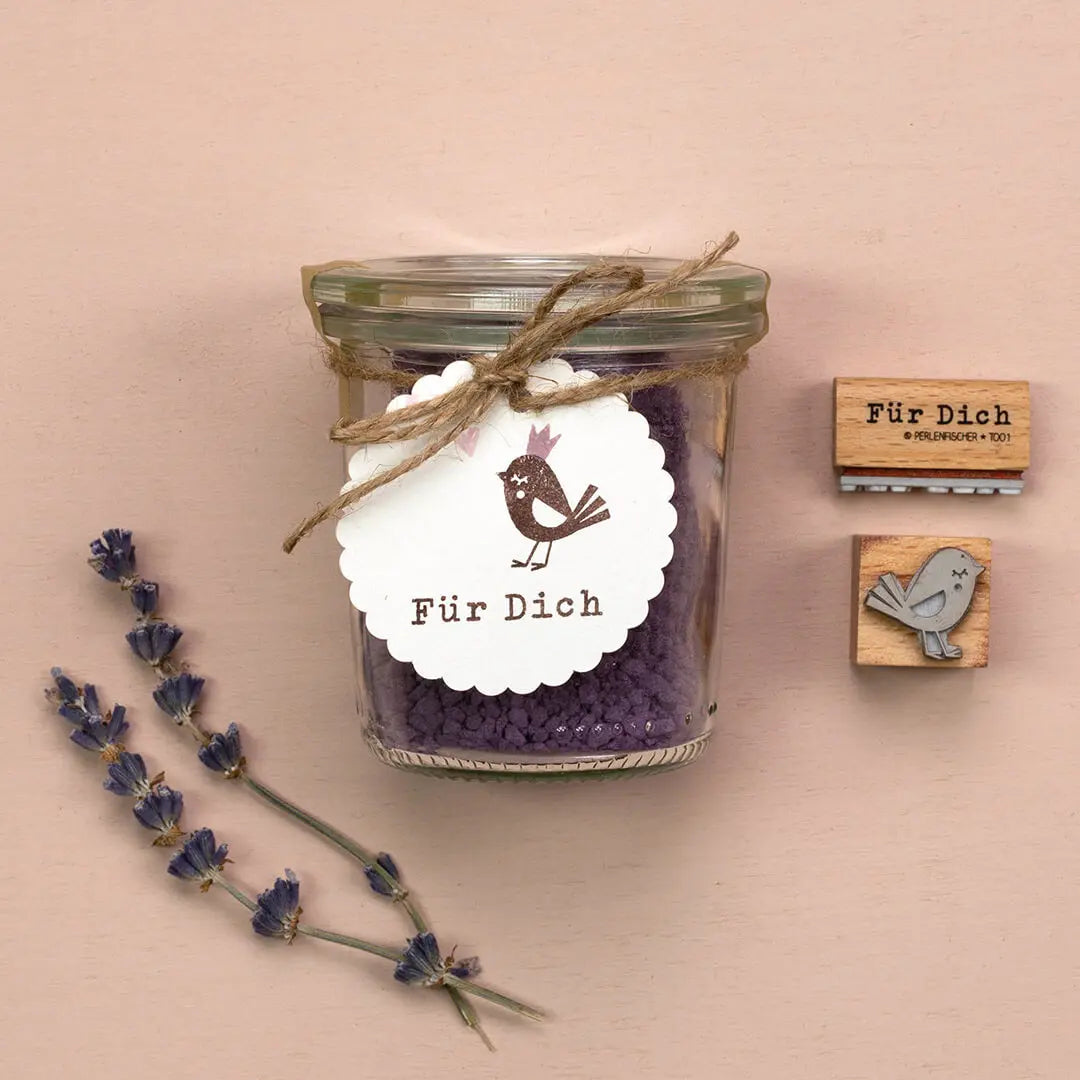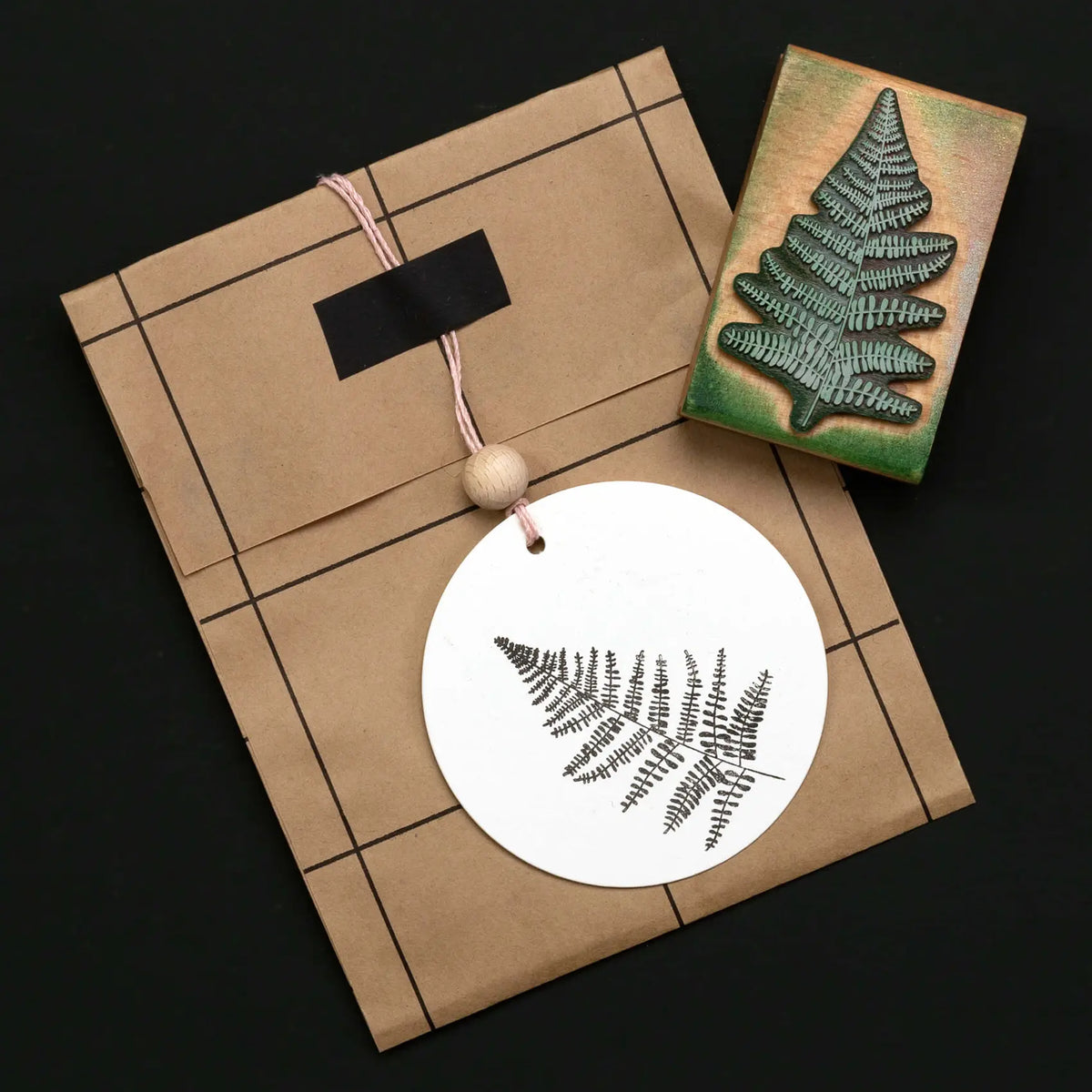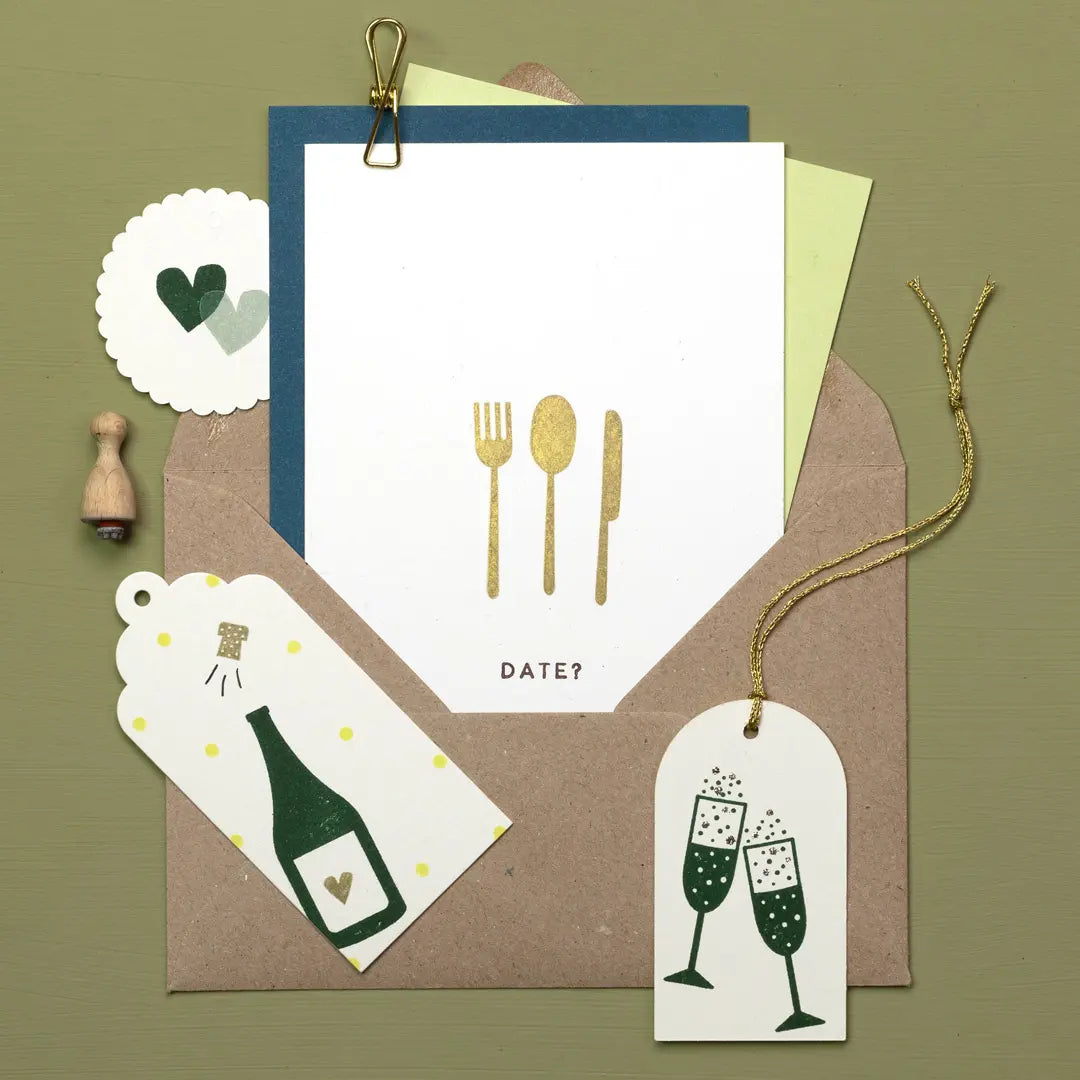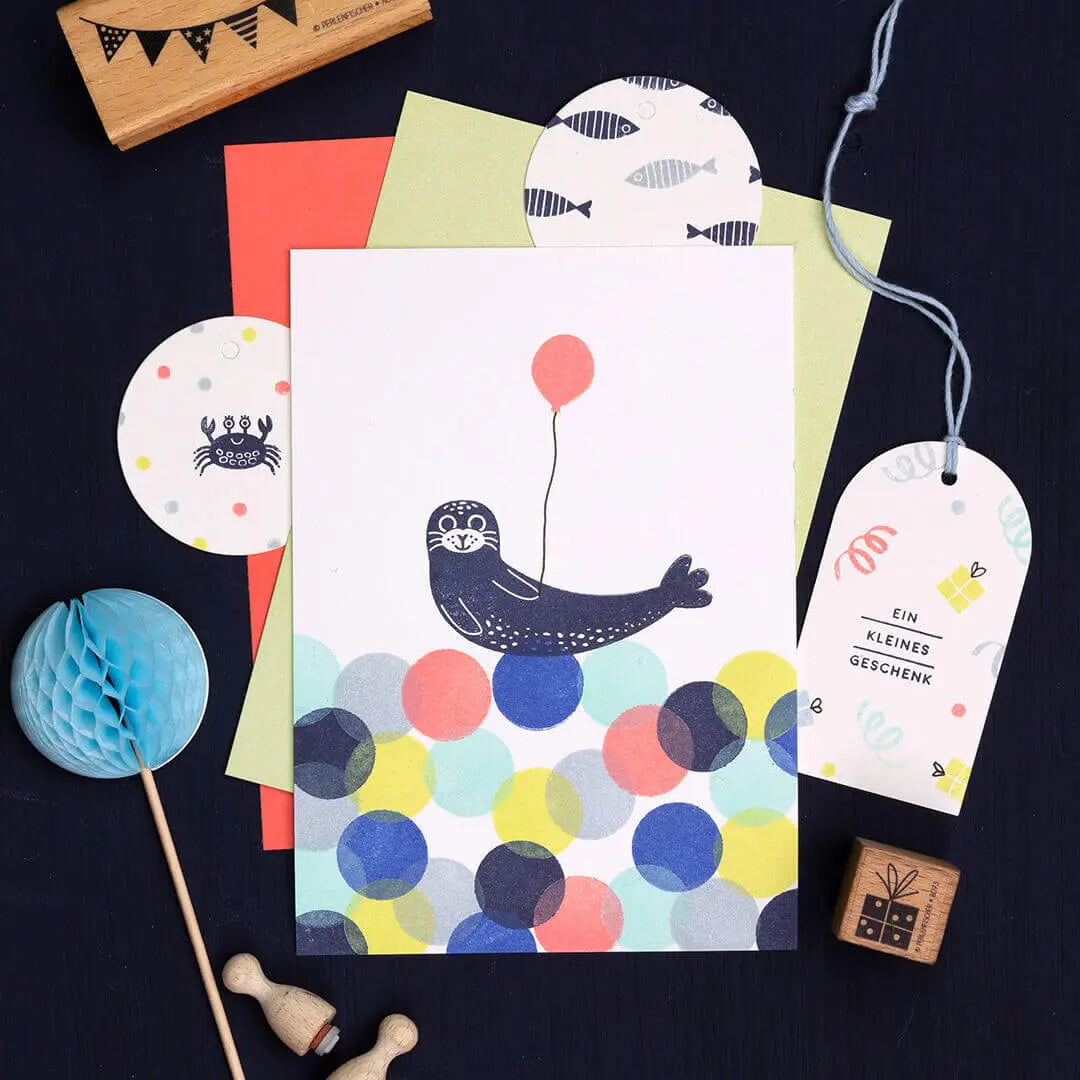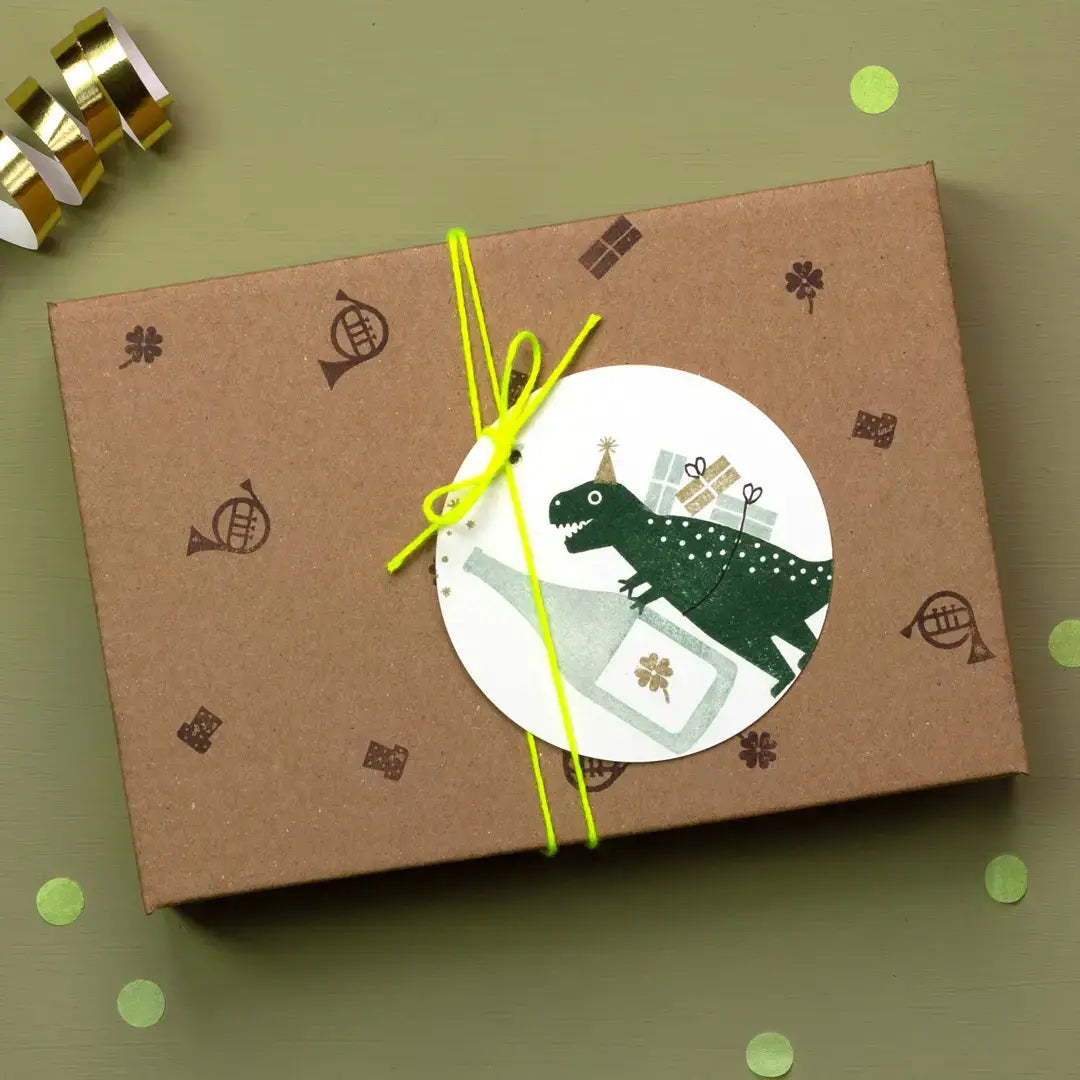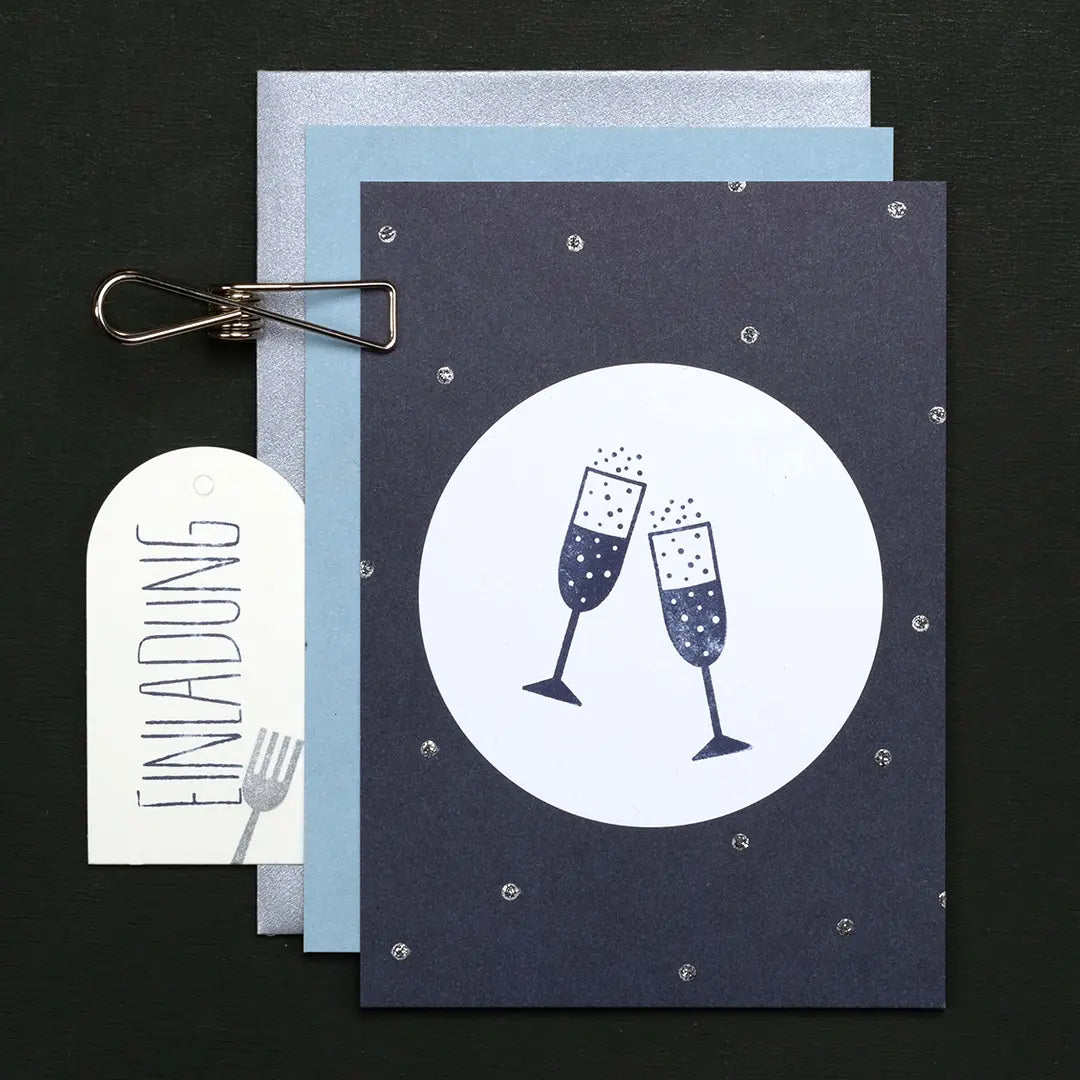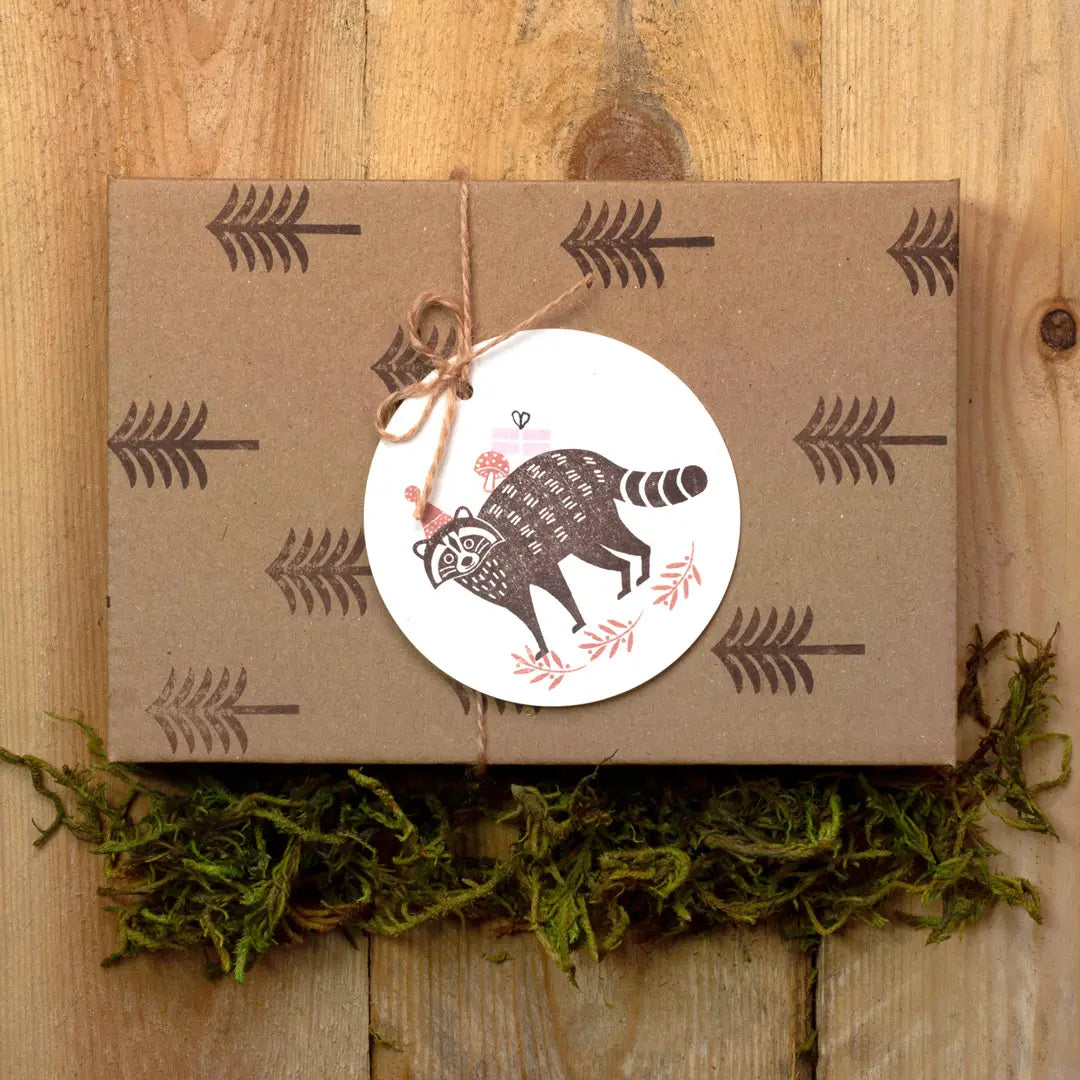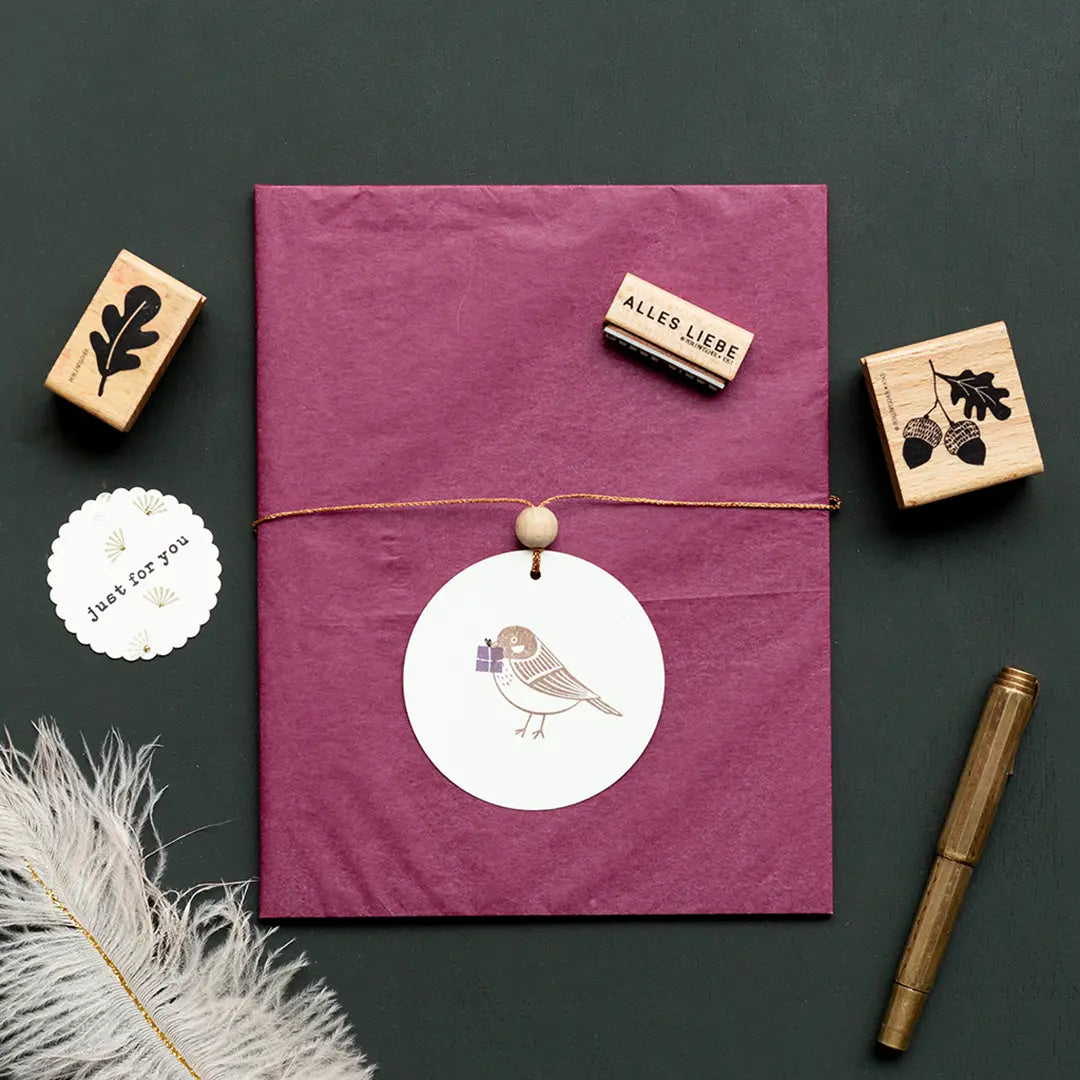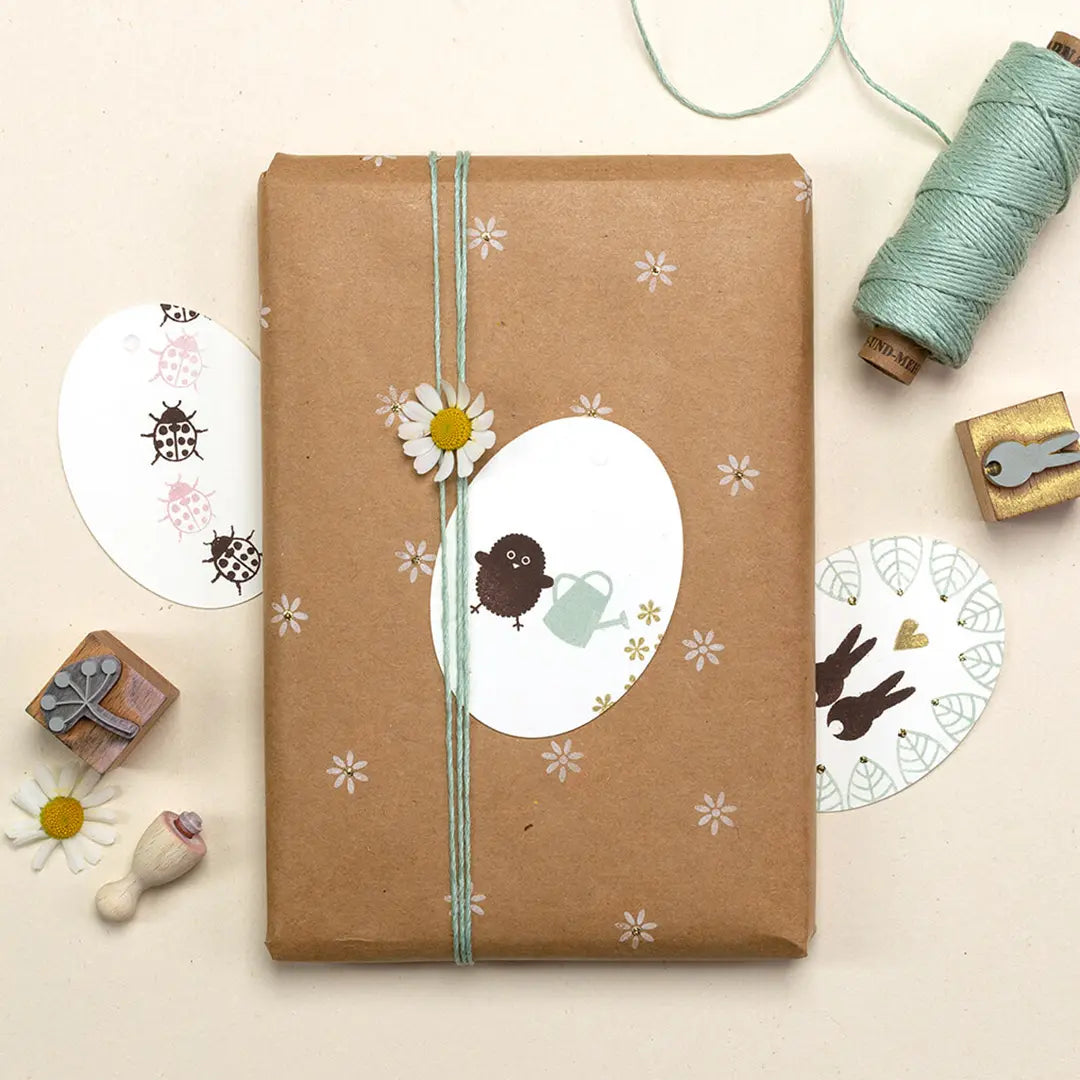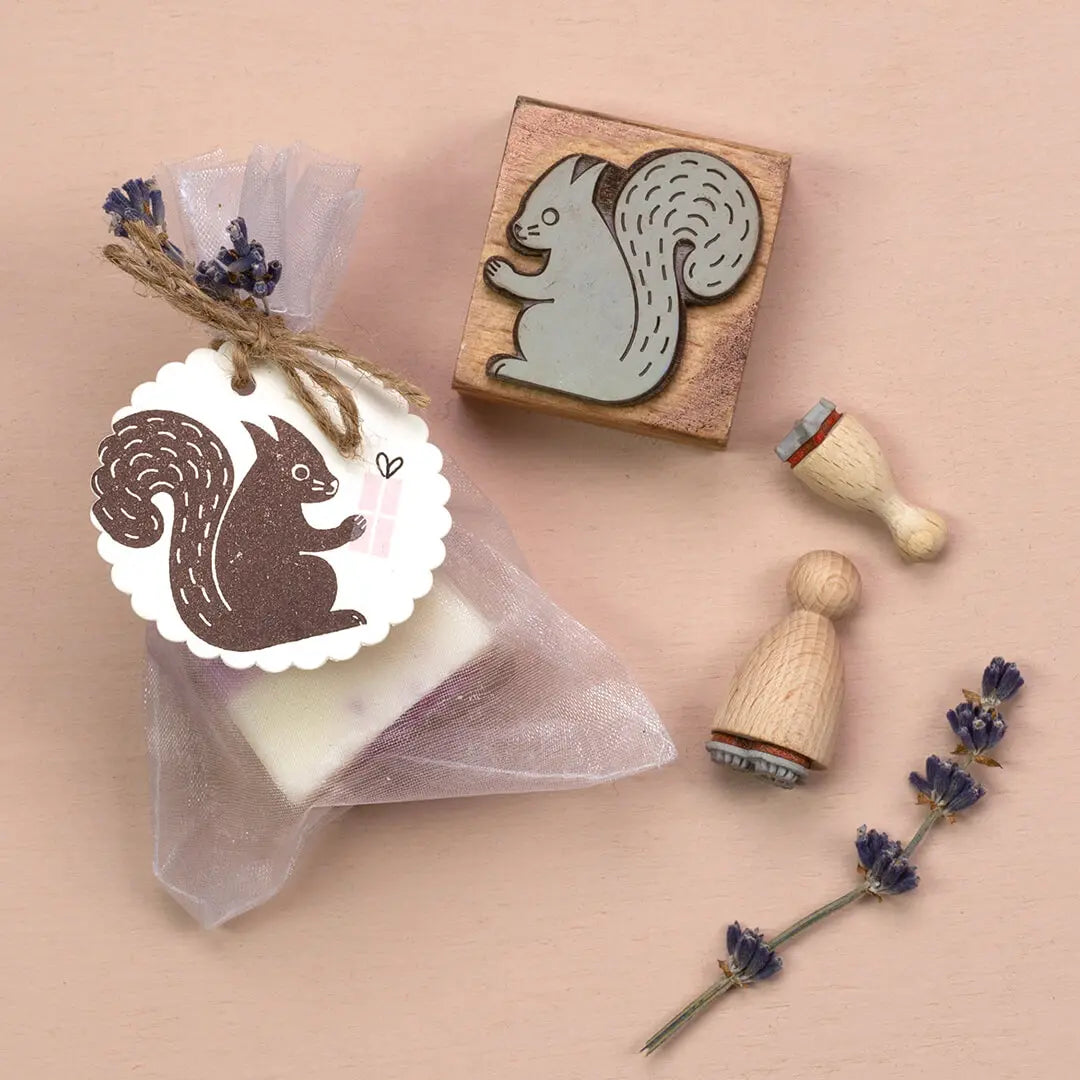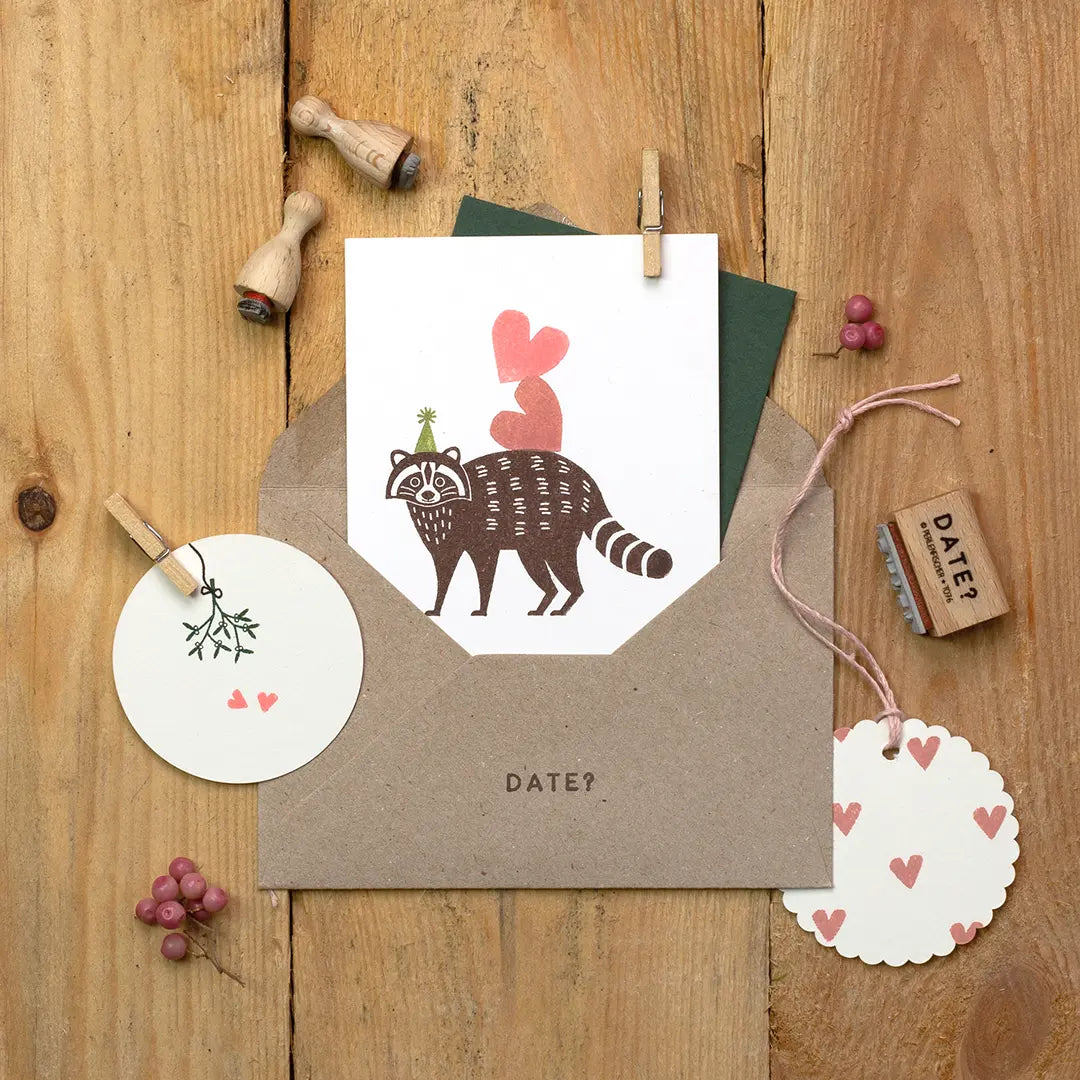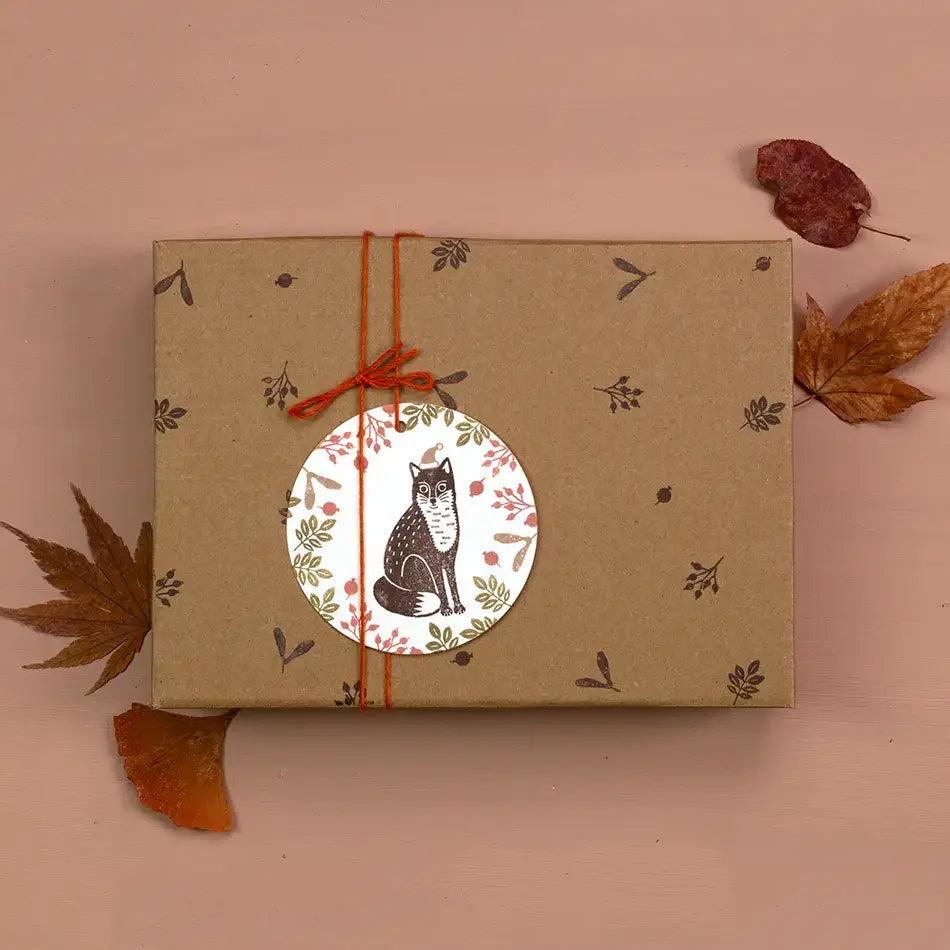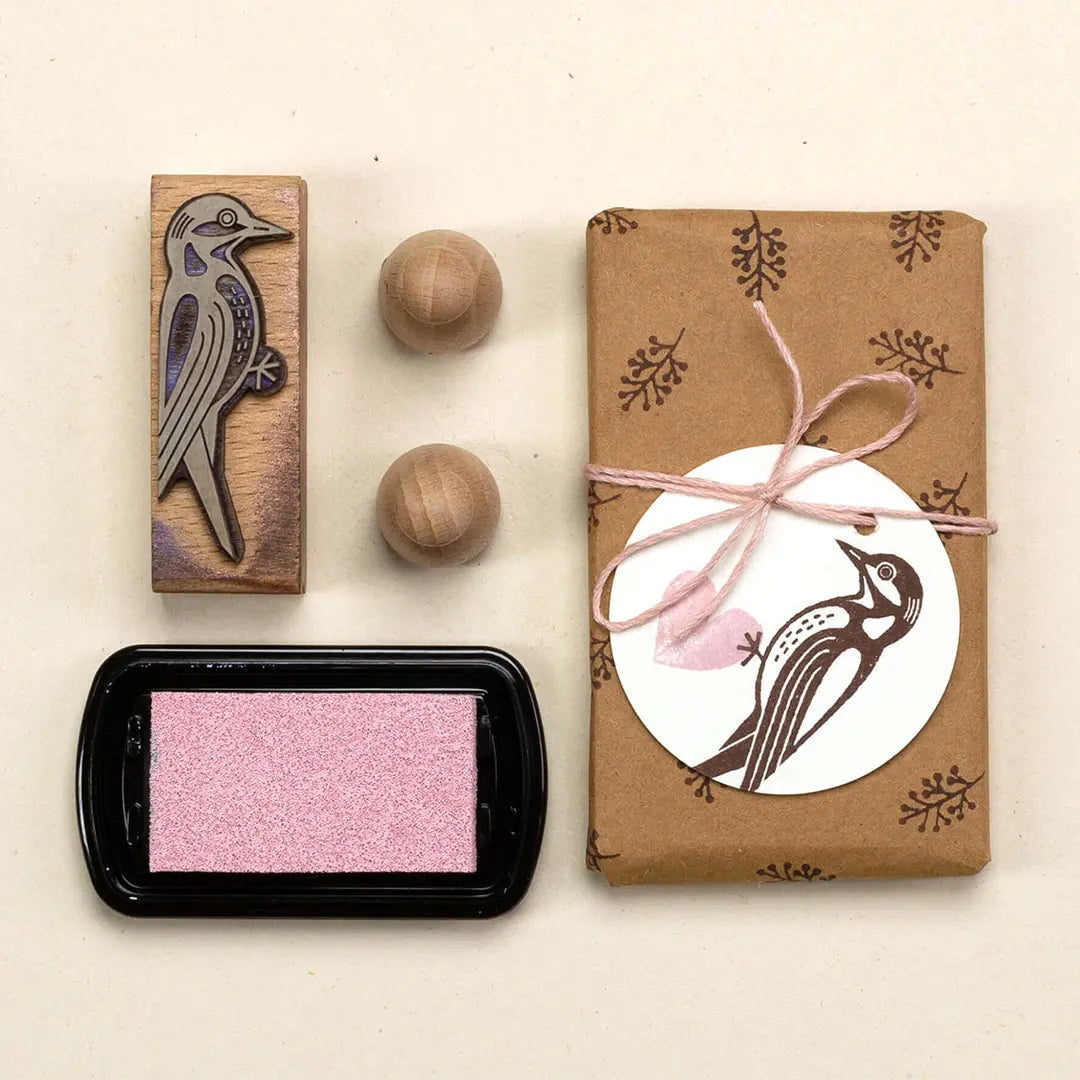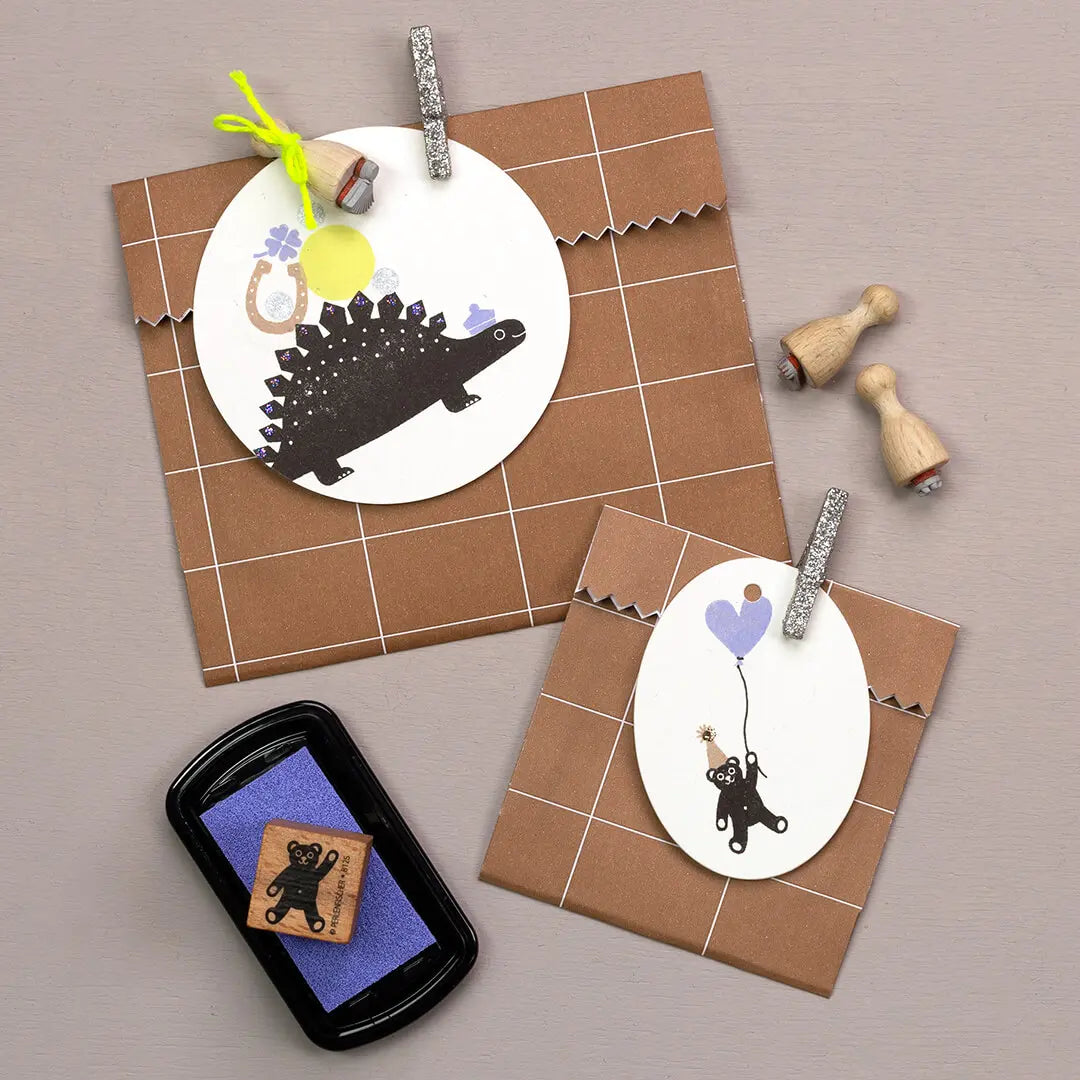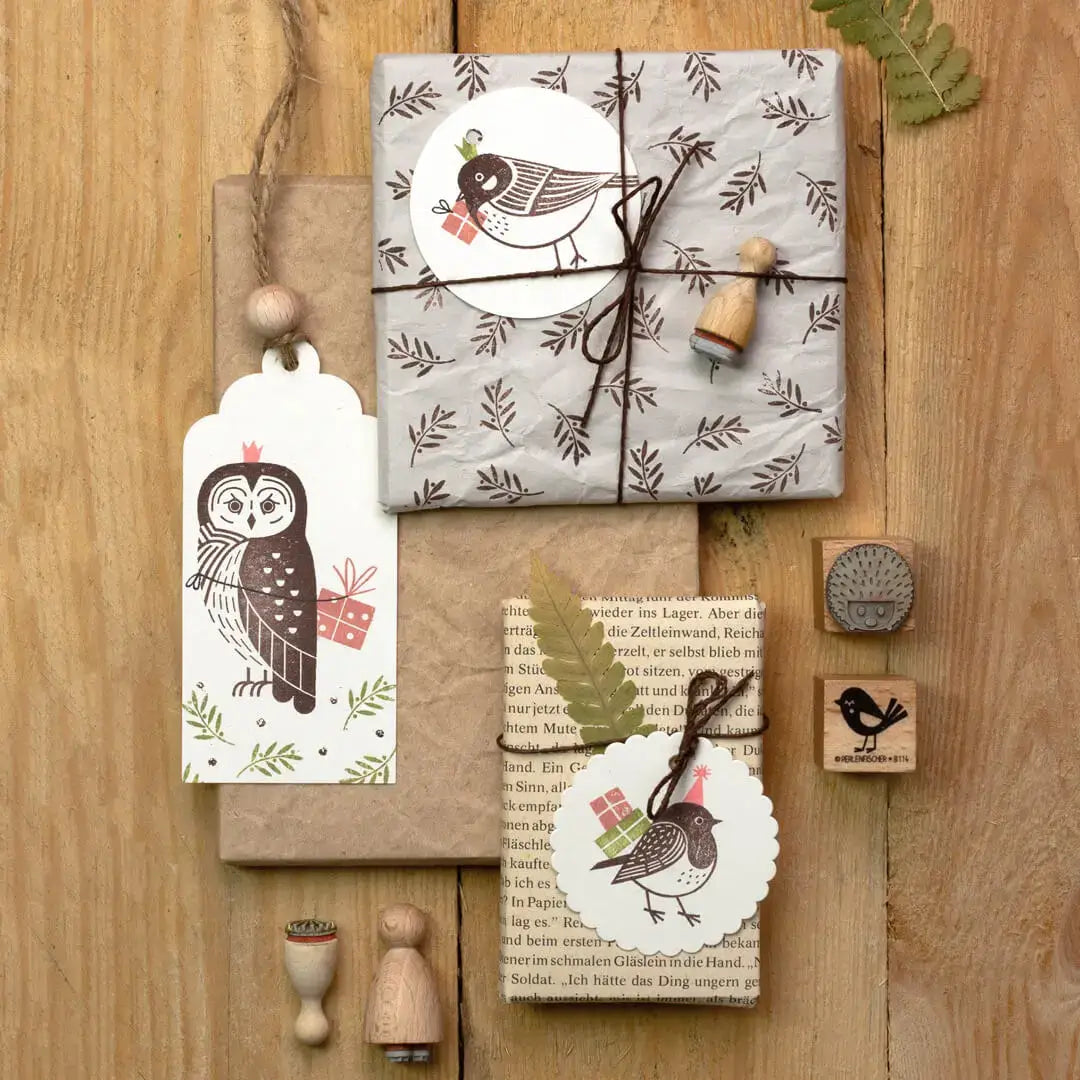 pack sustainably
Old packaging materials or newspapers are wonderfully suitable as wrapping paper. You can easily spruce them up by tying self-designed paper tags to the gift with a piece of yarn.
Tags for festive Christmas gifts & your Advent calendar
Especially on Christmas Eve and during Advent you want to make your loved ones happy. With self-stamped Christmas tags you can craft wonderful decorations for your home, magically wrap gifts and create an unforgettable Advent calendar. You can find many more DIY's and festive inspiration on Stamps Christmas.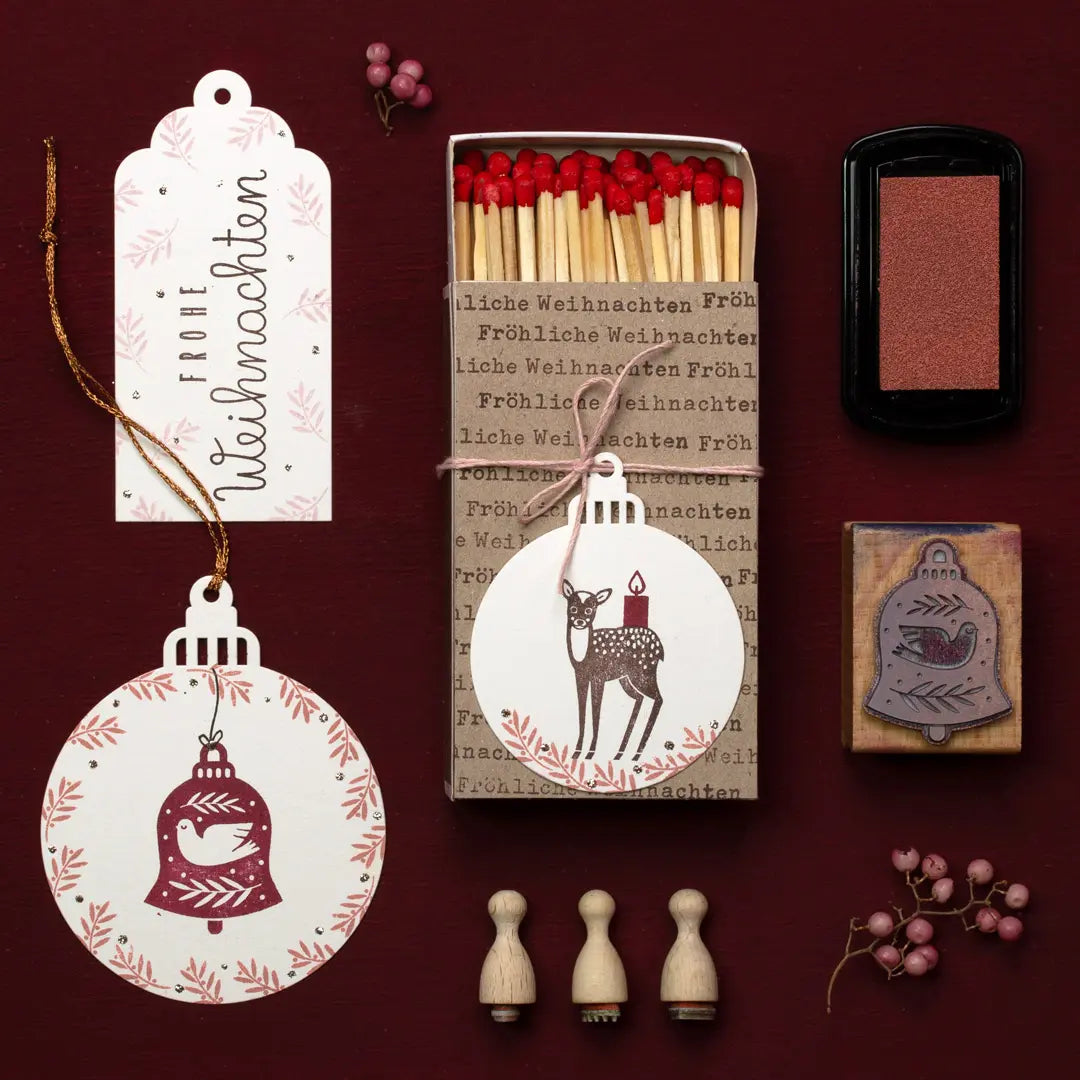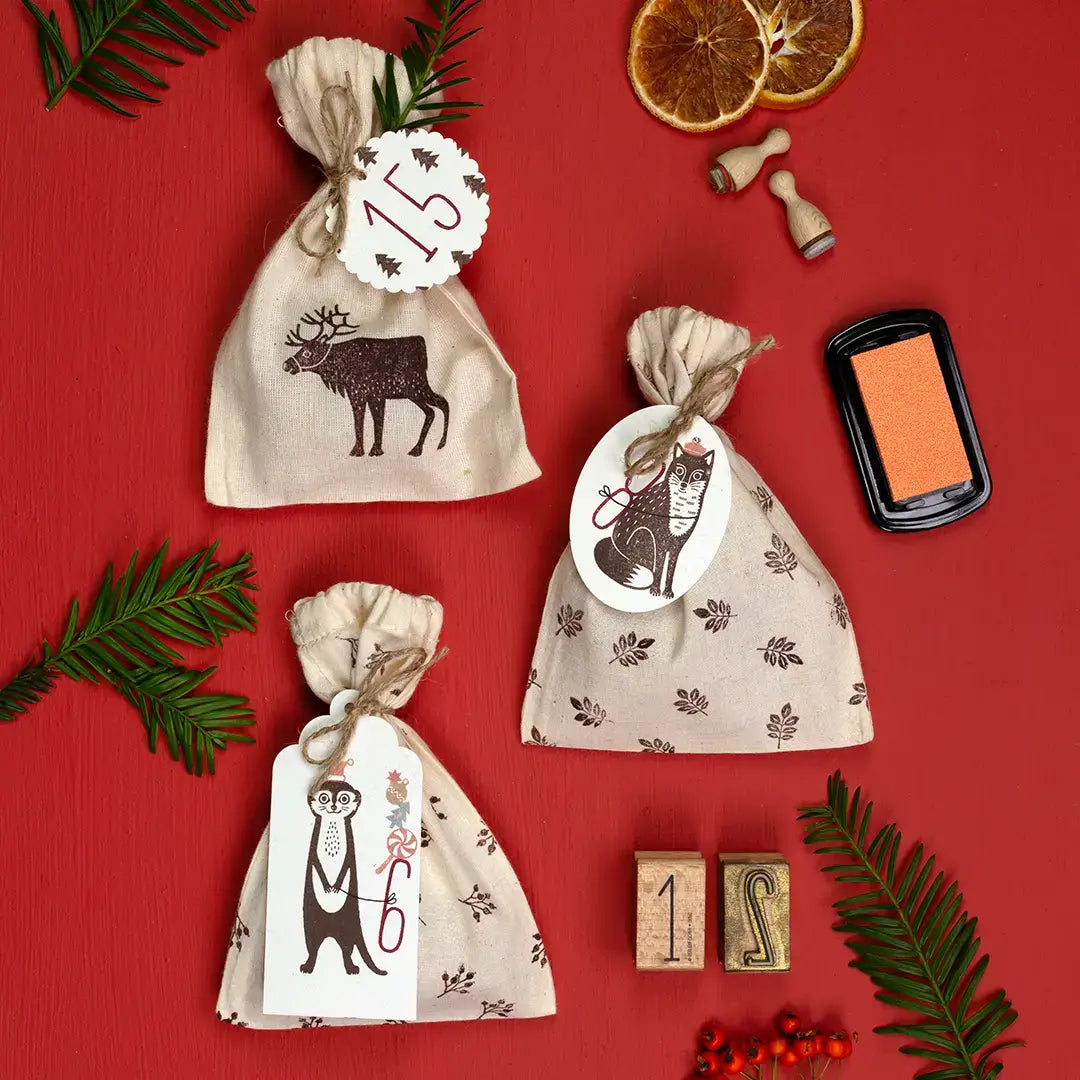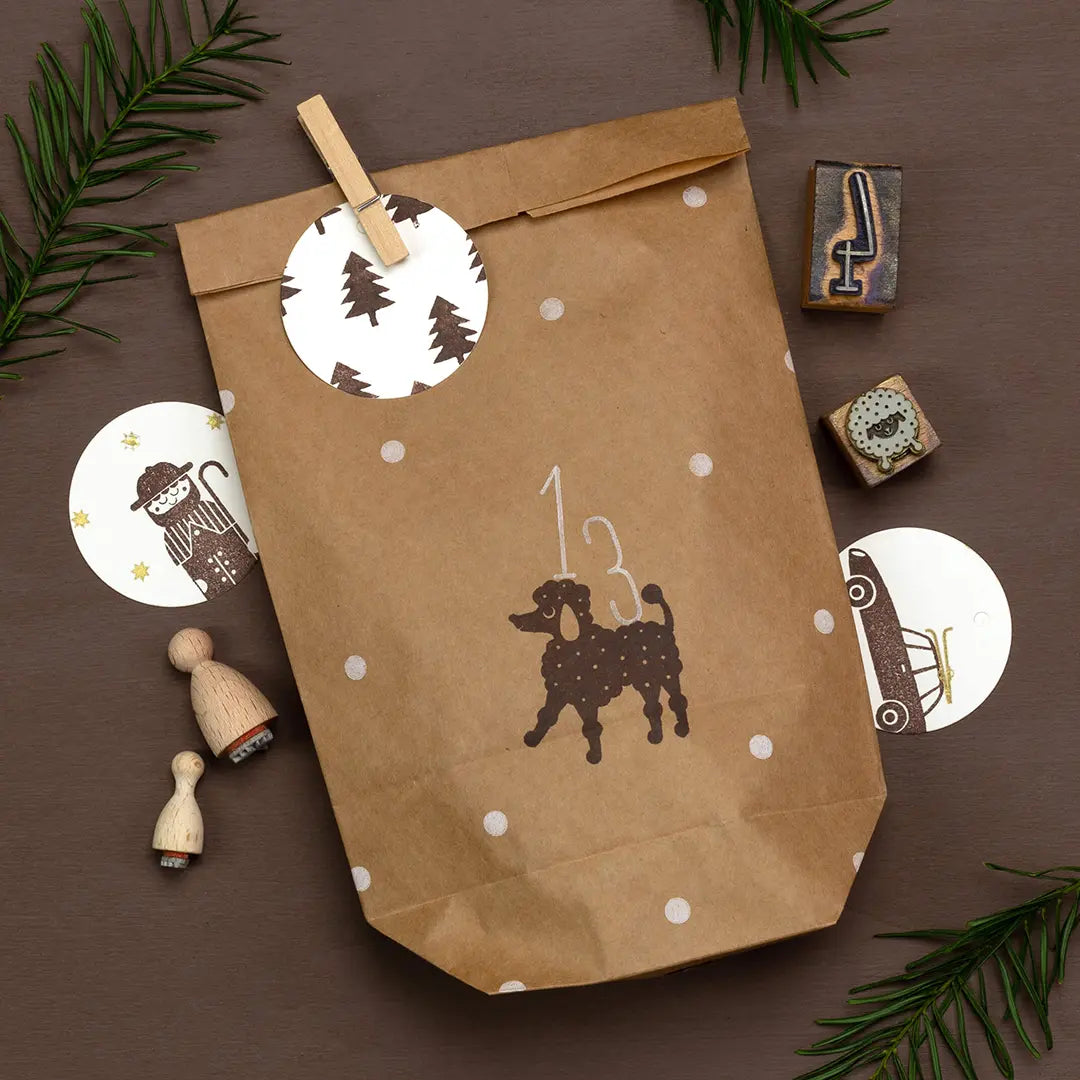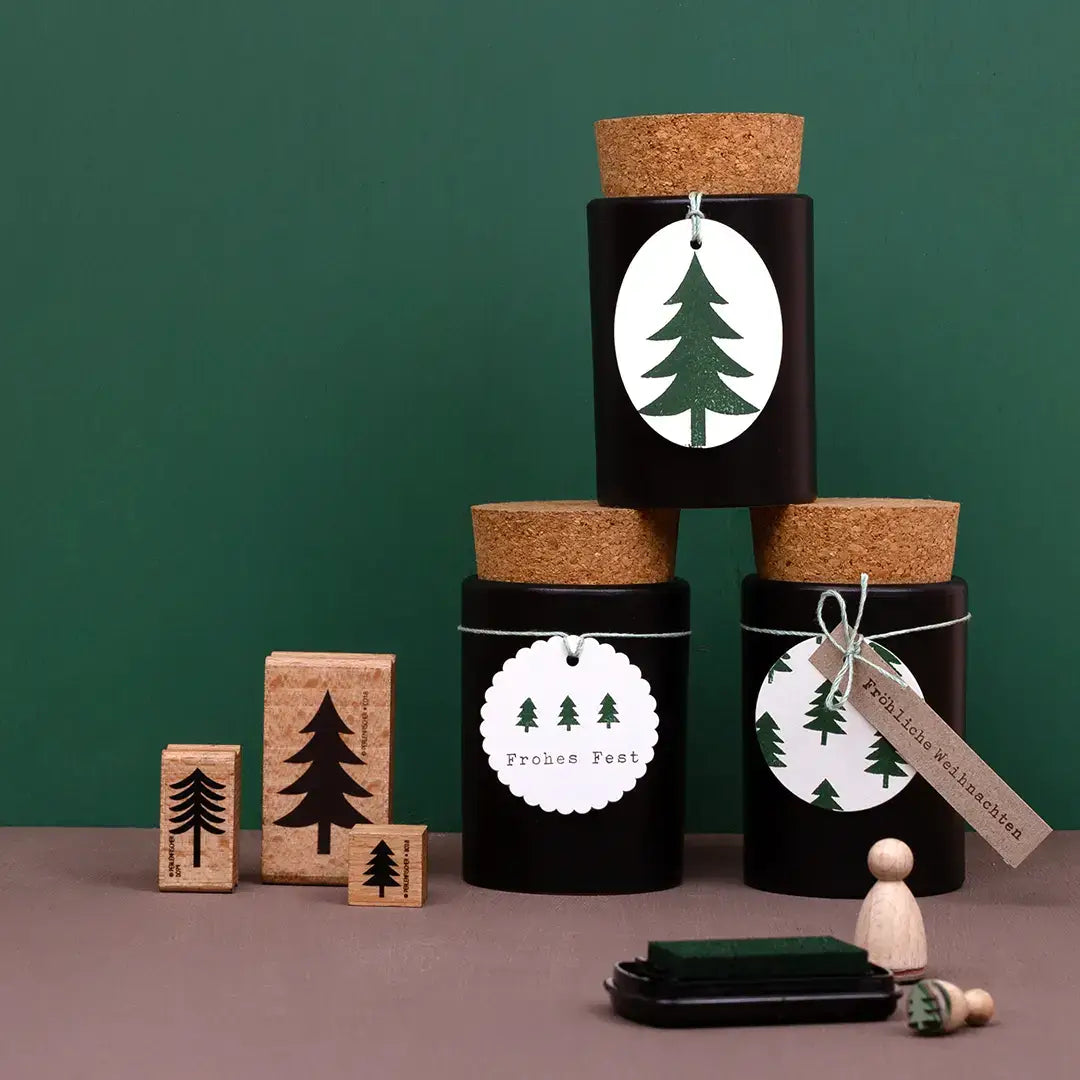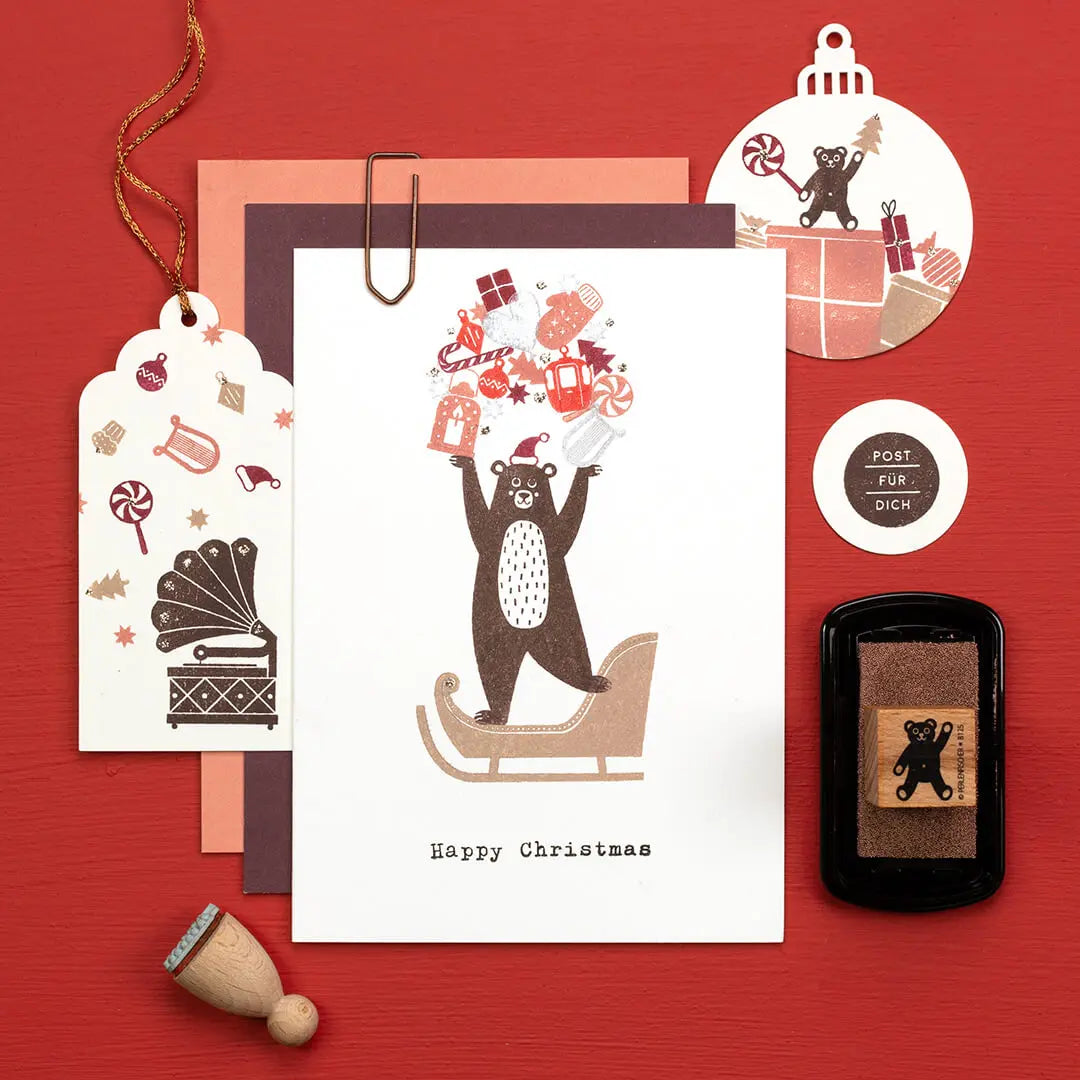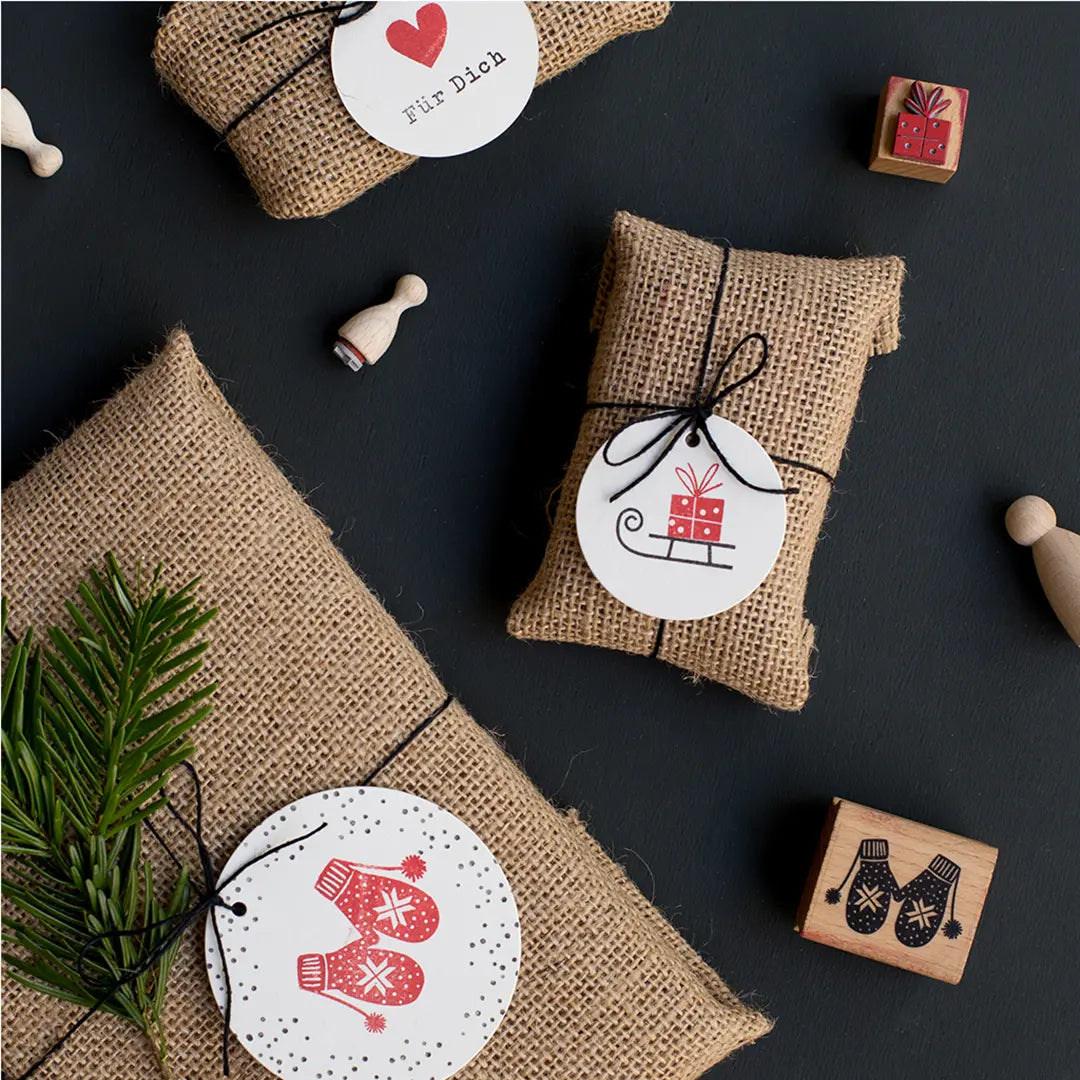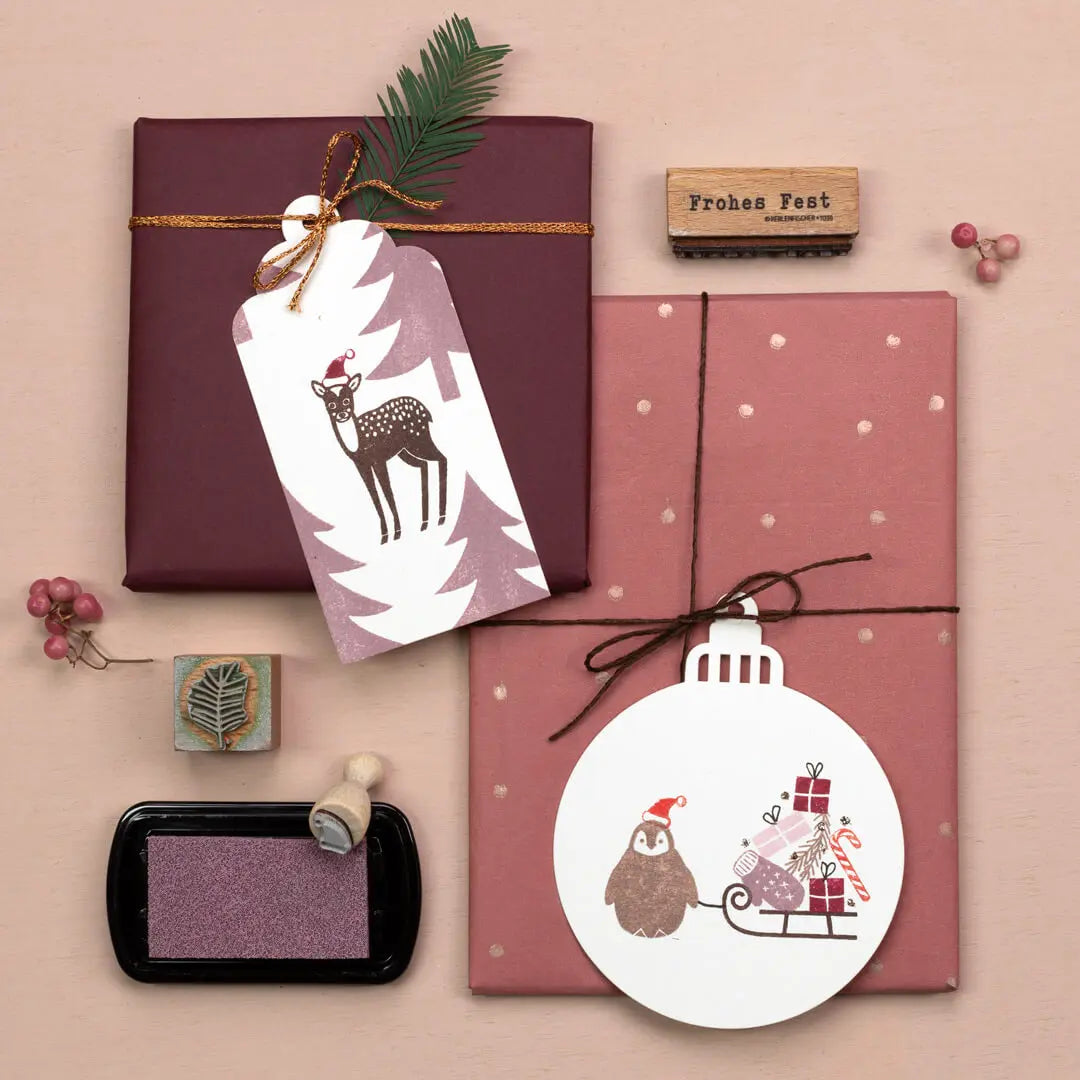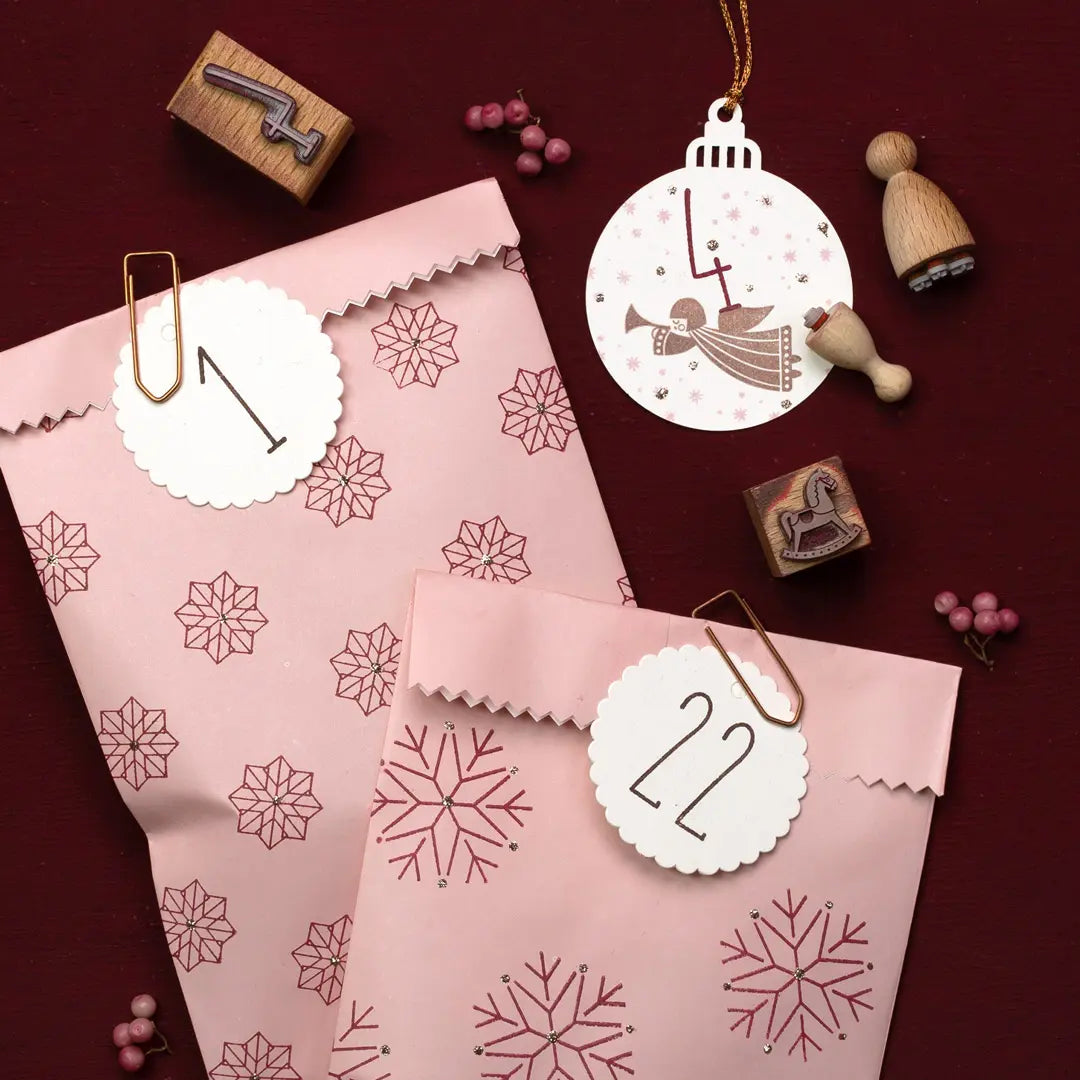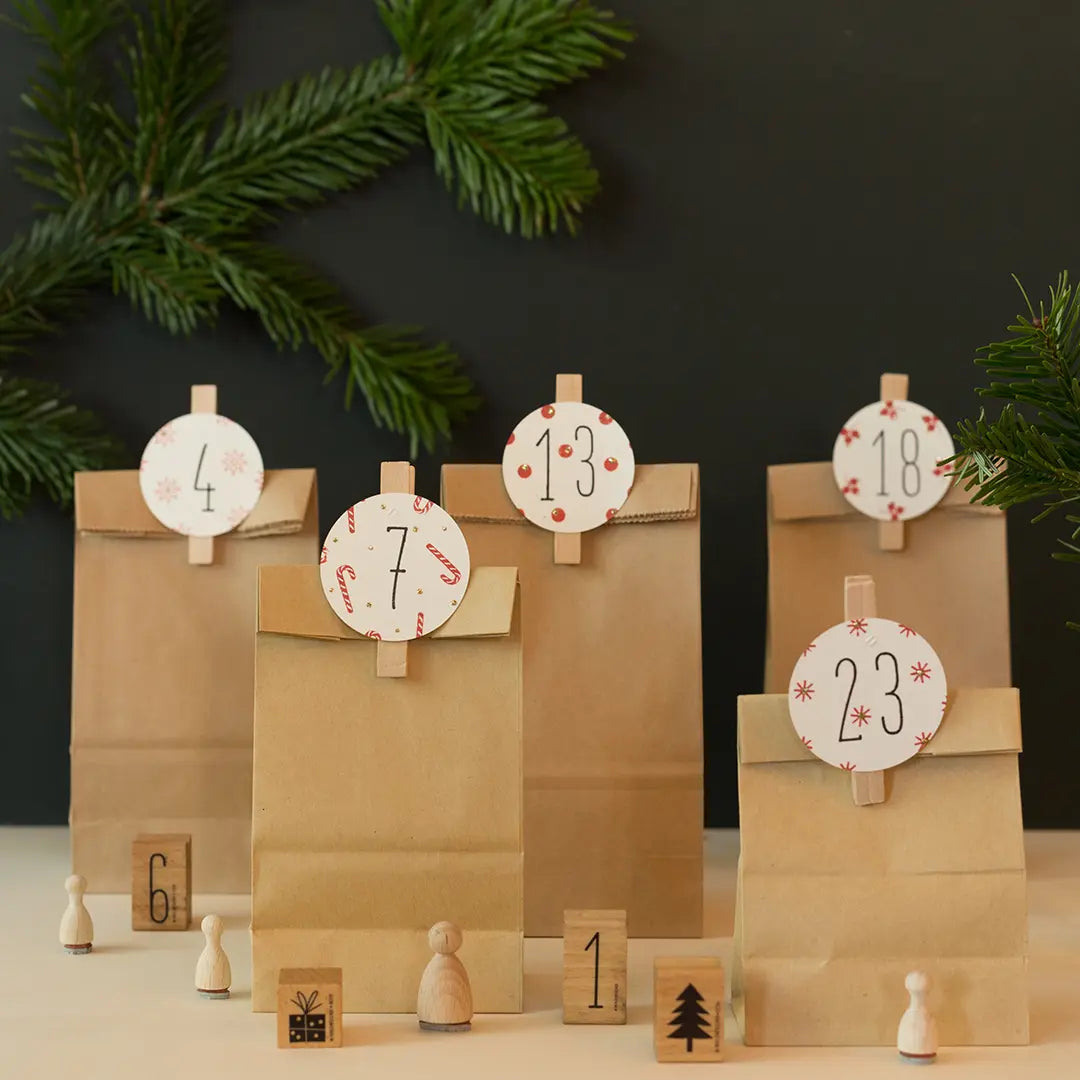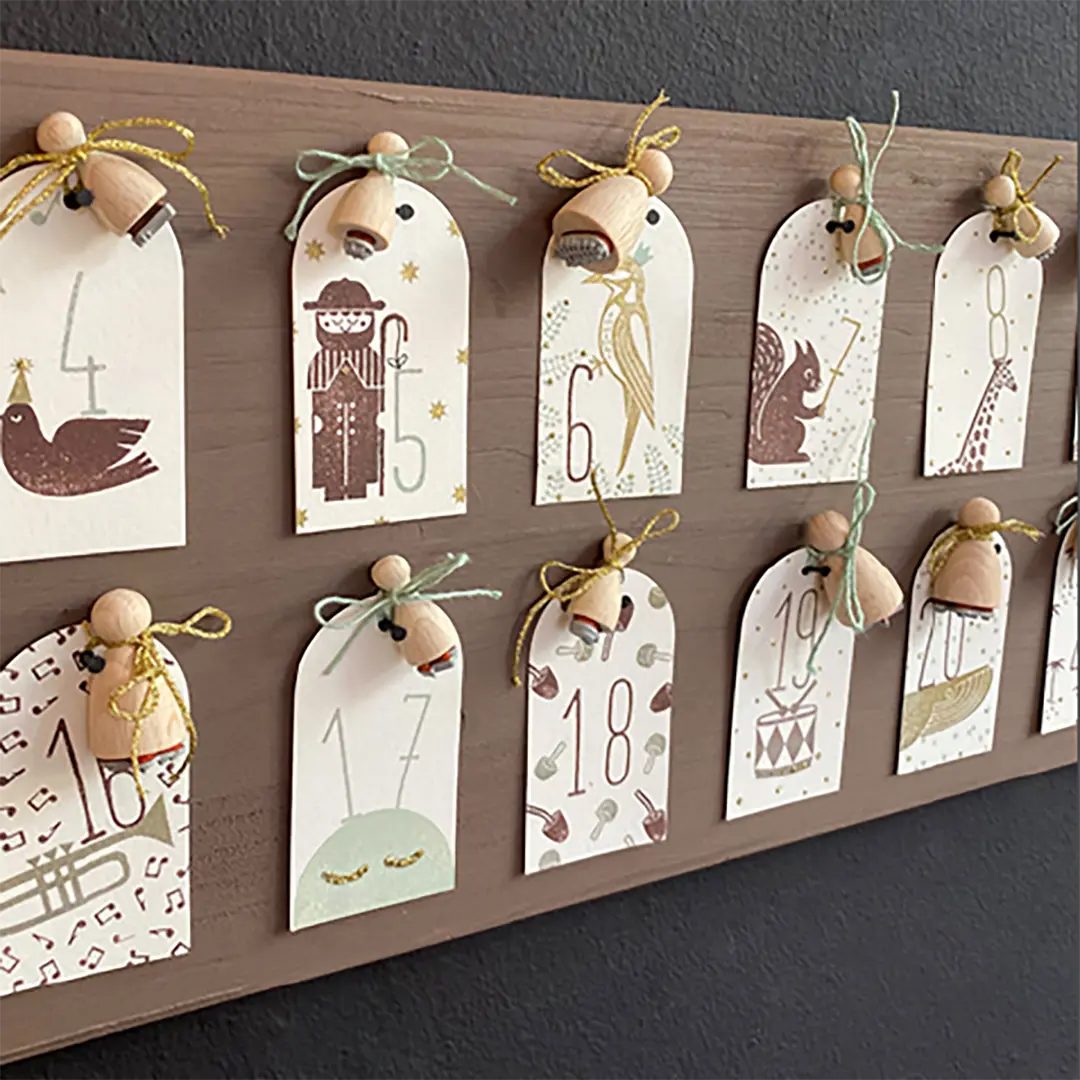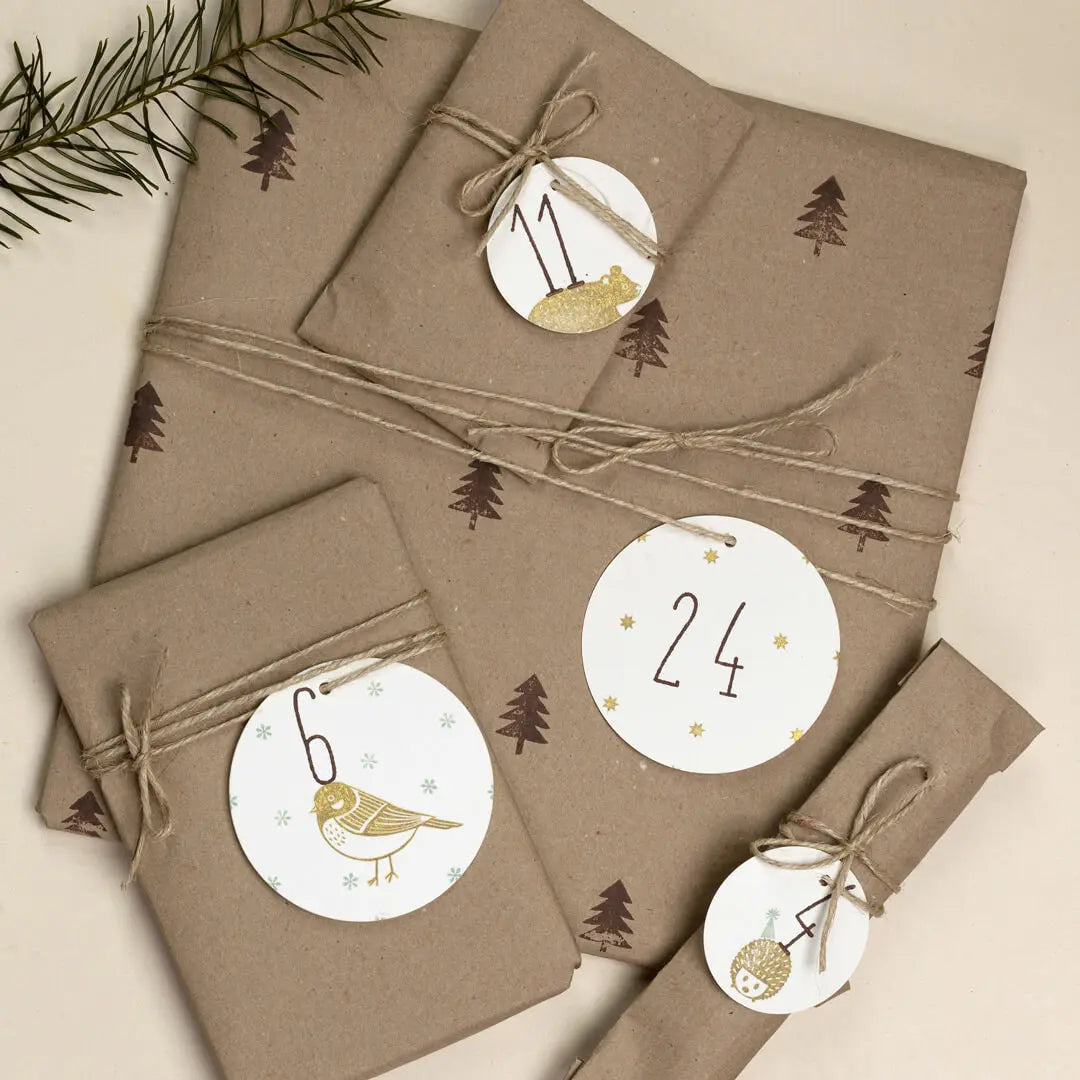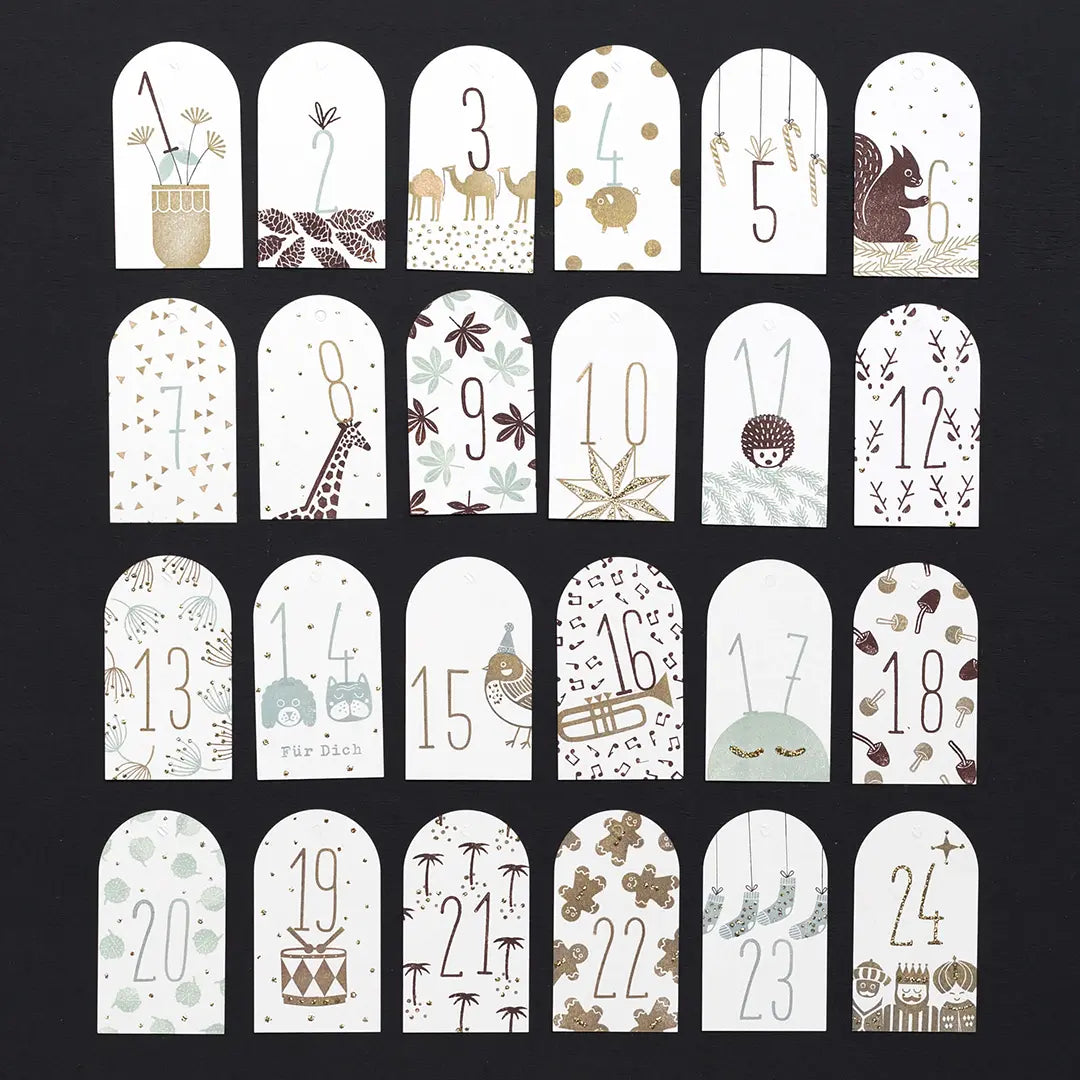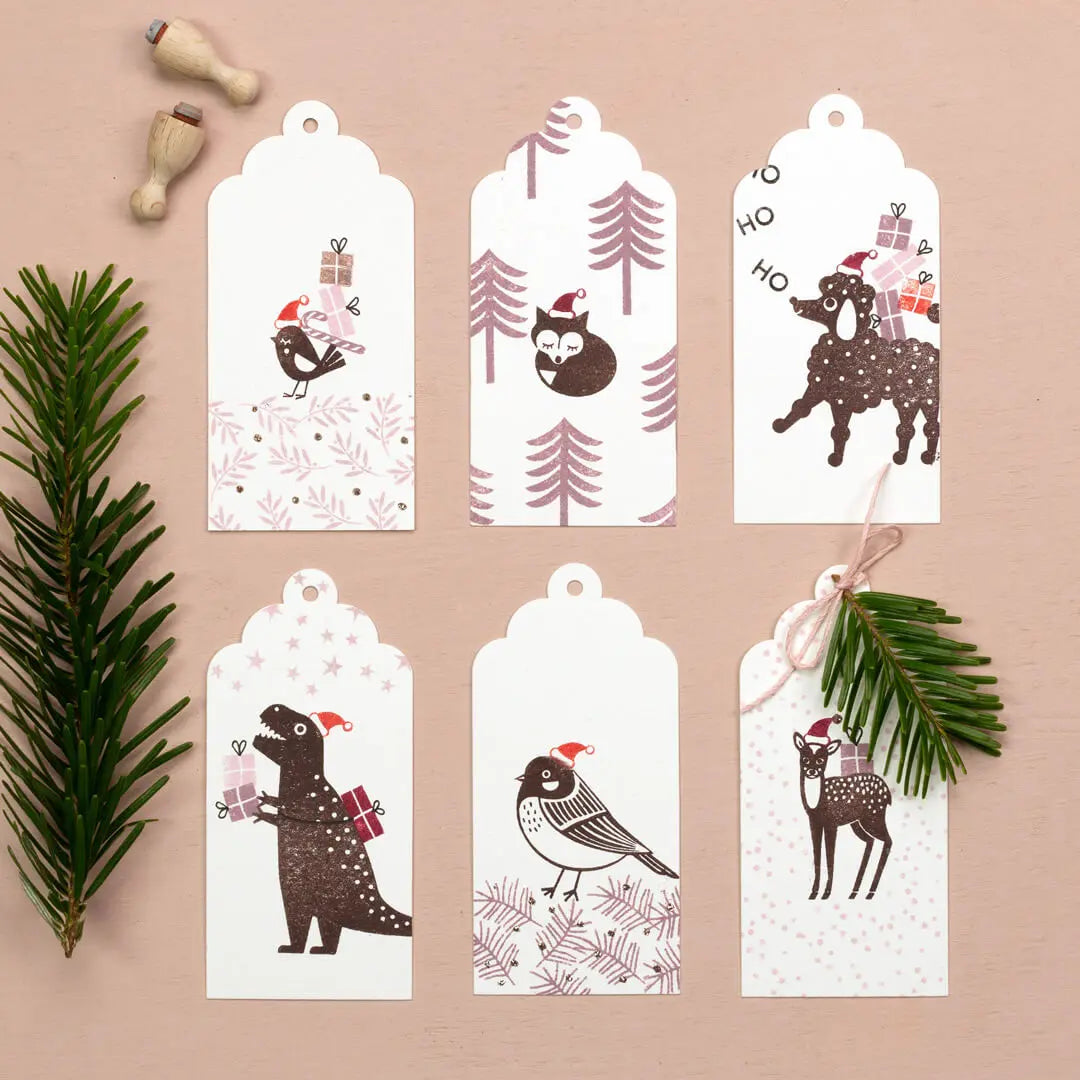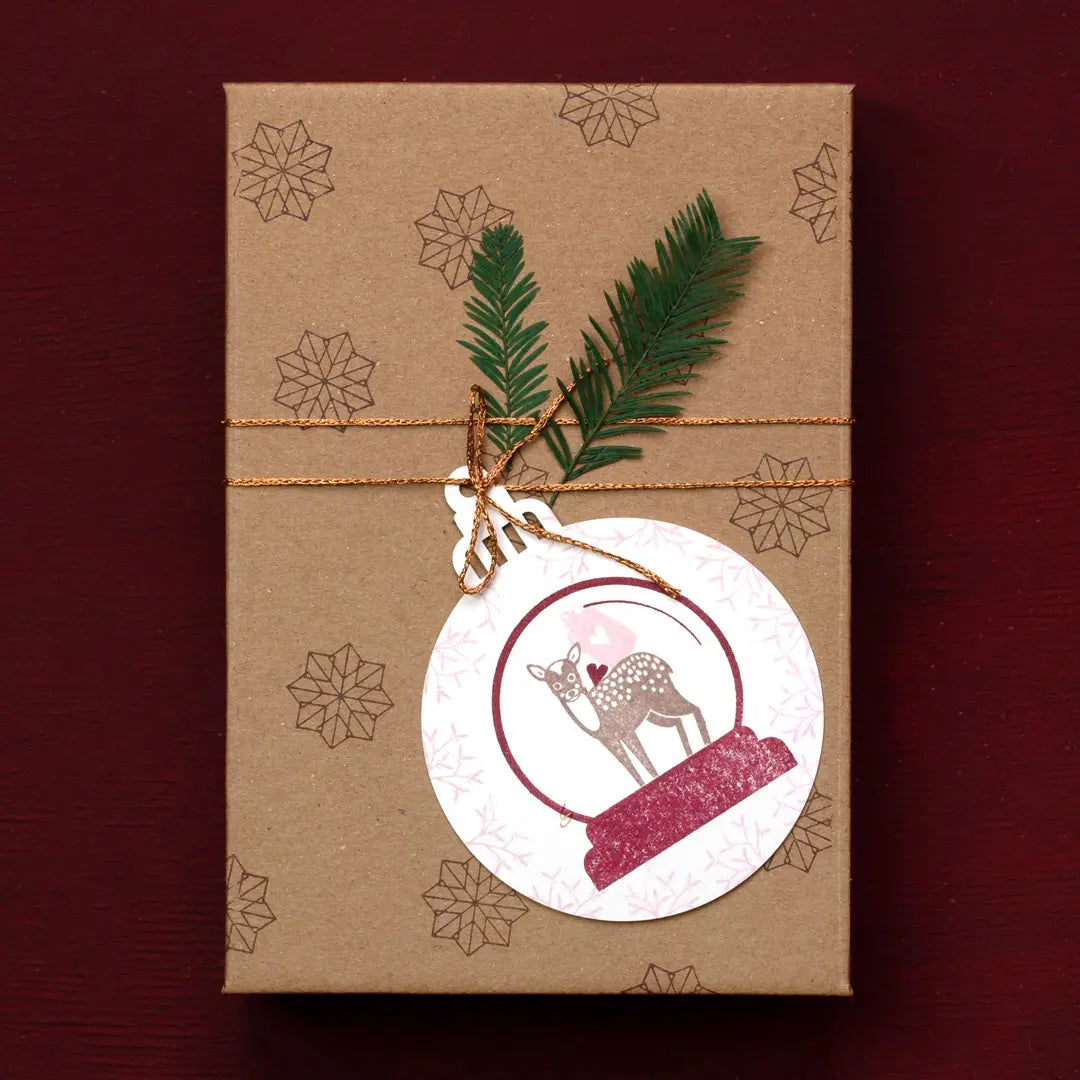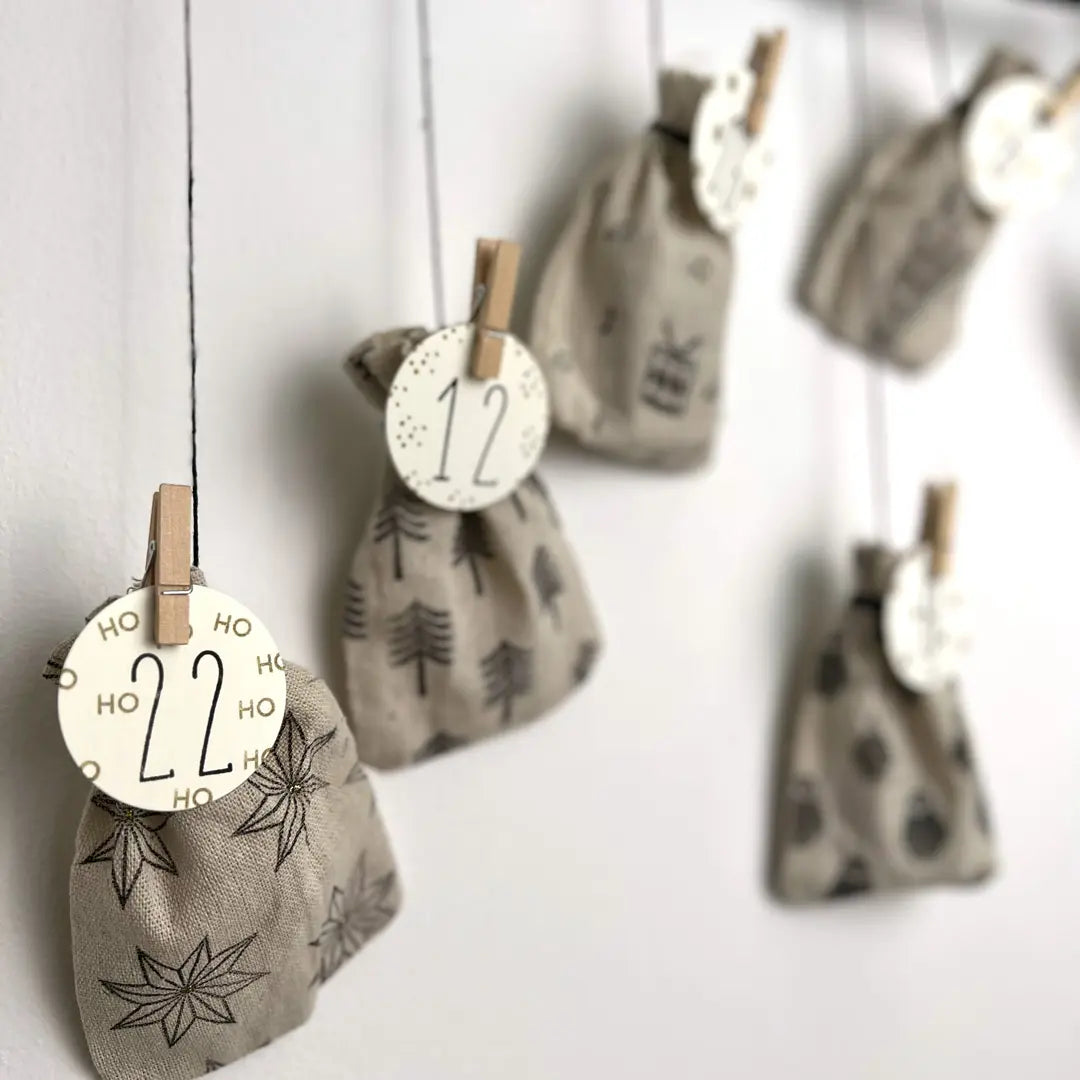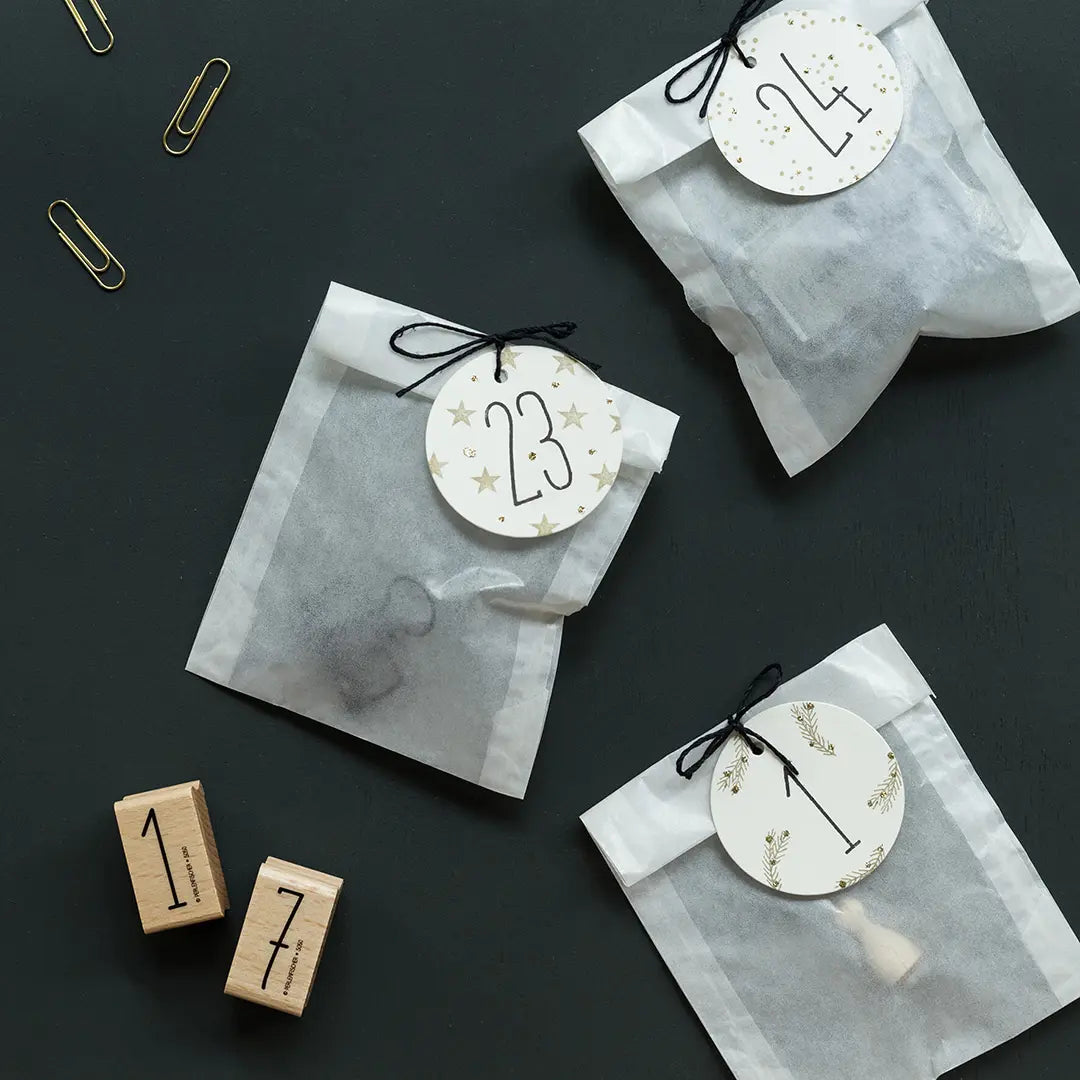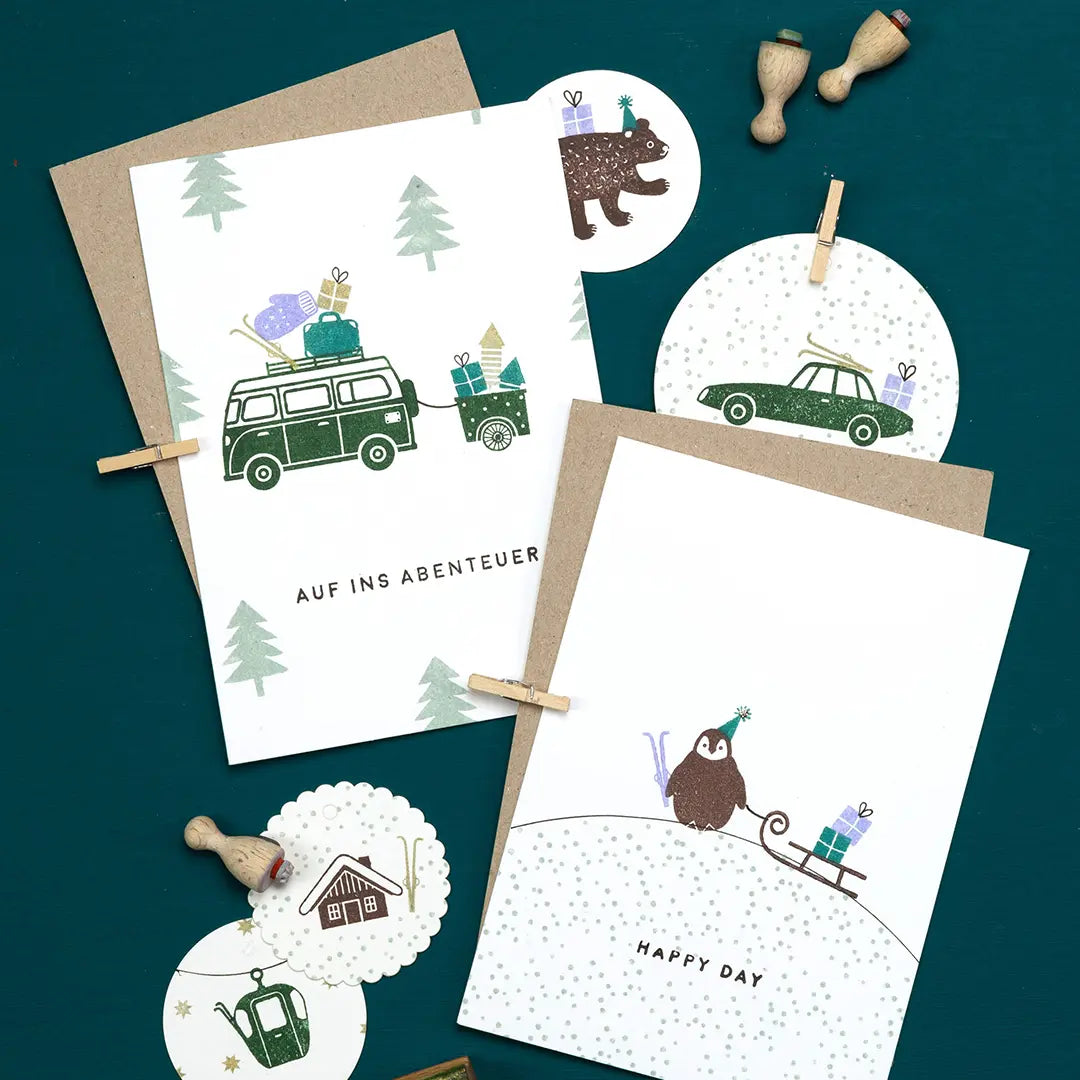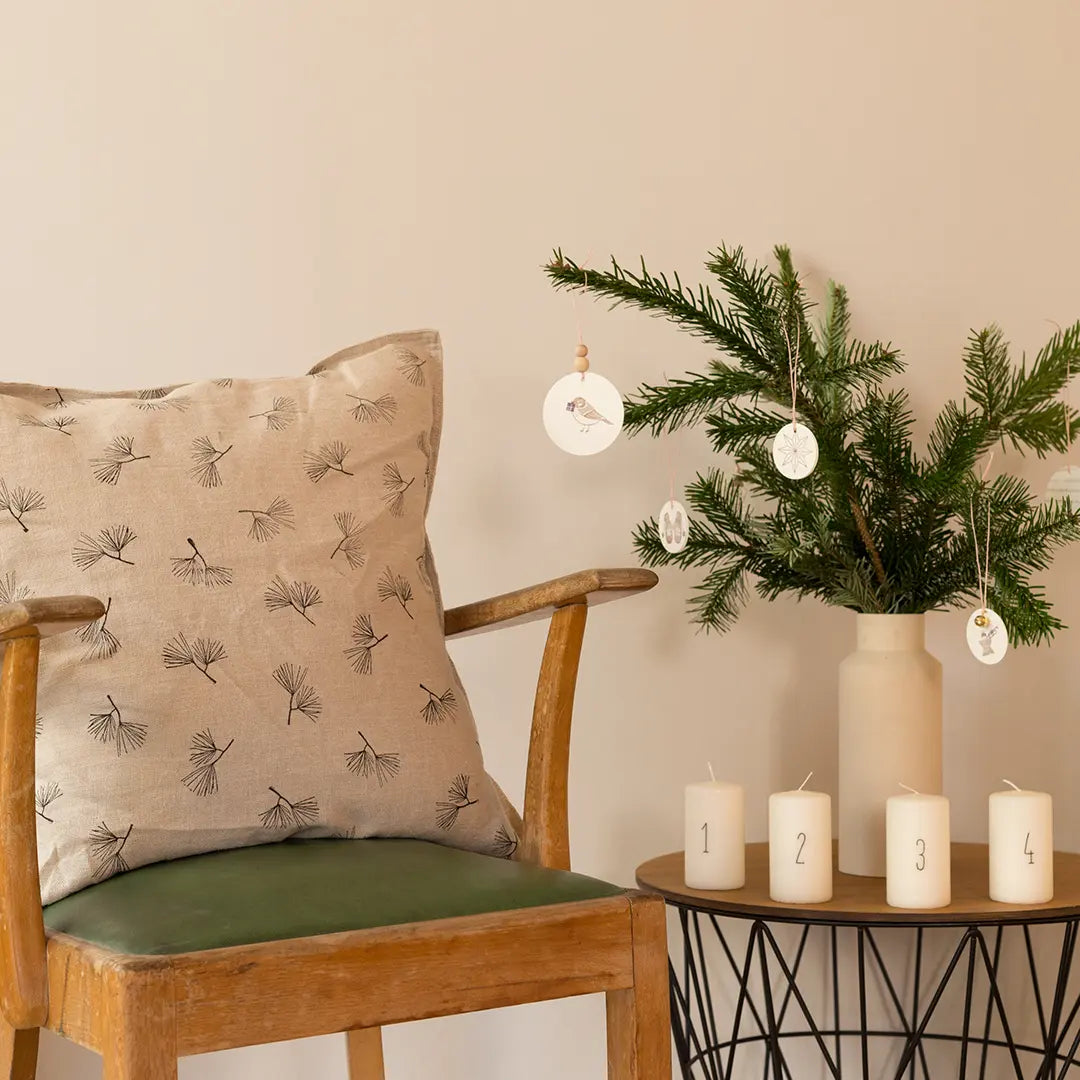 DIY Christmas pendant
Decorate your tree
Create your own Christmas decorations this year. Stamp paper tags in matching colors and with stamps that really get you in the Christmas spirit. Thread yarn through them and hang them on your tree, a branch or a bush. This will make your home even more festive and cozy.
DIY candle pendants
Advent wreath times quite differently
This is how you can make your own Advent wreath: Pick up four glass bottles, remove the labels, get matching candles that fit nicely in the neck of the bottle. Stamp festive tags with motifs and in colors of your choice. Using the Stamp set | Numbers, stamp the numbers 1-4 on the tags and tie them to the bottles. Done!
Tags for children
Playful & cute pendants for our little ones
Make your children happy by stamping great colorful tags for or with them. For the first day of school, for a child's birthday or as a decorative garland for the nursery. At the page stamps kids you will find many more inspirations and cute motifs for children to stamp.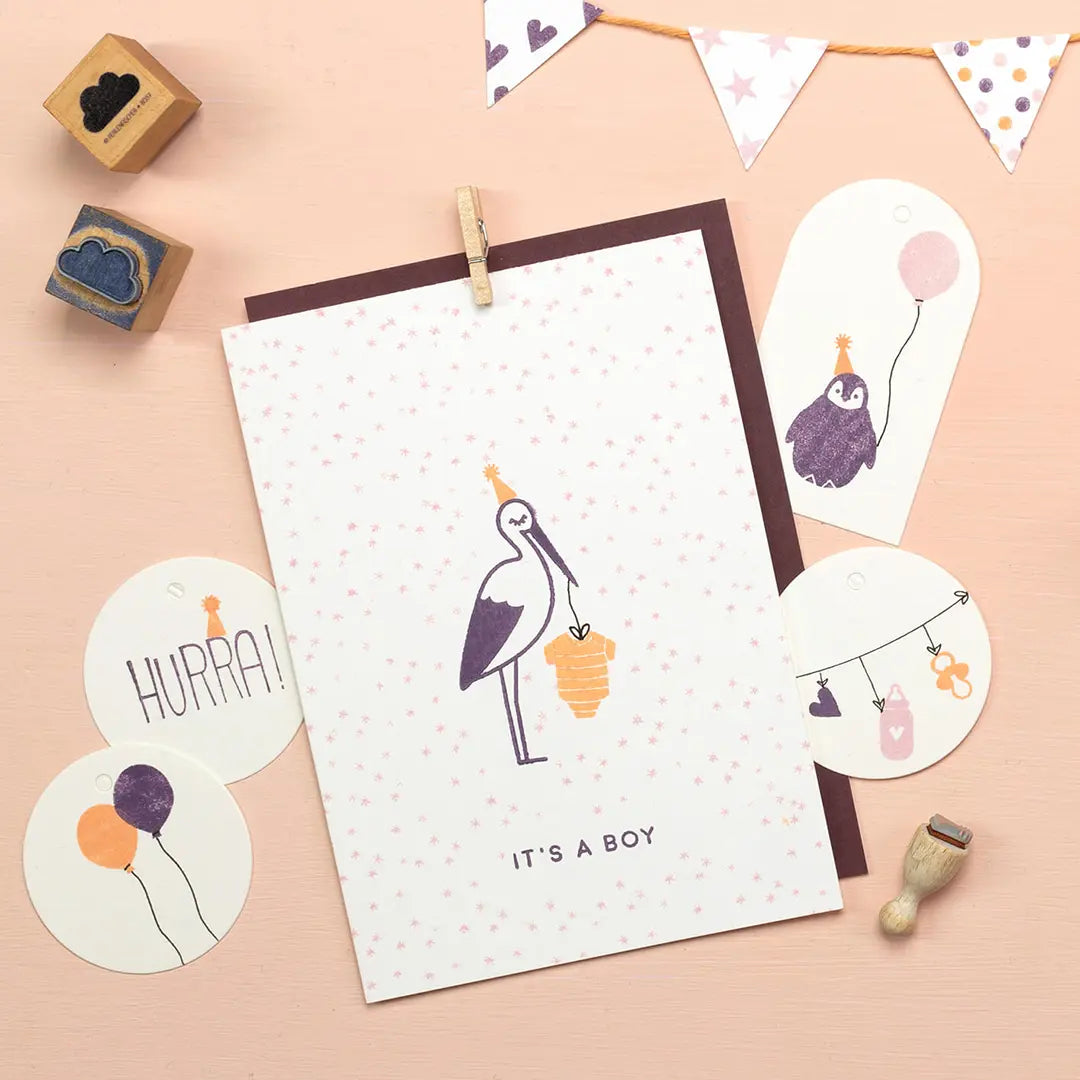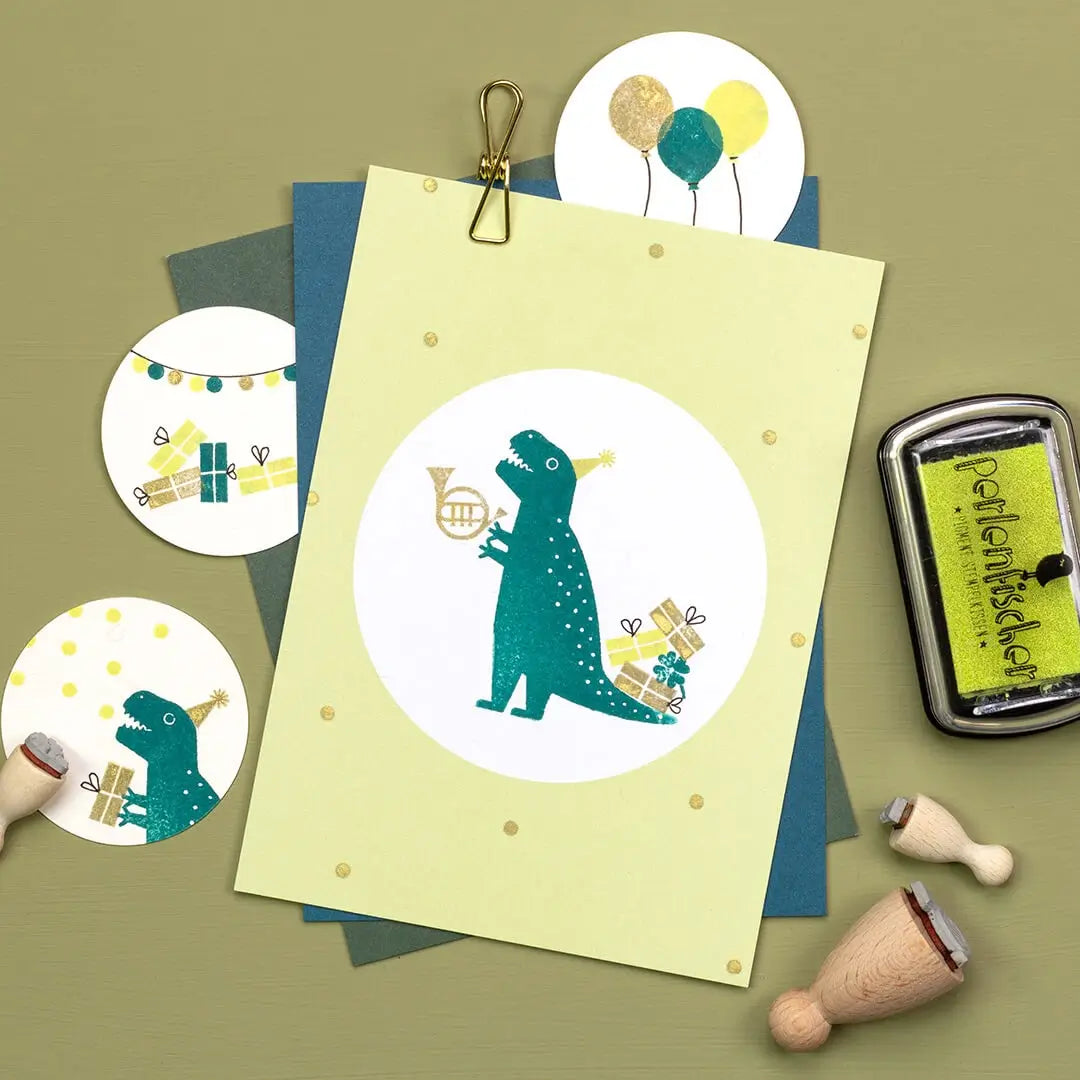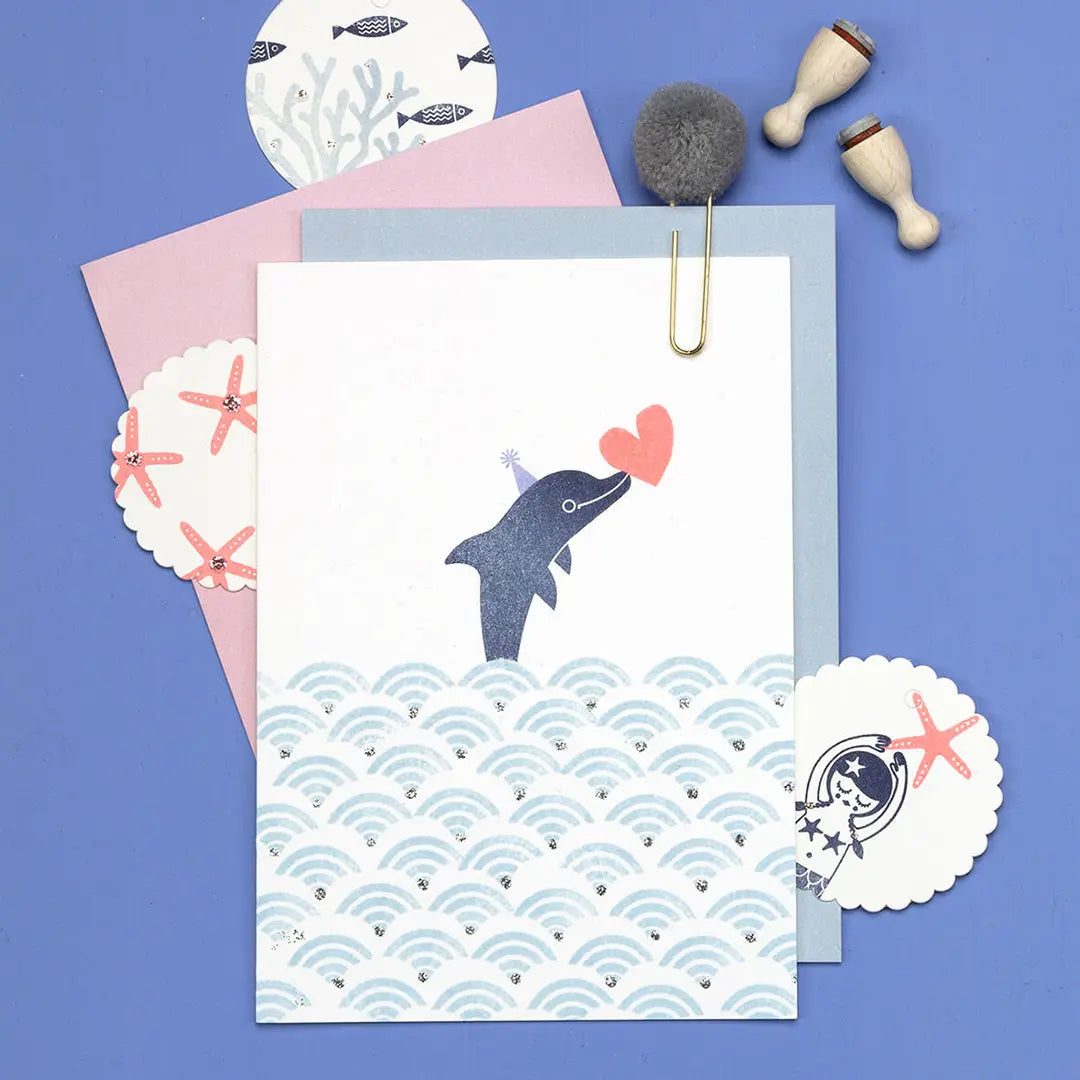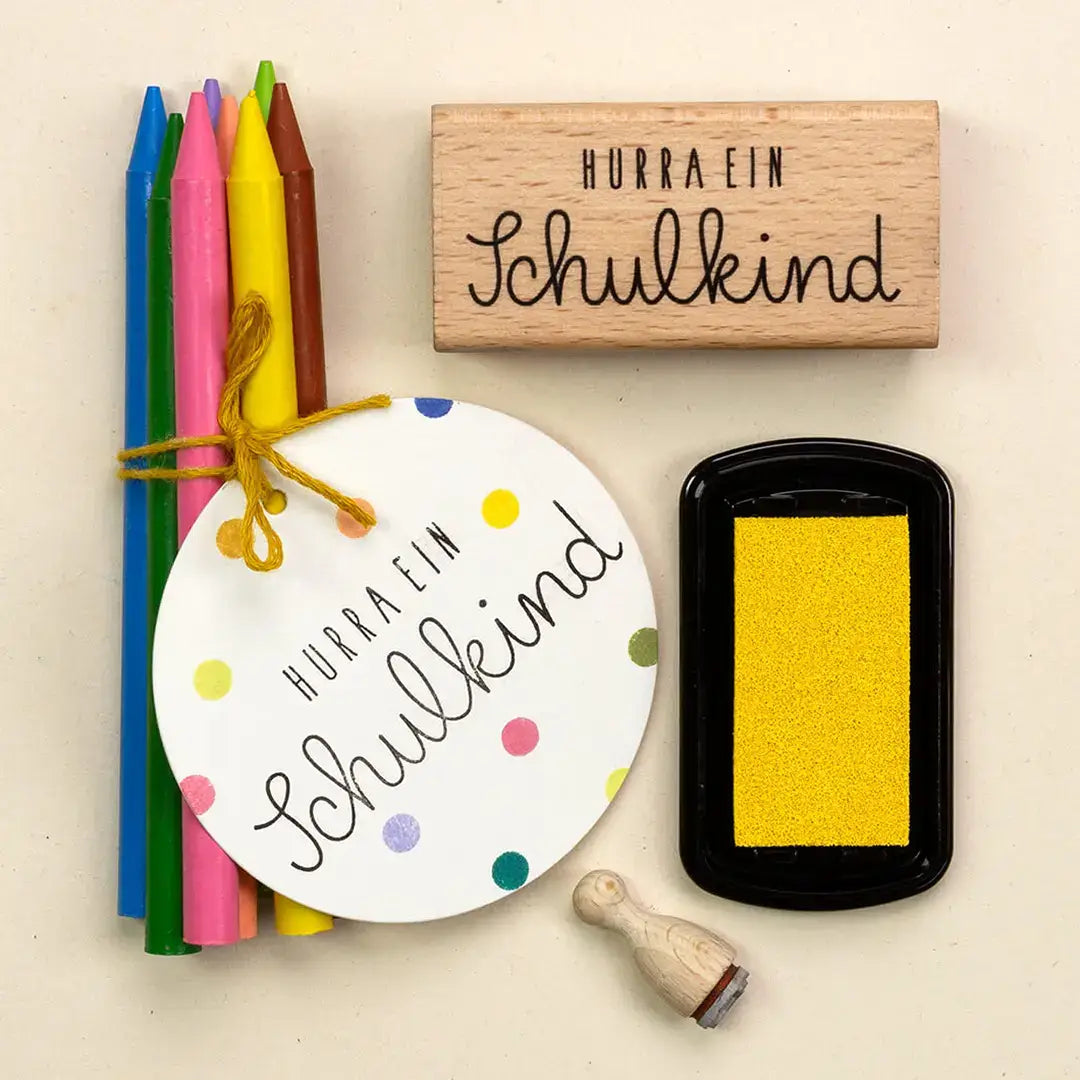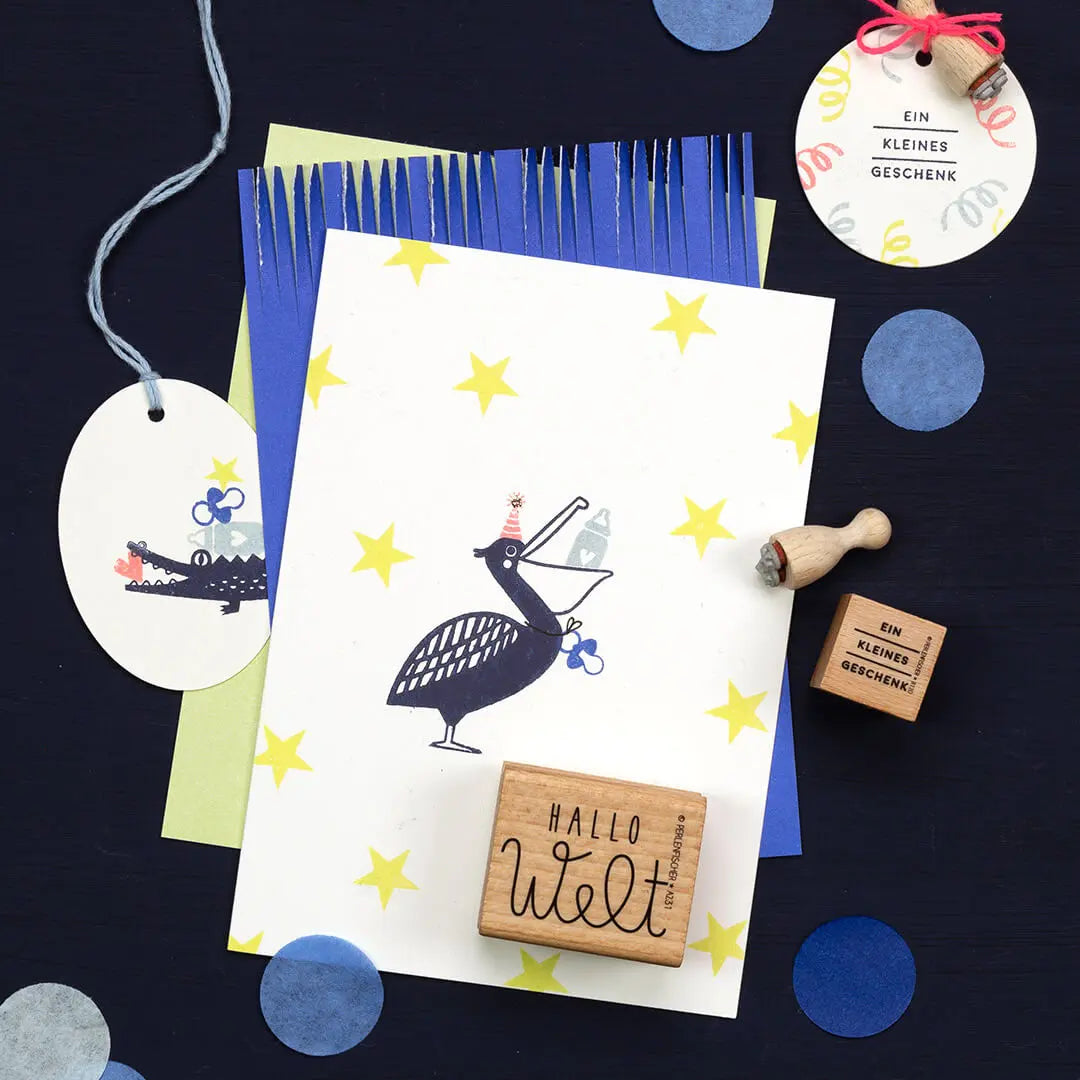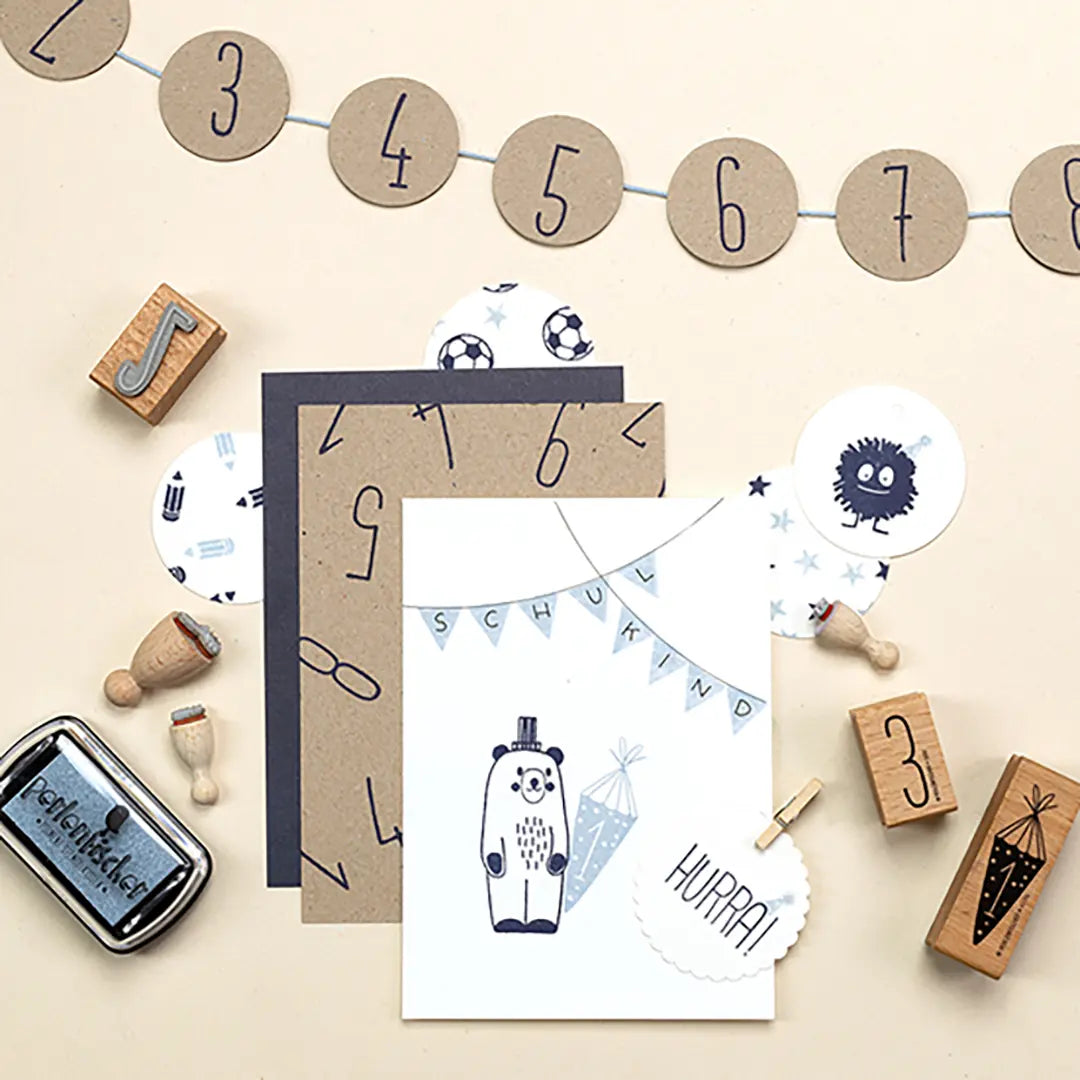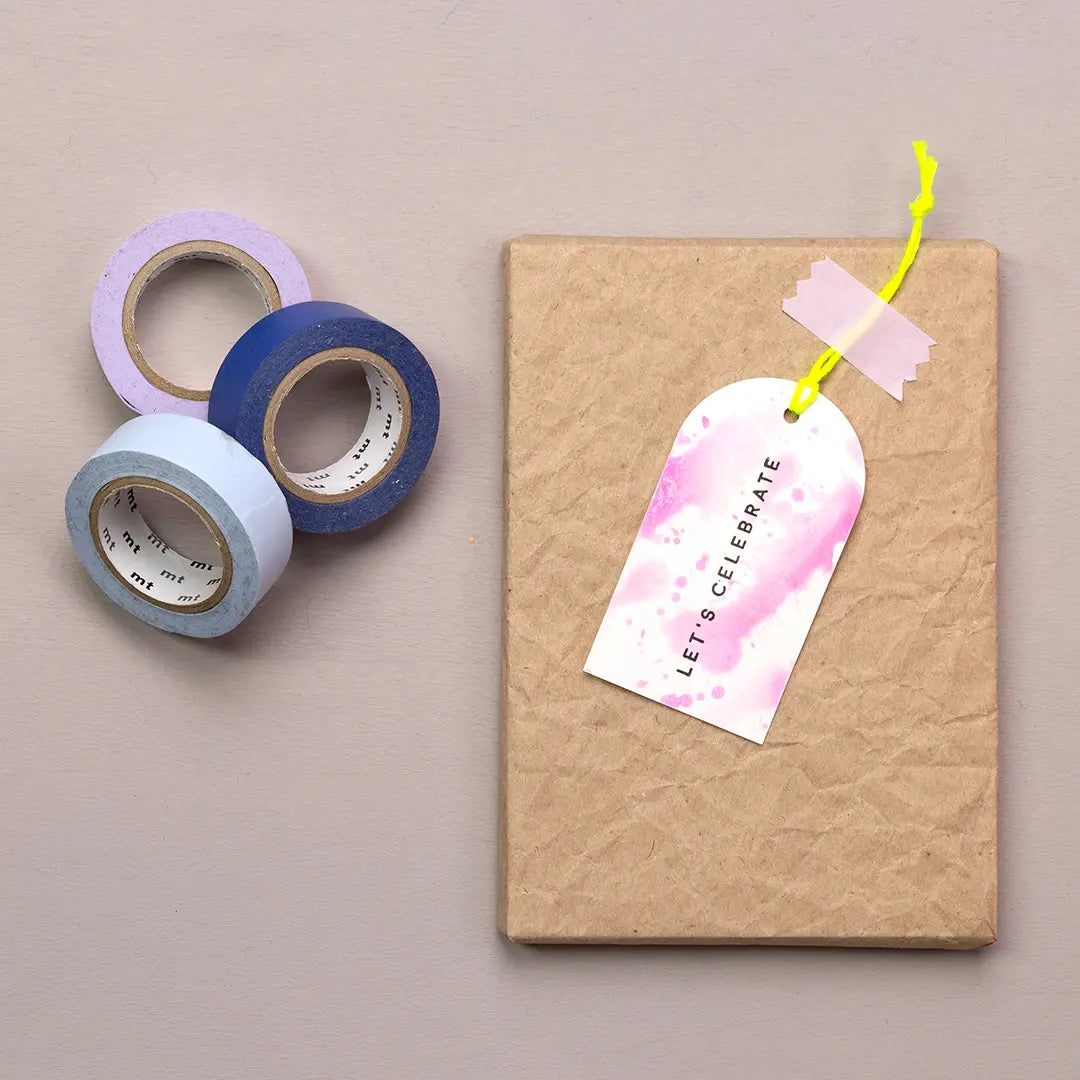 Attach gift tags
Not only with yarns you can tie your tags to gifts: An equally pretty and simple variant are the colorful masking tapes. They are very easy to apply and tear off again without leaving any residues and also look incredibly cute.
everyone loves flowers
Flowers, plants, trees, leaves, twigs and many other nature motifs are simple and beautiful. You can use them incredibly versatile or even stamp them alone on a tag and they make any gift prettier. In Stamps Flowers & Leaves you'll find lots of floral examples and cute nature-themed stamps.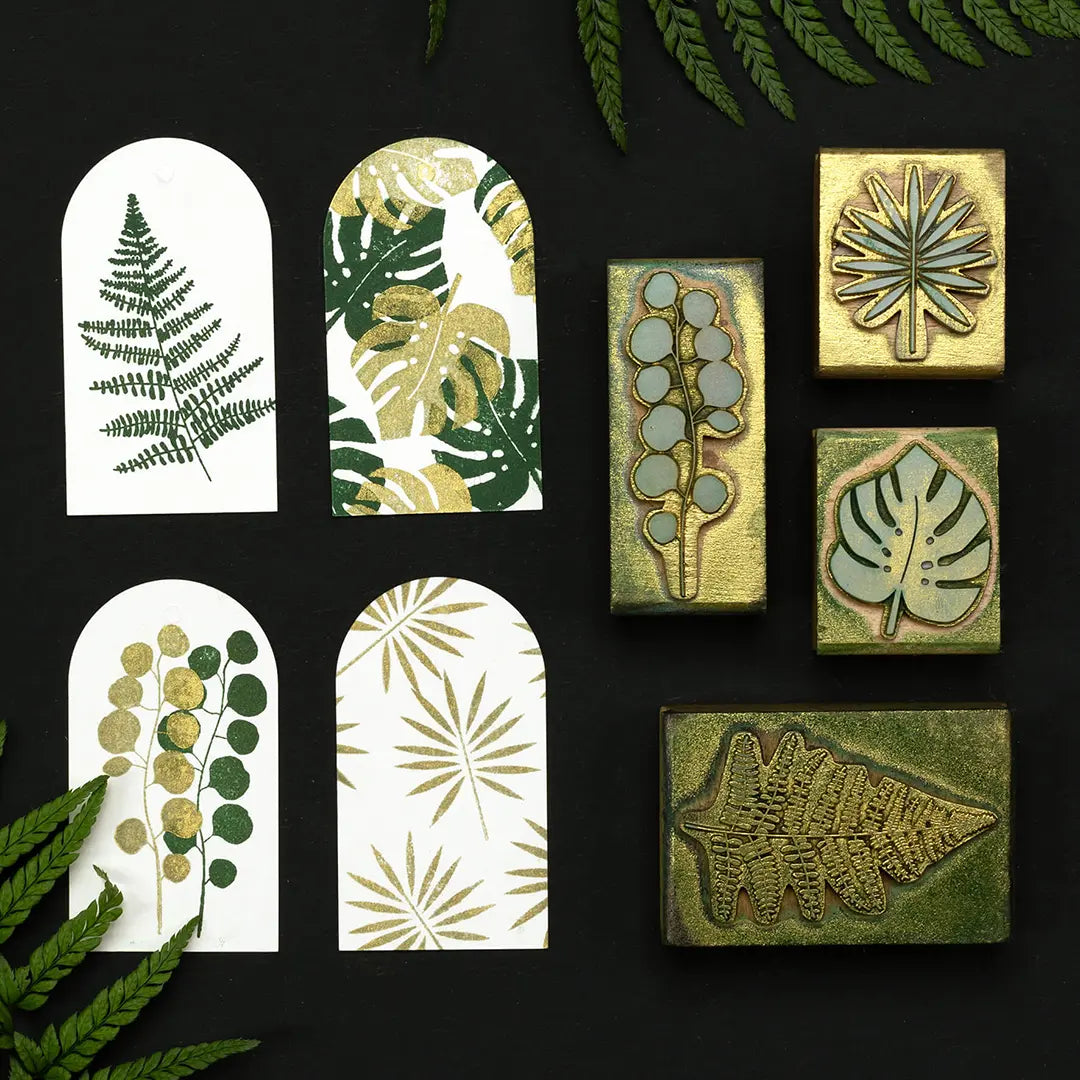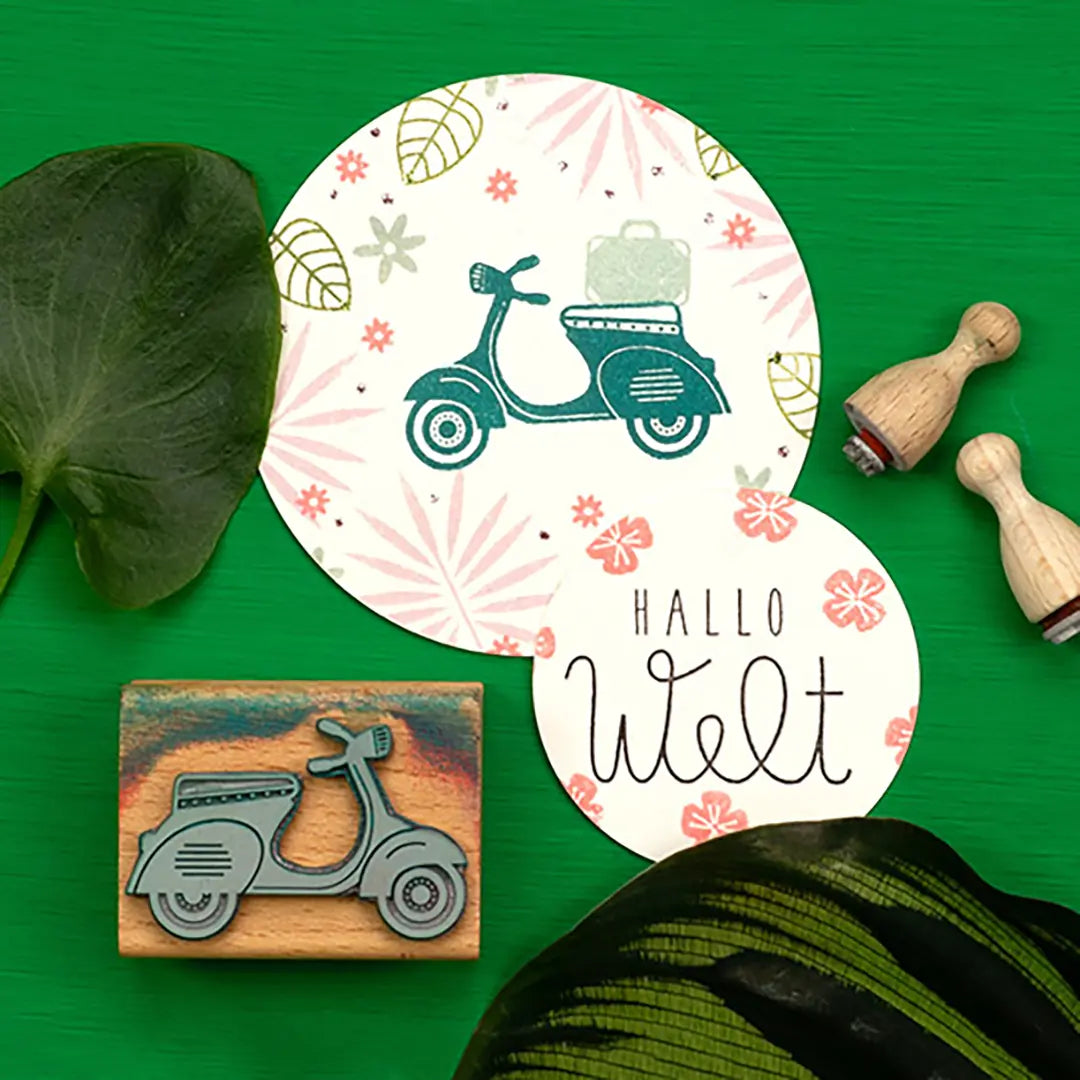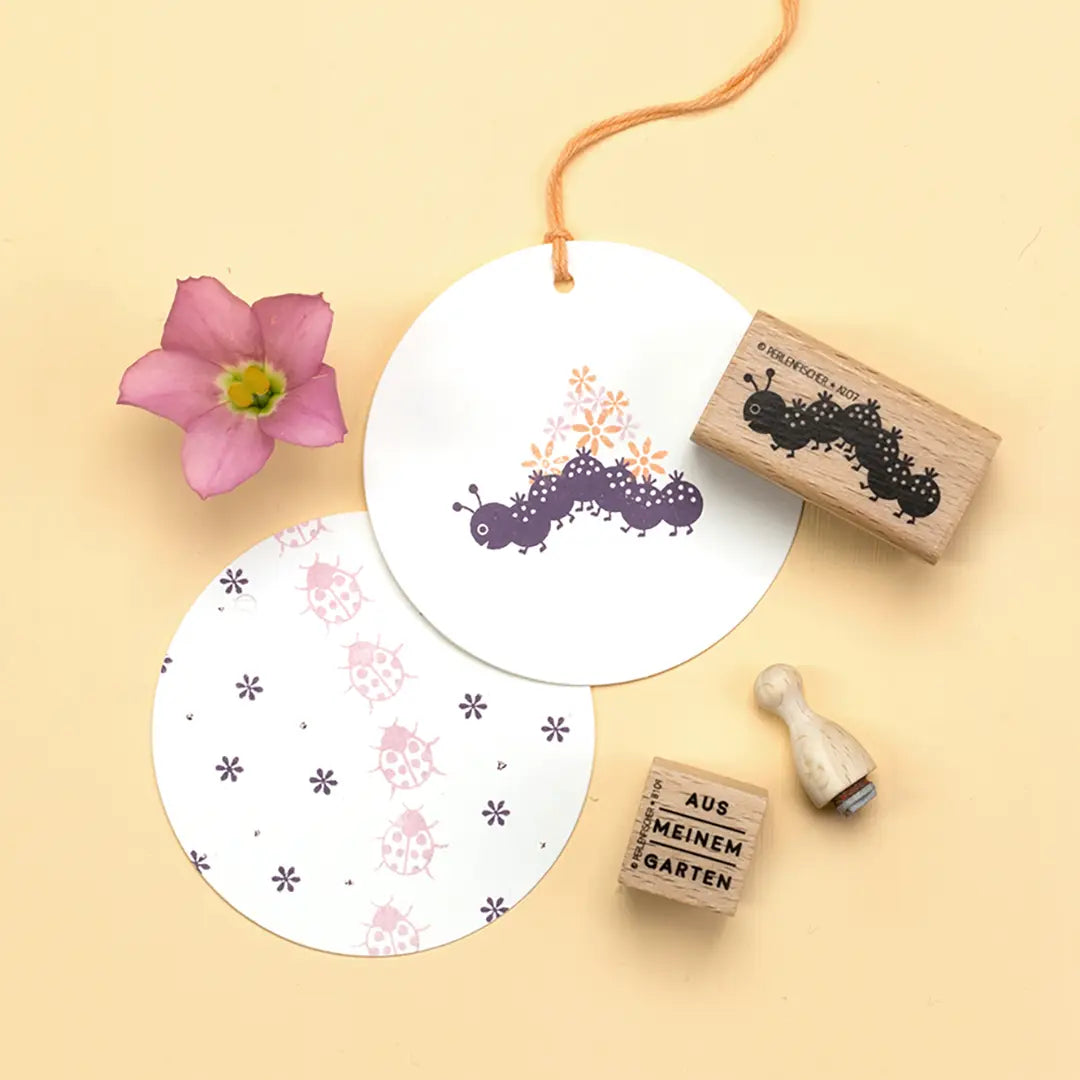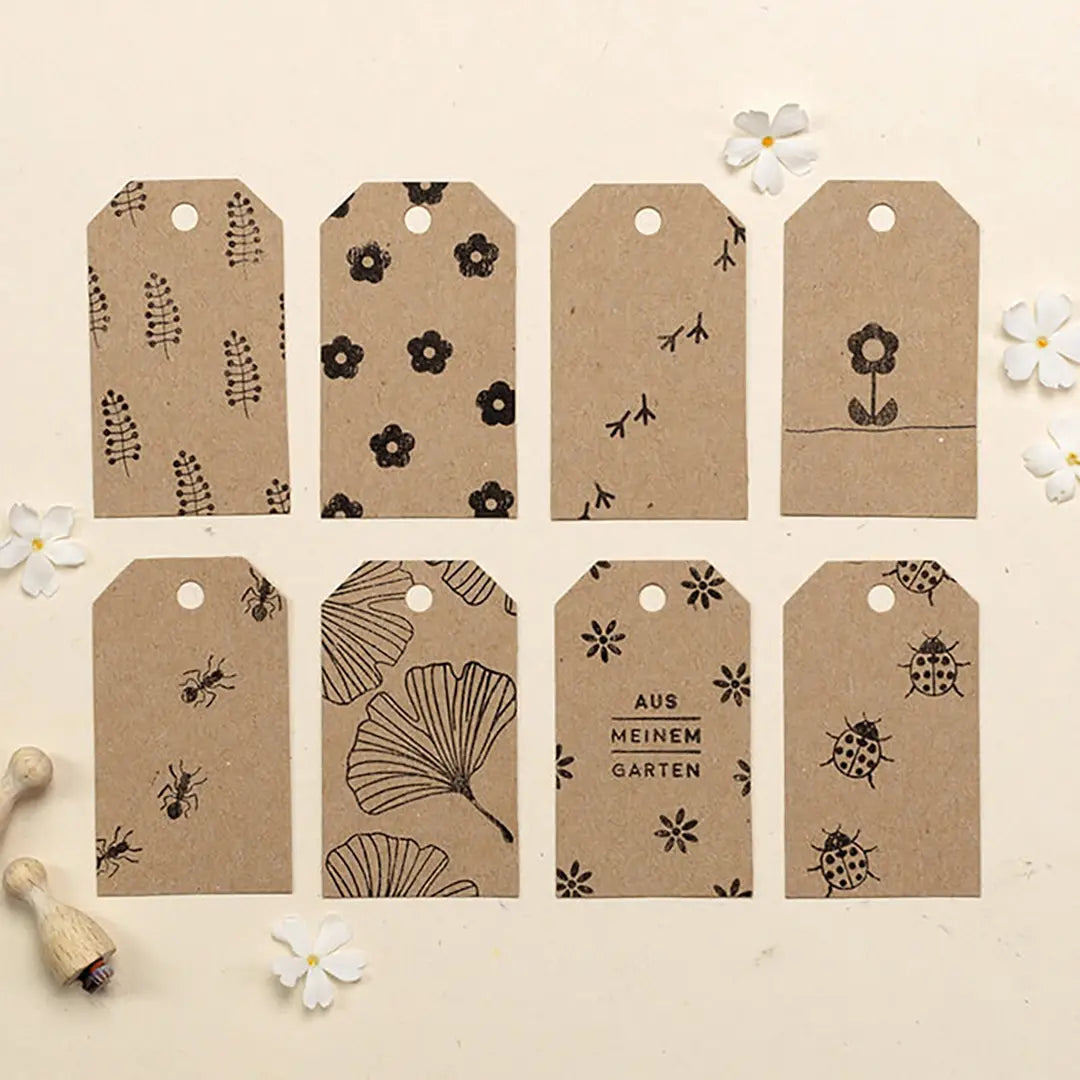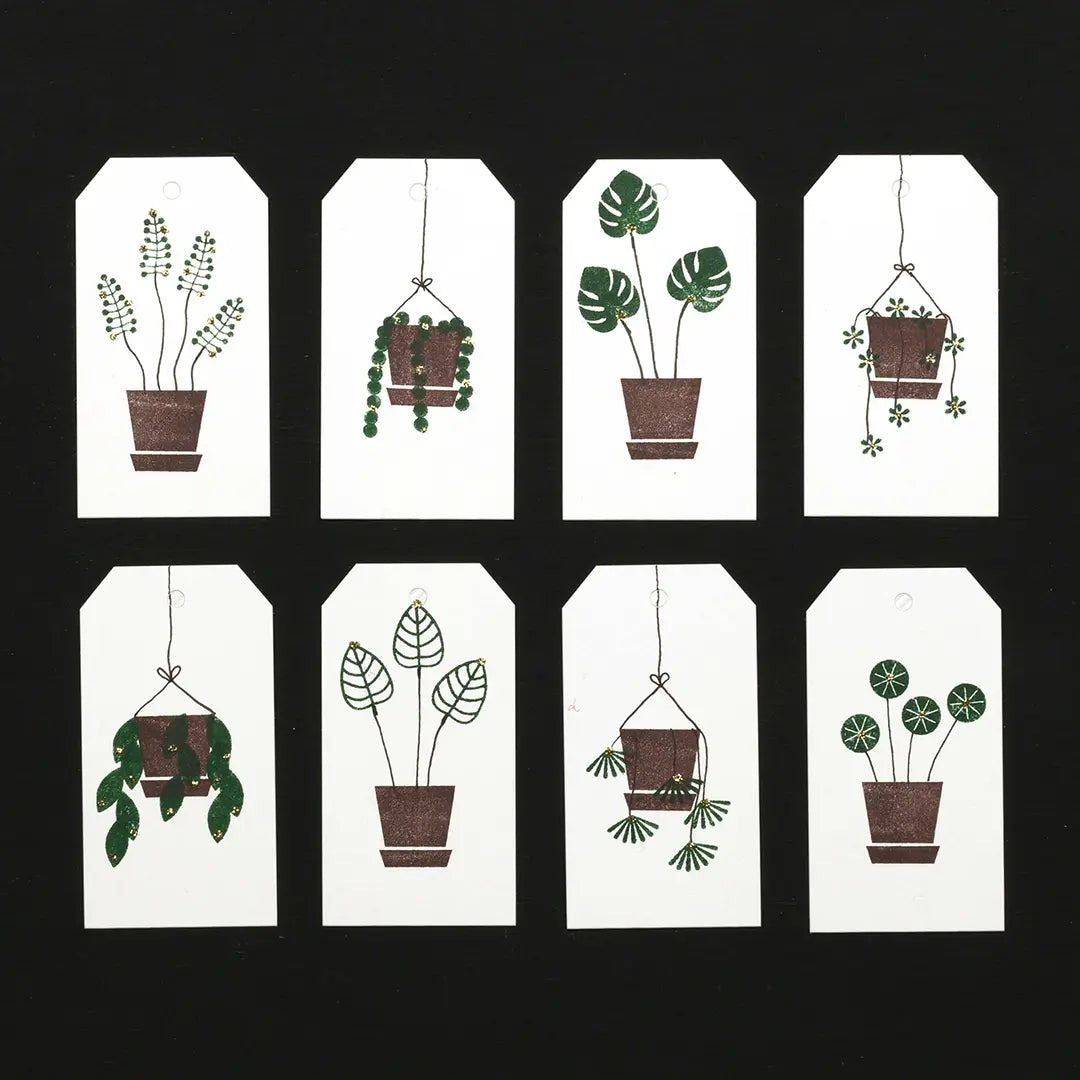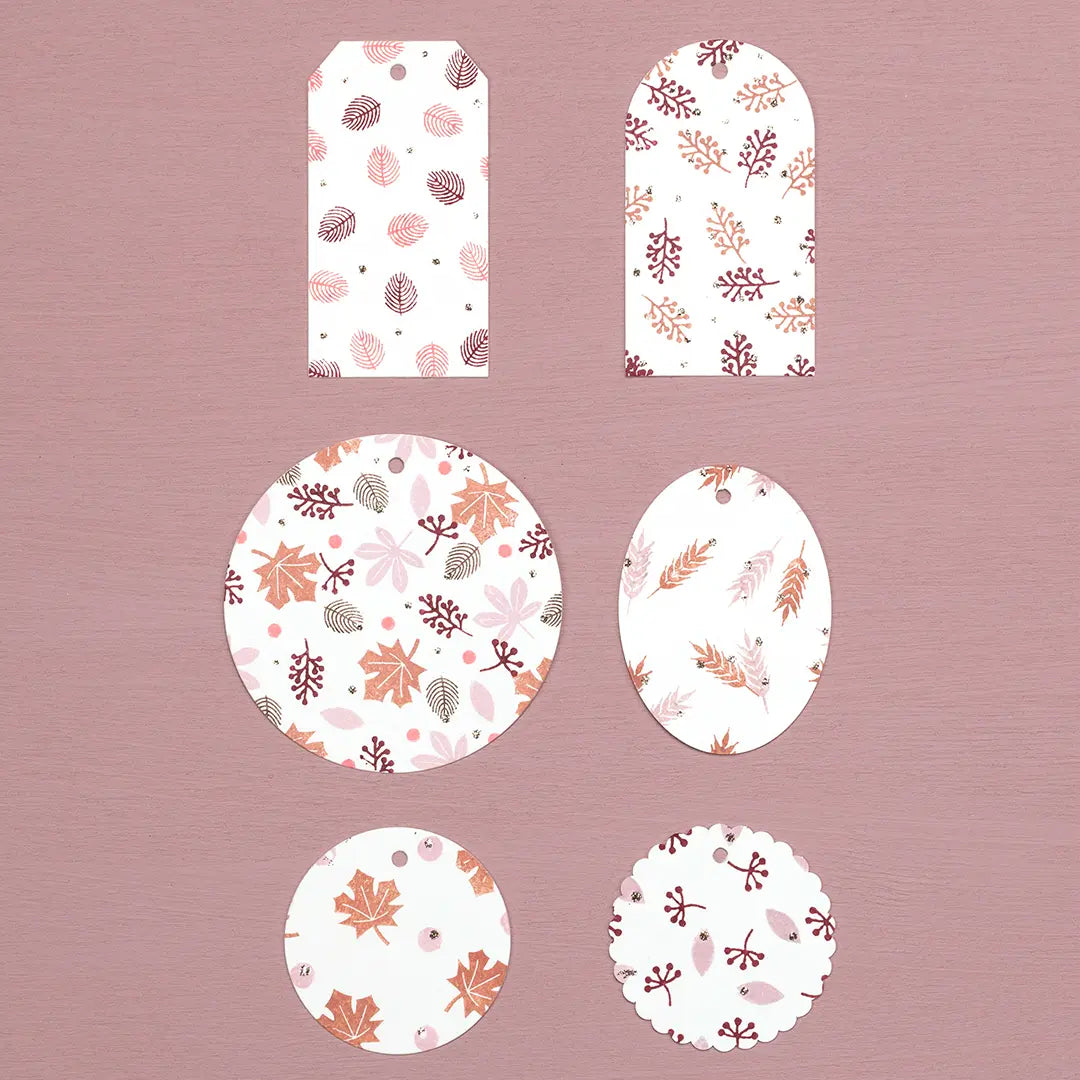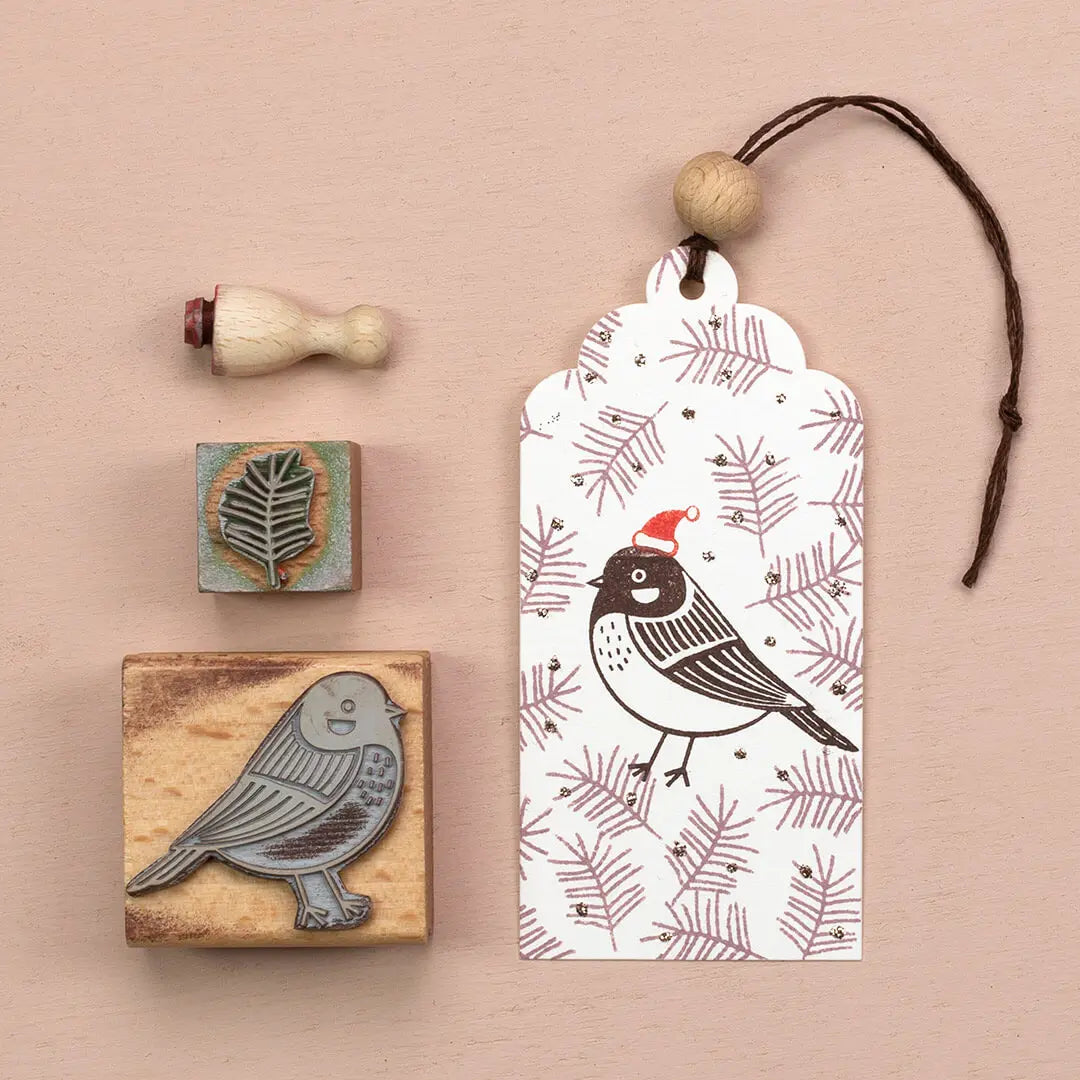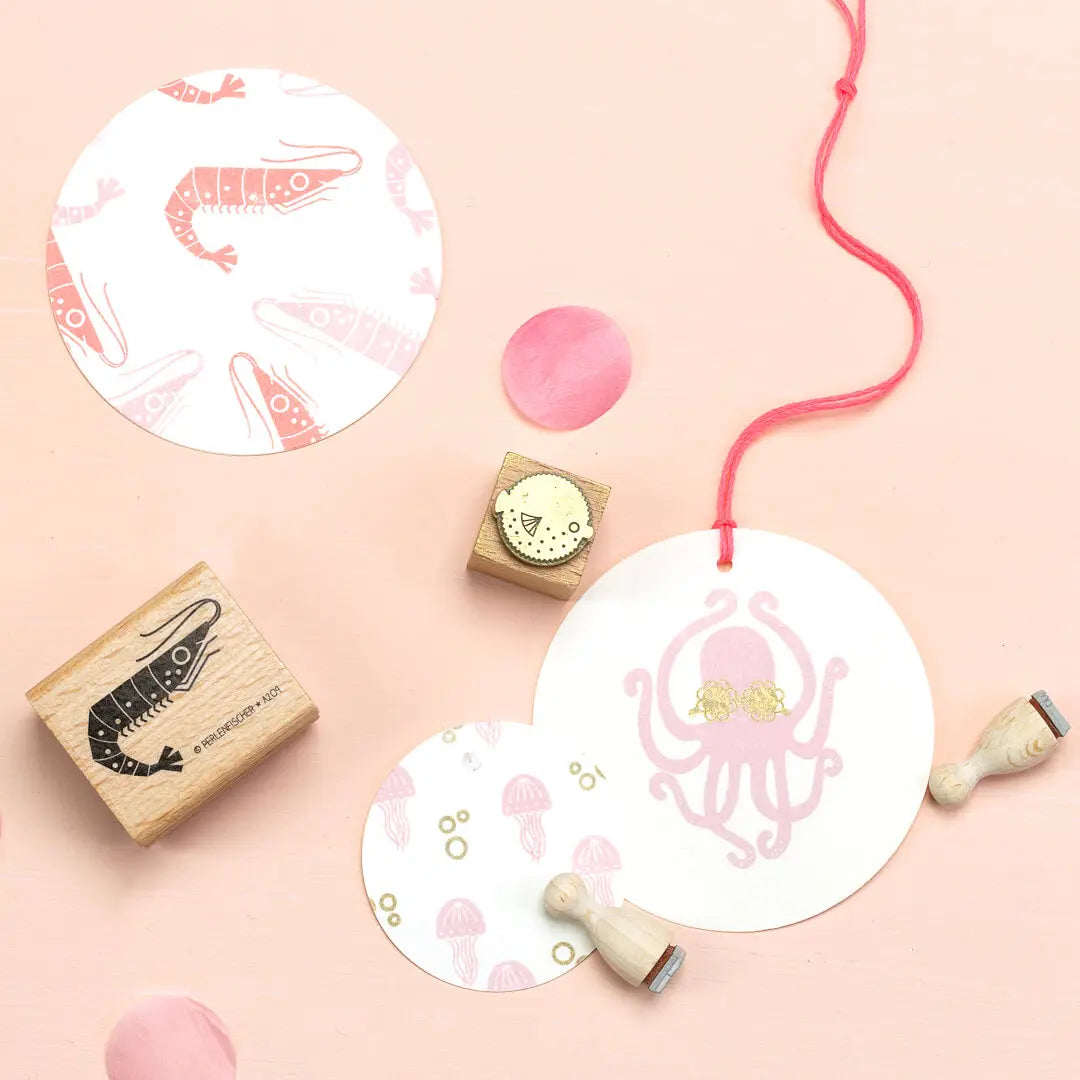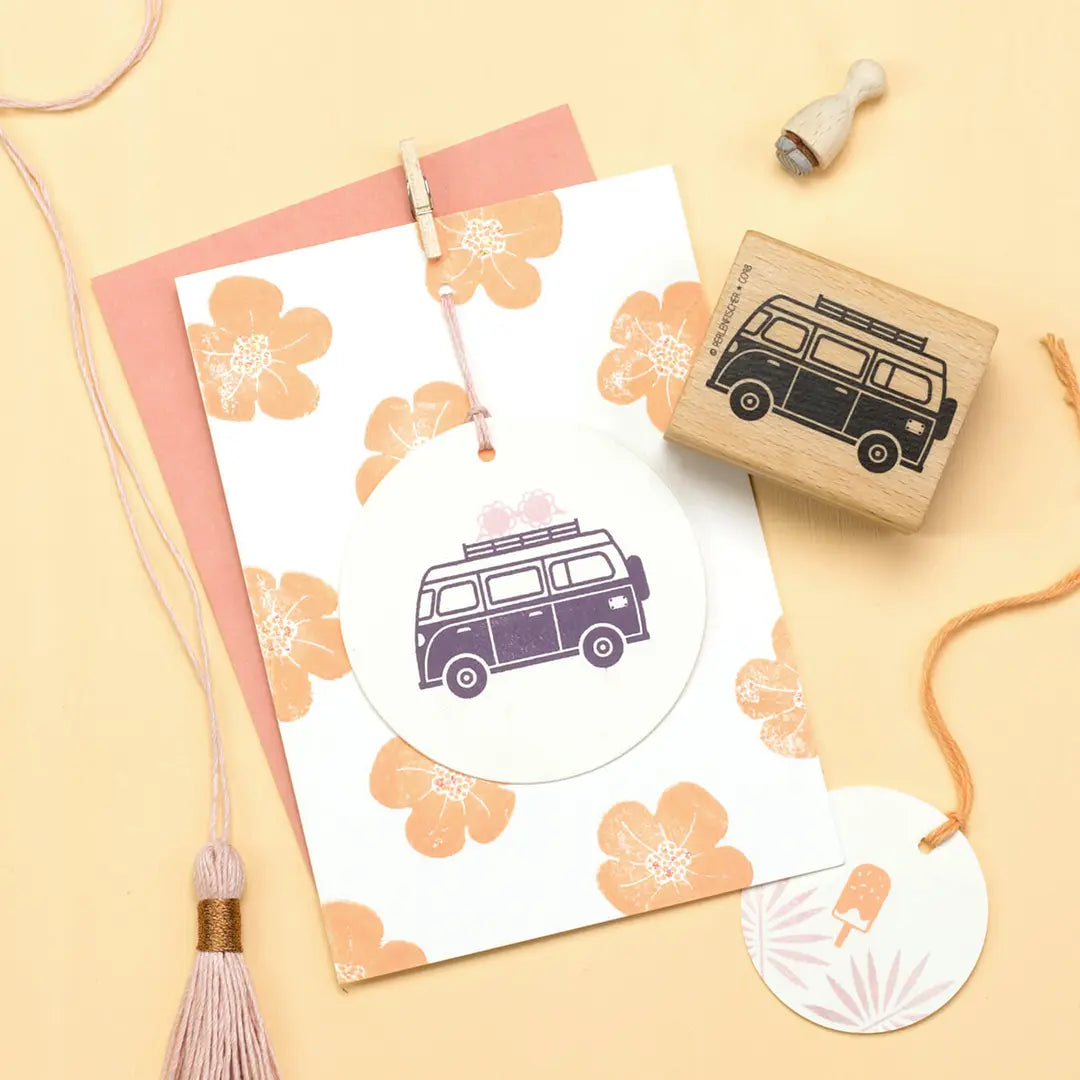 Animal motifs on tags
We love our animal stamps for all sorts of seasons and occasions. You can stamp them perfectly on cards and also on tags. Feel free to try them out and get inspired on our stamp page:
Tag & Card
These special cards are very easy to make: For this, stamp a tag and thread a yarn through the pre-punched hole. Then we take a folding card and punch with the punch | circle 3mm a hole in the front side, through which we put the thread of the pendant. Finally, you can use masking tape to attach both the thread on the inside of the card, as well as the pendant on the front, so certainly nothing slips.
Easter tags
Spring time tags for the Easter holiday
For Easter you can use our tags in oval shape, because they remind of Easter eggs. Stamp decorations for your Easter bush, unique Easter cards and cute Easter nests. You'll find even more Easter-themed stamp designs at: Stamps Easter.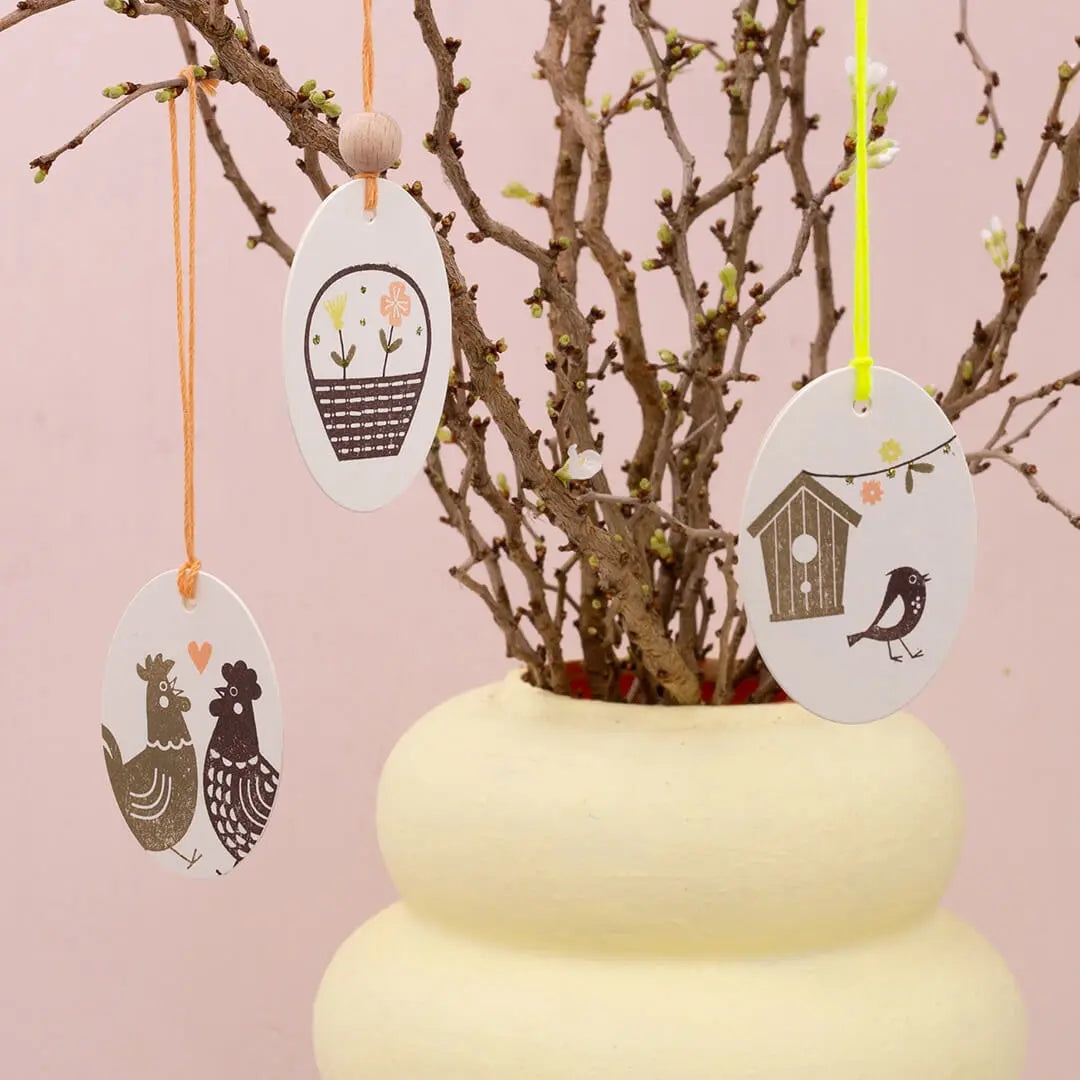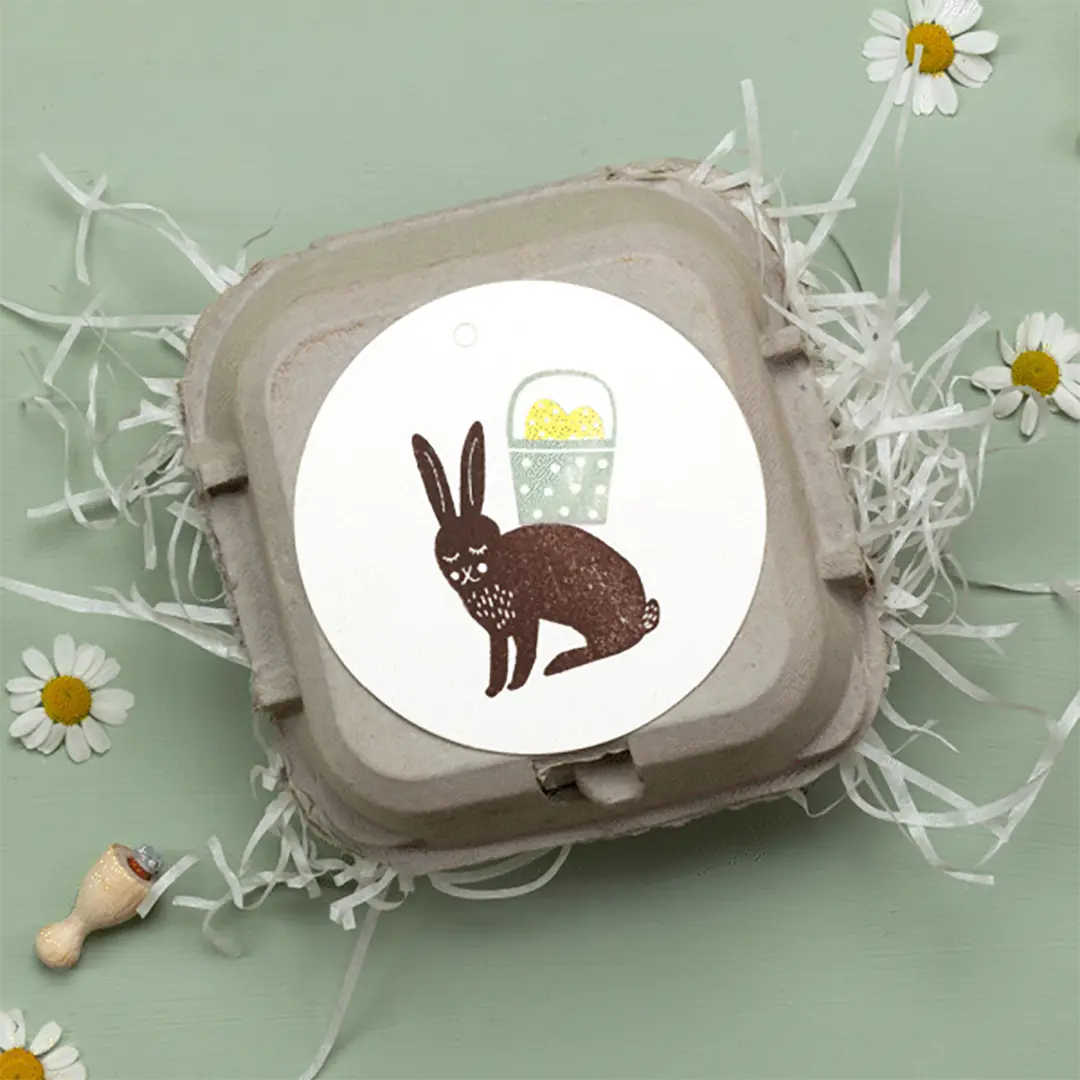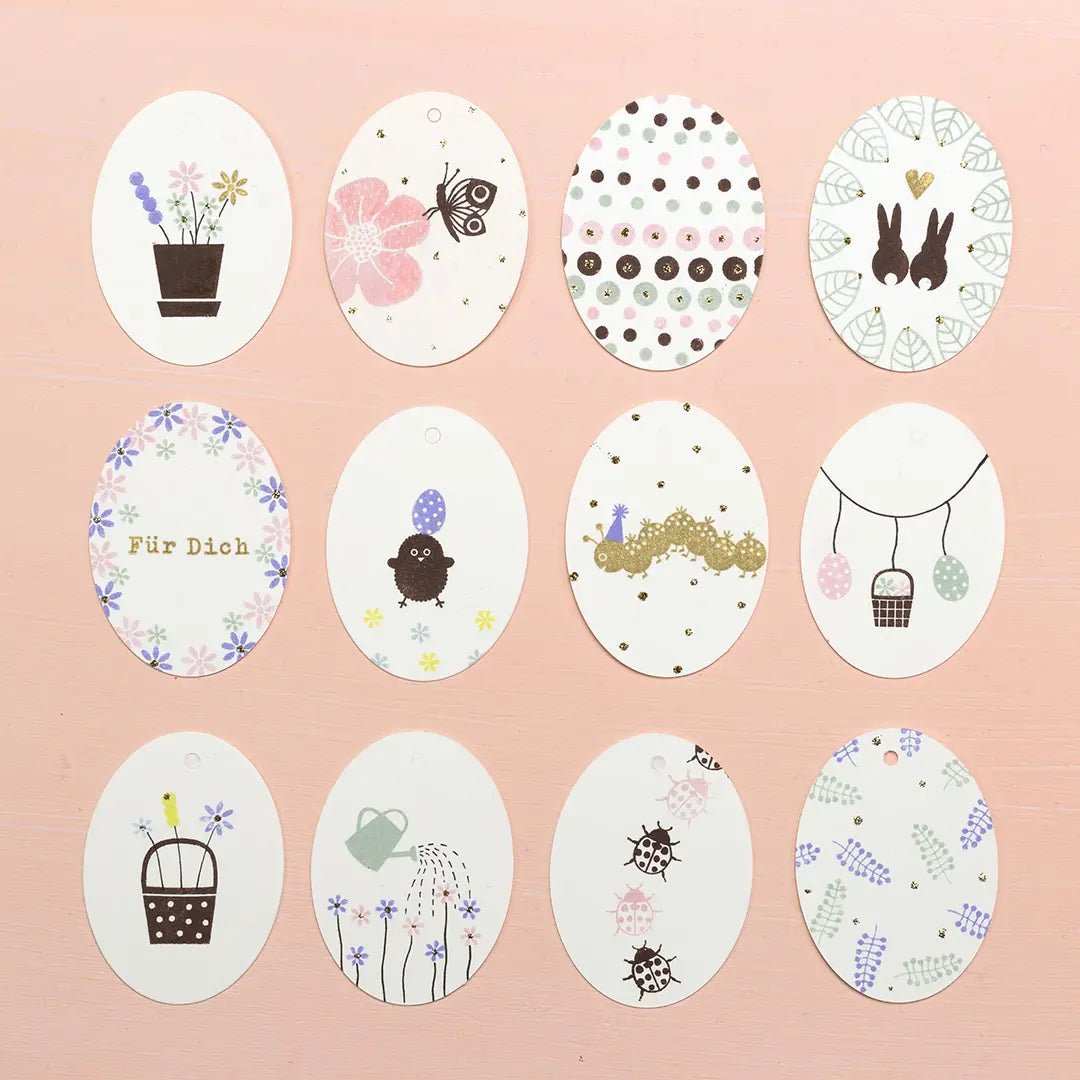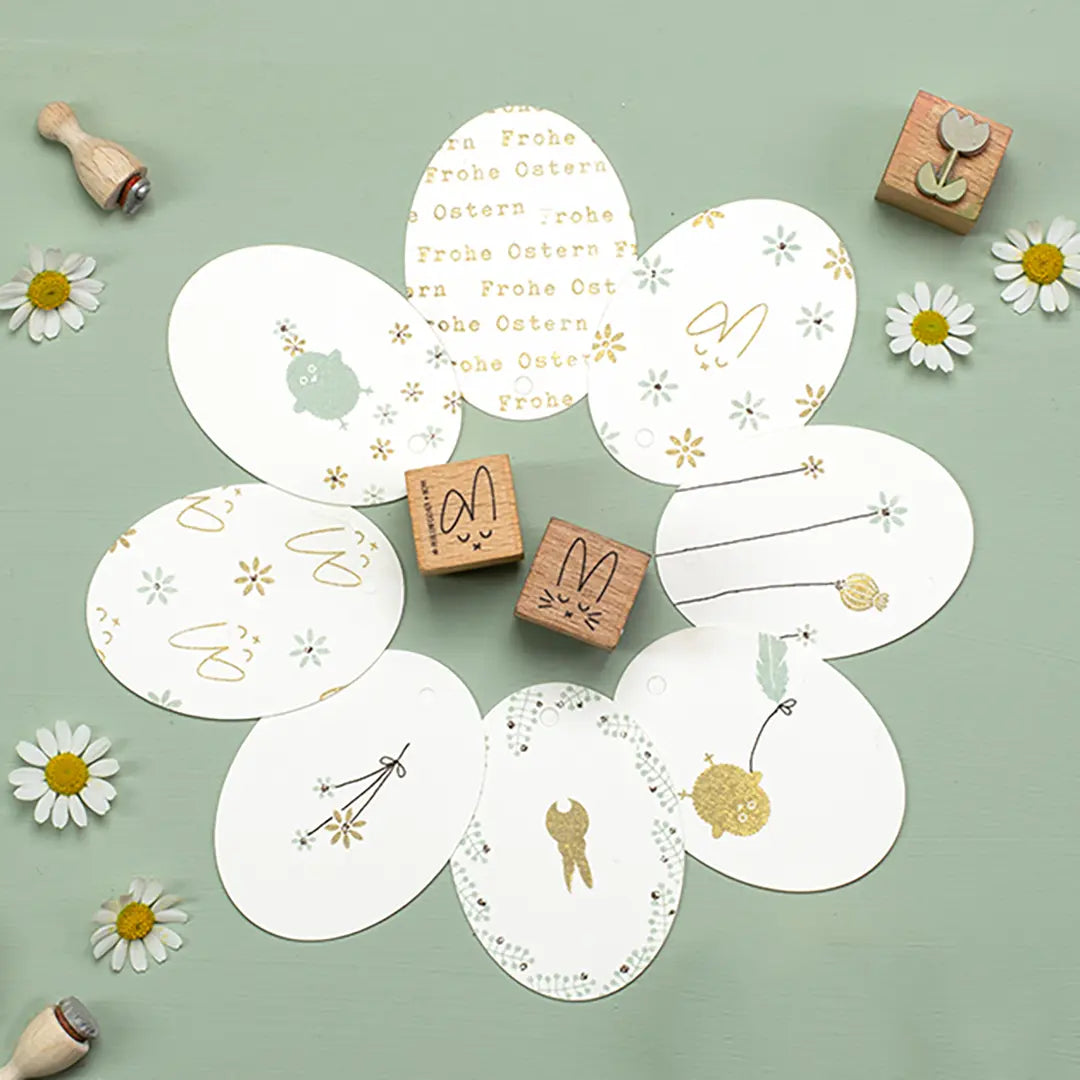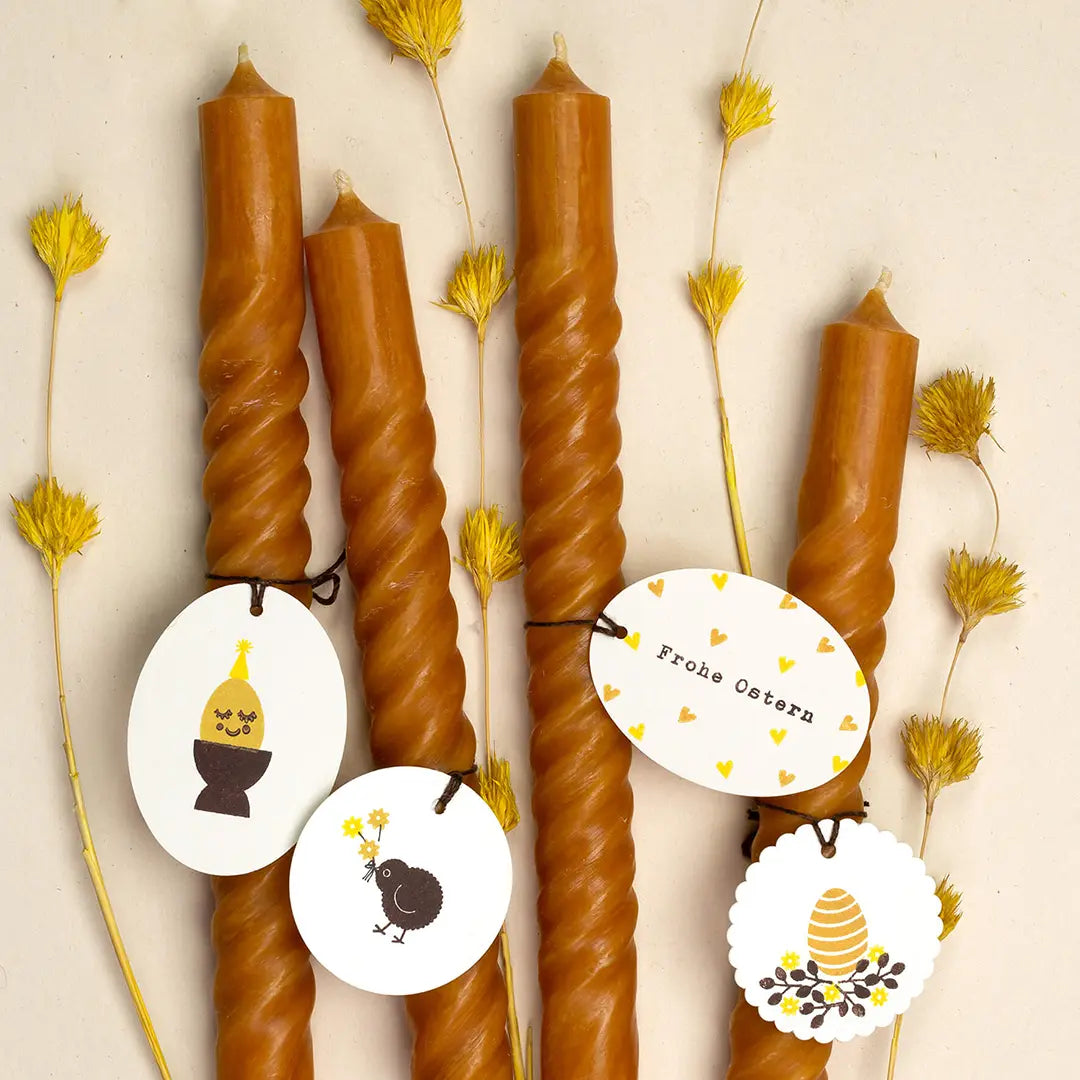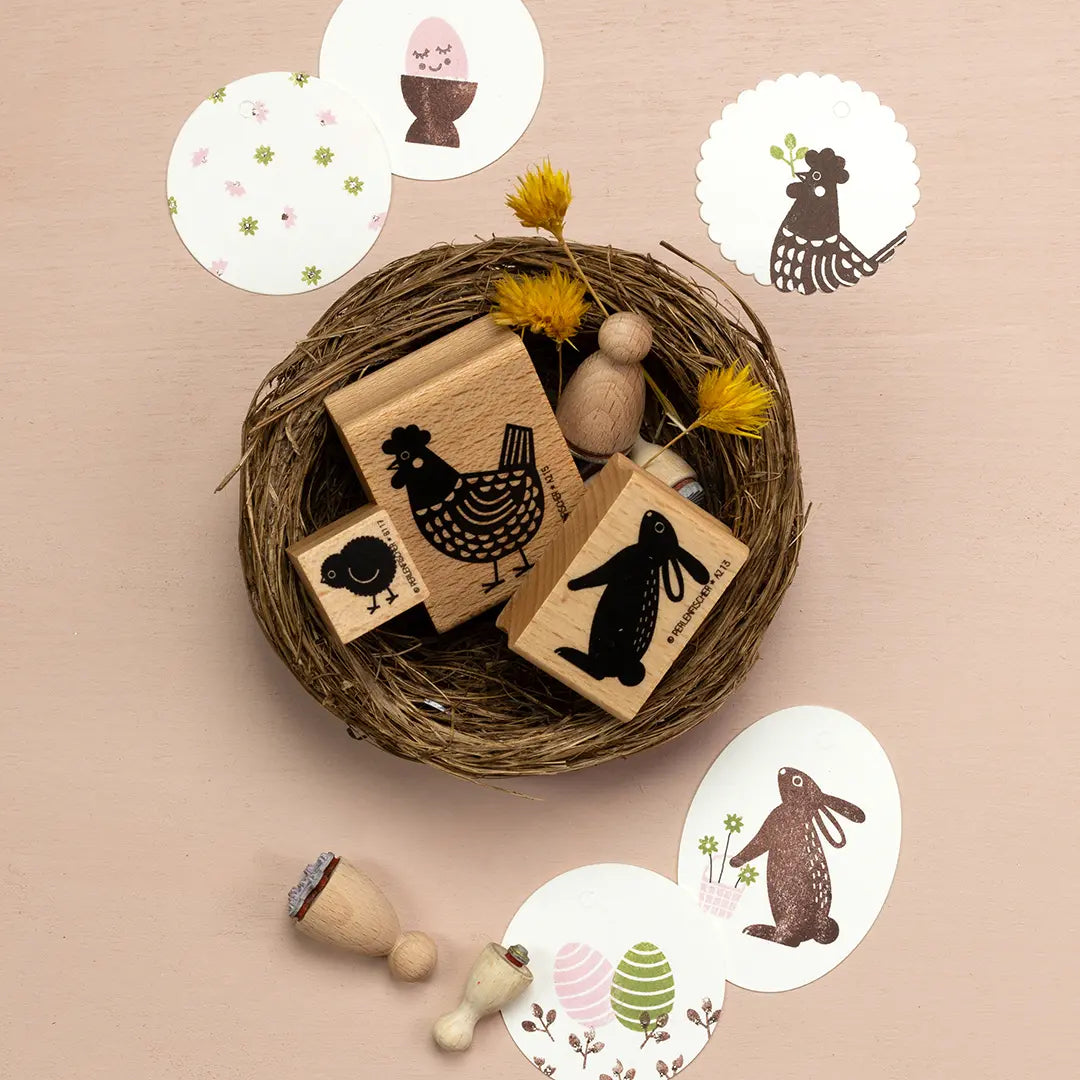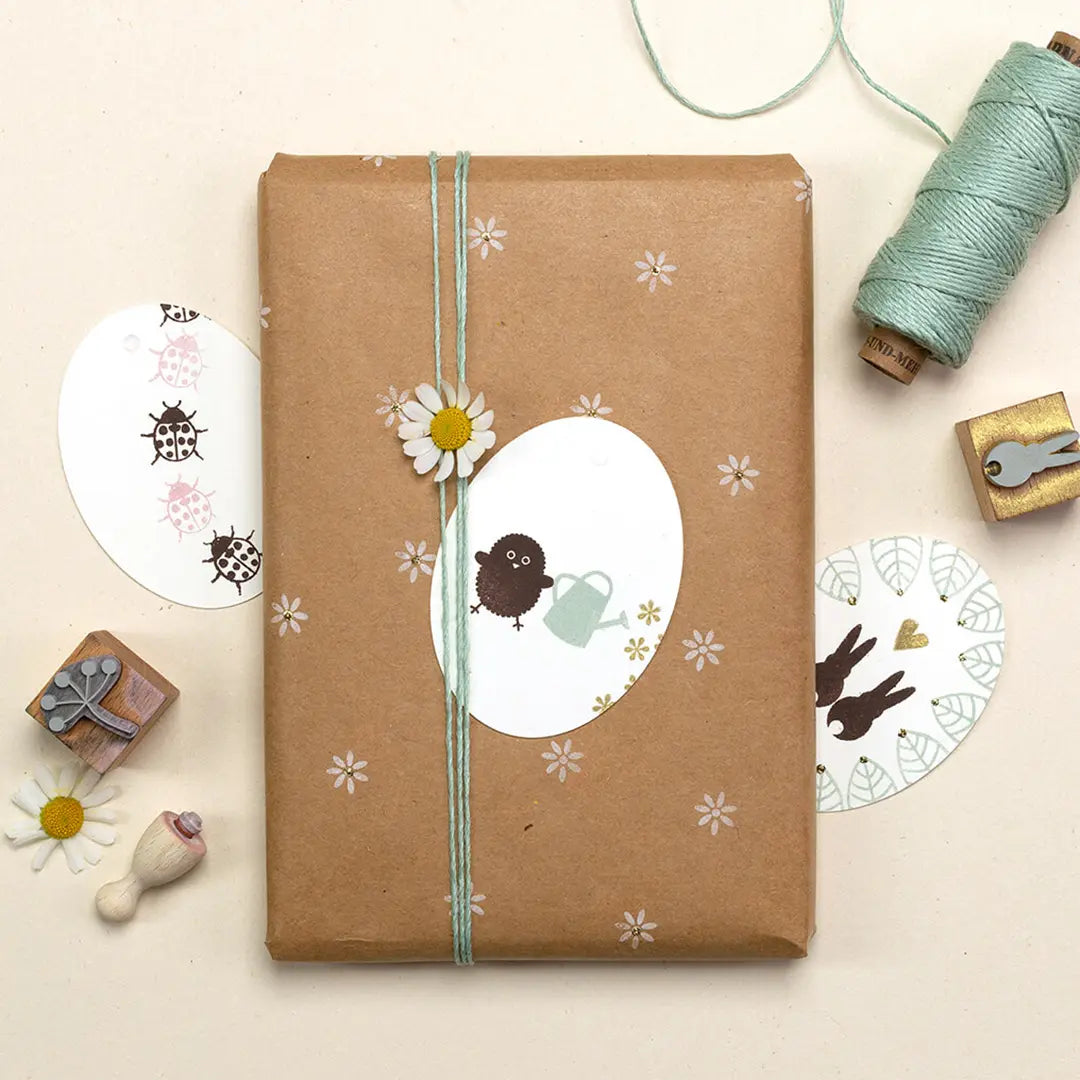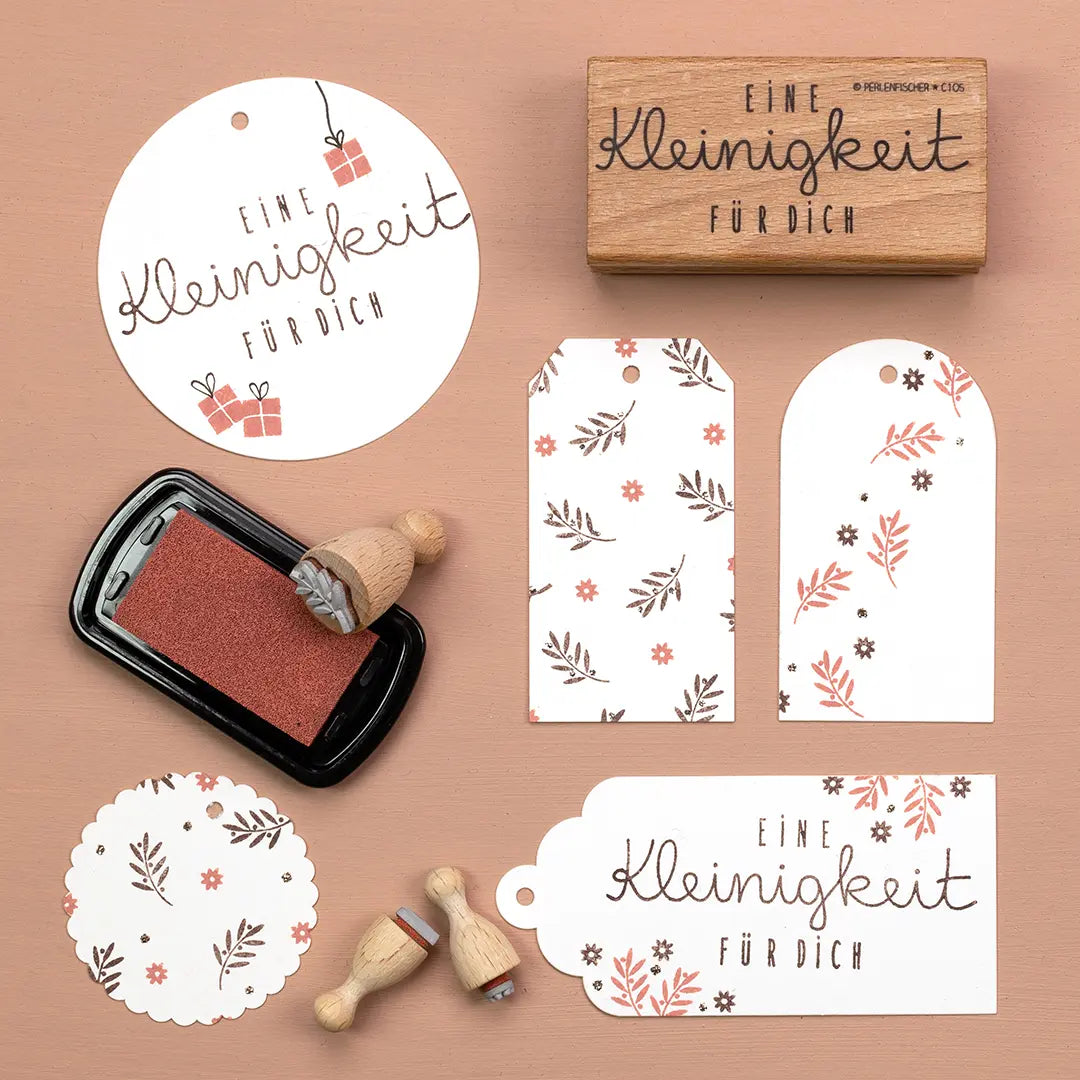 Stamp sets with tags
Sets with gift tags
We have put together wonderful stamp sets for you. It contains everything you need for stamping: stamps, ink pads and stationery. In almost all sets are included, among other things, paper tags for tree decorations at Christmas, pendants on the Easter bush or as a pretty table decoration for various celebrations. The stamp set | pretty little thing was specially designed to create sweet gift tags.
Stamp personal lettering
Stamp your tags with a heartfelt saying and tie it to a gift - suitable for the occasion. So your gift looks immediately a little heartier and more individual! Click here for the Text stamps.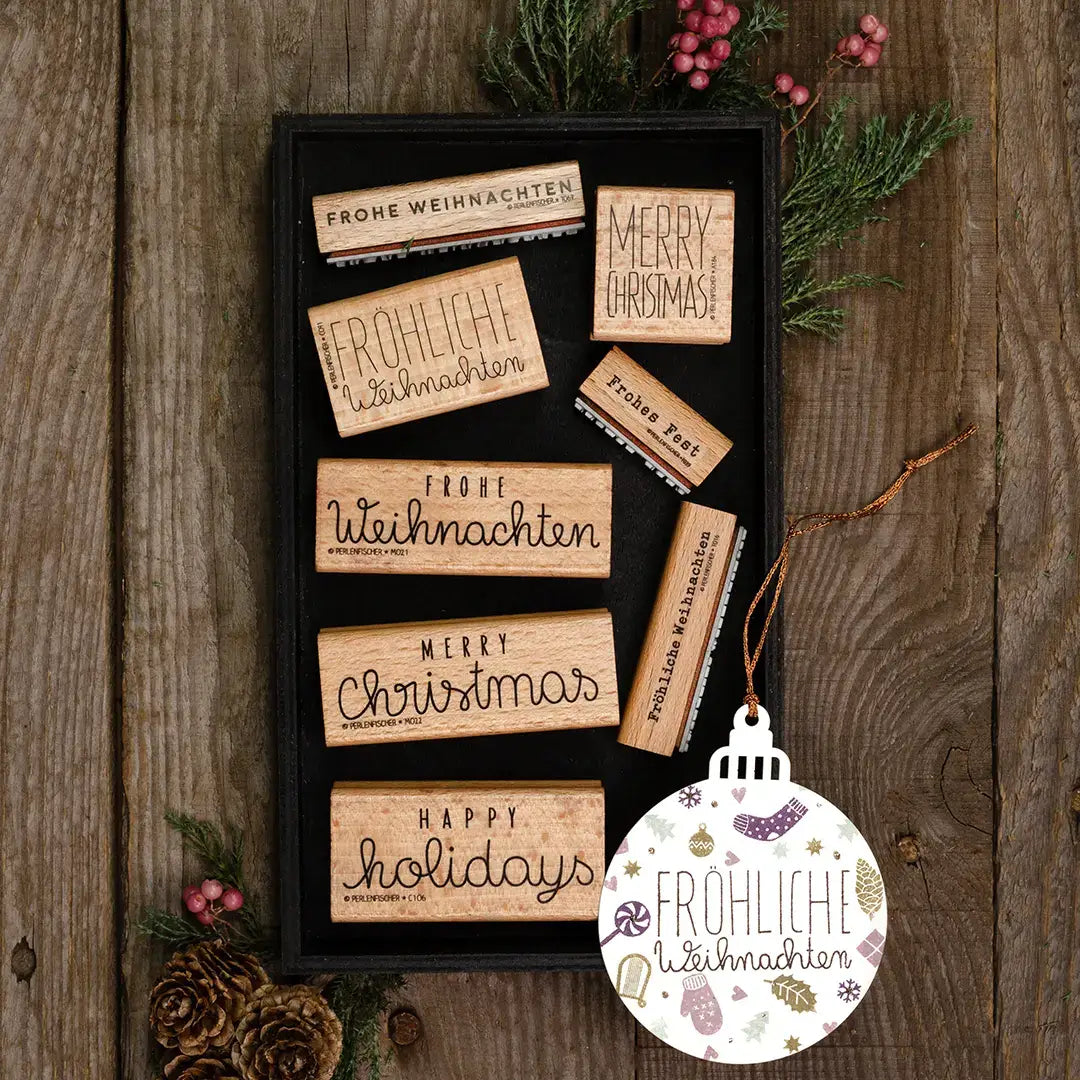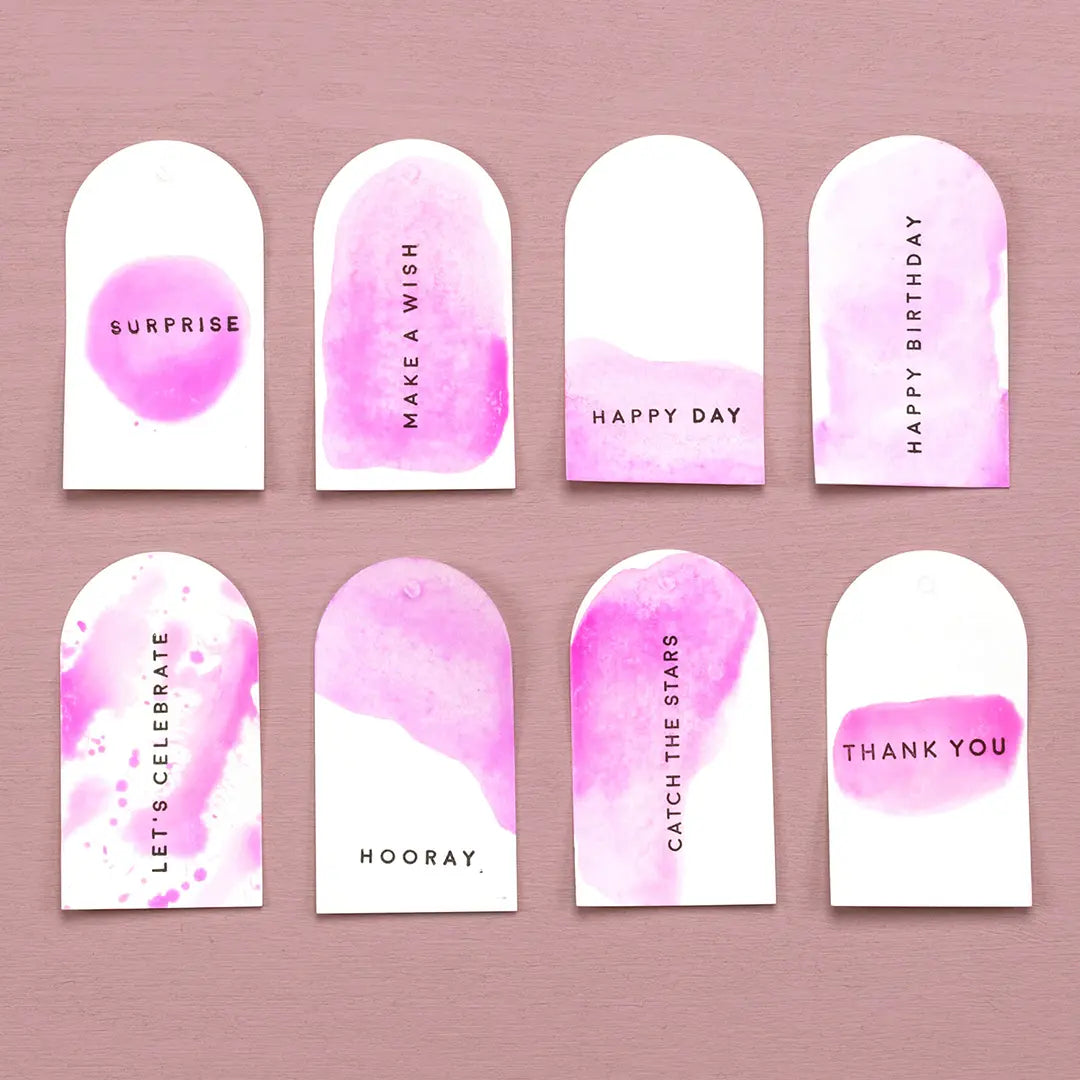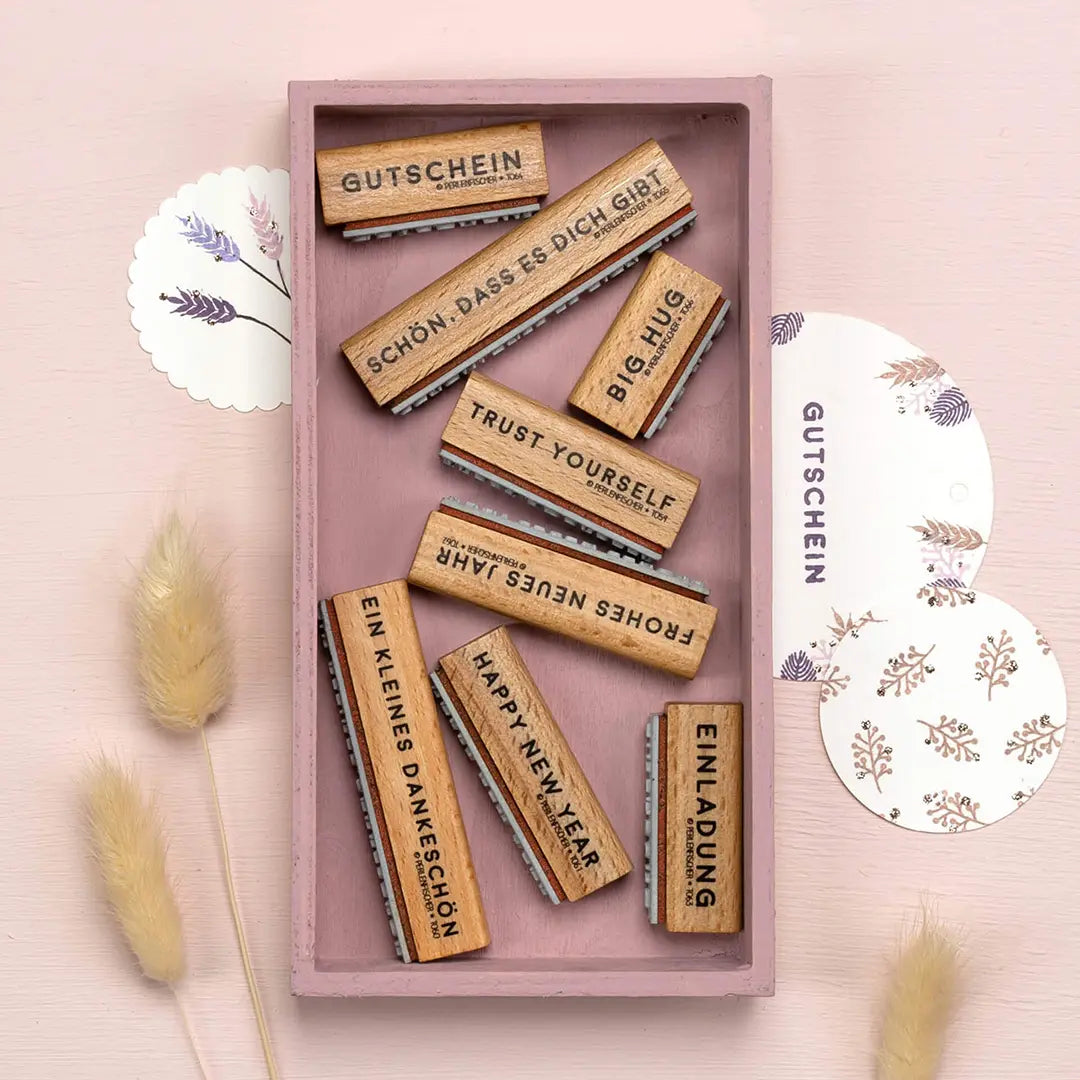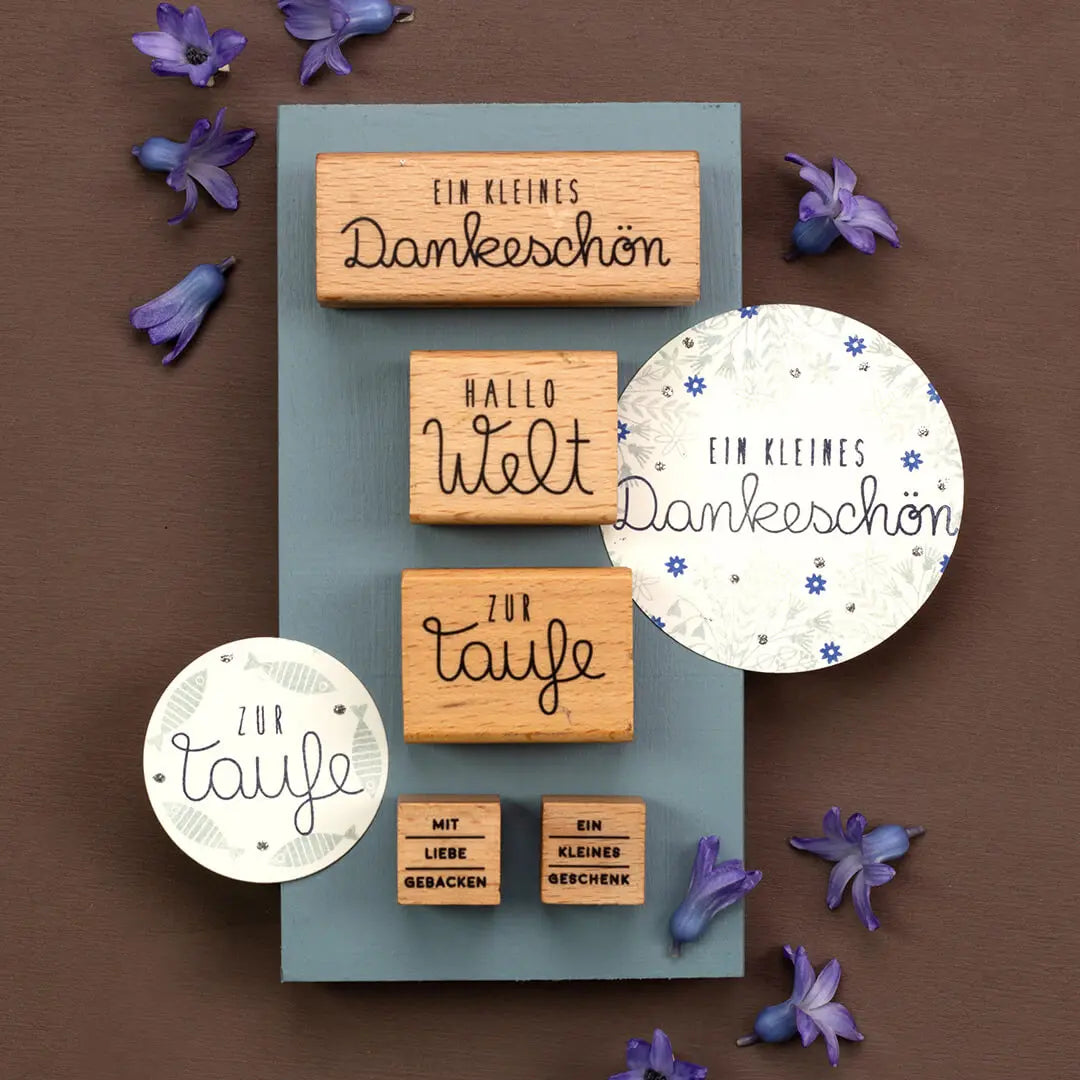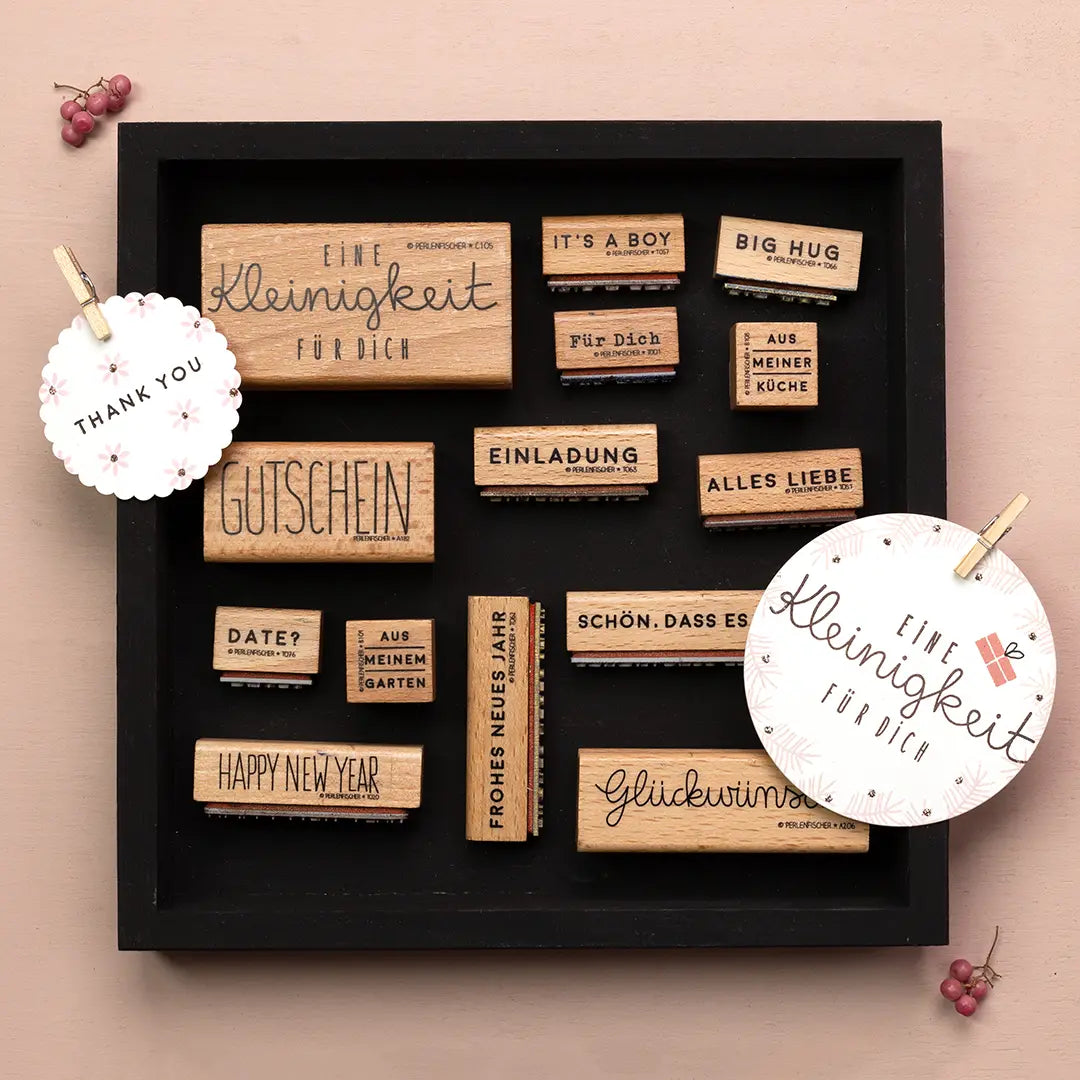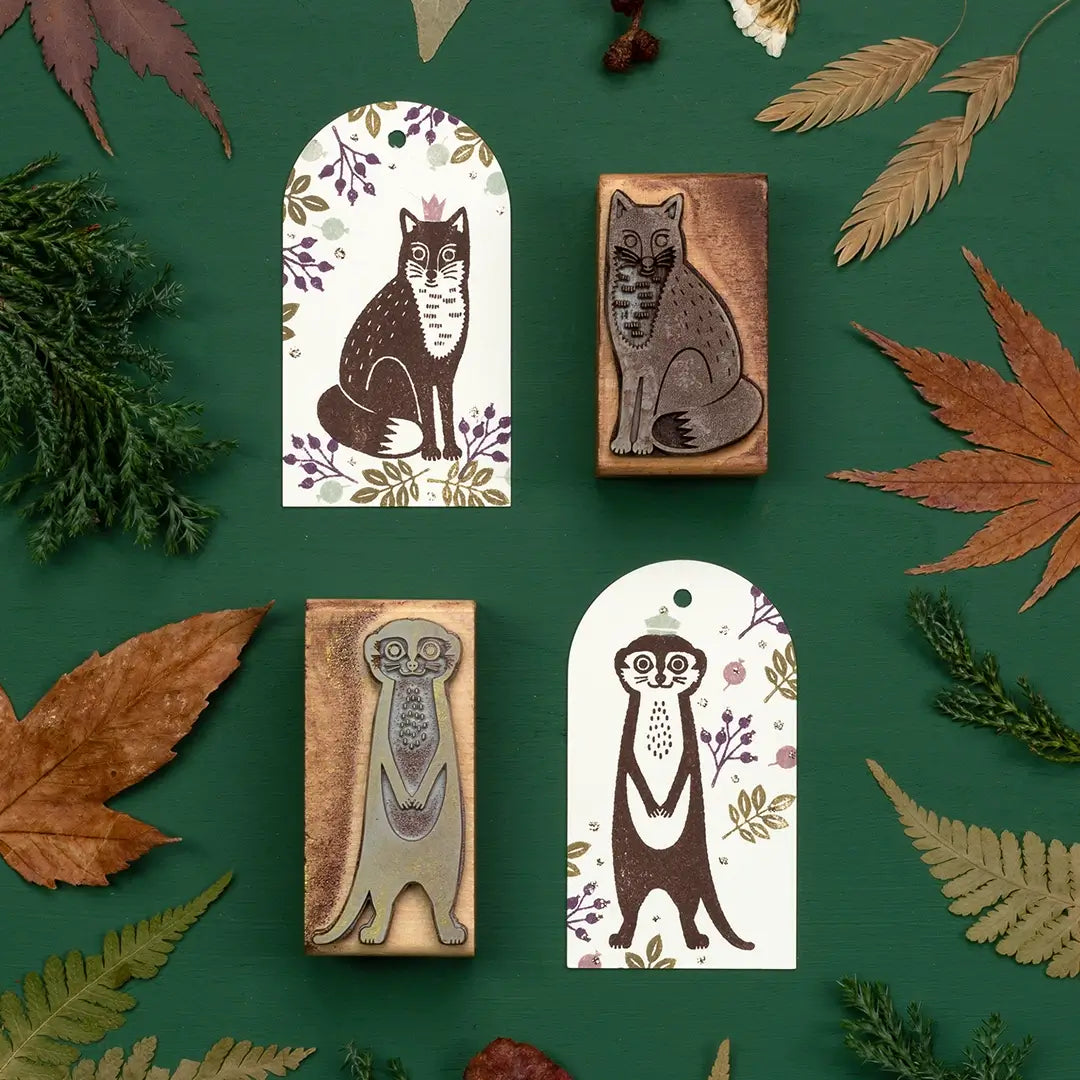 on the way in the forest
Stamp your paper tags according to the season and theme and set your gifts appropriately in scene. We love the cozy season with autumn leaves and cute forest animals. Get inspired on our page:
Stamp wood pendants
You can not only stamp wonderfully on paper: Our wooden pendants are a sustainable and high-quality alternative to the paper tags. They are also perfect as gift tags, as decoration on the Christmas tree or Easter bush and even on cards they are an absolute eye-catcher. Take a look for yourself...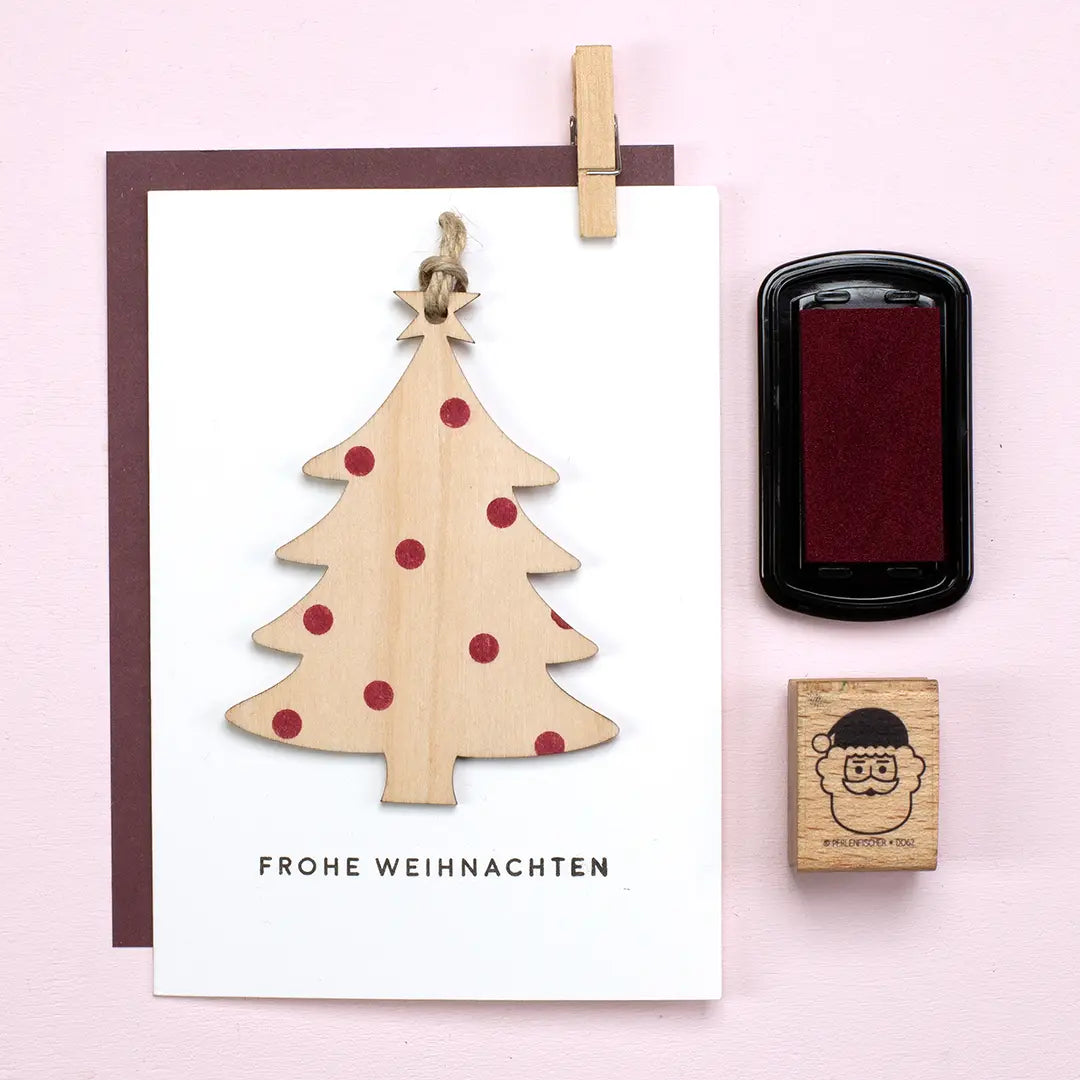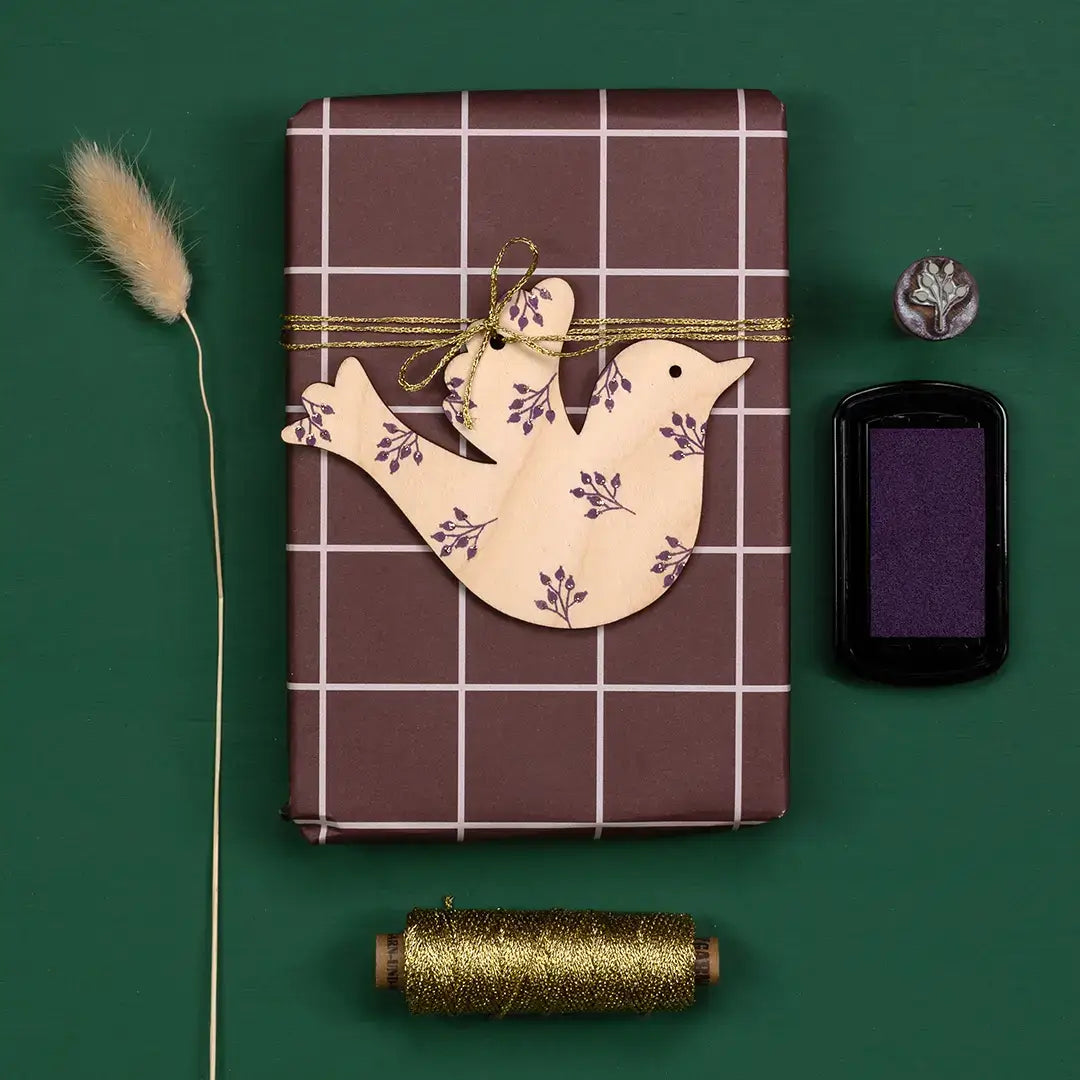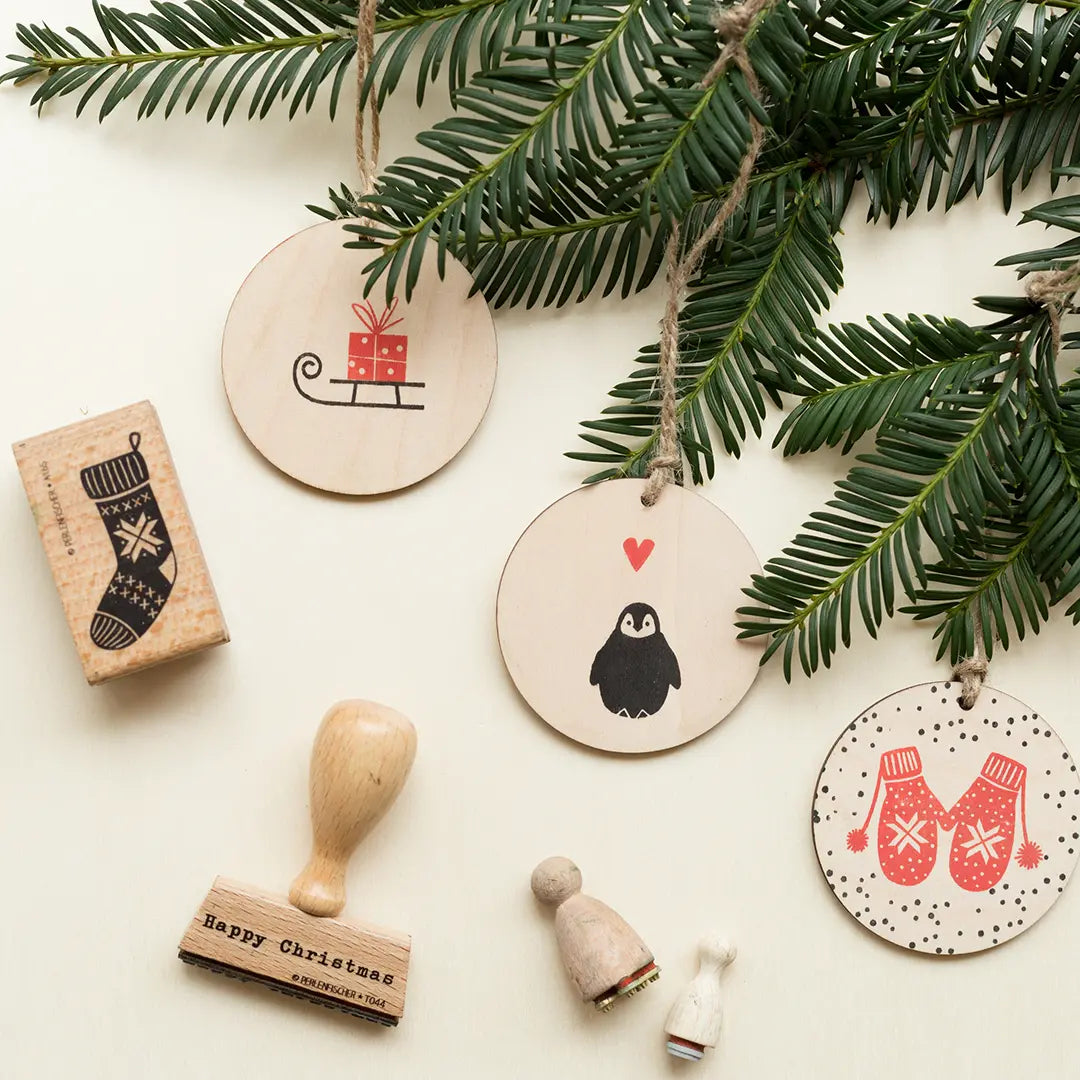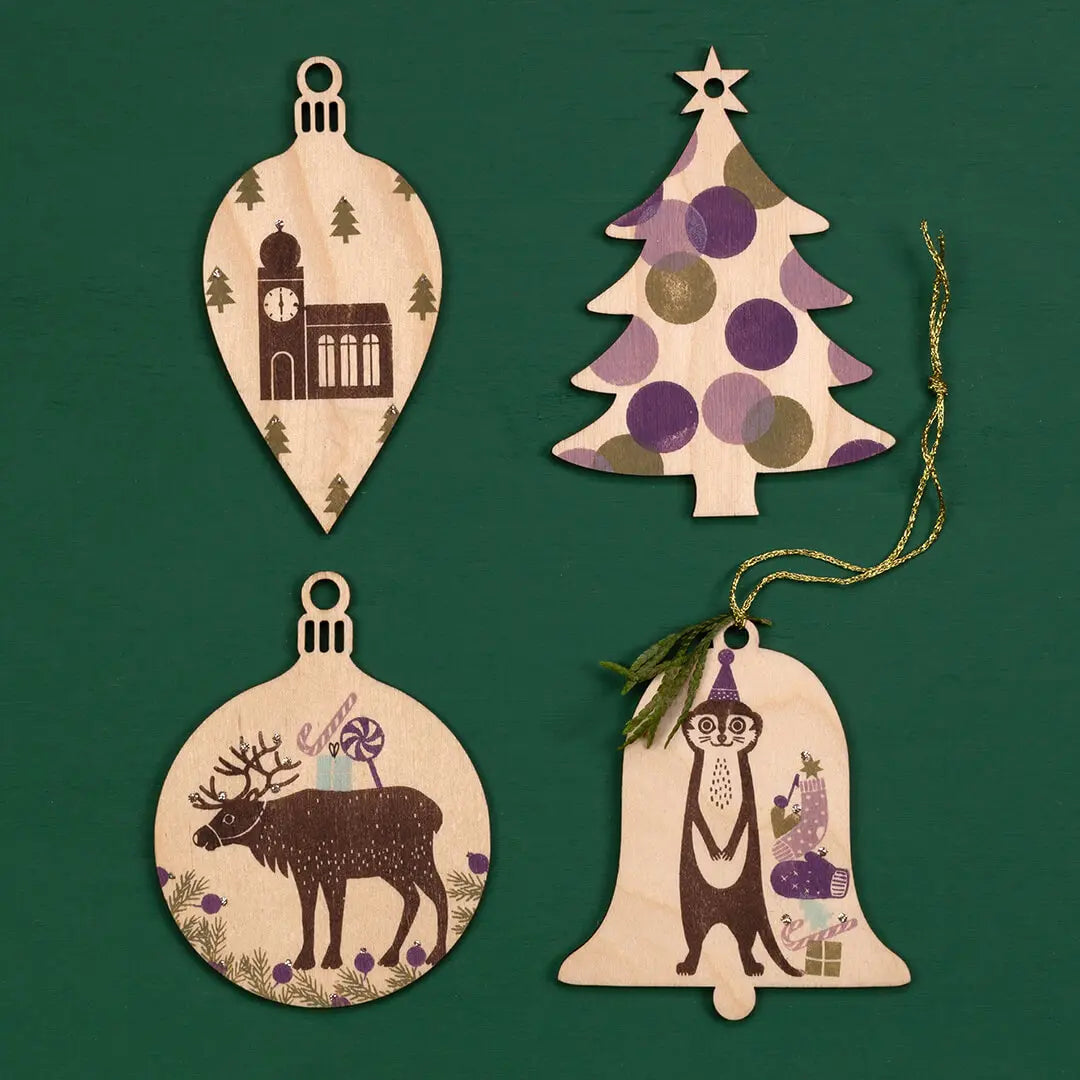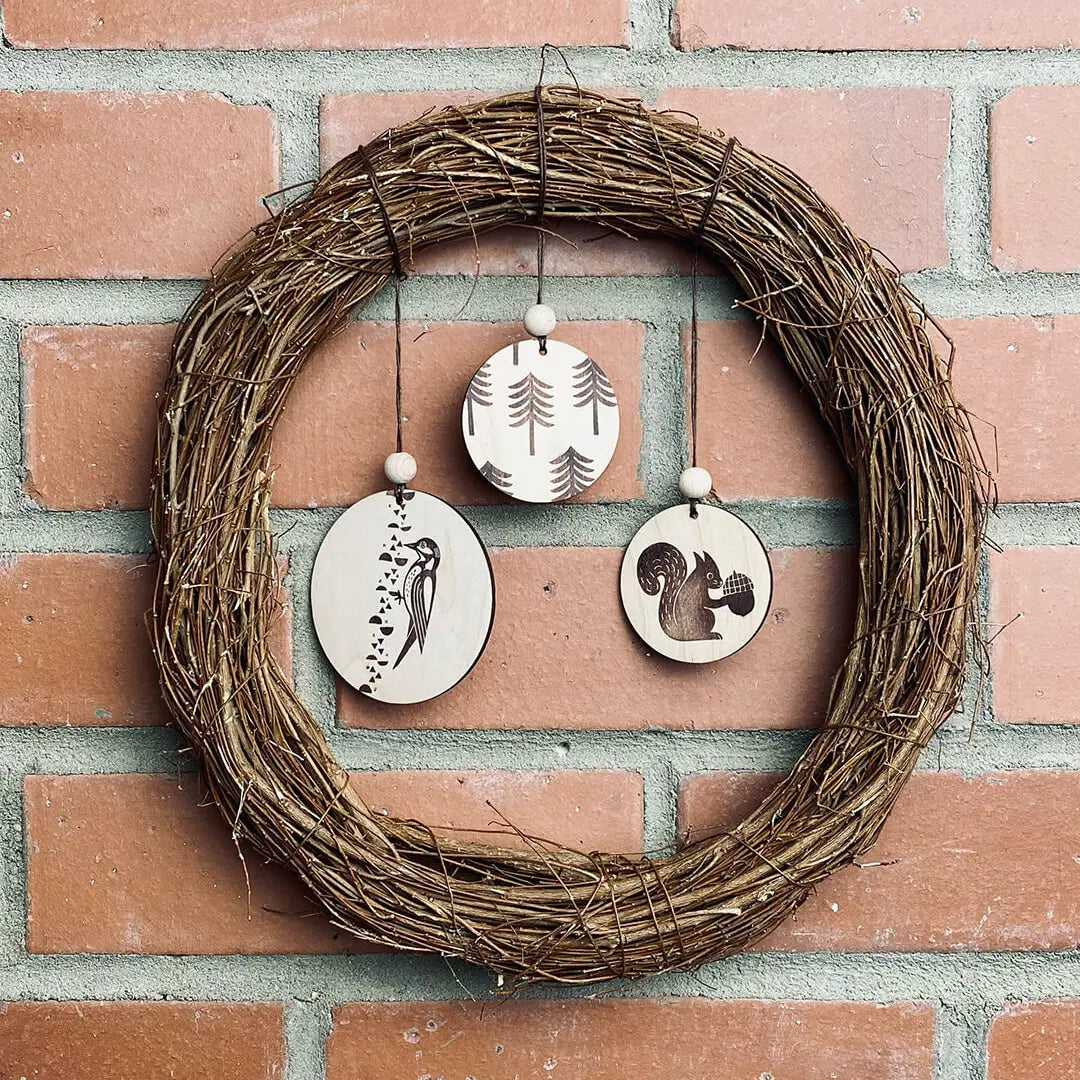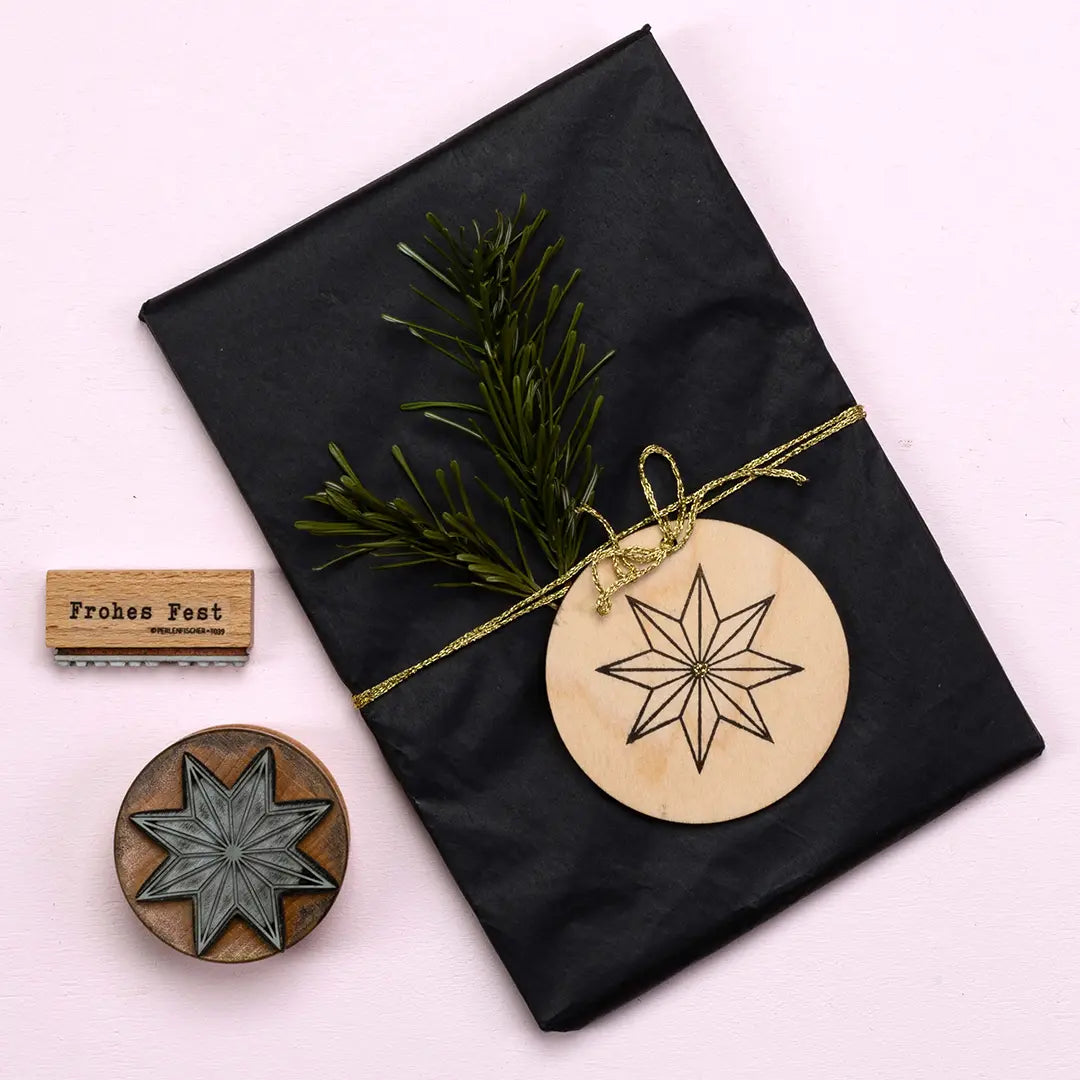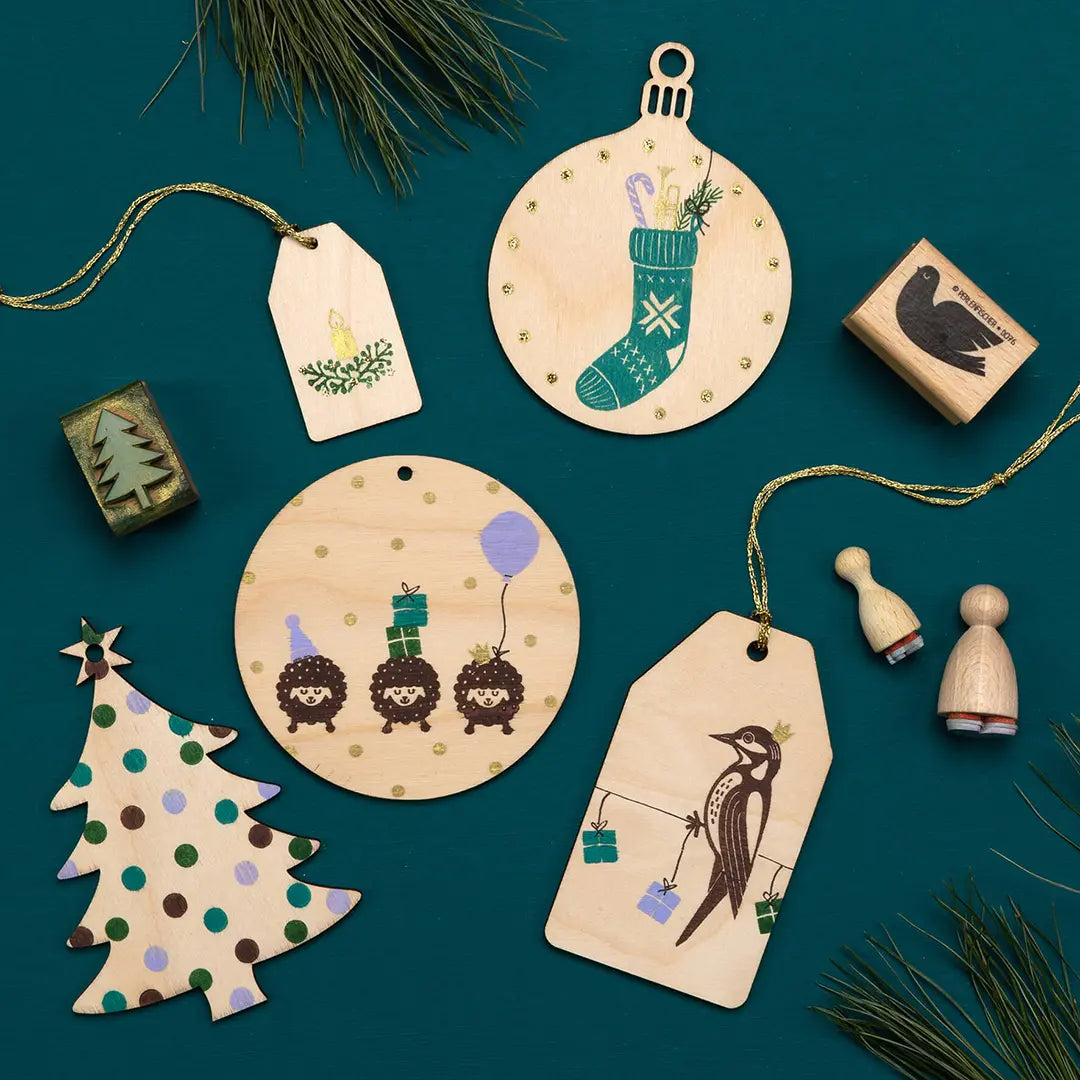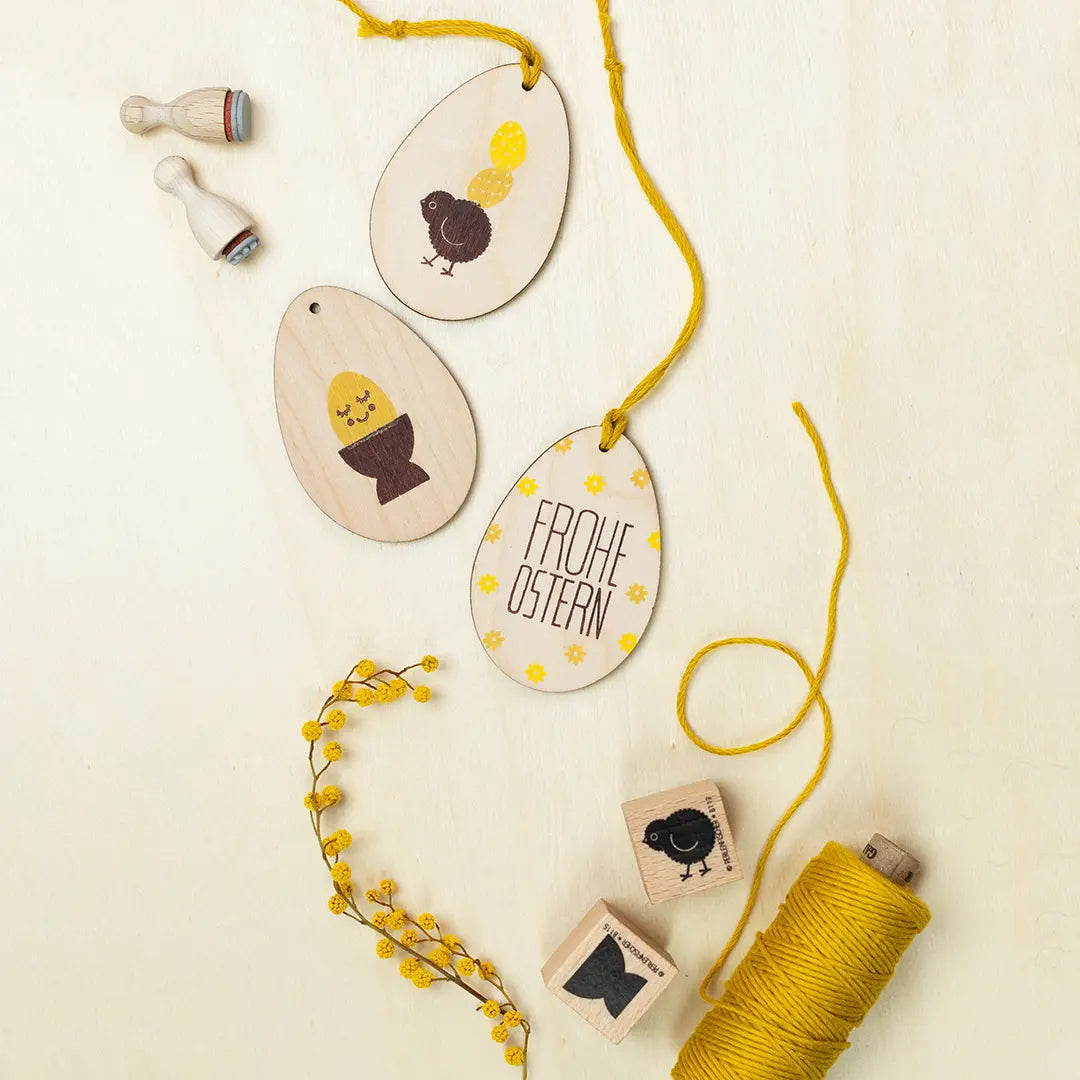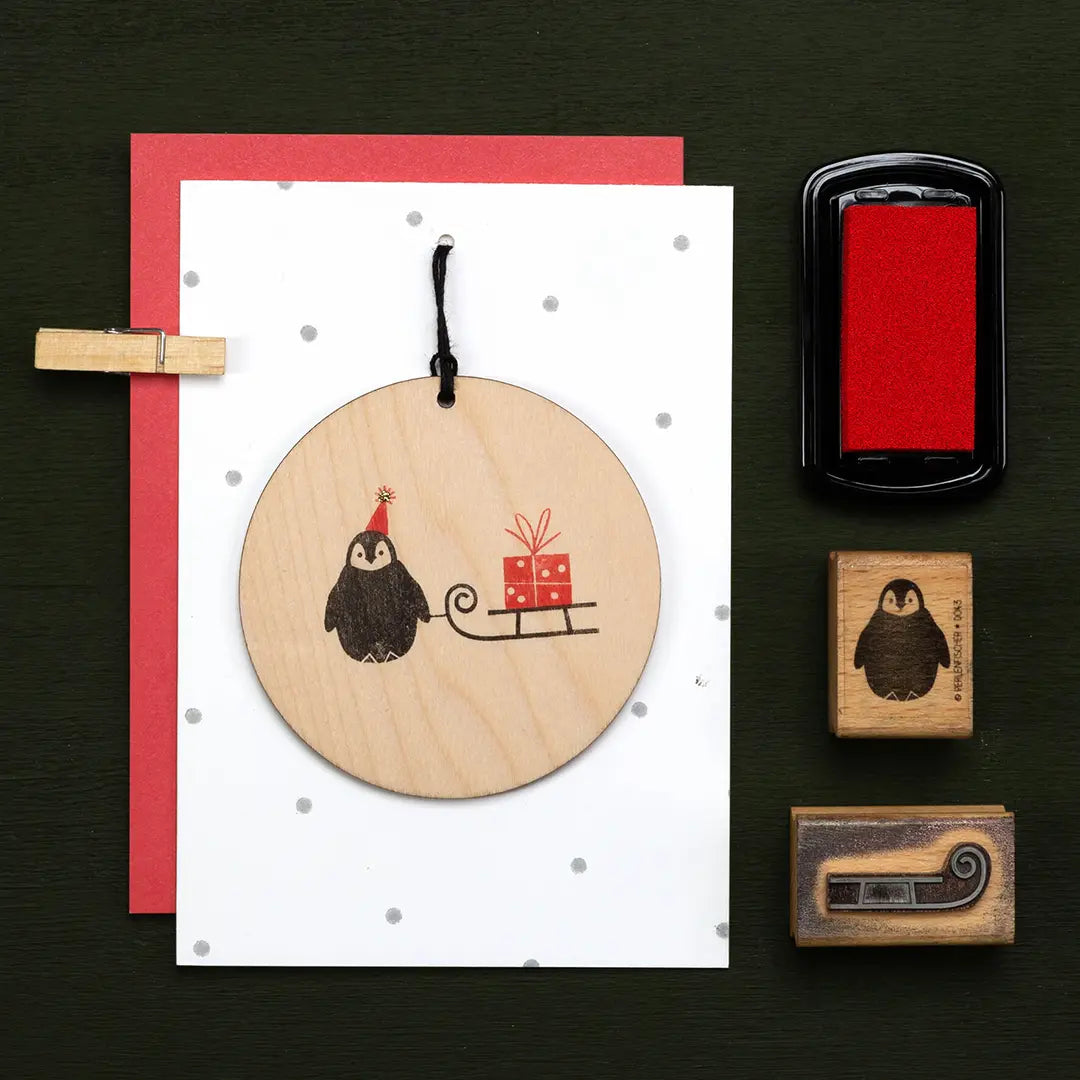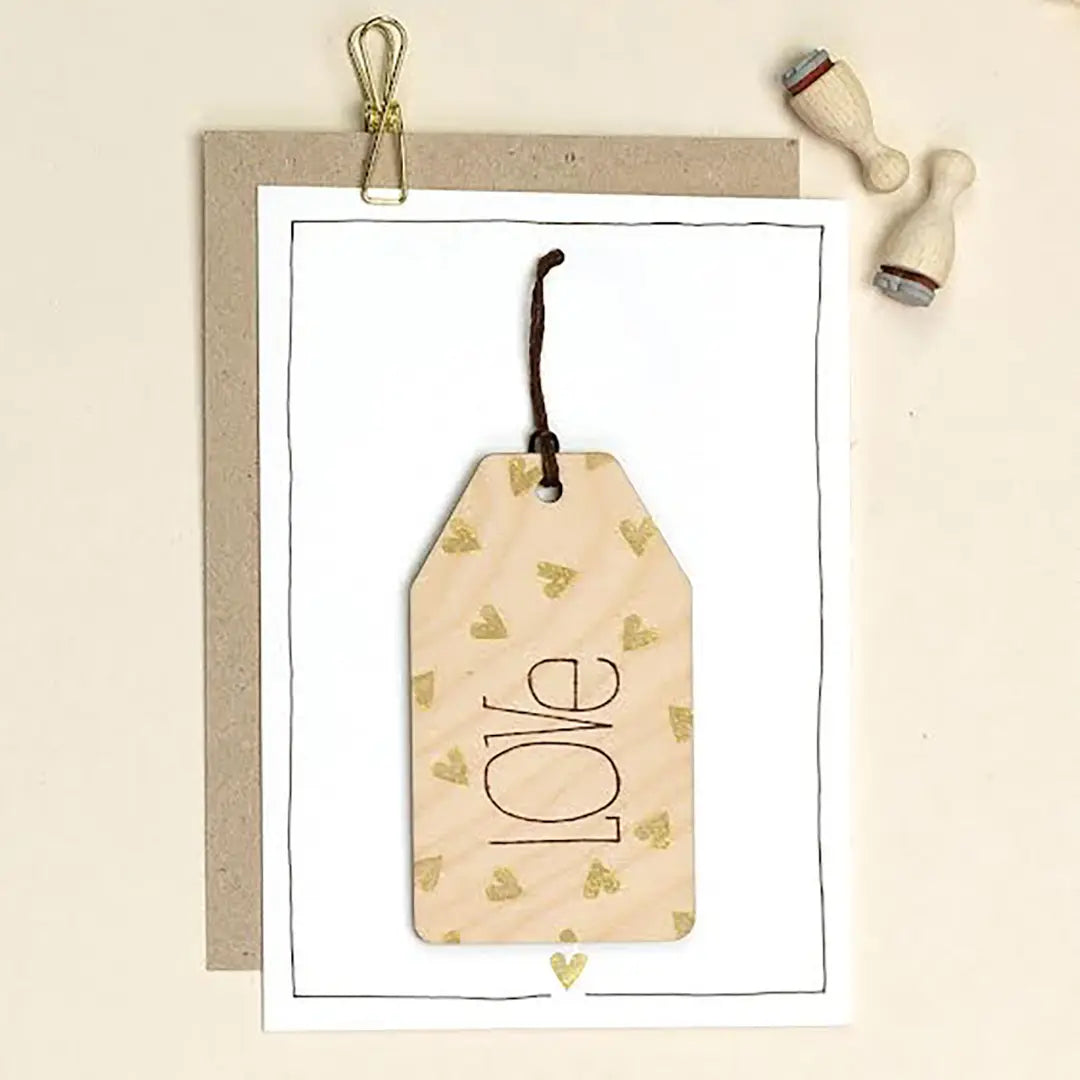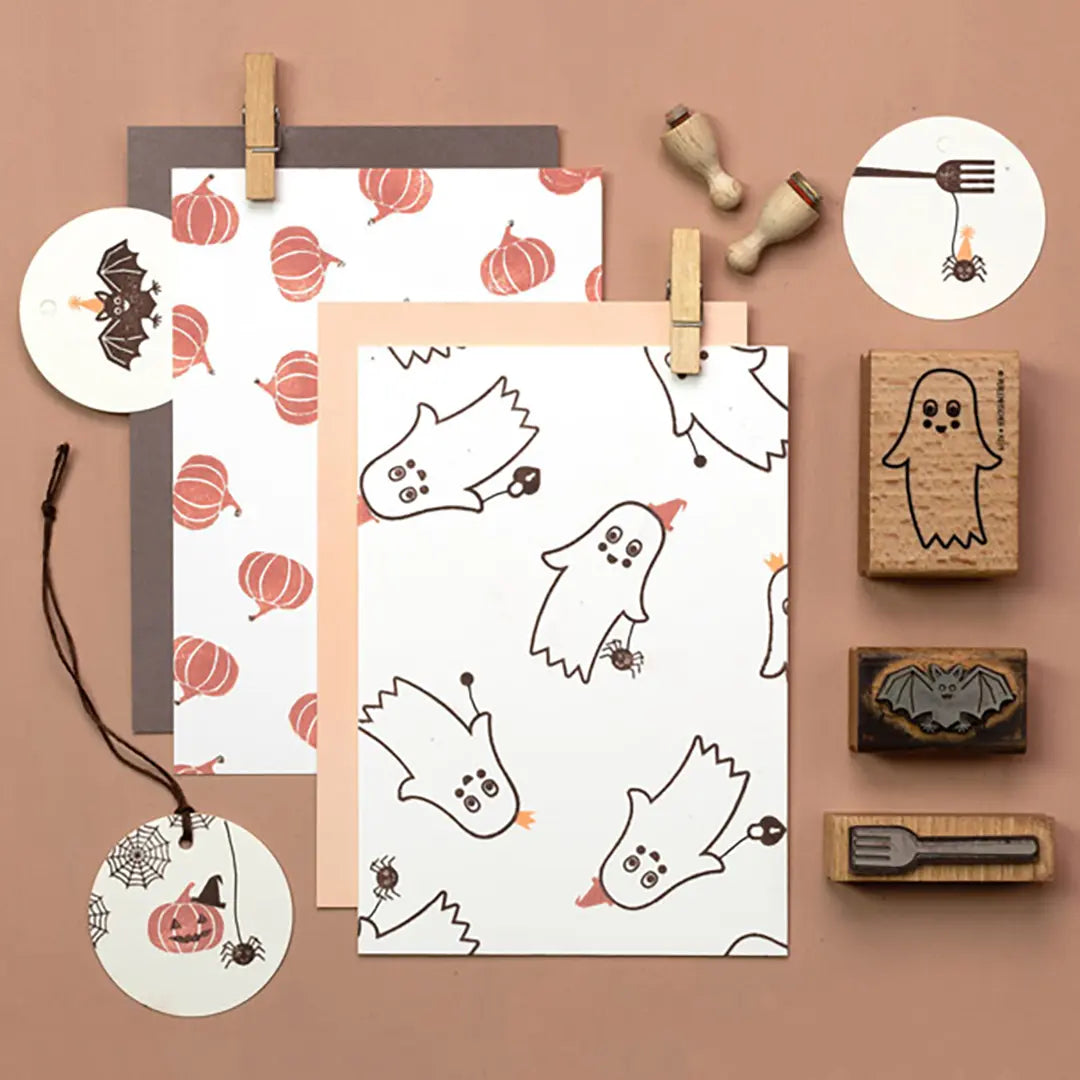 Halloween pendants
Trick or treat
You can also make spooky cute decorations for Halloween, tags for your candy bags or unique invitation cards to your Halloween party.
Festive pendants for New Year's Eve
Stamp unique place cards and decorations for your New Year's Eve or pretty gifts or souvenirs, such as a champagne bottle, simply with a gift tag. Many more festive party motifs can be found at the page Stamps New Year.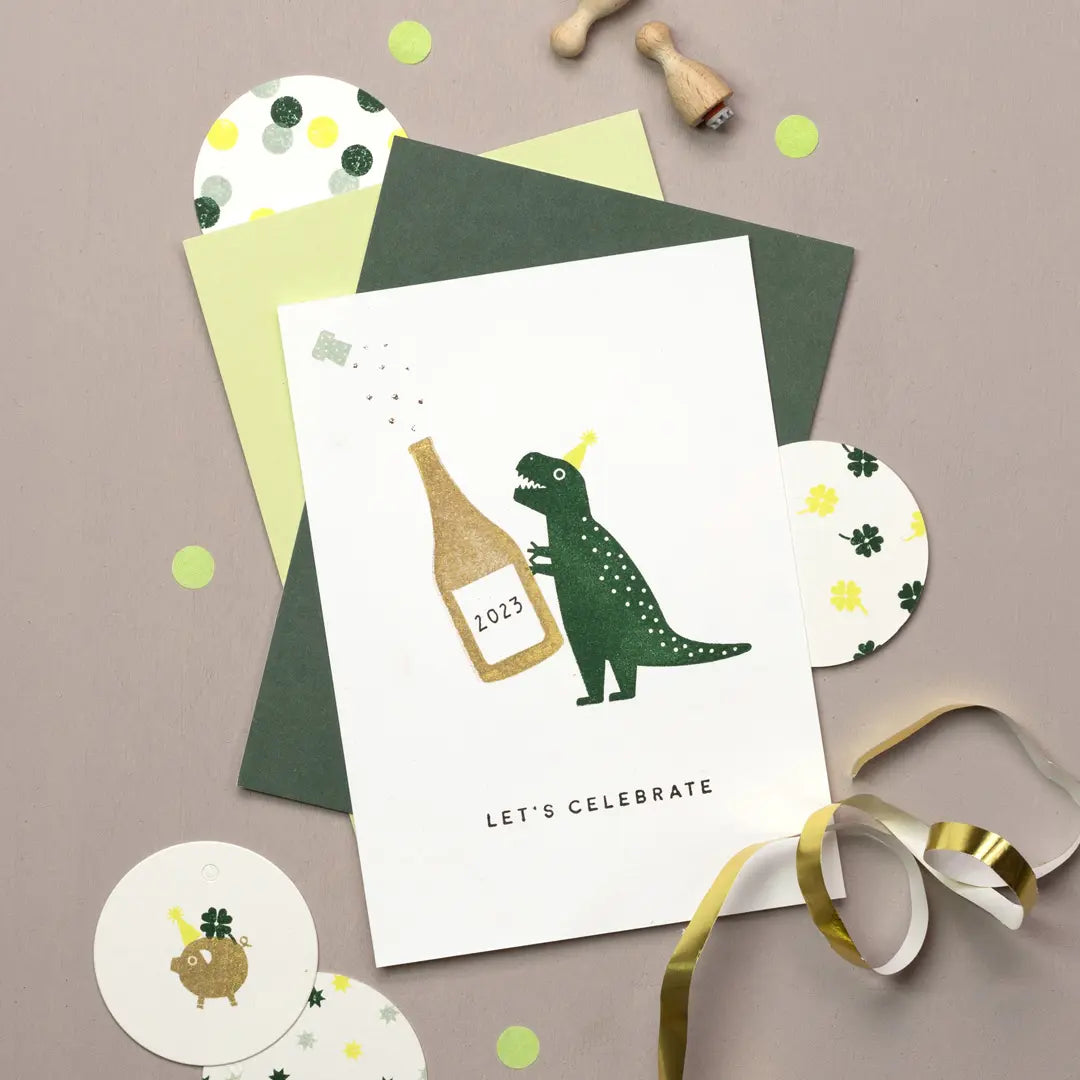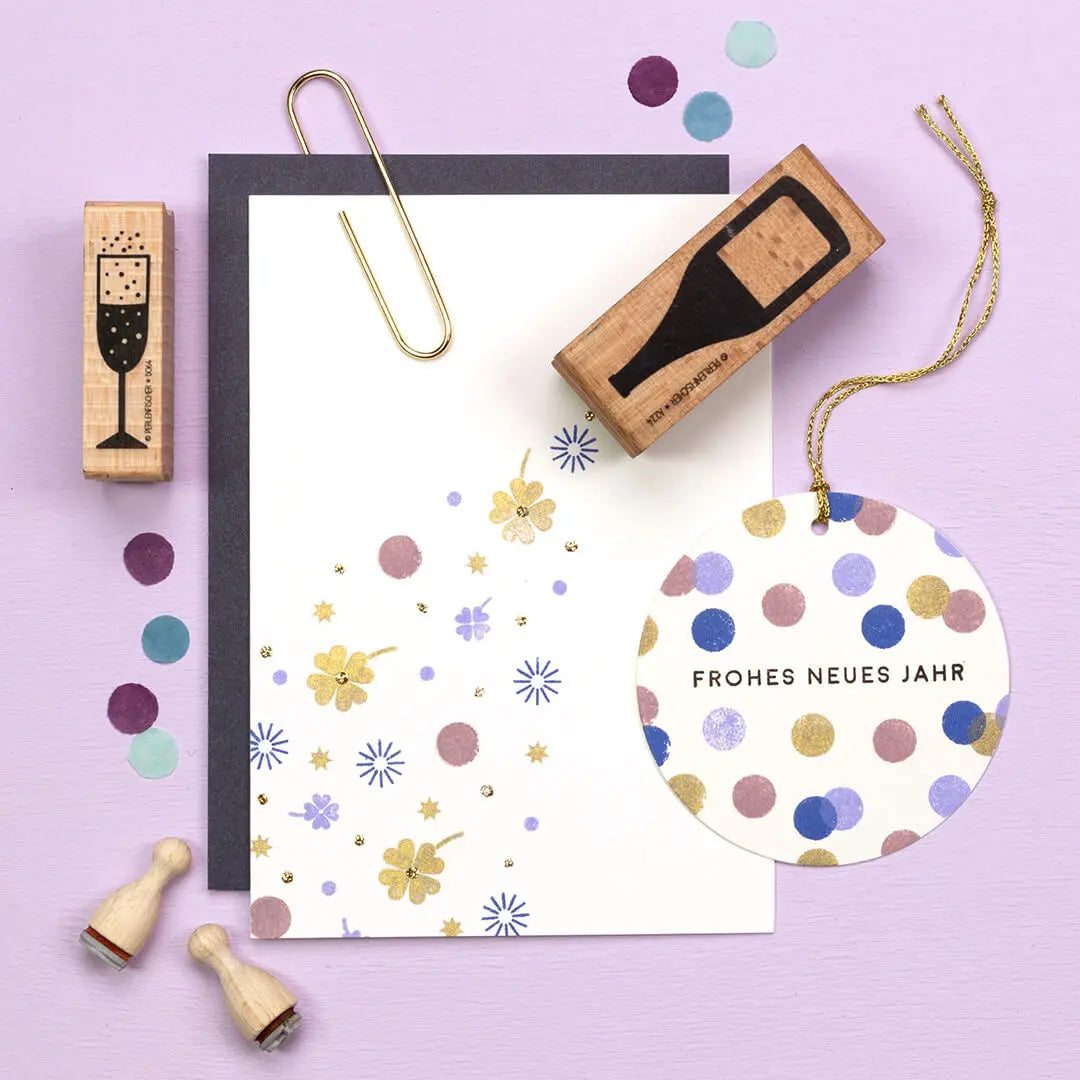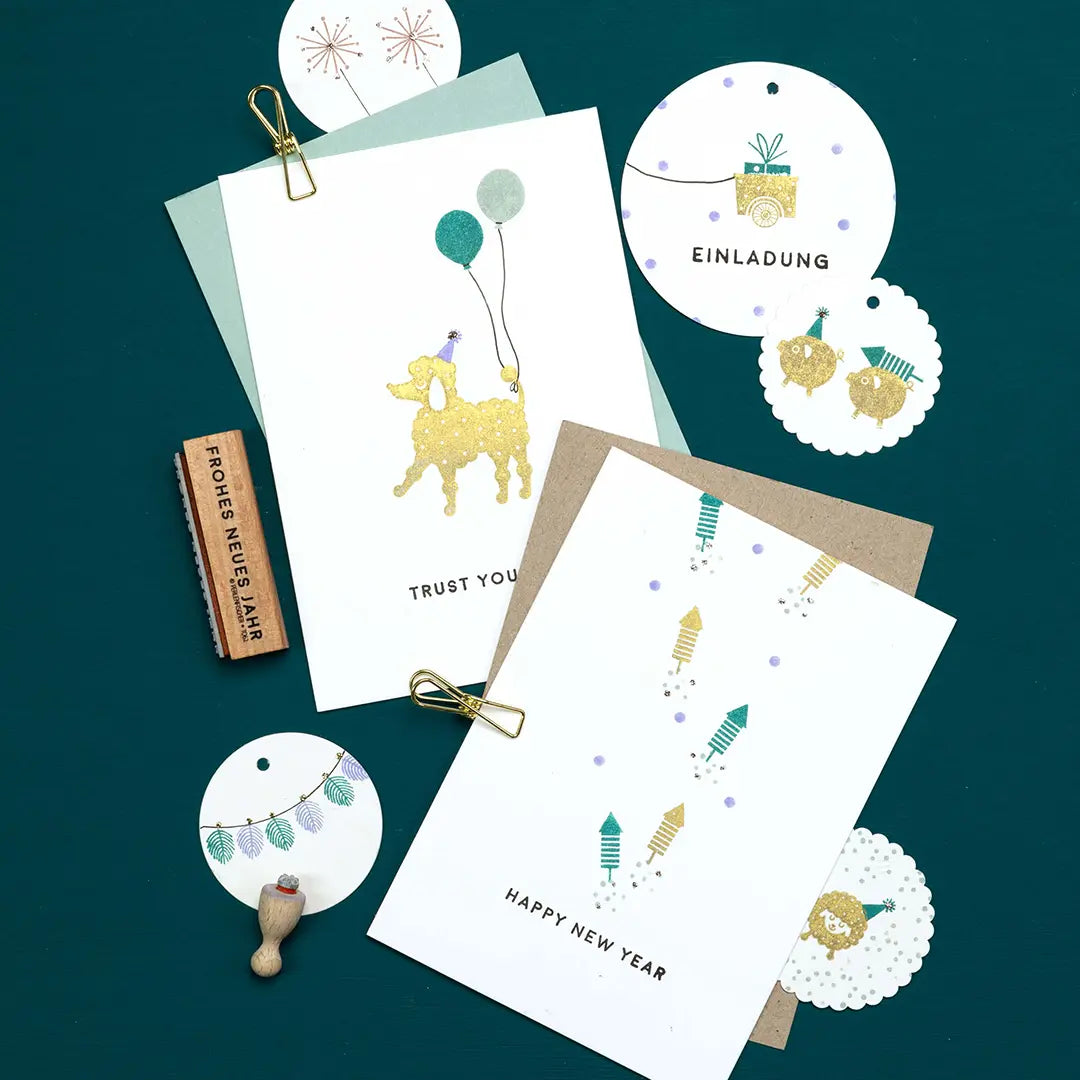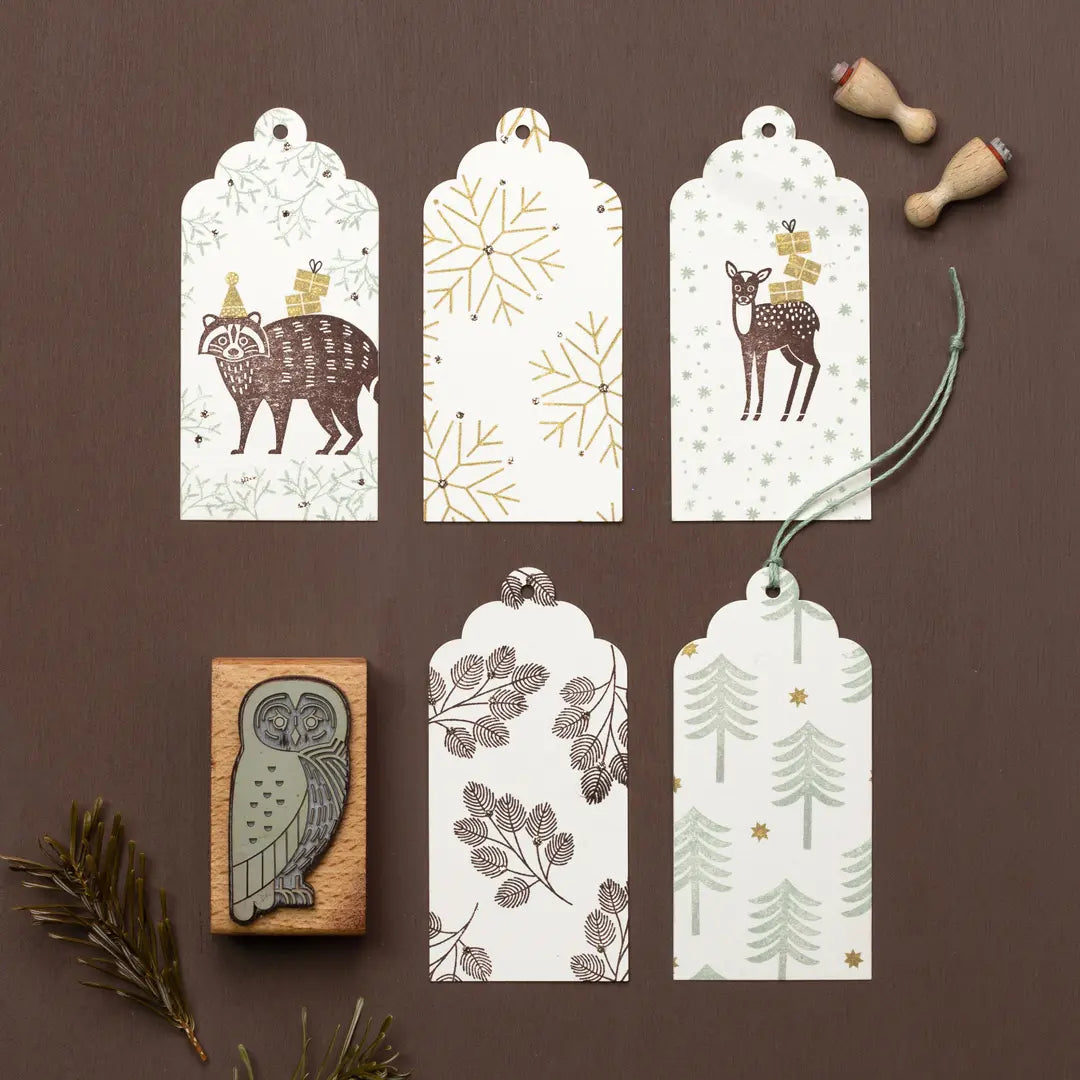 One tag many possibilities
Here you can see how diverse a gift tag can be designed. Stamp animals, patterns or lettering. Tell a little story or just stamp a beautiful motif as a pattern over the paper tag. Let your creativity run wild!