Autumn & Forest stamps - leaves, forest animals and more
Our autumn & forest stamps are perfect for the cozy season and can be wonderfully staged for all kinds of autumnal occasions. From cute forest animals stamps to leaves in the forest to stamp motifs suitable for Thanksgiving.
How do I stamp autumn leaves and forest flowers on cards?
Autumn leaves and forest flowers
Flowers, leaves and blossoms can be stamped very differently on cards - there are no limits to your creativity. Be inspired by our autumn bouquets, patterns and wreaths. Also discover our large selection of flower & leaf motifs and many other inspirations in our Stamps Flowers & Leaves category.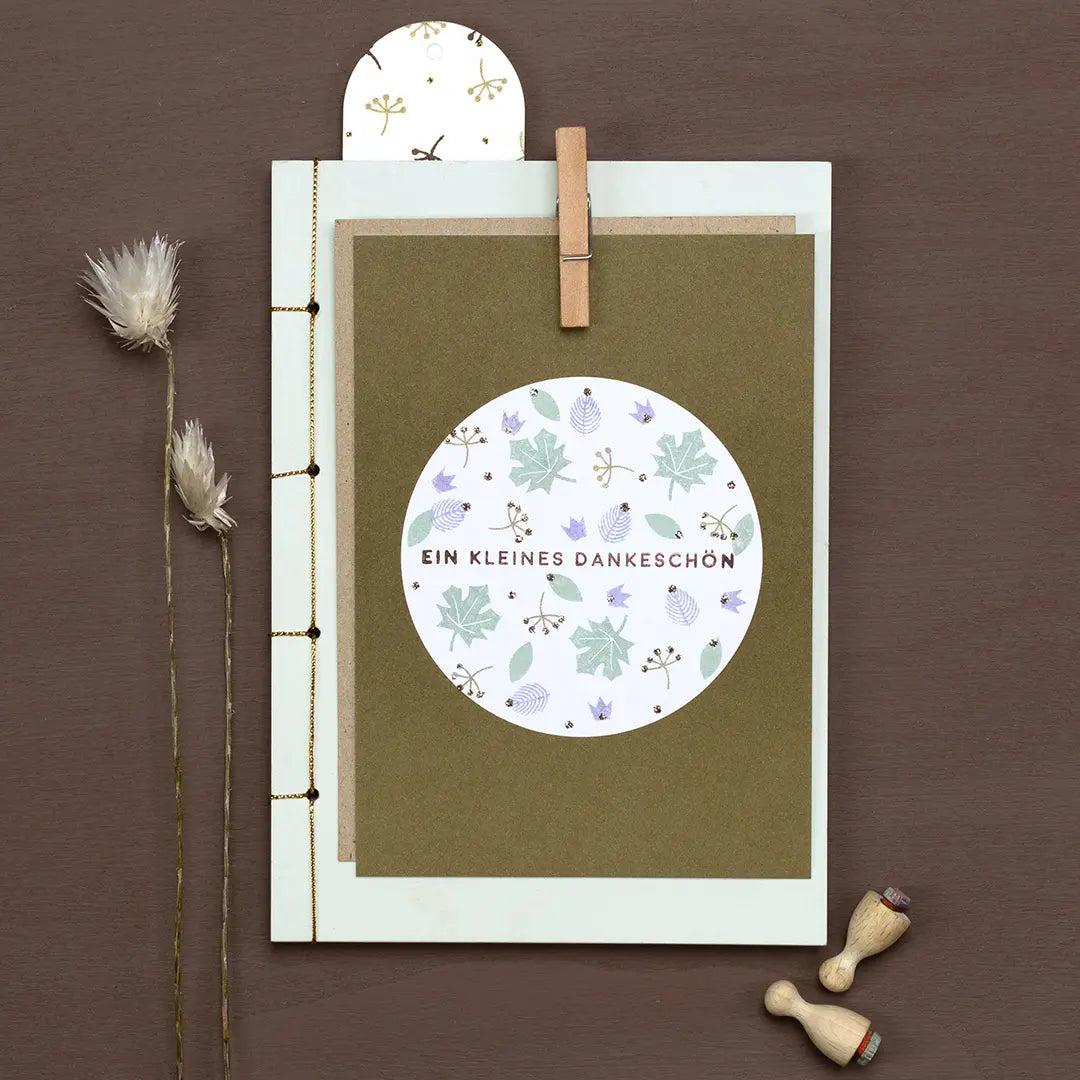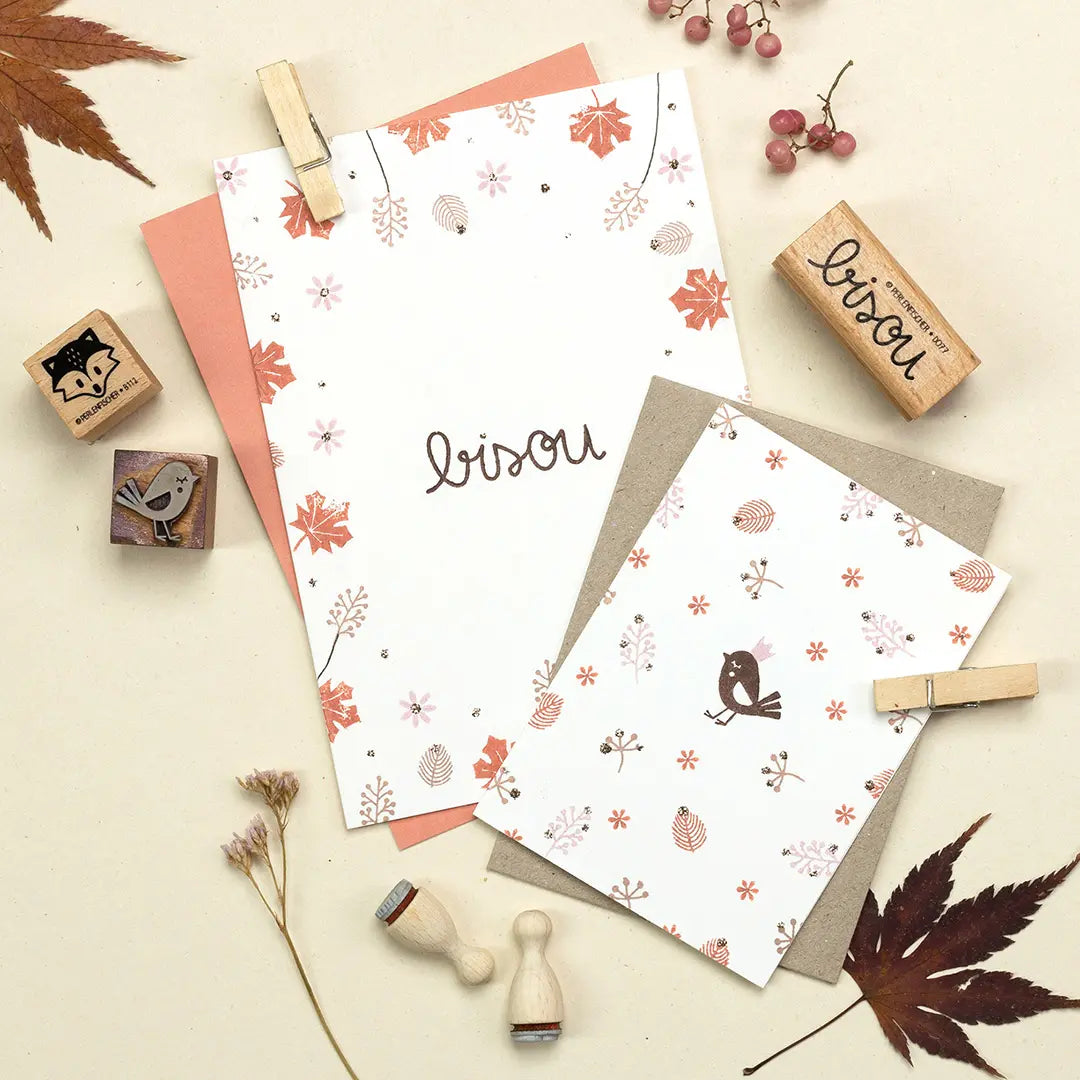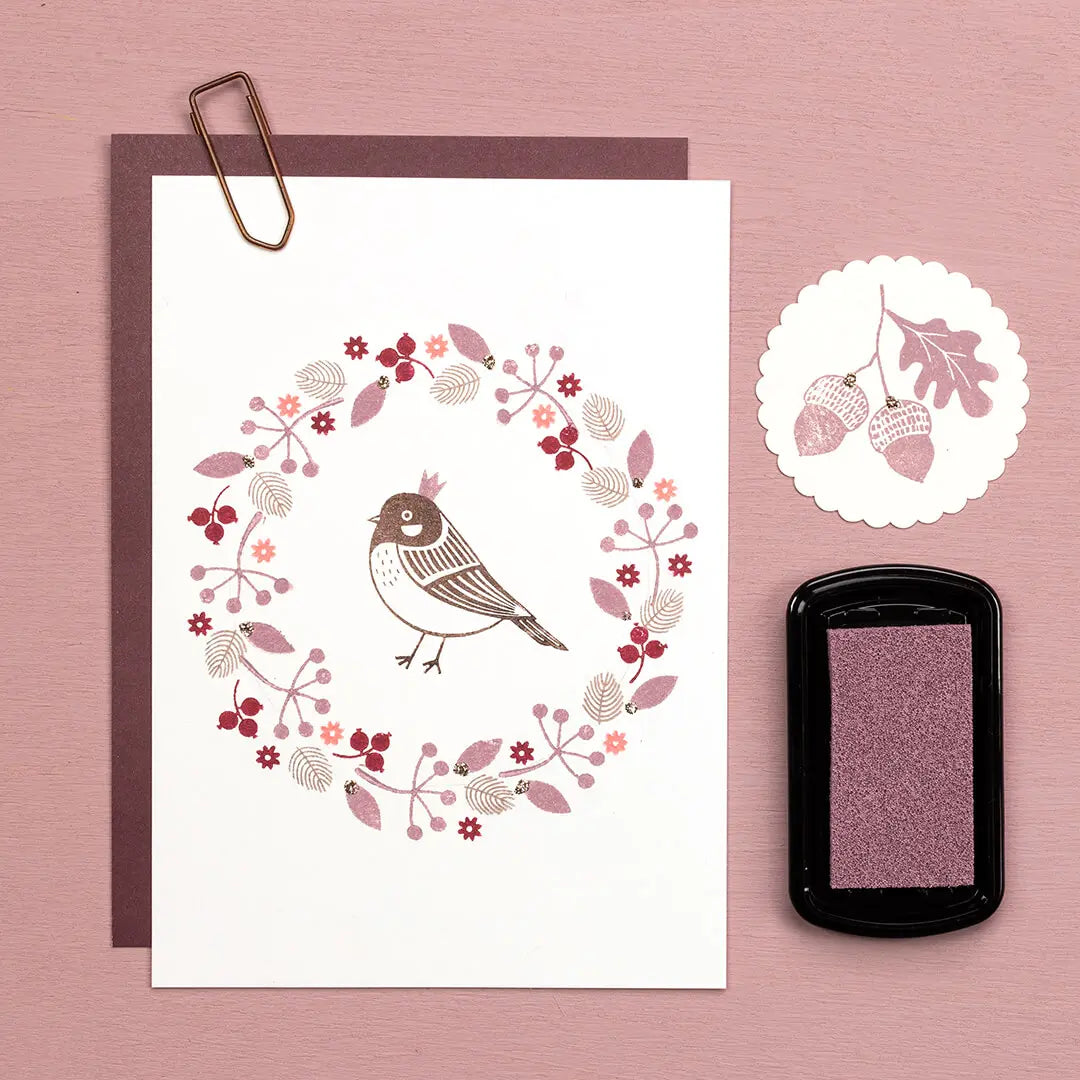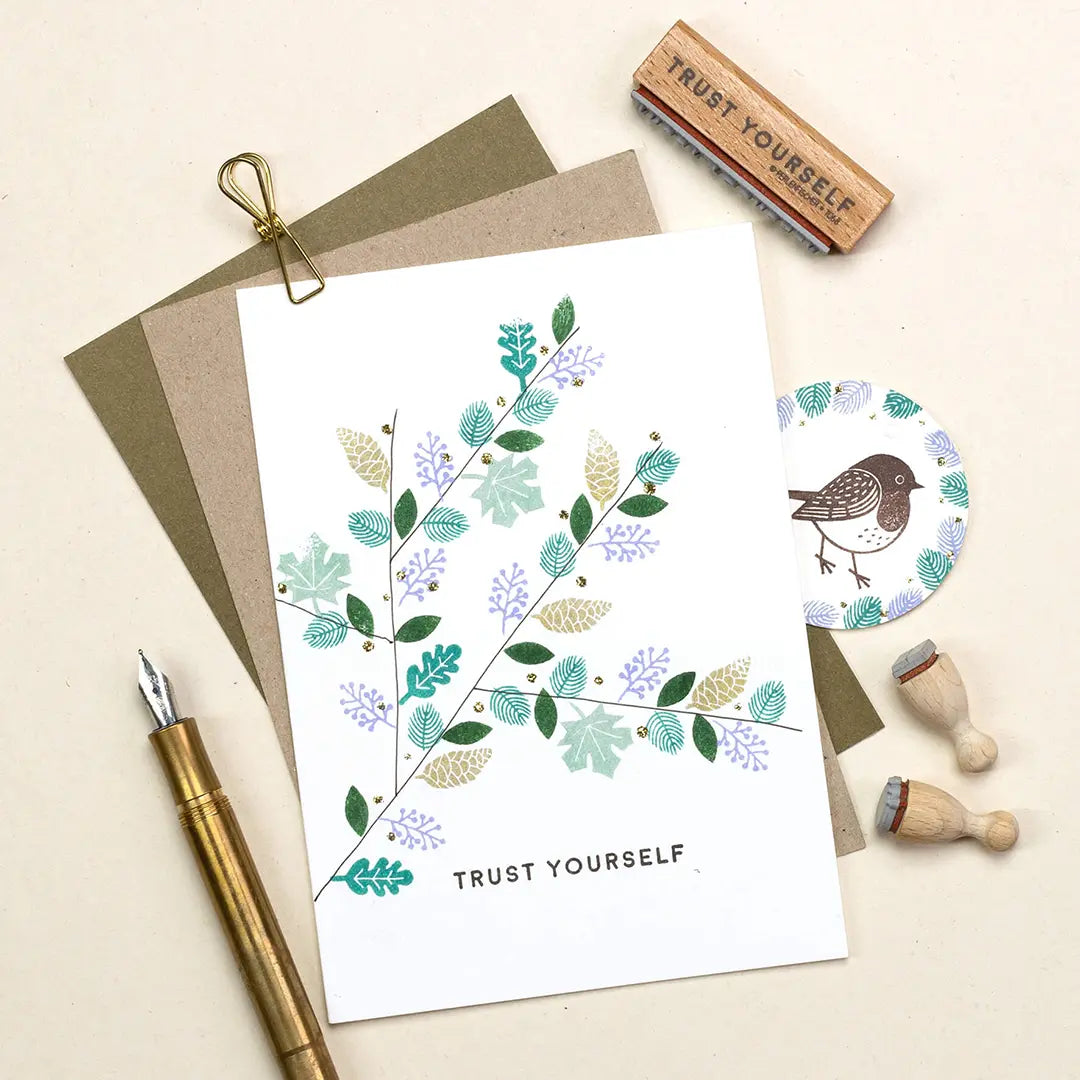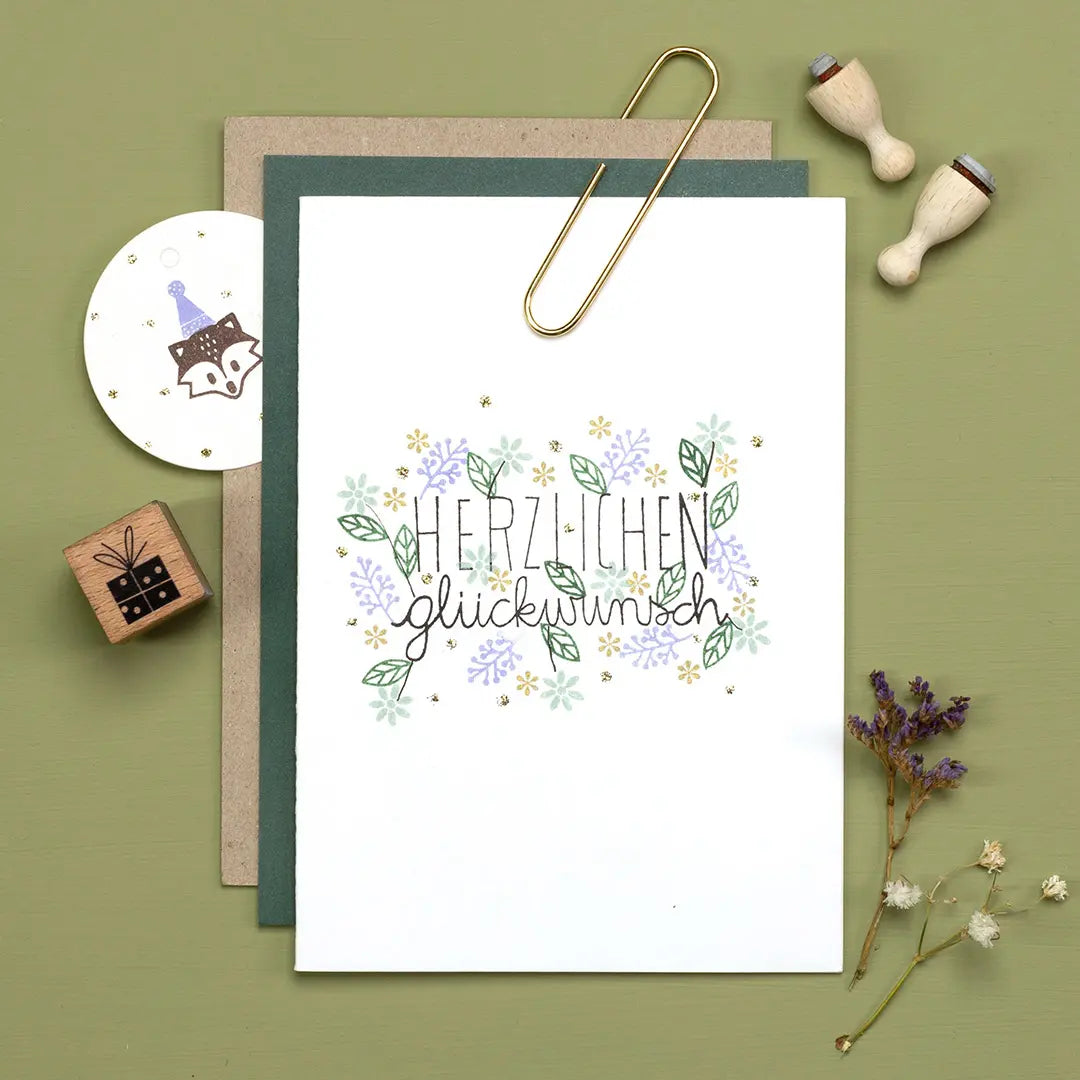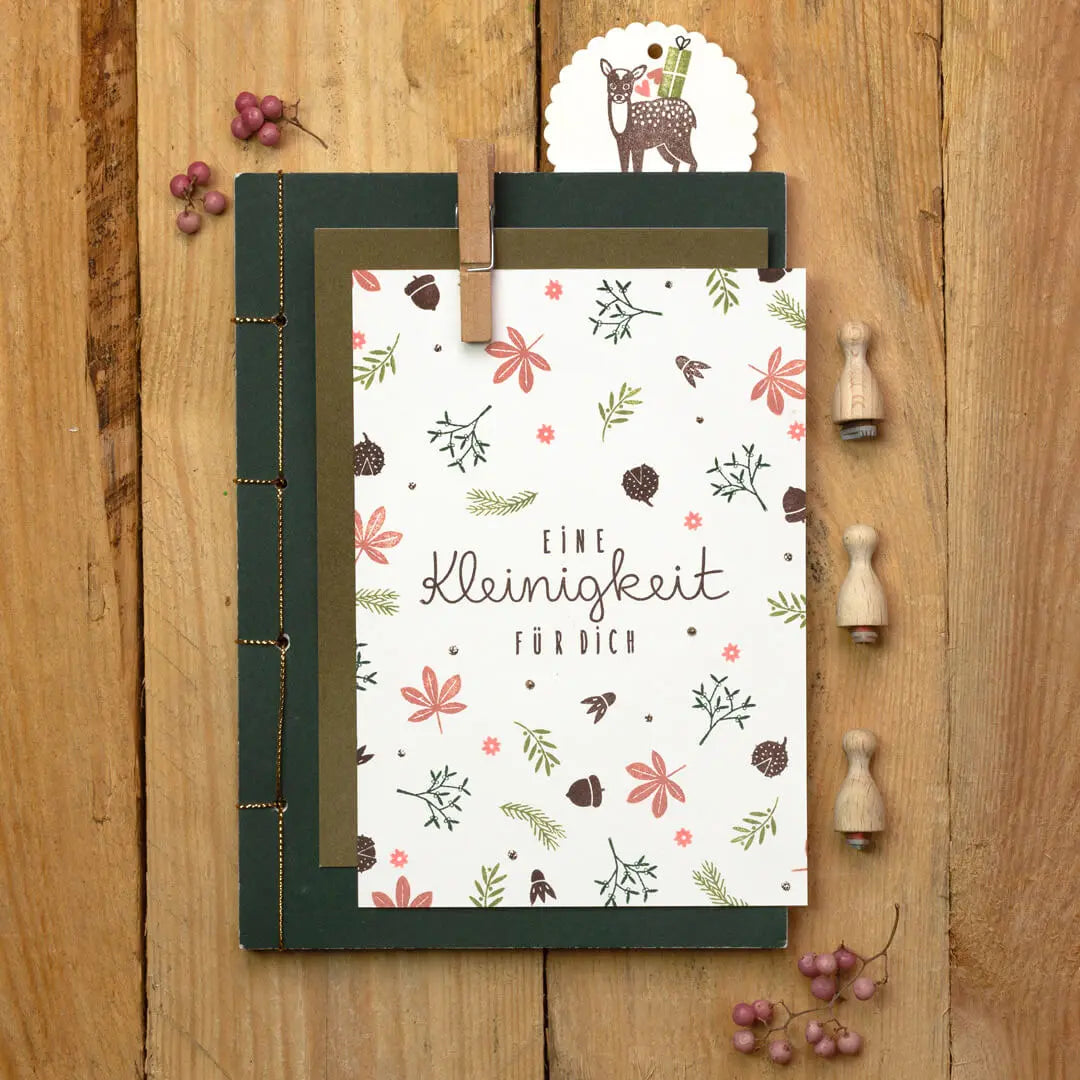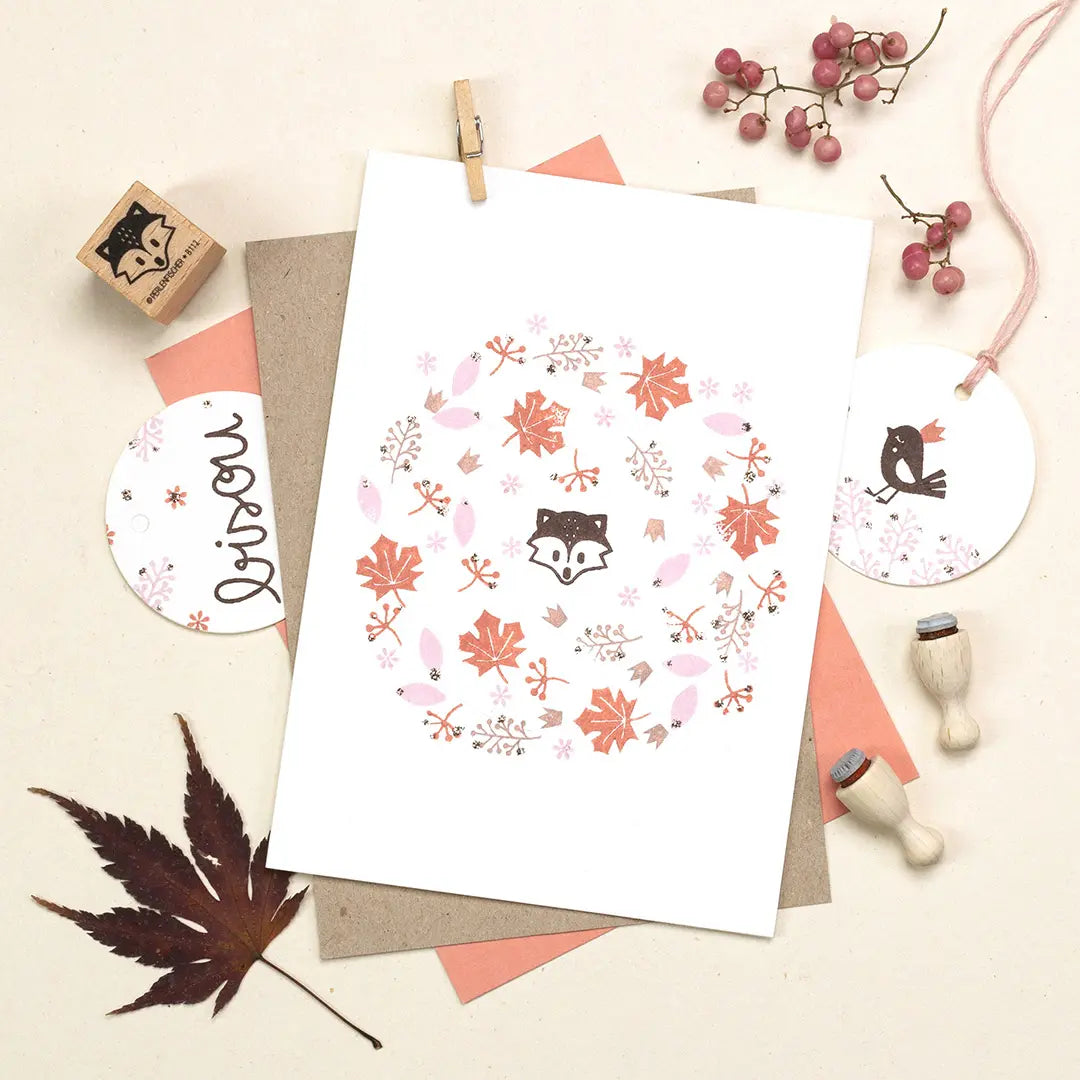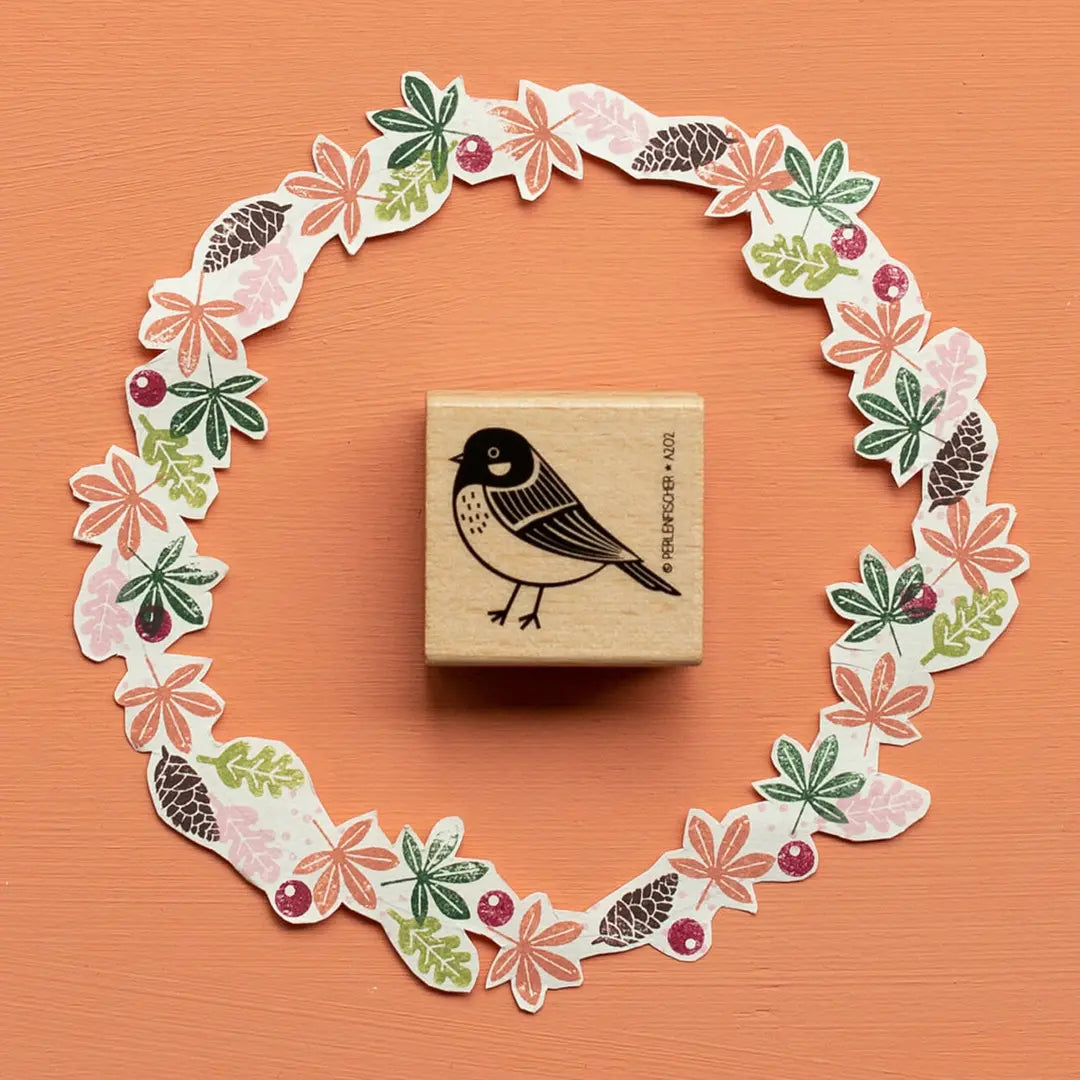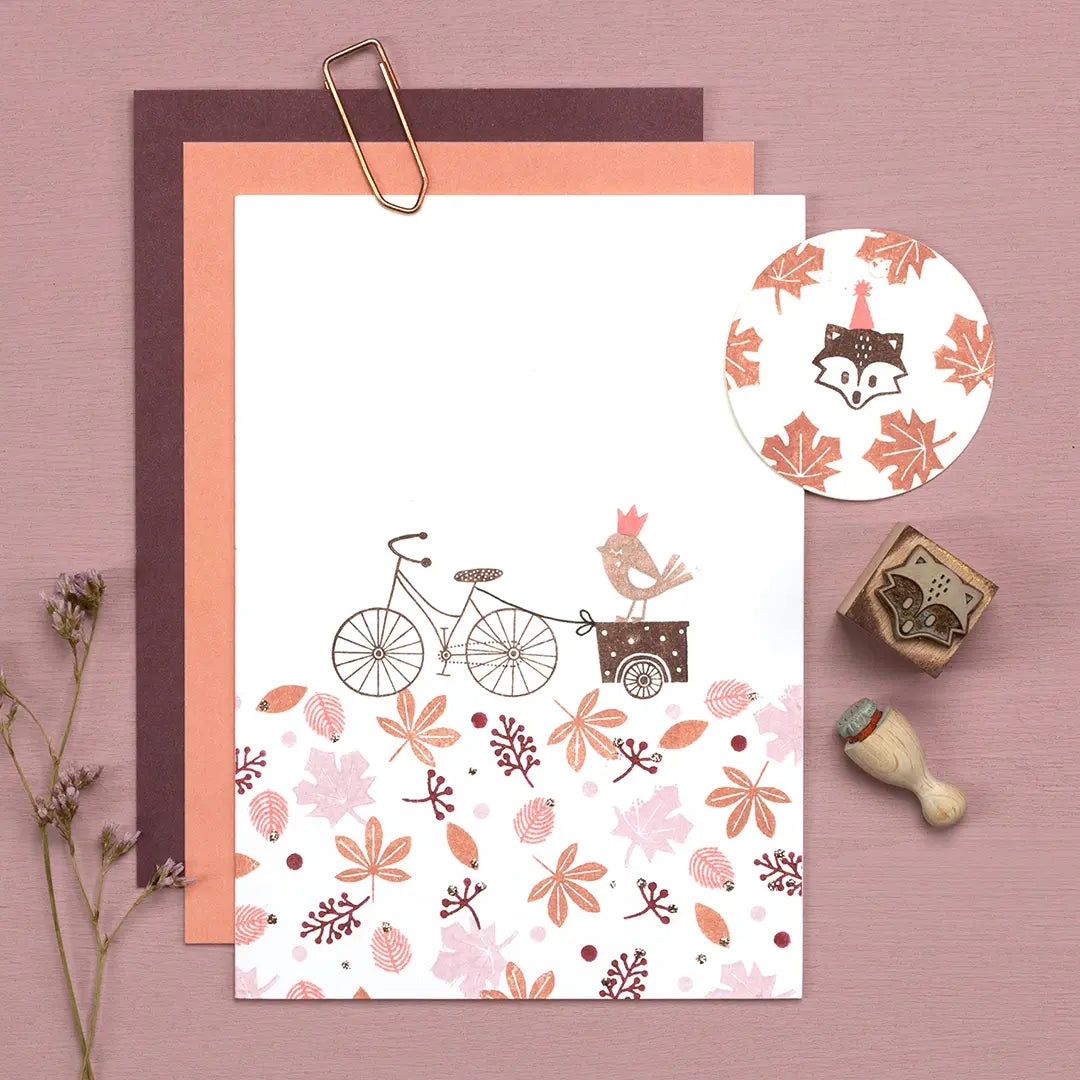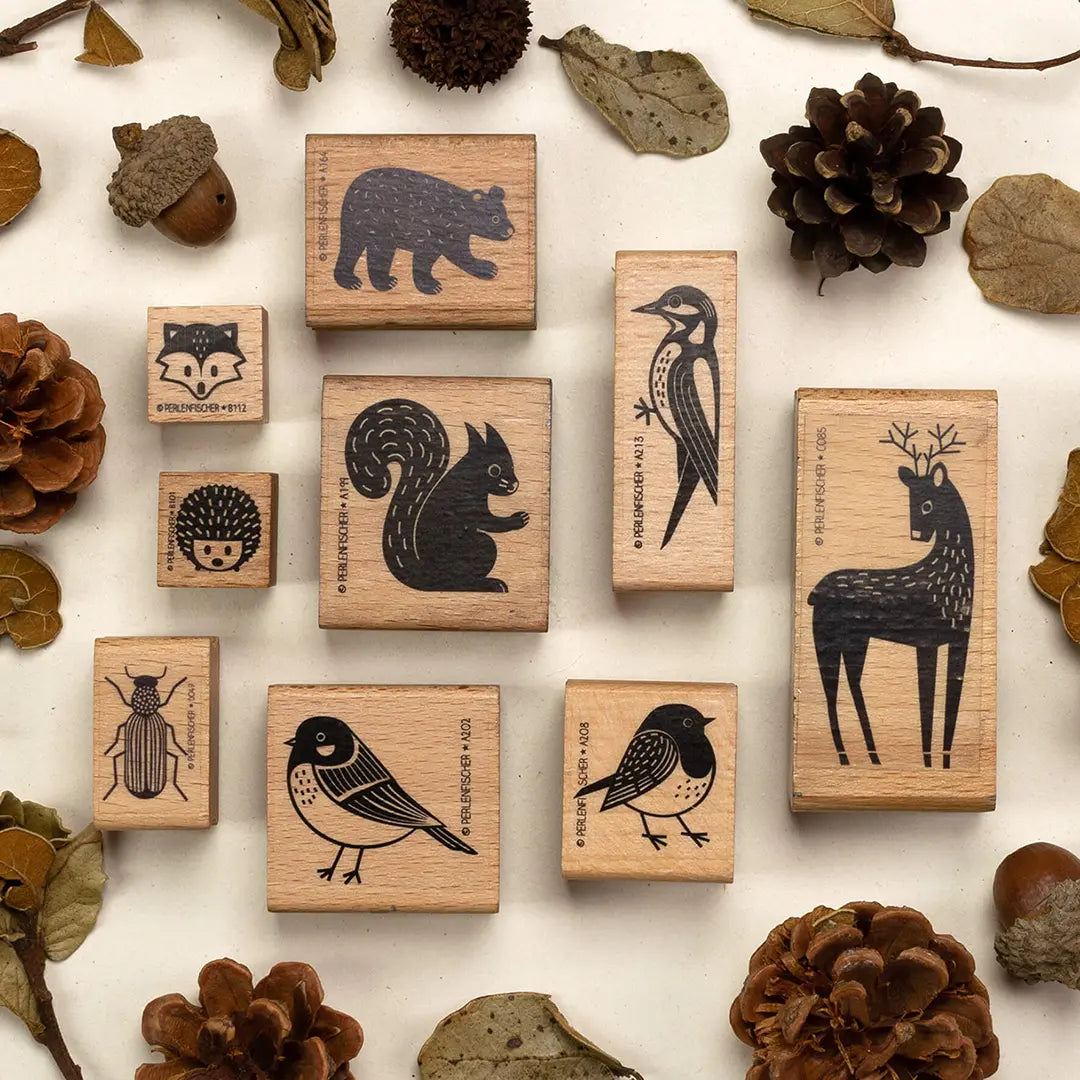 Sustainable stamps
Wooden stamps produced in Germany
We are very committed to ensuring that the forests of our earth and the animals living in them are doing well. That is why we source our wood exclusively from domestic forests. In addition, we produce our stamps exclusively in cooperation with German manufactures, which prevents long delivery routes.
Forest animals stamp
Our favorite forest dwellers
Perlenfischer has an absolute weakness for cute animals. Not only in nature, but also on paper they are simply adorable. Check out all of our animal designs in the Animal Stamps category.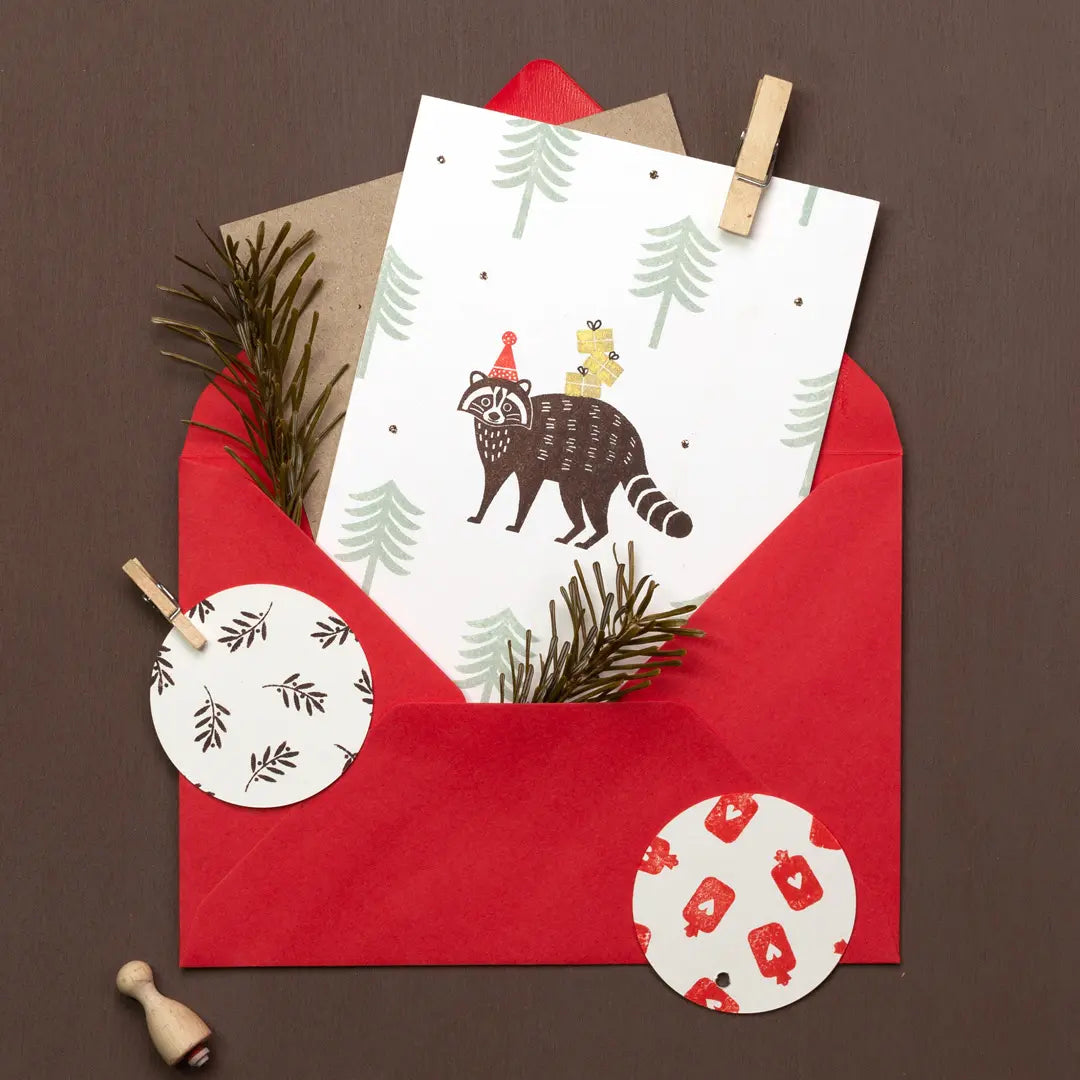 How do I stage forest motif stamps for Christmas?
Fir stamps and co. for Christmas
We have a large selection of forest motifs, such as the fir branch and the pine branch, which are wonderful to stamp for Christmas. Our firs in all sizes are also perfect as Christmas trees. As you can see here, our forest animals can also look great on cards or paper tags at Christmas time: simply put gifts on their backs or a Christmas hat on top of them and the forest animals will become Christmas messengers.
How can I stamp textiles for the autumn season?
Fabric stamps with nature-related and autumnal forest and leaf motifs
Stamping doesn't just work on paper. All motifs can also be stamped onto fabrics. Embellish fabrics of all kinds with beautiful plants, leaves or cute animals of your choice. You can use it to create your own napkins, pillowcases, gift bags or tablecloths. You can find all colours, detailed instructions and other examples relating to fabric stamps under fabric stamp color .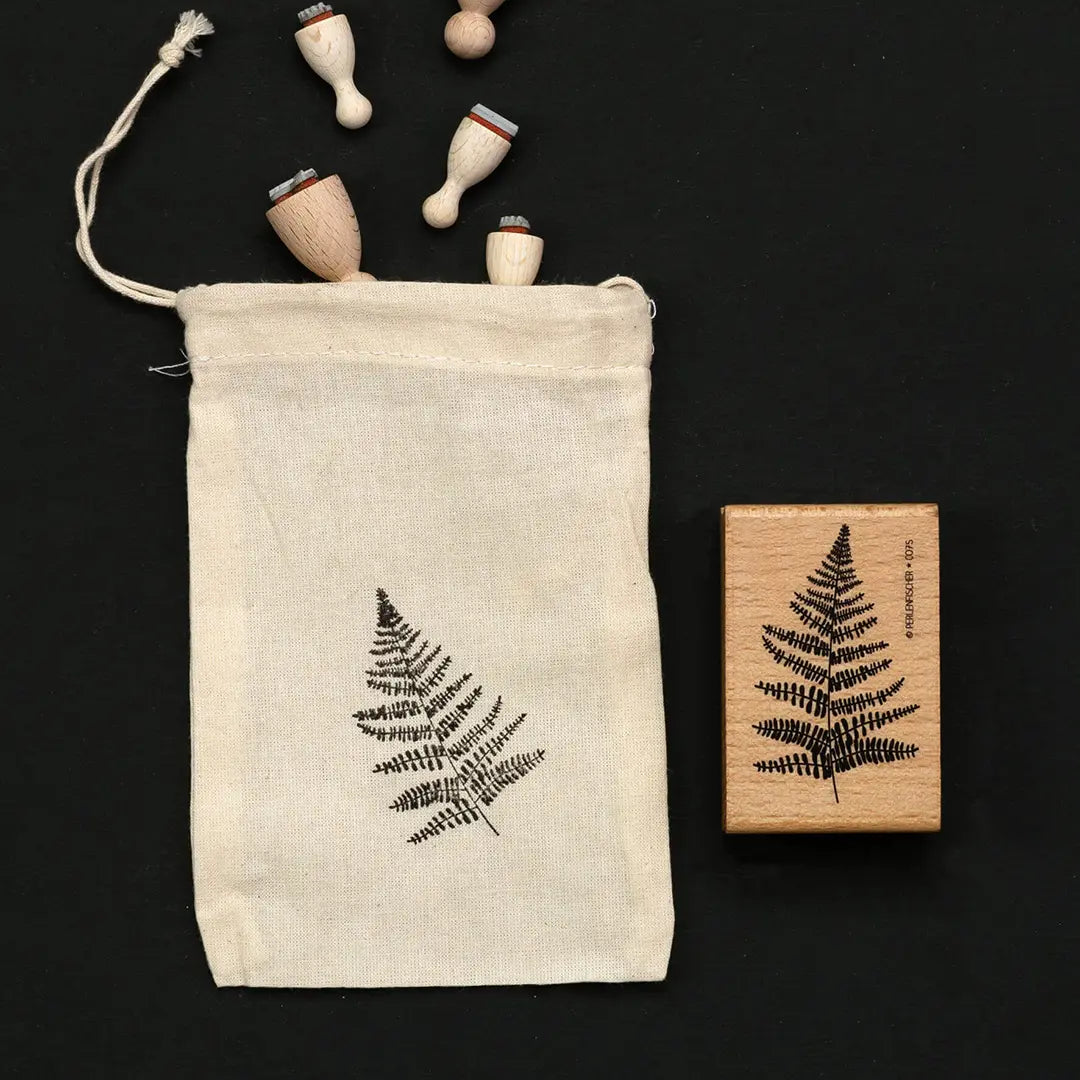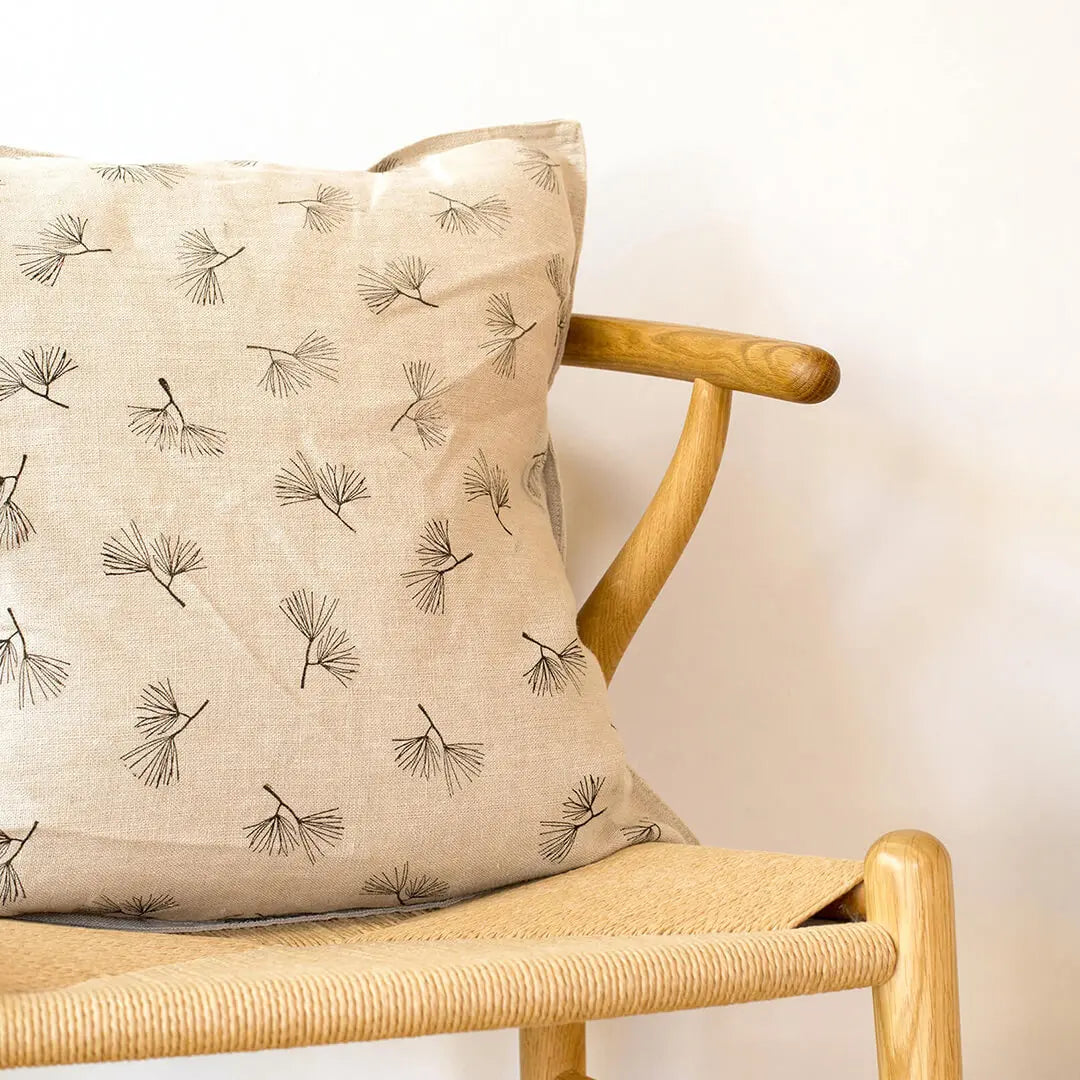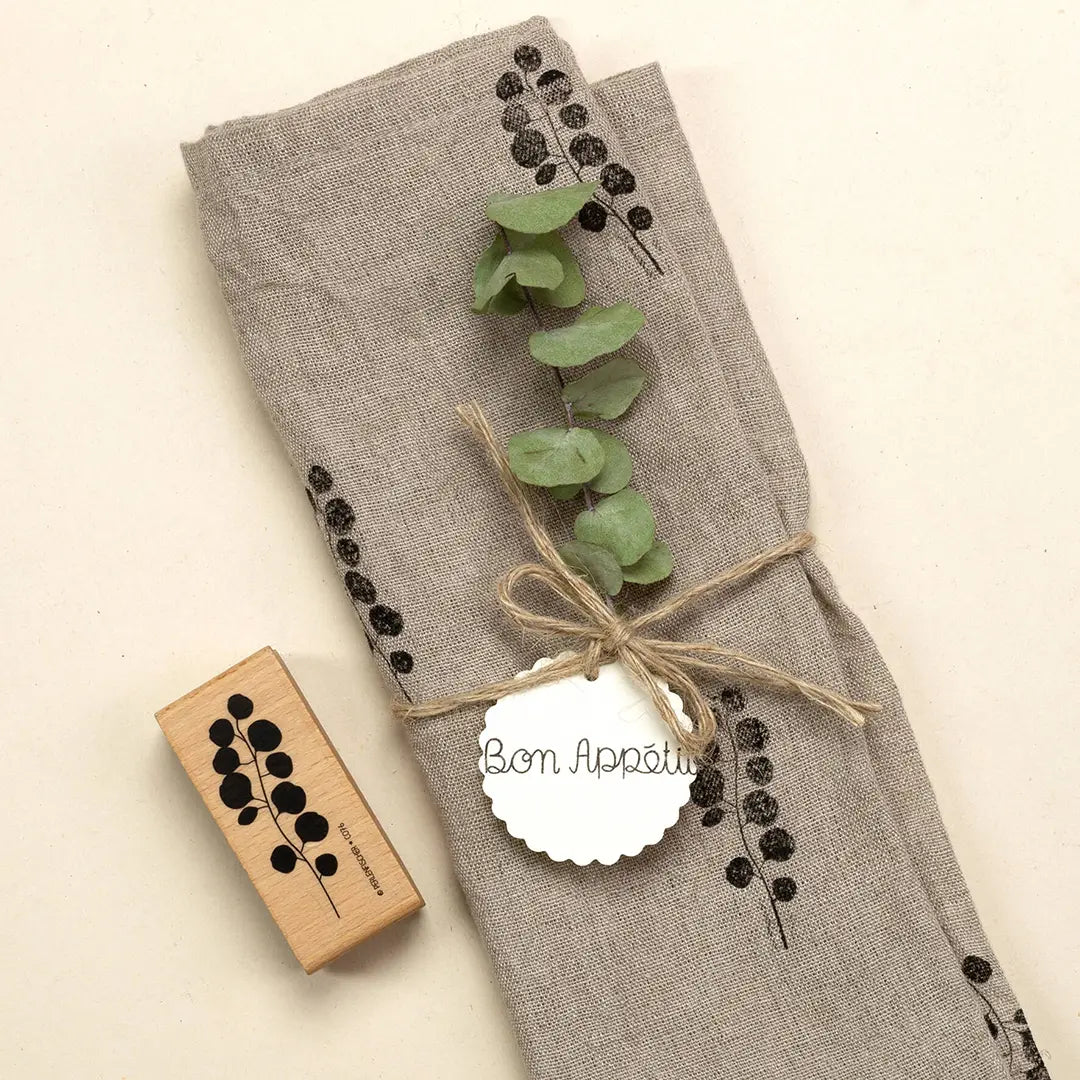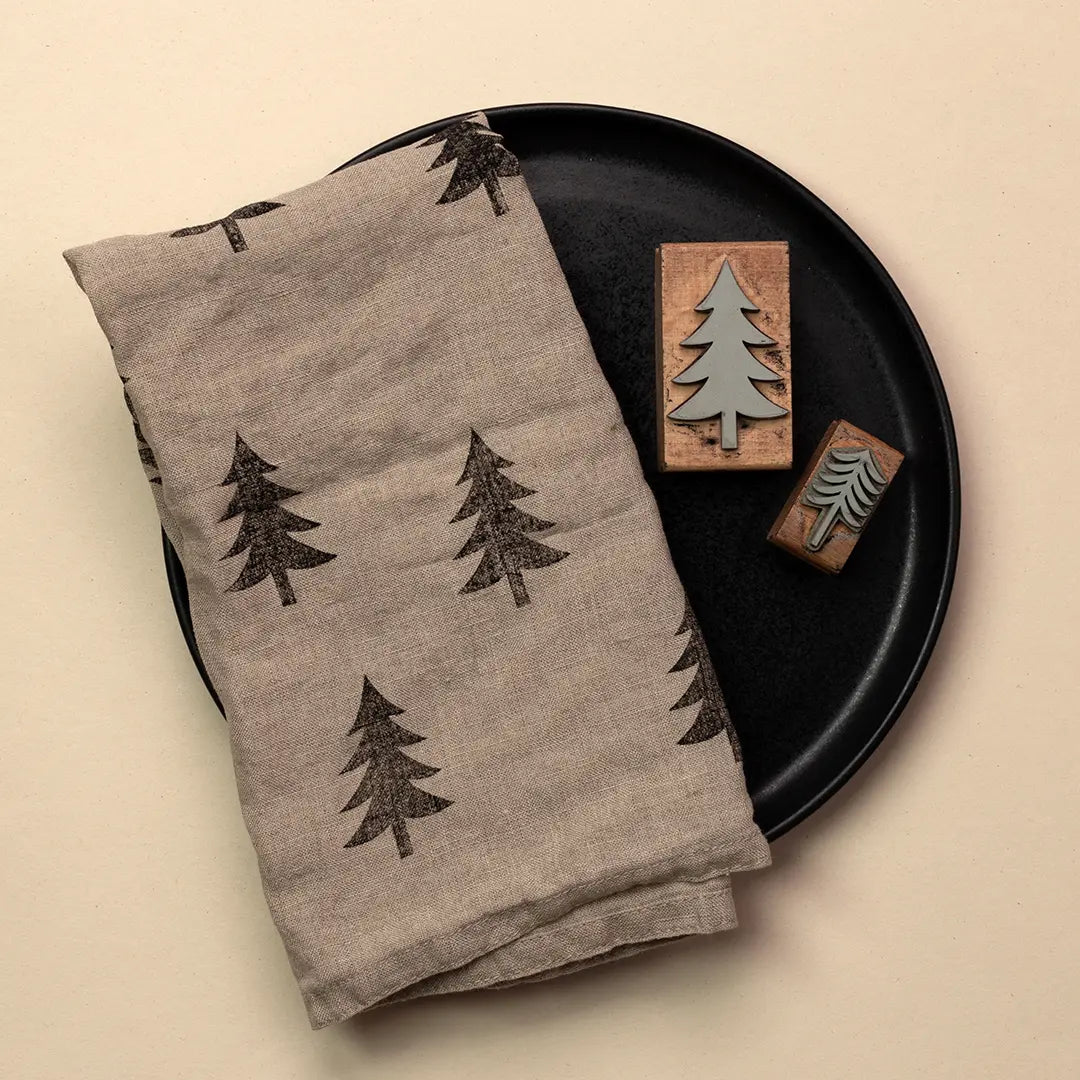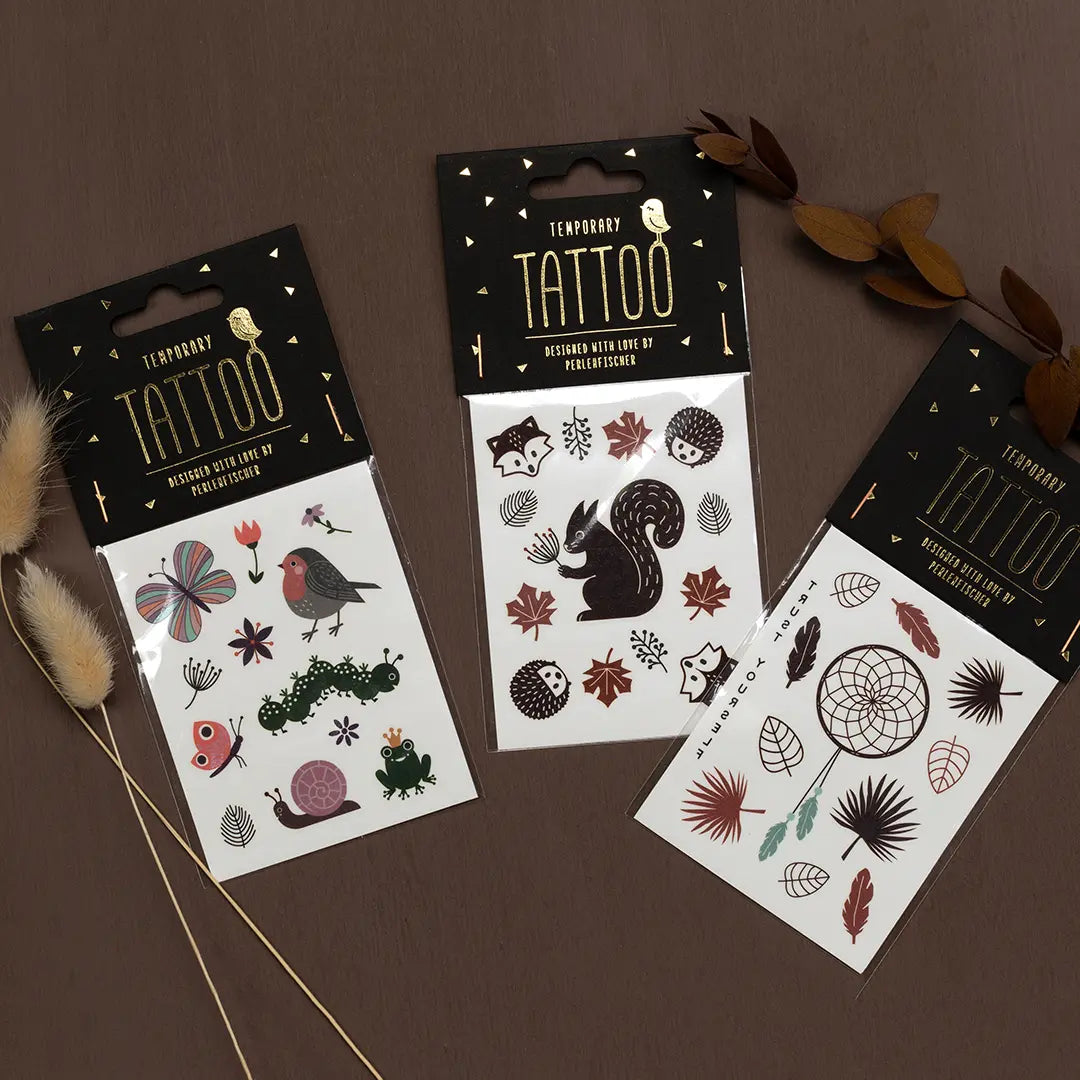 Temporary tattoos in autumn
Forest friends for the skin
Our temporary forest and autumn tattoos are perfect for young and old. Since our tattoos are manufactured according to the guidelines of the EU cosmetics regulation, you can apply them to your skin without hesitation. For all the colors, discover our category:
Which stamp colors are suitable for autumn & forest?
Autumn and forest tones
There are beautiful color combinations that you can create with our ink pads to match the autumn season and the forest look. Here we only show a small selection of possibilities, so have a look at our stamp ink category. With regard to sustainability, it was important to us that our ink colors can now also be refilled, which means that the ink pads can be used for much longer. You can find our refill bottles under refill color .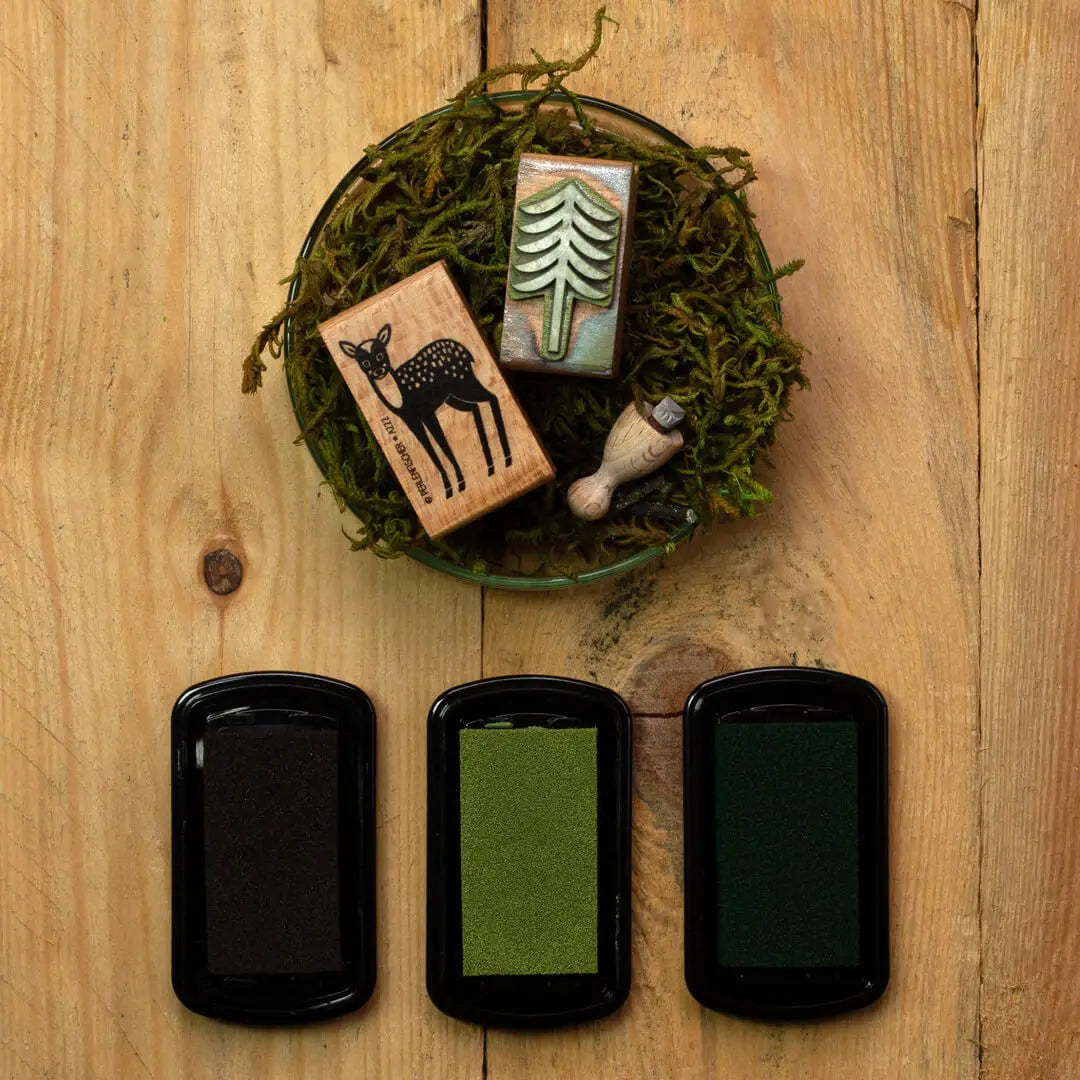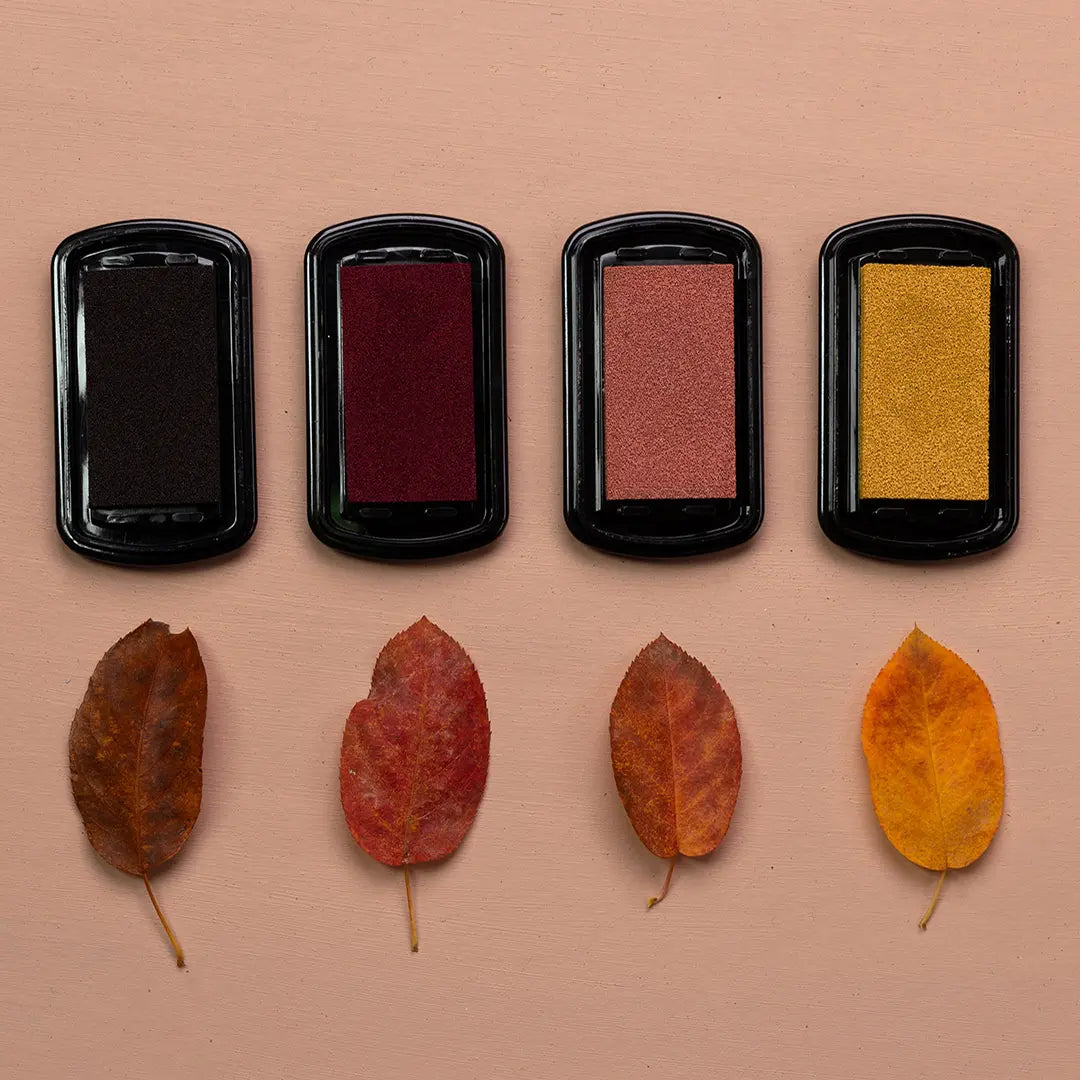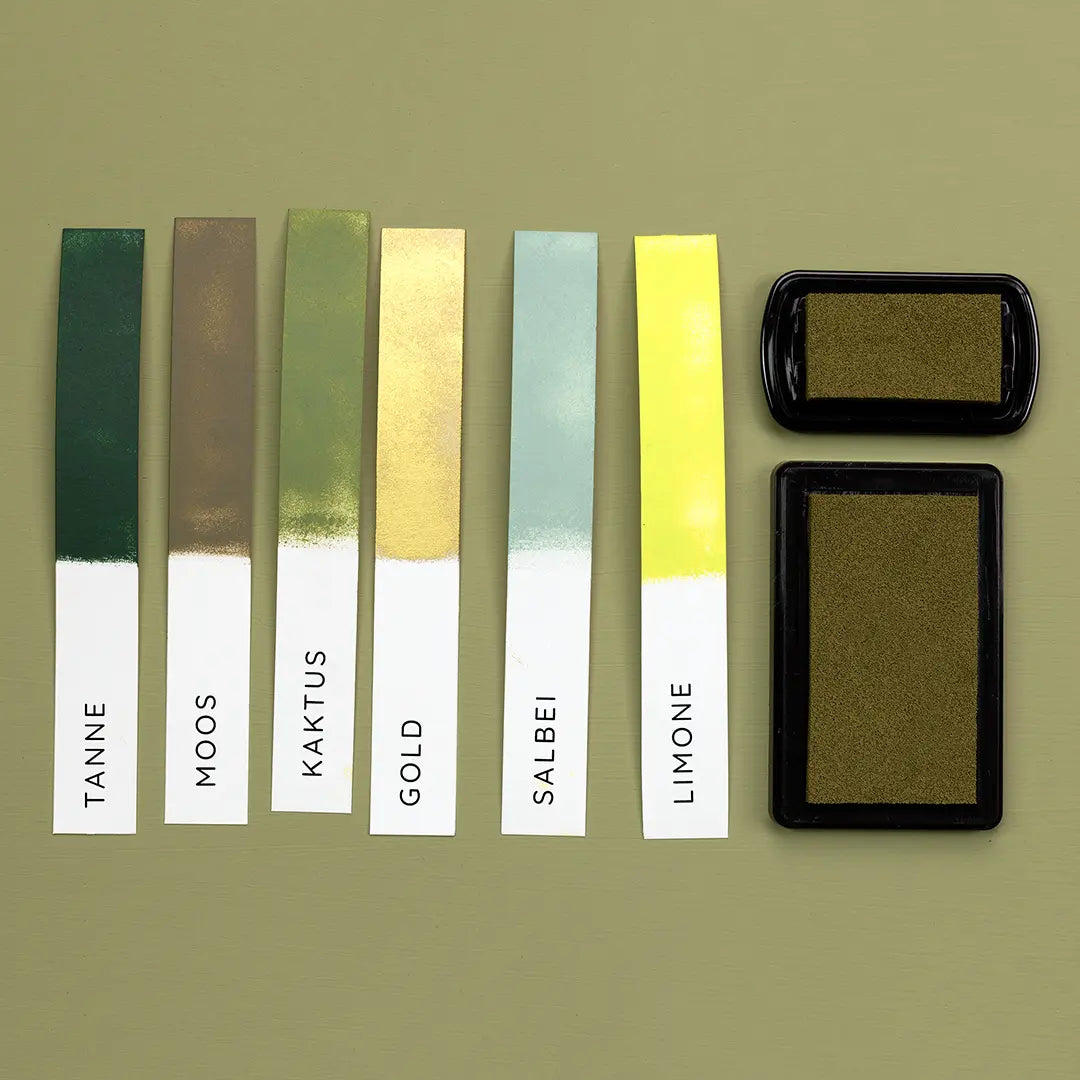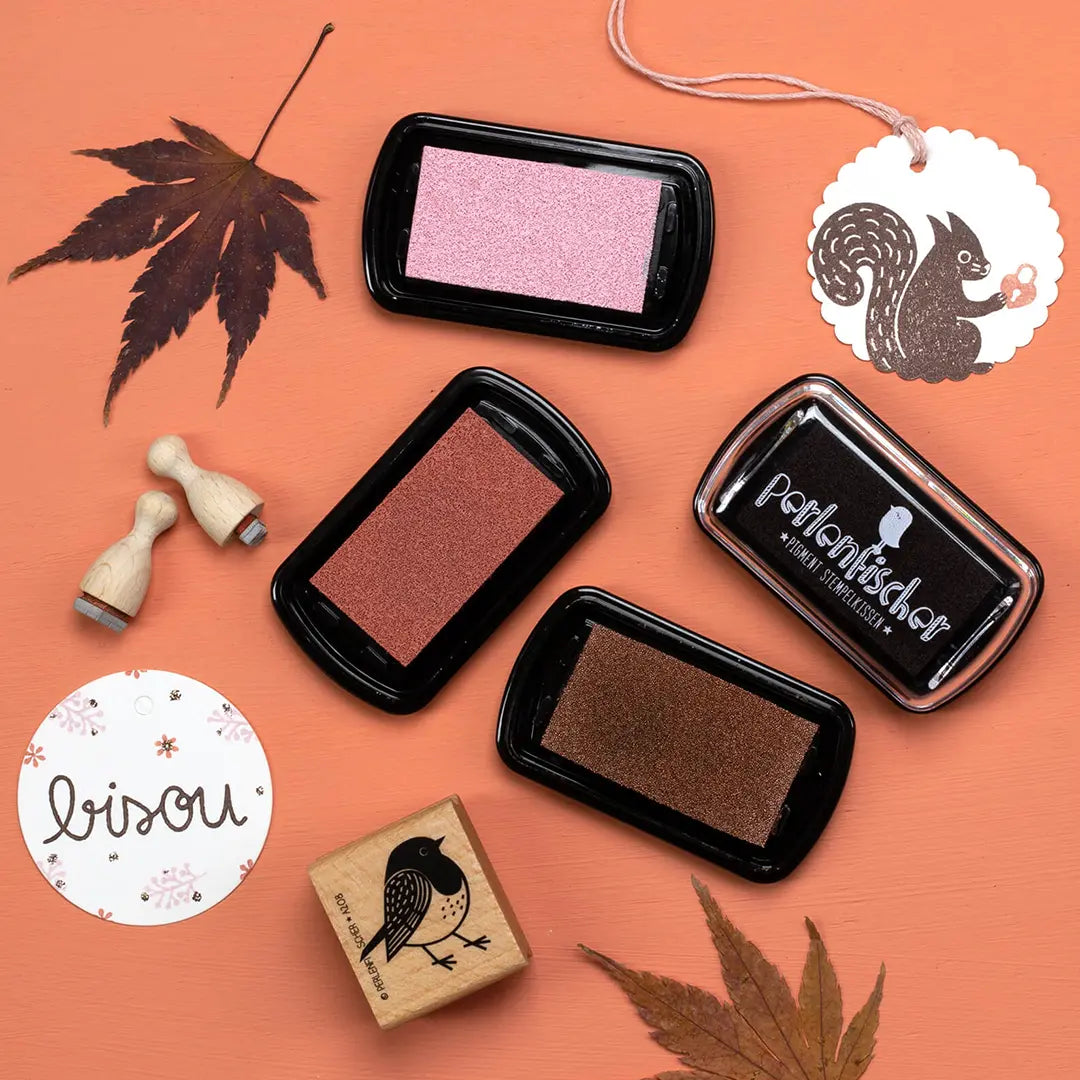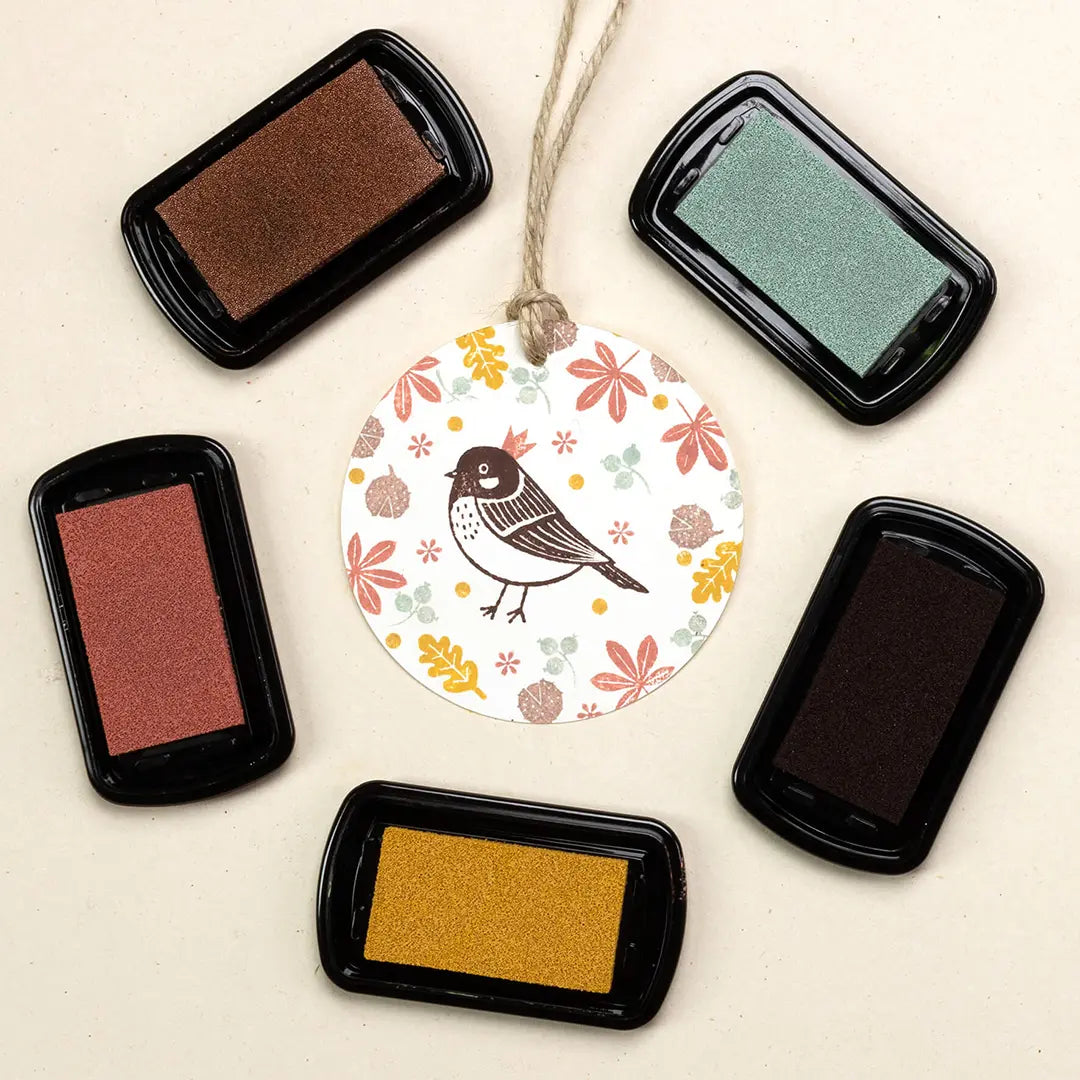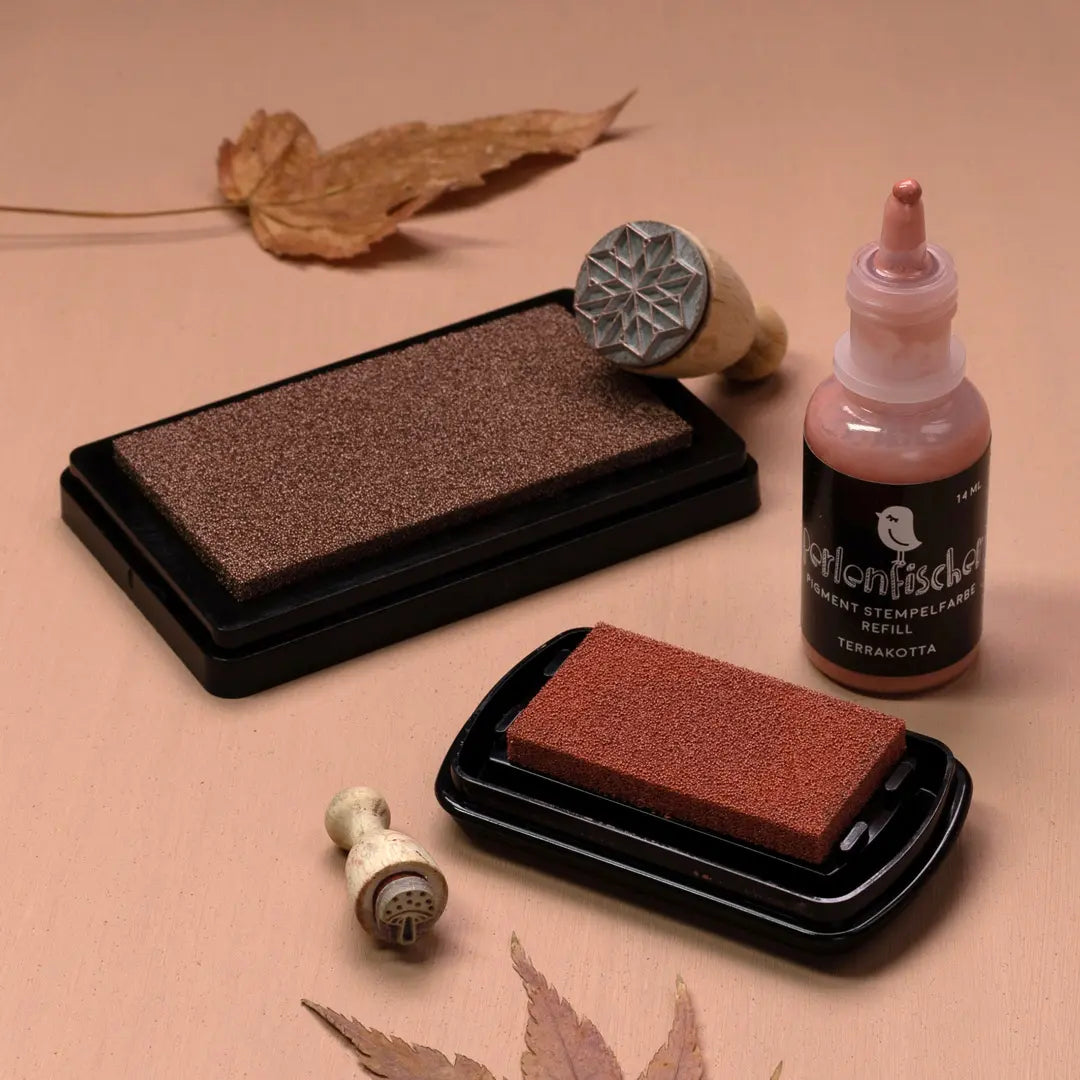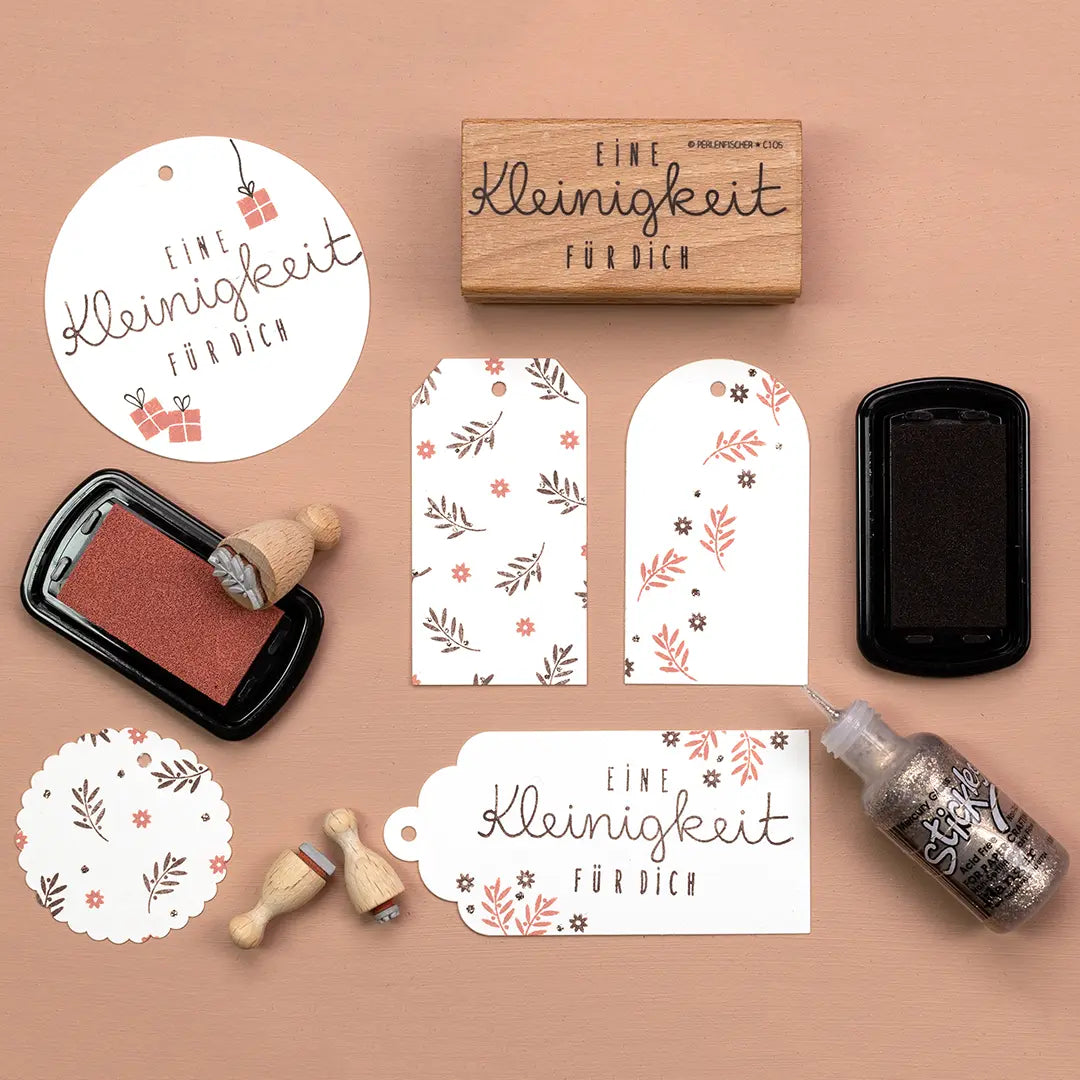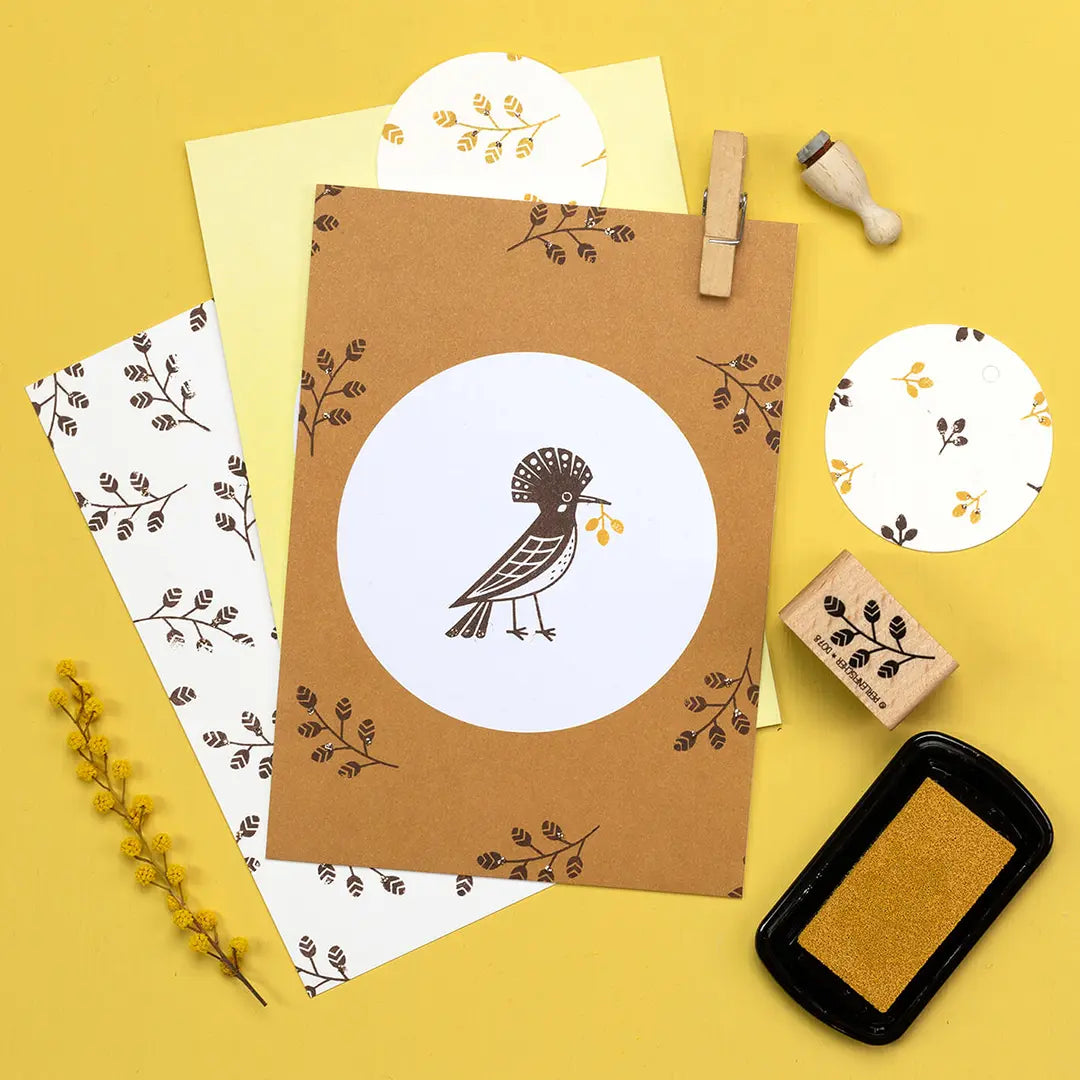 Stamp set for the fall season
Pretty little thing
The stamp set | Hübsche Kleinigkeiten in the autumn look is perfect for pimping up gifts. This stamp set is perfectly coordinated and contains everything you need to start stamping right away: stamp, ink pad and stationery. Discover our entire selection at:
Stamp set suitable for autumn & forest
hoopoe
The Stamp set | Hoopoe has a wonderful autumnal twist featuring one of our favorite birds, plus gorgeous leaves and branches. You can use it to stamp unique cards and gift tags. Another great Fall & Forest stamp set is our Stamp set | Squirrel .
Which DIY decorations and gifts can I create with autumn forest motifs?
DIY gifts and decorations to recreate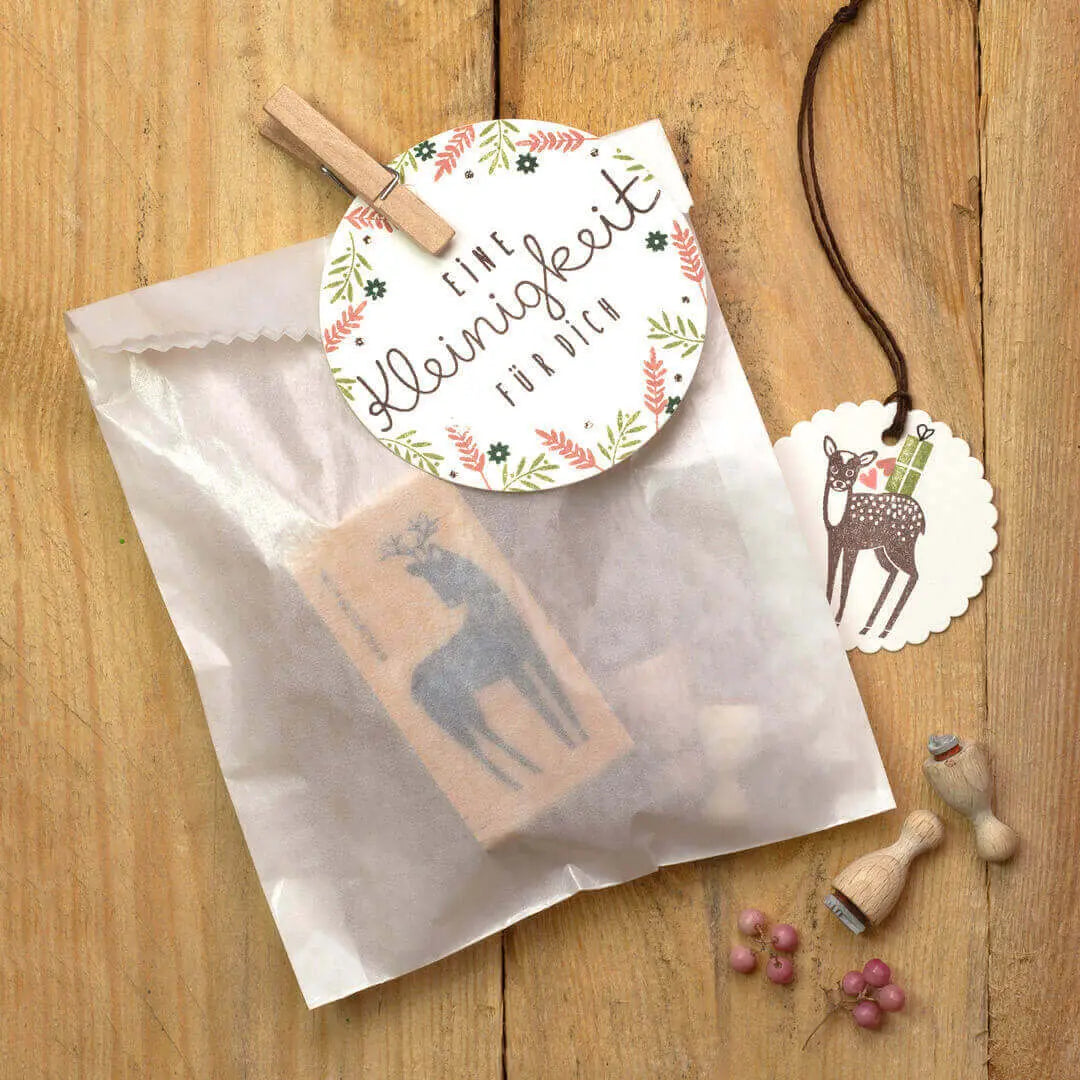 Stamp paper tags and use them to decorate your gift of your choice, like filling a bag with great stamps in this example.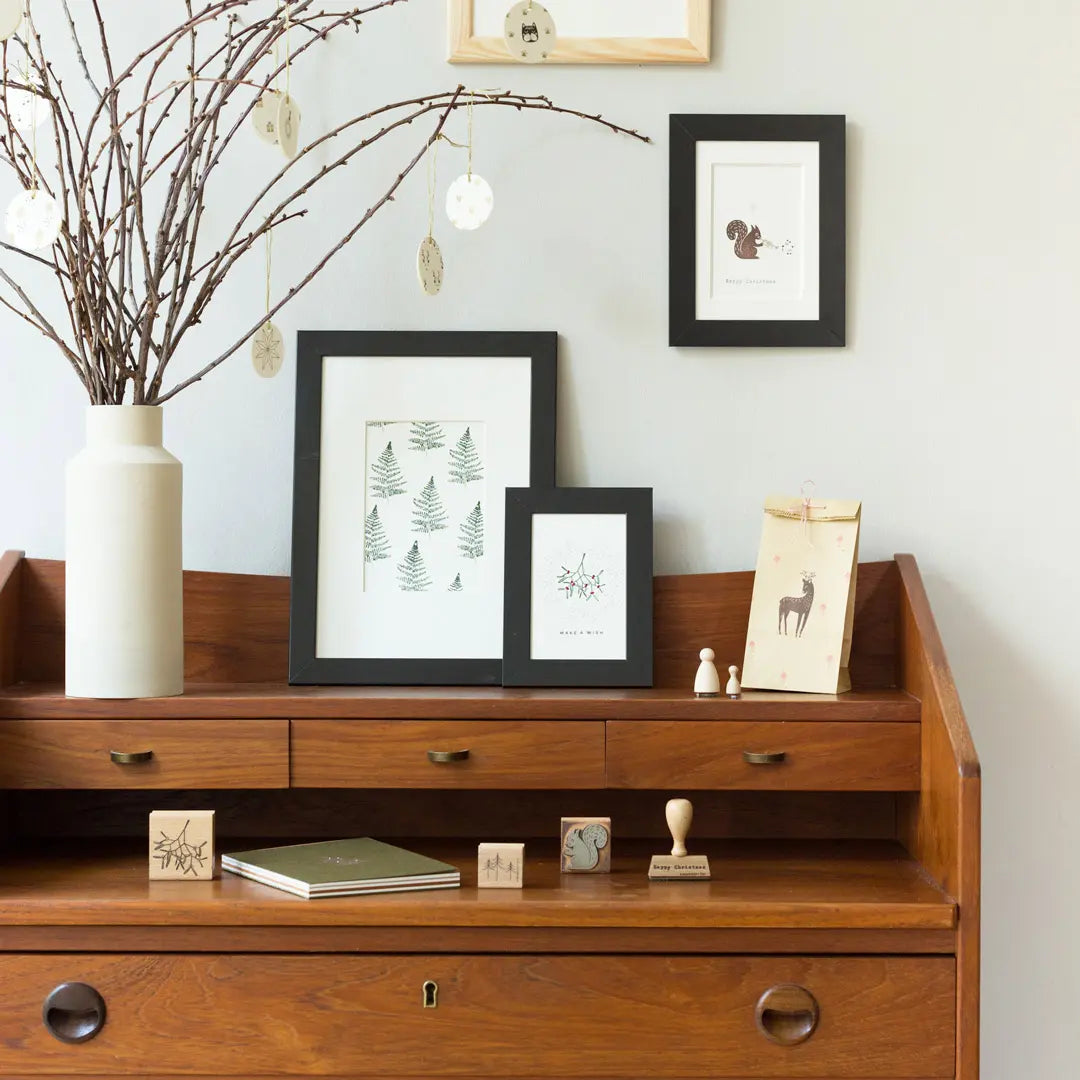 Or stamp your own work of art with sweet motifs and decorate the walls of your home with it.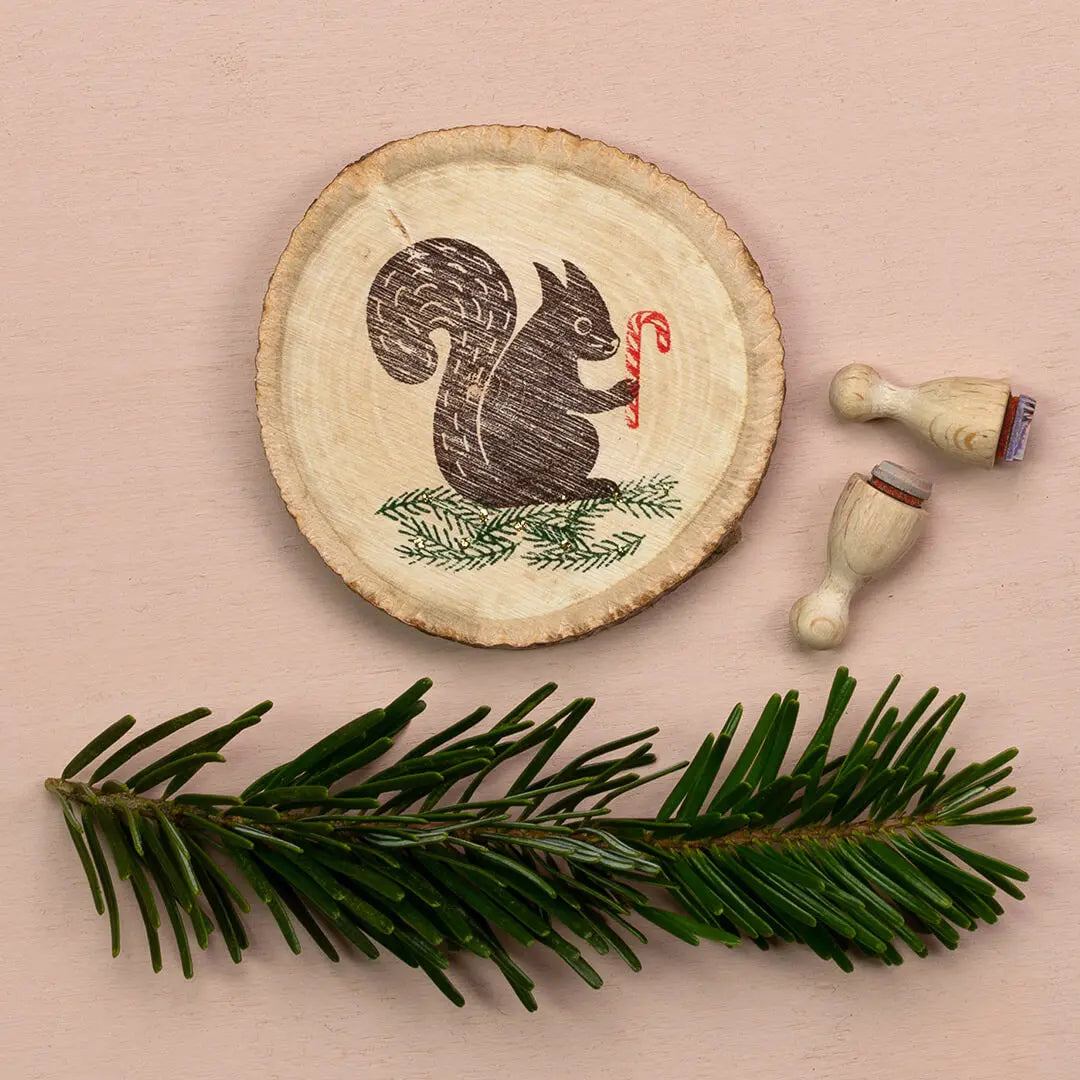 Wooden panels can also be wonderfully stamped. So you can give your home an autumnal and cozy touch.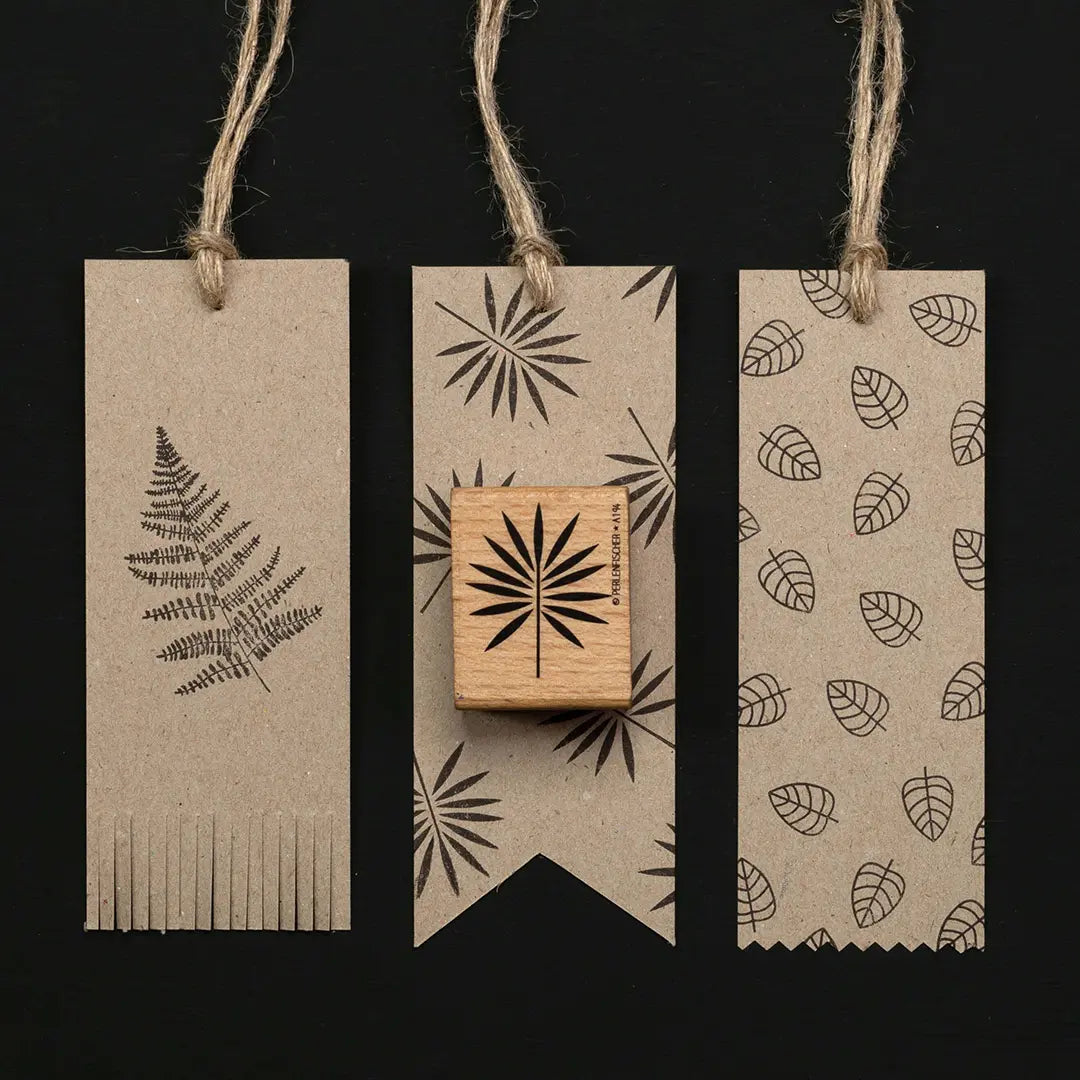 Make and stamp your own bookmarks. Cut them into shape, choose a motif and tie a nice yarn to it. Complete!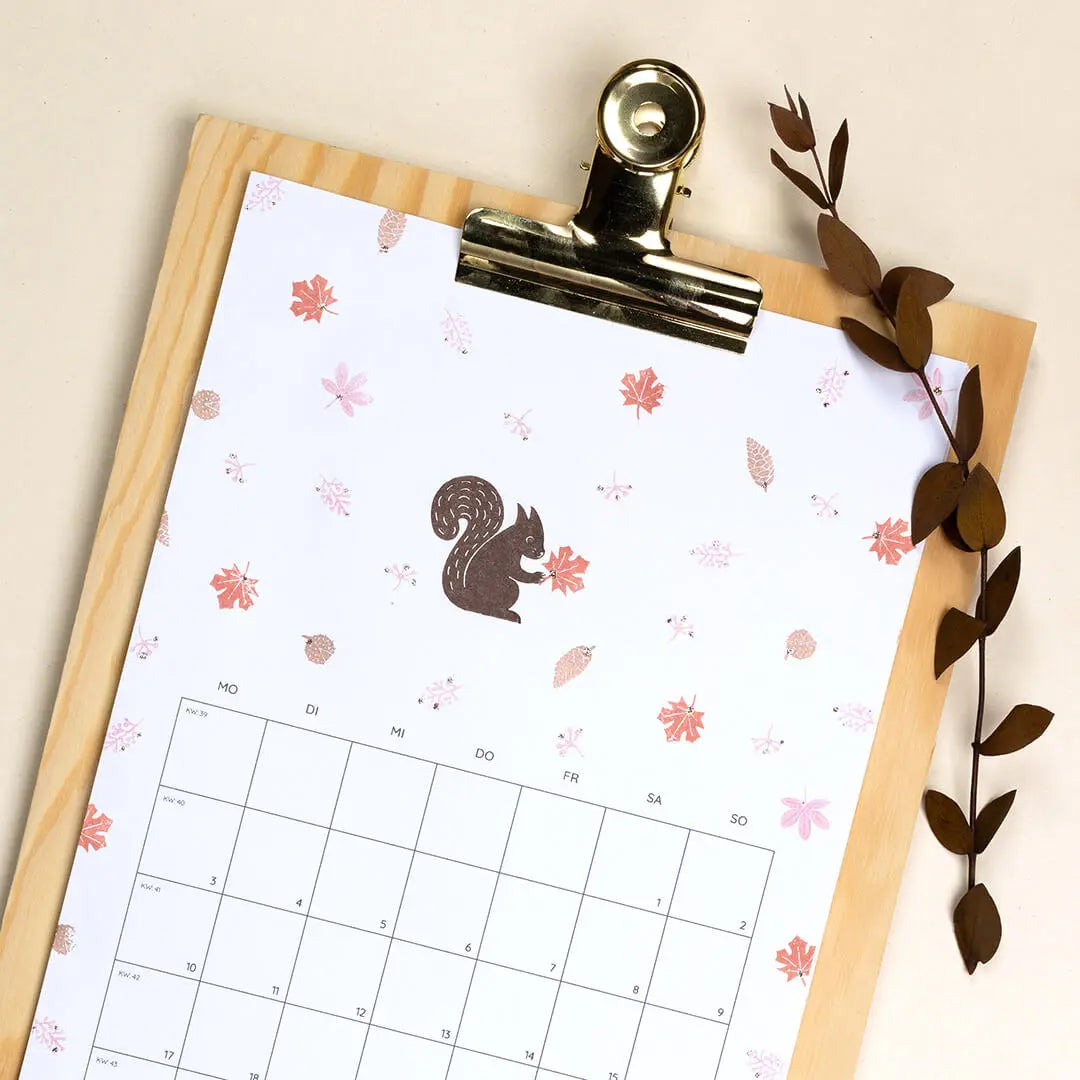 You can also stamp an individual calendar. Click here for the free print template.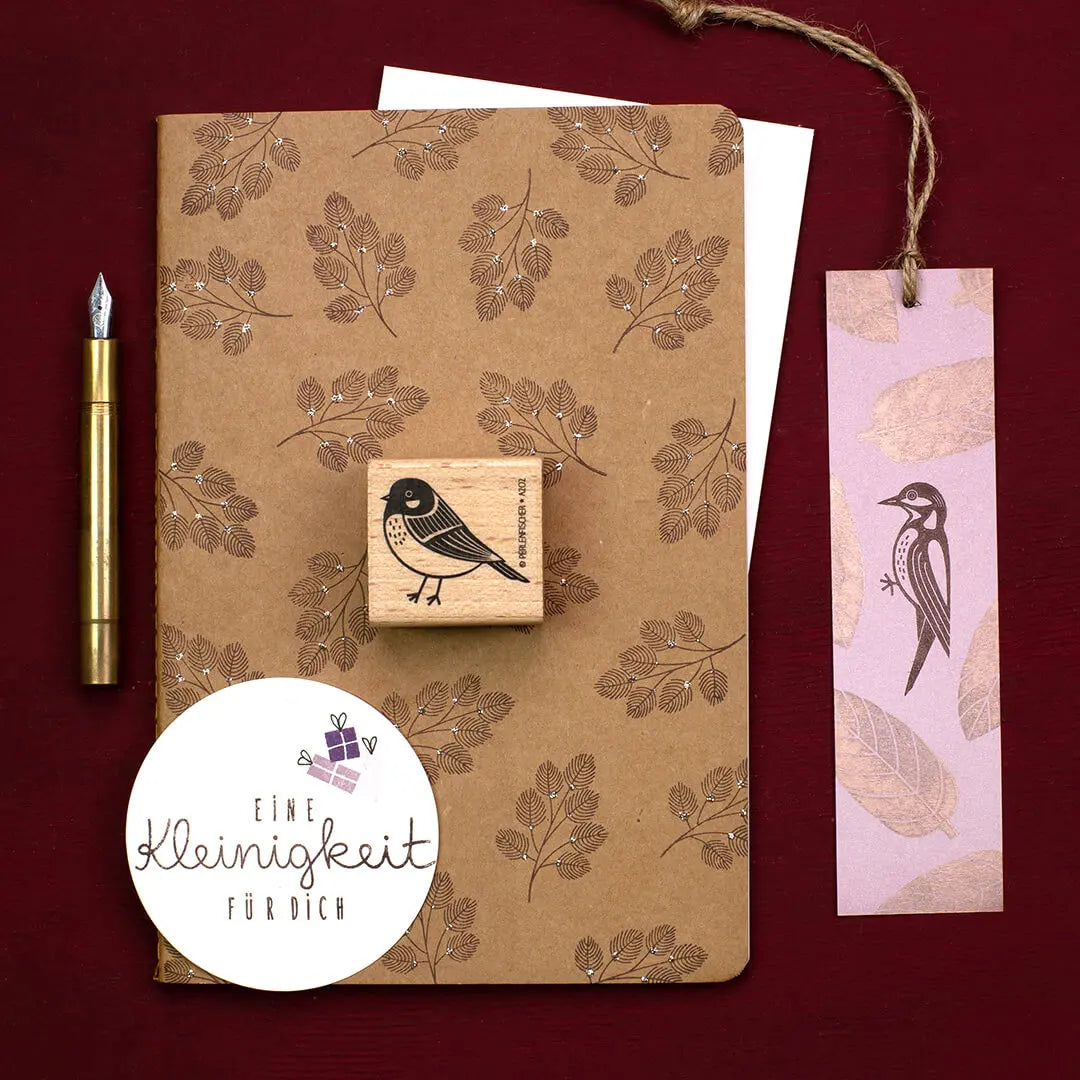 Stamp your own cover for books, notebooks and journals or your own wrapping paper.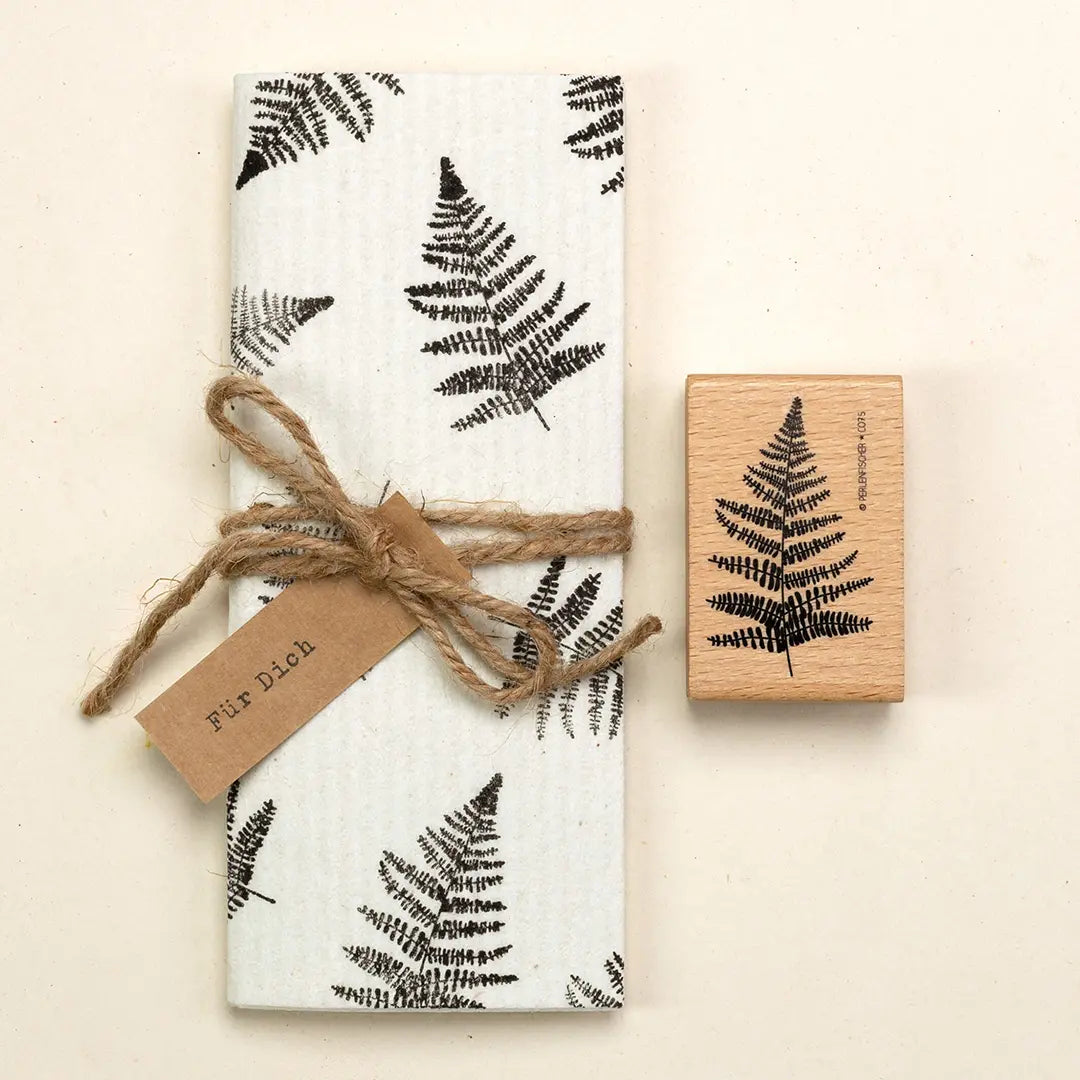 You can also stamp fabrics: They are washable if you use textile ink.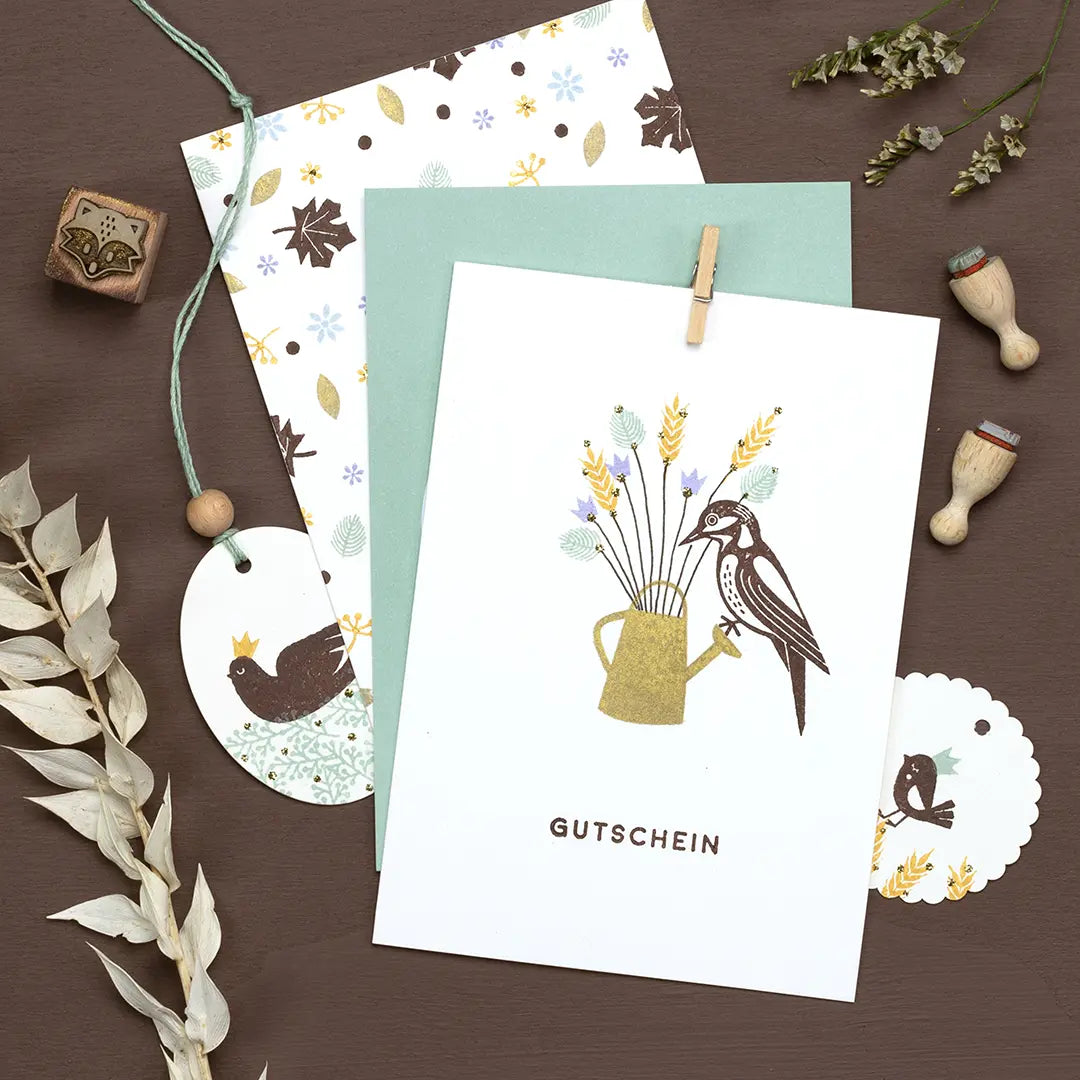 How do I use text stamps on autumnal cards?
Combine text stamps with forest and autumn stamps
Text stamps can easily enhance cards by leaving nice greetings for special occasions and combining them with a wide variety of stamp designs. Our whole selection and many different ways you can place the lettering can be found at:
Autumn motifs for a birthday
Autumn birthday cards
Birthdays are always a good occasion to send congratulations in the form of individually designed cards. Here we show you some beautiful autumn greeting cards for your birthday. In our category birthday stamp you will find a large selection of heartfelt stamp motifs.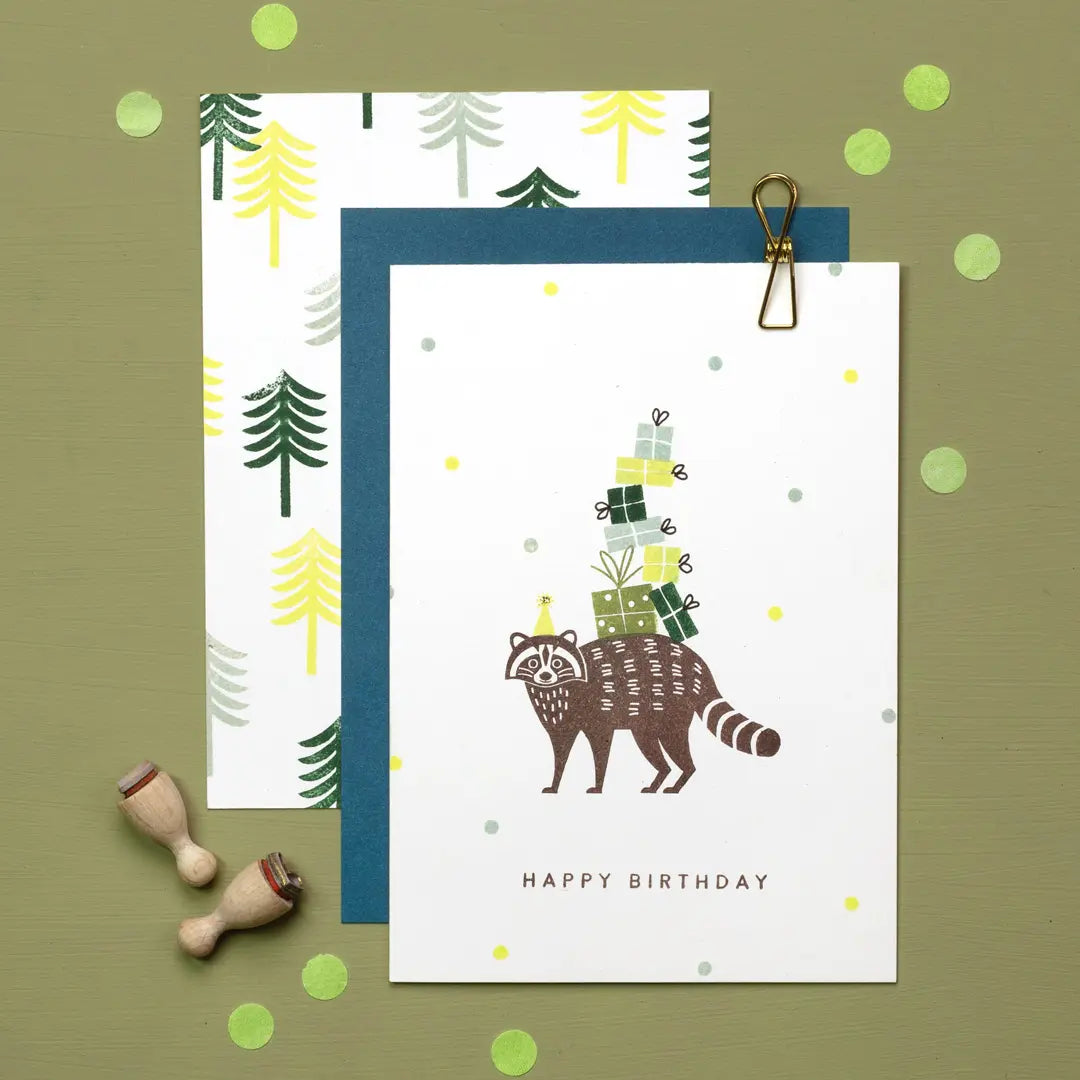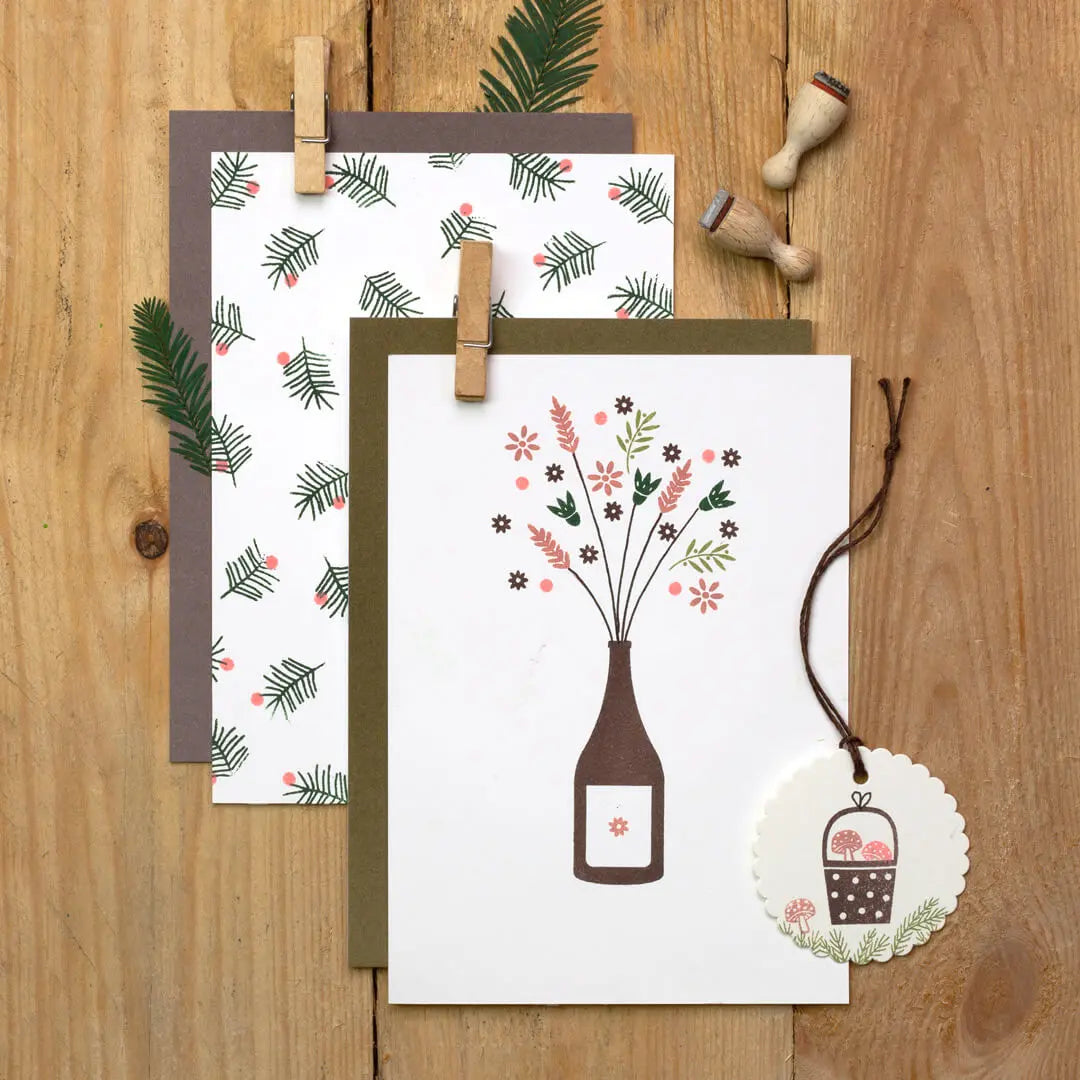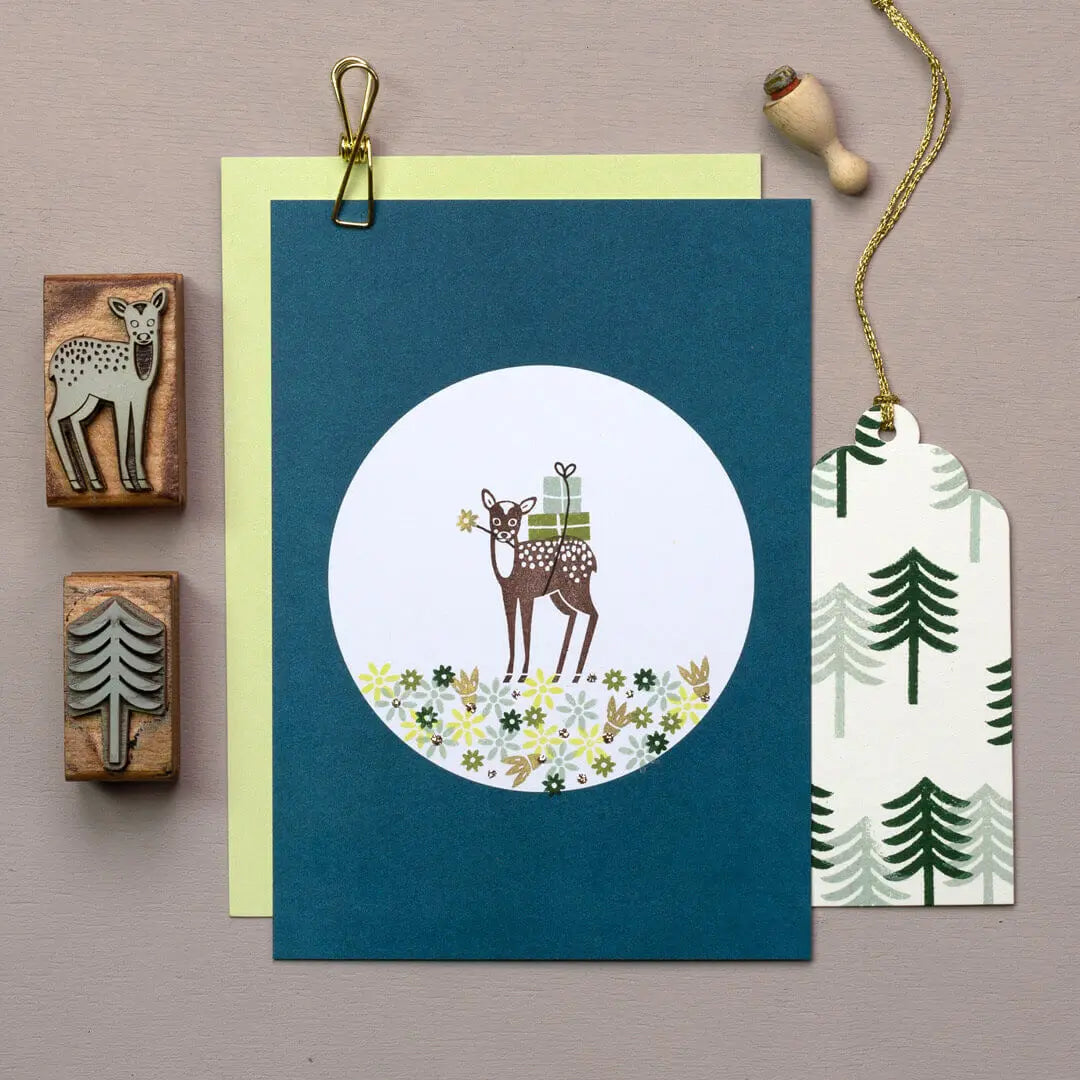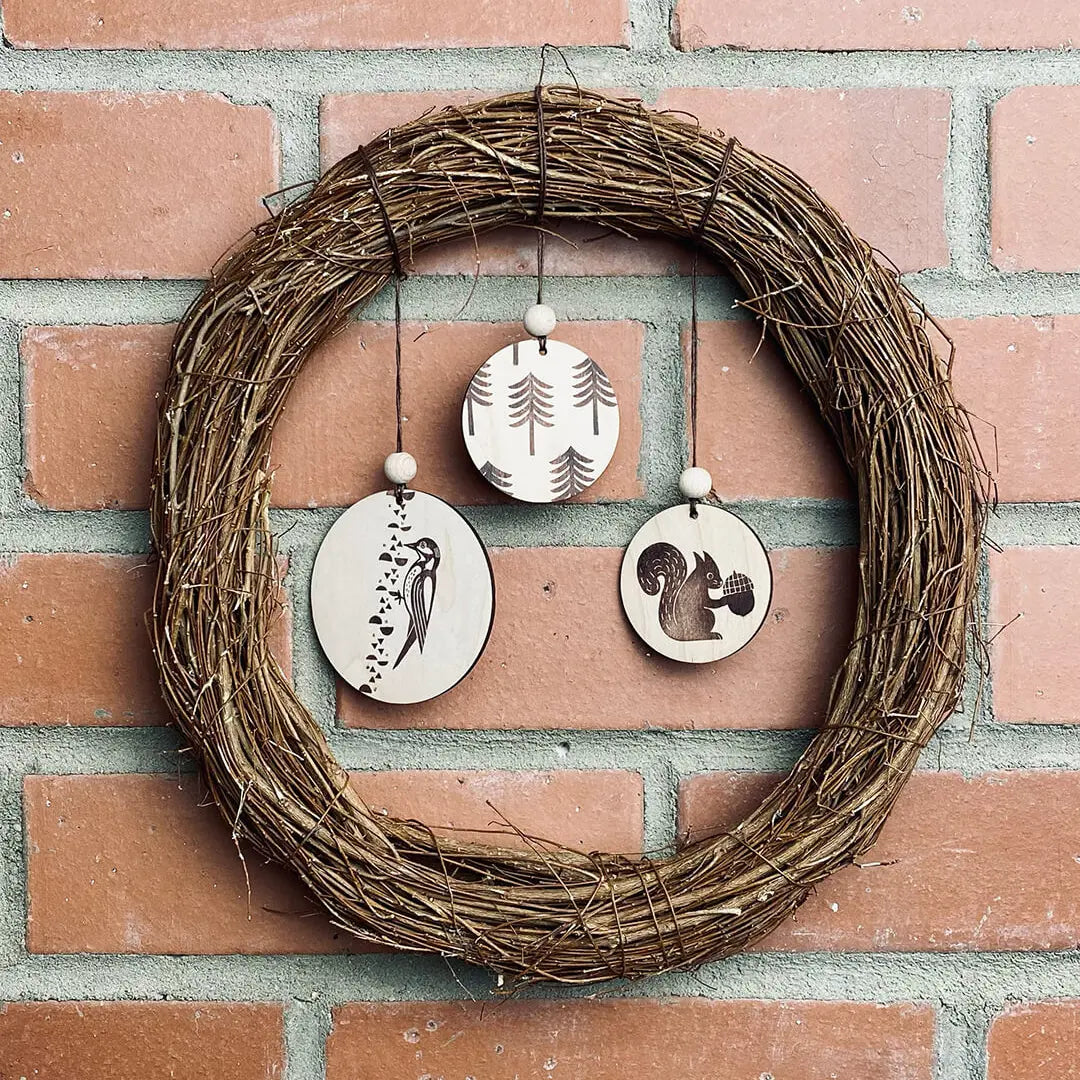 Can I stamp on wooden pendants?
Autumnal wooden pendant
The smooth and light-colored wood of our tags is perfect for stamping. You can use a wide variety of stamps and colors for this, like here with great forest animals and other autumn motifs. The wooden pendants are available in different shapes and sizes. See for yourself:
Which stationery is suitable for the atumn and forest stamps?
Postcard sets and gift tags with autumn forest motifs
Every gift looks much more personal with a small unique and self-designed tag. Depending on the occasion or season, you can brighten up your presents wonderfully. Our tags suitable for stamping come in many different shapes, which you can discover in the paper tags category.
Our Dot postcards are also available in many different colours. We have put together a few coordinated card sets for you that can be wonderfully stamped with autumnal forest motifs, including the themes autumn, forest and nature. You can find the whole range of colors under blanco cards .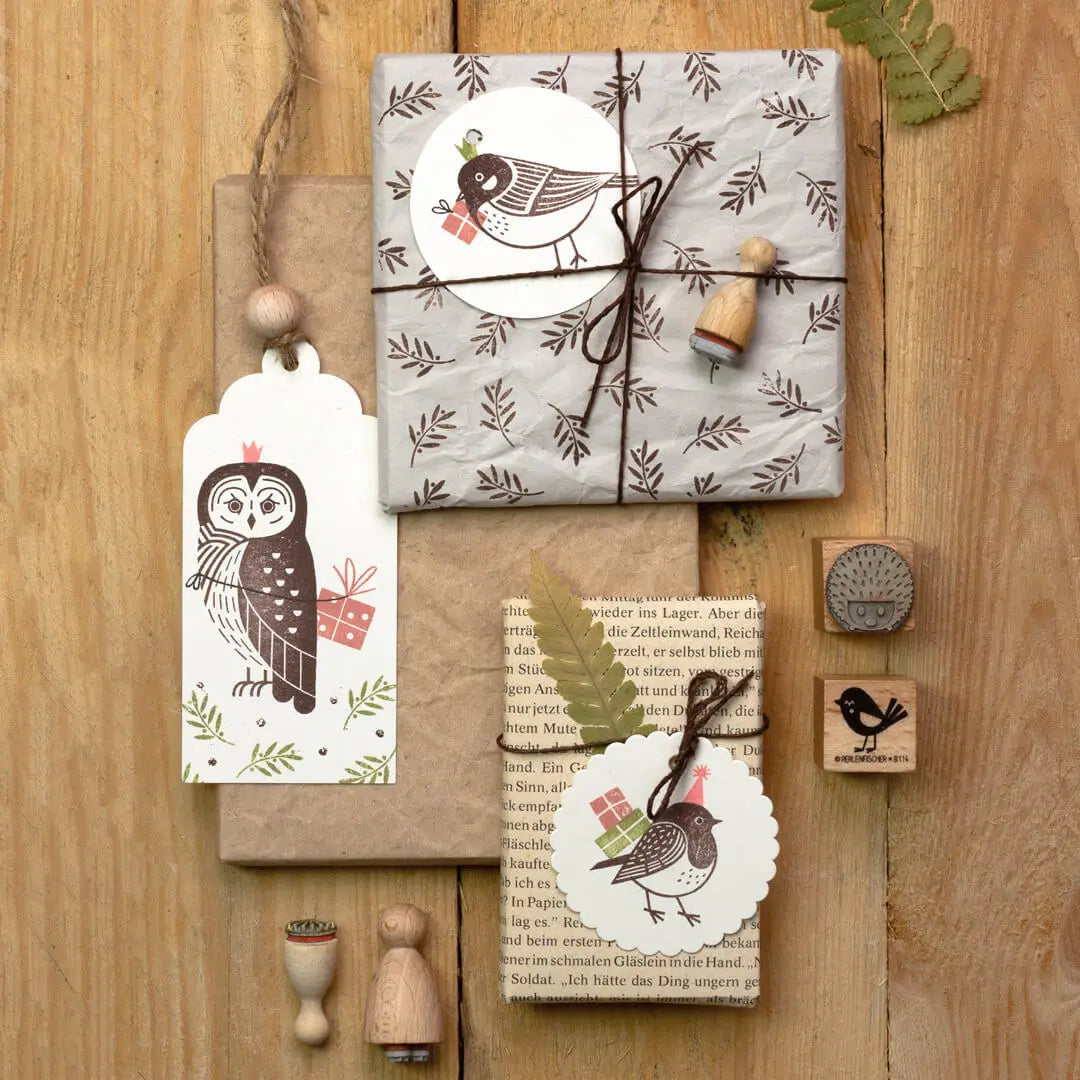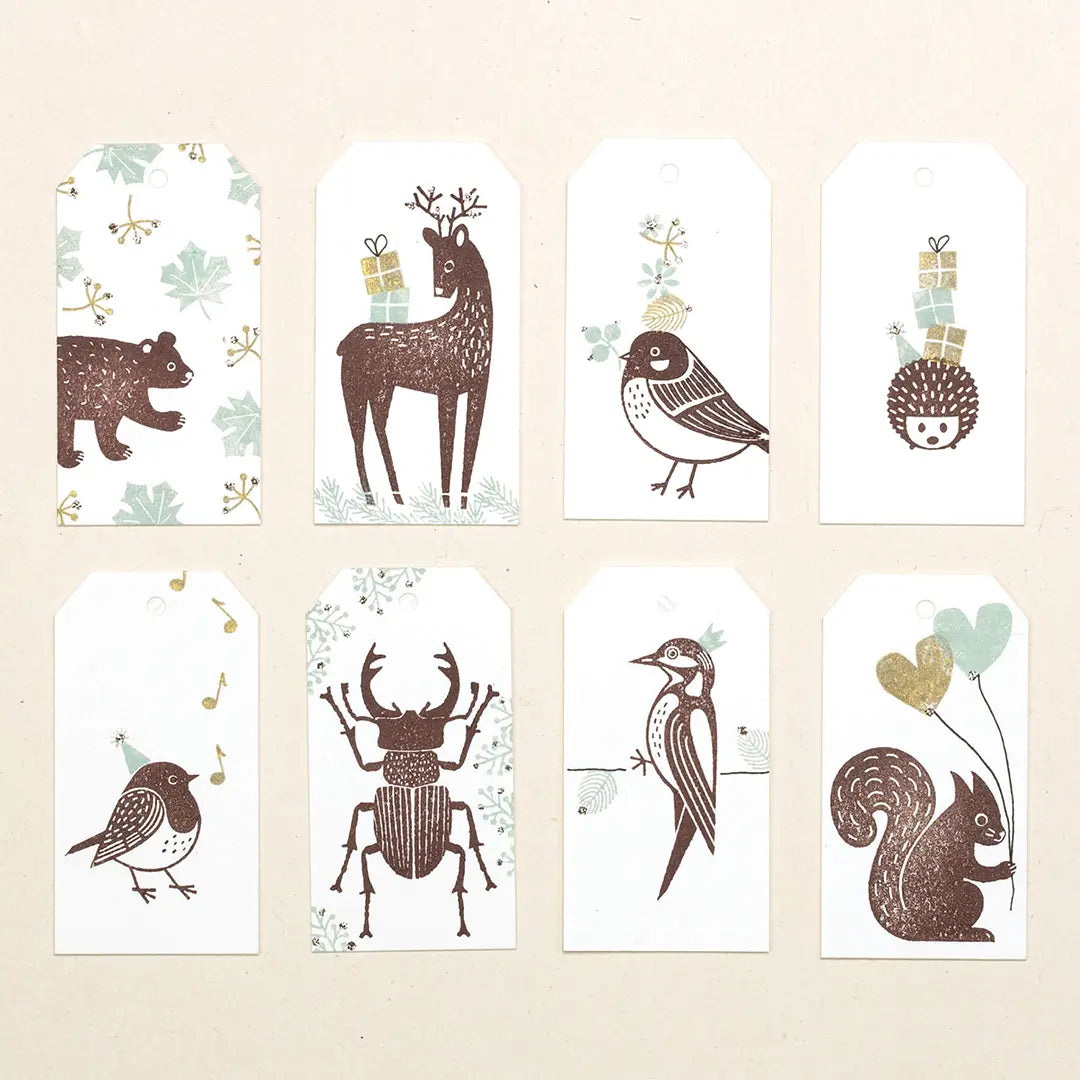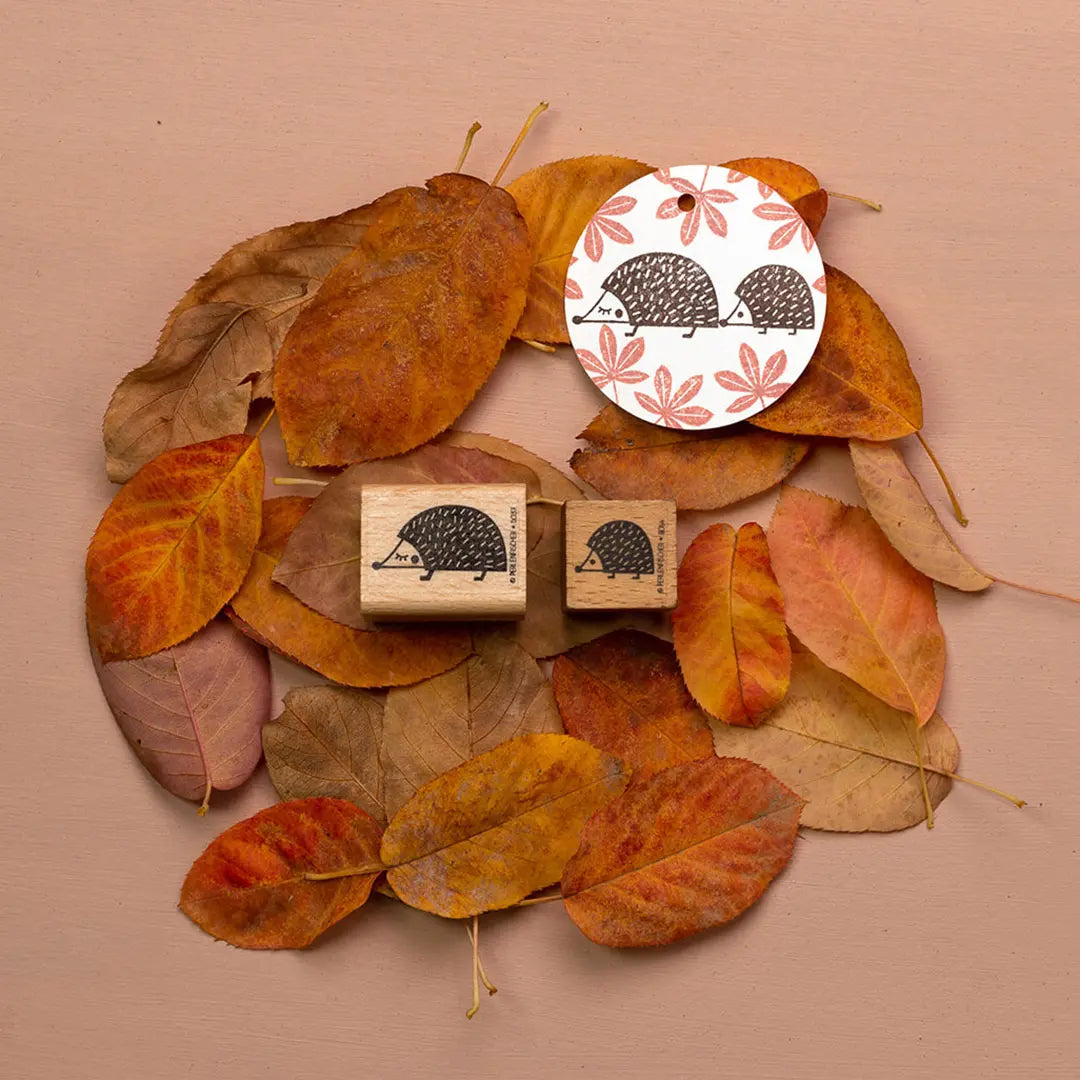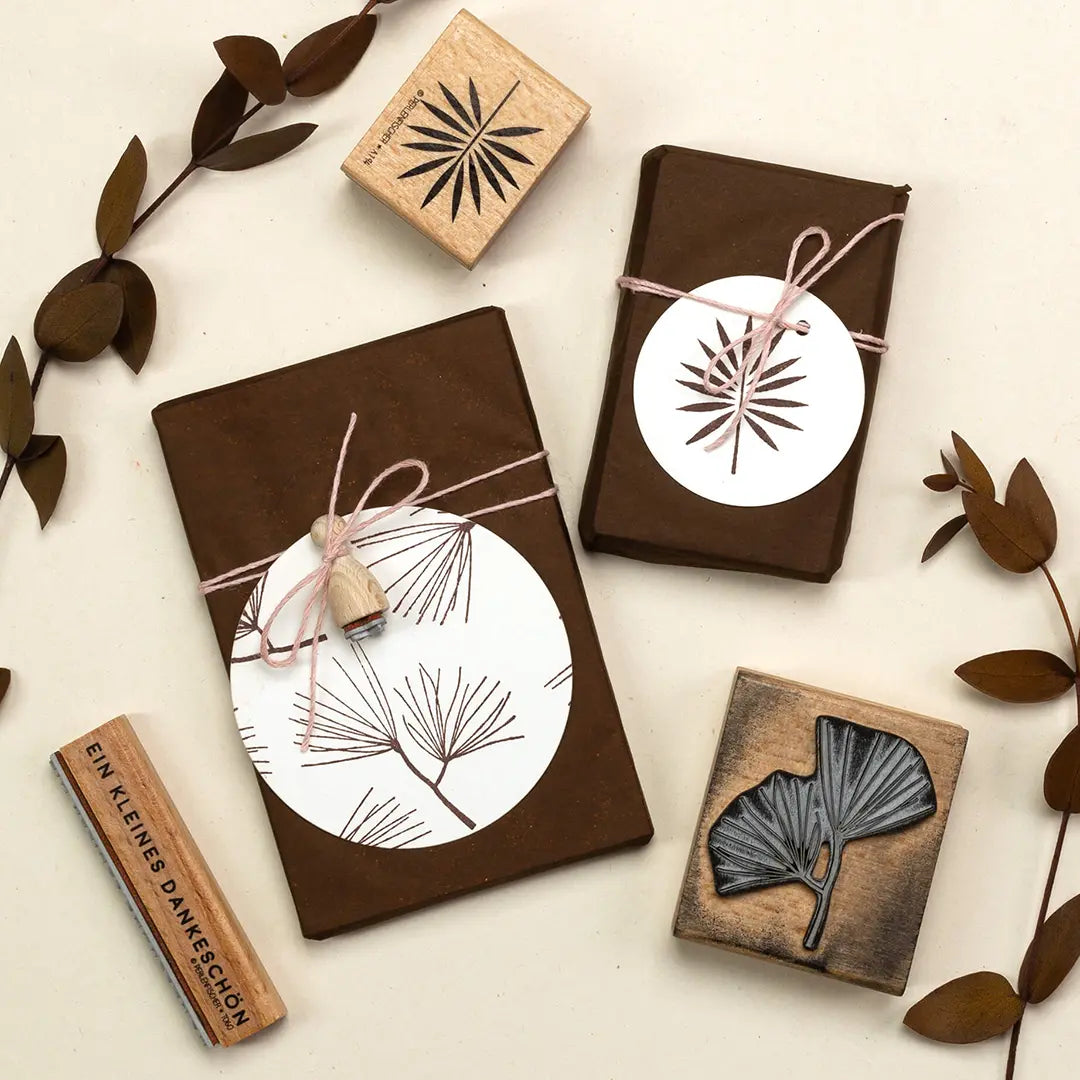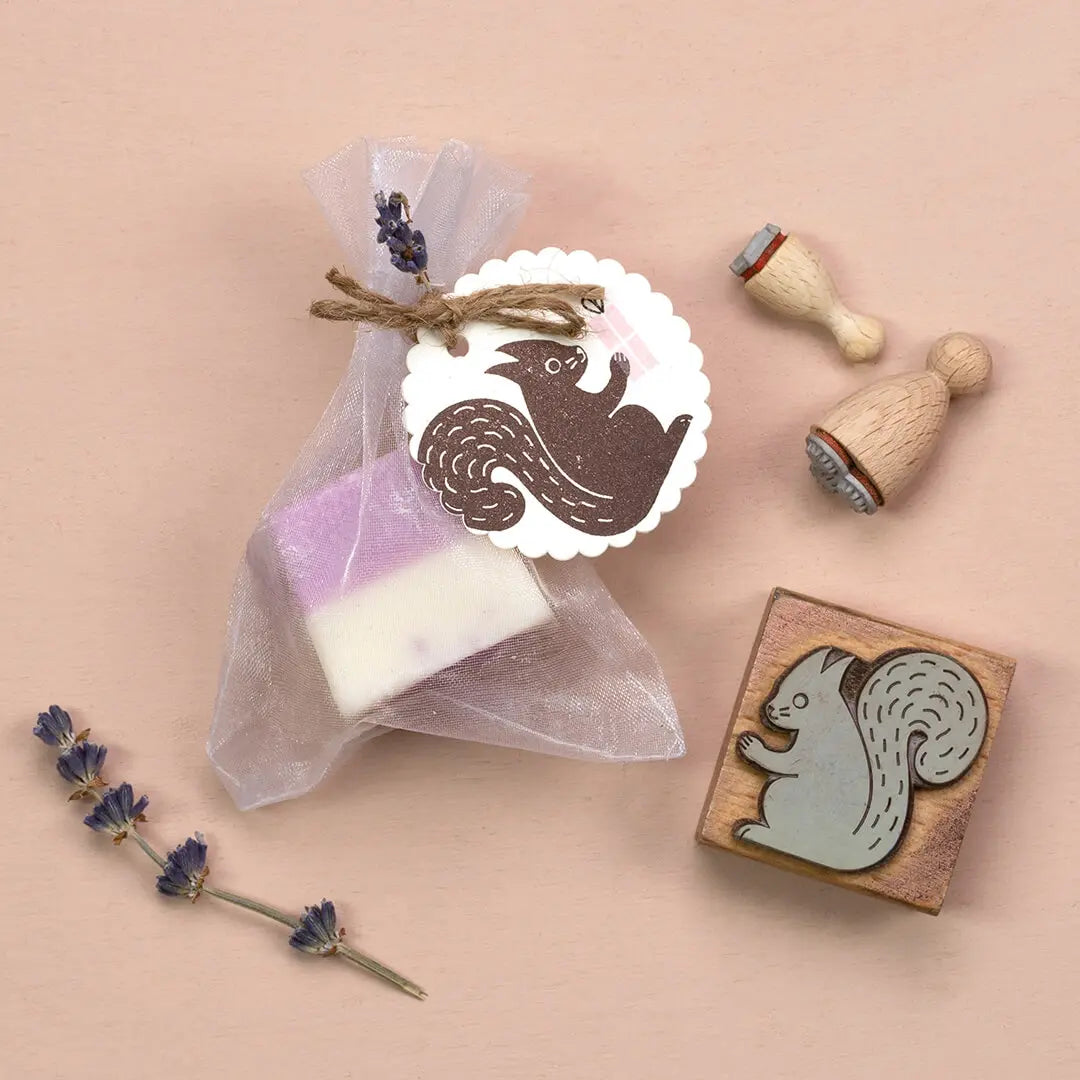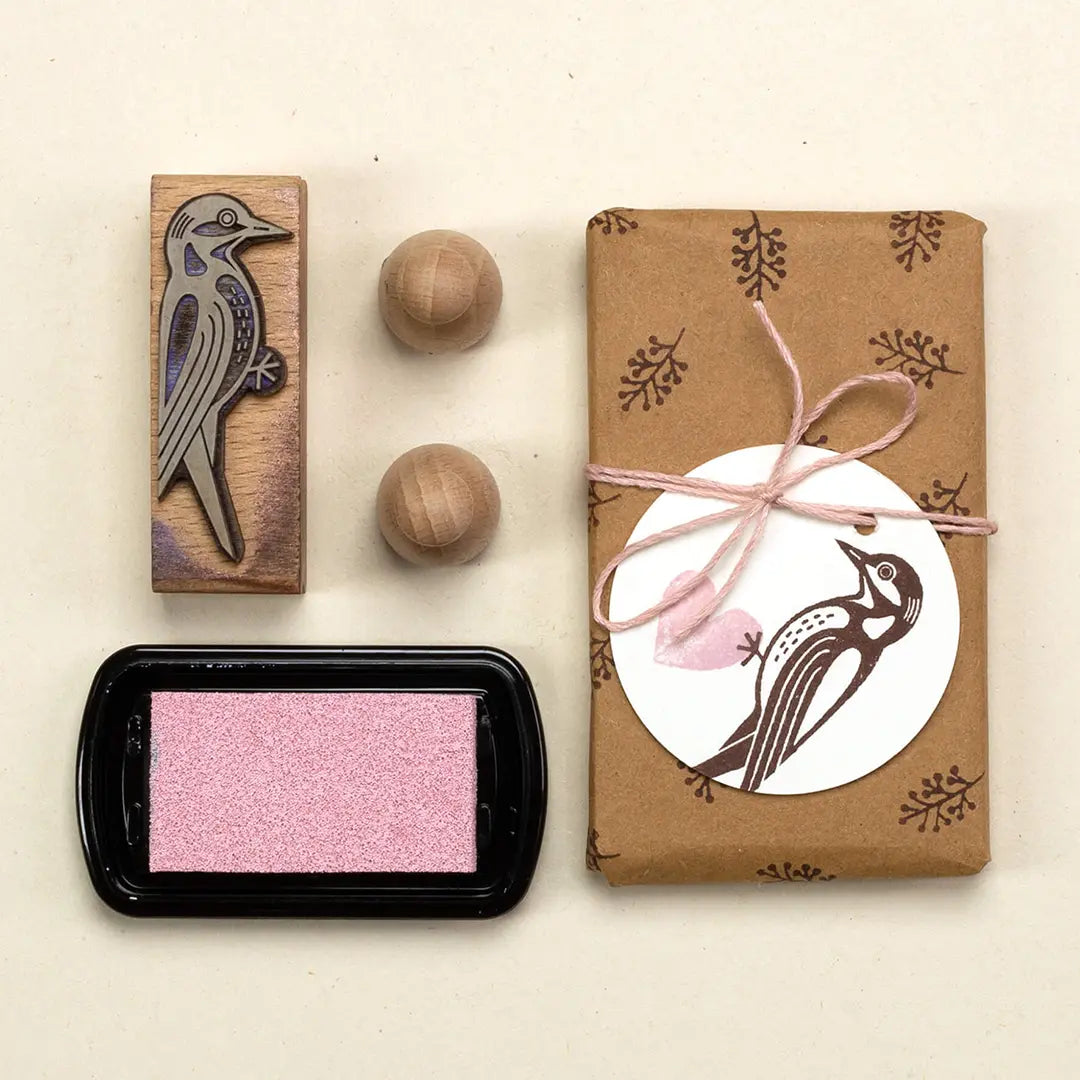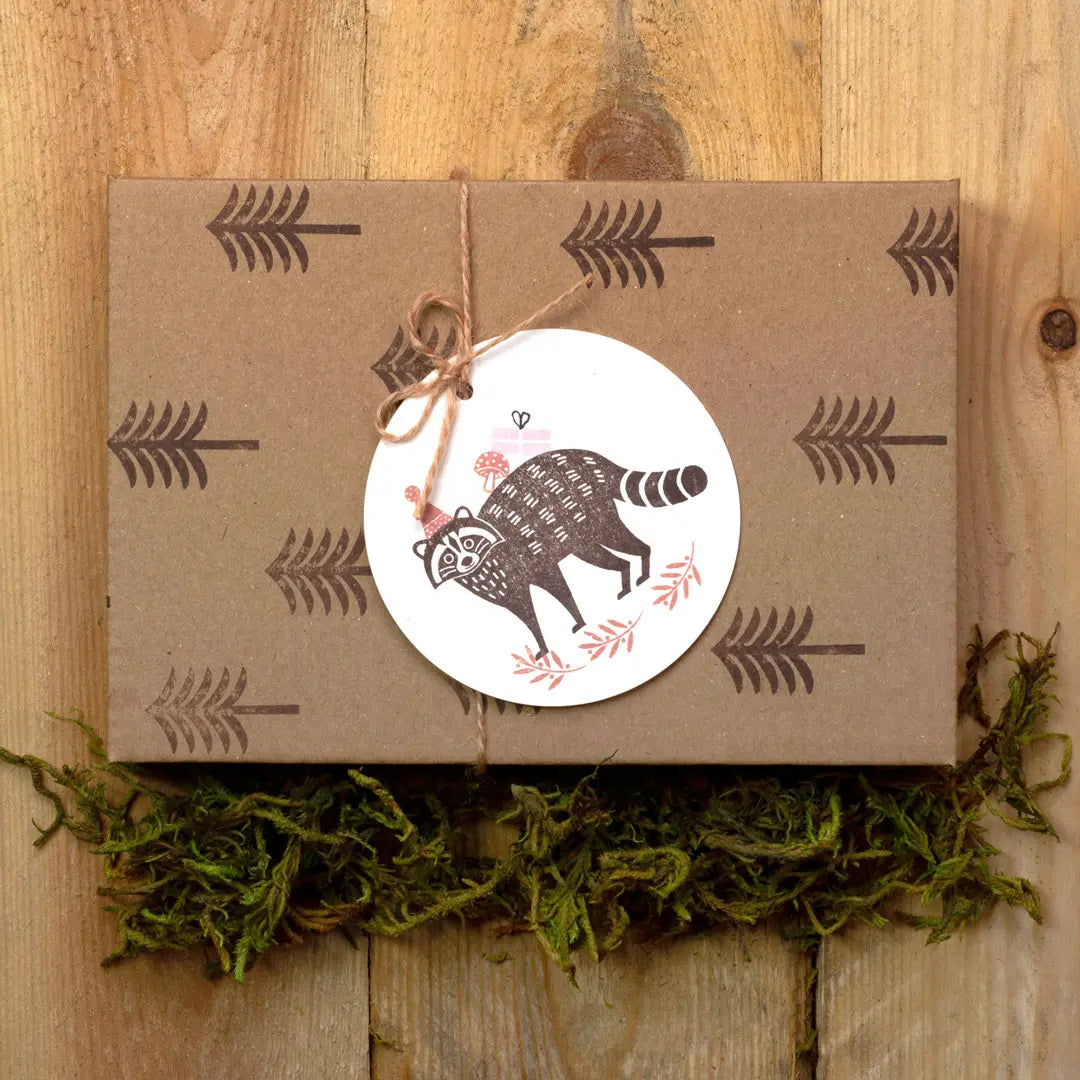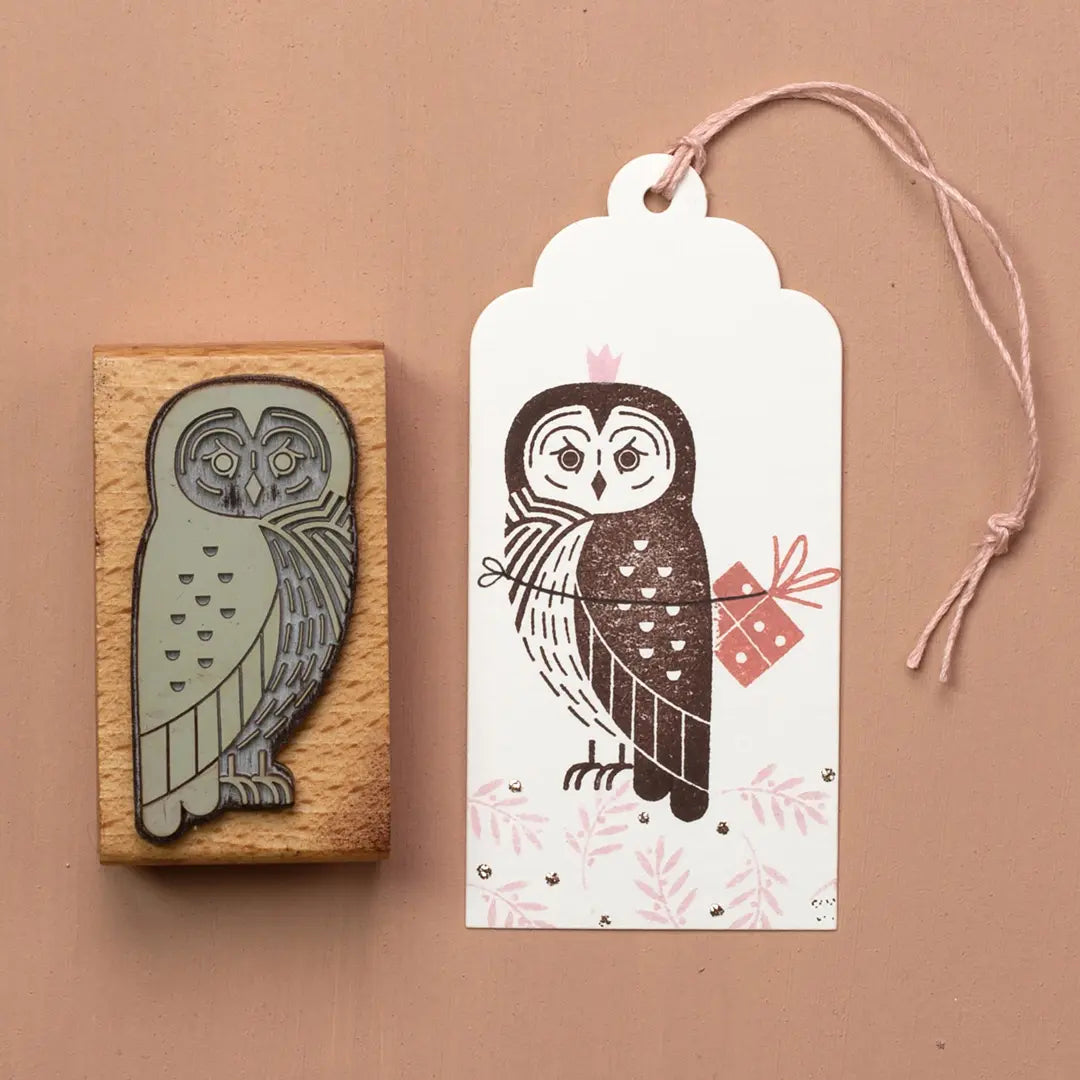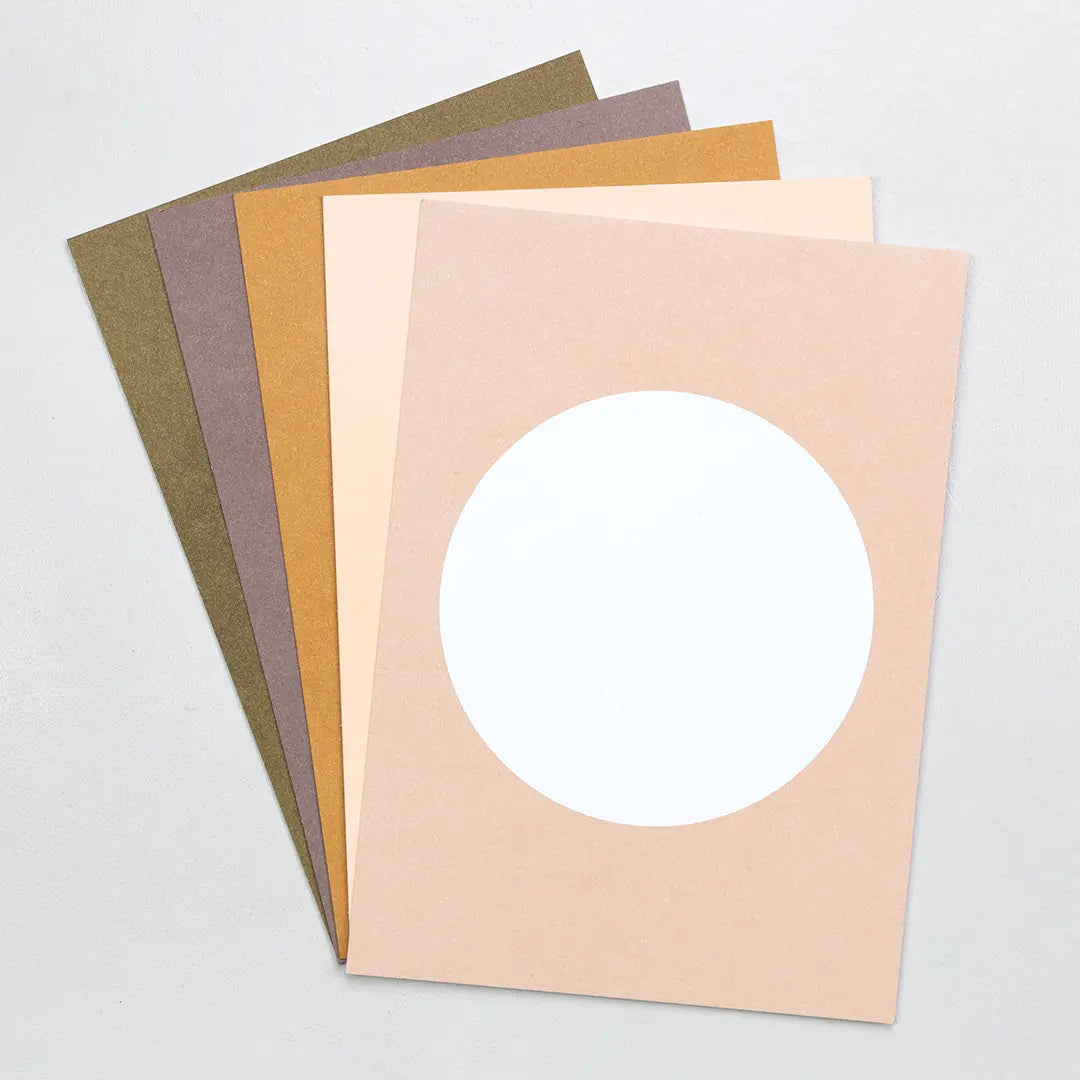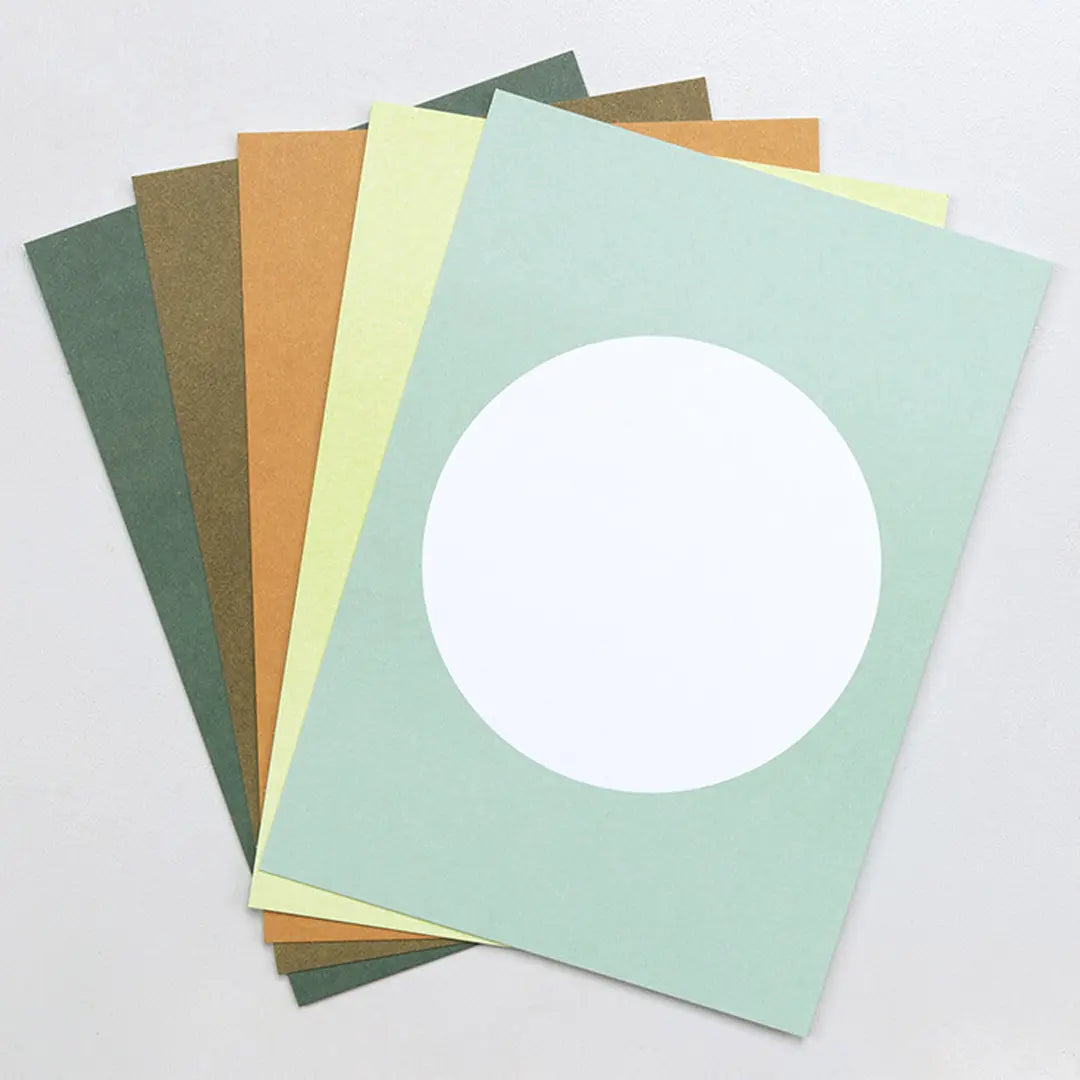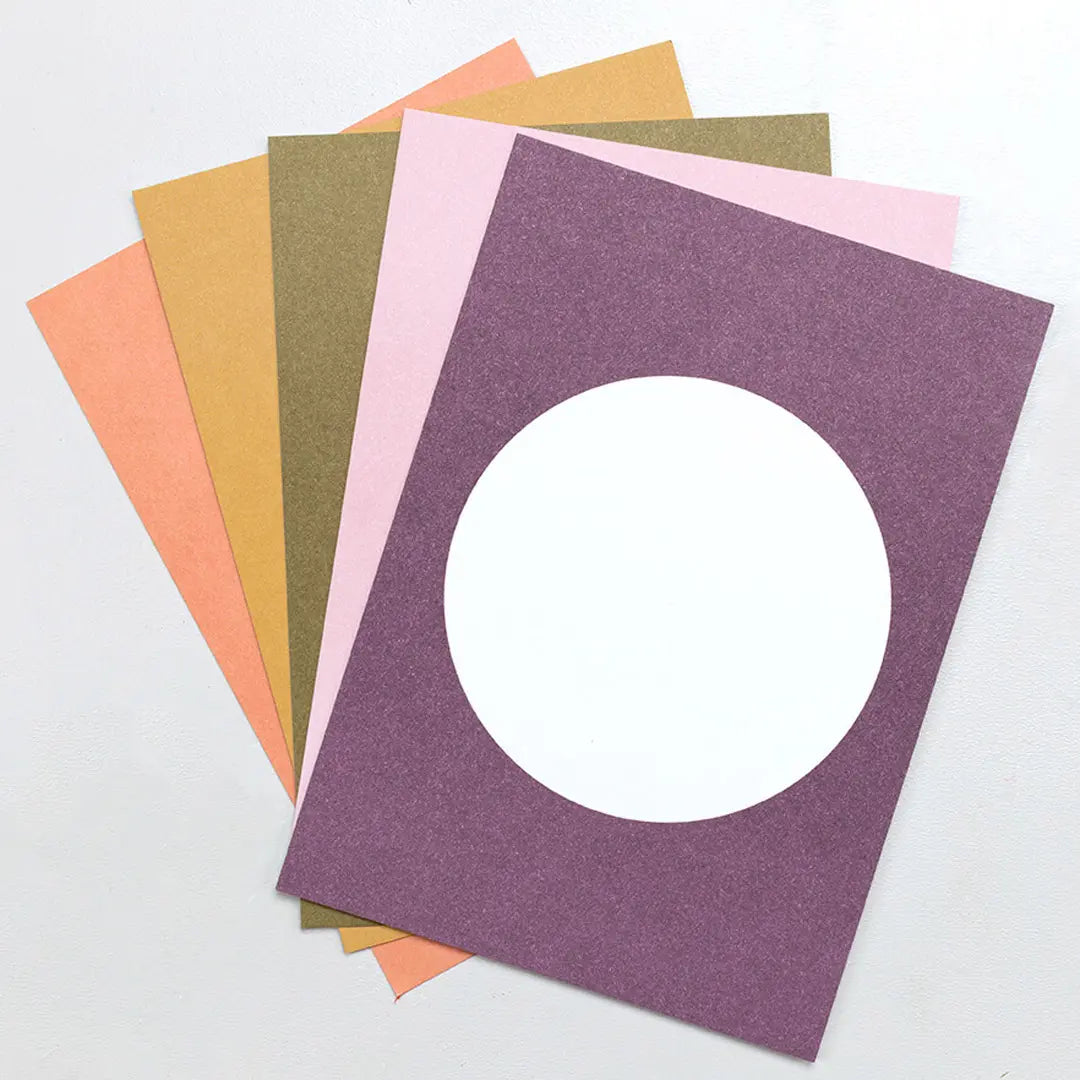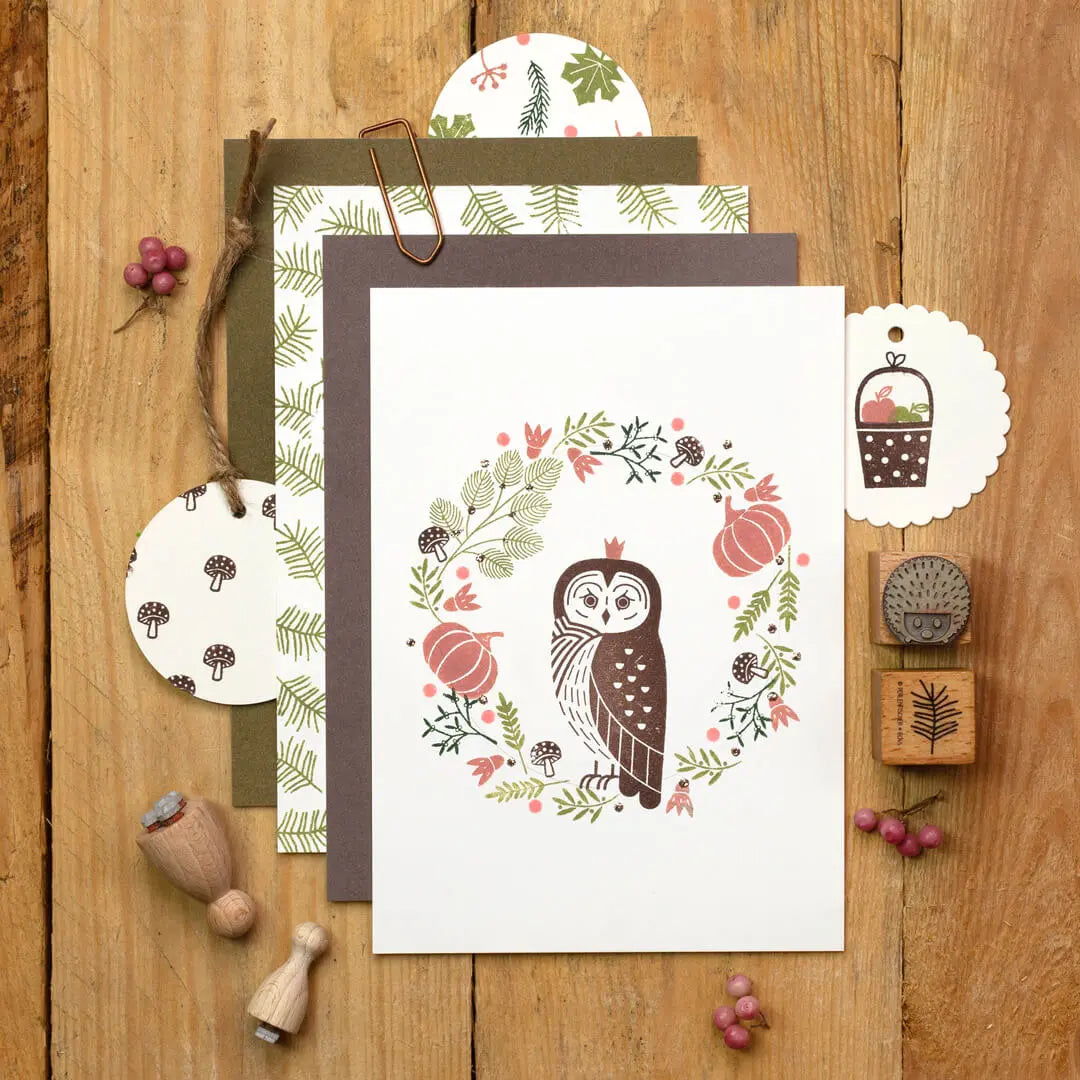 Stamps suitable for October
Halloween and Thanksgiving Day stamps
We have great stamps that are great for Thanksgiving and Halloween. From apples to mushrooms to grain ears or pumpkins. Take a look at our categories Stamp Kitchen and Stamp Halloween .
Which motifs are suitable for a wedding in autumn?
Wedding like in the fairytale forest
There are weddings all year round, but fall weddings are simply gorgeous. We have a large selection of flowers, leaves and cute animal motifs that are ideal for weddings, so that nothing stands in the way of a dreamlike wedding. Please have a look at our wedding stamp category.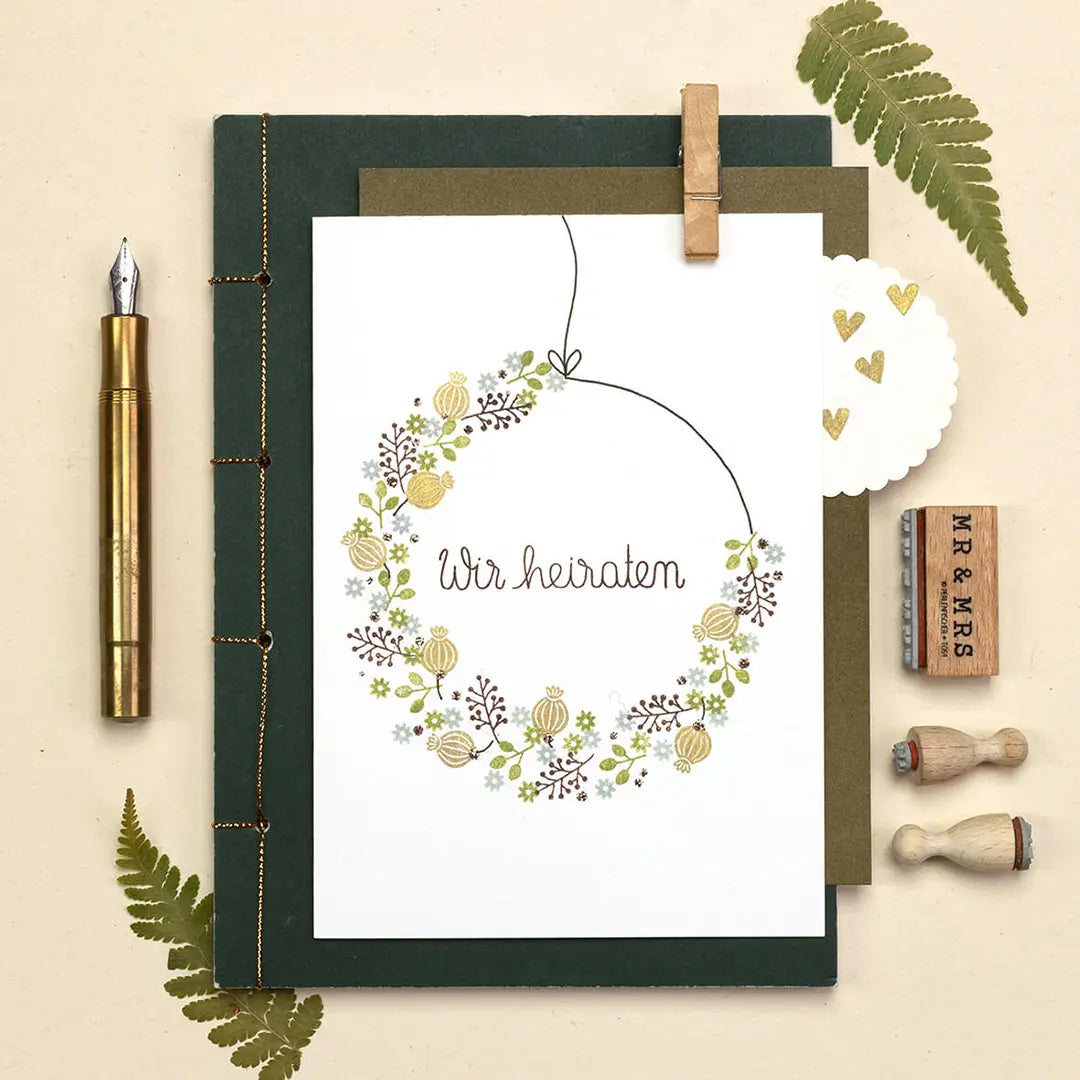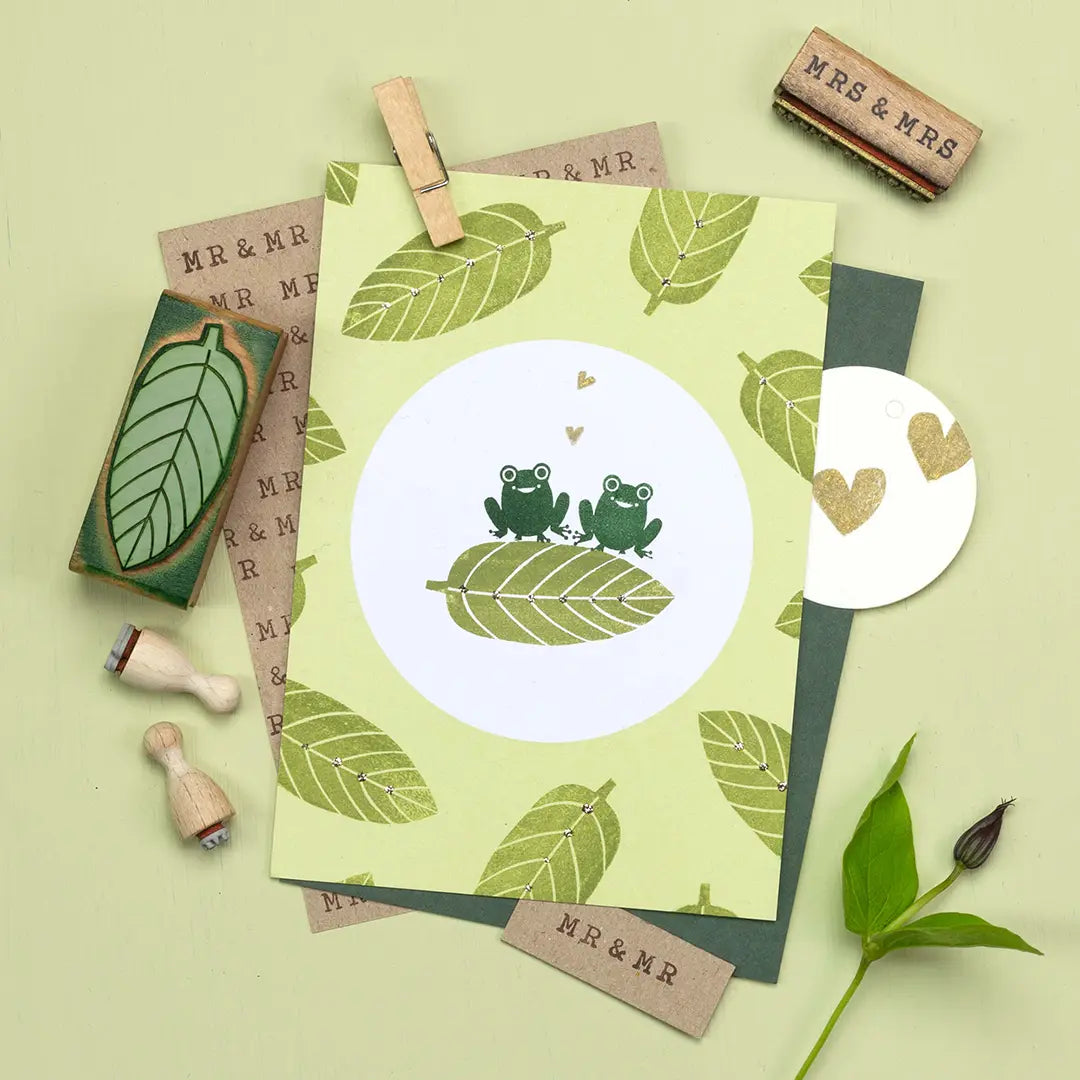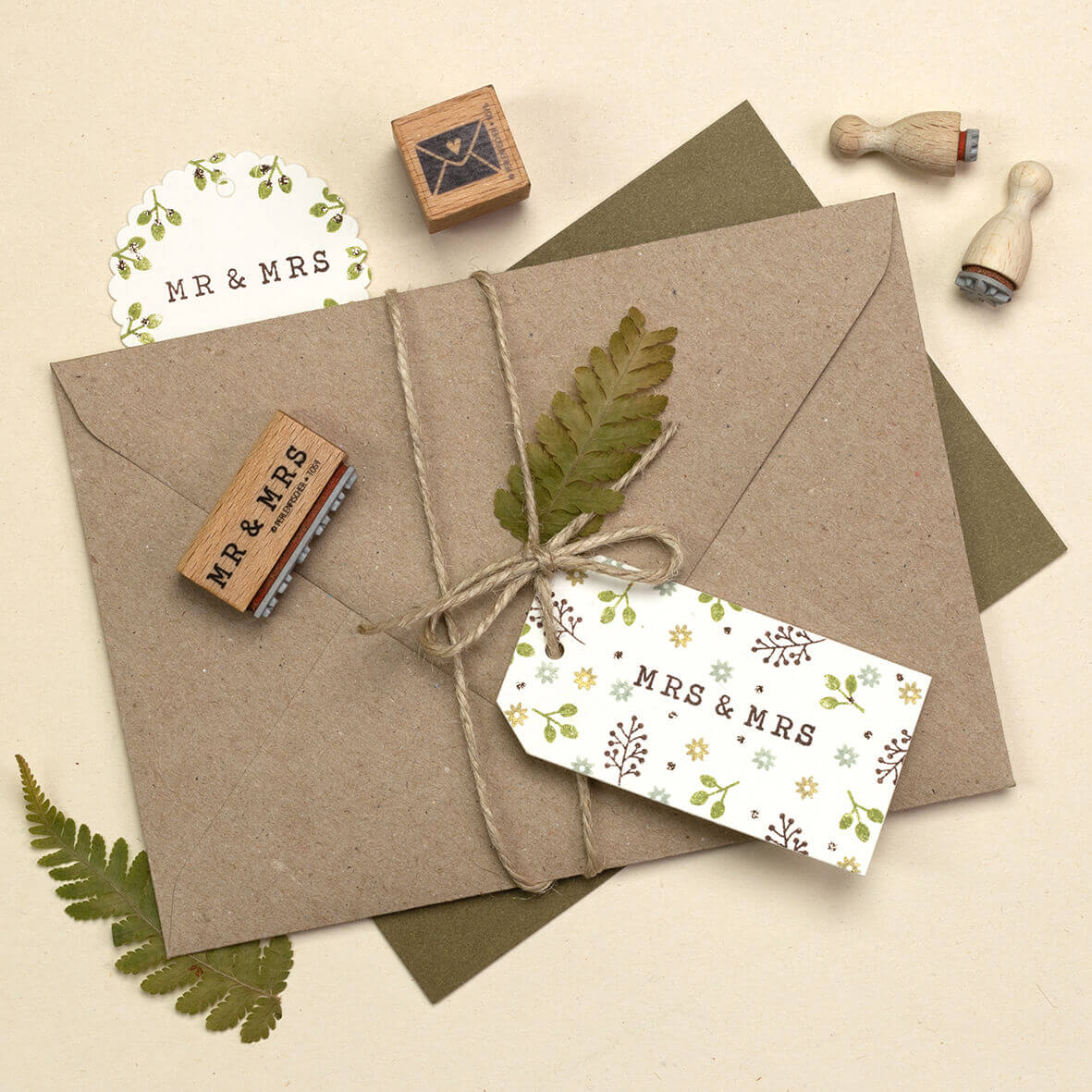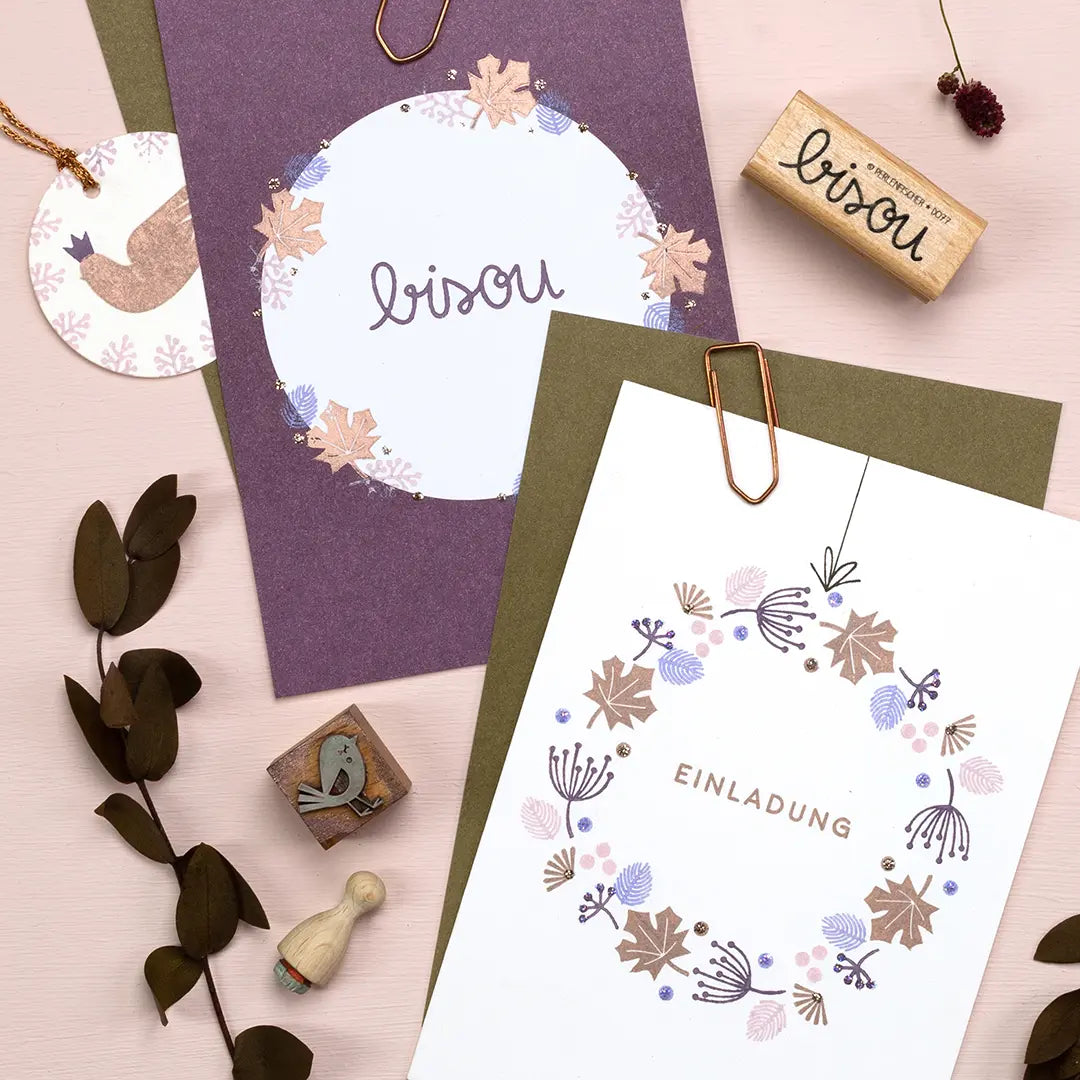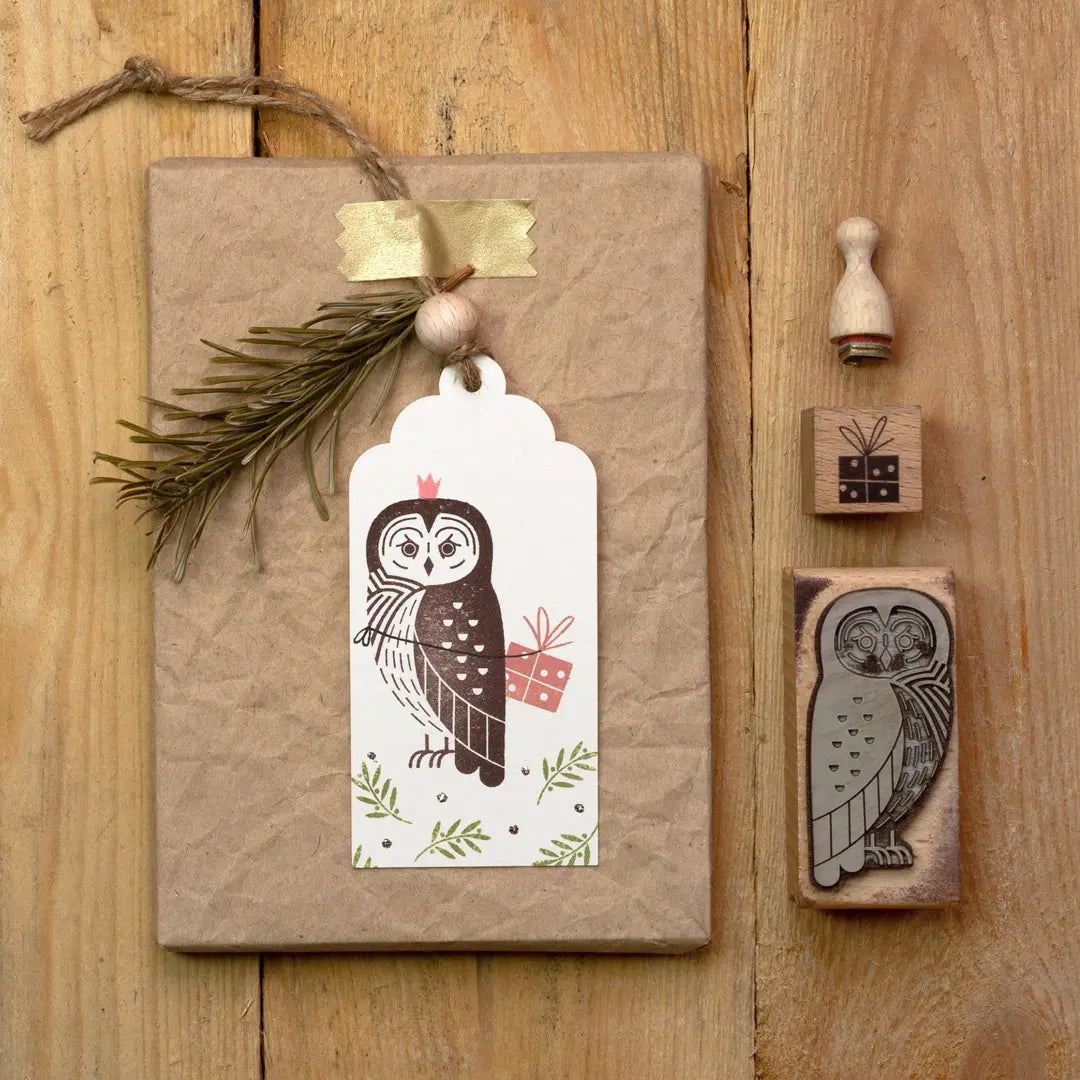 Noble masking tape
Masking tapes in autumn colors
With these special adhesive tapes you can turn gifts or cards into small works of art in no time. Masking tapes can be used creatively in many ways: wrap gifts, attach tags or create creative pictures on your greeting cards with the colorful tapes. See for yourself and let yourself be convinced how versatile you can use these tapes.
Which stamps Autumn & Forest are suitable for children?
The children of our forest dwellers
Baby animals are our favorites - sweet as sugar and just ideal for a stamping afternoon with your children, who are guaranteed to have just as much fun with the cute animals. You can find many other great stamp motifs suitable for children under Stamp Children .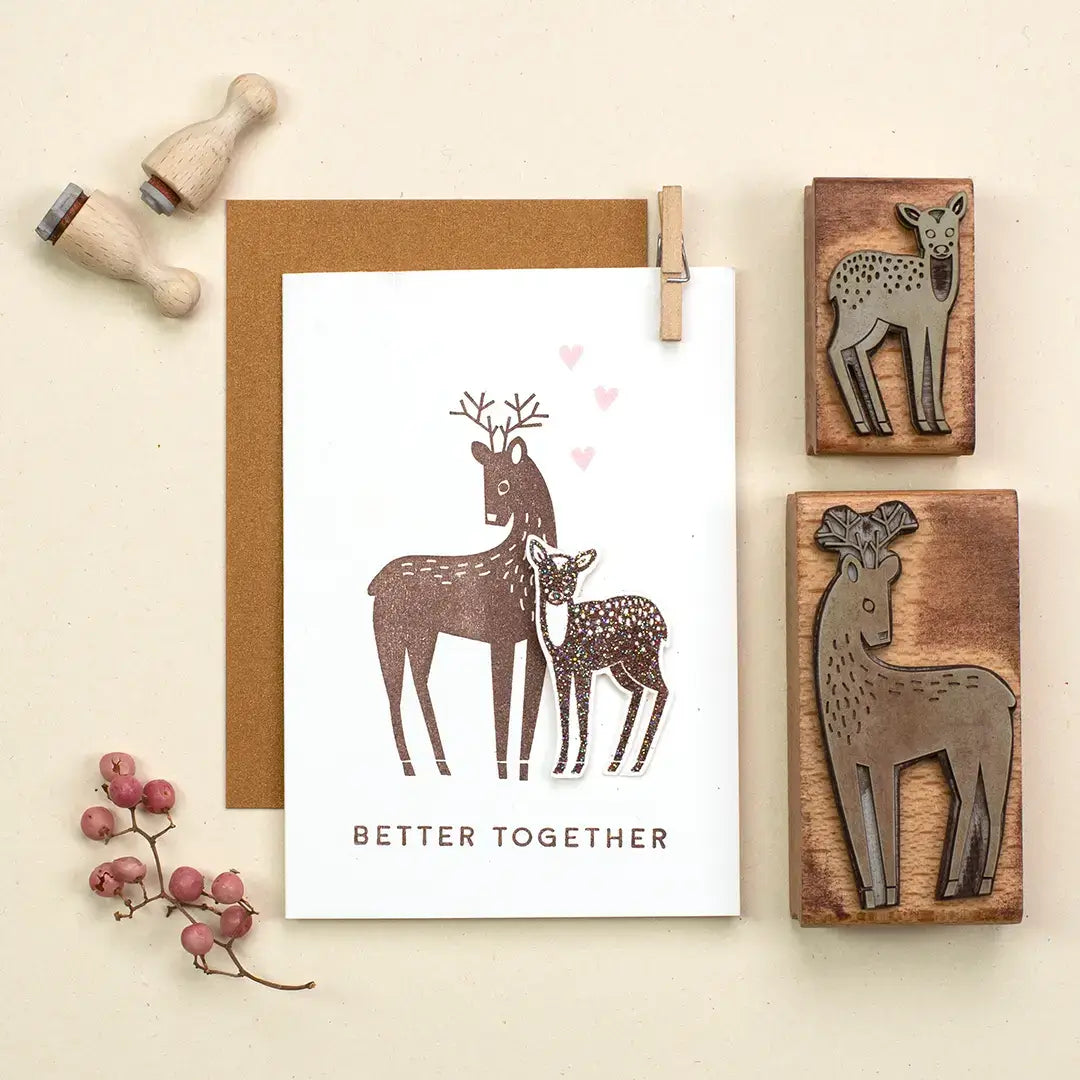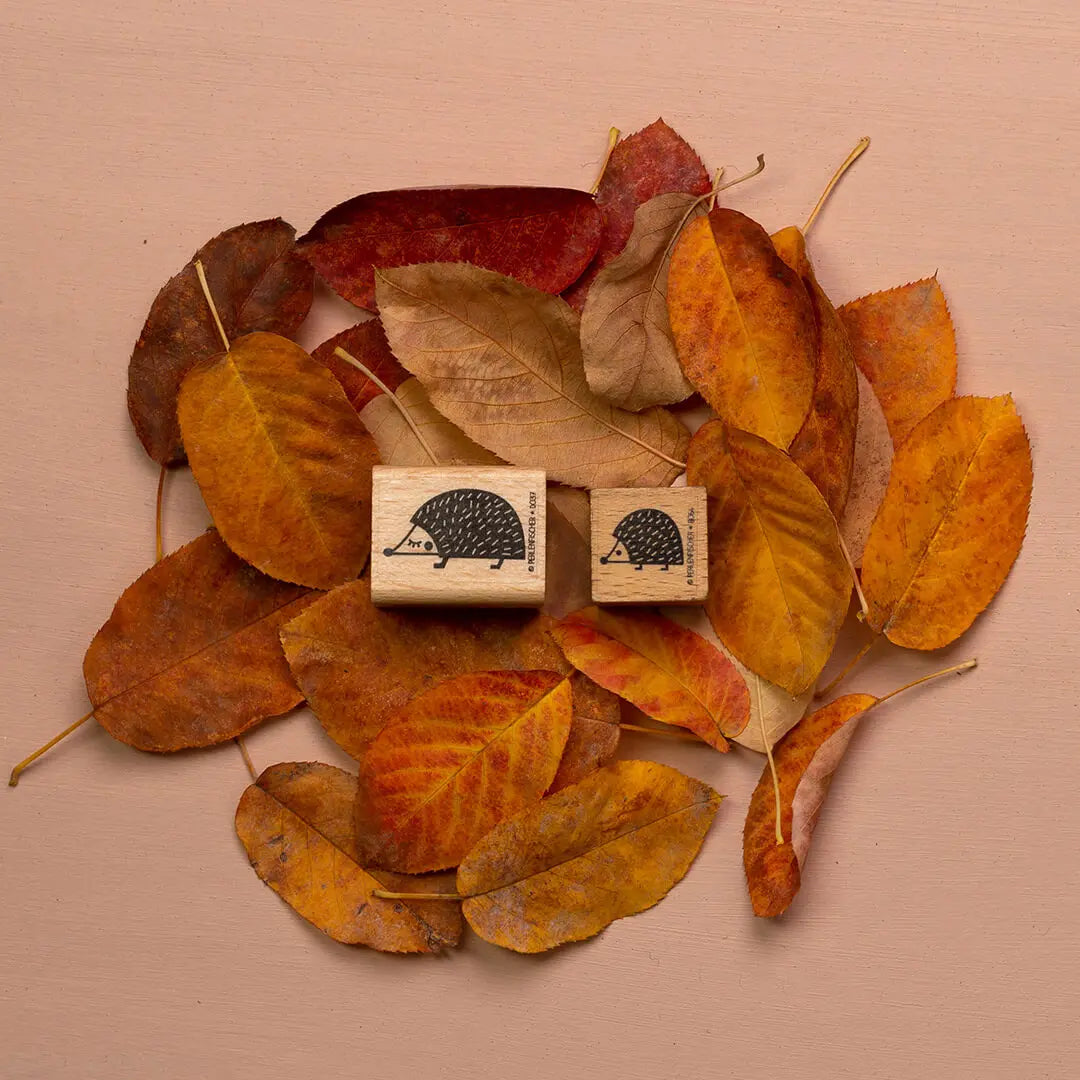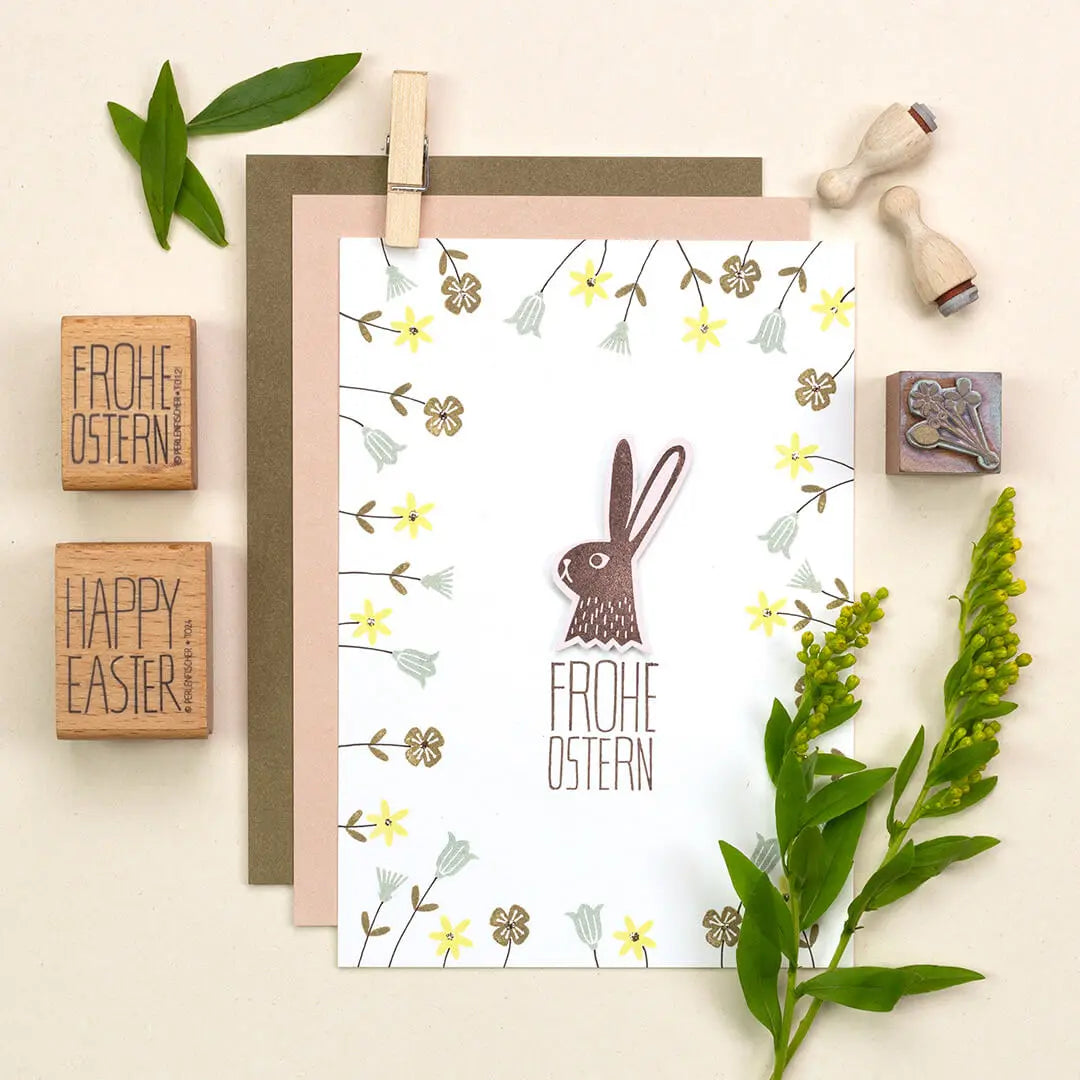 Stamp rabbit and co.
spring in the forest
Forest animals, such as the rabbit, can also be wonderfully staged for other occasions. At Easter you can also try out great nature-related combinations. Let yourself be inspired in the Easter stamp category.