stamp sets - for creative cards and DIY's
Our stamp sets contain everything you need to stamp. They were compiled with great attention to detail and the included products can be combined wonderfully.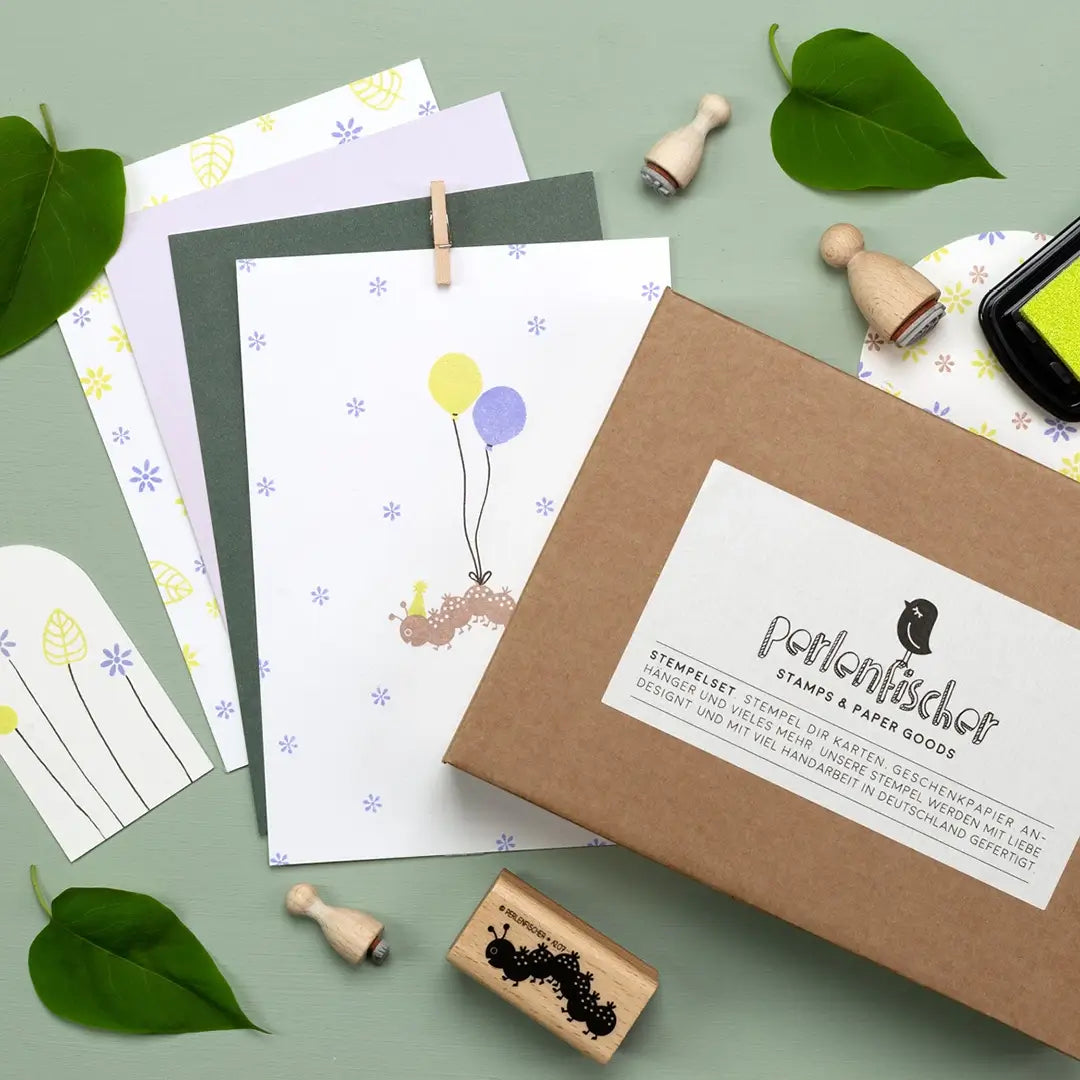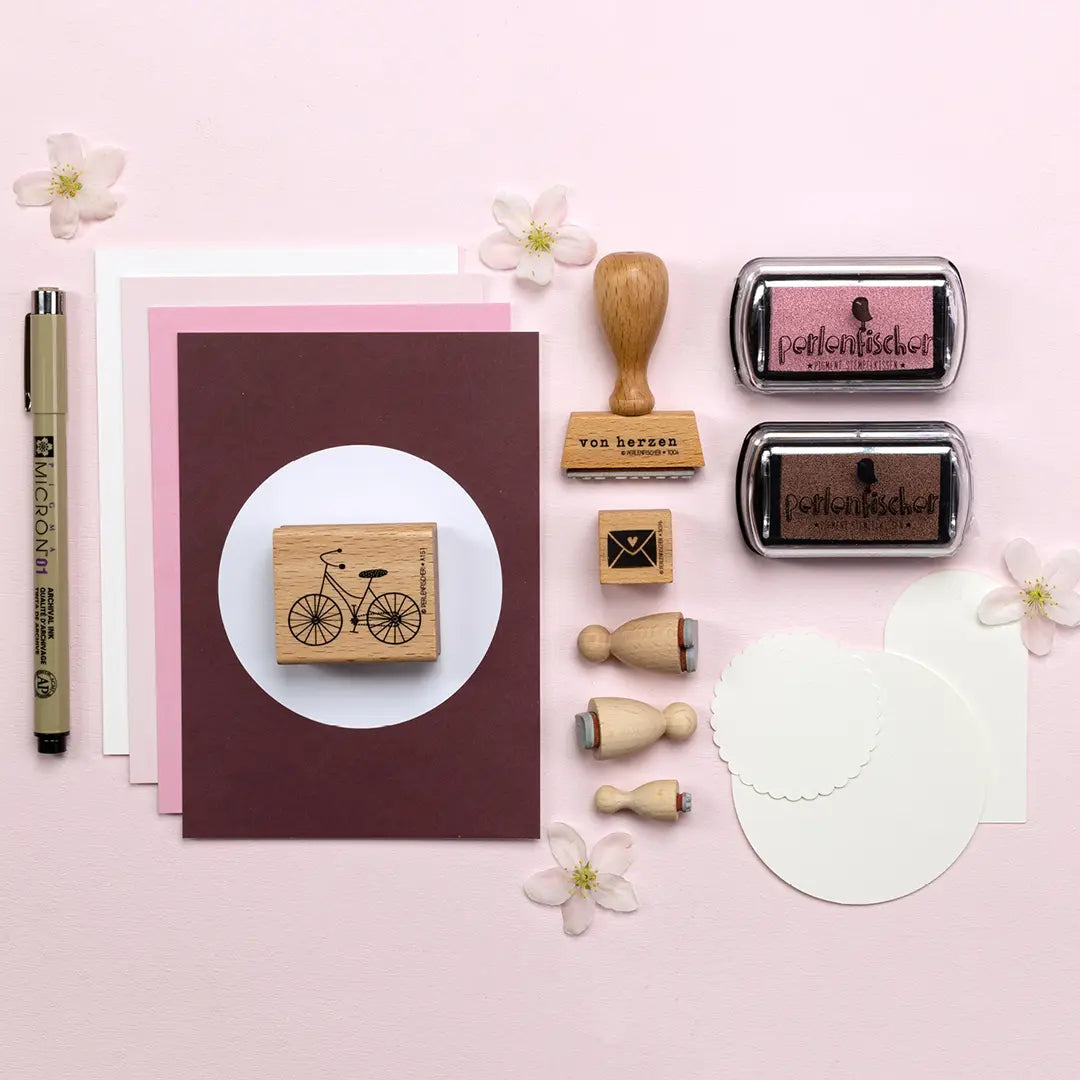 Design stamp sets & wood stamp sets
Practical & sustainable set packaging
The sets are carefully packed together for you, so all items arrive safely at your home. The cardboard box is perfect for storing the products and can be beautifully staged as a gift, whether individually stamped or wrapped with wrapping paper.
What is included in Perlenfischer stamp sets?
Stampsets with stamps made out of wood
Our sets include high-quality wooden stamps, highly pigmented stamping inks, perfectly stampable stationery and other accessories, such as pens, glitter glue and yarn.
Stamp set teacher, stamp set elementary school, stamp set enrollment, stamp set baptism, stamp set horse & many more
Stamp sets for teachers & children
Stamp sets are perfect for an afternoon of stamping with your little ones or as birthday gifts to let your creativity run wild. Stamp invitations for the children's birthday together, unique pictures for the nursery or cute birth and baptism cards. Many other fun children's motifs can be found under Stamps Kids.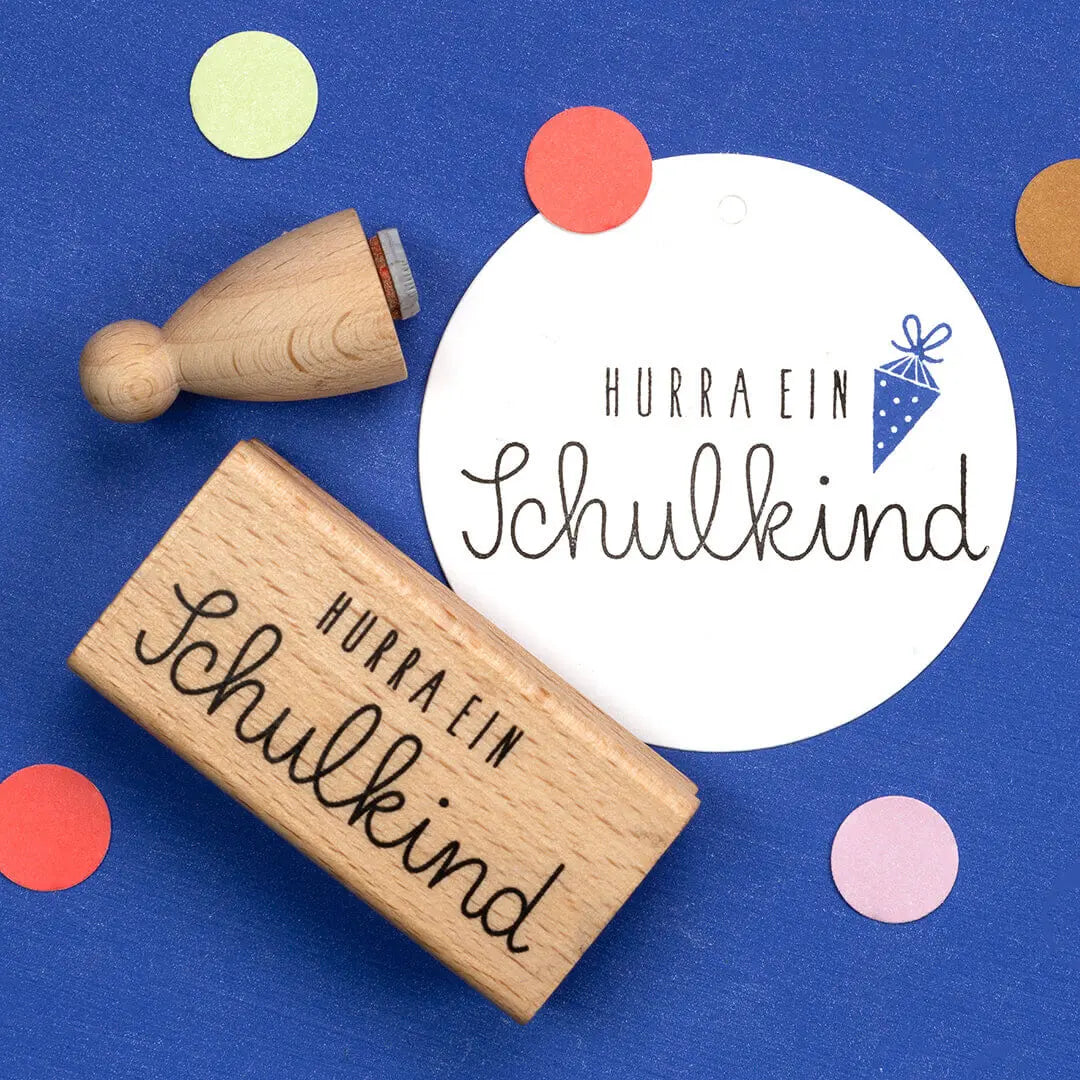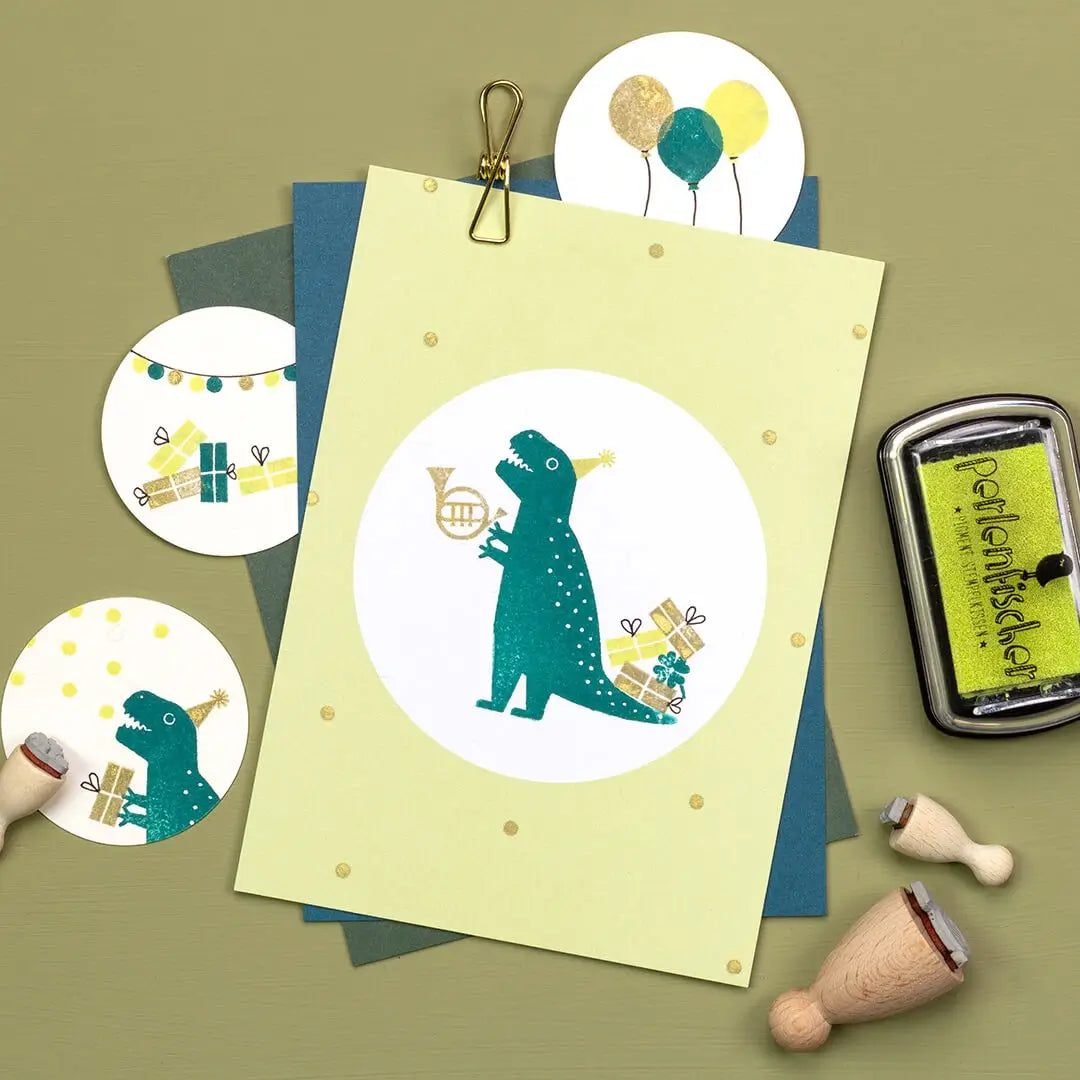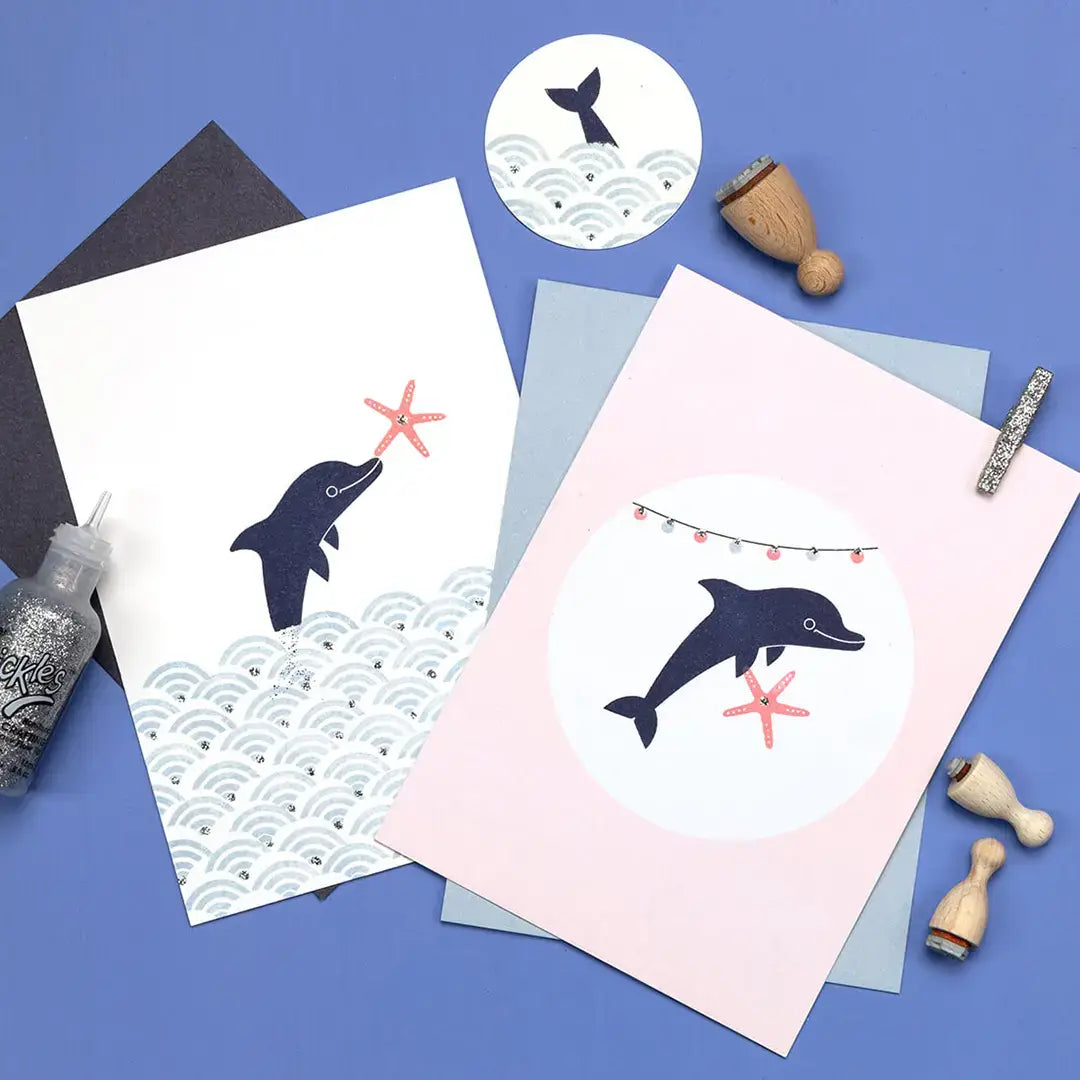 Artworks in the kids room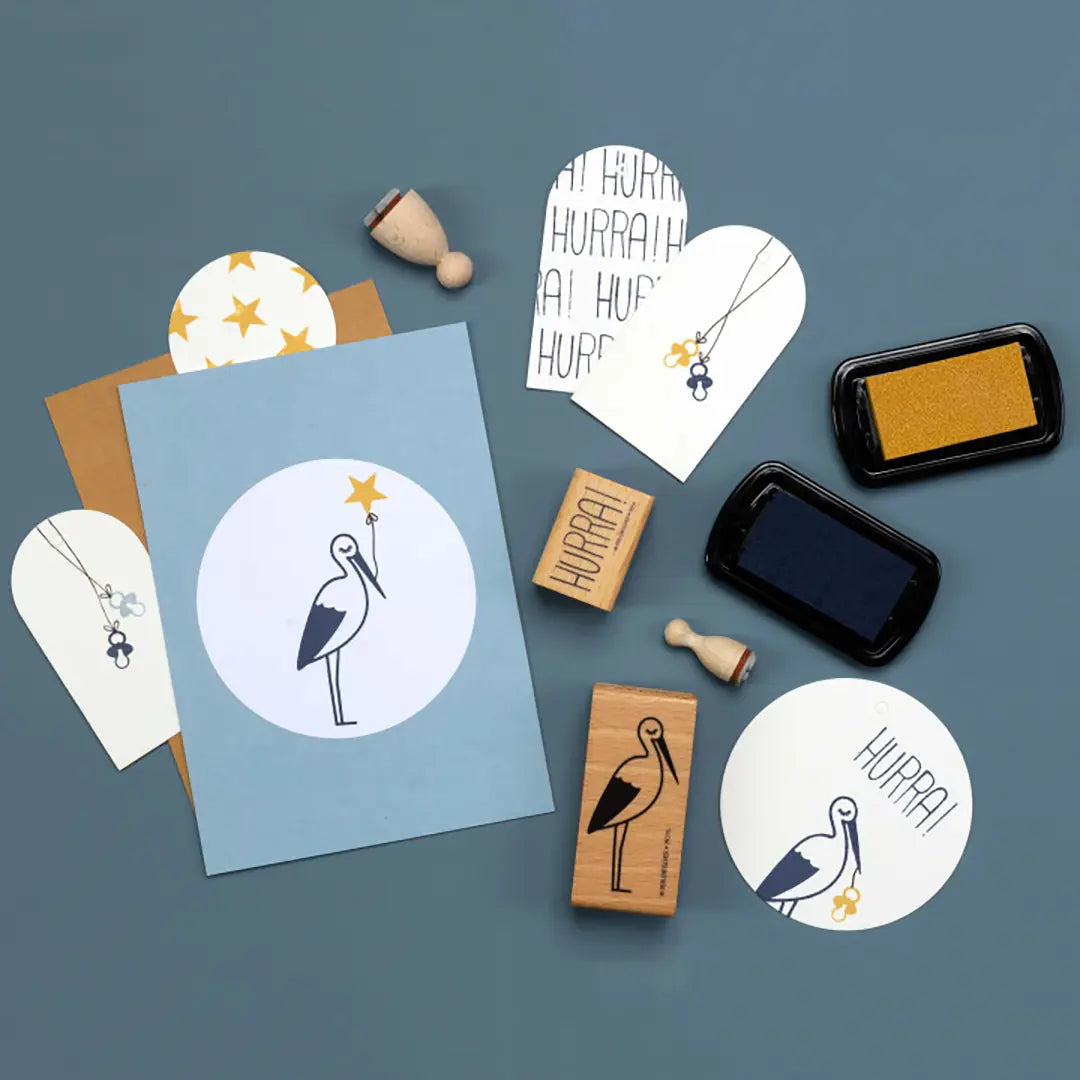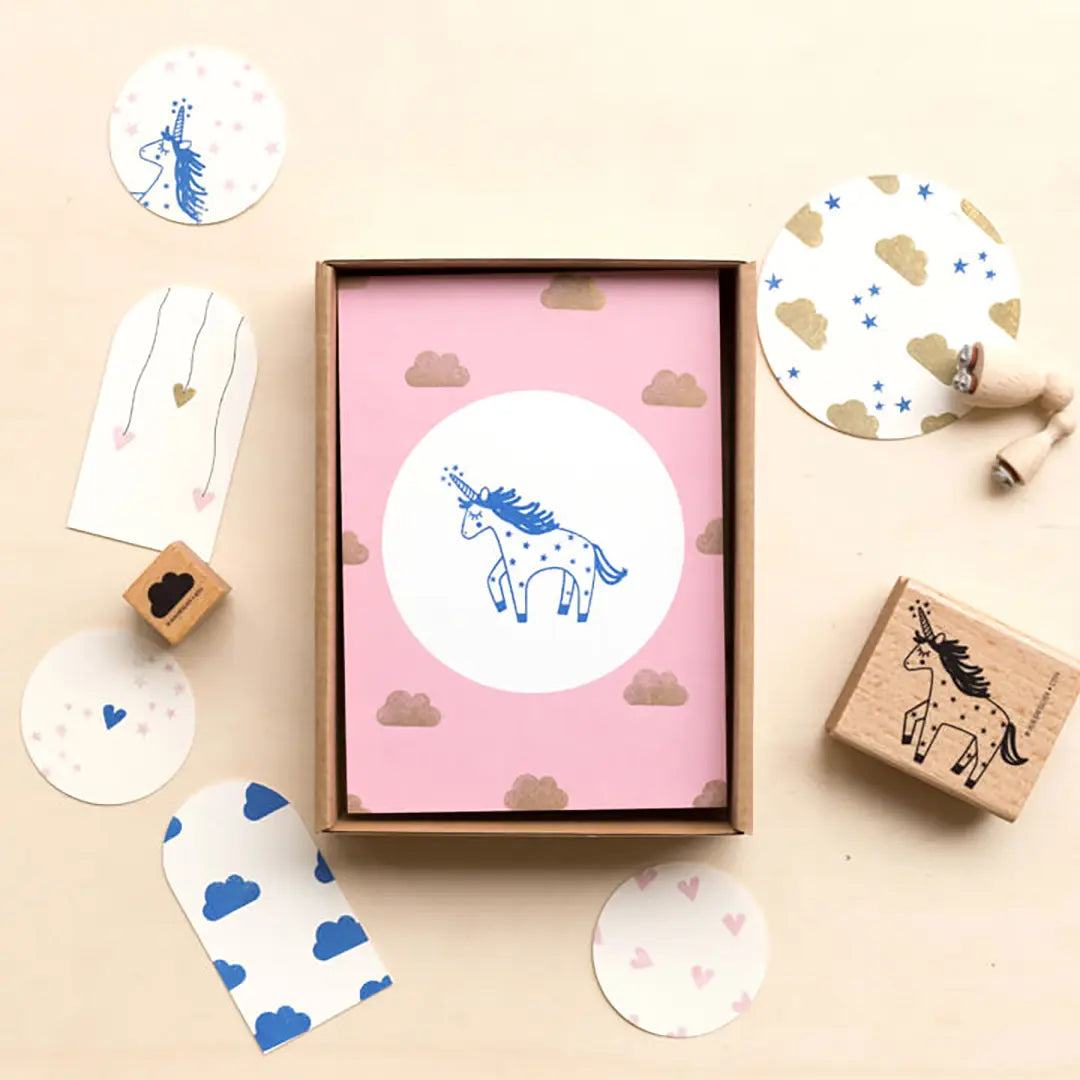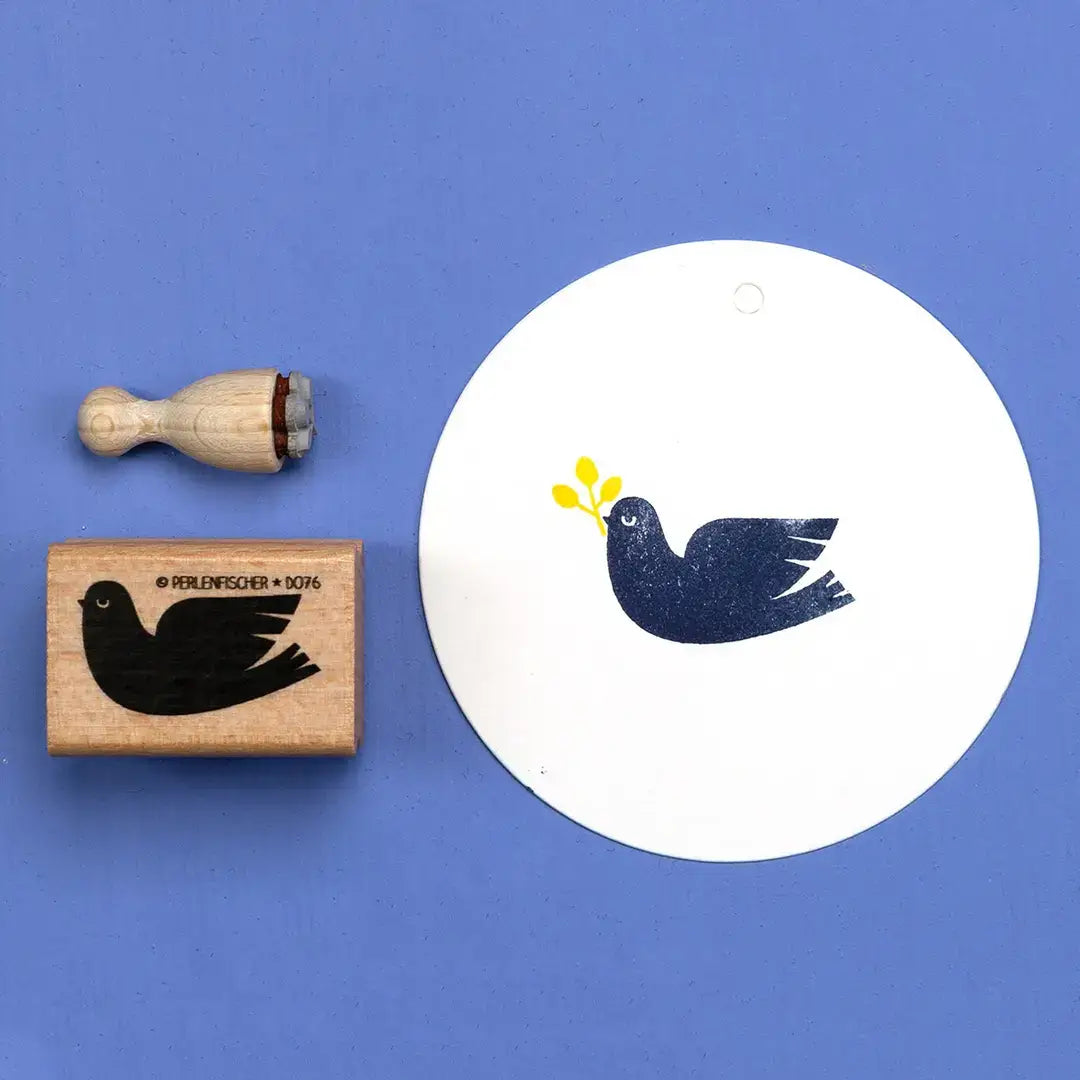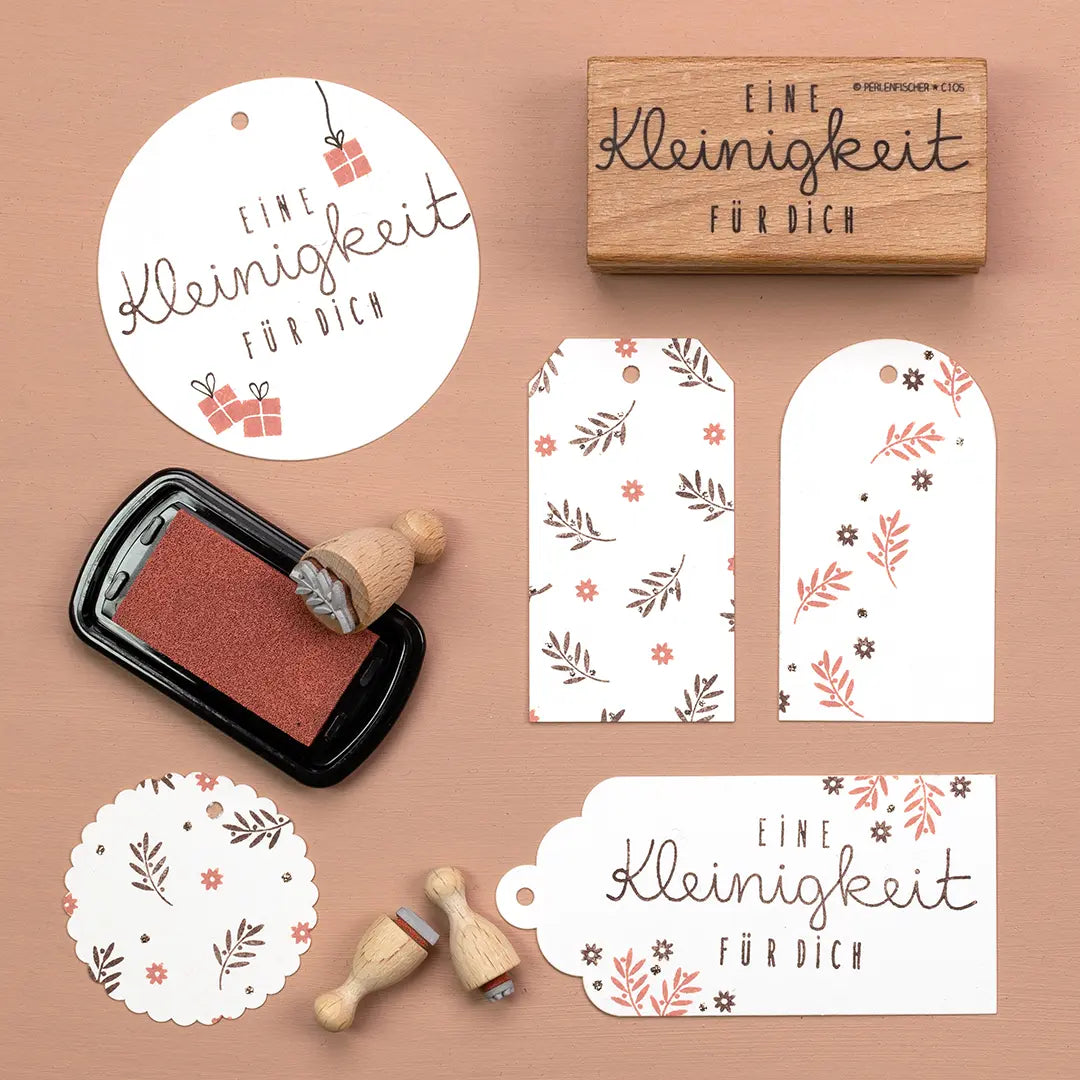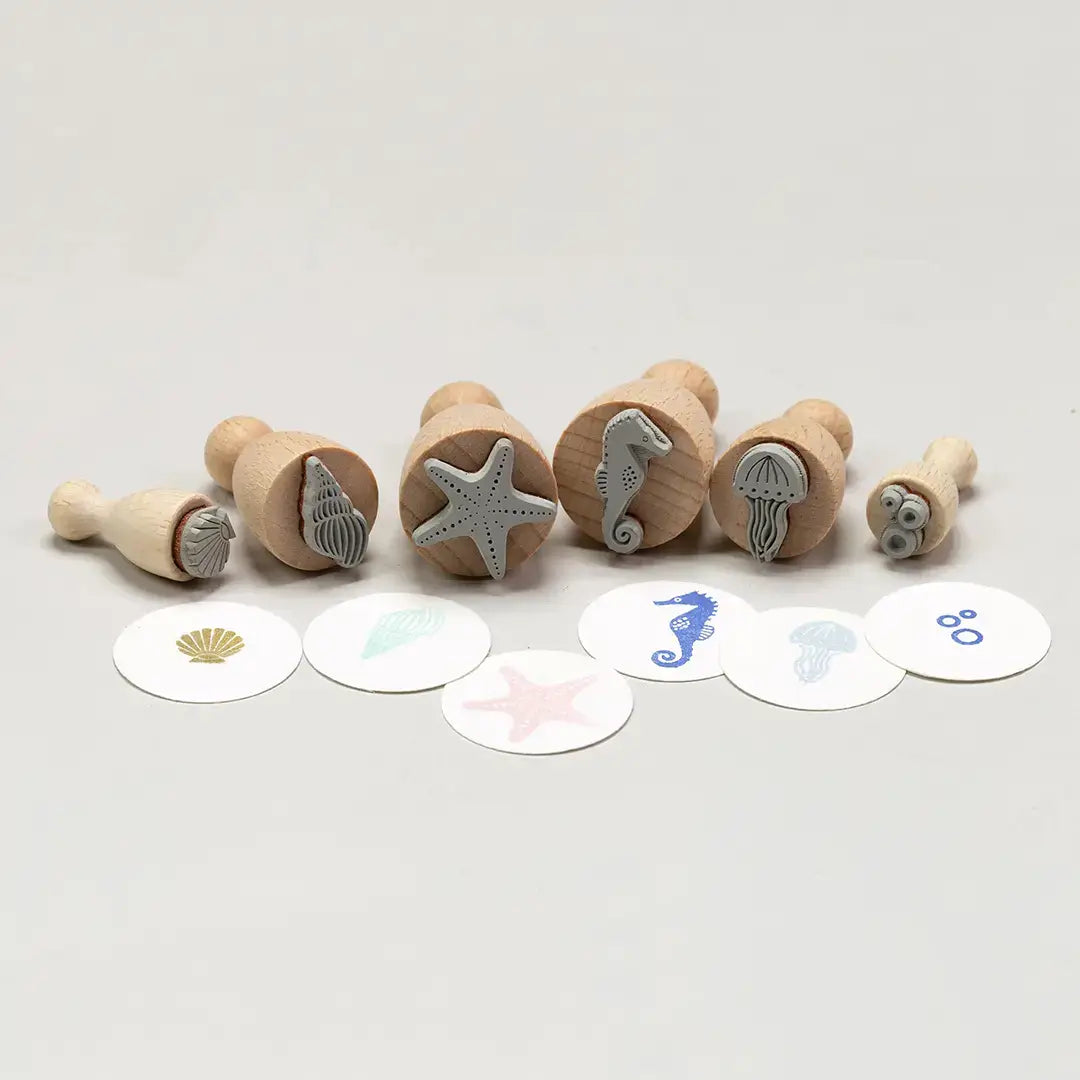 Are stamp sets suitable as a gift?
 - Stamp set birthday
Sets for birthdays
Stamp sets are a wonderful gift idea for all stamp lovers. There are many great sets that you can use for everything birthday related. On the one hand, they are perfect for giving away as they contain everything you need to start stamping right away - or you can simply use them yourself to make others happy by brightening up gifts or customizing cards.
mini stamps
Composition with small stamps
We have a large selection of sets that only contain mini stamp motifs made of wood. They are perfectly harmonized and can be wonderfully combined with each other.
Stamp sets flowers & Stamp sets nature
Stamp sets all around flowers, leaves, jungle & co
Send loving and flowery greeetings: Our nature-related sets can be used for many different occasions. For more stamp designs, check out our Flowers & Leaves Stamps category.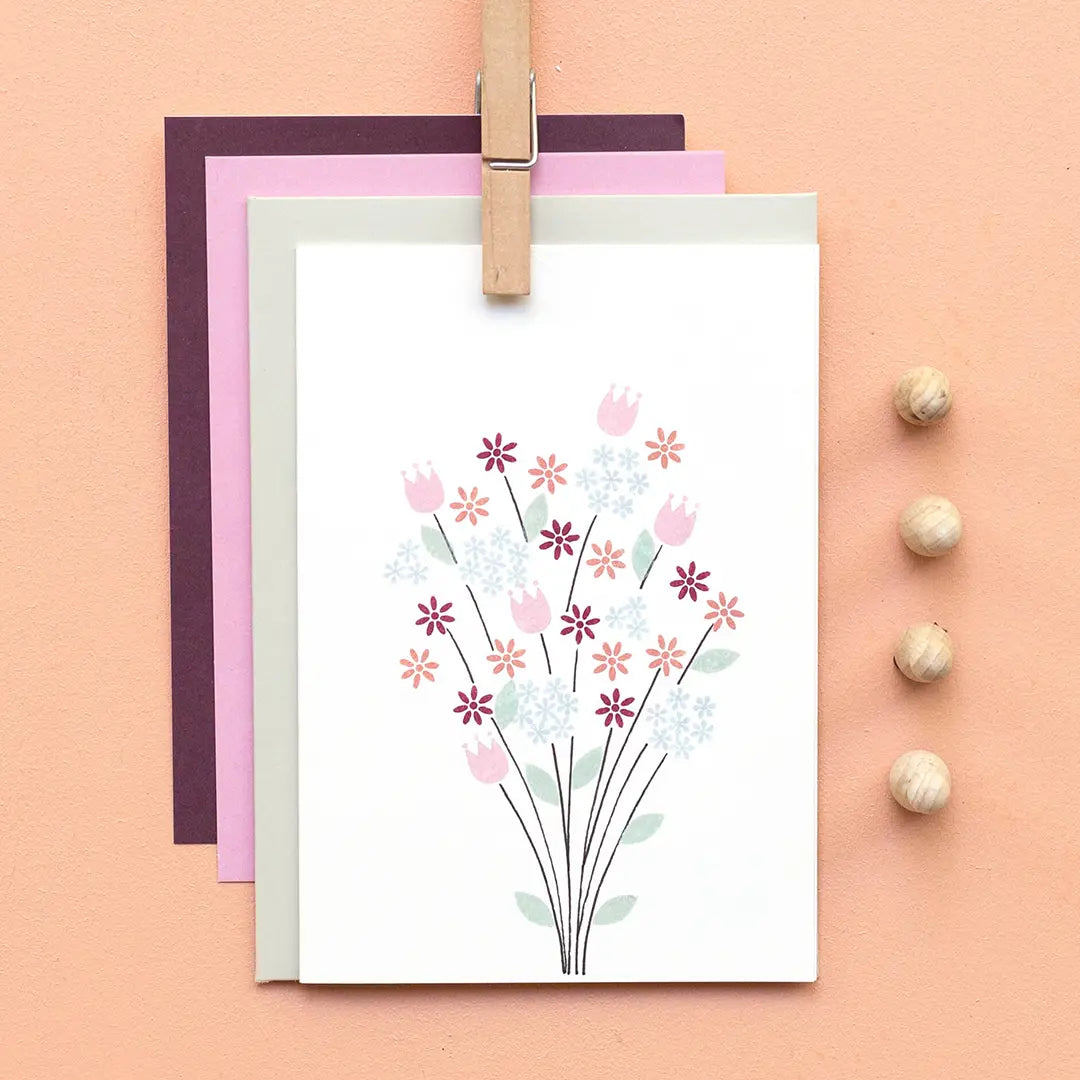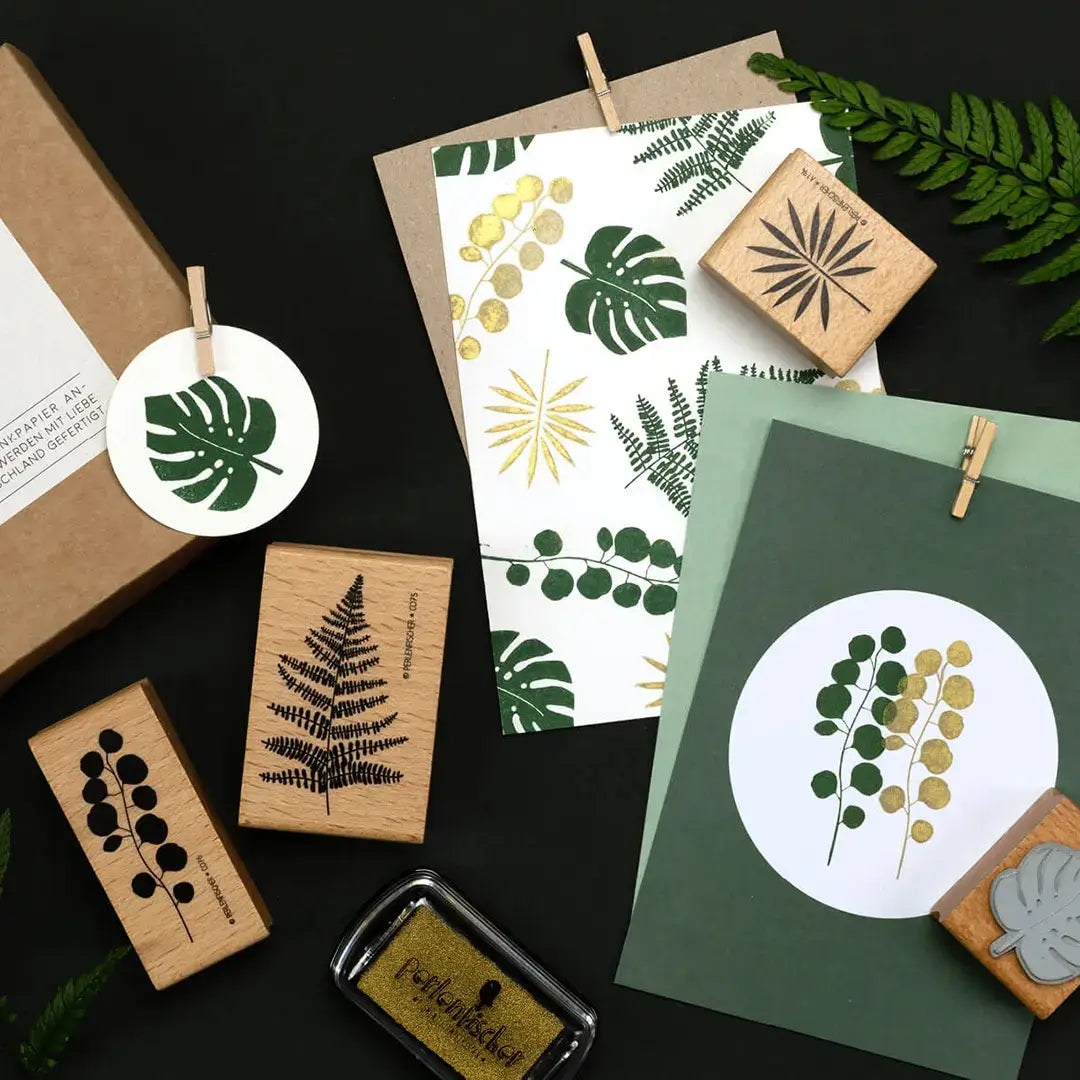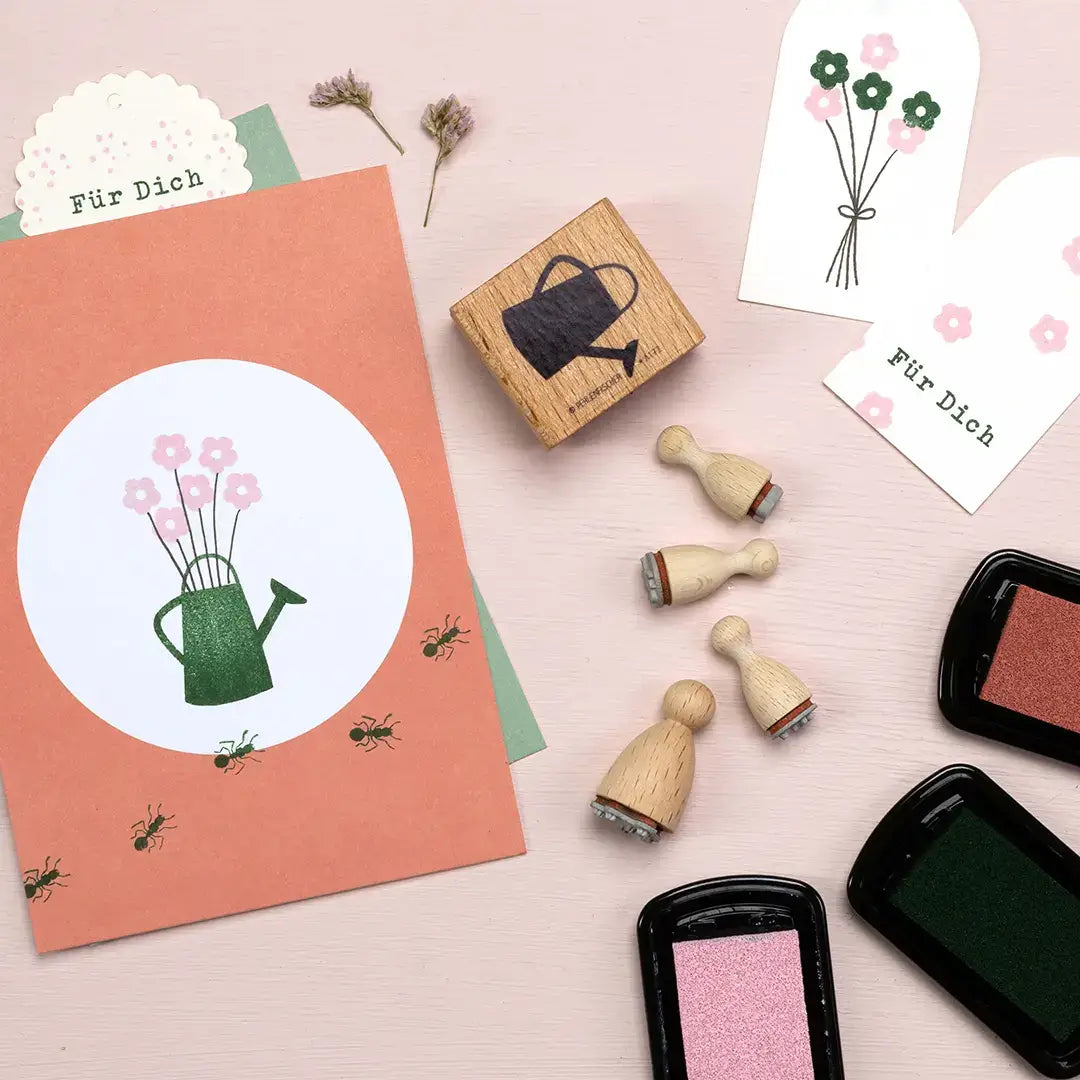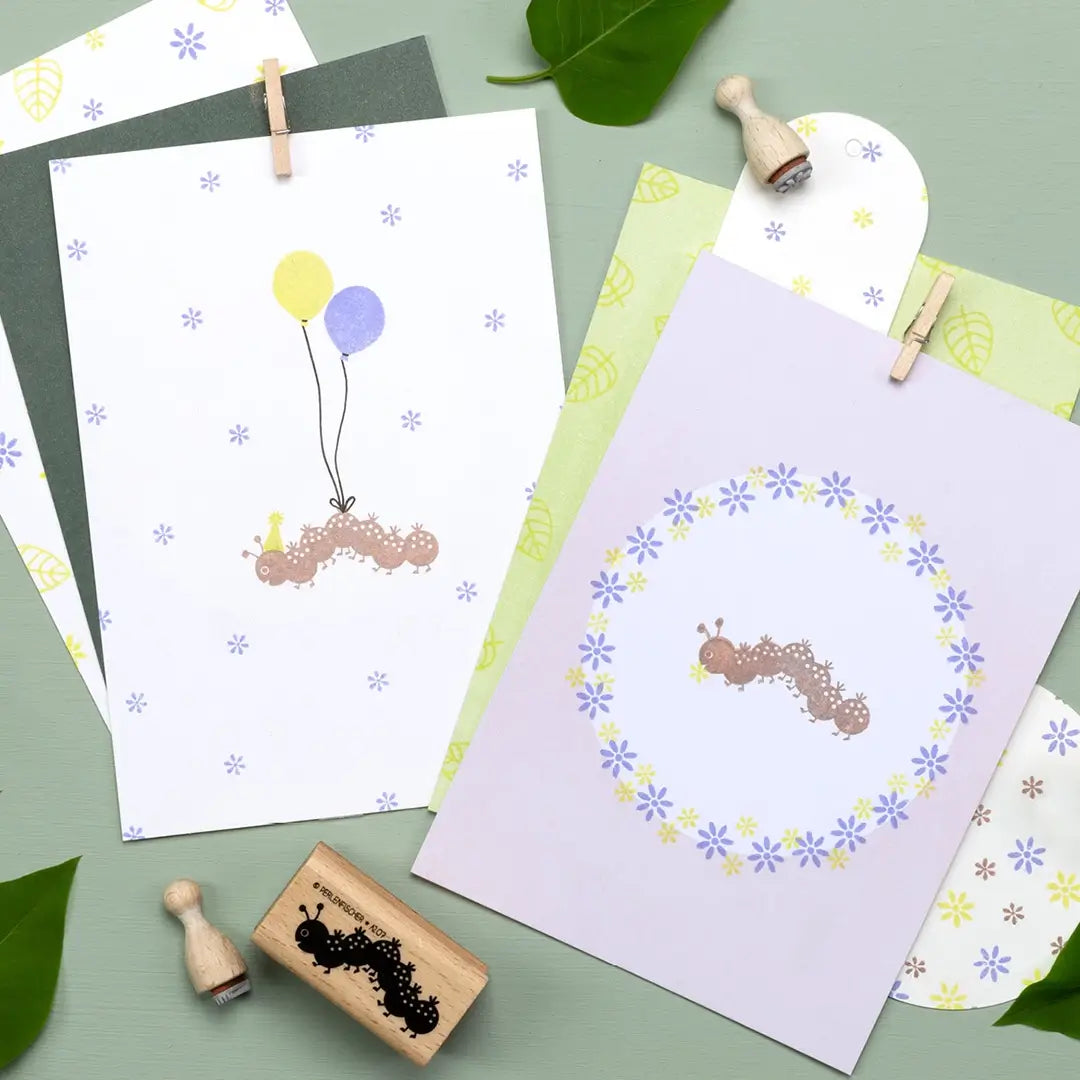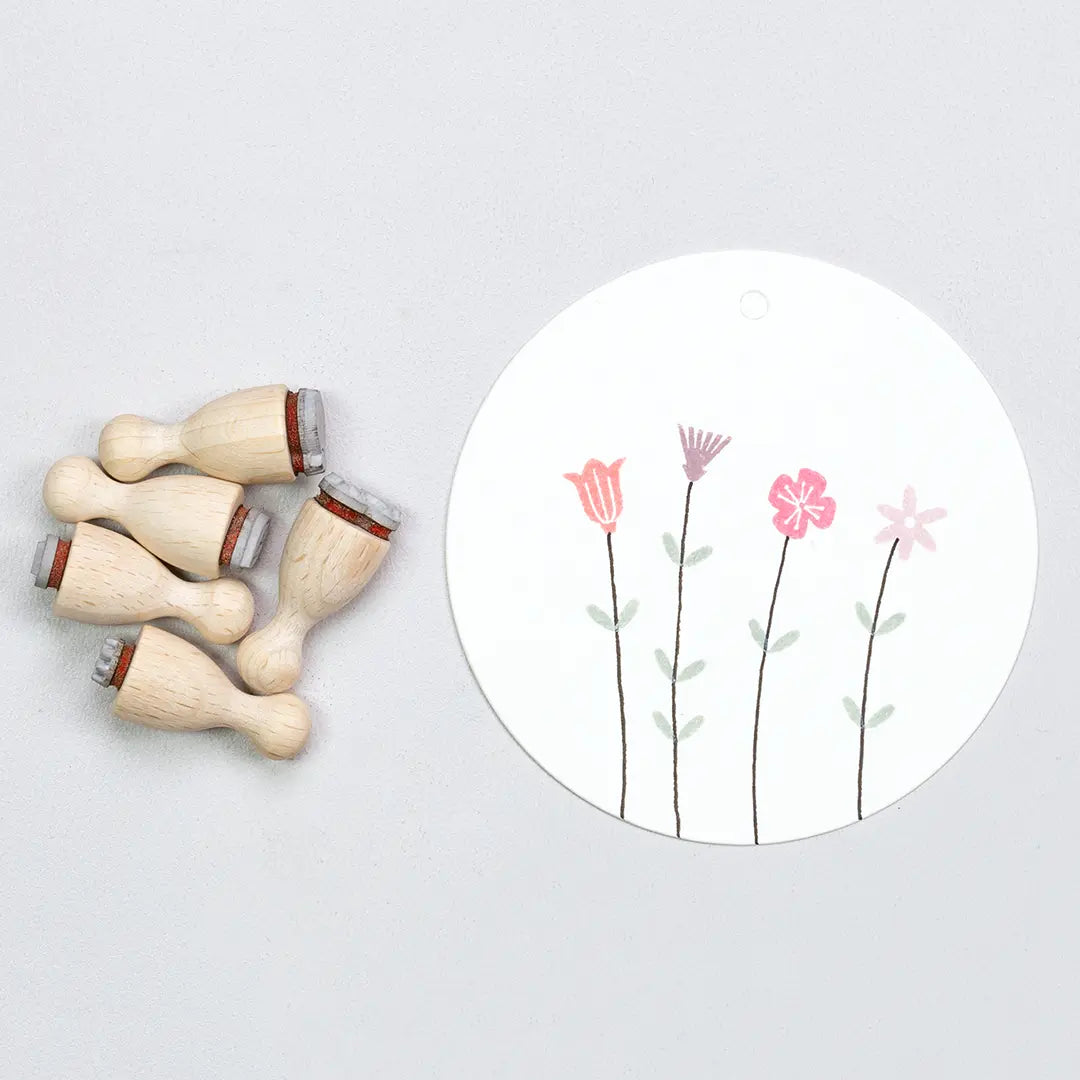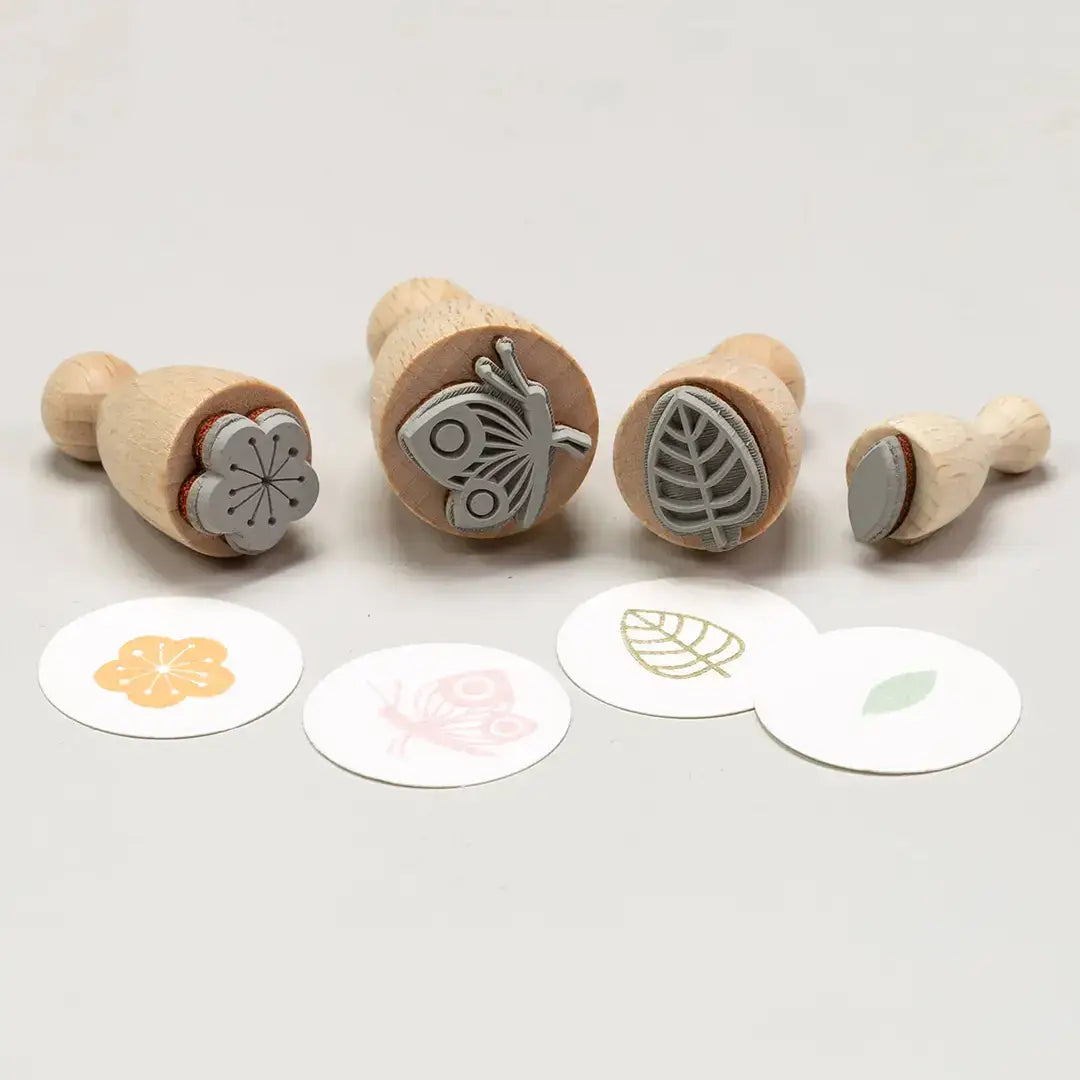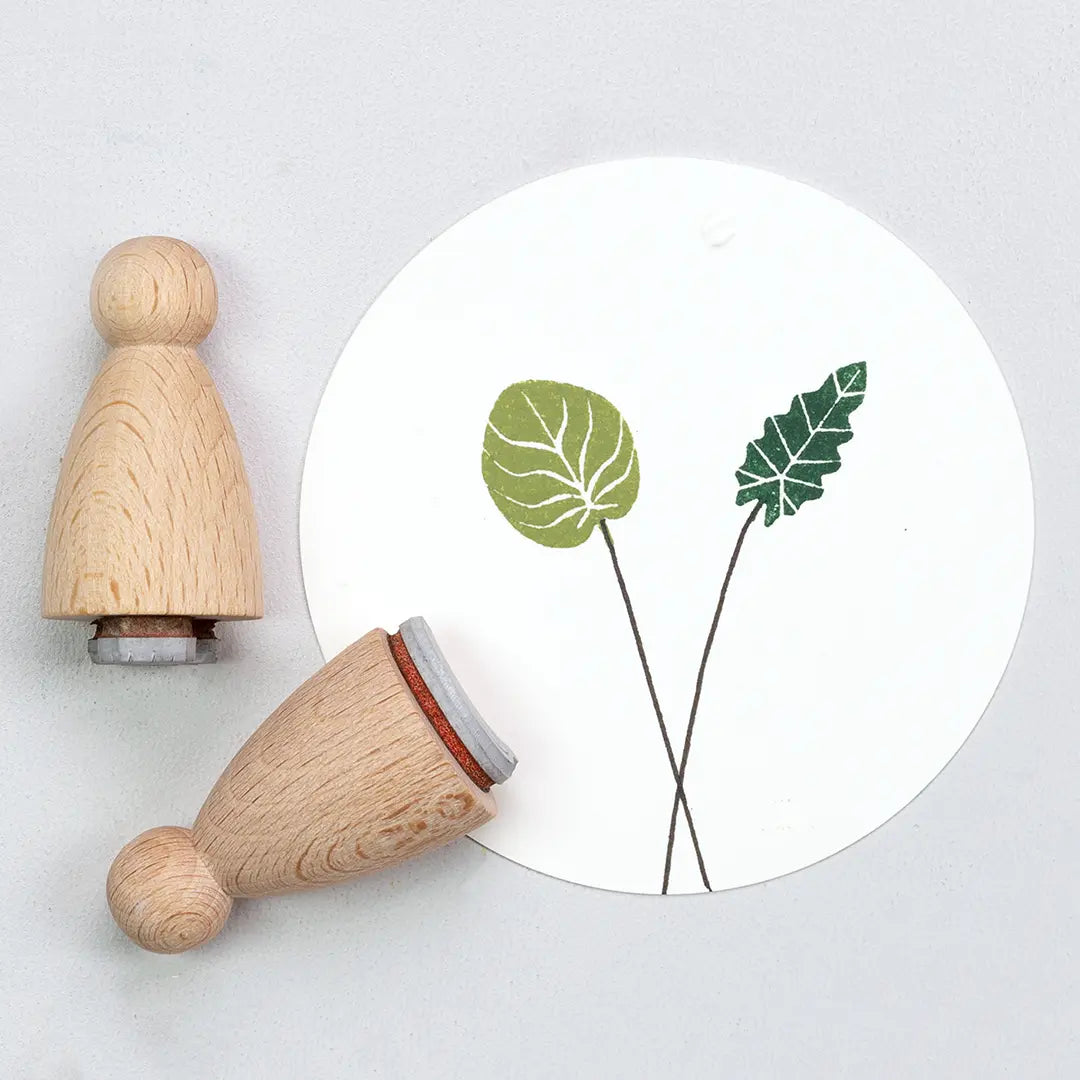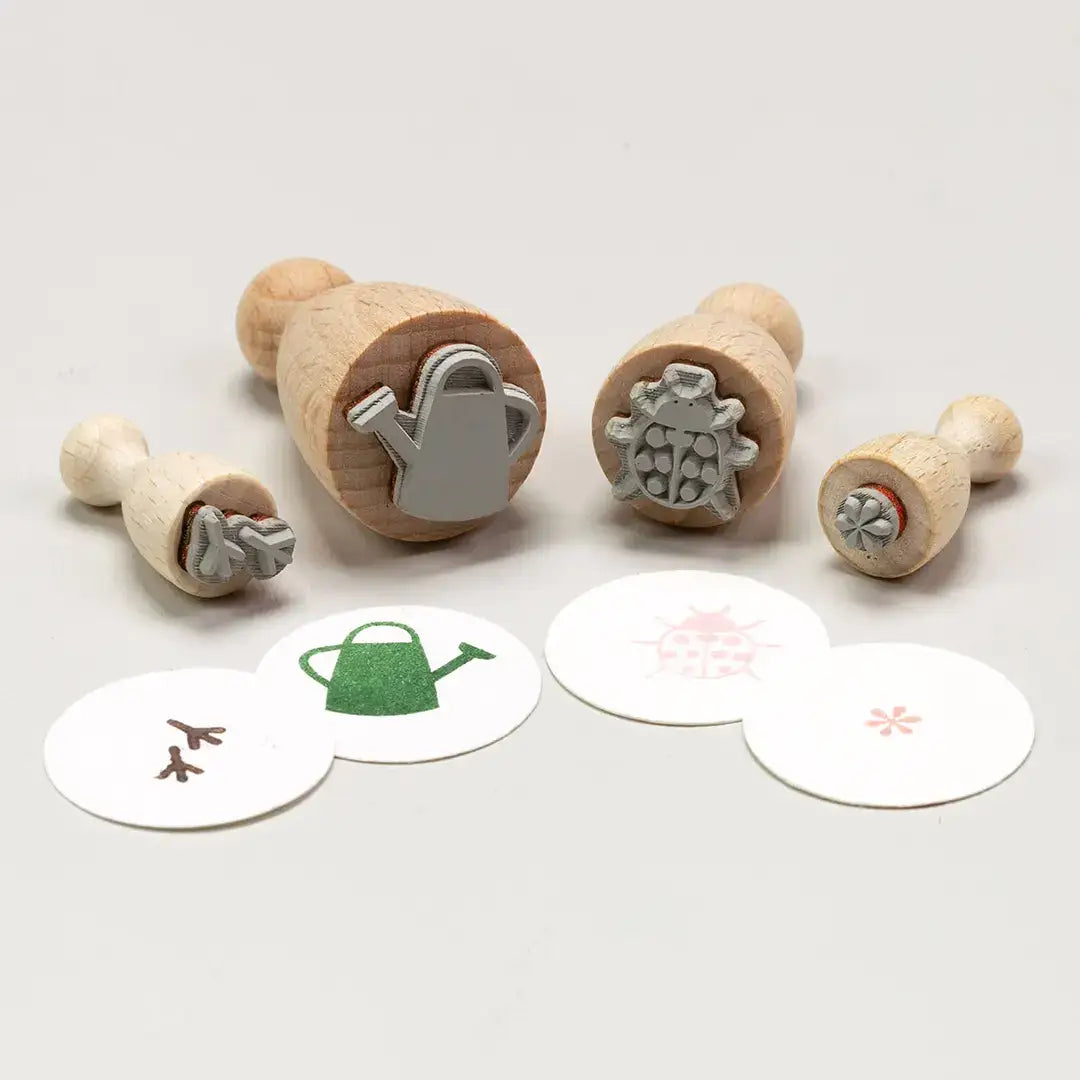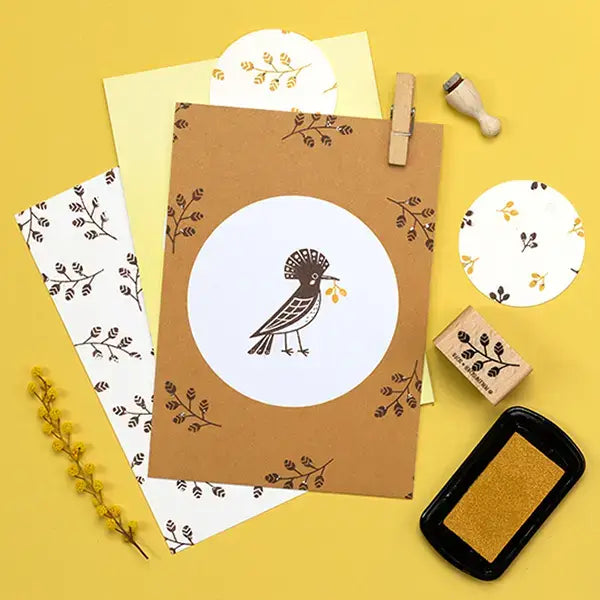 Autumn Sets
Stamp sets with fall and forest motifs
Stamp beautiful cards for the autumn season with unique nature and forest motifs, from cute animals and trees to leaves and branches. Decorate all sorts of stationery individually in the fall look.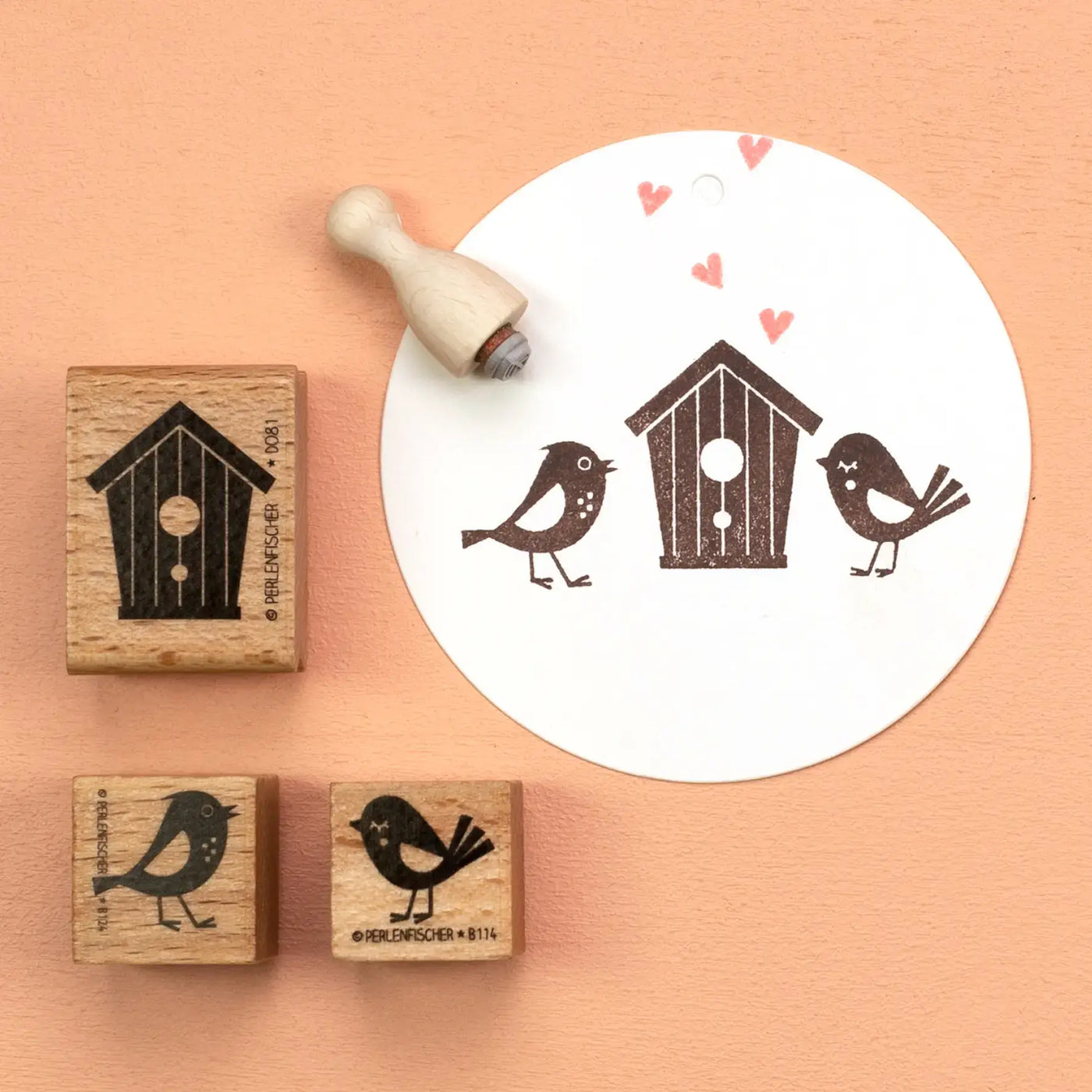 Stamp sets animals
Animal motifs in your stamp set
In almost all of our stamp sets are animal motifs. We love our little earthlings. Put little things on their backs, in their hands or put them on all kinds of objects - there are no limits to your creativity. Discover our huge selection, get inspired and find your favorite animal:
Stamp set Christmas & Stamp set Winter
Stamp sets for the Christmas season
Our Christmas sets are simply a must-have for this contemplative time. Here we show you a few possible ways to use them, DIY's and cards for inspiration. For our full selection of festive stamps, discover our Christmas Stamps category.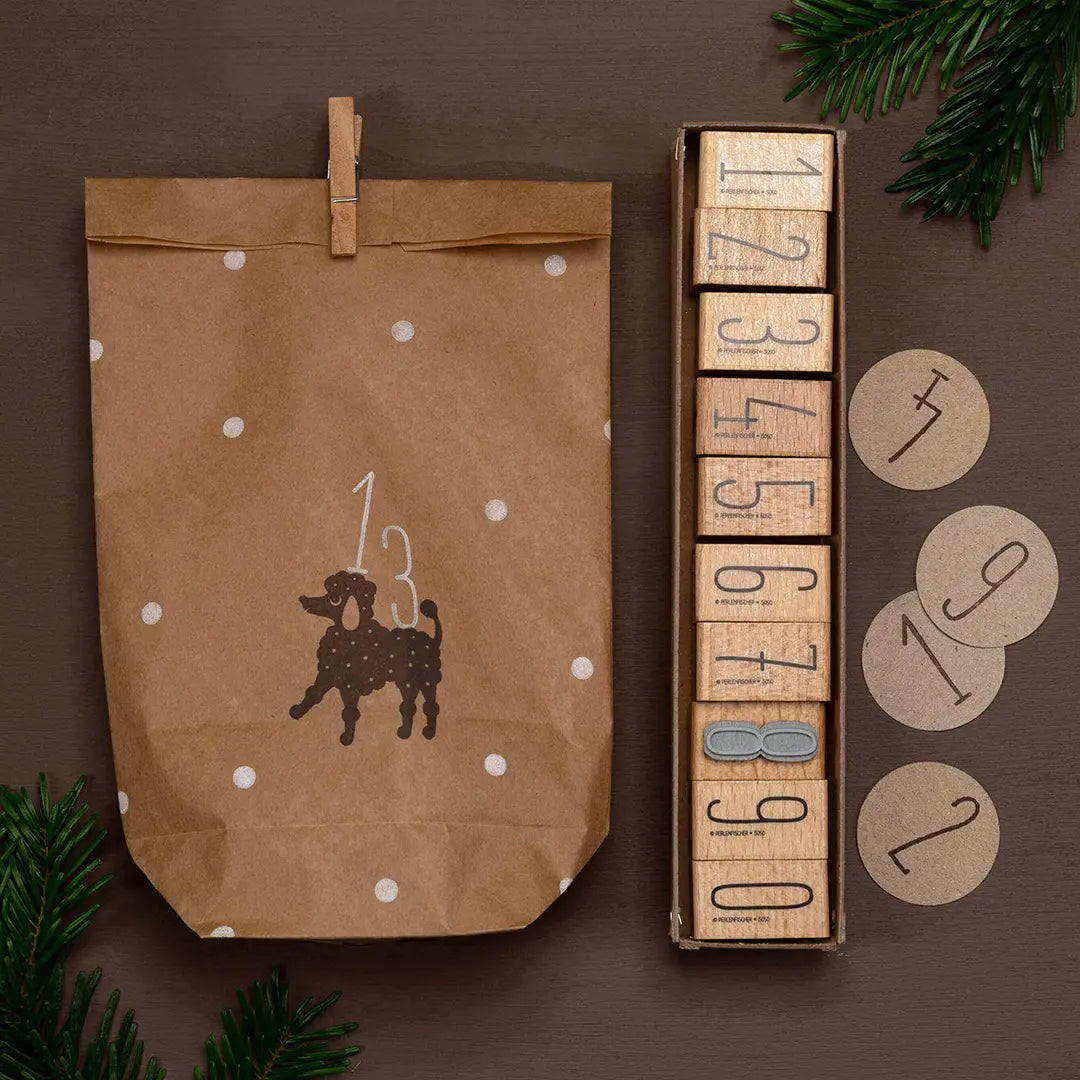 Our numbers set is wonderful for your homemade Advent calendar.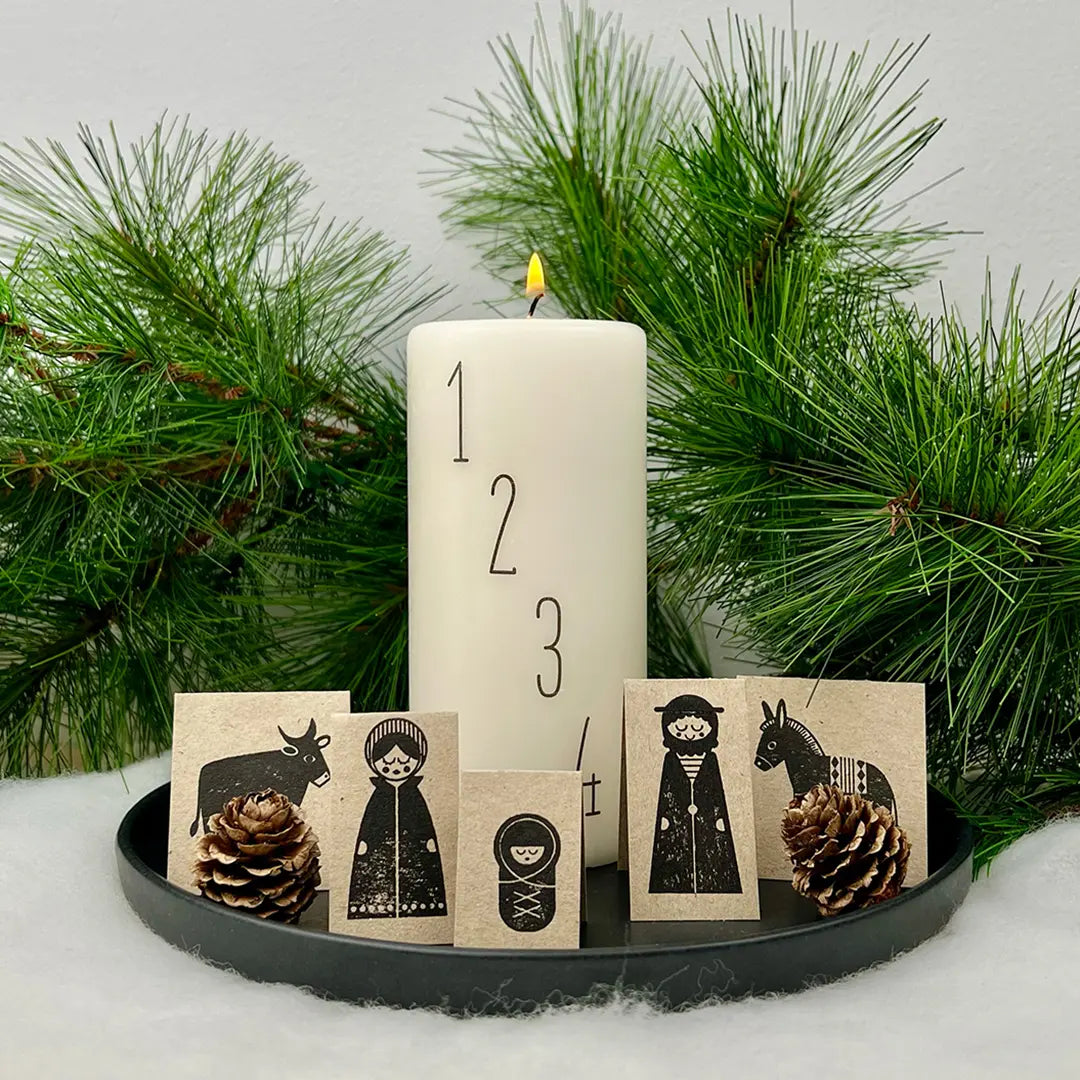 Create a cheerful mood in your home on Christmas Eve with the Set Nativity's scene.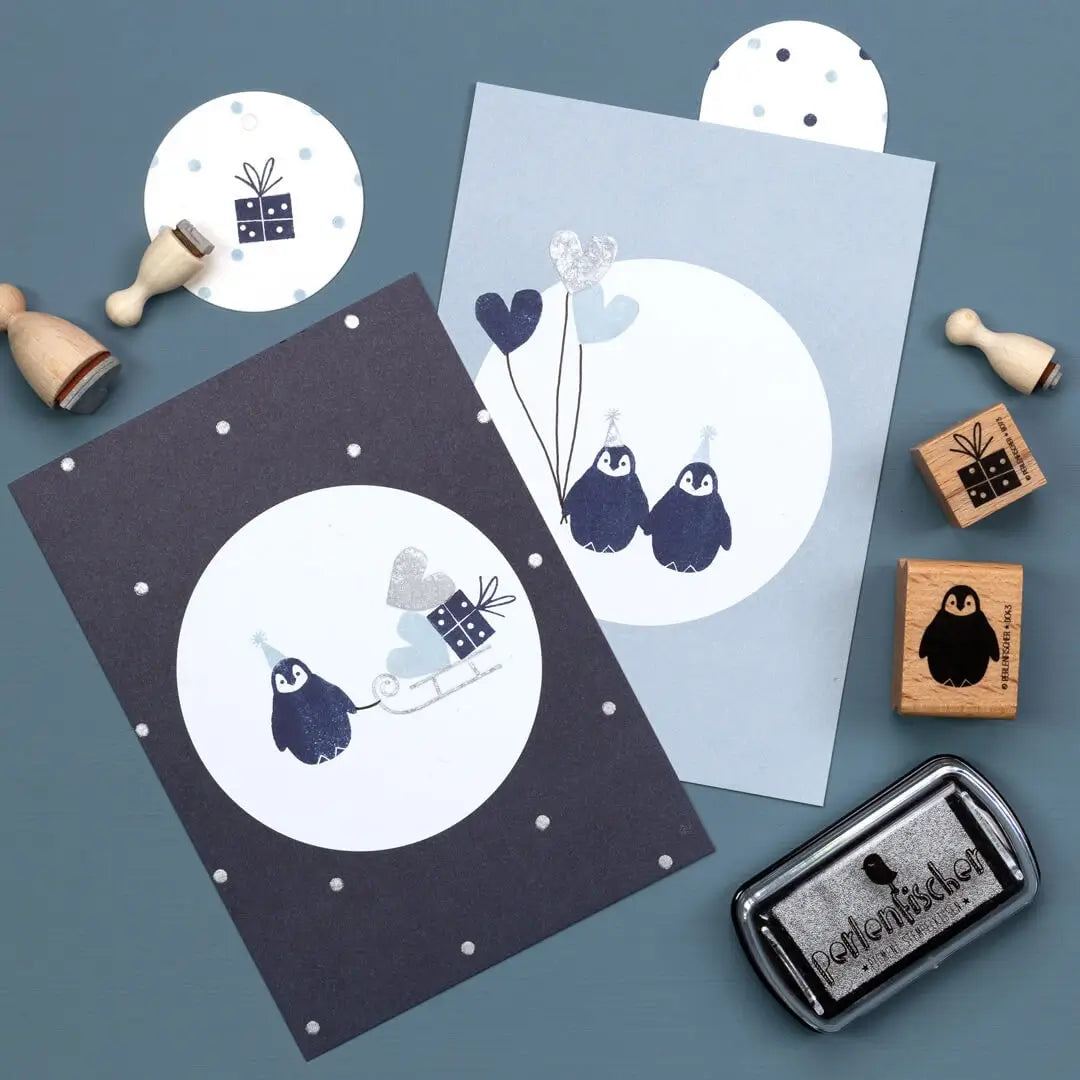 A cozy stamping afternoon is the right way to kick off the season.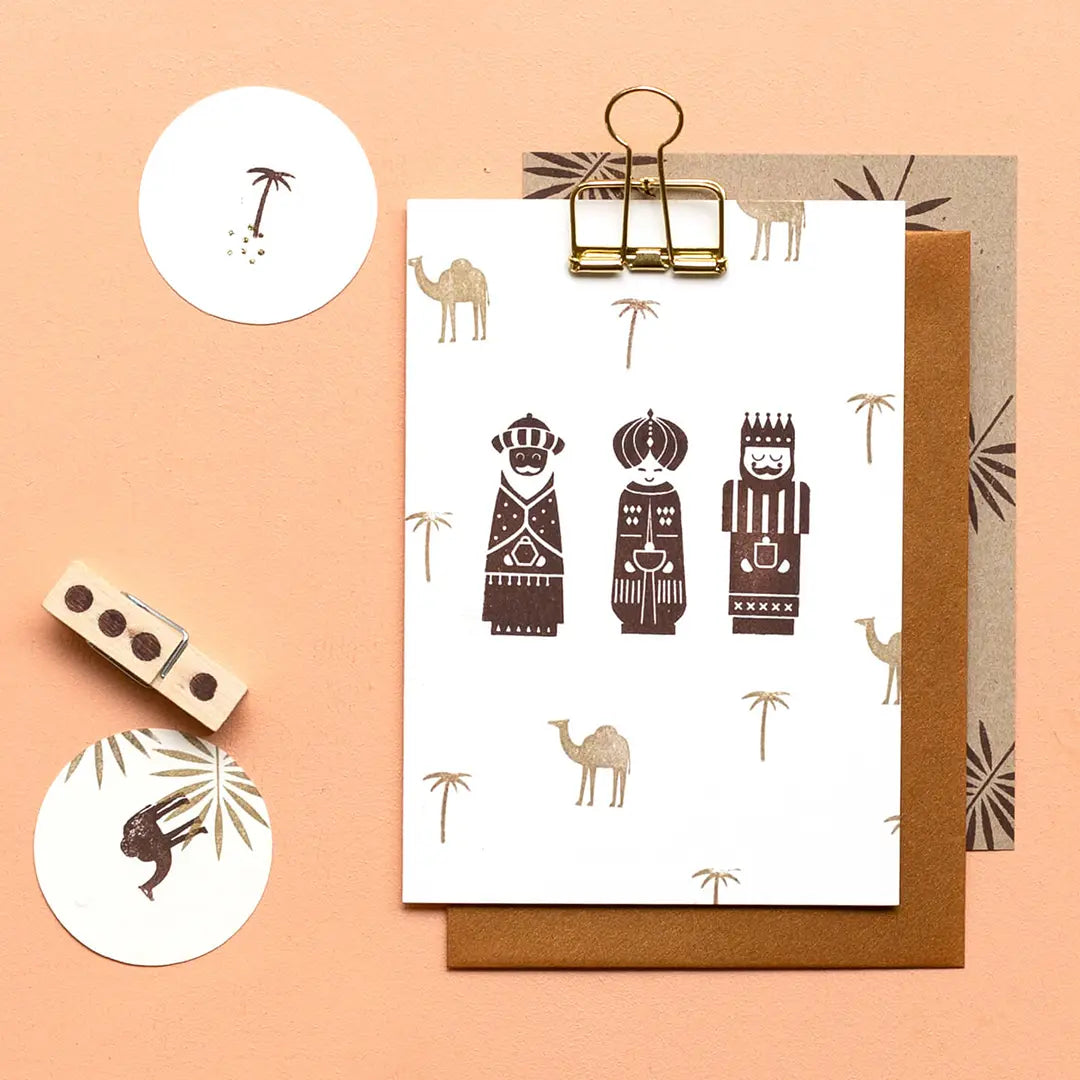 The holy three kings are detailed motifs and thus come out perfectly on each card.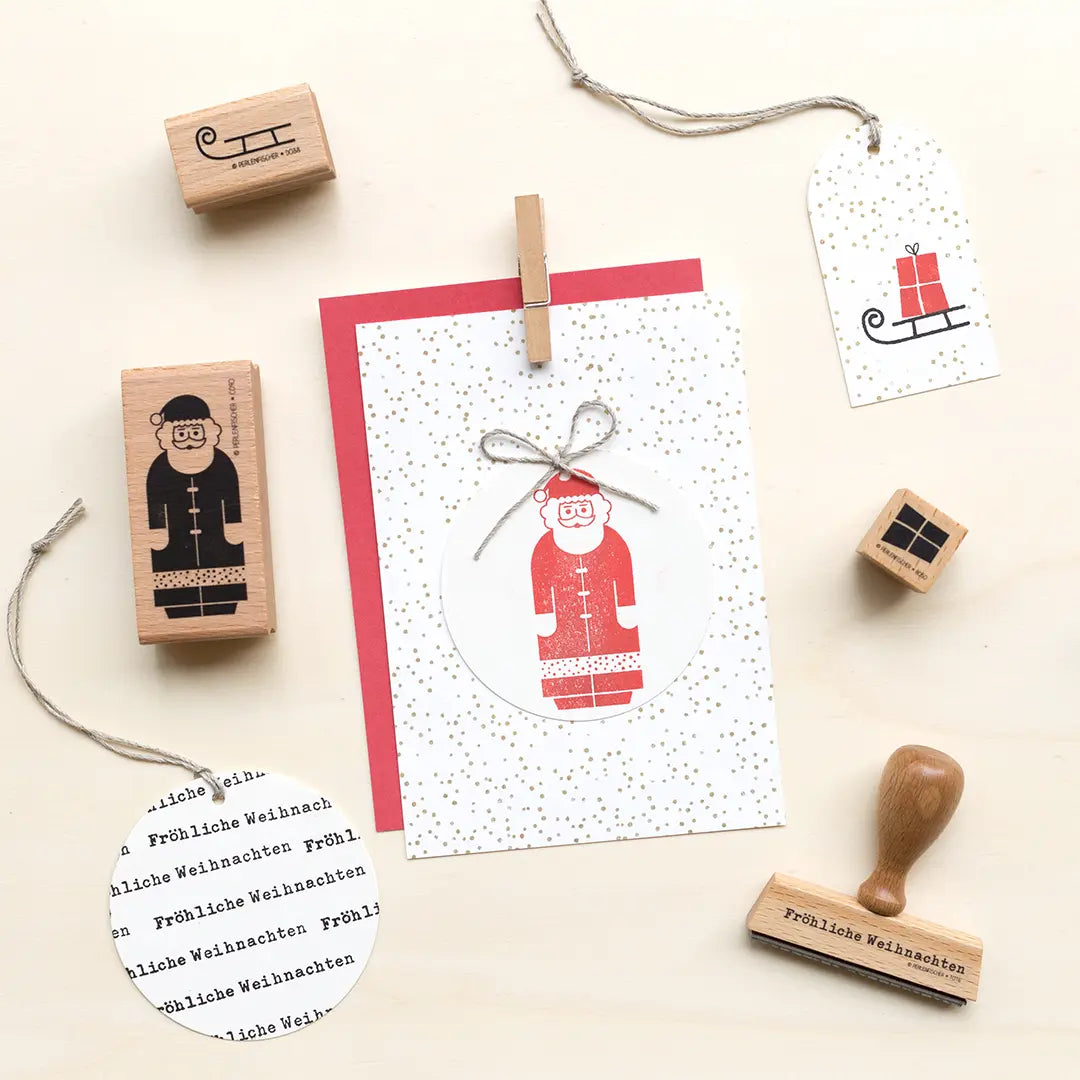 This Santa set is simply a festive allrounder. These cards are sure to delight your friends & family.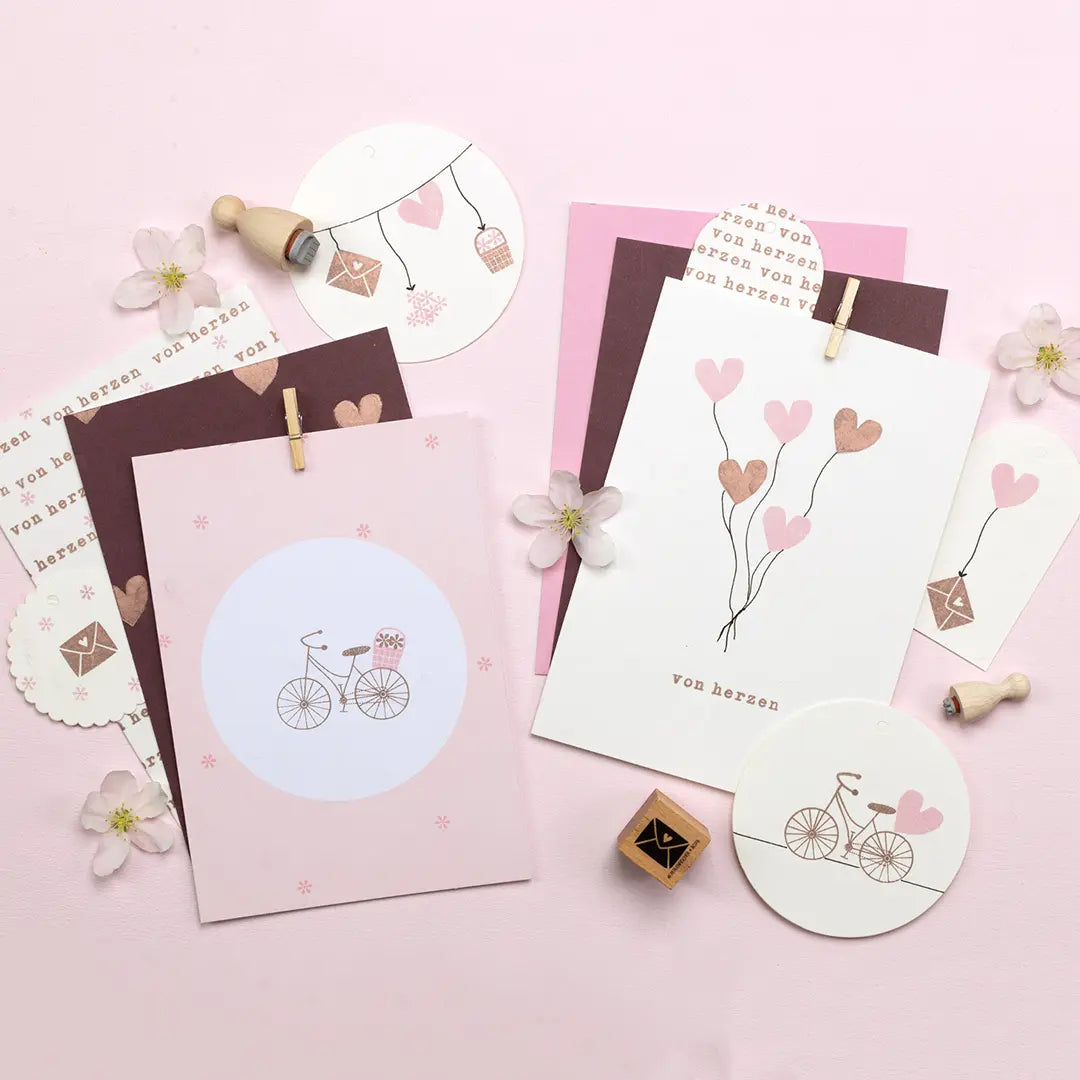 Stamp set Wedding
Sets for weddings and other loving occasions
Send sincere greetings or design your own invitation cards to your wedding. Many more lovely stamp designs can be found under:
What can I use the Numbers stamp set for?
 - Stamp set calendar
Our allrounder Set - The stamp set numbers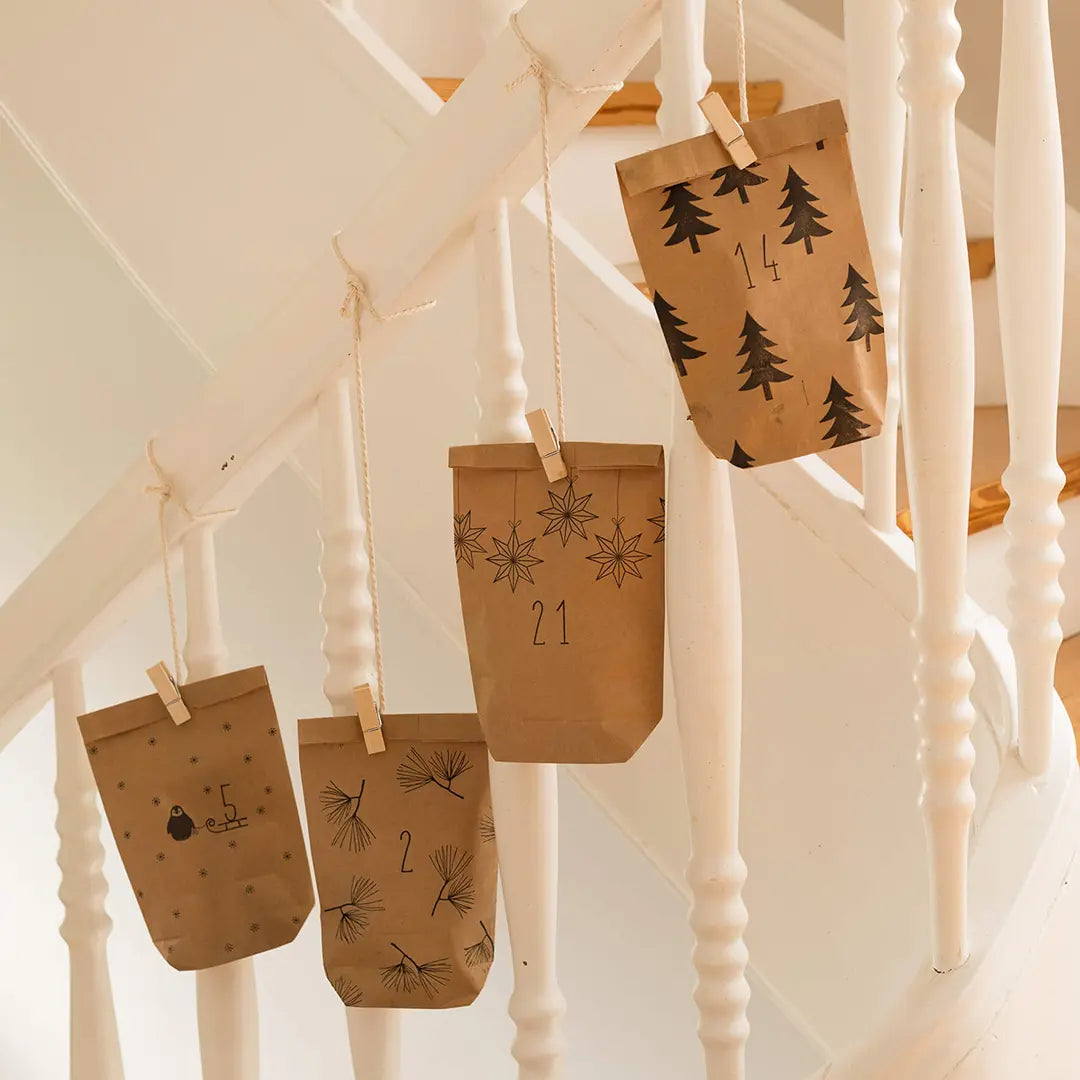 Advent calender
Create your own Advent calendar and label each bag (or door) with the appropriate number from 1 to 24. Under Boxes & Bags you will find great supplies for crafting calendars.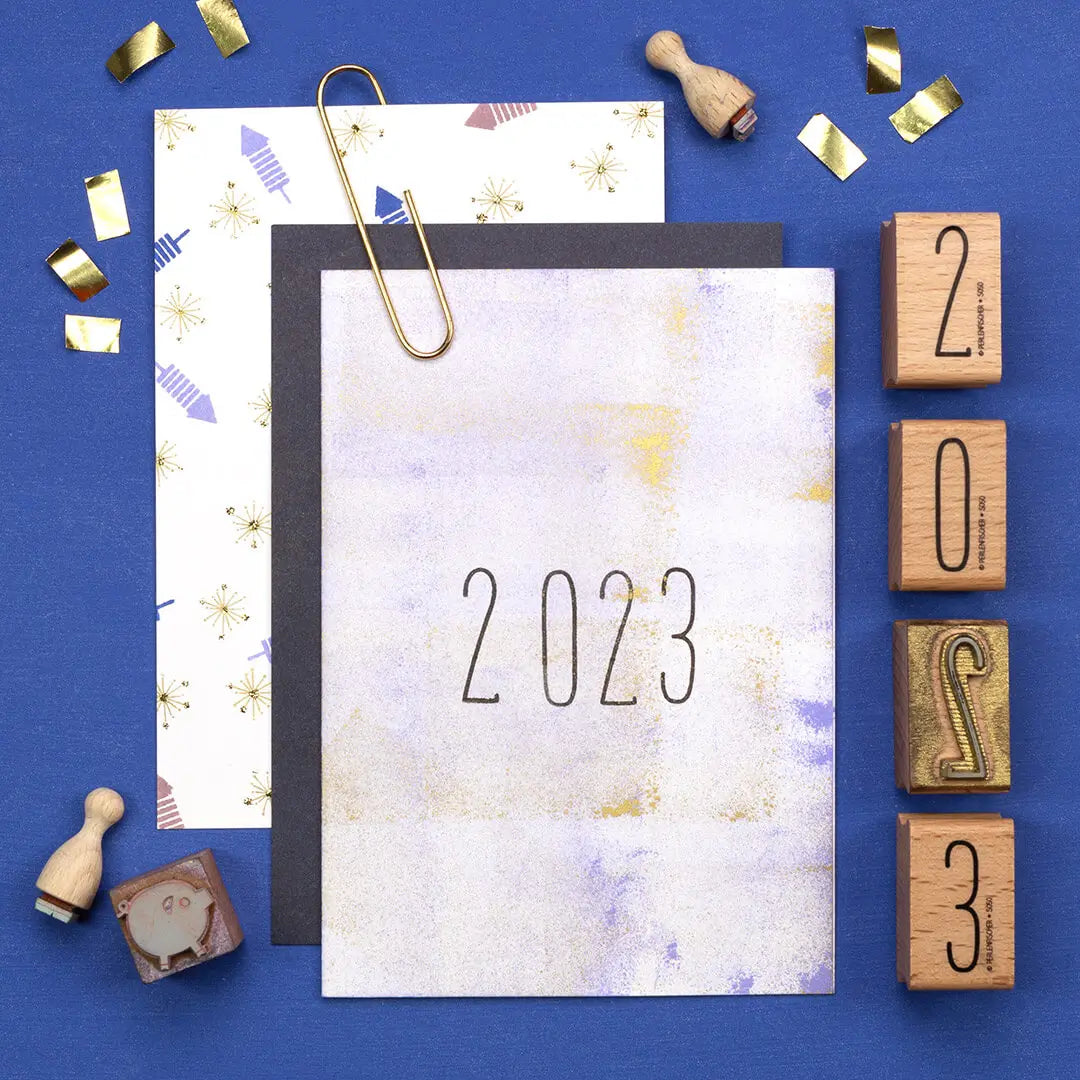 New Years
Send festive New Year's greetings or stamp a unique invitation card for your New Year's Eve party. Use the numbers set to stamp the new year on a card and combine it with great party motifs.
Birthdays
Give your birthday cards or invitation cards an even more personal touch by adding the date of birth or age of the birthday girl or boy.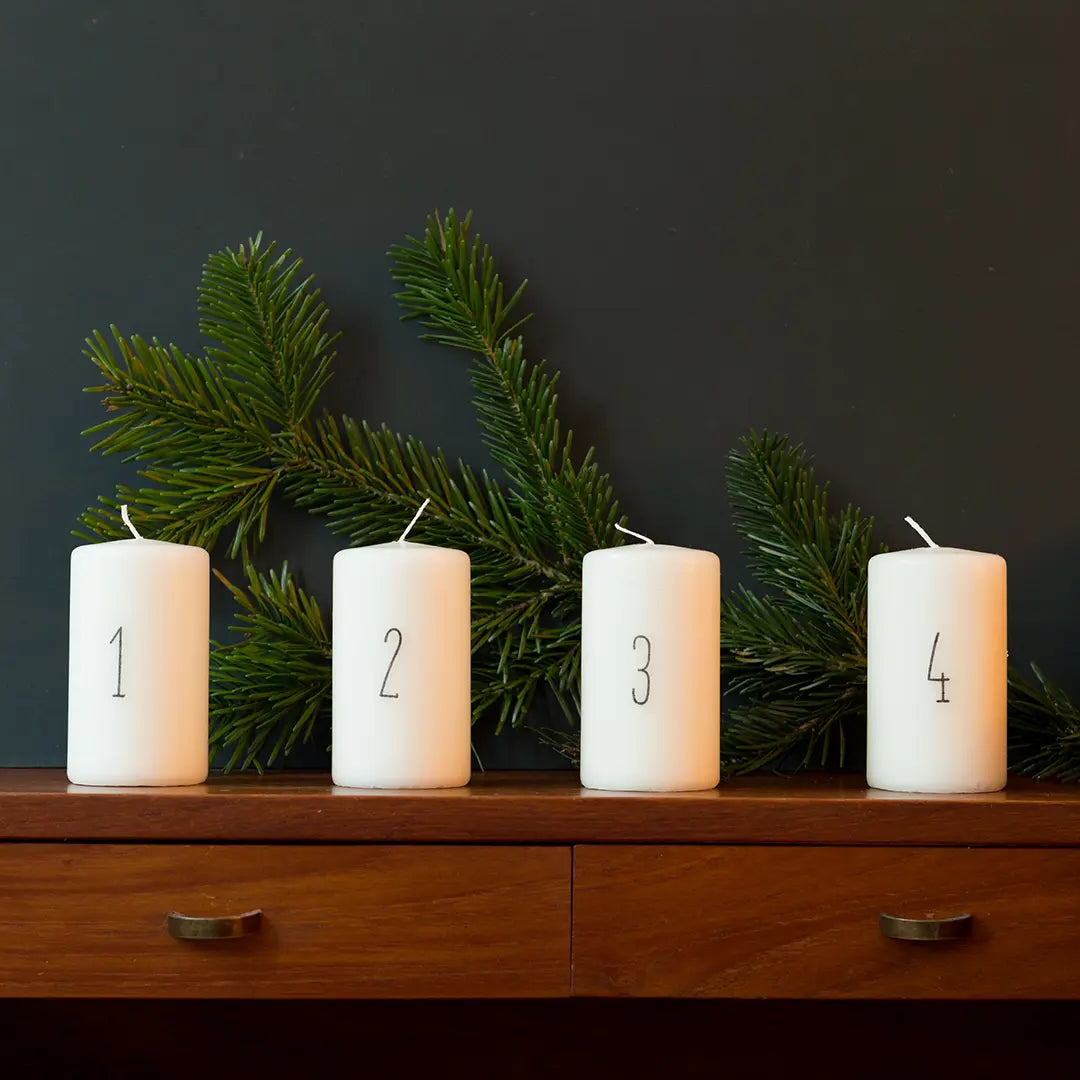 Advent wreath
Create your own very individual Advent wreath by "sticking" the numbers on the candles. Use either tissue paper and blow dry it with the embossing heat gun to the wax or take our Tattoo | Numbers and adhere them to candles.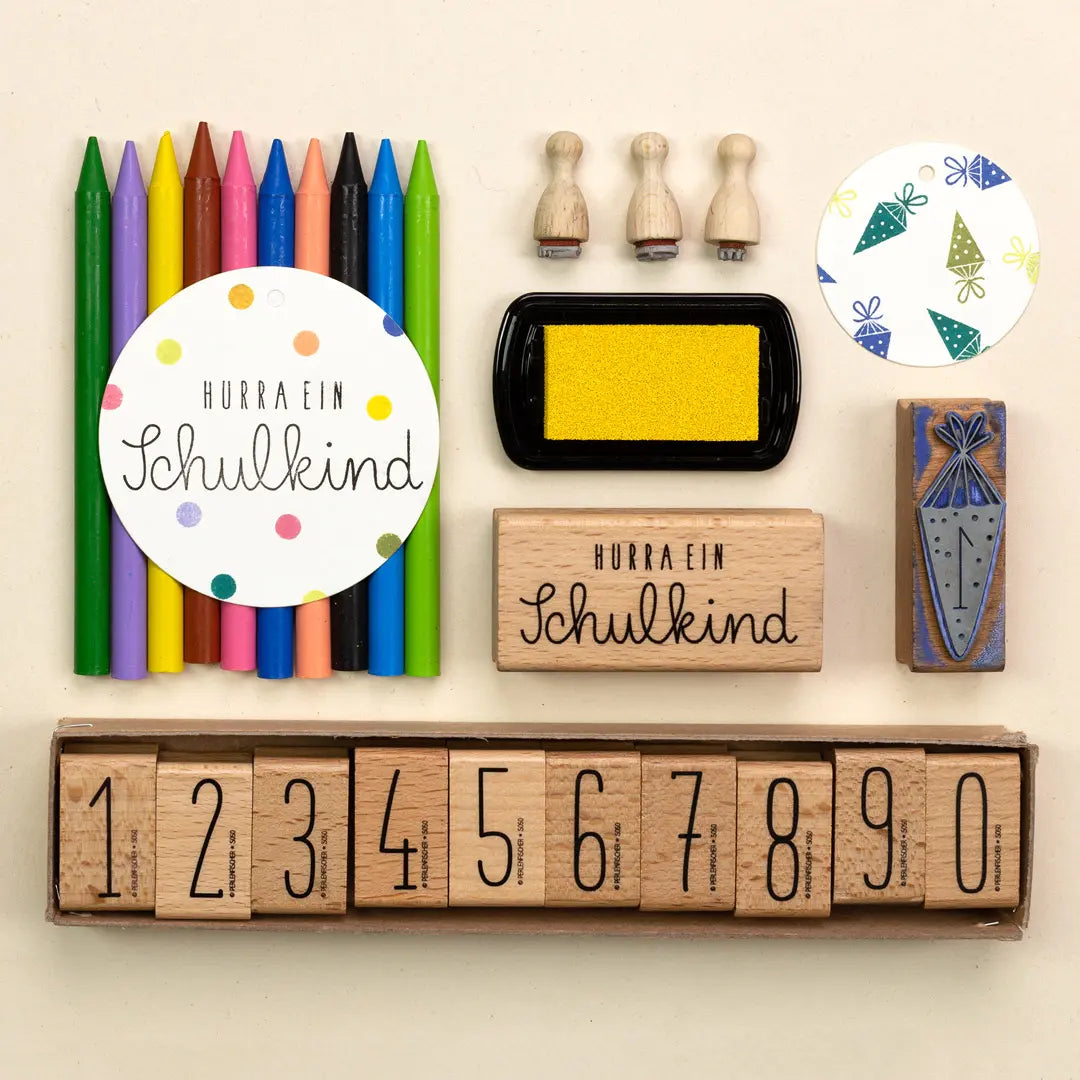 School enrollment
This set is perfect for starting school. Stamps cute cards, make your own school bag or practice the numbers together with your child: You stamp and your children recreate the numbers.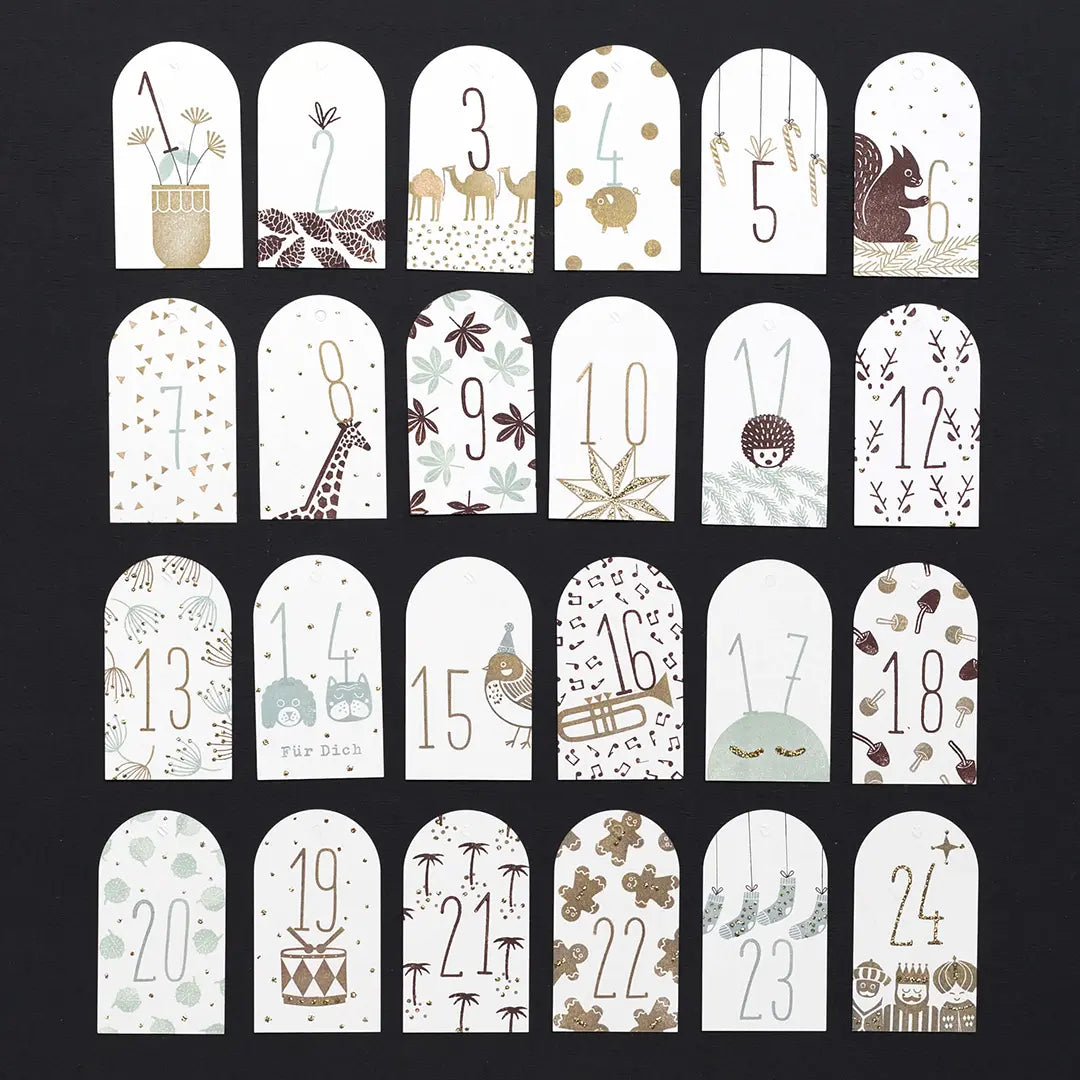 Gift tags
Stamps tags with numbers for your advent calendar or even for a birthday. Your gifts are guaranteed to be an eye-catcher!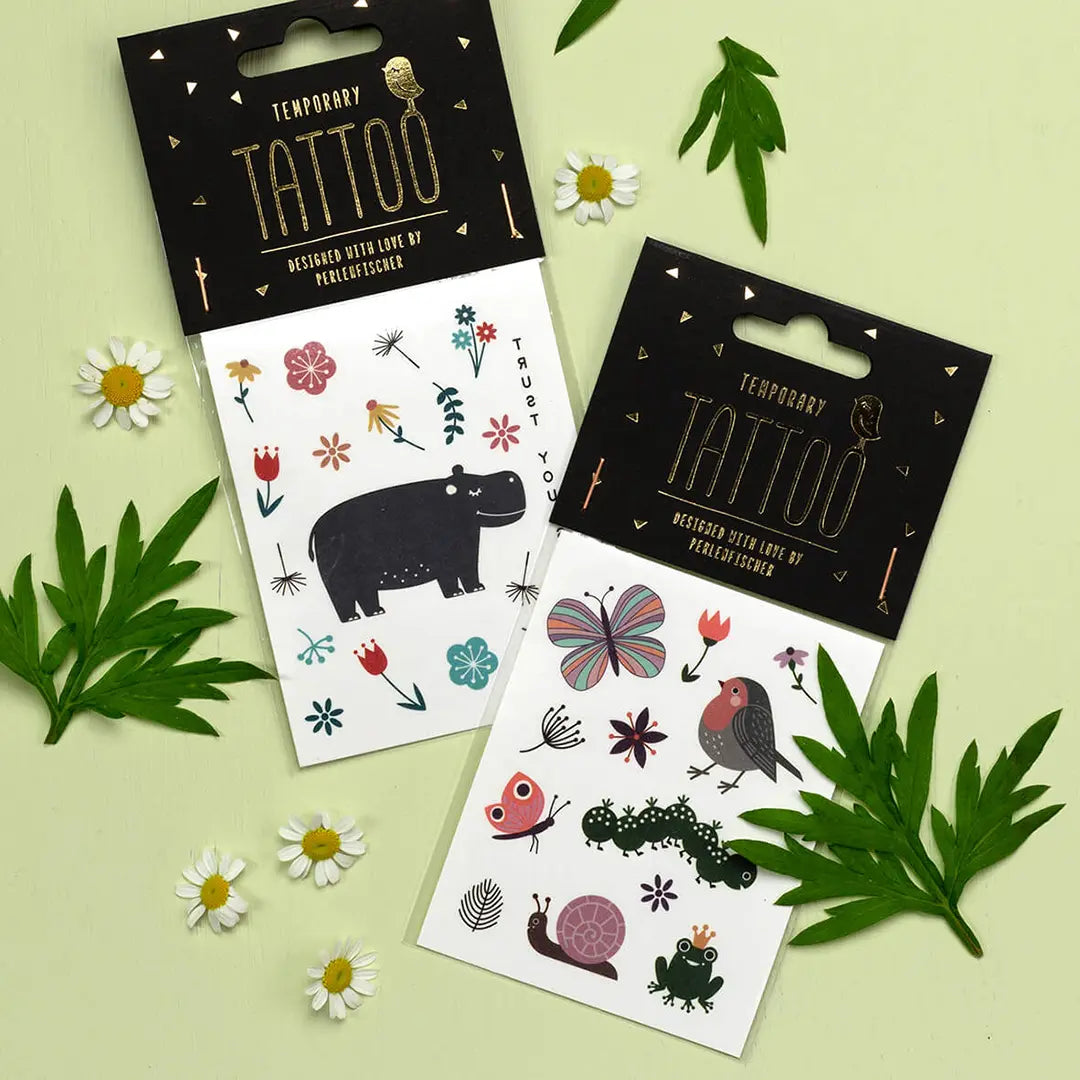 Stamp sets for your skin
Temporary Tattoo Sets
Stamp sets with a difference - how great would it be if stamp motifs could not only be displayed on stationery. That's why we've put together tattoo sets for you, so that you can also wear them on your skin. Discover many more tattoo sheets at:
Stamp set Easter
Sets for Easter
Stamp Easter decorations, make cute Easter baskets or decorate your Easter bush just the way you like it. Our stamp sets are perfect for that because they are both perfectly matched in color and contain beautifully harmonizing stamp designs, so you can immediately begin to stamp and get creative. For many more DIY's and Easter inspiration, visit our category Stamps Easter.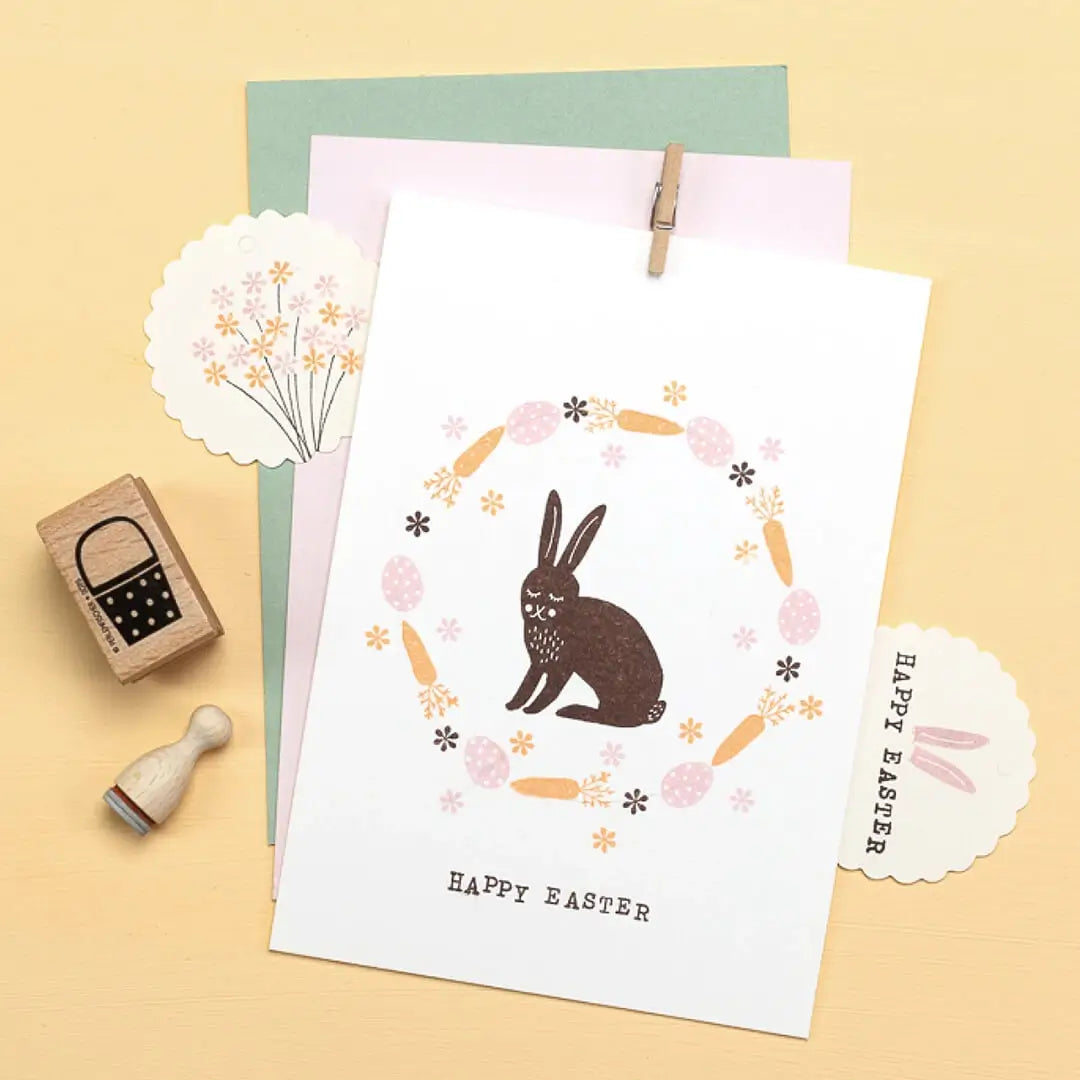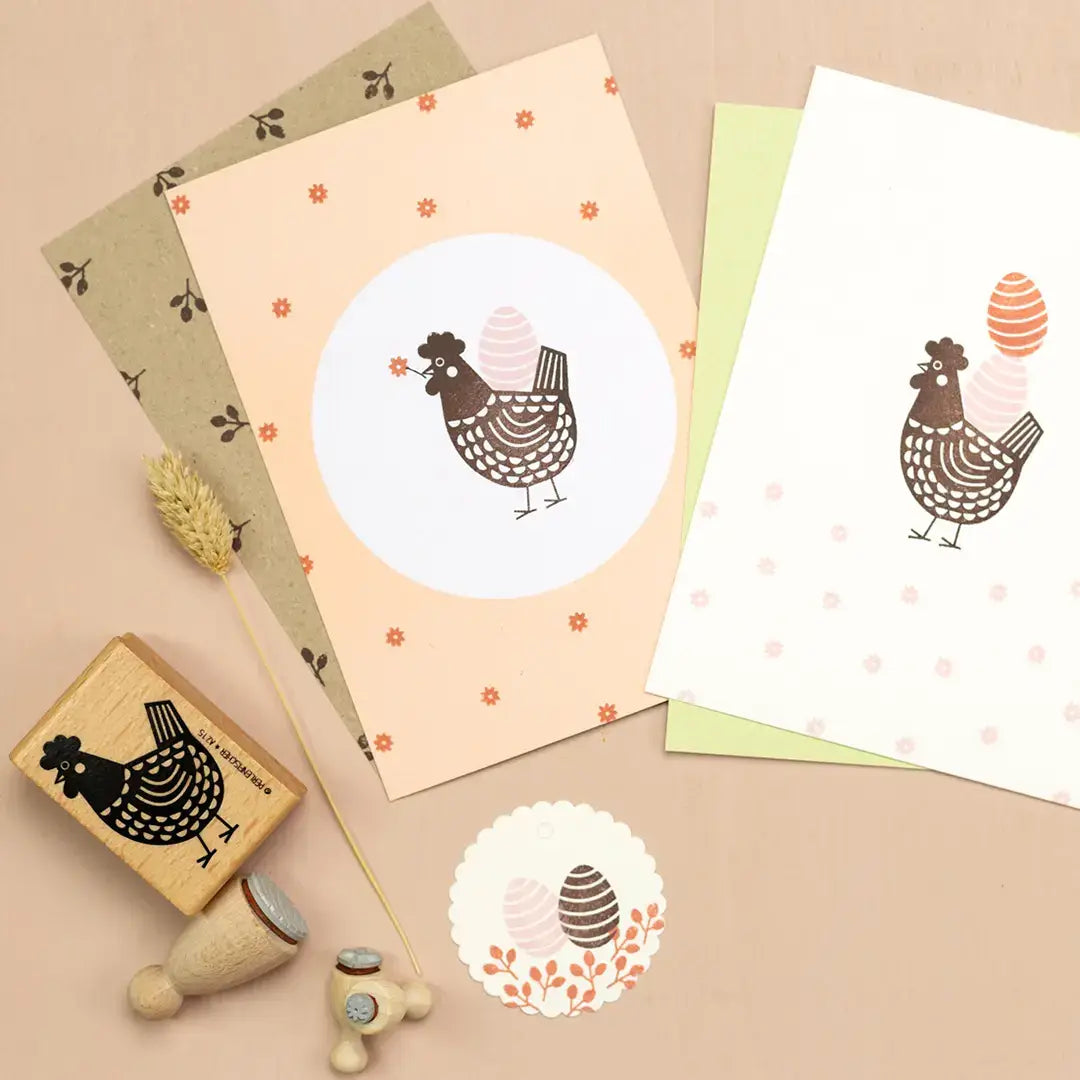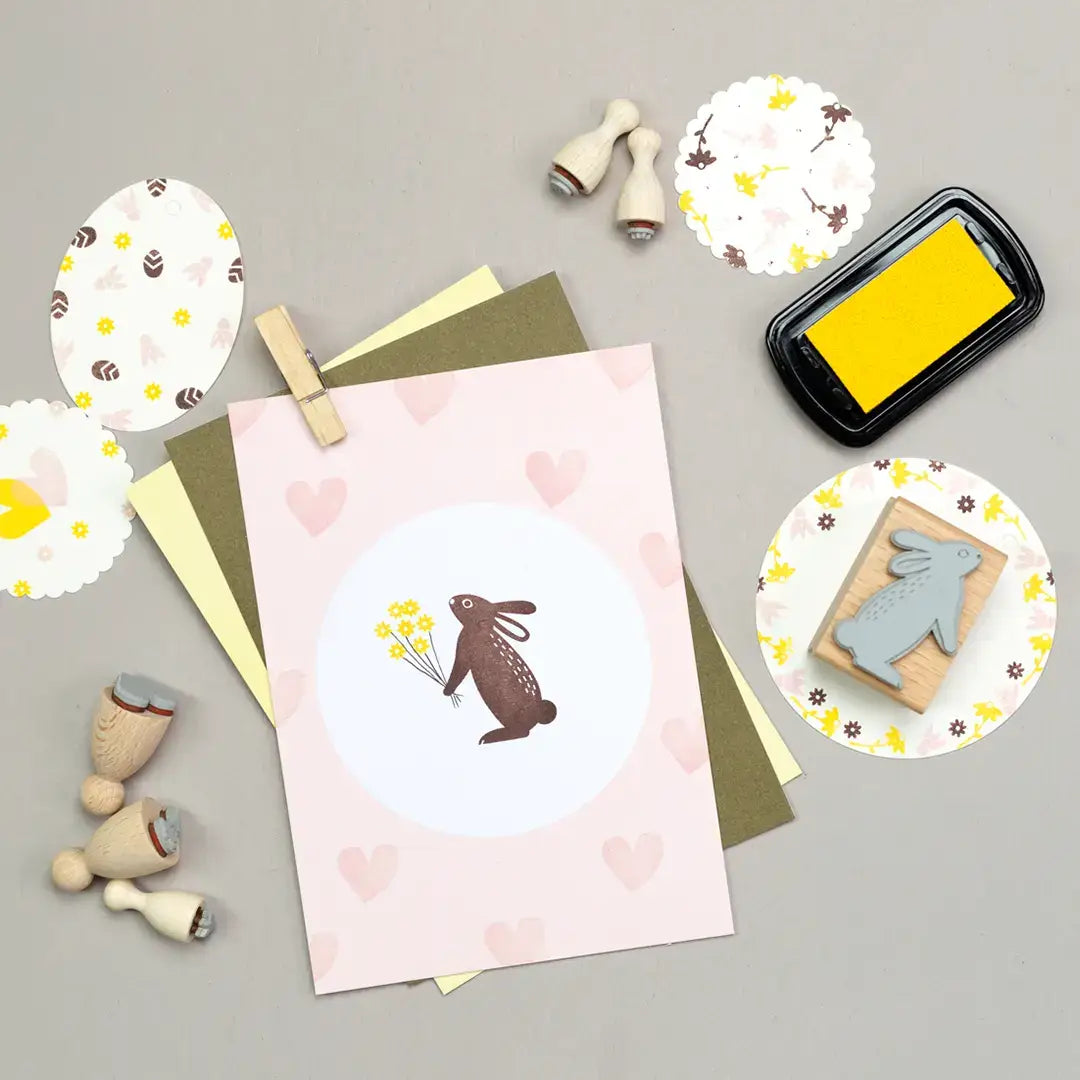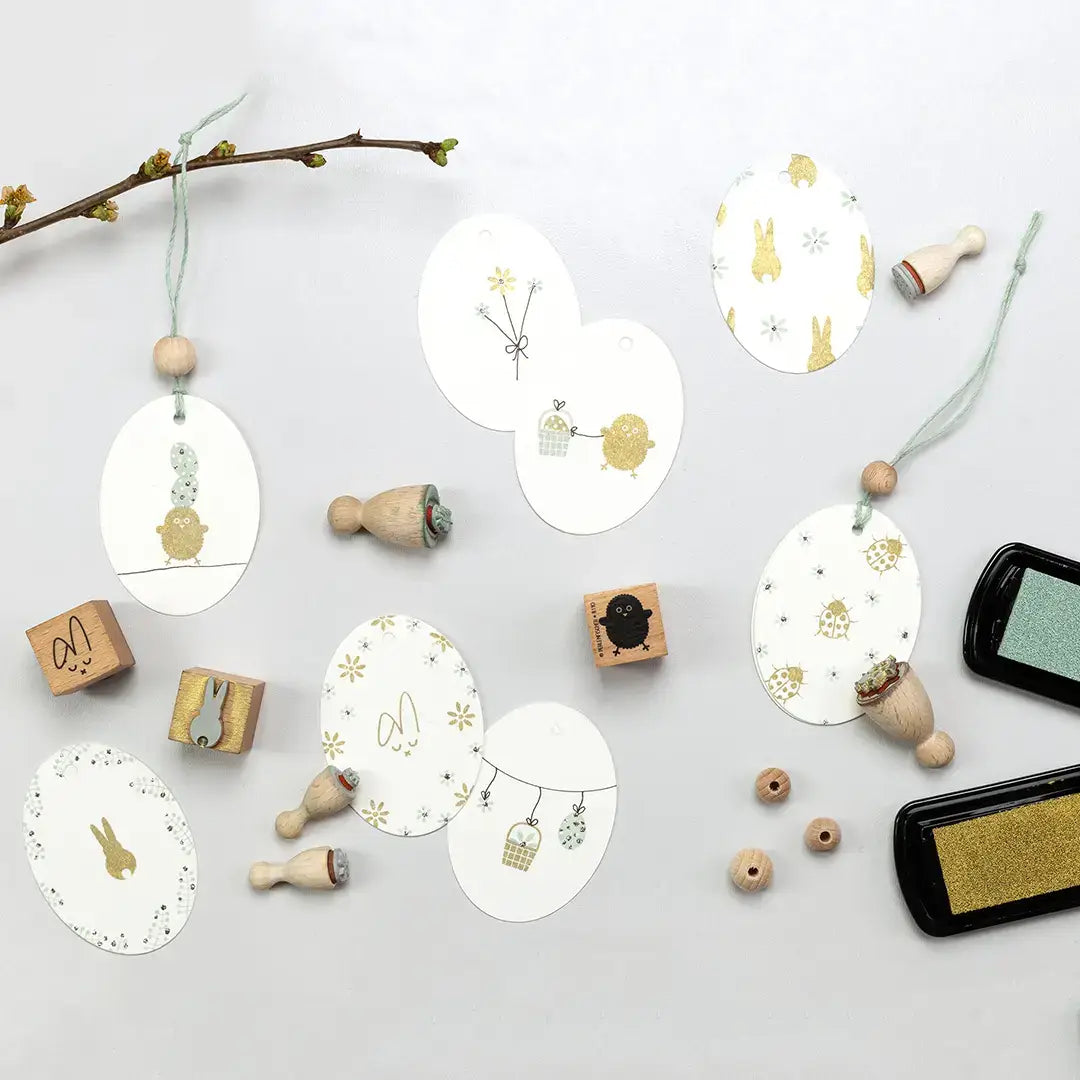 How can I use stamp sets to create personalized gift tags?

Gift tags included in the stamp sets
We have several stamp sets with tags to stamp on, both wooden (wooden pendants and beads) and paper. These sets include all the tools, such as yarn and other odds and ends, needed to create custom pendants. They are suitable for many different occasions and DIY's. Hang them on your Easter bush, Christmas tree or tie them around your presents. Find many different pendants in a variety of shapes that are ideal for stamping: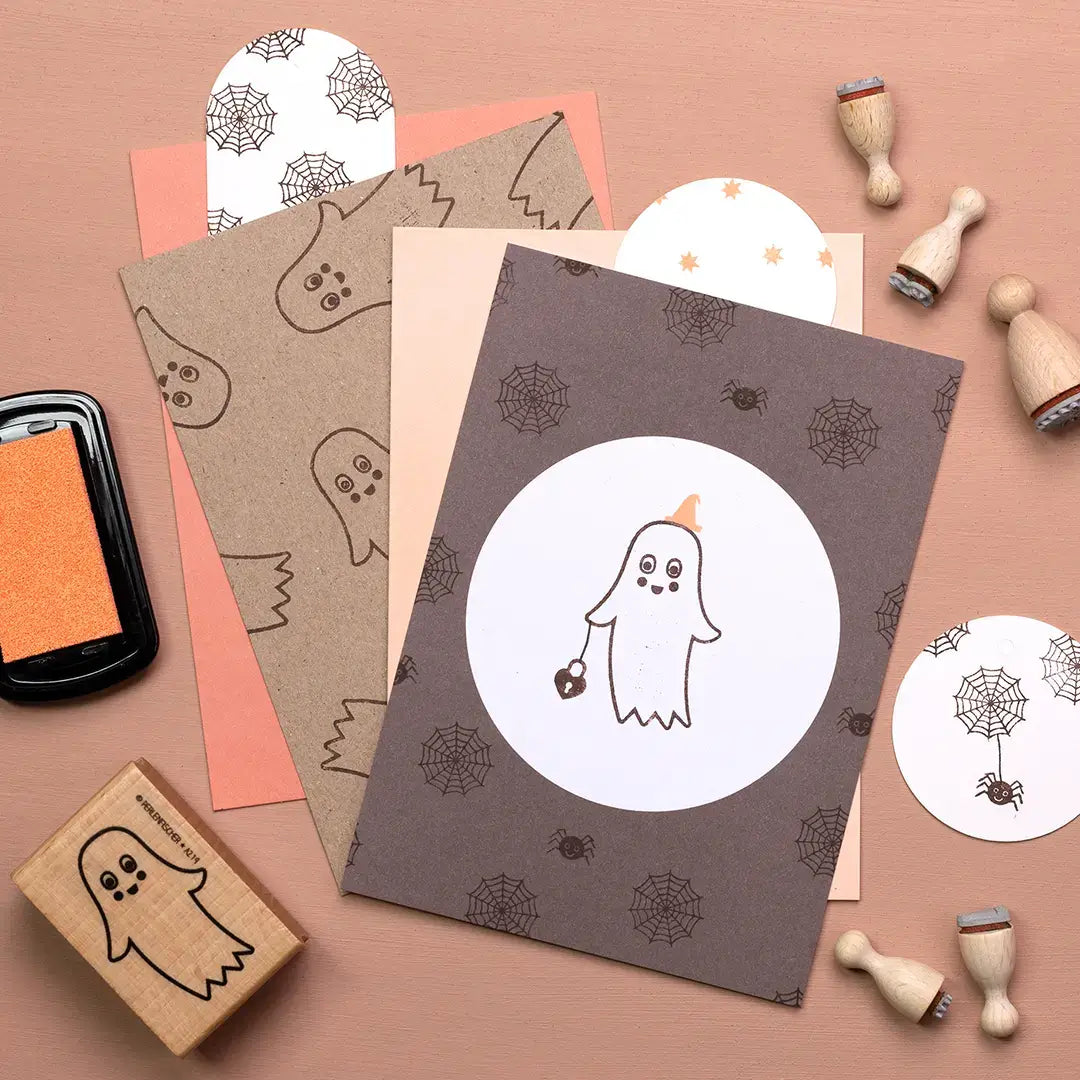 Stamp set Halloween
Trick or Treat
Halloween stamp sets for spooky cute decorations or unique Halloween invitations for your own party.
Does Perlenfischer have small stamp sets?
Mini stamp sets
Our small stamp sets contain motif stamps that match each other perfectly and can be ideally combined with each other. In these sets are intentionally no ink pads included to leave you the freedom in terms of color choice, but you can still save 5% on the respective stamps.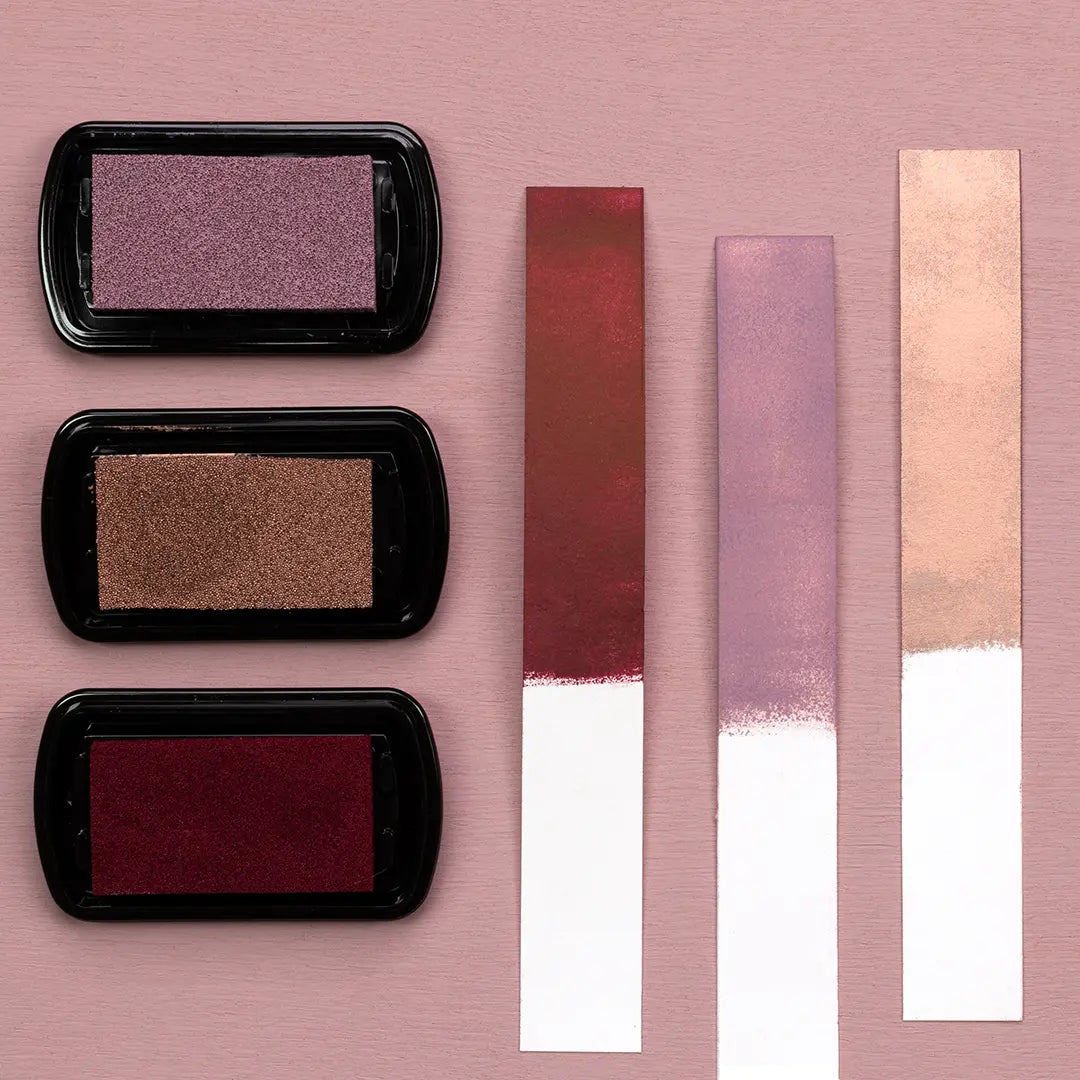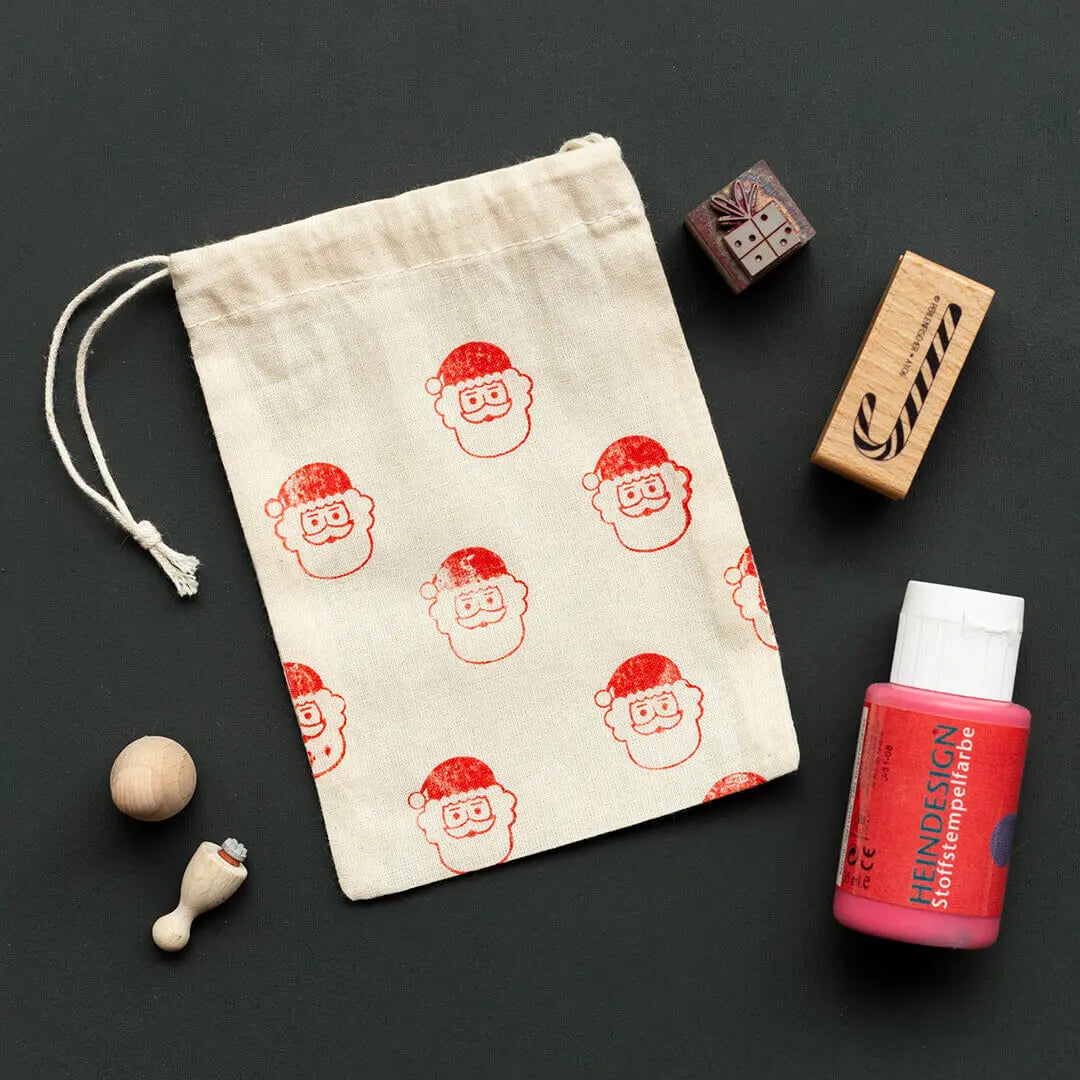 Ink pads sets
Our pigment stamping inks
Our ink colors are now available in 27 different selected shades, which can be wonderfully combined with each other. Therefore, we have created particularly harmonizing colors for you as a set of 3. Furthermore, the pads are available in two sizes each and are very easy to refill.
Textile Ink sets
Stamp your fabrics
You can not only decorate stationery with unique stamp motifs but also stamp materials such as cotton, linen and jute wonderfully with textile ink. These stamping inks come together in a set with a sponge.
Stamp set textstamps & letters stamp set
Which stamp sets are suitable for individual cards and invitations?

We recommend our stamp sets, which include one of our beautiful textstamps, as you can easily create pretty cards with lovely greetings. Just click through the sets above: on the product photos or in the item descriptions you can see which stamps are included.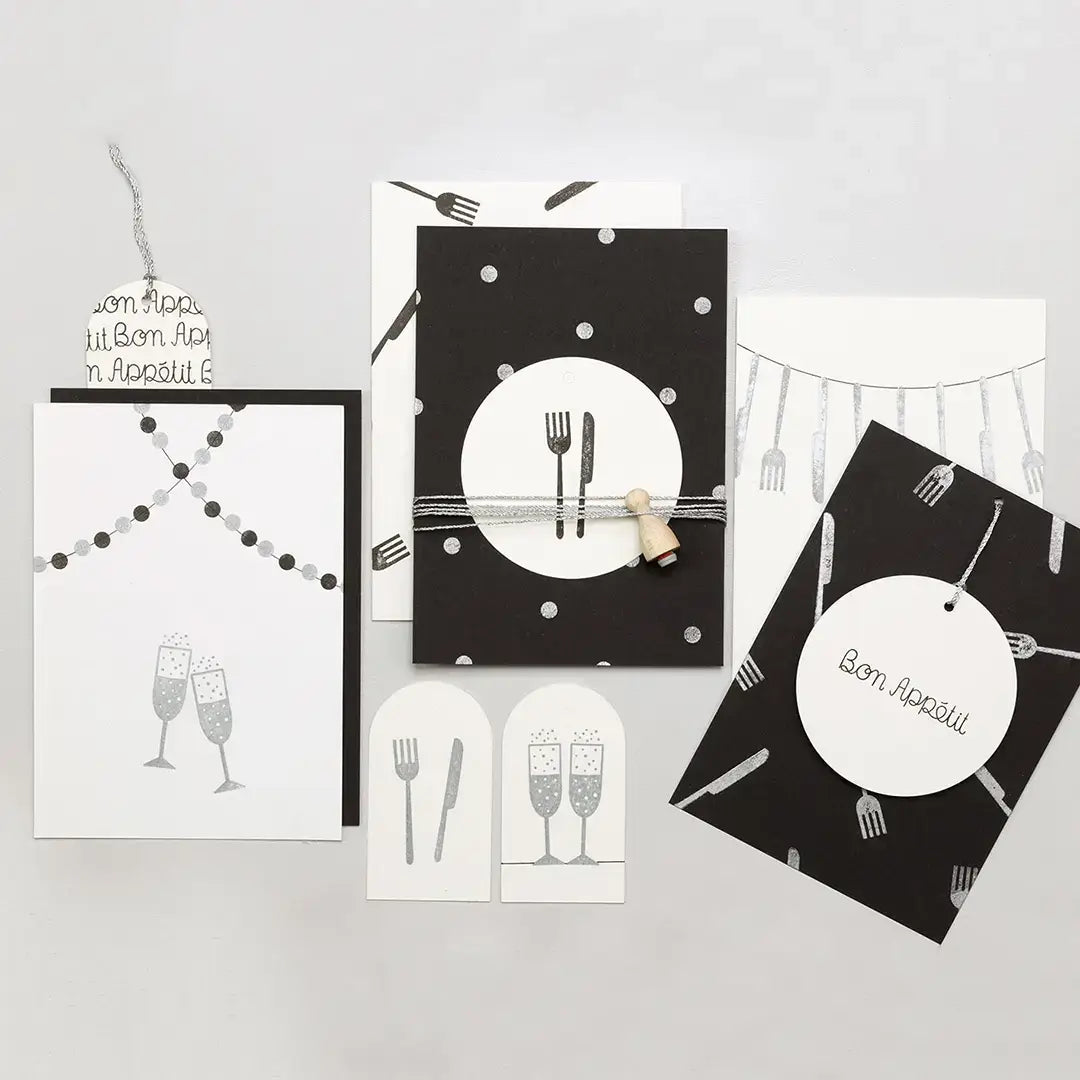 Stamp sets invitation
Sets for New Year's Eve
Stamp unique invitation cards for your New Year's Eve party or send individual New Year's greetings. Many other New Year's Eve motifs, such as rockets, sparklers or Happy New Year lettering, can be found here: