Easter stamps for spring greetings
Here you will find our motif stamps, stamp sets and a variety of stamp ideas to give you and your children a nice Easter: Design unique Easter greetings with our Easter motifs, such as chicken stamps, cute chicks, all kinds of rabbit stamps and of course a large selection of Easter egg stamps.
How do I stamp beautiful Easter greetings?
Special and creative Easter post
With Perlenfischer blanco cards you can create individual Easter cards to send your friends lovely Easter greetings. They are wonderfully suitable for stamping due to their smooth, uncoated surface. Spread Easter joy with our stamps.
How do I design Easter cards?
Easter Bunny
We have several bunny stamps that you can put in the spotlight at Easter. Give the bunnies something in their paws, let them pull something or put small things on their backs. Check out our entire selection under Stamp Animals .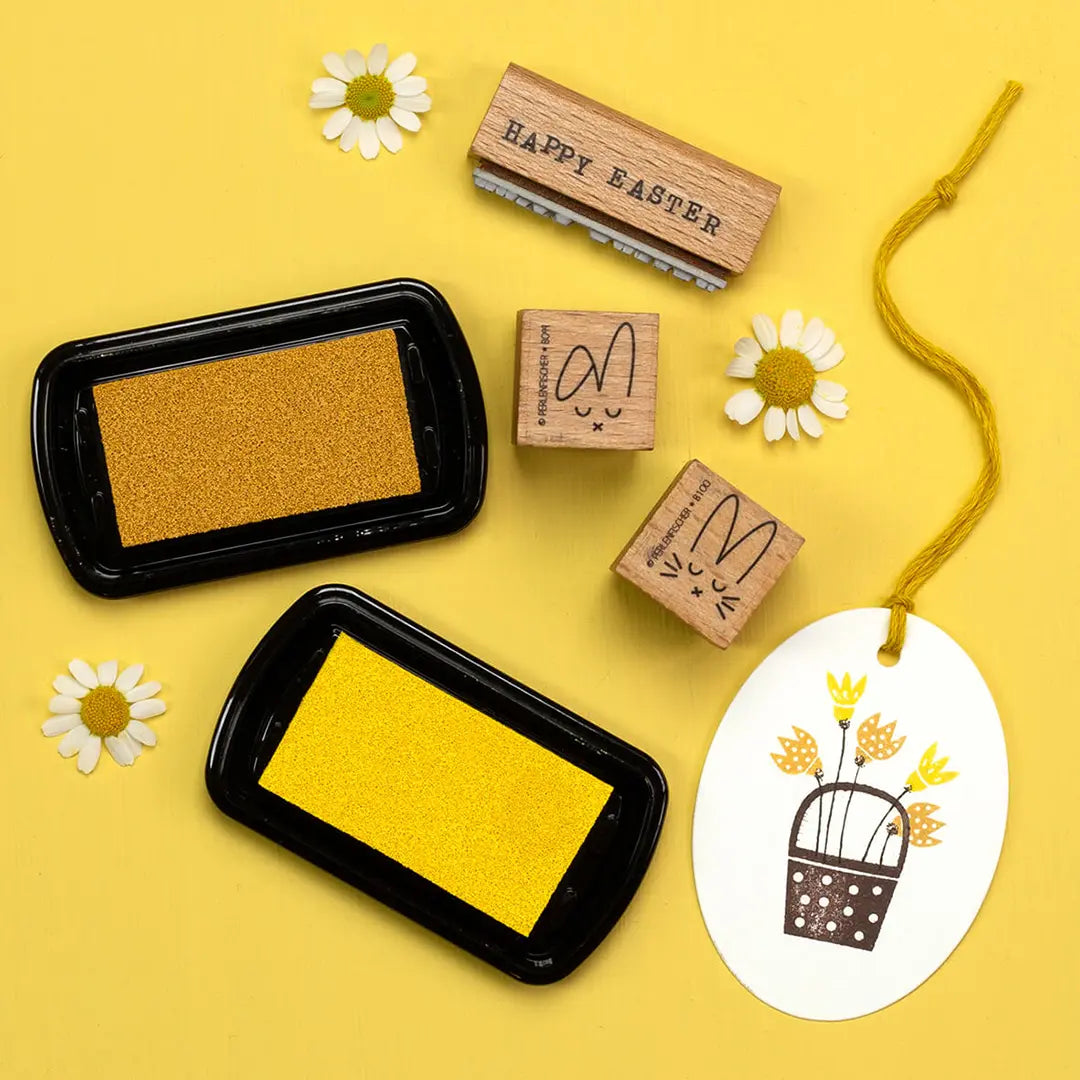 Which ink pads are suitable for Easter?
Find your Easter colors
At Easter we love cheerful colors, like the different shades of yellow shown here. But we have many other beautiful stamp colors that are guaranteed to suit your individual taste. Look for unique combinations for your Easter celebration.
How do I fold and stamp Easter bags?
DIY Easter bags
You can easily stamp your own bags for Easter and fill them with all kinds of sweet little things. Under Boxes & Bags you will find great stationery and fabrics for stamping: from glassine bags to paper bags to fabric bags.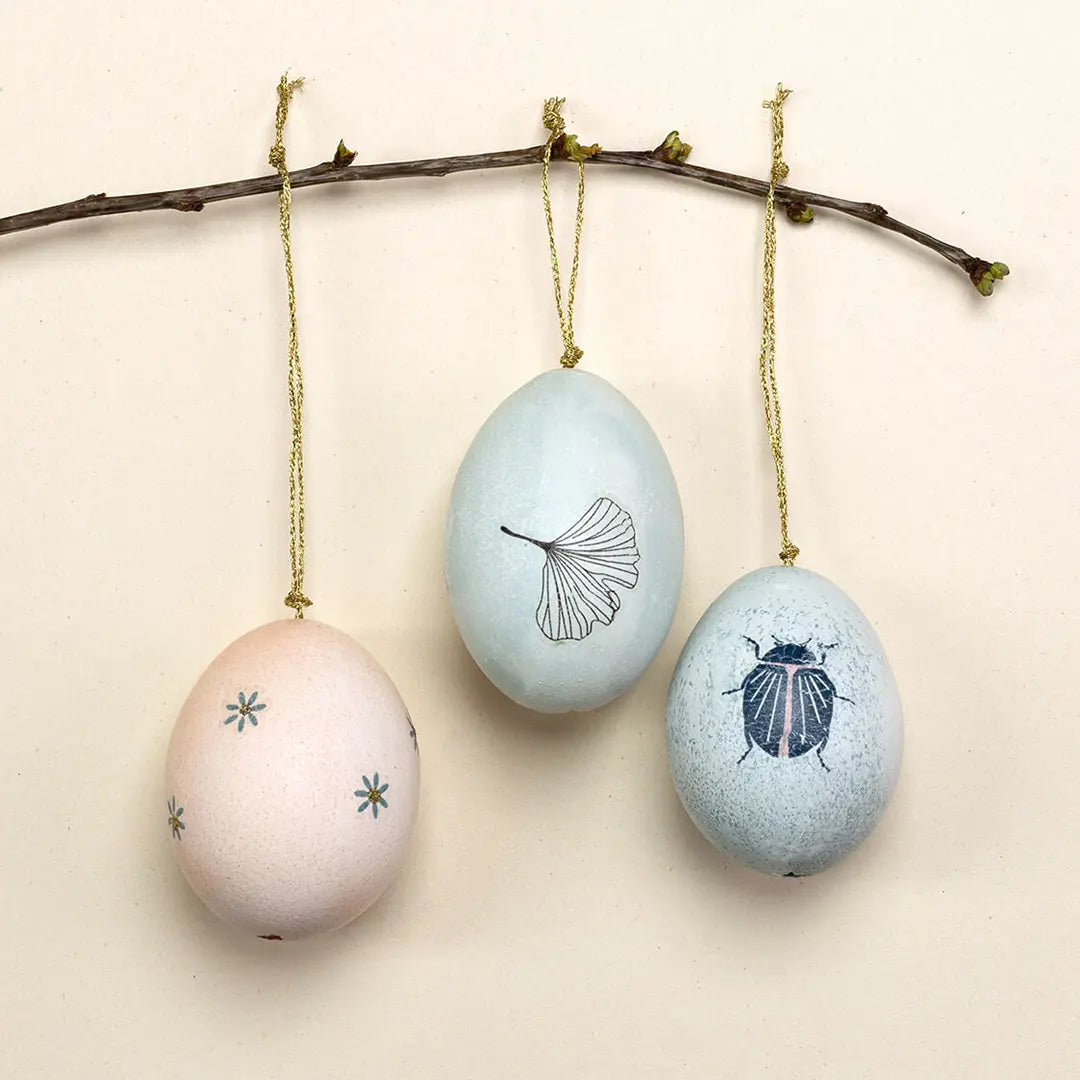 How do I decorate easter eggs with stamp motifs?
Tattoos on Easter eggs
You can also brighten up your Easter eggs with larger motifs with our Temporary Tattos. The application is identical to the application on the skin. You'll find step-by-step instructions on the back of the tattoo package.
Easter Egg Stamp & Chicken Stamp
The cutest duo
The stamps hen, chick and all kinds of Easter egg stamps are just perfect for the Easter season in combination with our flower & leaf stamps . Convince yourself of our Easter-spring stamp ideas.
Egg stamp in set
Invitation to the Easter brunch
We love making something special out of simple shapes and color combinations. Stamp on darker paper to create a grat contrast. The first stamp imprint in white and the second in yellow on top of it. The cute Easter egg is ready. The Stamp Set | Breakfast eggs and many other Easter sets can be found at:
How do I make and stamp beautiful Easter baskets?
DIY Easter basket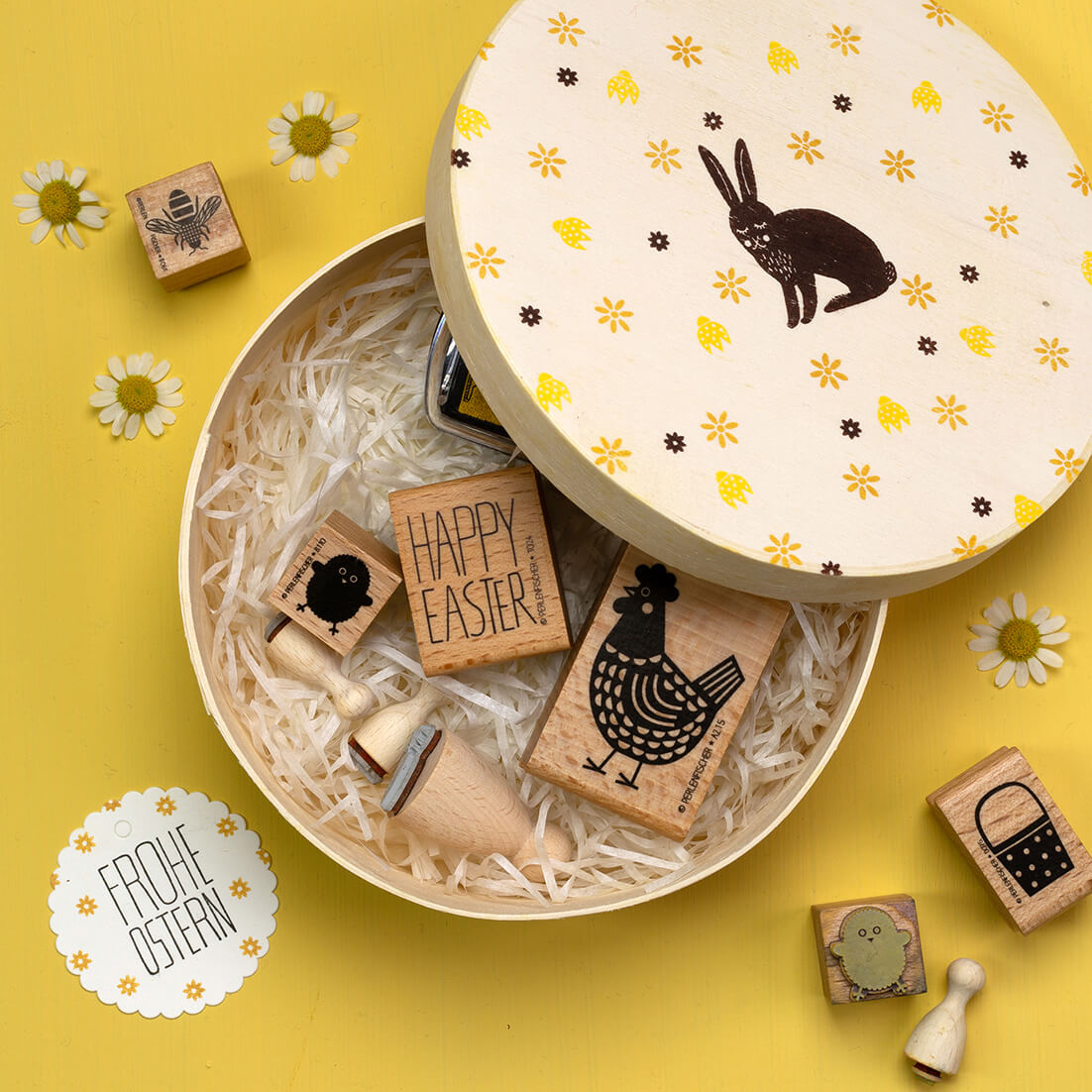 Get a wooden box of your choice, preferably with light-colored wood that is as smooth as possible. Stamp the box as you wish and fill it with nice little things.
Stamp a paper tag and simply stick it on an old egg carton. Your sustainable little Easter nest is ready.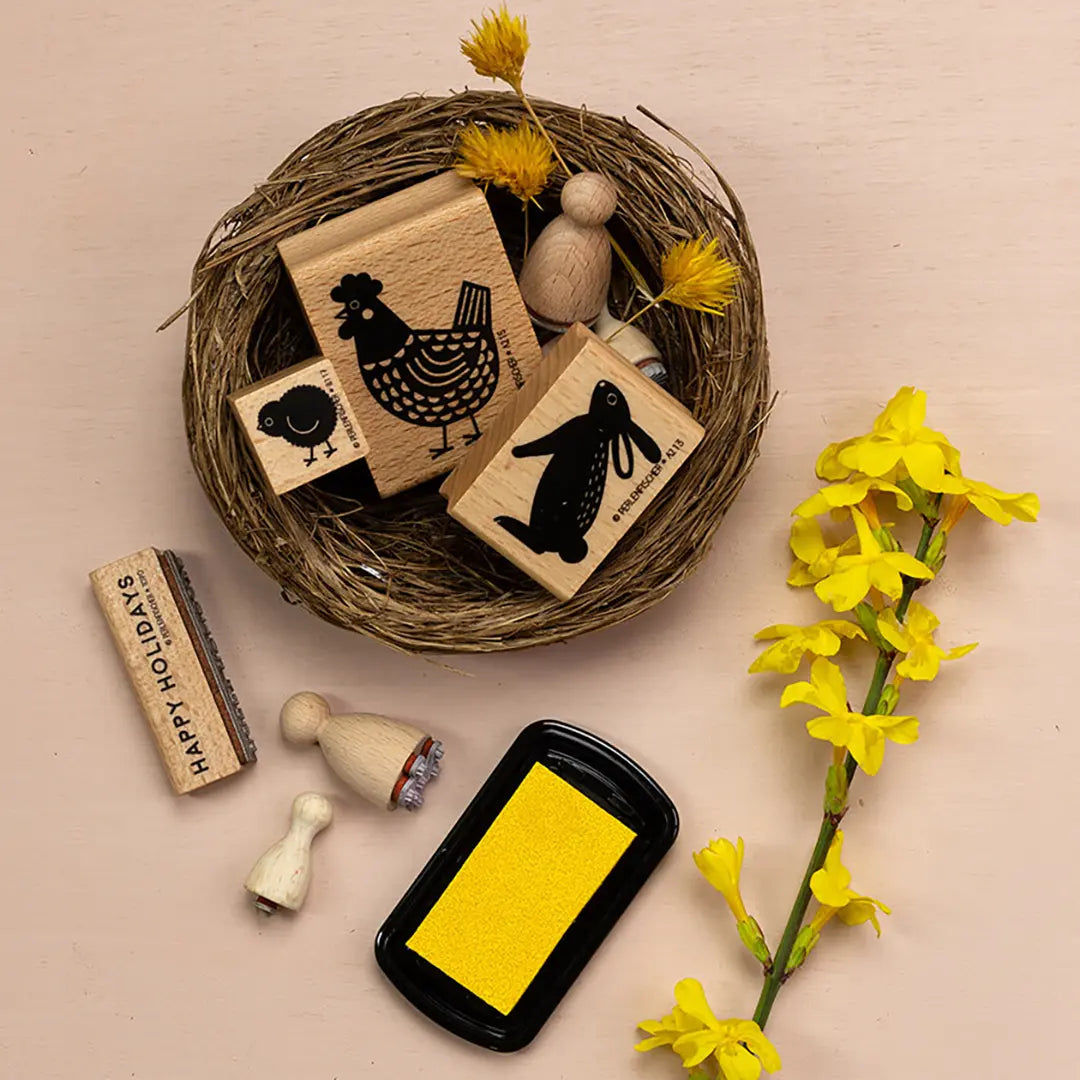 Here you can see a small nest made of branches, which is filled with different stamps. A great gift idea for stamp lovers for Easter.
How do I stamp my Easter gifts?
Wrap Easter gifts
Here you can find great inspiration for your Easter gifts. Stamp your choice of wrapping paper with Easter motifs. Stamp all over the paper as a pattern and tie a beautiful paper tag to the gift. Your individual present is ready!
High quality and sustainable
Wooden pendants for Easter
These wooden pendants can be stamped wonderfully and have a very elegant look thanks to their unique grain. Thanks to their pre-punched hole, they are perfect for hanging them on your Easter tree or as gift tags.
How do I stamp Easter tags?
DIY Easter pendant
Decorating the Easter bush and customizing your home is great fun. Stamp different paper tags according to your ideas. Tie them to your Easter bush or around small Easter baskets with twine.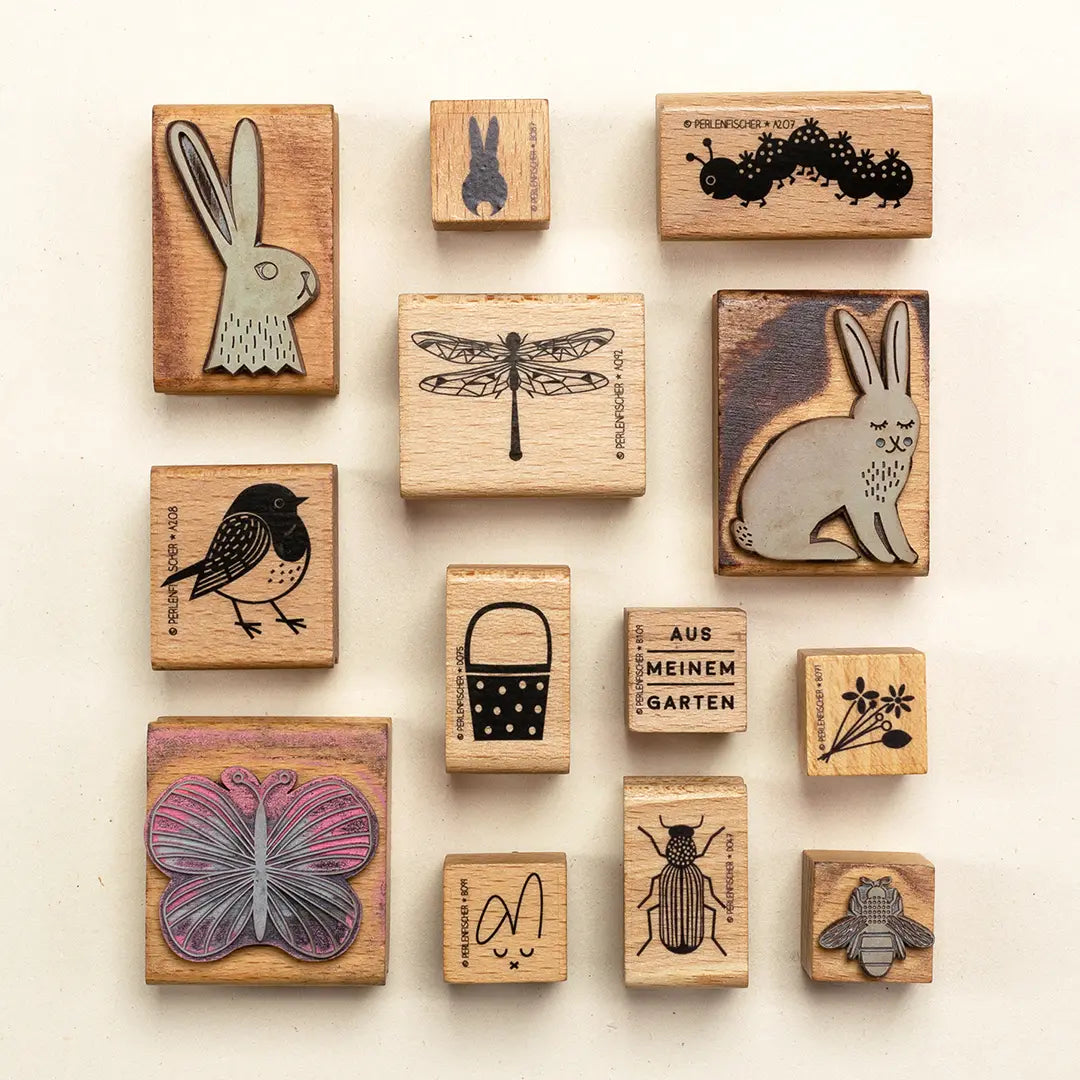 Does Perlenfischer produce sustainably and fairly?
Our values
We produce all of our stamps in German factories and source the wood exclusively from local forests. Our stamp wood and the high-quality end product are characterized by their longevity, fair production and craftsmanship.