Festive Stamps for New Year's Eve
Stamps for your Sylvester greetings: from the champagne glass stamp for toasting to the cloverleaf for congratulations for the New Year, our star stamps as fireworks to the Happy New Year text stamp for best wishes.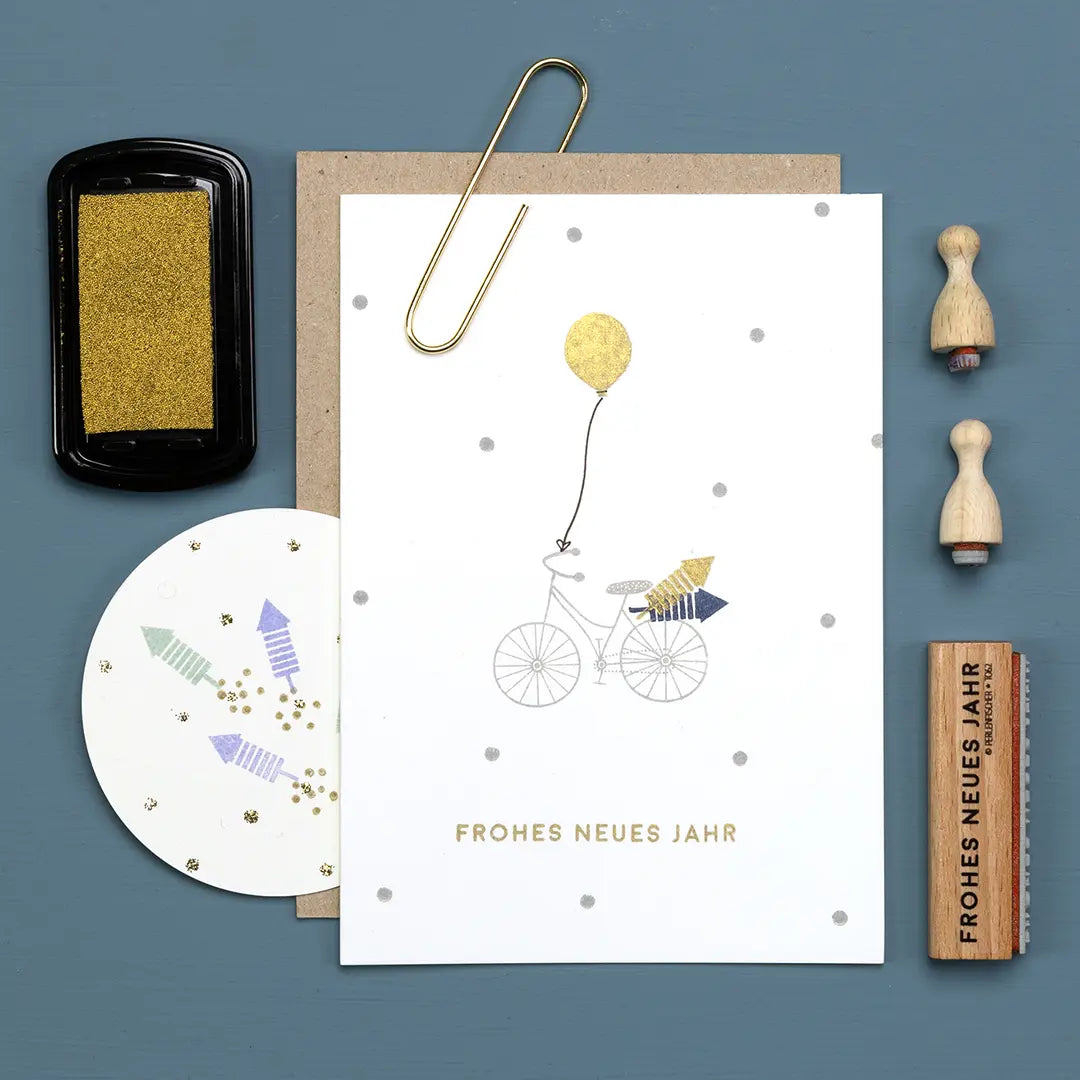 What do I need to stamp New Year's Eve cards?
material for your New Year's cards
You can get everything you need for stamping from us: Unique design stamps, pigmented stamping ink and high-quality stationery.
Wish your loved ones all the best for the new year!
How do I stamp New Year's Eve invitations?
Stamping New Year's Invitations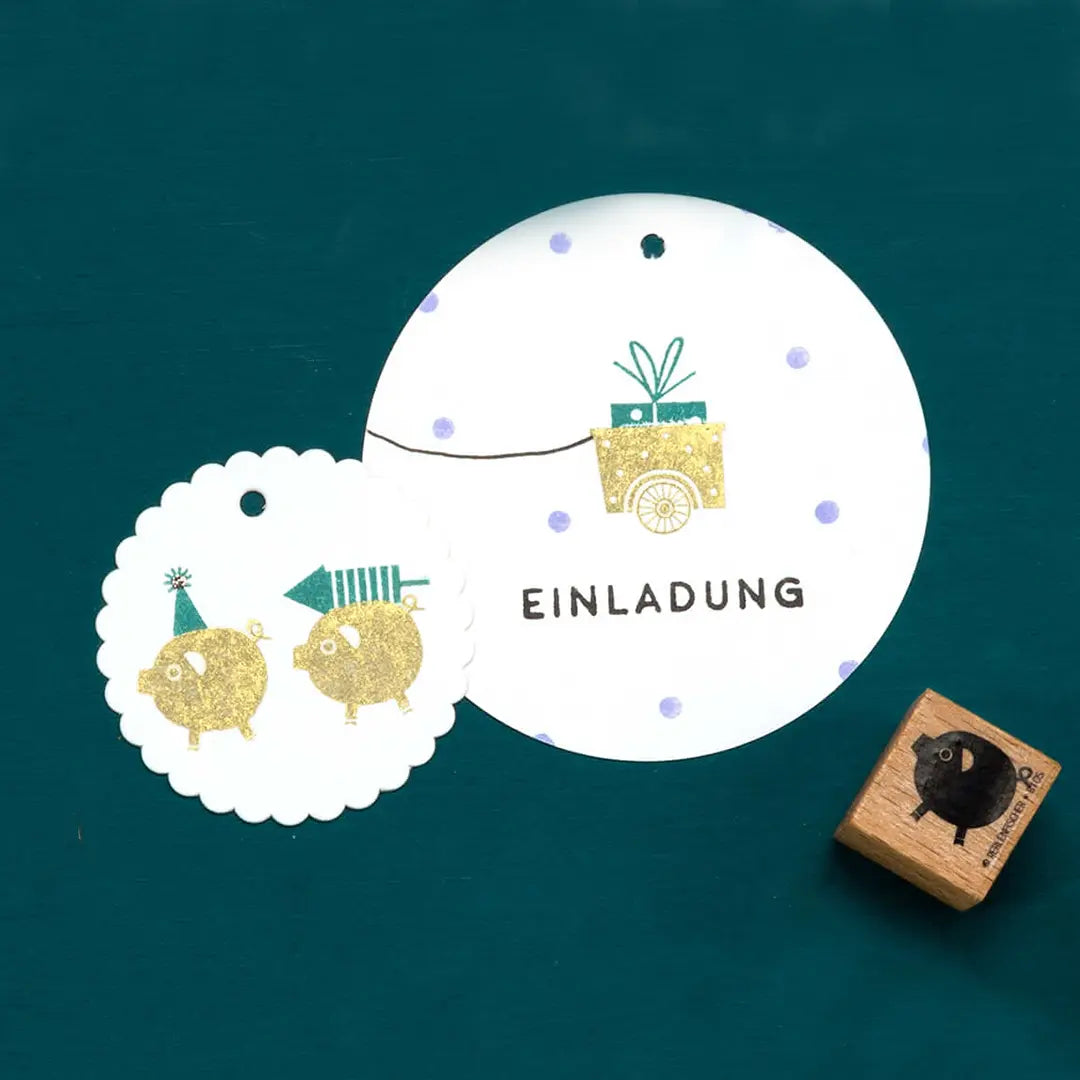 Stamp beautiful paper tags, tie them to a champagne bottle and surprise your guests.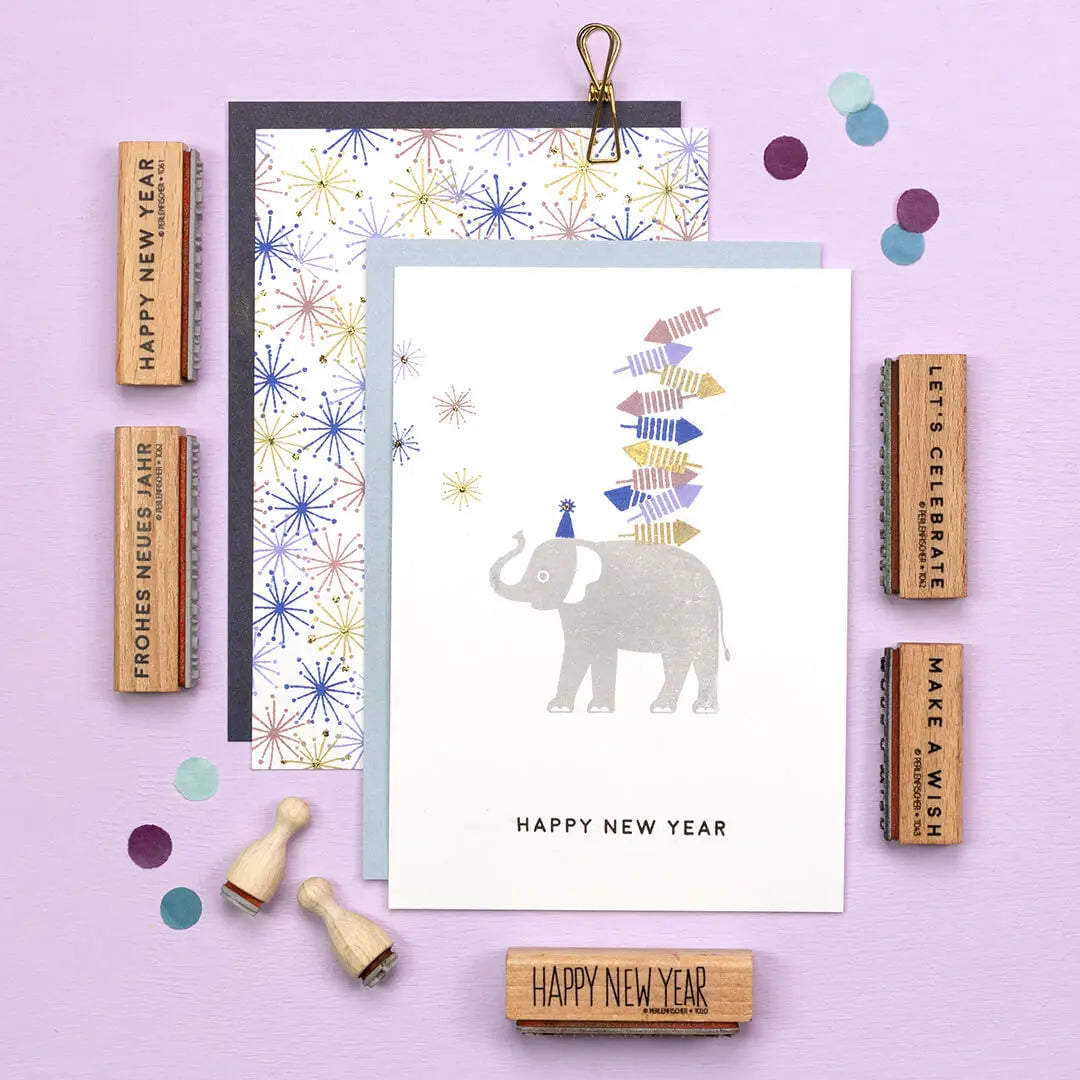 Stamp Happy New Year and Stamp Frohes Neues Jahr
New Year's Eve text stamp
We have beautiful lettering stamps that you can use ideally for your New Year's Eve greetings. Take a look at our Text Stamps category to see the full range of typos: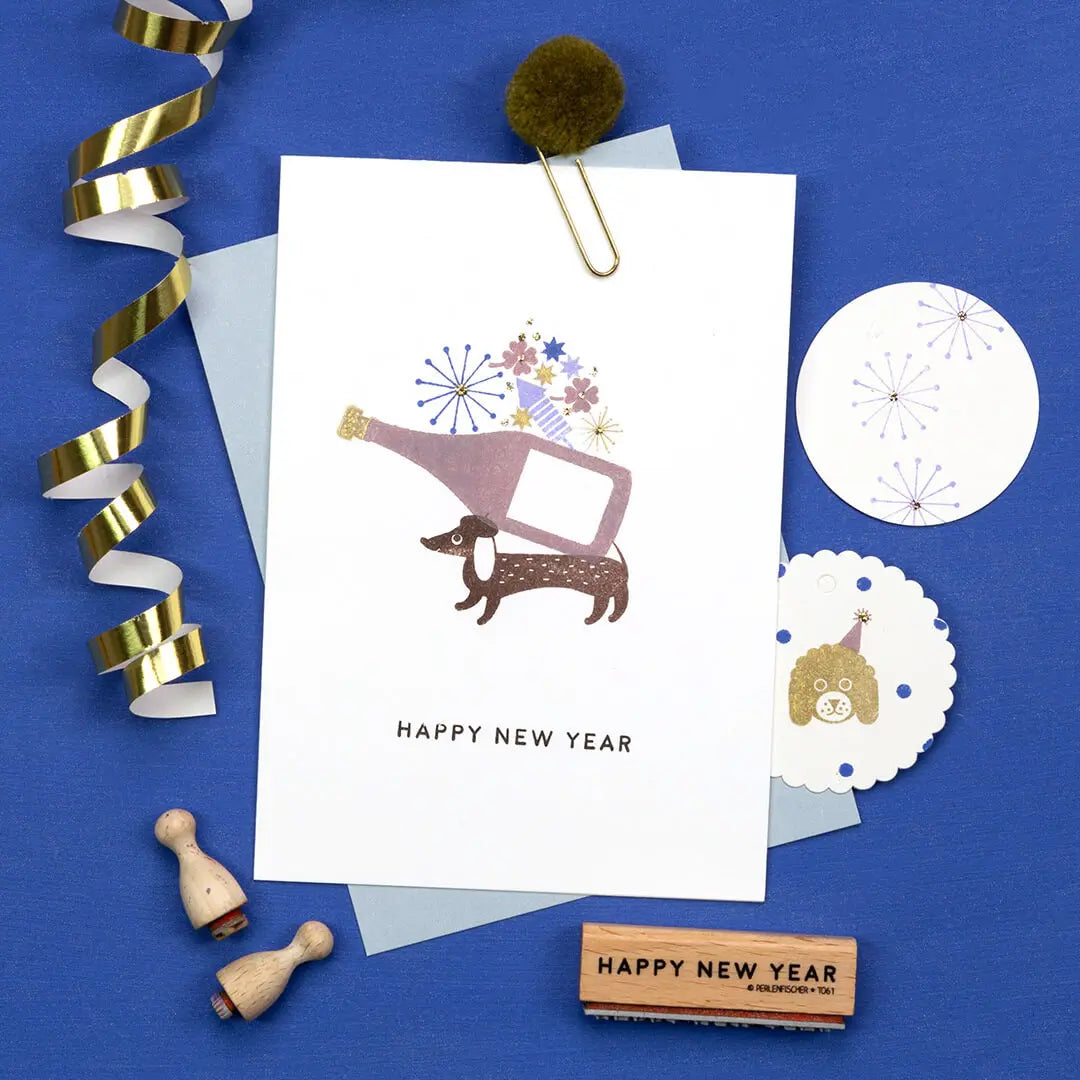 Party bangers and fireworks
Greeting Cards
We have the perfect stamps for your party! For even more festive party stamps, take a look at our category:
How can I stamp the numbers for the new year on New Year's Eve?
Stamp numbers
Our Stamp set | Numbers can be used wonderfully for New Year's Eve to celebrate the new year properly. Stamp cards, decorations for your party or New Year gifts! But also for other occasions, such as Christmas or birthdays, this set is just perfect.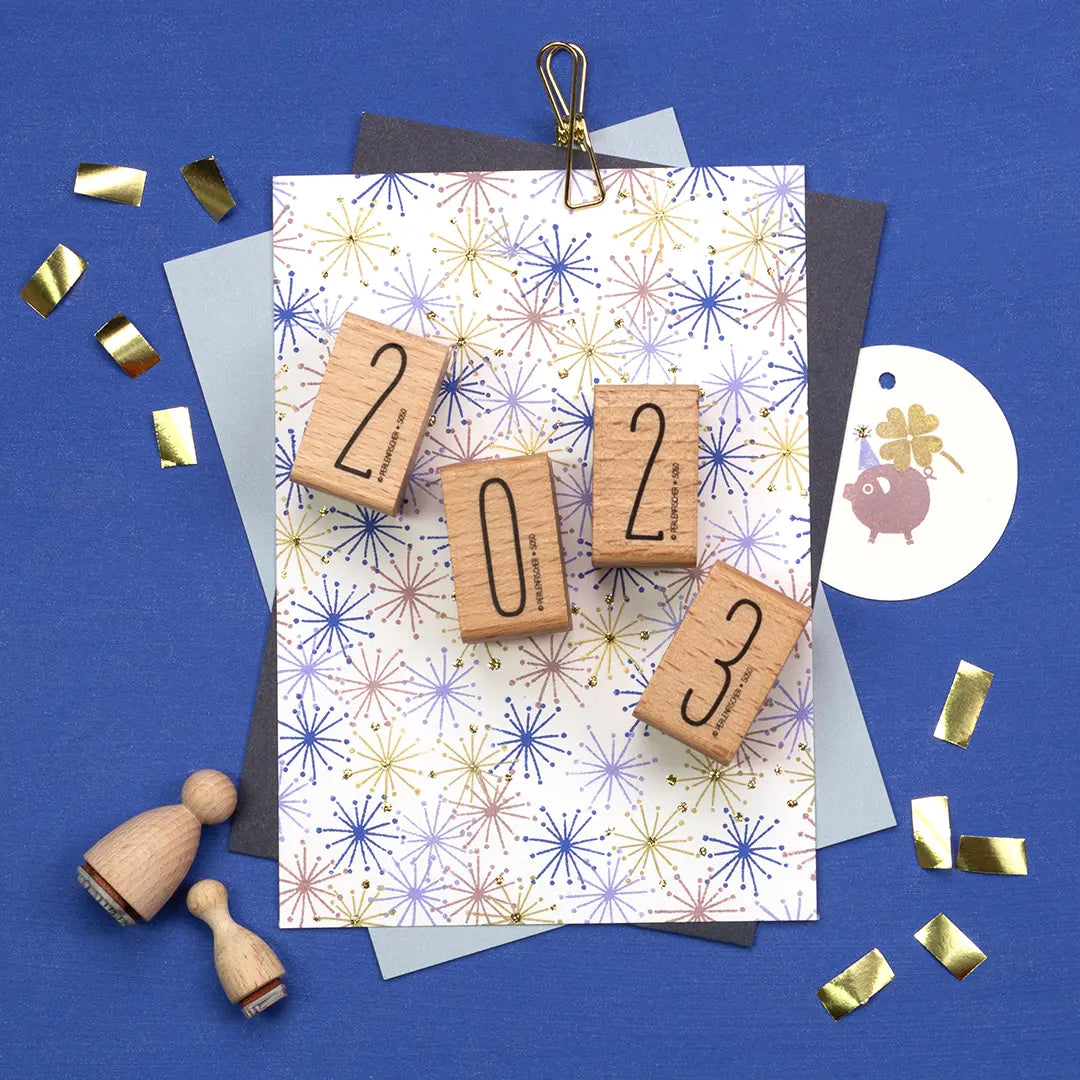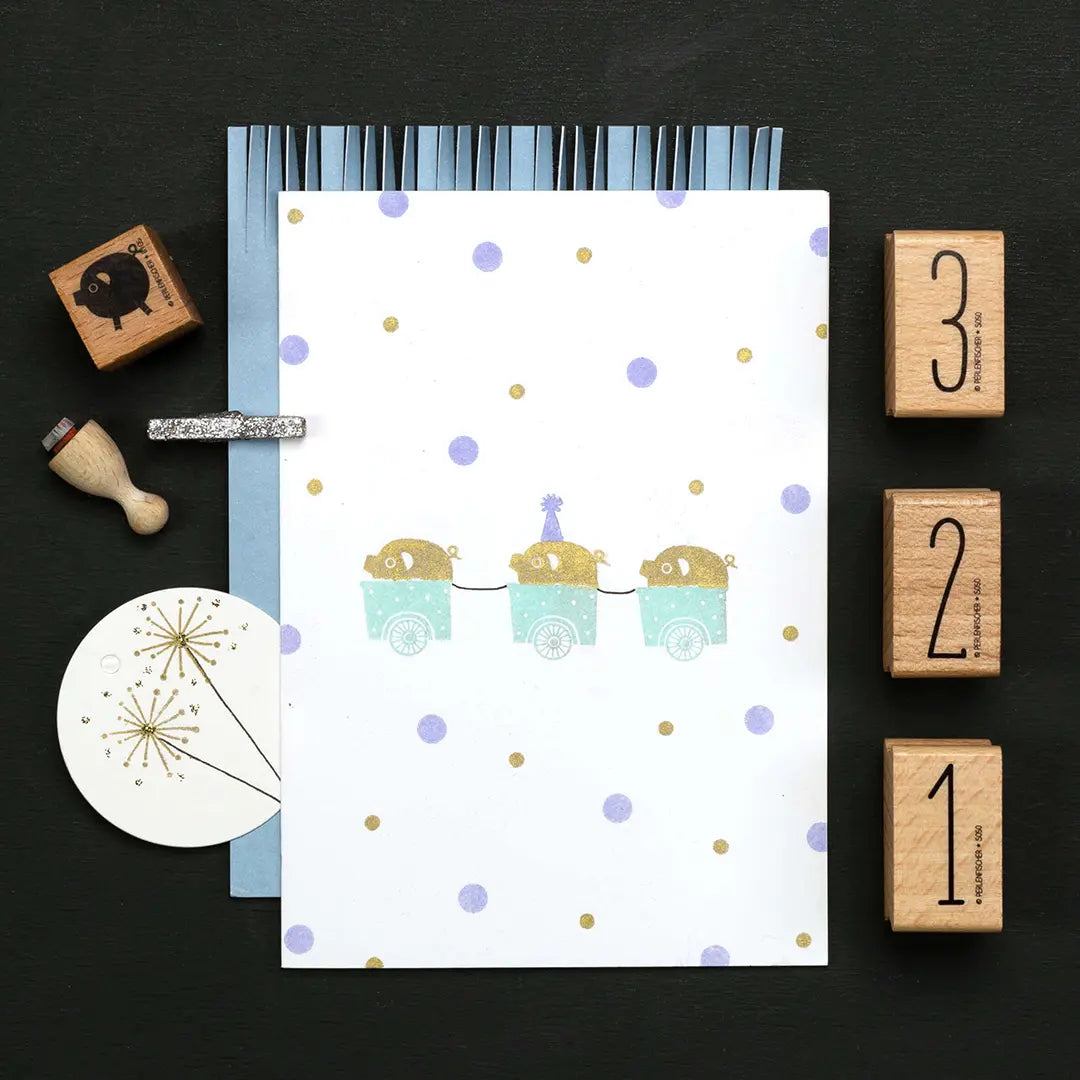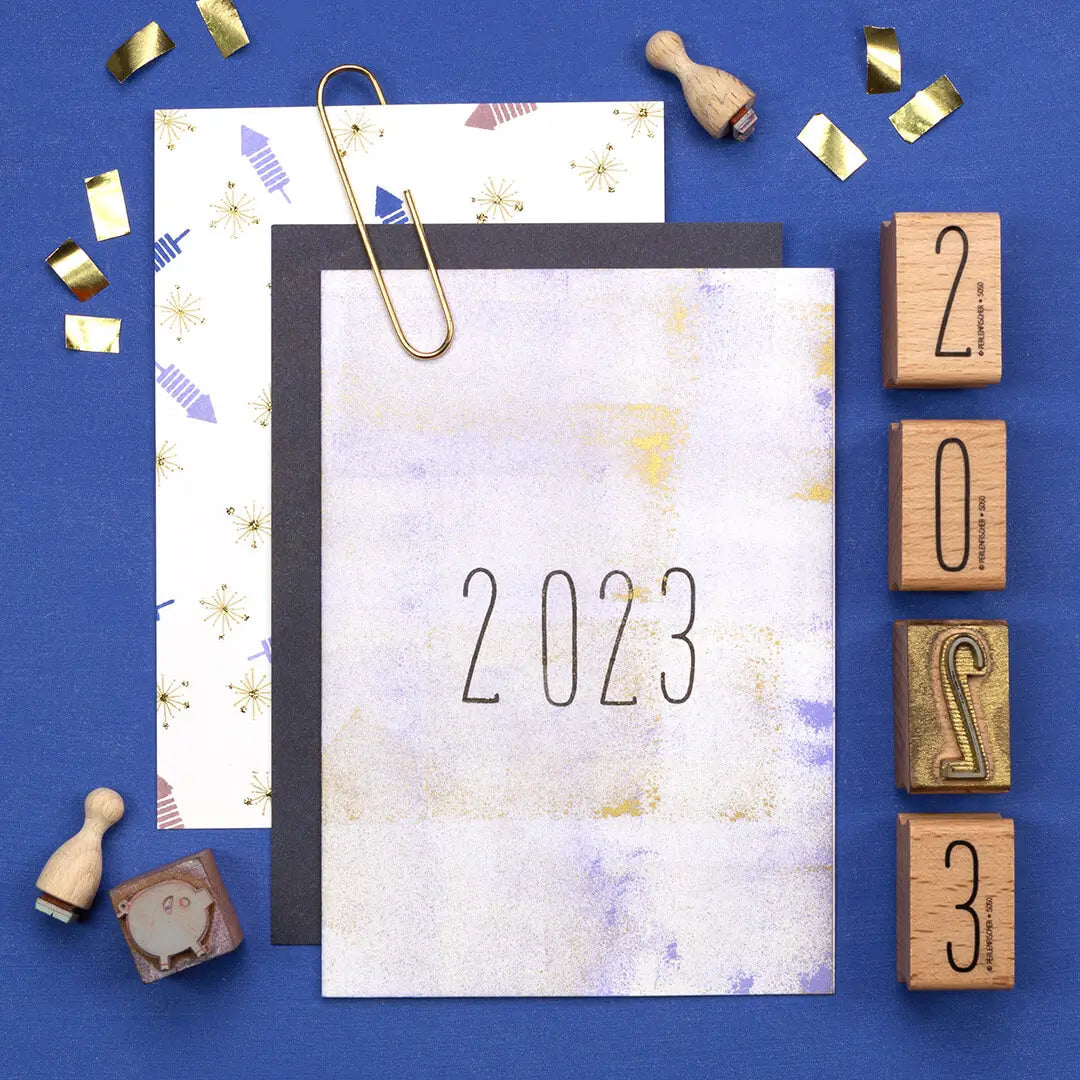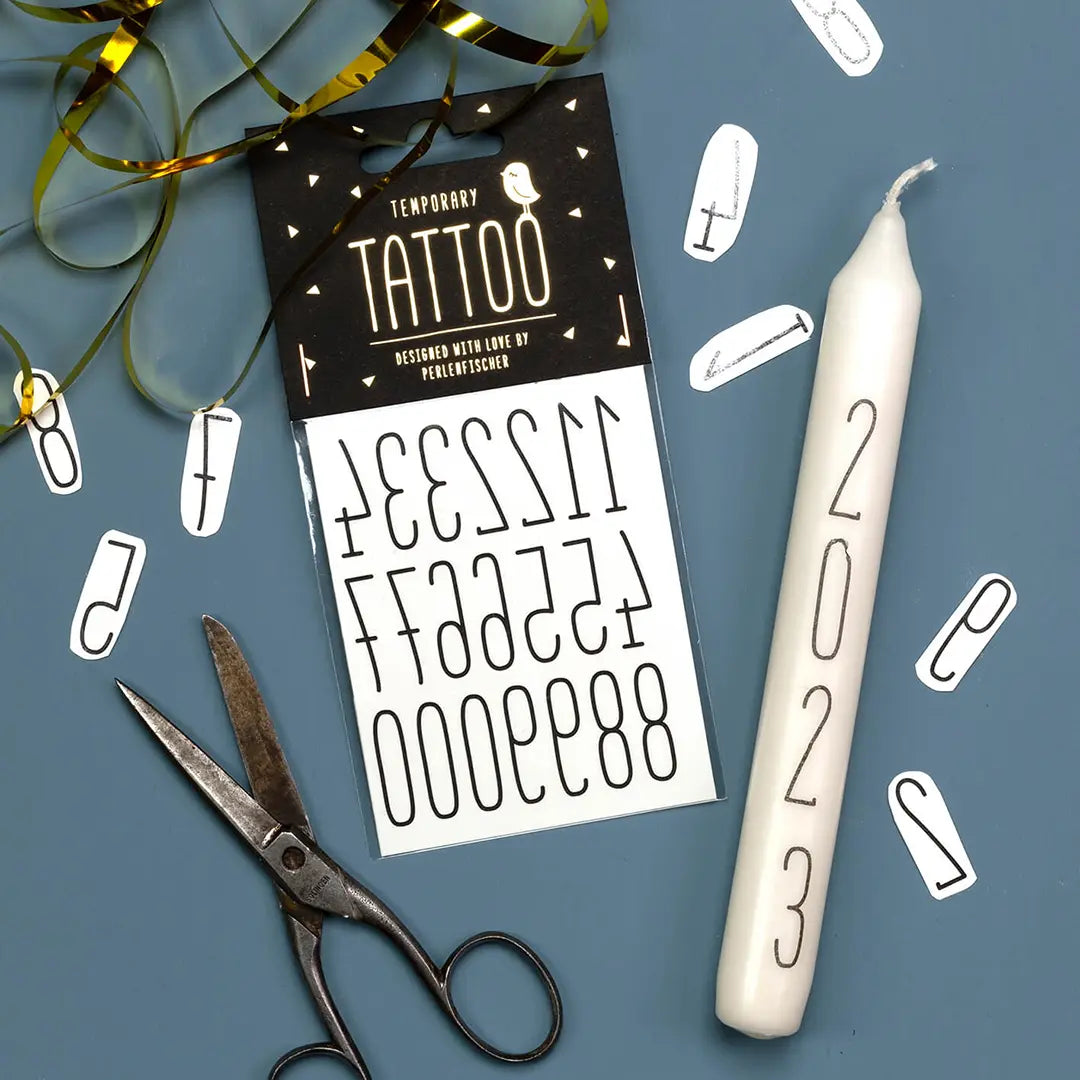 Number tattoos for New Year's Eve
DIY candles
Make your own New Year's Eve candles for New Year's Eve. Our Tattoo sheet | Numbers is perfect for this. You can easily apply the temporary tattoos to the candles the same way as to your skin.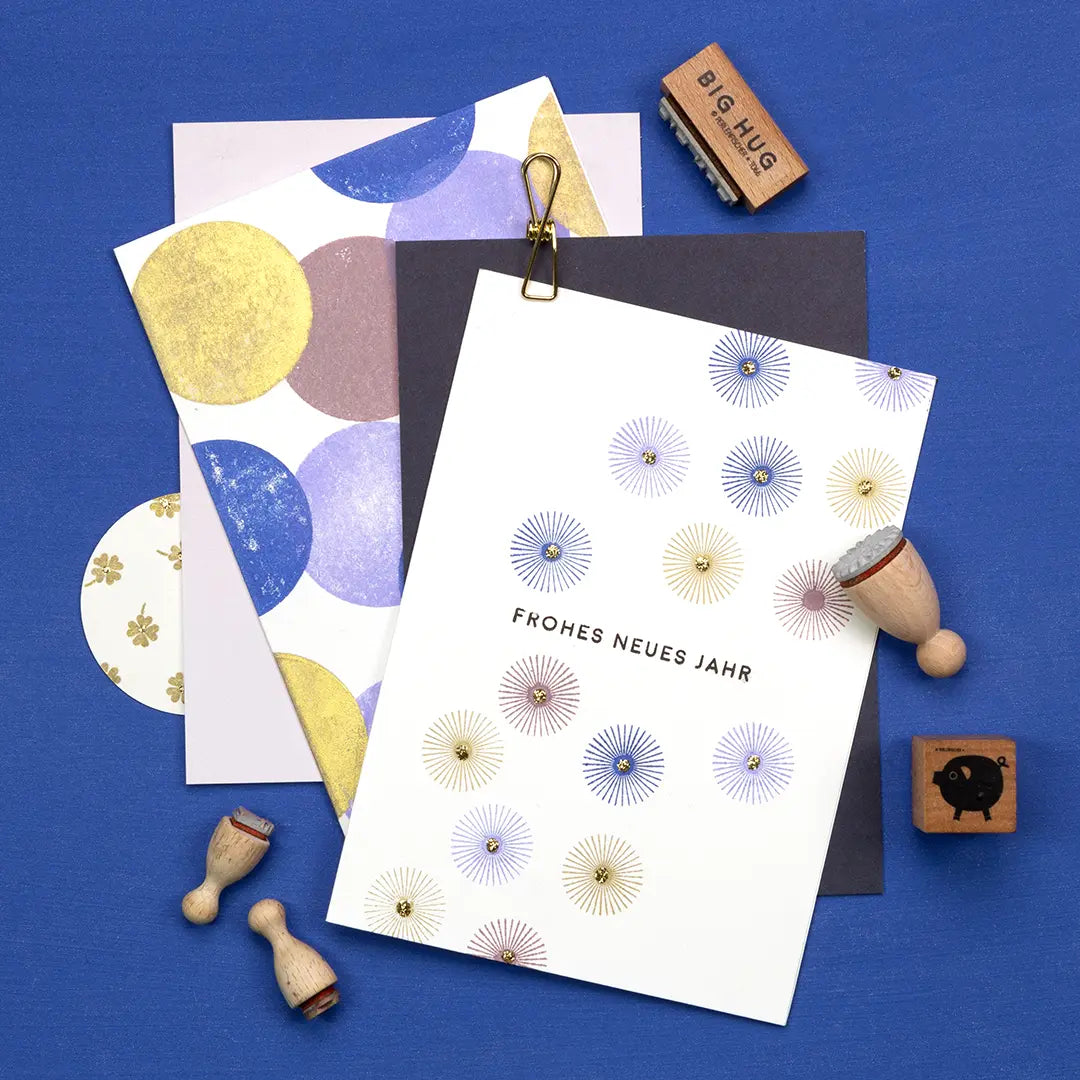 How do I design sparkling and shiny New Year's Eve cards?
Glitter & Glamor for the New Year
With the Stickles glitter glue you can give your own stamp works a sparkling touch. So every card is guaranteed to be an eye-catcher to match the New Year's motto "Glam & Glitter".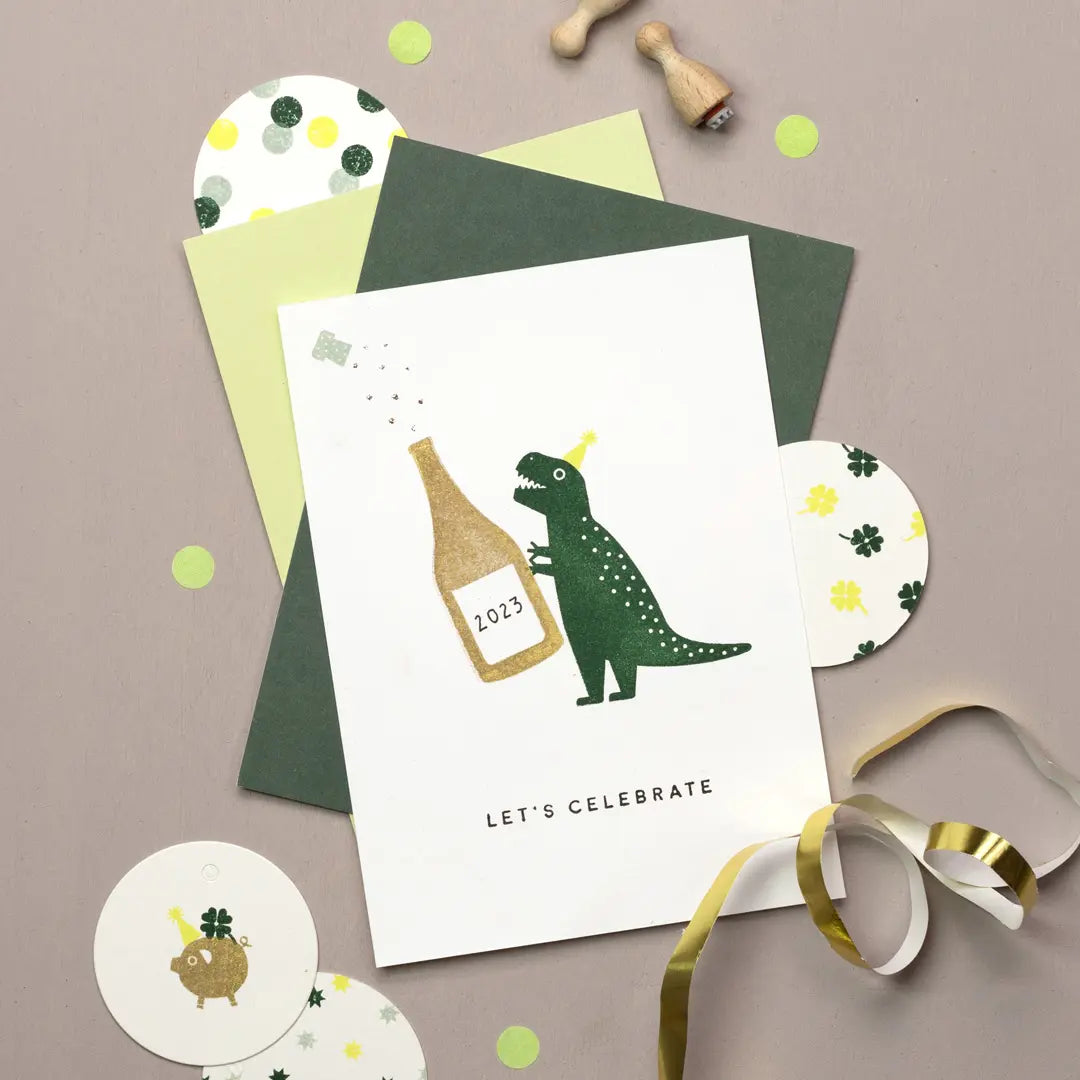 New Year party stamp
Start the new year with the little ones
Our T-Rex stamp is perfect for holding all sorts of funny motifs in your hand. For even more fun and cute ideas for your children, take a look at our matching category and get inspired: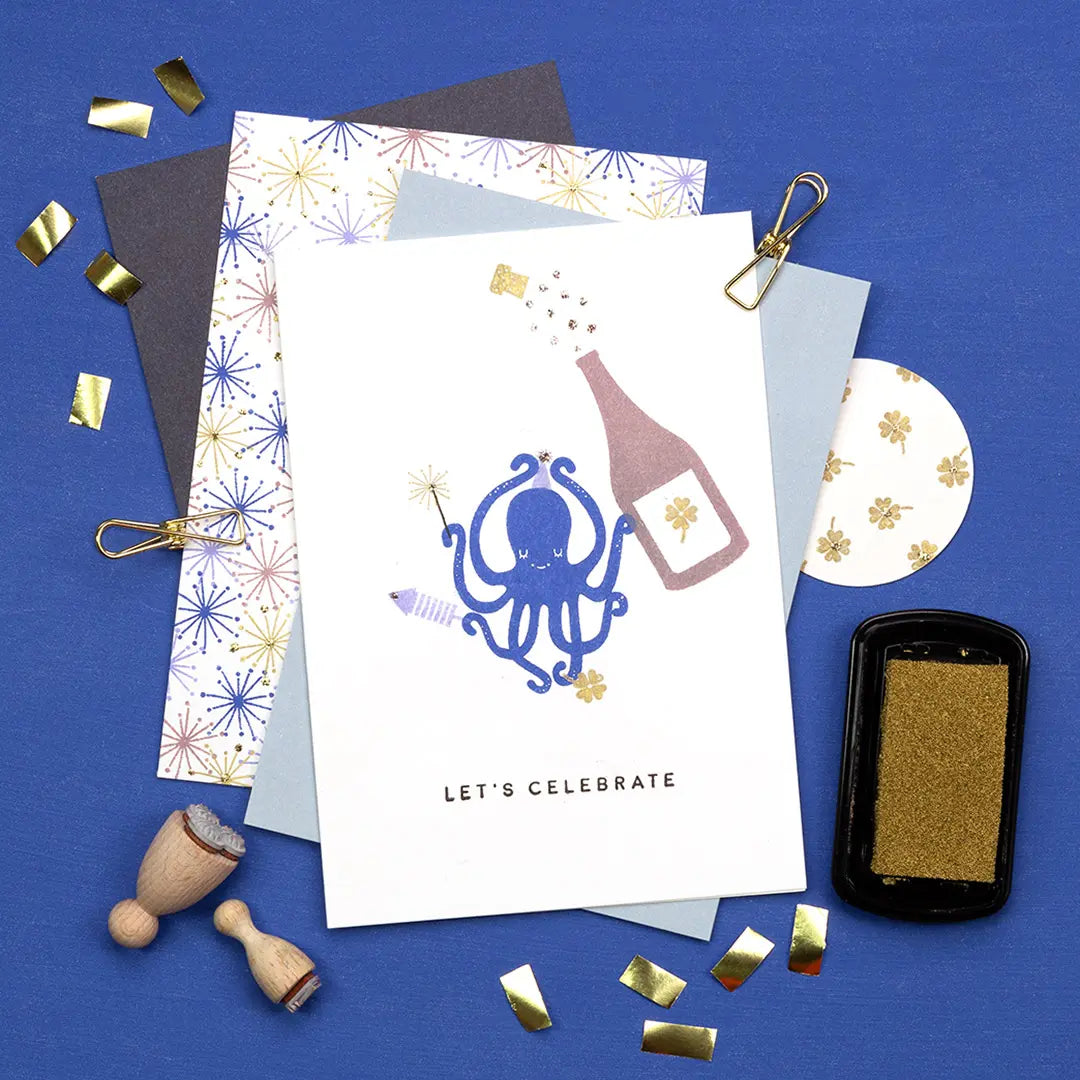 Which stamp colors are suitable for New Year's Eve?
Gold, silver and co.
Our highly pigmented metallic stamp colors are perfect for New Year's Eve! They add a great shimmer to any card. Whether gold, silver or rose gold.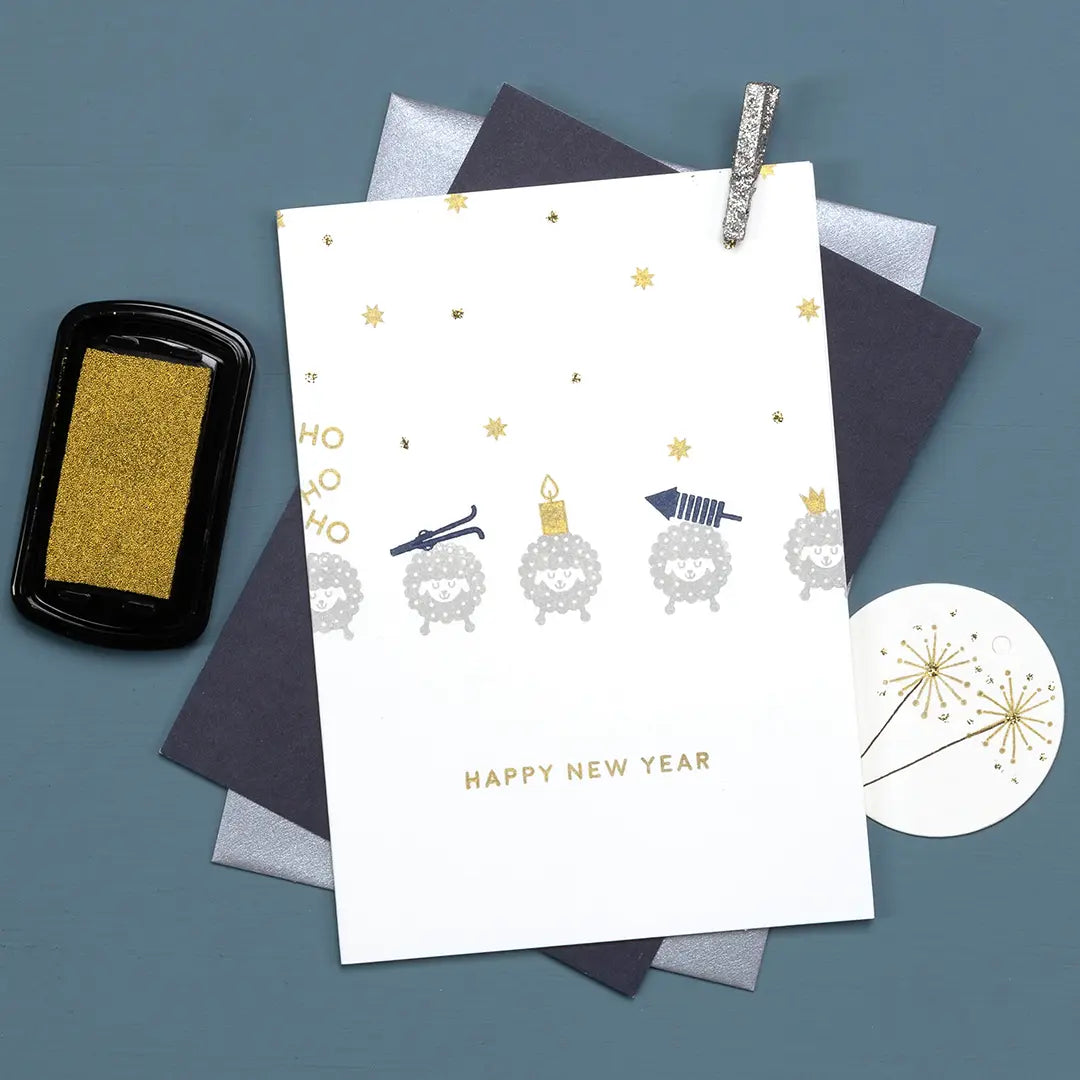 Which wintry stamps are suitable for New Year's Eve?
Festive Christmas and New Year stamps
Sometimes you just wish a Merry Christmas and a Happy New Year together. Combine celebratory stamps, such as Star Stamps or Snowflake Stamps. Check out our stamp category:
Sustainable stamps for New Year's Eve
Simple & beautiful to stamp on New Year's Eve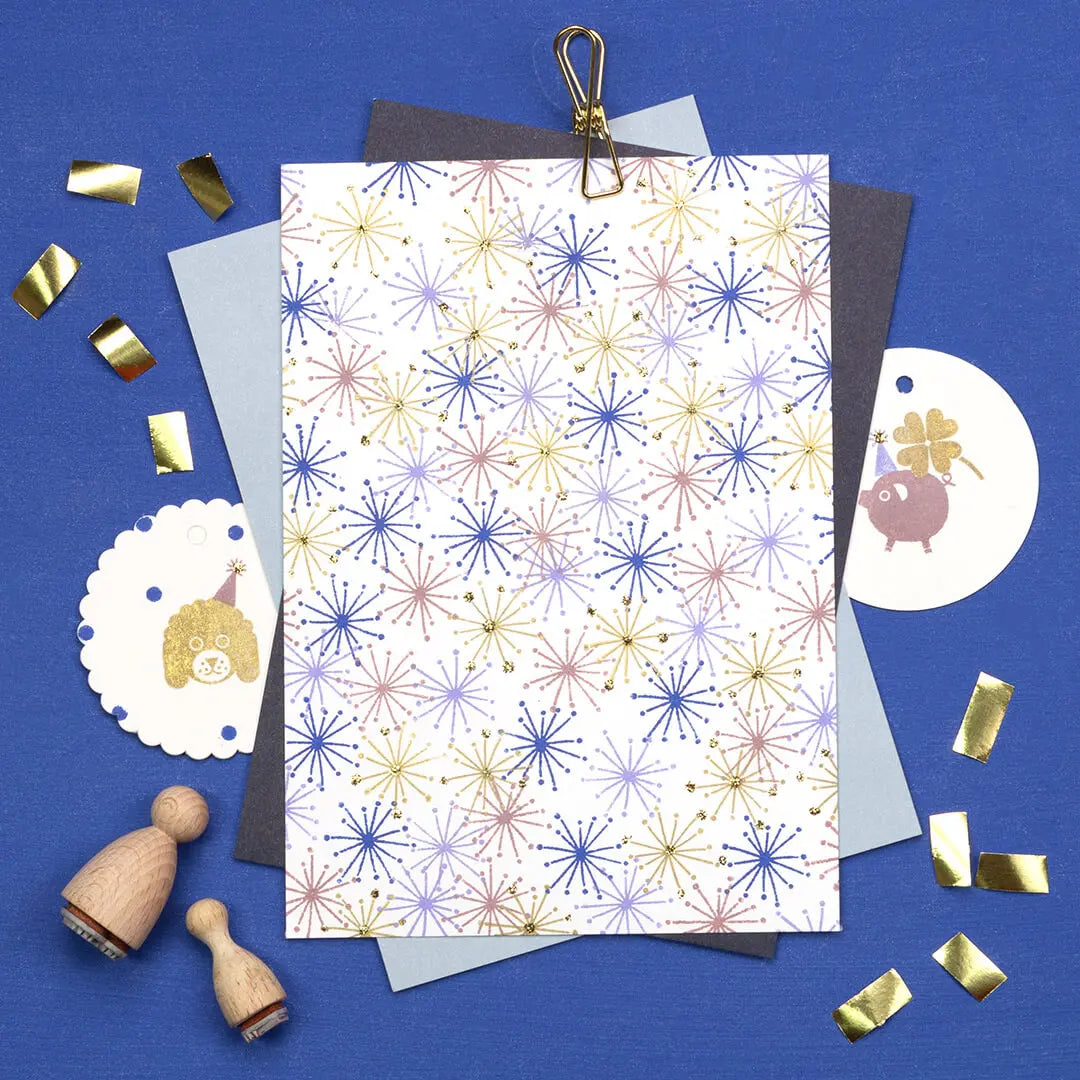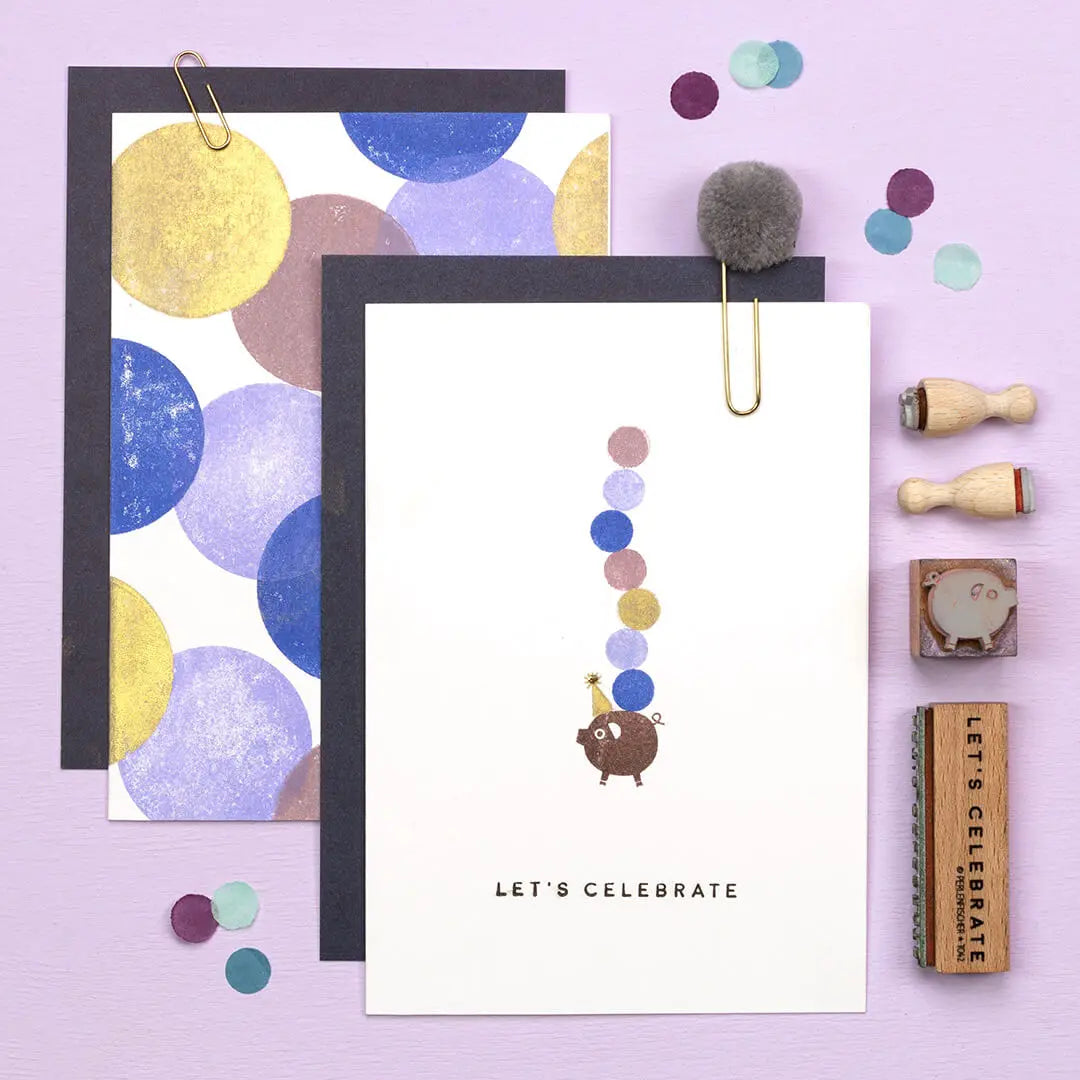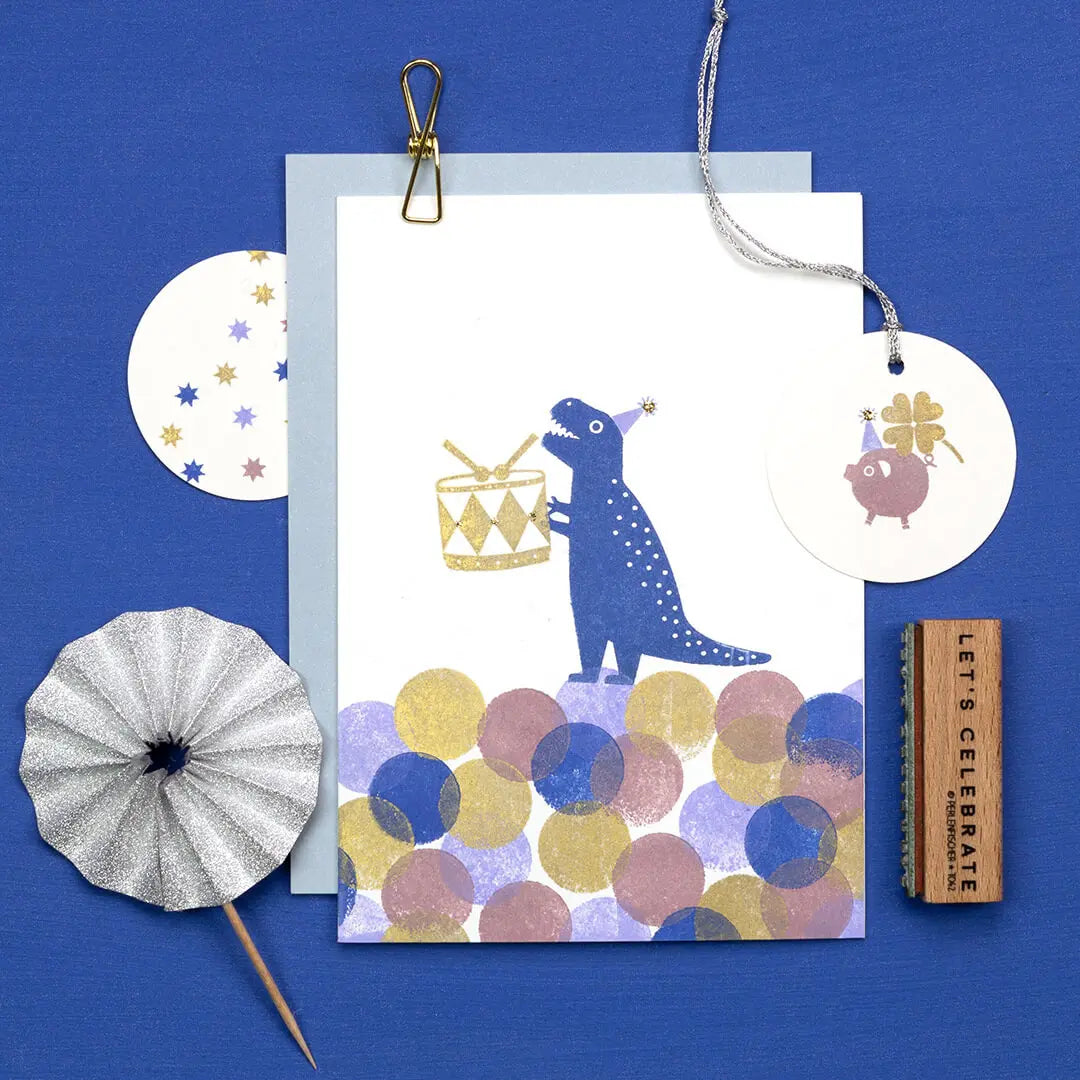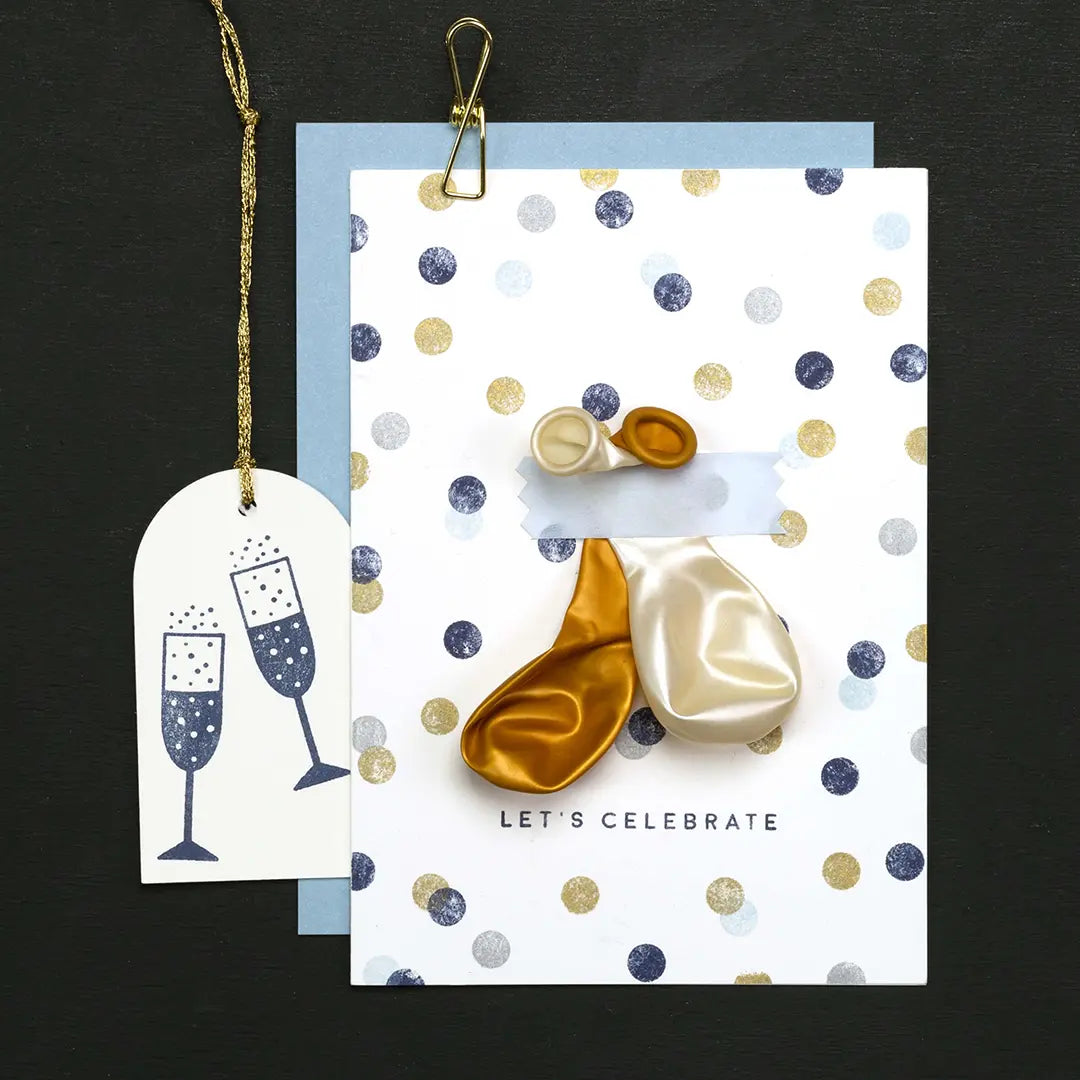 Creative New Year wishes
Colorful masking tapes
With these beautifully colored sticky strips you can create unique cards. Your self-stamped congratulations are guaranteed to stay in the memory of your loved ones!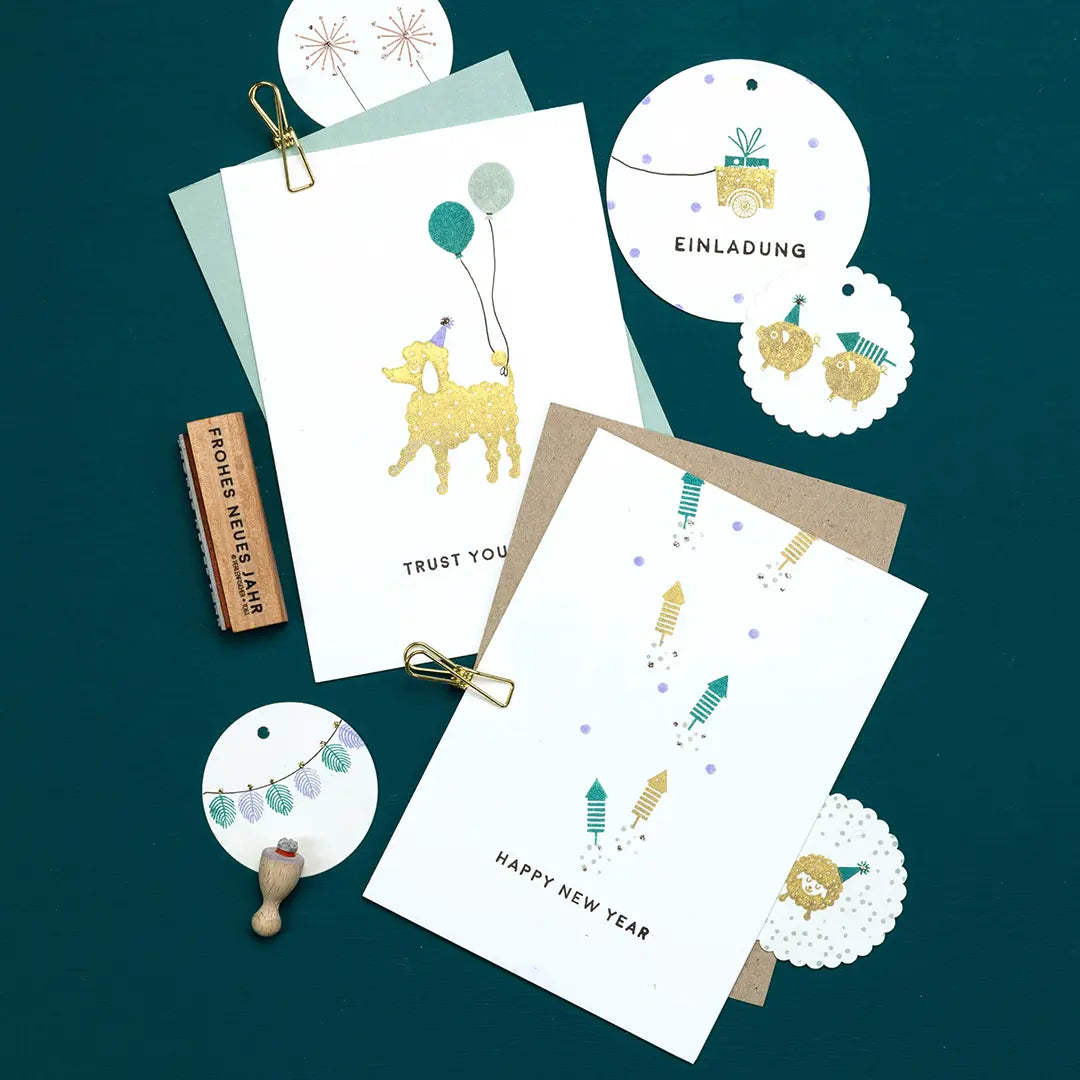 How do I stamp animals for New Year's Eve?
New Years animal stamp
We love stamping our cute animal stamps for all sorts of mottos and occasions. For example, you can put cute motifs in the hands of animals or put small things on their backs. And also for the love of the animals and the environment: Just stamp your own fireworks this year!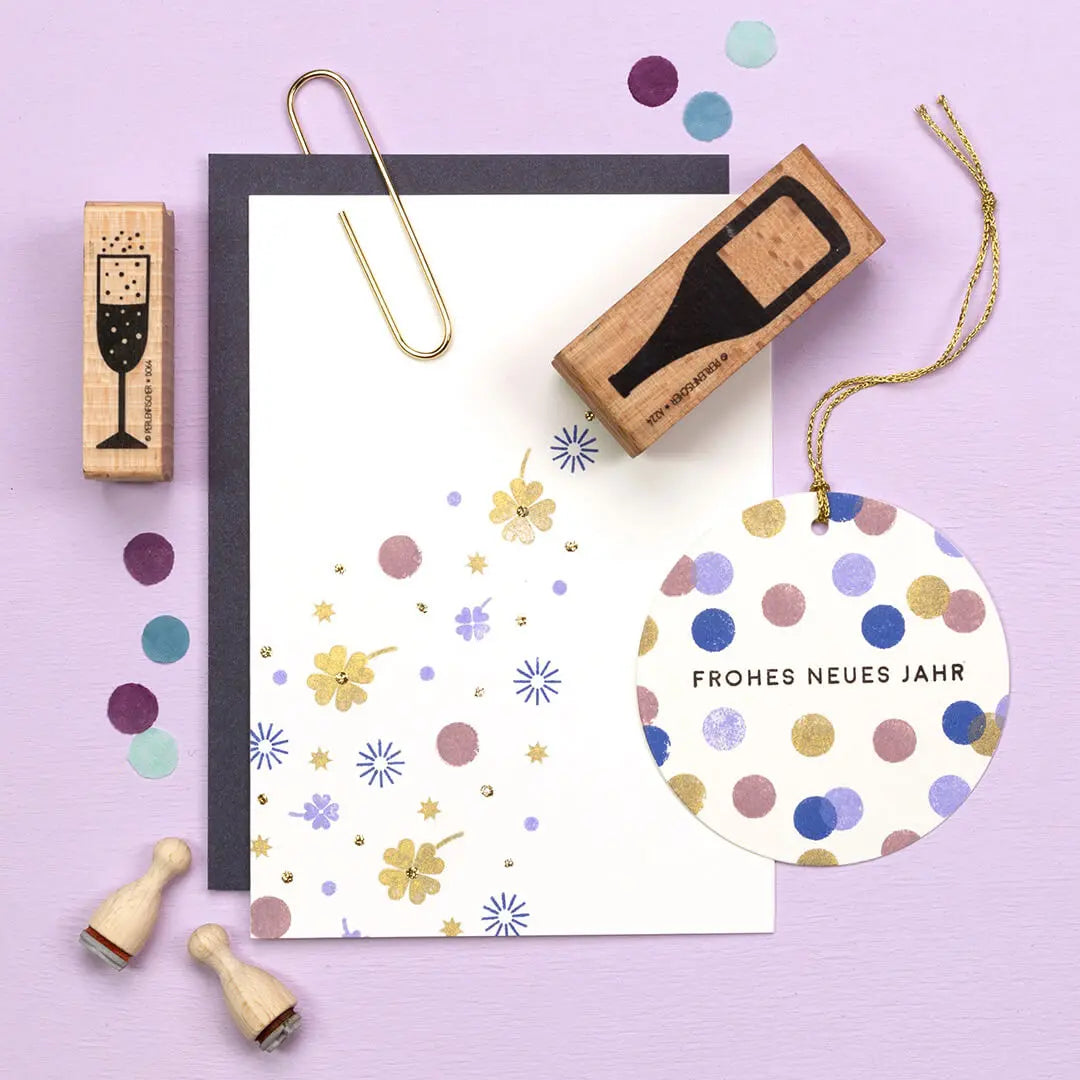 Stamp Cloverleaf, champagne glass & champagne bottle
Cloverleaf & Co.
Let the corks pop, now it's time to celebrate!
Wishing you a happy new year with a champagne bottle, champagne glass and our clover leaves.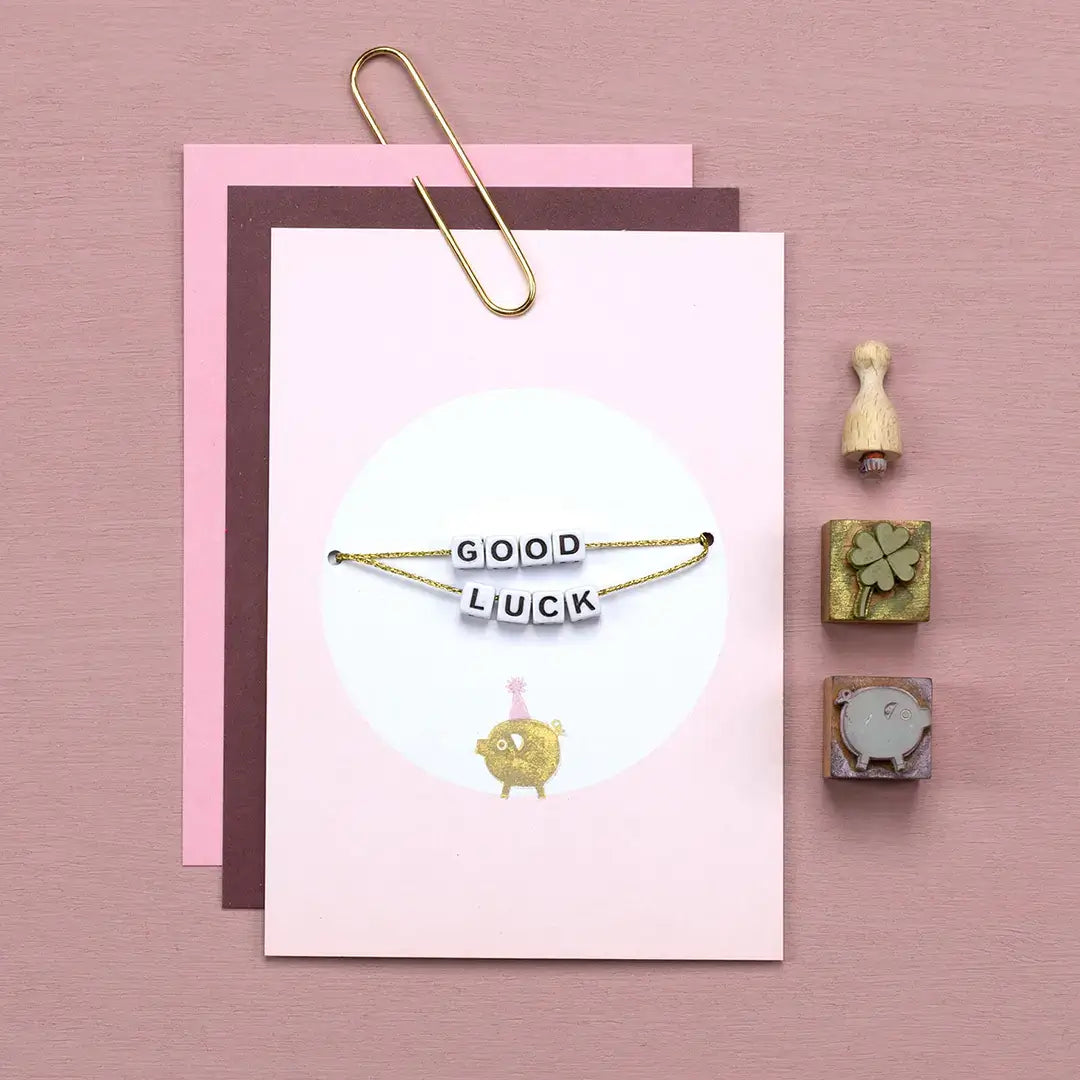 Are there stamp sets for New Year's Eve?
lucky pig
Our Stamp set | Lucky Pig is perfect for New Year's Eve and all other occasions to wish your friends or family luck. The sets are also perfect as gifts, so have a look at the category: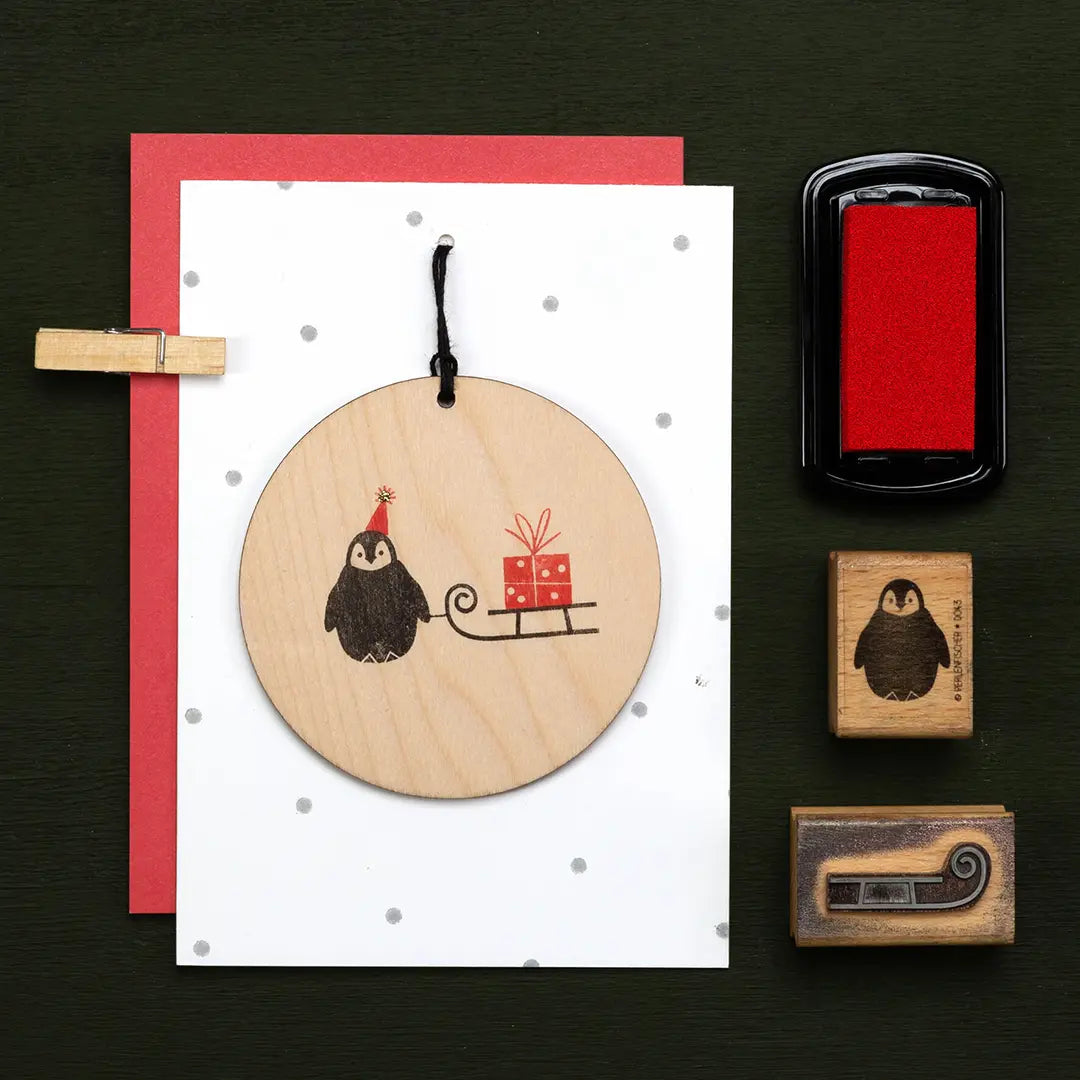 High quality wooden pendants
Special New Year's Cards
Our wooden pendants can be stamped perfectly. This is a great way to create cards and gift tags between the years!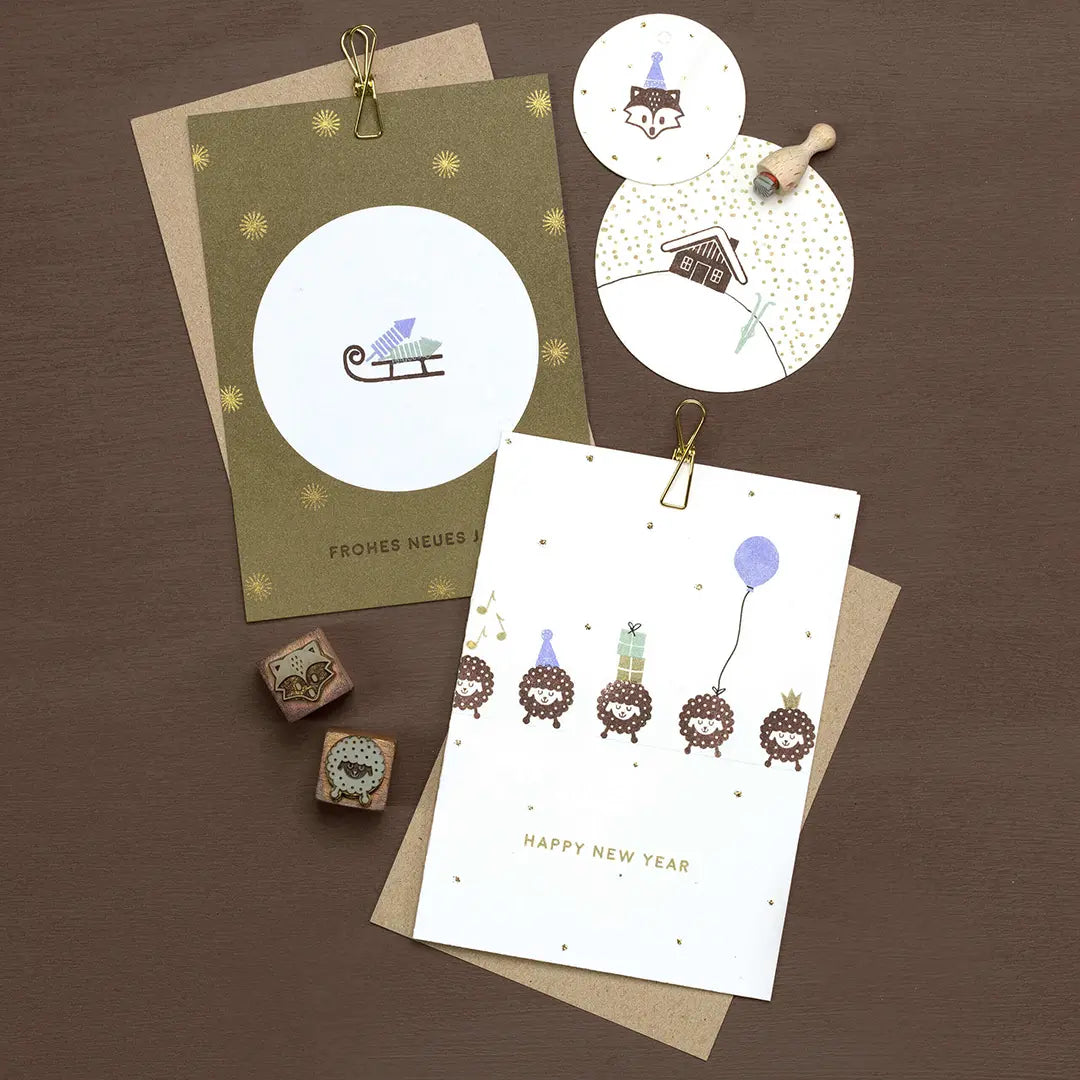 Cozy mood
Cozy New Year's Eve in the forest hut
Although autumn is just over, we still love the cozy atmosphere that is spread in the autumn and winter months. You like it too? Have a look at our category: