creative stamp workshops
3 hours of stamping to your heart's content: In our stamping workshops we will show you the basics, various techniques and will be happy to answer any questions you may have.

You will receive a goodie bag from us with various materials worth €15, drinks, small snacks and an exclusive 20% discount on all Perlenfischer products!

From stamping basics to our insider tips: We'll show you what's important when it comes to stamping.
Our workshops take place with a maximum of 8 people. This way we can answer all questions and respond to all of them individually.

What you can bring with you
You are welcome to bring your own paper, gift tags, fabrics or similar to stamp them.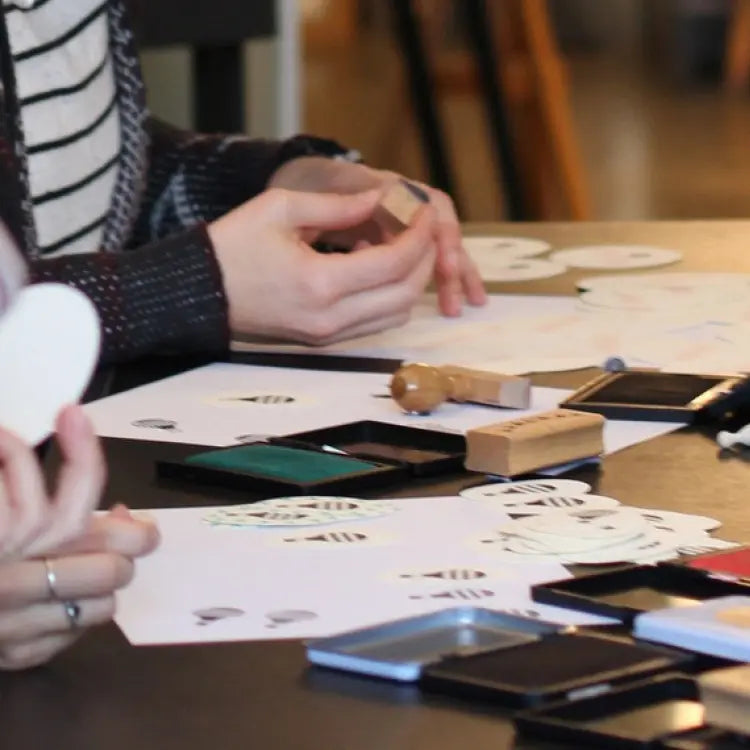 what happens
Tips & tricks in the stamp paradise
Have you always wanted to stamp on fabric or try embossing without buying all the equipment right away? In our stamp workshops you can use our complete range of stamps for 3 hours, try out different techniques and get creative. We are always available to answer your questions and help you to put your ideas into practice.
creative flow
"During the workshops, I always notice how after a while the stamping releases the pressure and tension of the participants. You get into a creative flow, create something with your hands and after 3 hours everyone goes home with a smile. That's something very special for us."
Katja Kücherer, founder
The payment target after booking a workshop is 3 days. If no payment has been received within these 3 days, we will release the space again.
If you are giving the workshop as a gift, please state the name of this person when booking!
Discount Coupons & Vouchers
Perlenfischer vouchers can be redeemed for booking a workshop. However, other discount coupons are excluded from this and cannot be used to book a workshop.
resignation from the workshop
Please cancel in writing if you cannot take part in the booked workshop. If we receive the cancellation up to 14 days before the start of the workshop, we will refund the entire amount. After that, we can only refund it if we can find a replacement to take your place in the workshop. In case of no-show, the entire course fee is due.
info@ Perlenfischerdesign.de
Cancellation of workshops
We reserve the right to cancel the workshop in the event of illness or too few participants. In this case, the participation fee will be refunded. We hope for your understanding here.
The workshop of your choice is fully booked? Click on the workshop you want and let us remind you as soon as places are available again. You will automatically end up on the waiting list. Please note that we operate here on a first come, first served basis.