Stamps for children - being creative and bringing joy
With our children's stamps you can stamp beautiful cards and make DIYs for children's birthdays, baptisms, births or when your child starts school. The little ones can also create their own imaginative works of art. To many creative stamp afternoons!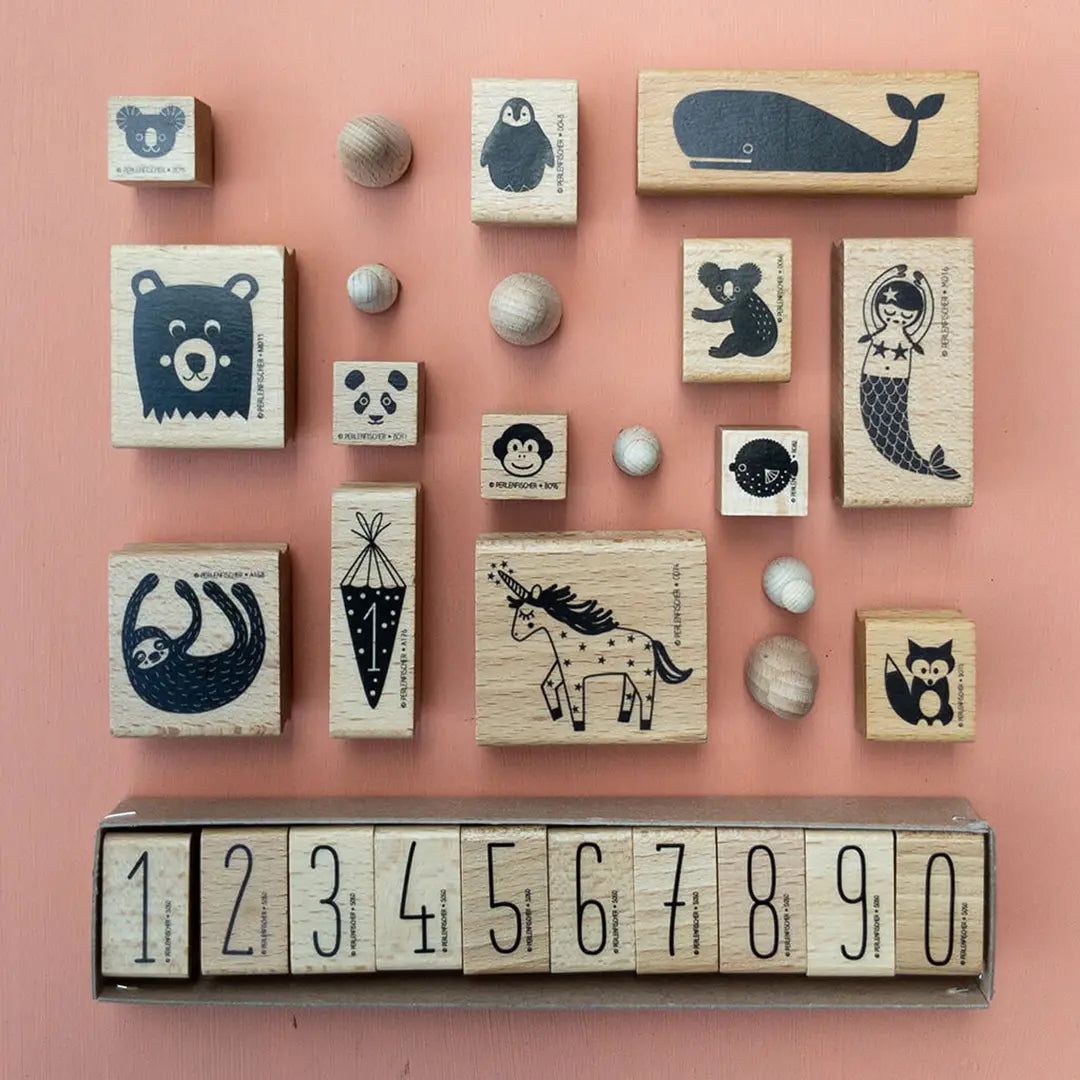 What should you keep in mind when stamping with children?
Perlenfischer Children's Stamp
With our special children's stamp motifs made of wood you can give your little ones great joy. Stamp unique gift packaging for them, pictures for their children's room or individual invitations for children's birthday parties. There are really countless creative ways you can enjoy great stamping experiences with your children. Games, fun and creative learning are guaranteed here!

Nevertheless, please note that our stamps are not toys, but creative supplies. Since some of our stamps are very small and could therefore be swallowed, we only recommend using them for children over the age of 5. It is best to always stamp together with your children, so you can keep an eye on them and enjoy your creative time together.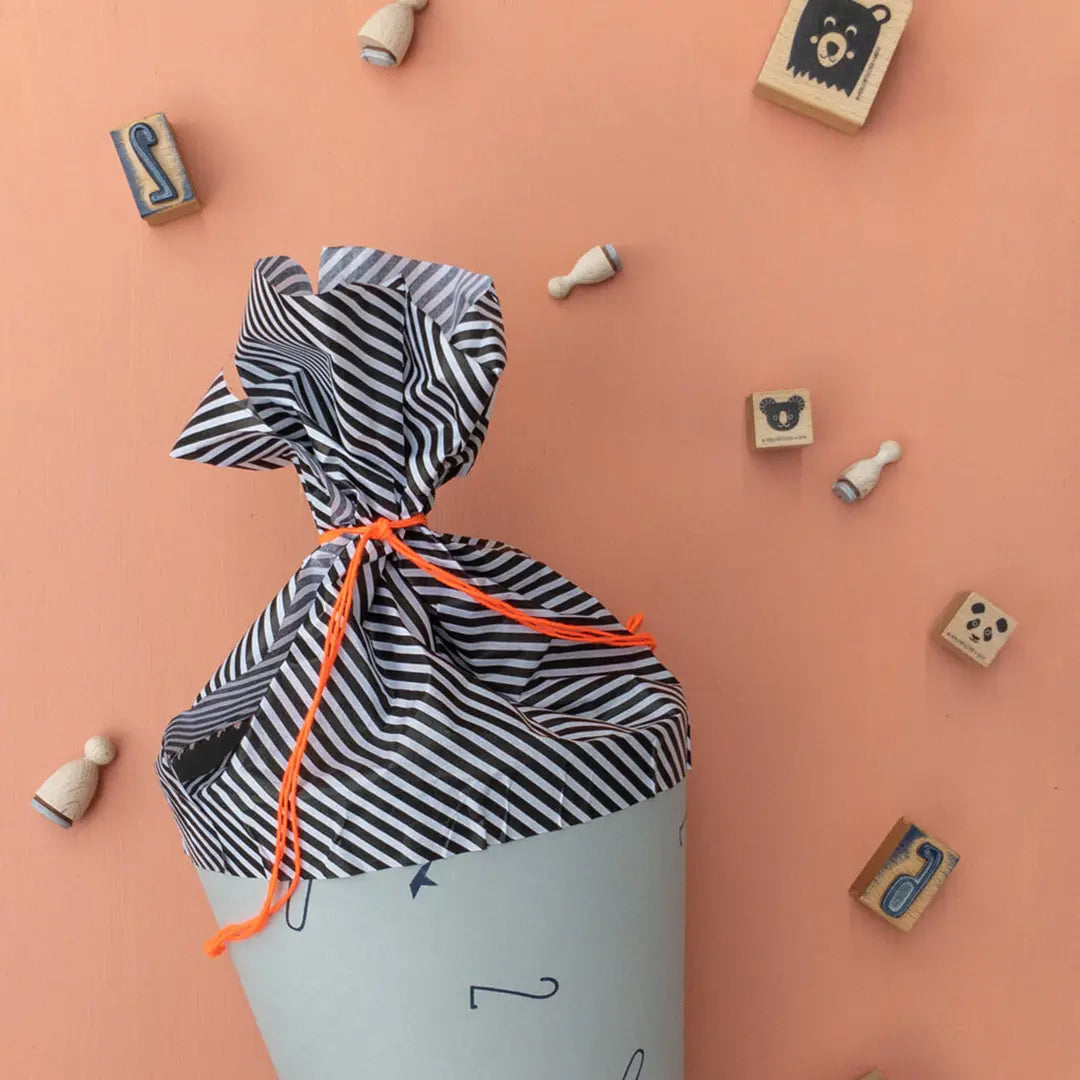 How can I craft and stamp a school cone?
DIY school bag
1. To begin with, stamp a large piece of paper with a motif of your choice (the paper should be a little thicker for more stability and allow it to dry long enough after stamping).
2. Then roll it up so that there is a point at the bottom and an opening at the top.
3. Apply liquid glue to one outer open edge of the paper and now glue this side in place.
4. Finally, you can attach finer crepe paper or tissue paper to the top edge and tie it with twine.
Have fun recreating!
Car stamp, unicorn stamp & pennant chain
Unique stamping projects for kids back to school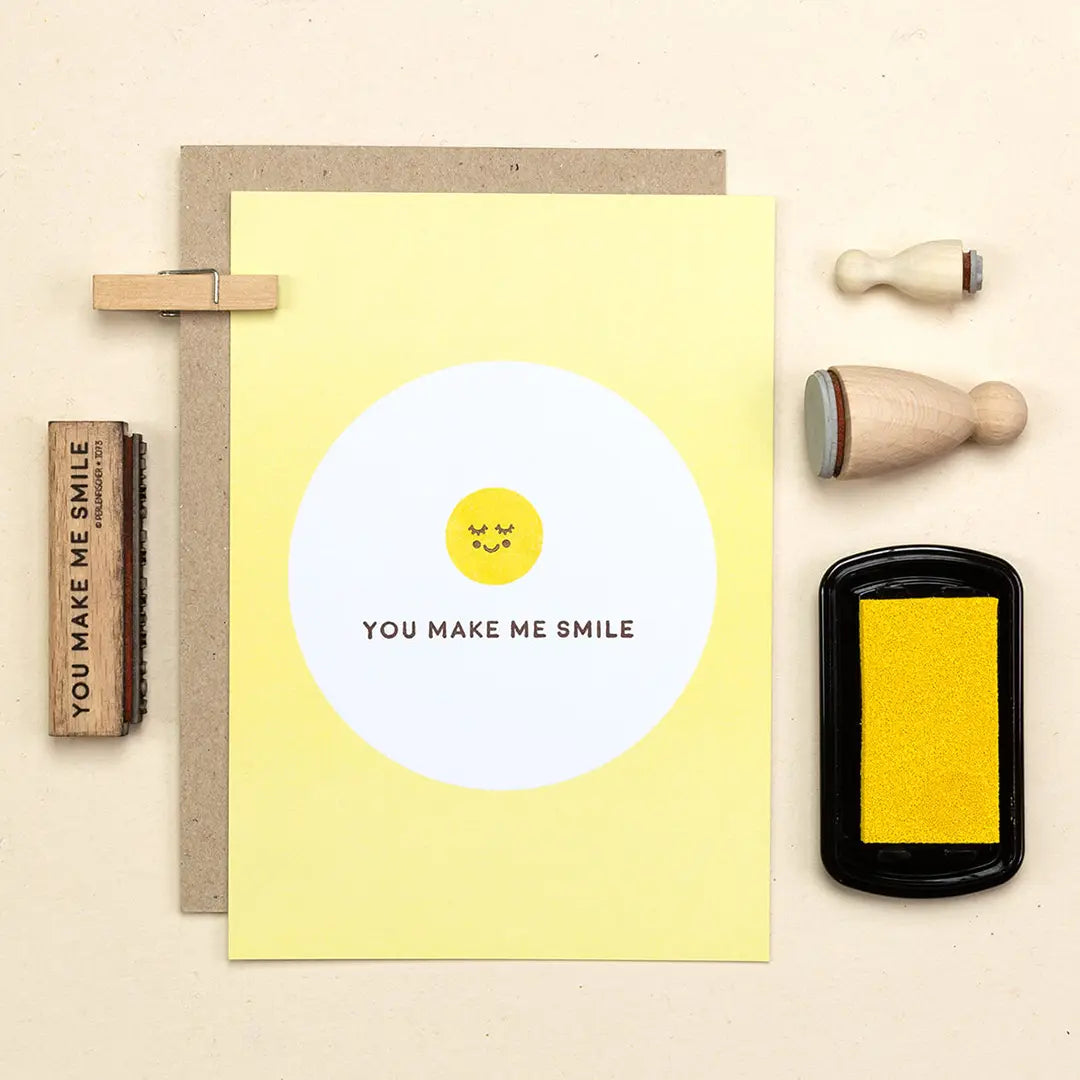 school stamps
Smiley stamps for teachers
Our cute smiley is great for teachers who want to leave their students a little "Well done" on their classwork. On the card you can see how great the smiley comes into its own with our stamp | Dot 19mm.
Stamp set children
Sugar-sweet stamp sets to give away
We have created perfectly coordinated stamp sets for you, which contain everything you need to be creative. So you can start stamping with your children right away. Under stamp sets you will find our entire selection, there is certainly something for everyone!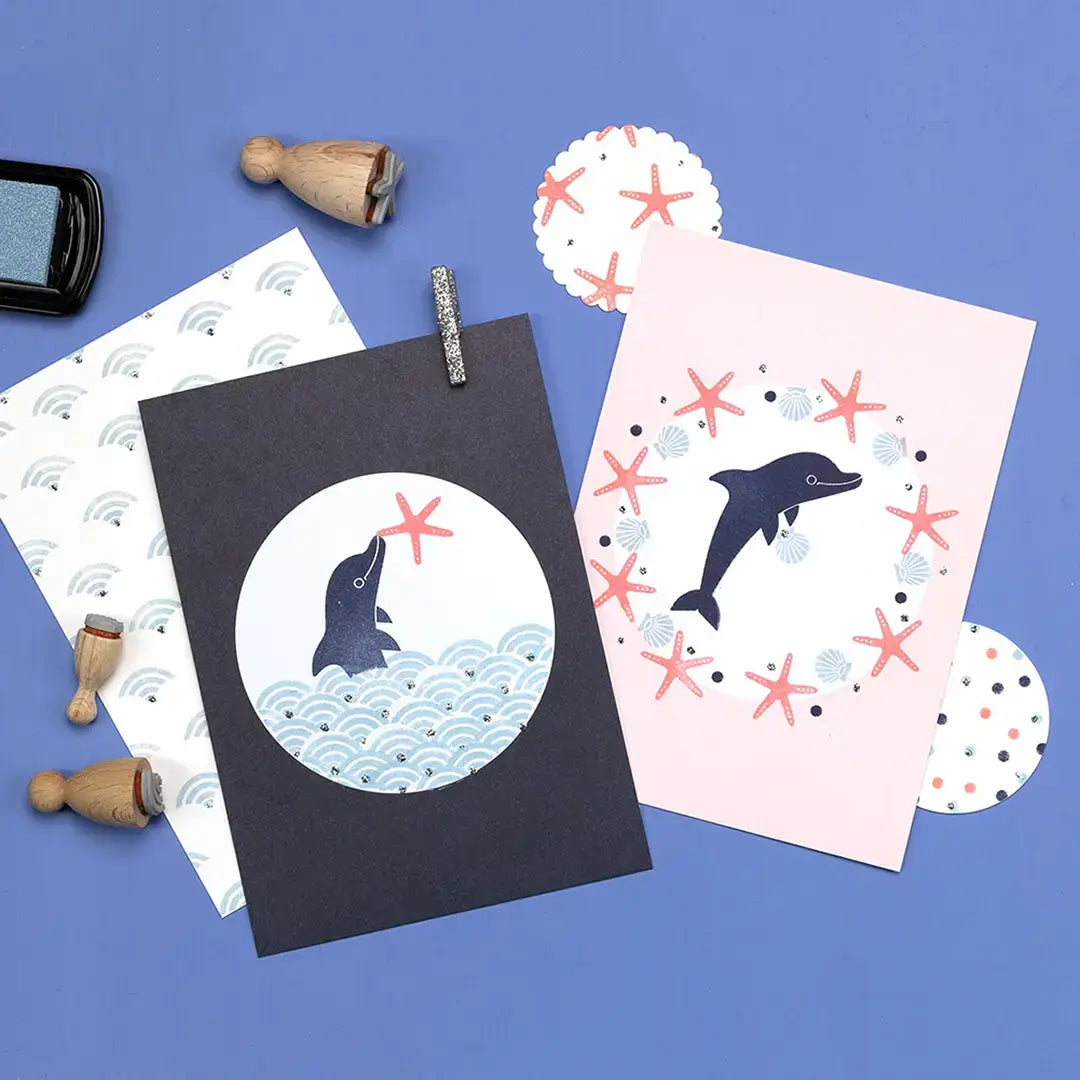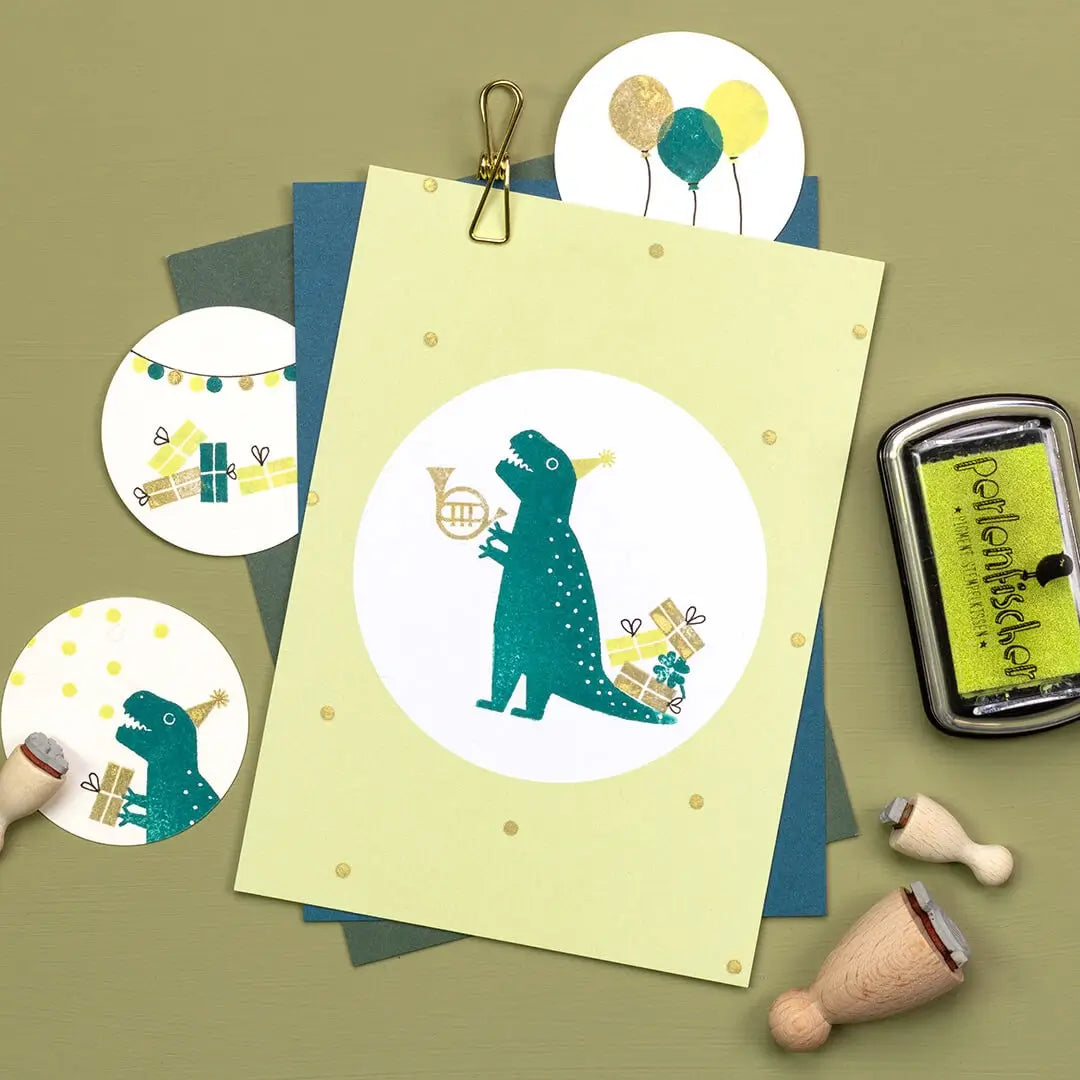 T-Rex and Dino Birthday
.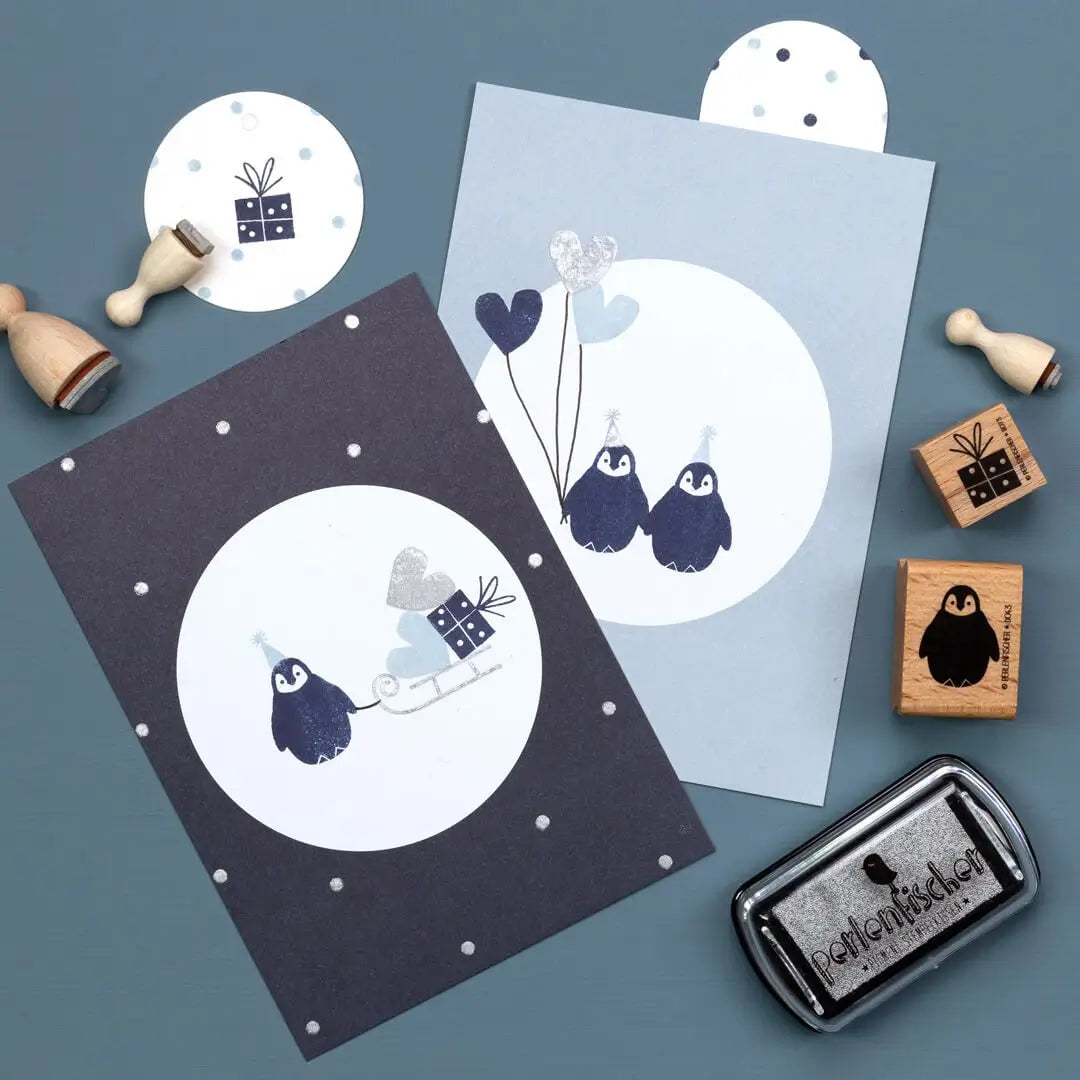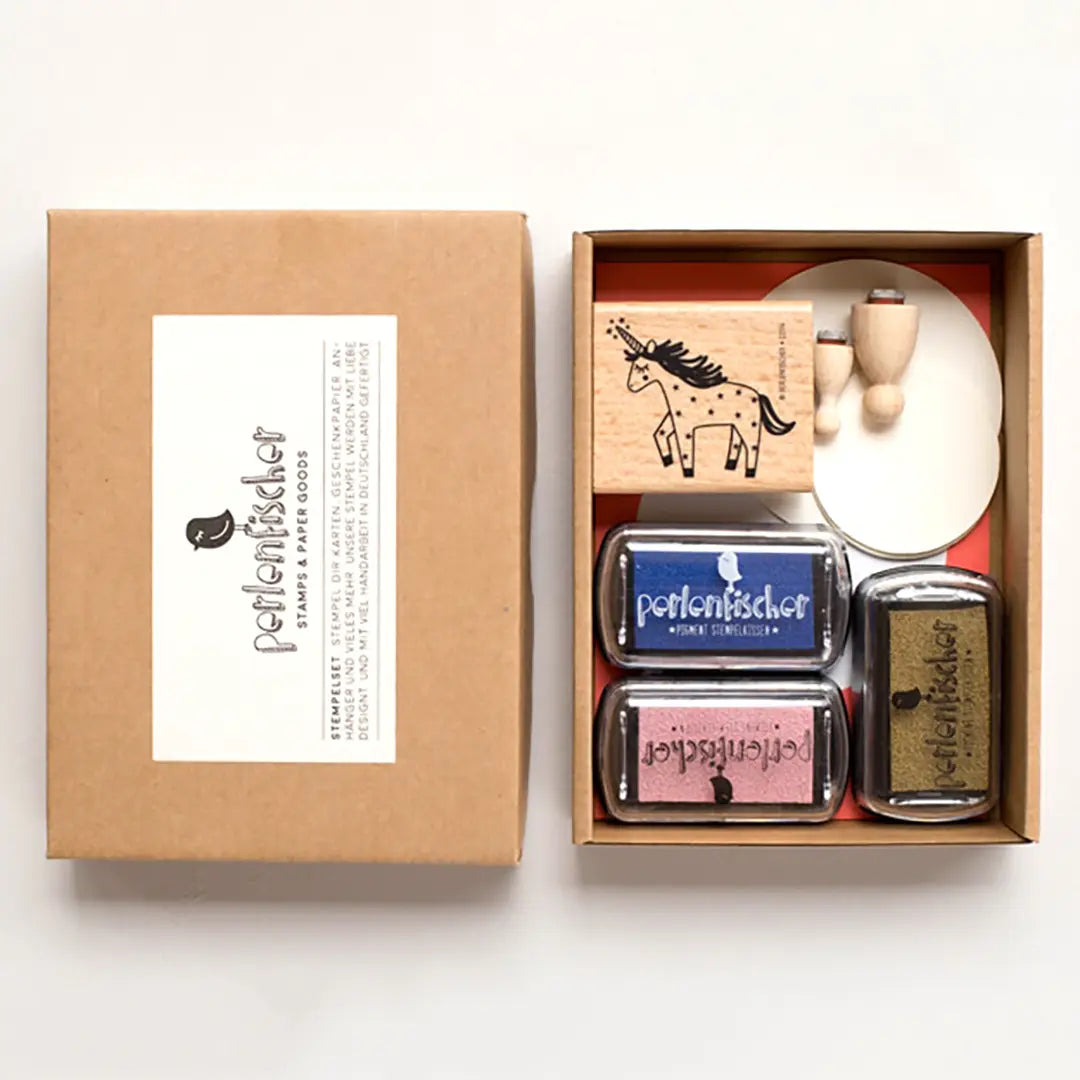 Stamp for baptism
Happy baptism greetings
Stamp magical christening cards for the little miracles. We have classic fish stamps or this loving greeting stamp | Zur Taufe. There are no limits to your creativity!

For more warm and loving stamp motifs, also for motifs related to the church, please have a look in the following category:
Unicorn Stamps, Dino Stamps & Mermaid Stamps
Fantastic mythical creatures for children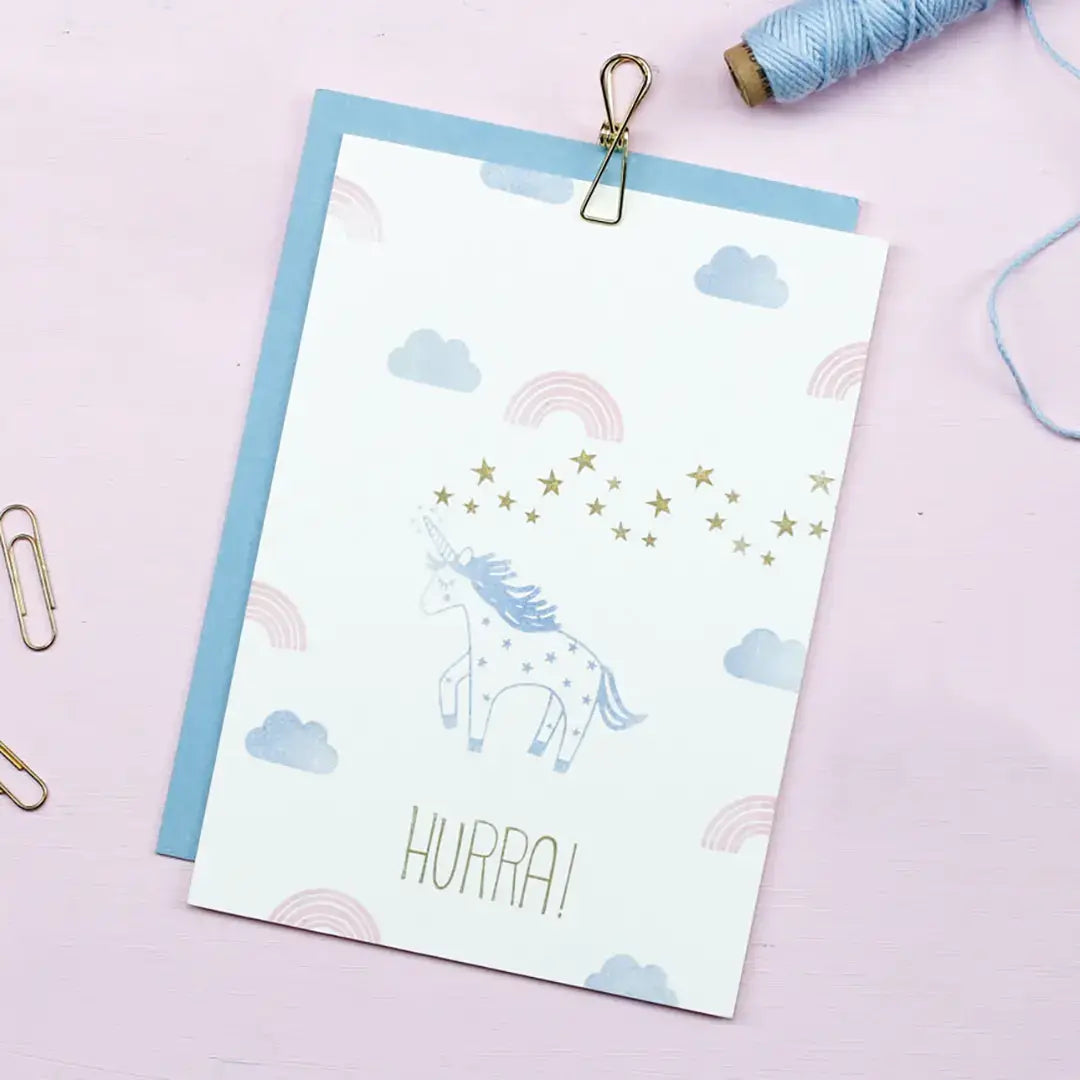 unicorn love
By the way, our unicorn stamp is also available in a stamp set, so the little ones can start stamping right away.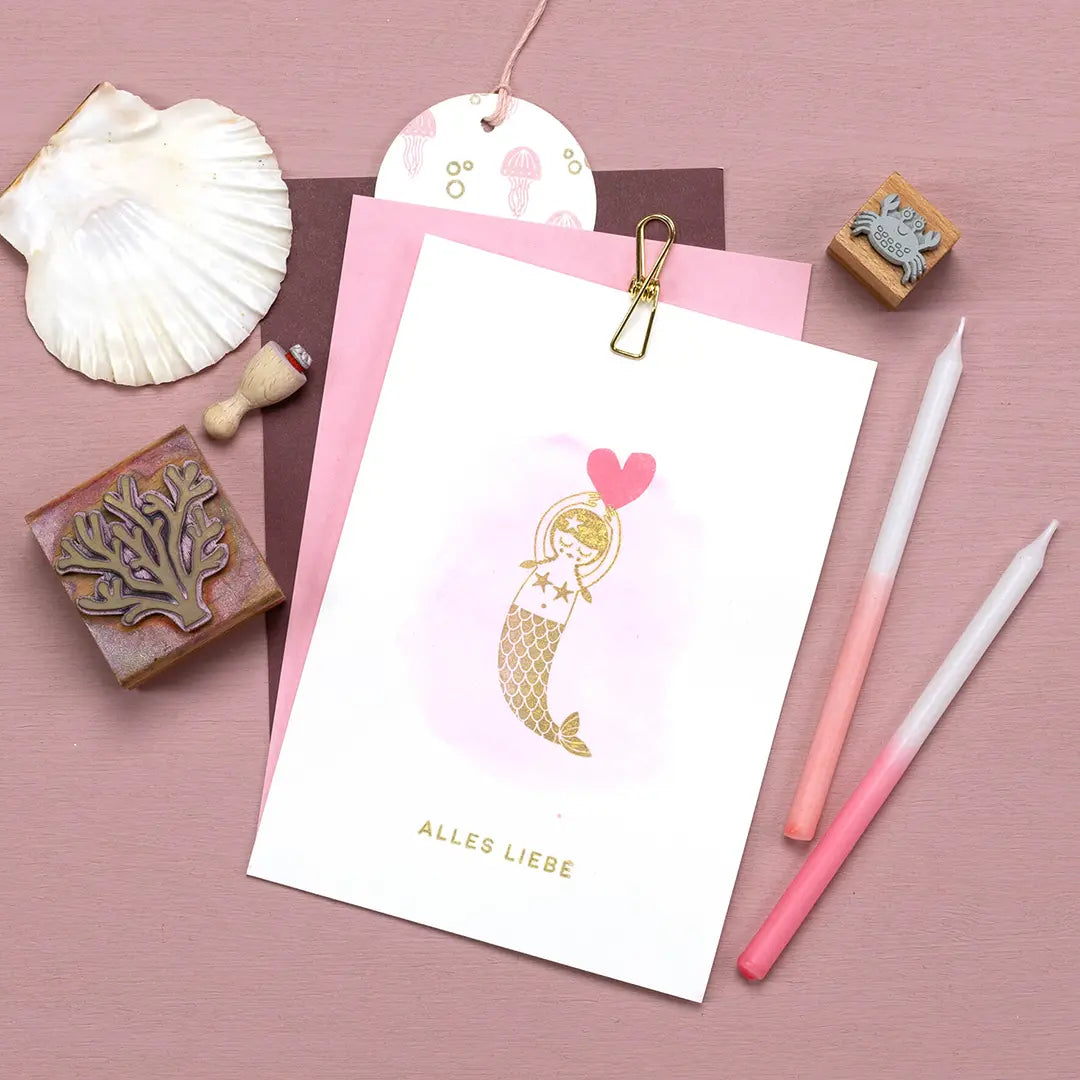 Little Mermaid
Our mermaid can hold the cutest things over her head. Check out our enchanting mermaid set to get started.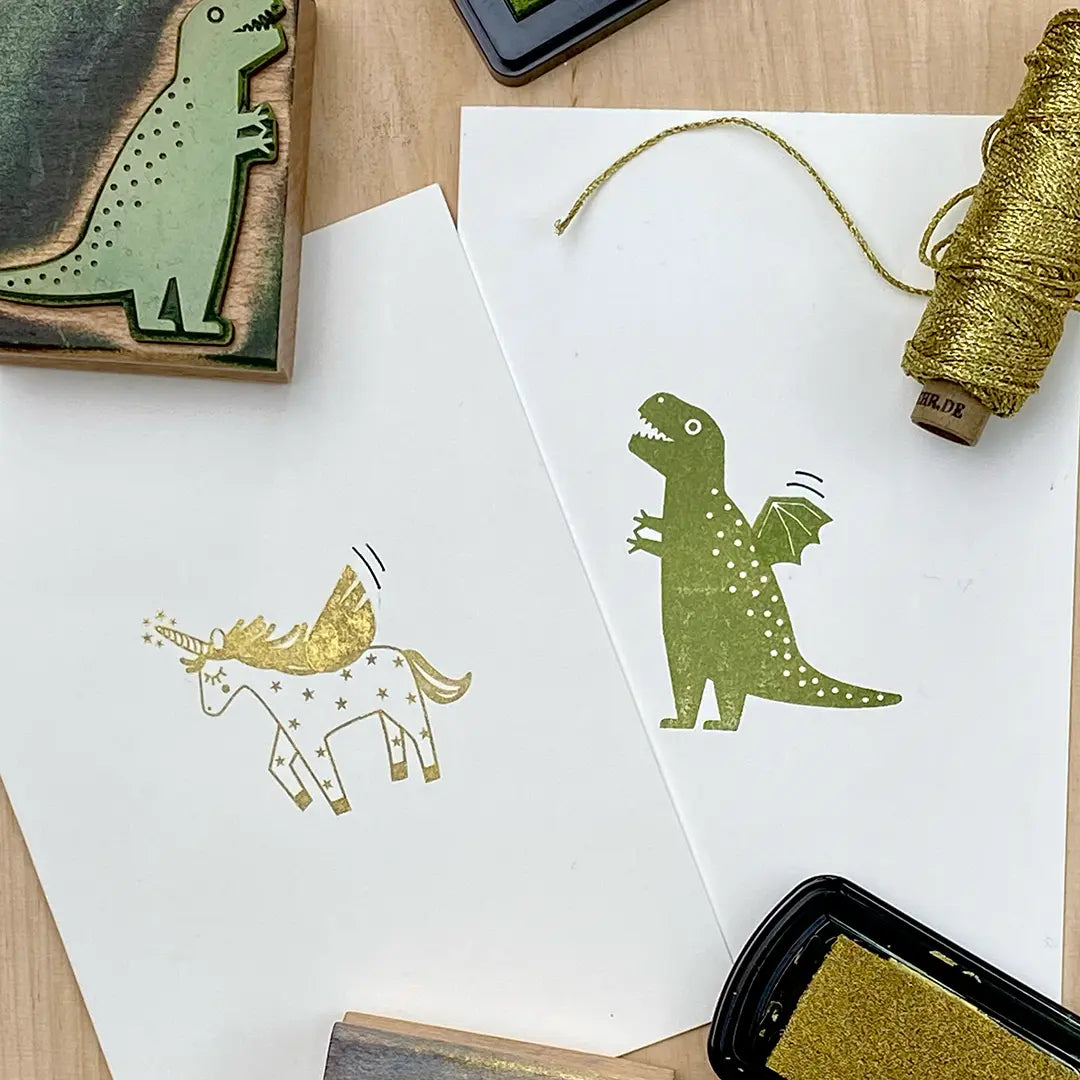 Pegasus & Dragon
These two motifs can be easily transformed: just put the wings of the dove or the bat on their backs.
Stamp Balloon, Stamp Gift & Stamp Candle
Stamping birthday cards & DIYs for children's birthdays
Prepare your kids for their birthday with their favorite animals and great party themes an unforgettable day. Stamp them unique birthday cards, combined with colorful masking tapes, and sparkling glitter glue, make them wonderfully colorful birthday decorations or even small candy bags for the friends of your children. We have a huge selection of designs in our Birthday Stamp category. There you will surely discover a few favorite stamps.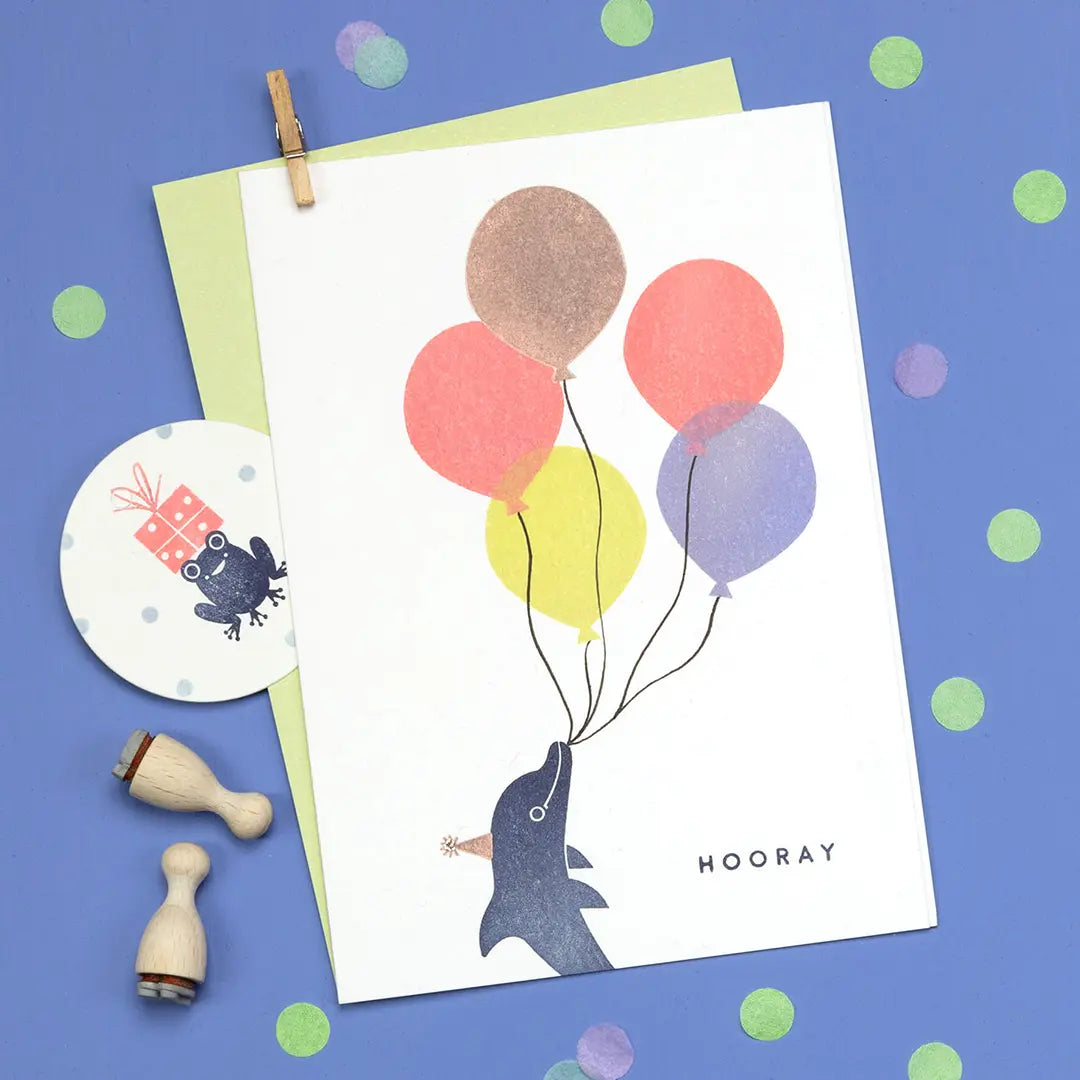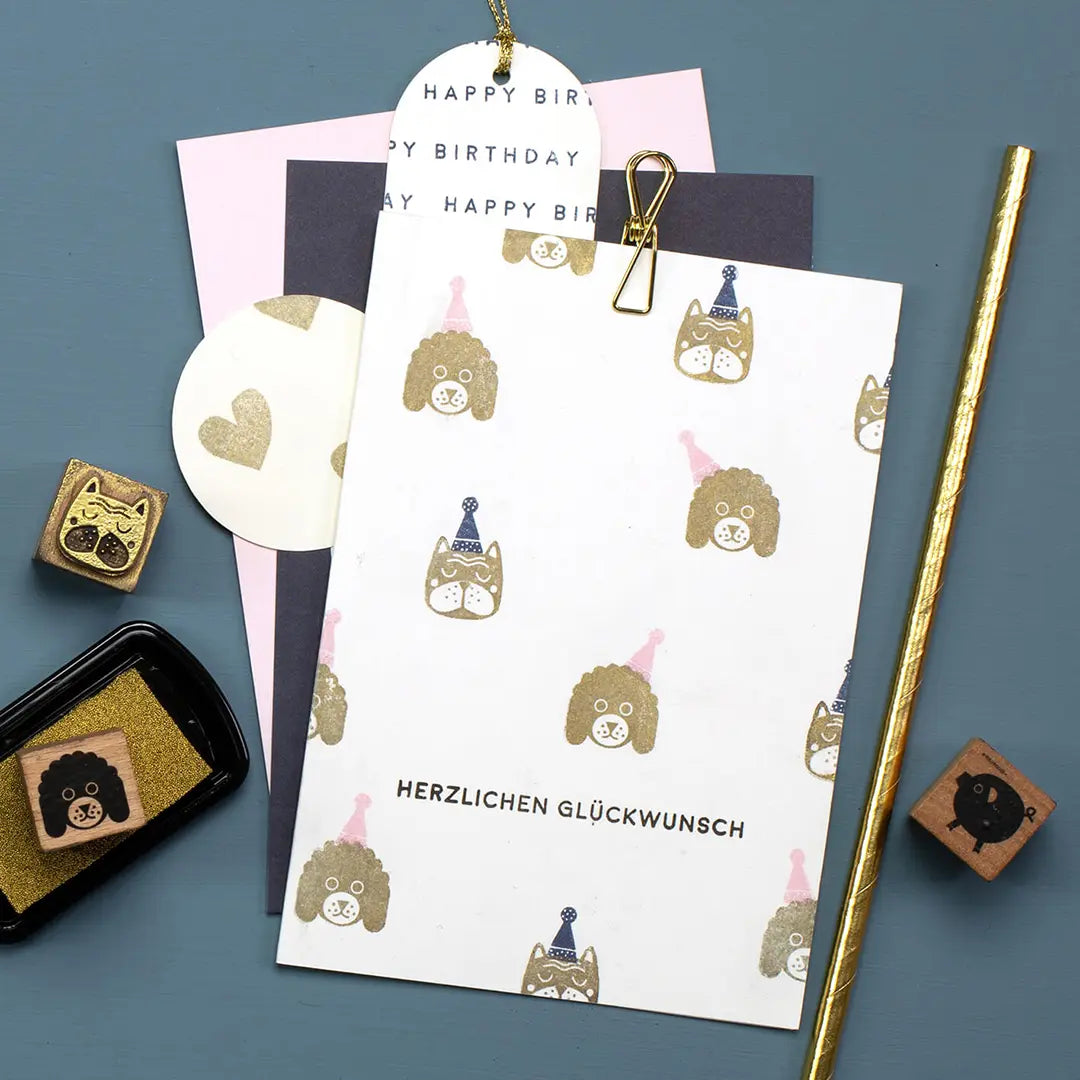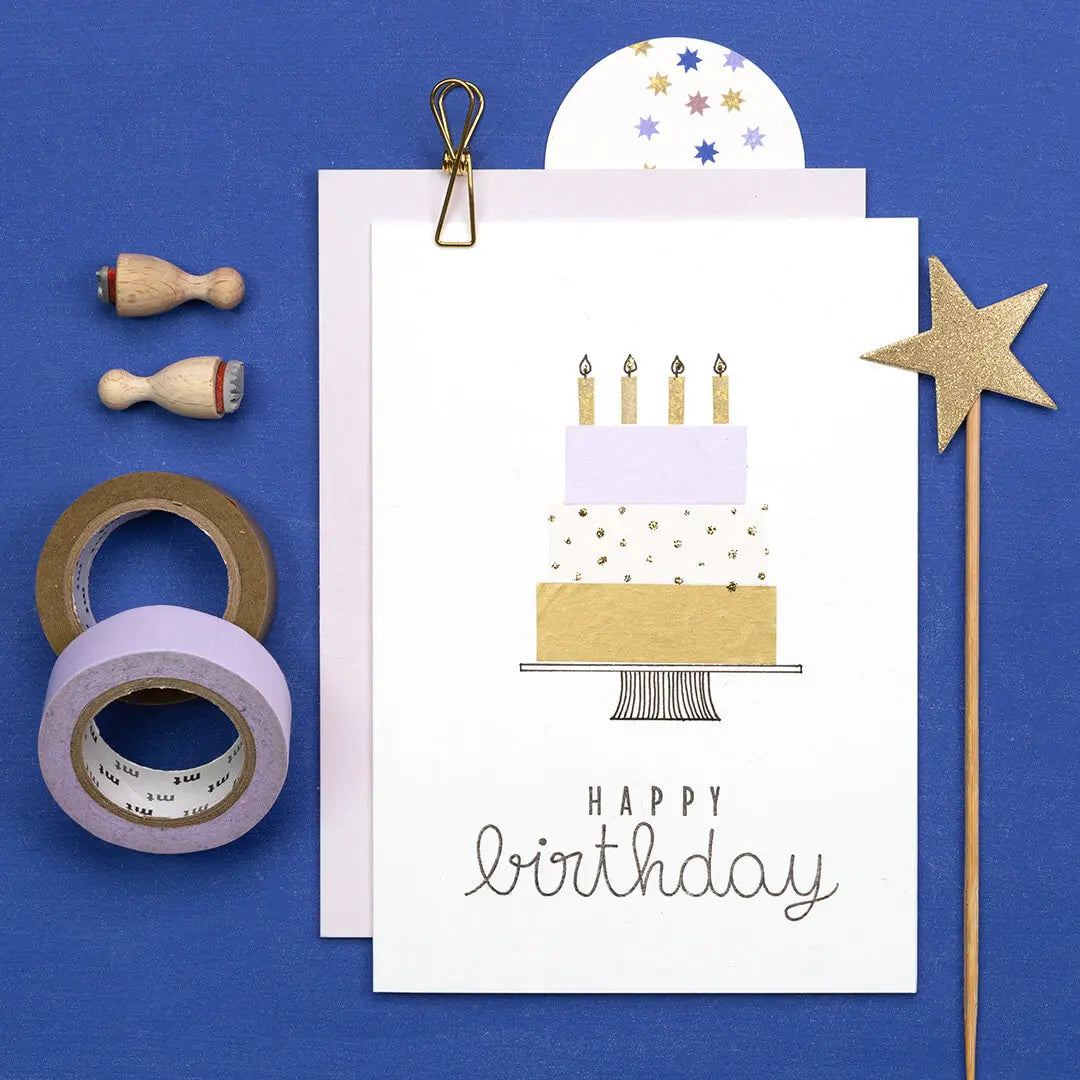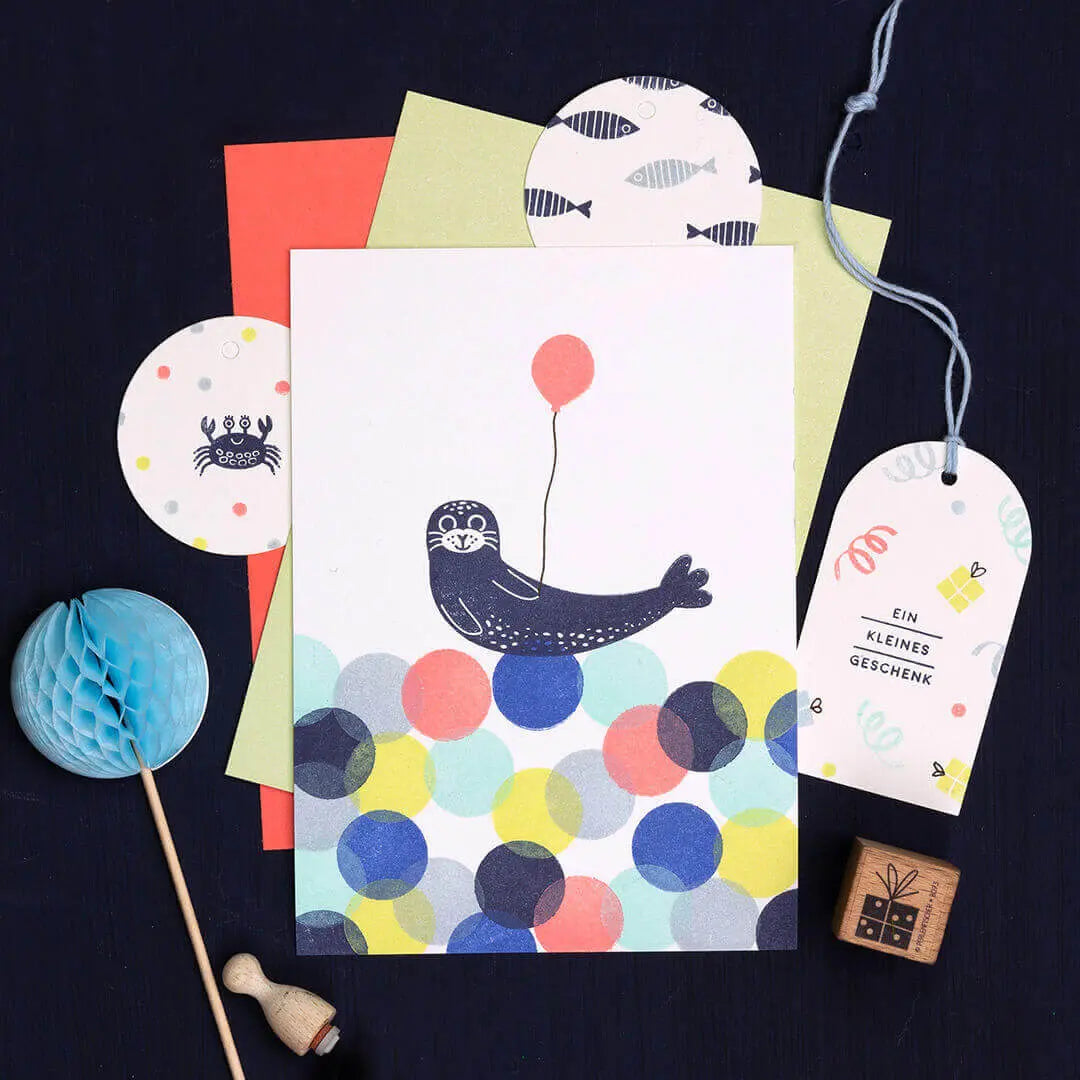 Balloon small & A small gift
Package small & Happy Birthday 3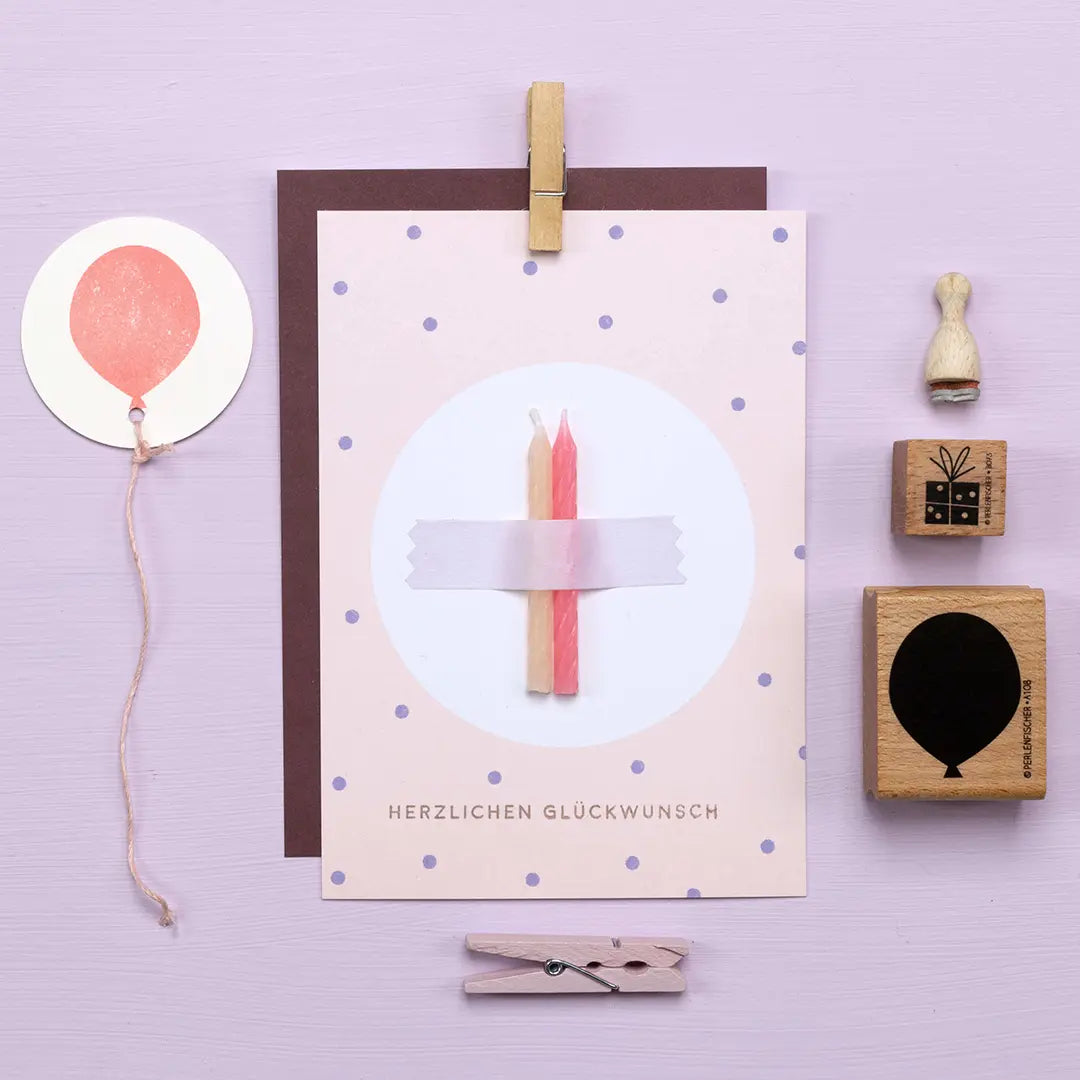 Congratulations & Dot 3mm
Party hat & a little something for you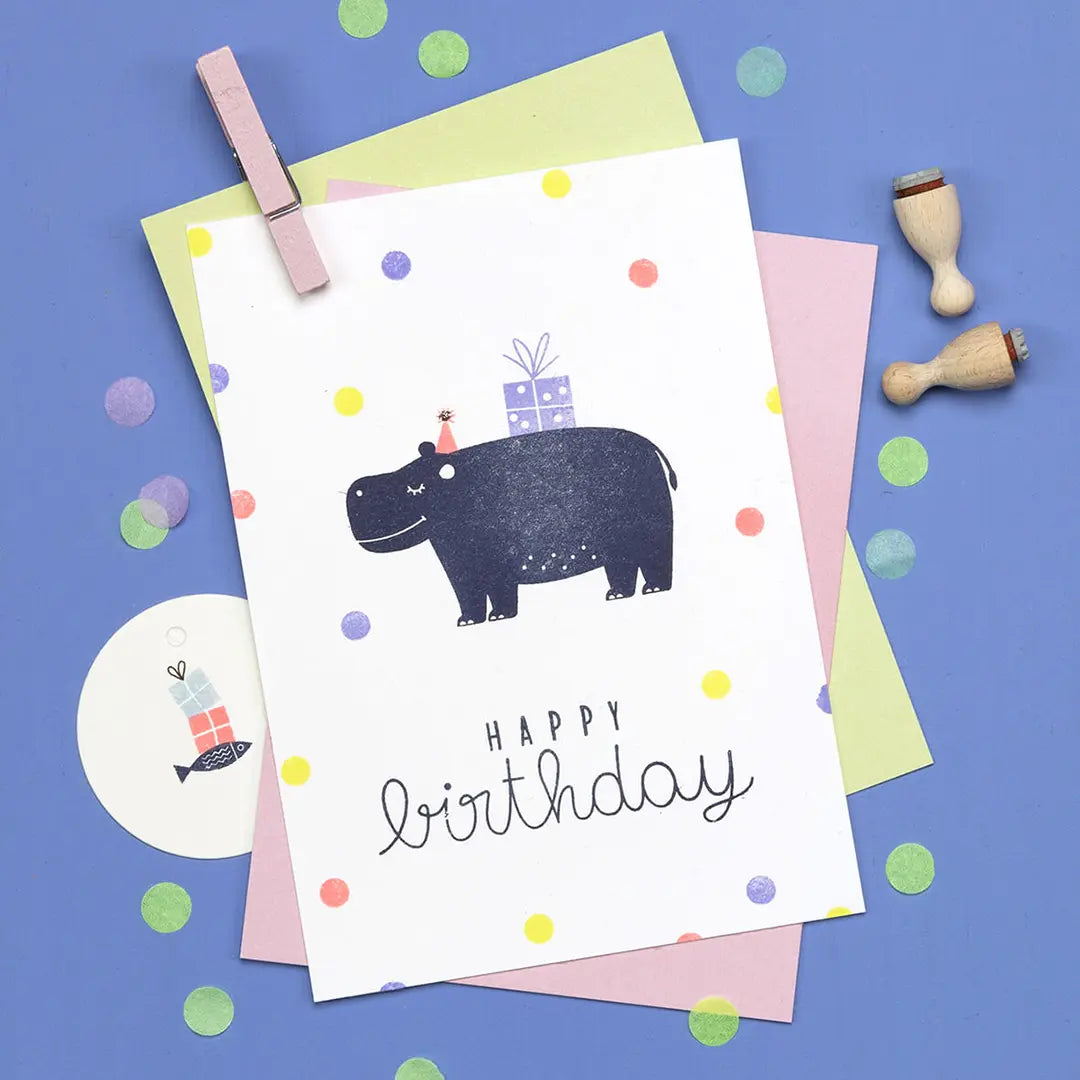 Gift with bow & Happy Birhtday 6th
Bunting & Happy Birthday 5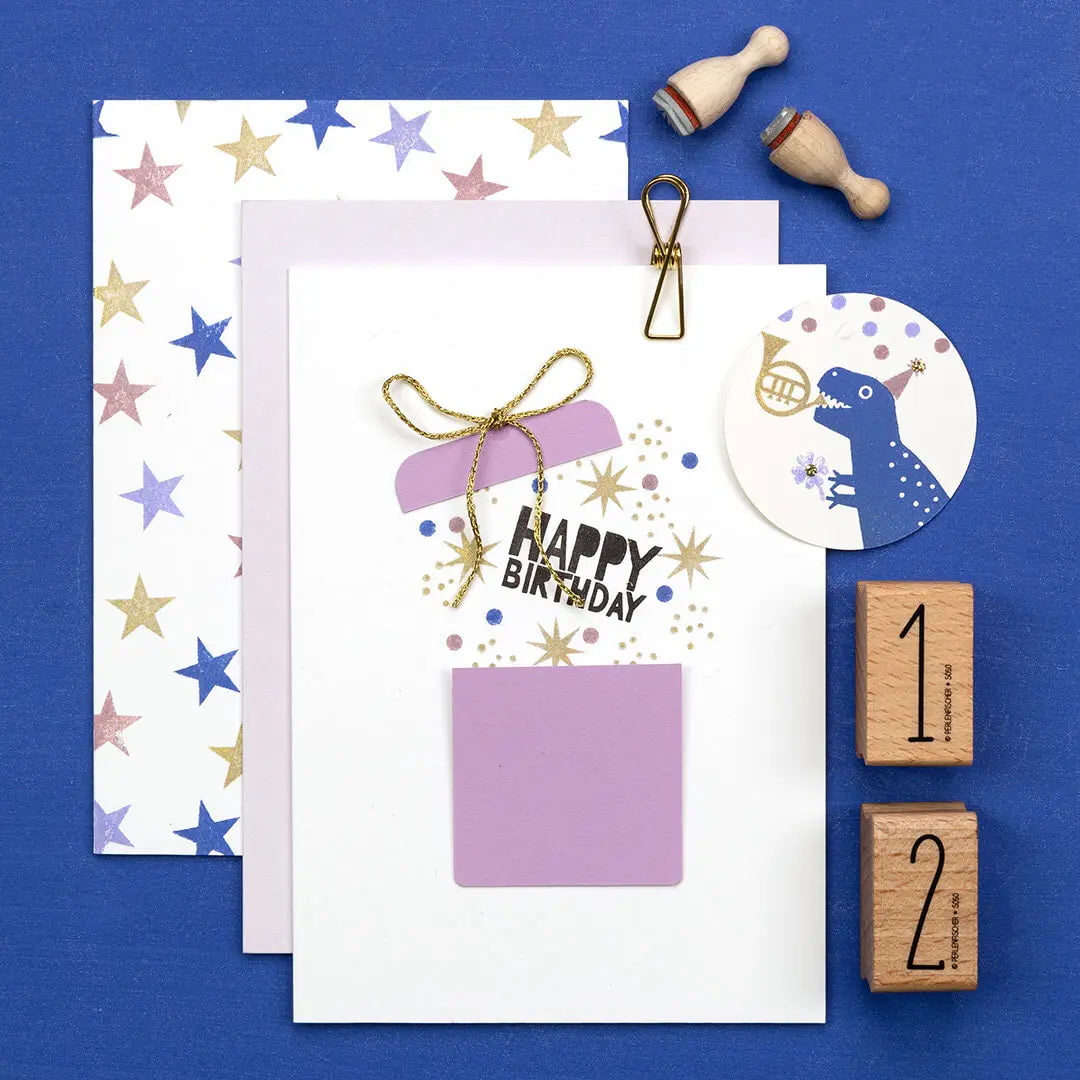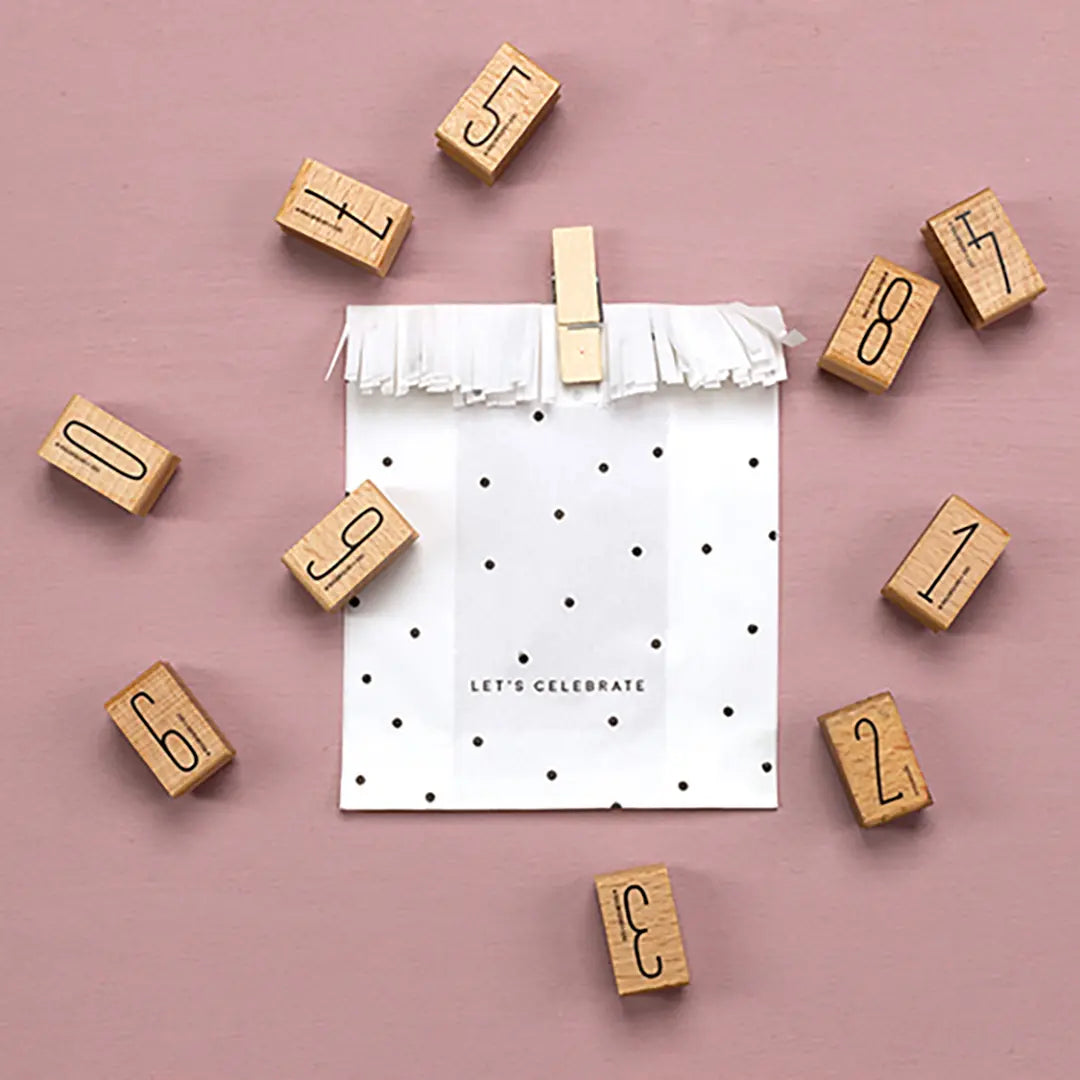 Lets celebrate & number set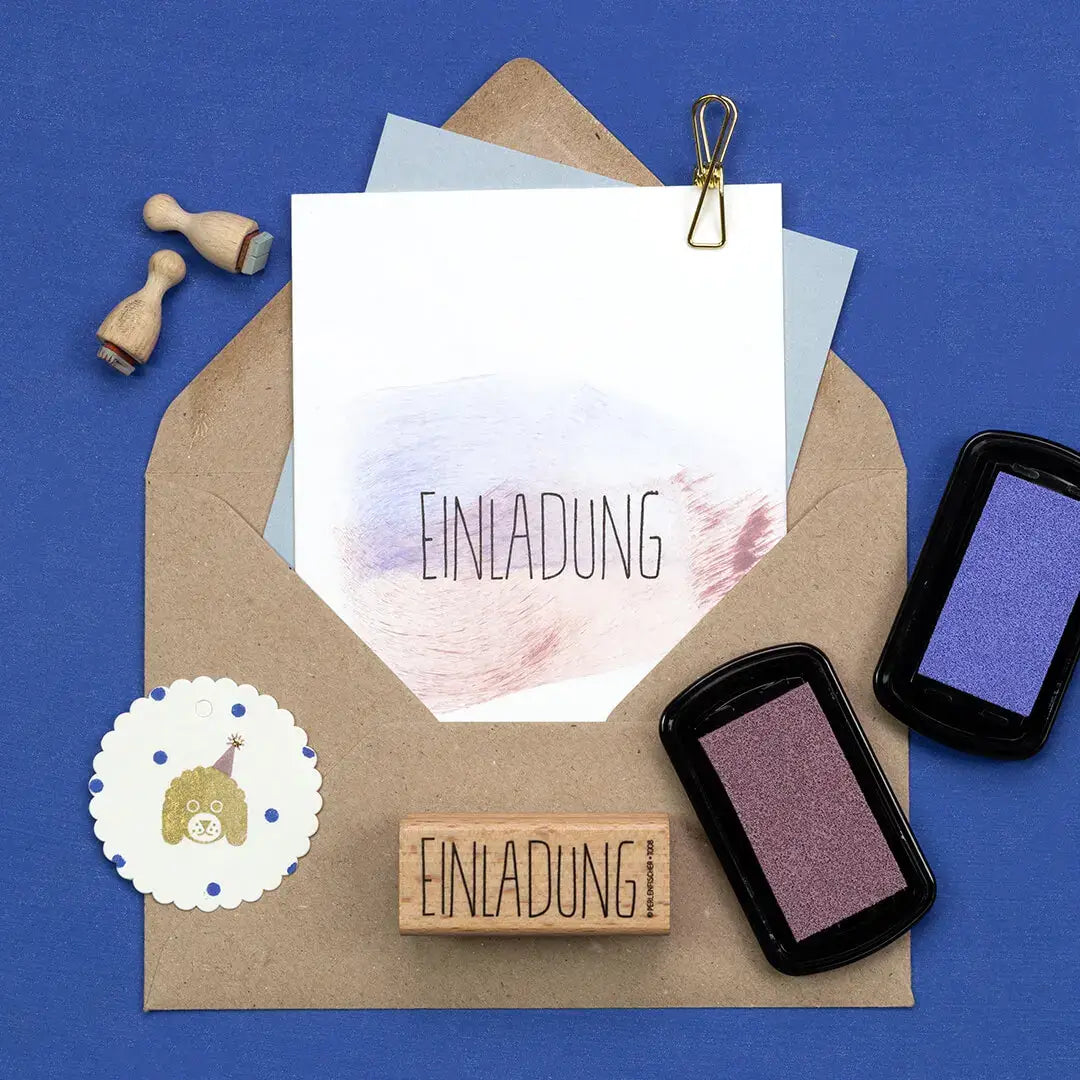 stamp invitation
Children's birthday invitations
Design unique birthday invitations together with your children. During the stamping, the anticipation of this special day is even greater.
Stamping Easter eggs with children
Spending Easter with the little ones
When the Easter Bunny comes by, children are always very excited. Celebrate Easter with them by painting and stamping Easter eggs together. You can also make cute Easter baskets for them. You can find even more inspiration on our Easter Stamps page.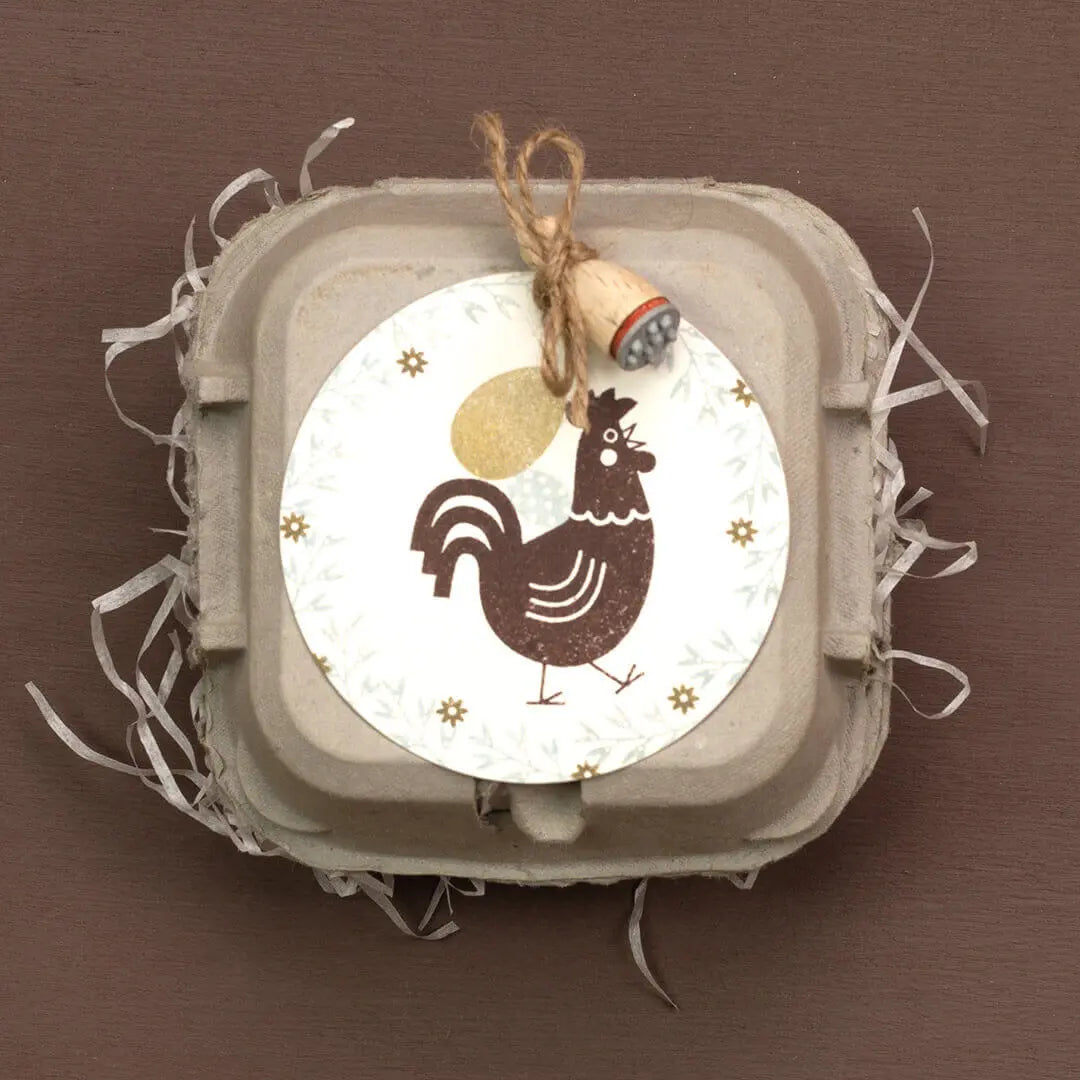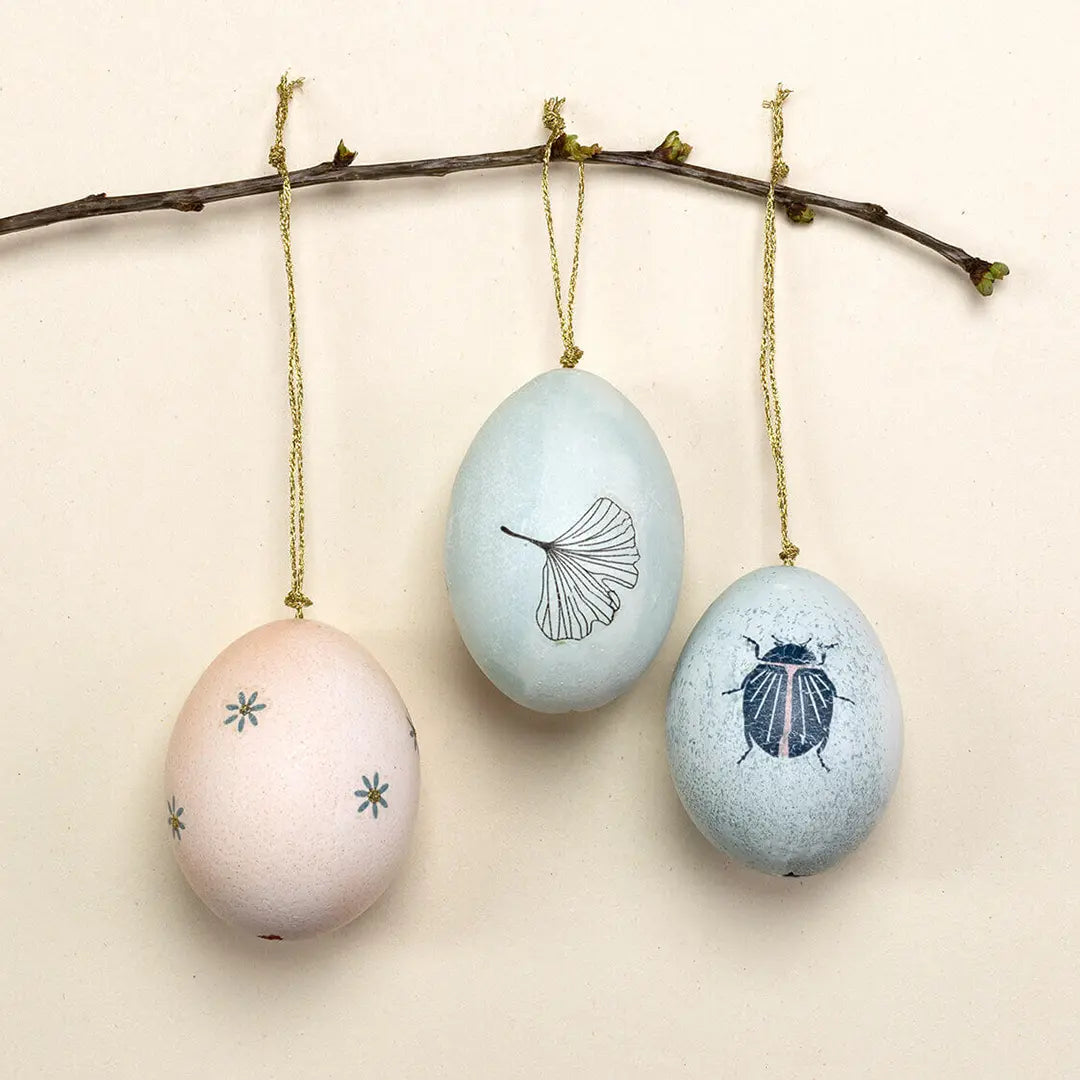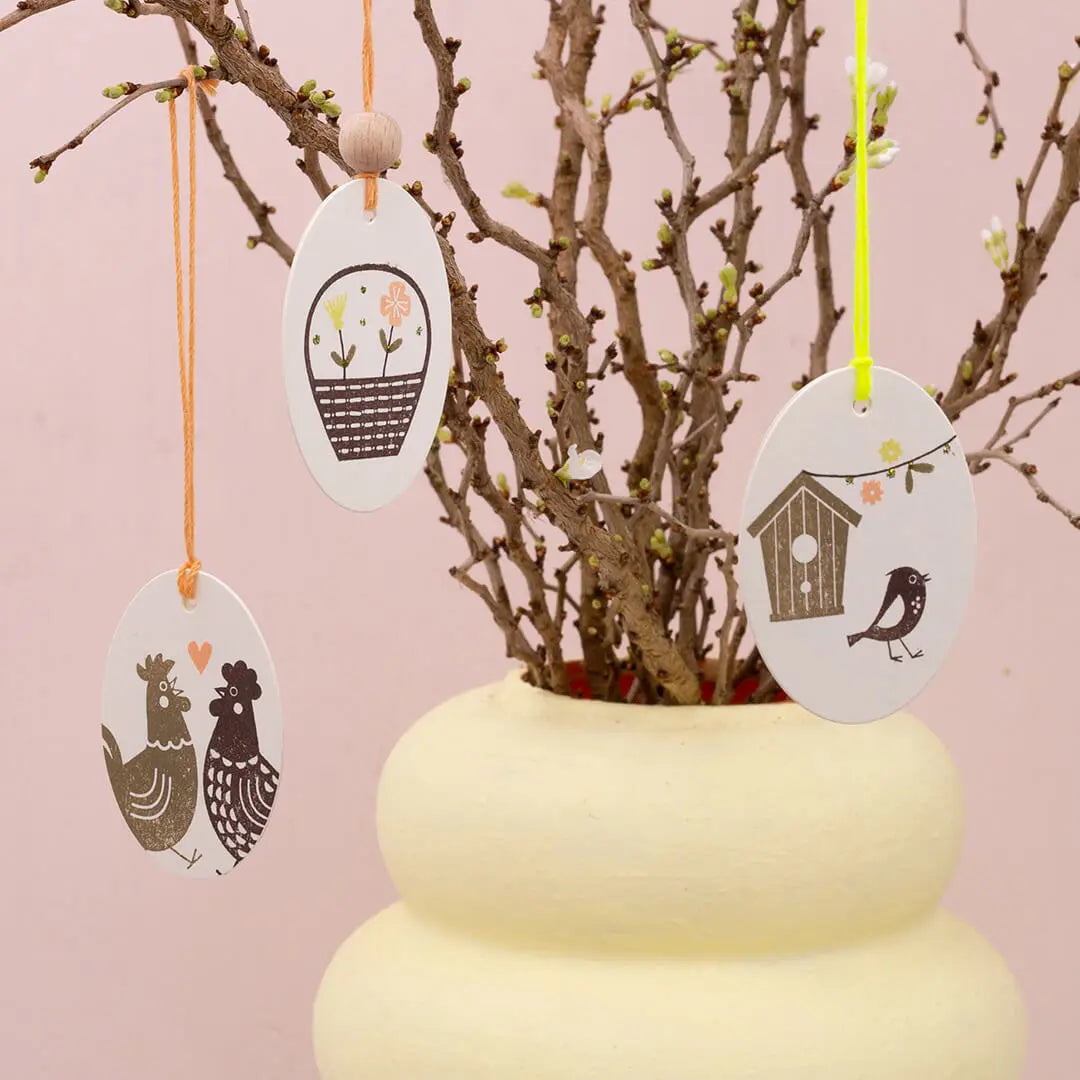 Paper tags on an Easter bush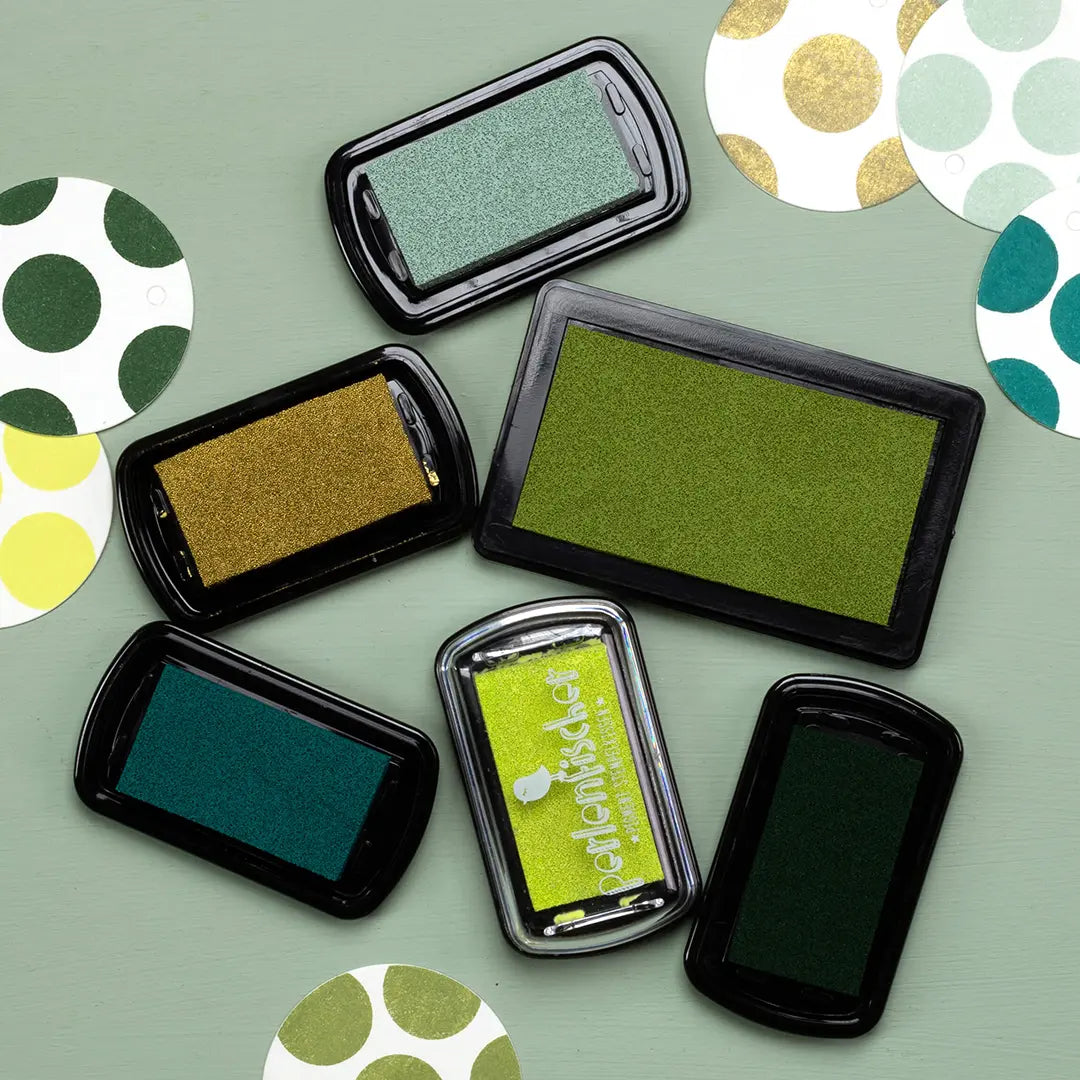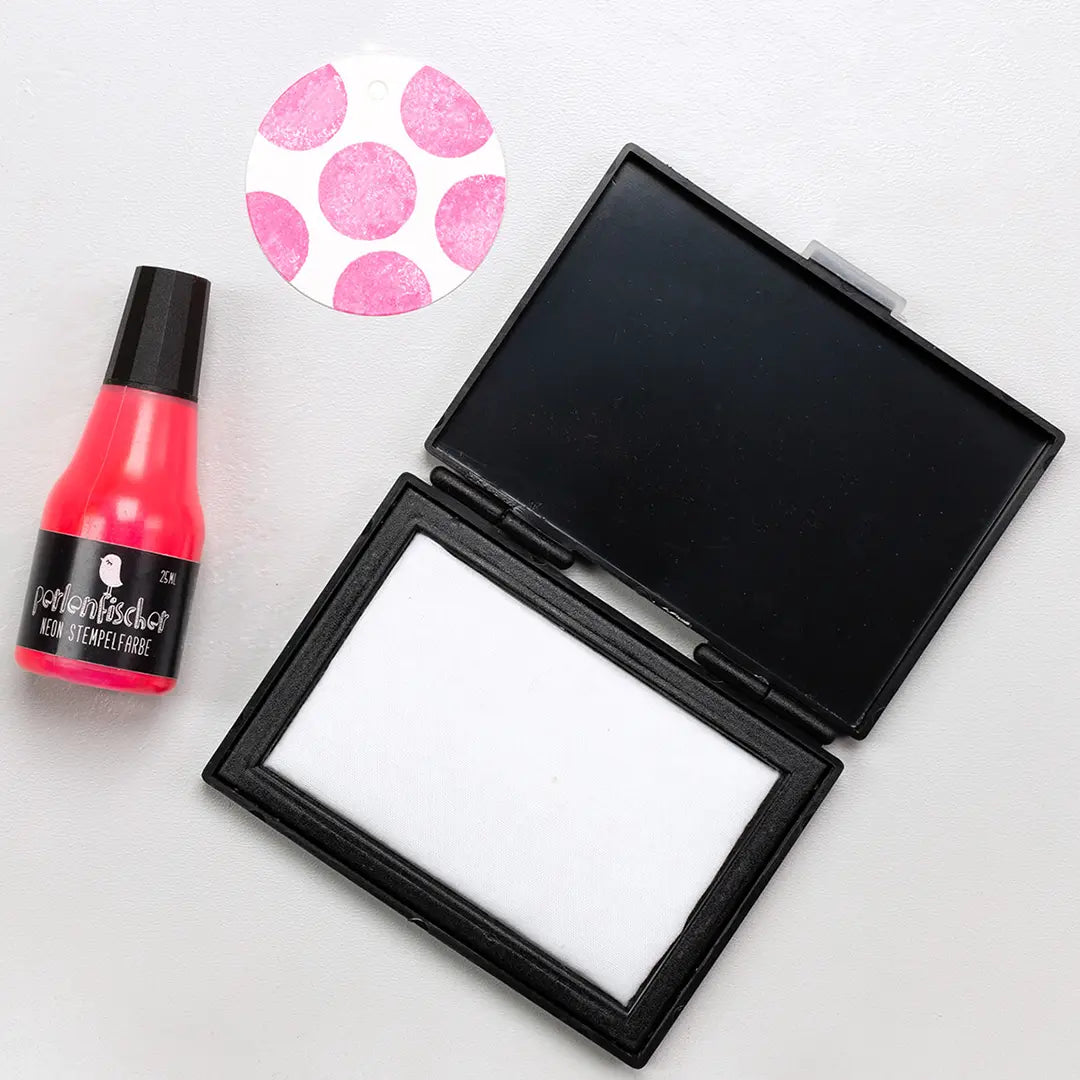 Stamp pad children
Colorful pigment ink pads
Use: We recommend the use of the large stamp pad for children, as this is a little easier to handle due to its heavier weight. Otherwise, you can easily explain to your child that they like to hold something on the stamp pad mini when applying paint.

Safety: Our pigment ink pads are water-based, i.e. absolutely acid-free and therefore harmless to health. Nevertheless, to protect your children, we only recommend using our pigment colors from the age of 12.
Are the stamp pads safe for children?
Neon Dye Ink stamp color
Our Dye Ink stamp pads are refillable and made in Germany, so they are produced very sustainably and fairly. The Dye Ink Neon colors are water-based, so they are also absolutely acid-free.

Toys Certificates:
1. The paints are CE certified as children's toys.
2. They comply with the EU standard EN 71.
3. They are certified as "Children's Stamping Inks" according to EU standards.
Stork stamp, stroller stamp, pacifier & Co
Children's stamp for birth
You can use our baby stamps to stamp beautiful and heartfelt birth cards. So you can easily give the parents a little treat to welcome the new miracle into the world.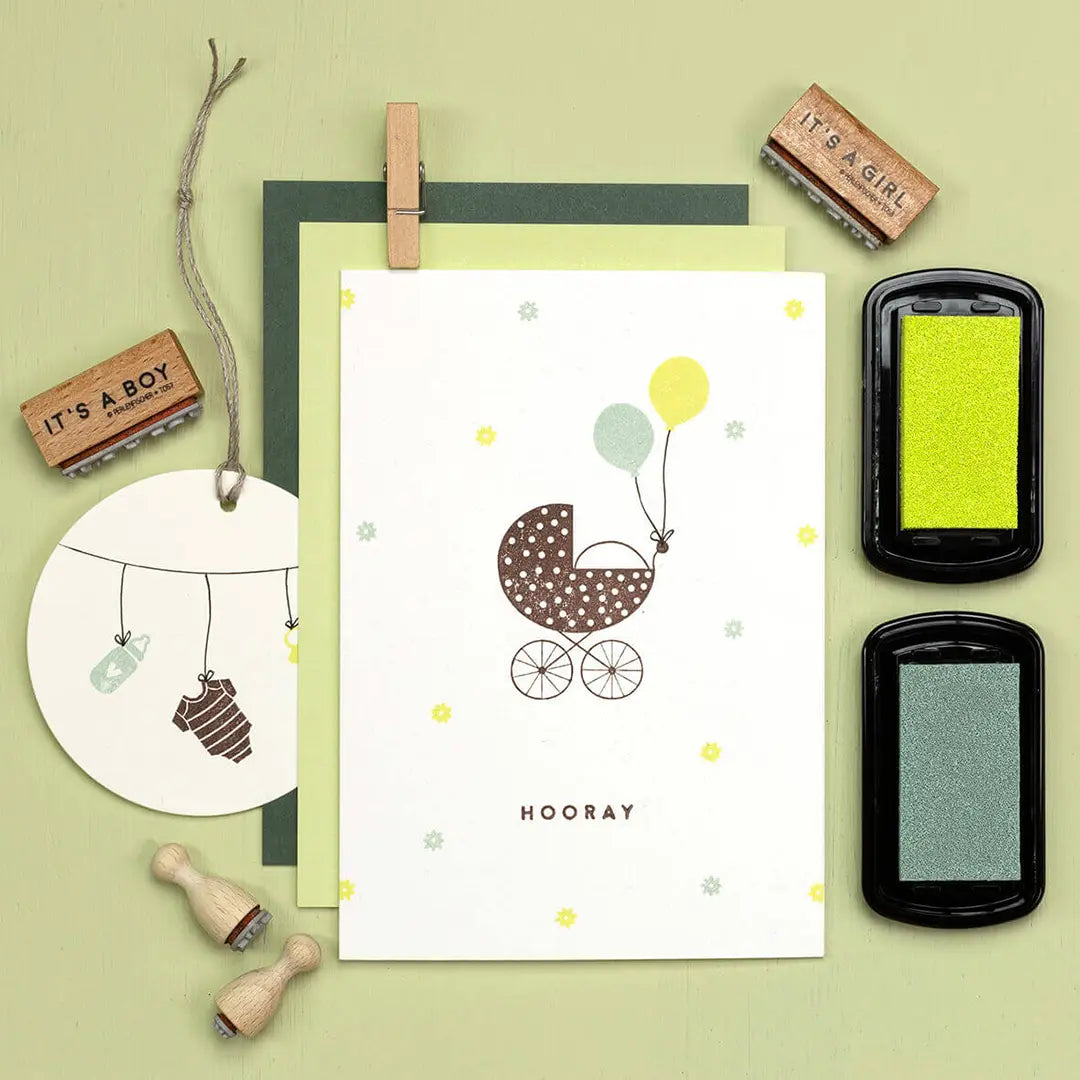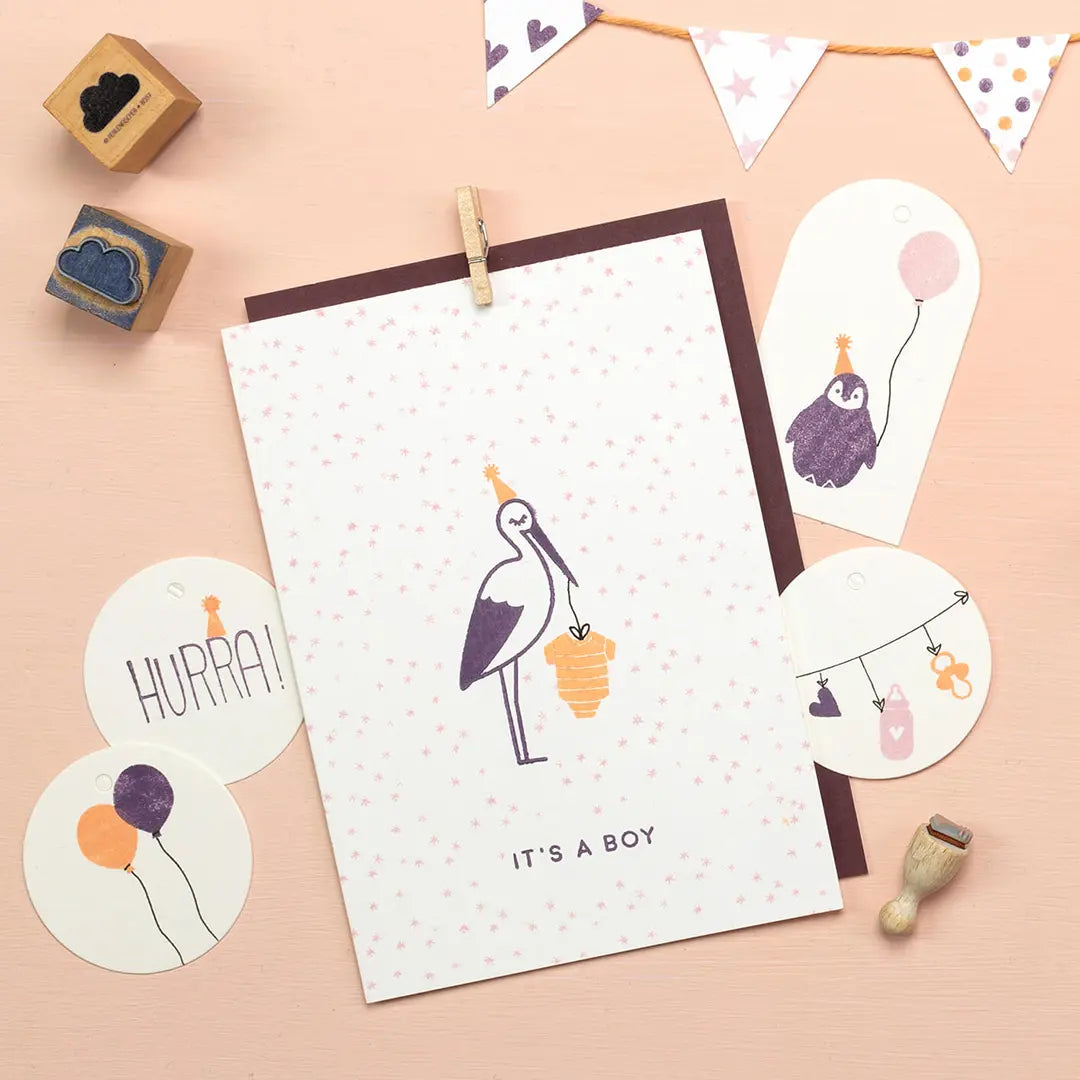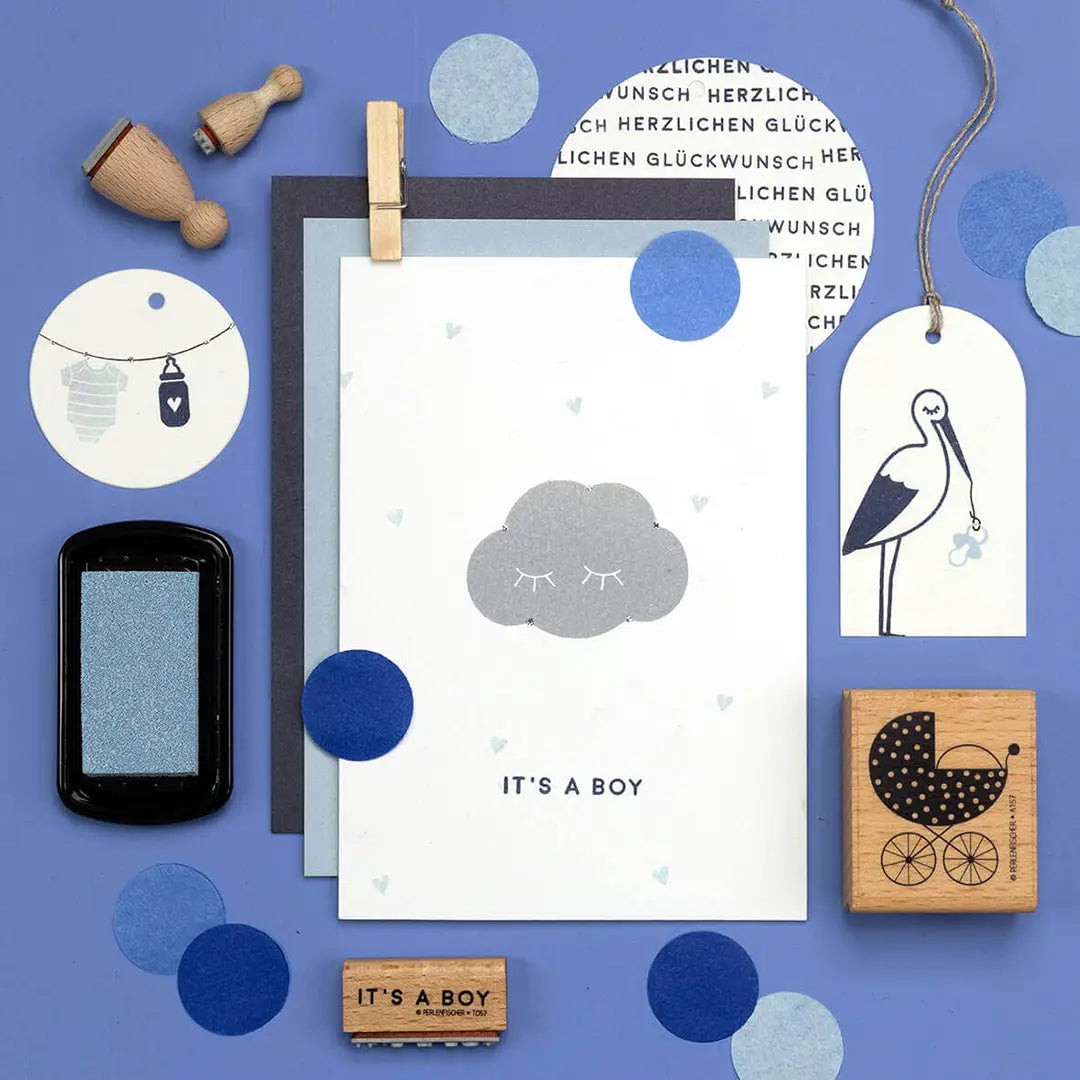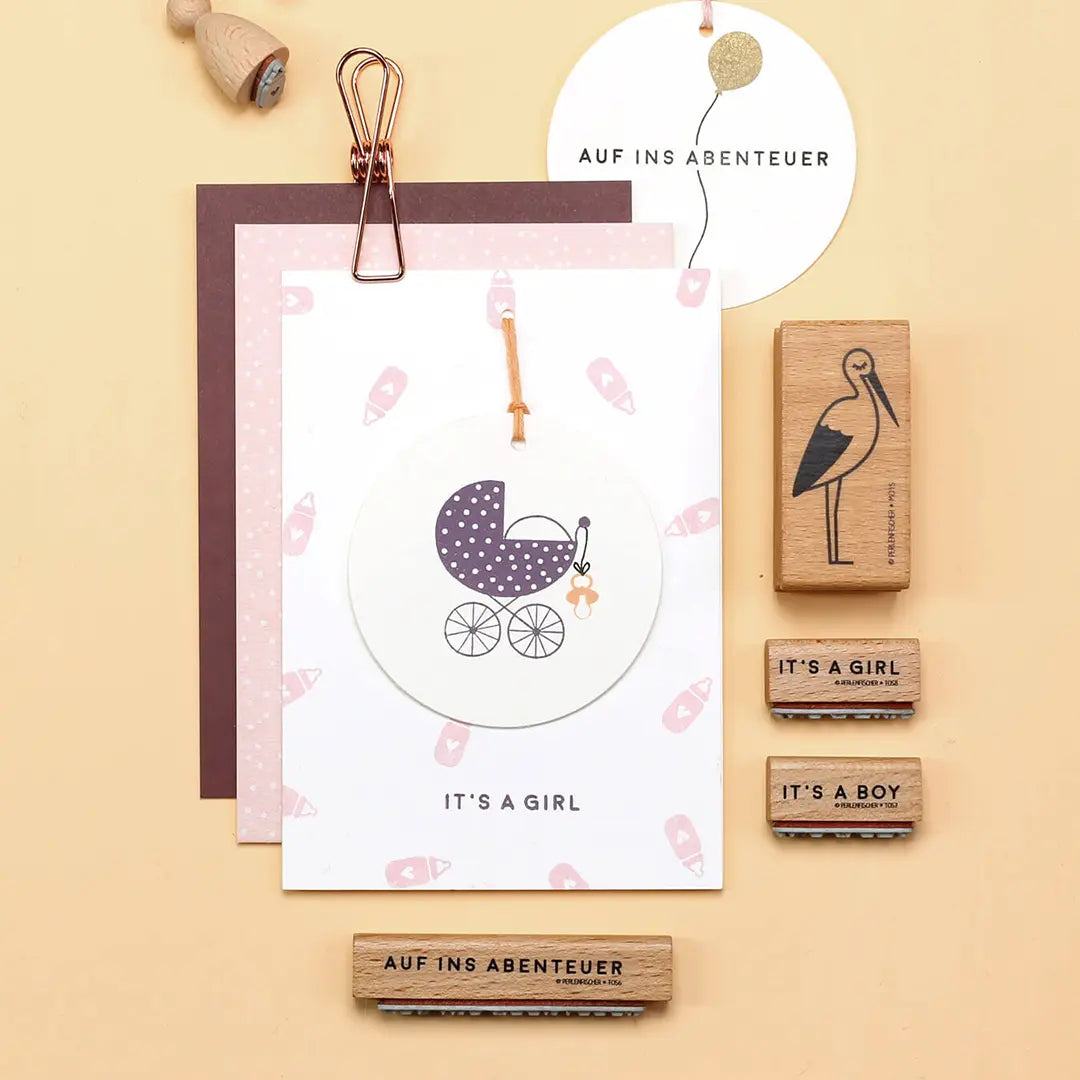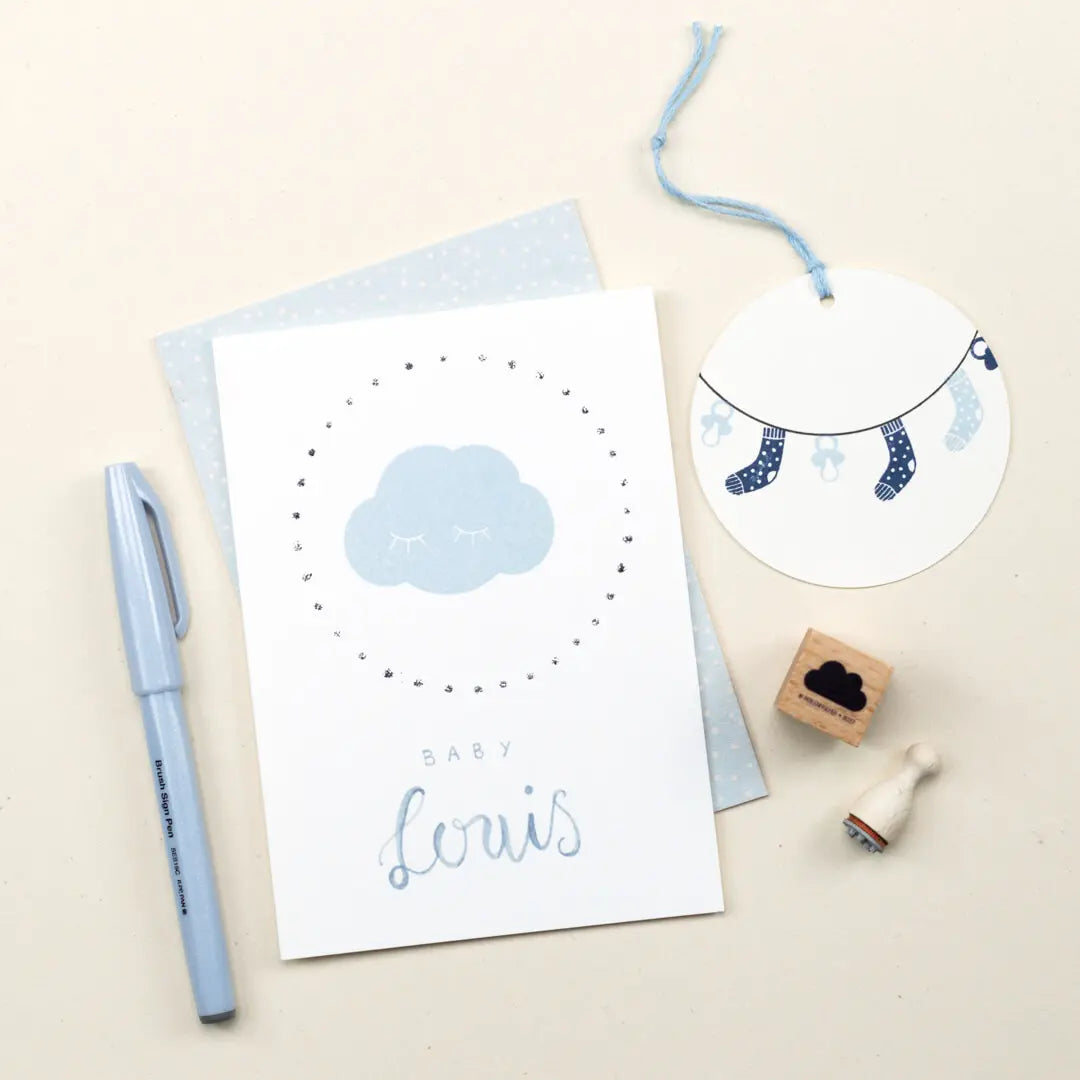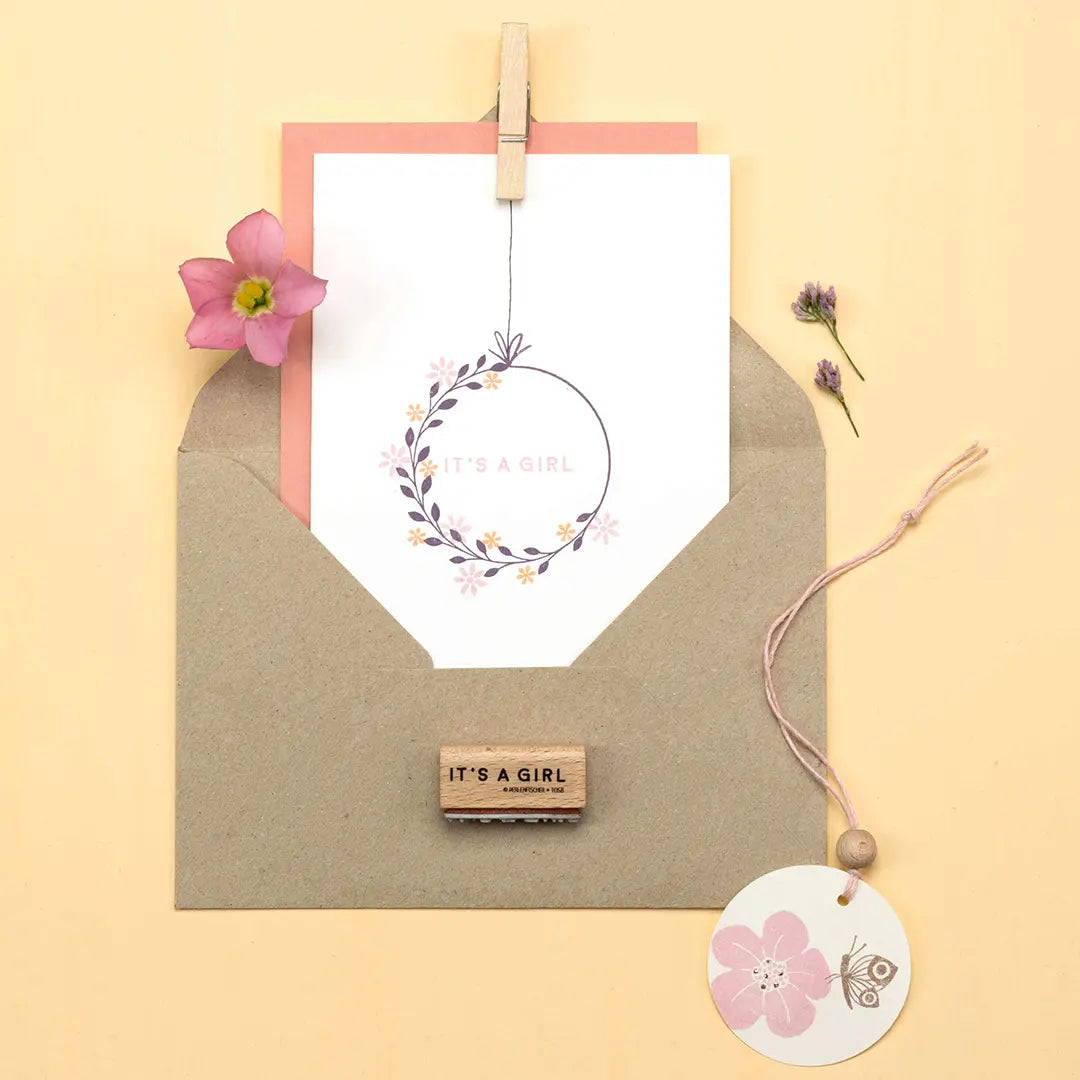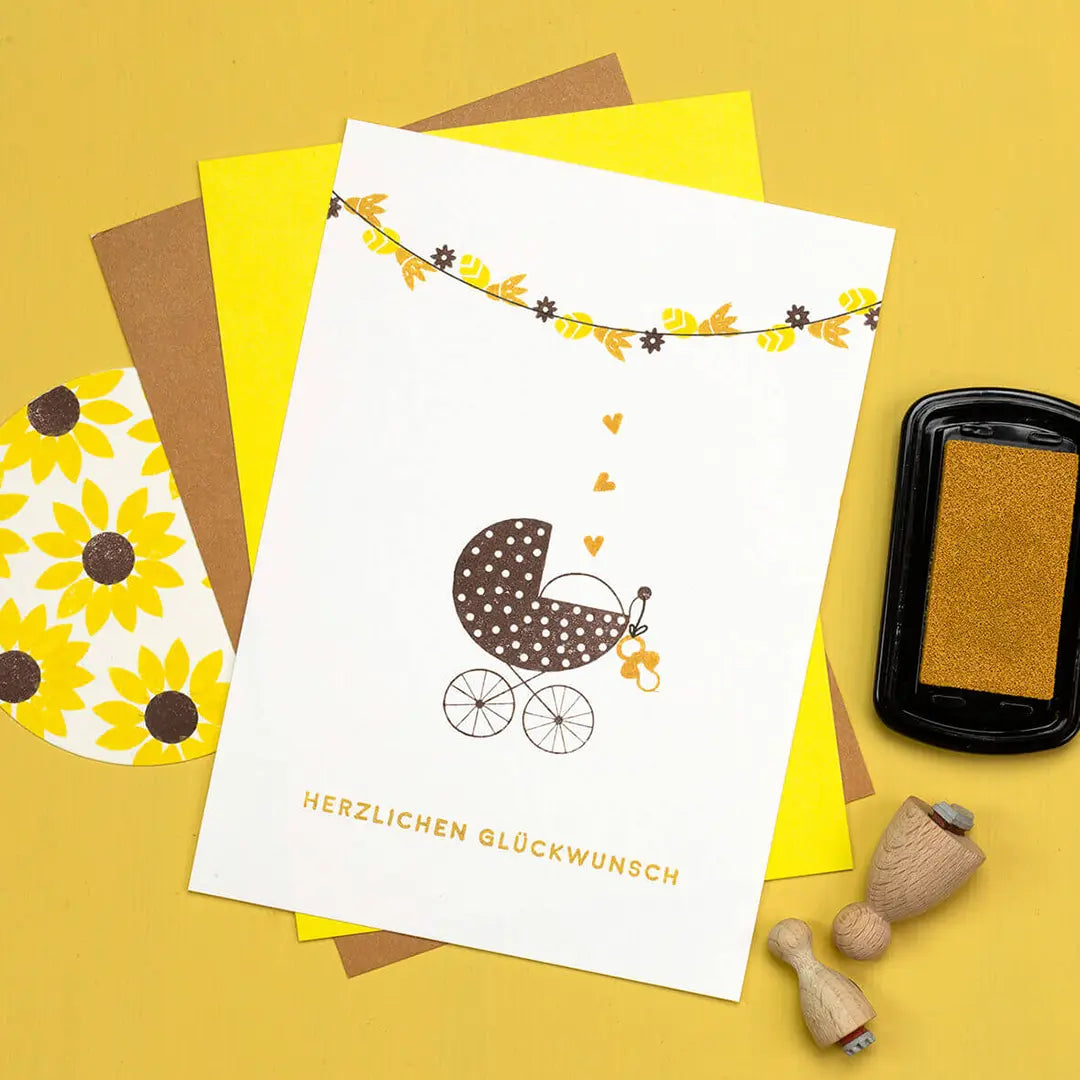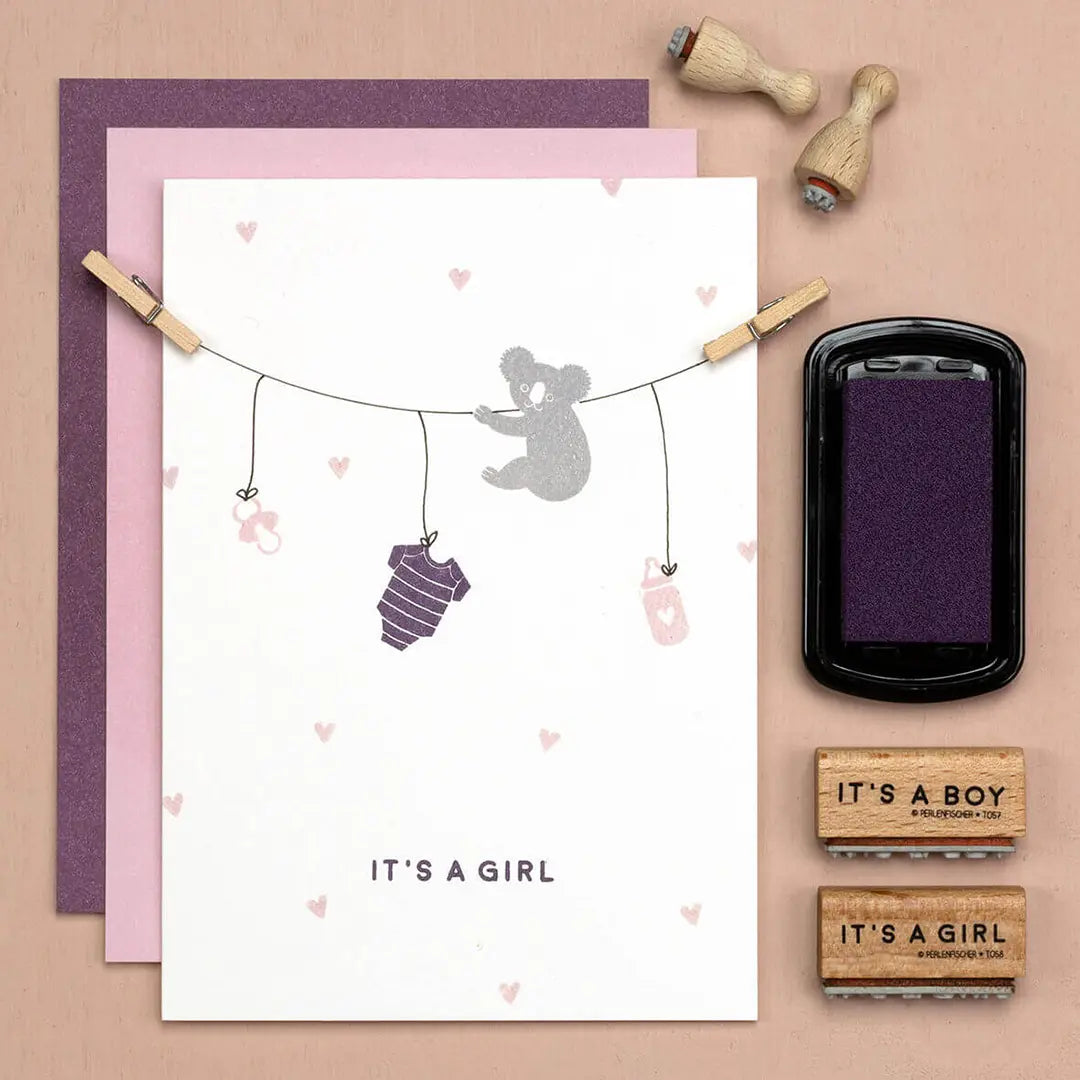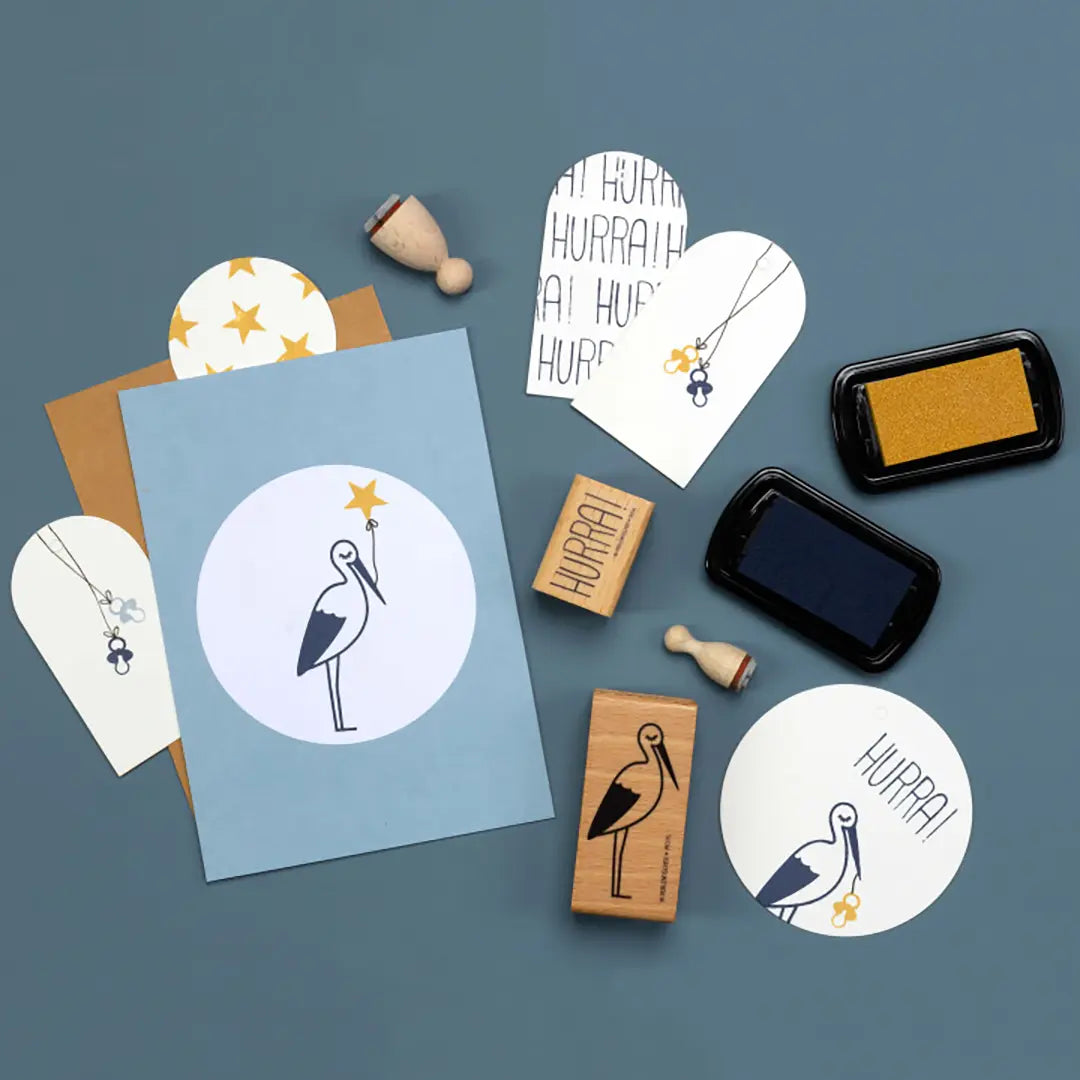 Set greetings from the stork
Bat Stamp, Ghost Stamp, Spider Stamp & Pumpkin Stamp
Creepy cute Halloween for the kids
Halloween is a lot of fun for children: dress up, carve pumpkins, eat sweets and visit the neighboring houses with friends. With our stamps you can create beautiful invitation cards for Halloween or make spooky decorations for your home. For many more motifs, please visit our Halloween Stamps category.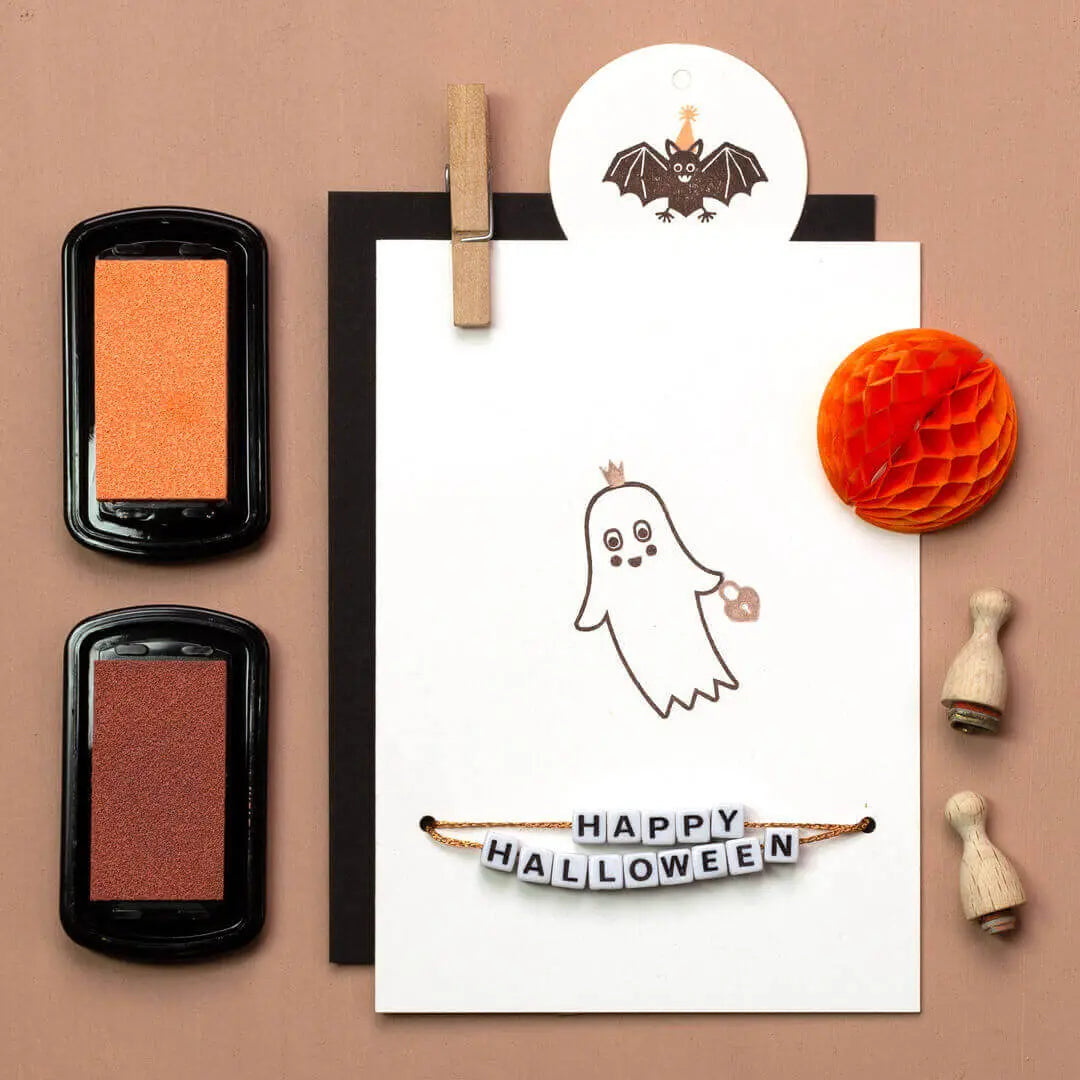 ghost big
Thread small letters onto yarn and tie them through pre-punched holes in card.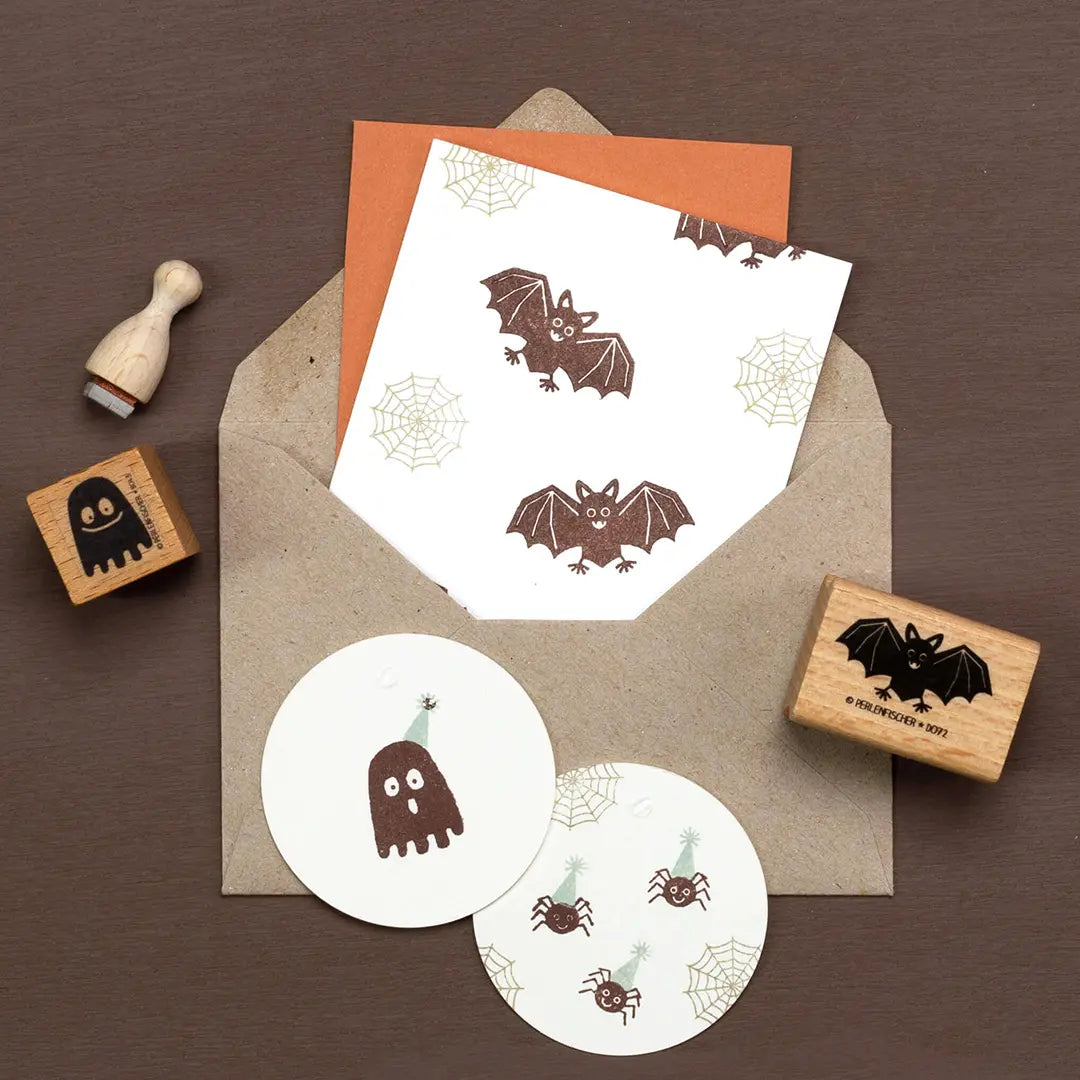 bat
Our bat just looks cute on cards.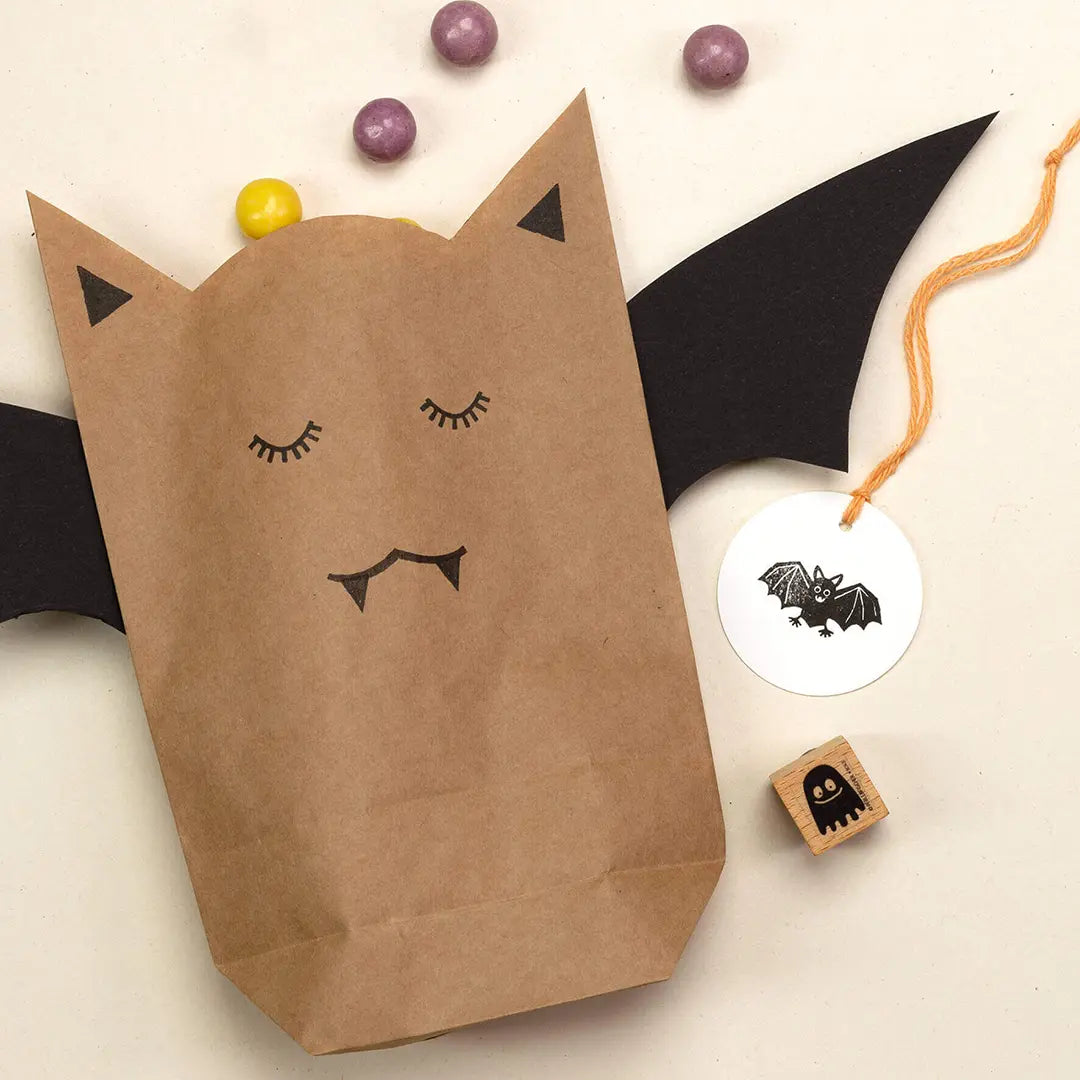 vampire face
Conjure up a creepy vampire face on paper with our triangle and pennant stamps.
castle ghost
Stamp the Dot 10mm and add a chain and you have a real castle ghost.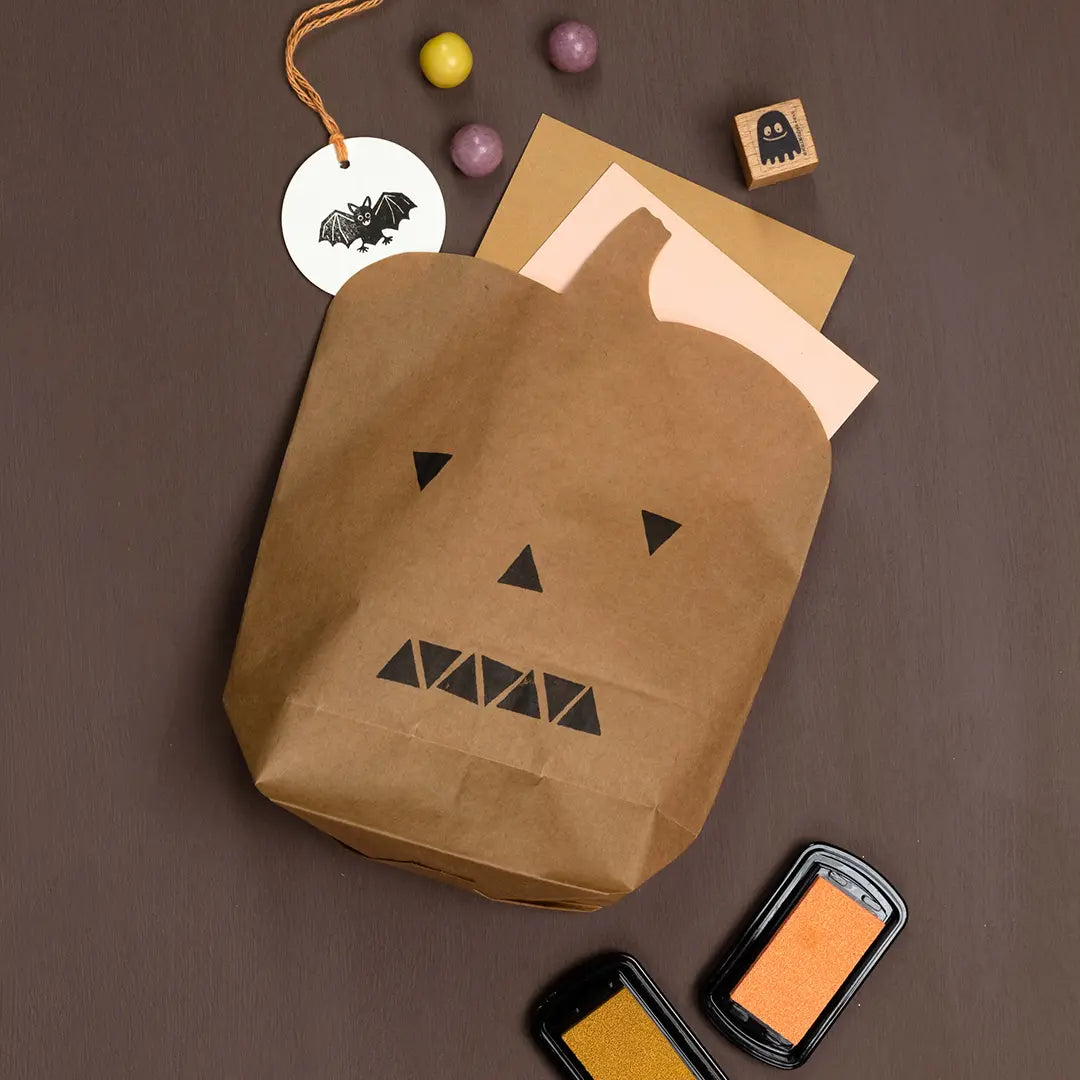 pumpkin bag
Cut our brown bags to size & stamp a pumpkin face with the pennant stamps.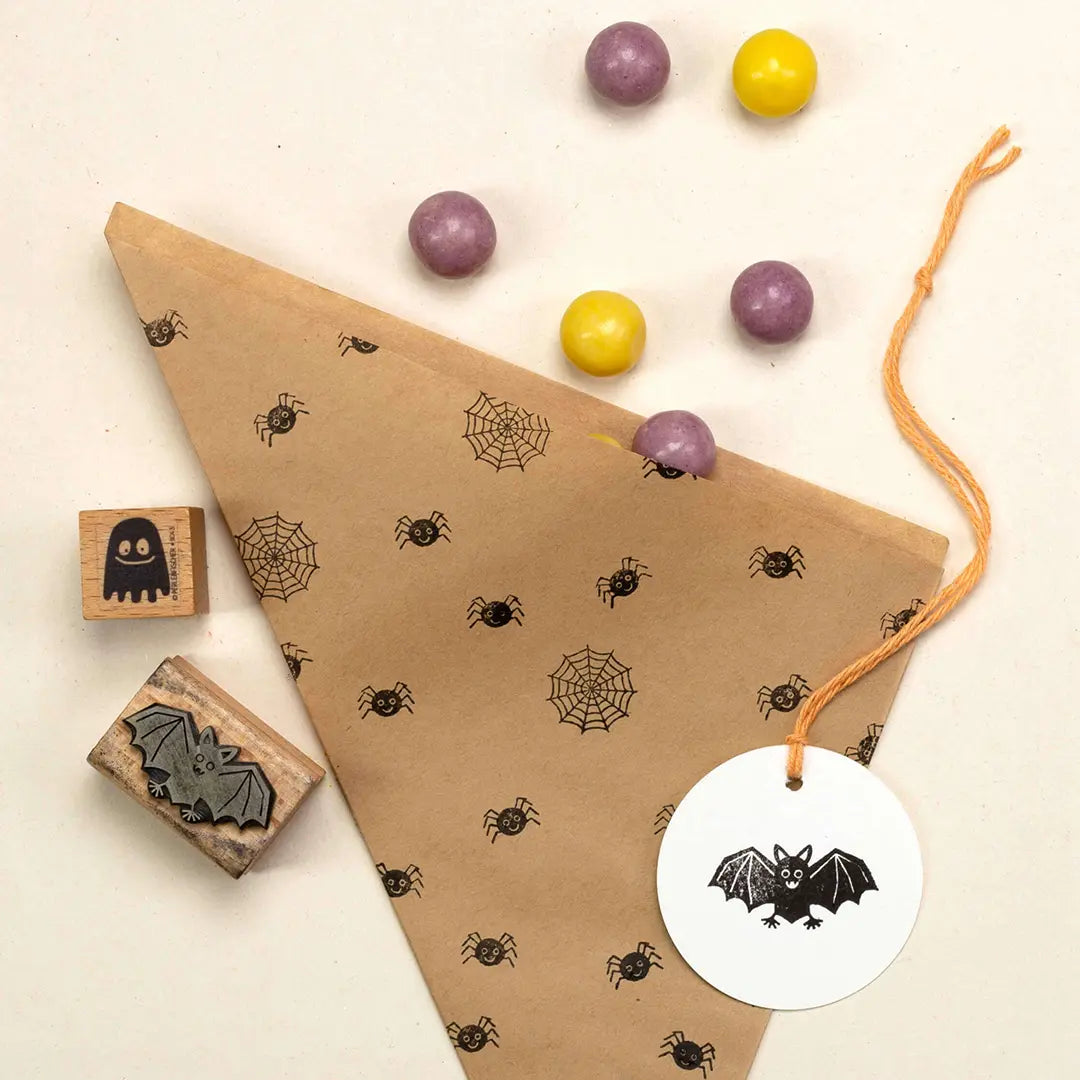 Spider & Cobweb
Stamp the two motifs as a pattern all over the paper.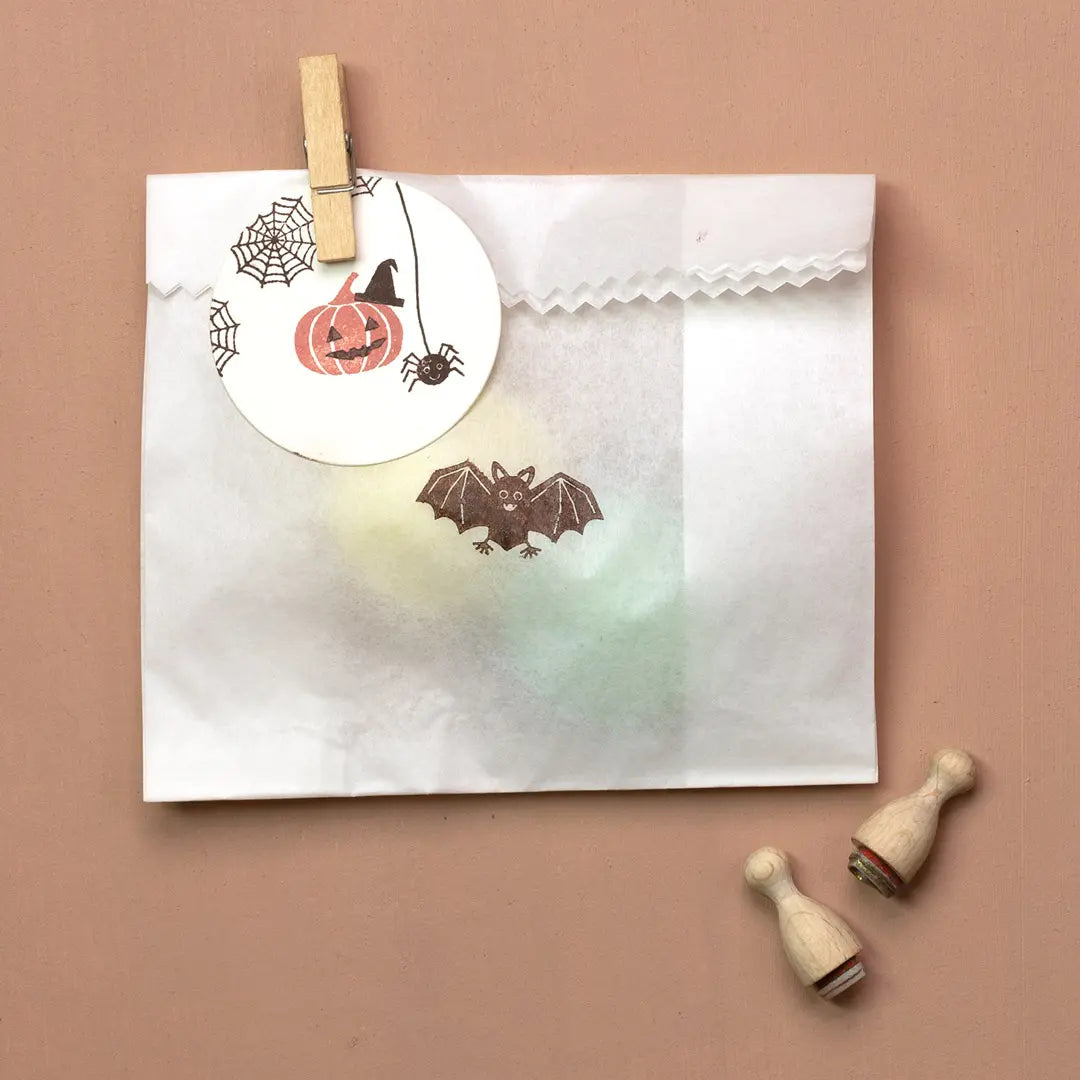 candy bag
Clip small stamped paper tags to your bags.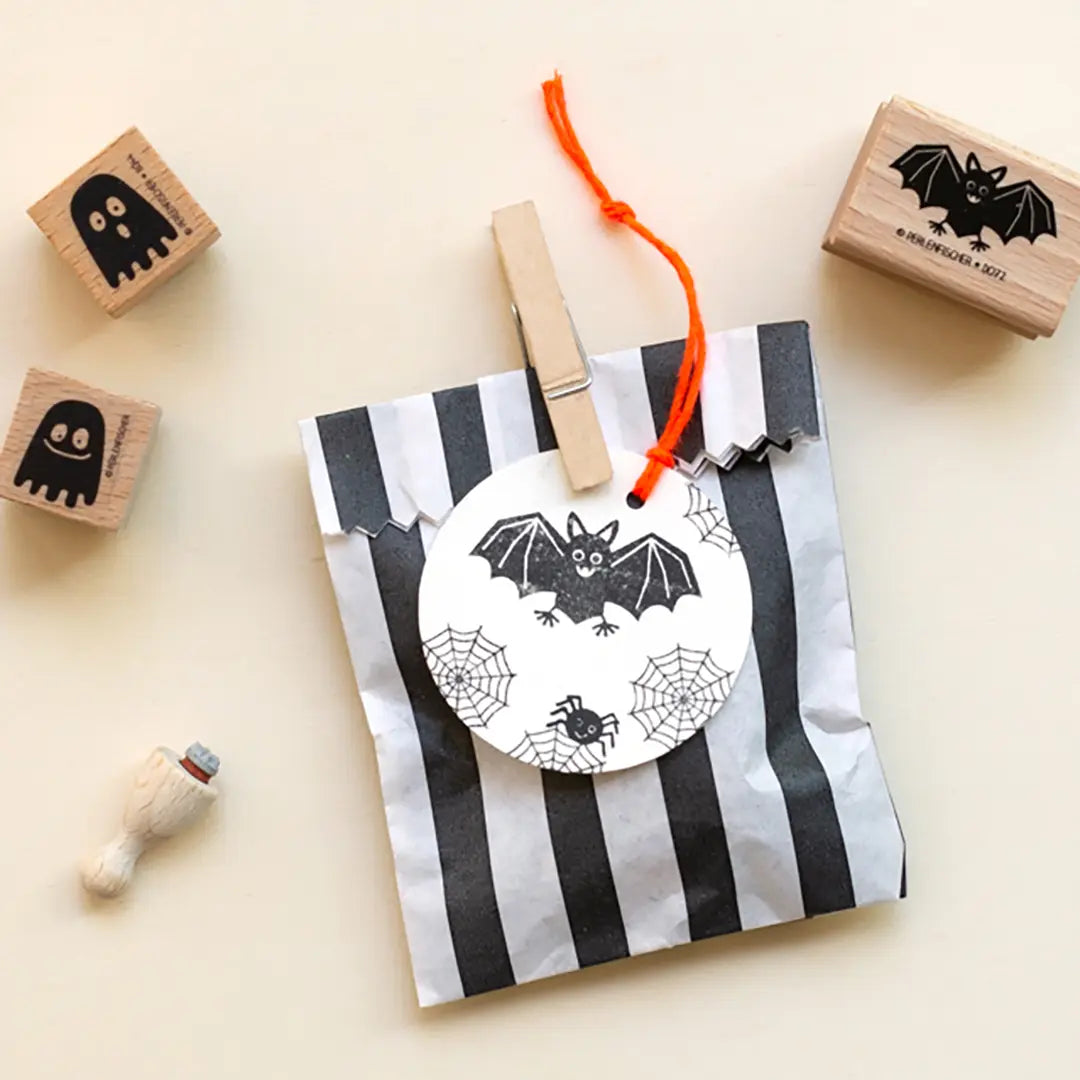 ghost funny
We love our sugar-sweet stamp | ghost funny.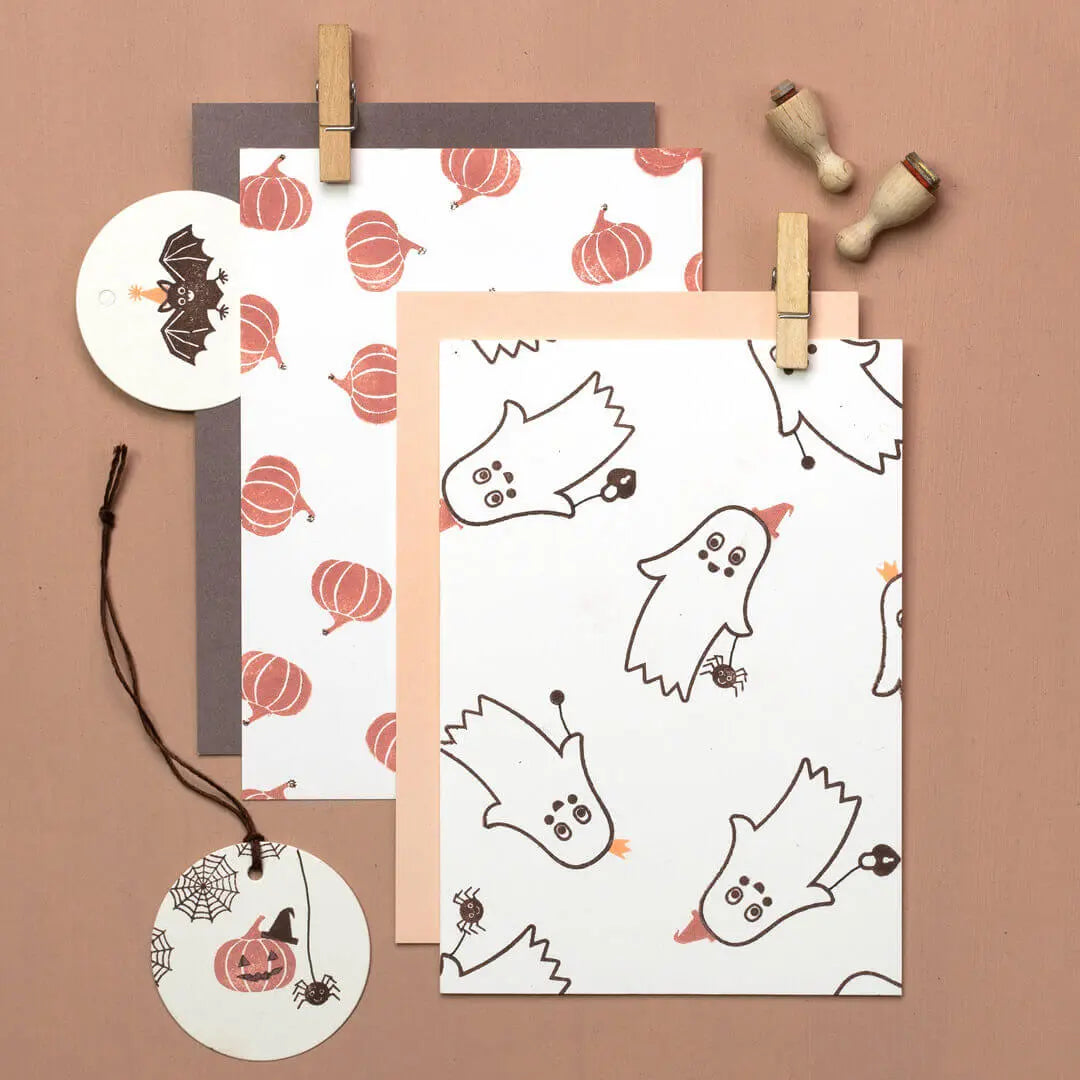 Halloween pumpkin
Put the magician's hat on the pumpkin or stamp it with the grimace stamp.
Tattoos for children
Temporary tattoos - Fun for every child
Our temporary tattoos are suitable for all kinds of occasions: children's birthday parties, Halloween, carnival, for weddings and flower girls or as a great highlight at school parties. To explore all the stamp designs you can put on your skin, feel free to check out our category Temporary Tattoos .

Are temporary tattoos safe for my children's skin?
Our tattoos are made according to the guidelines of the EU Cosmetics Regulation. So you can apply our beautiful tattoos to your children without hesitation and enjoy the great colors and variety of motifs on your skin to the fullest!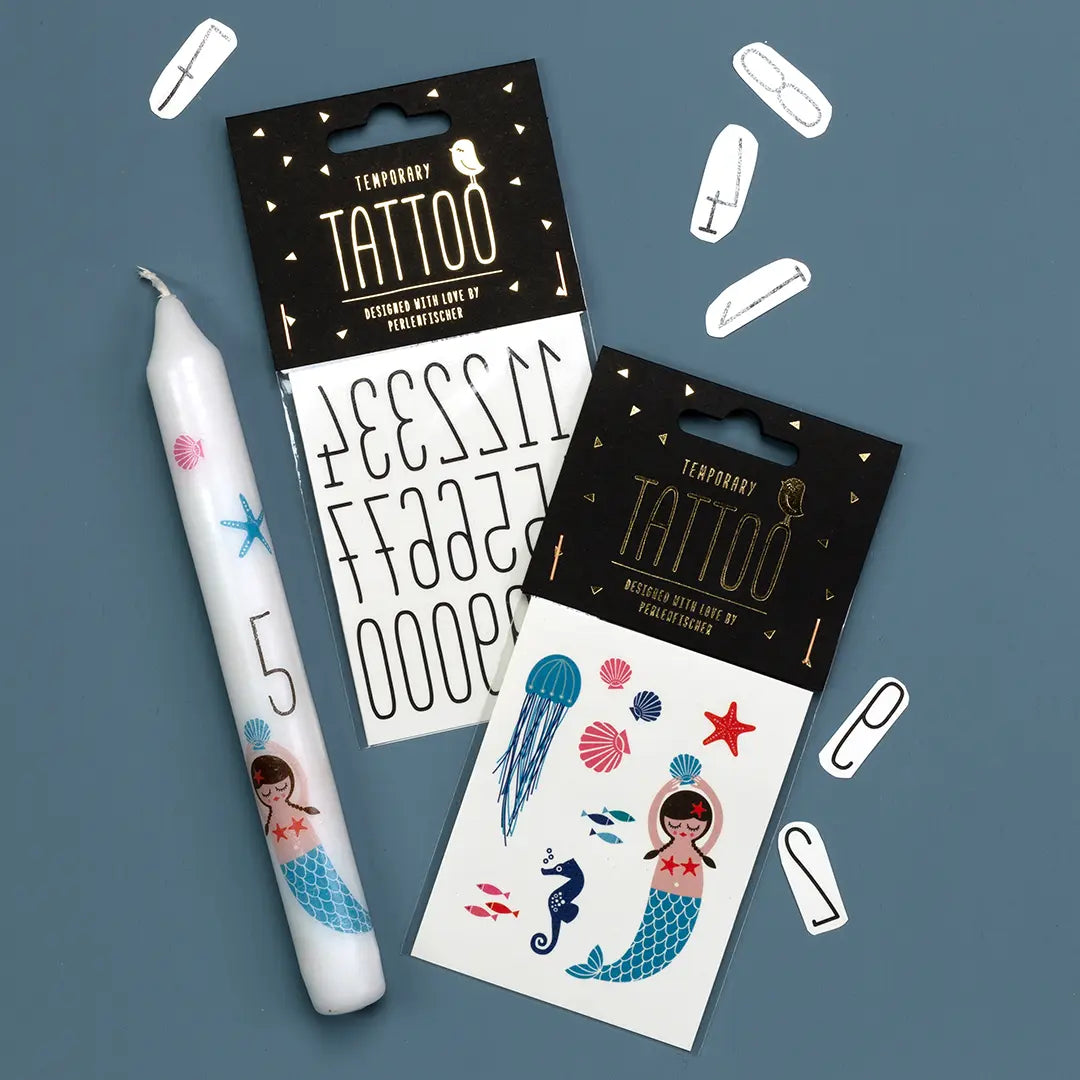 For the children's birthday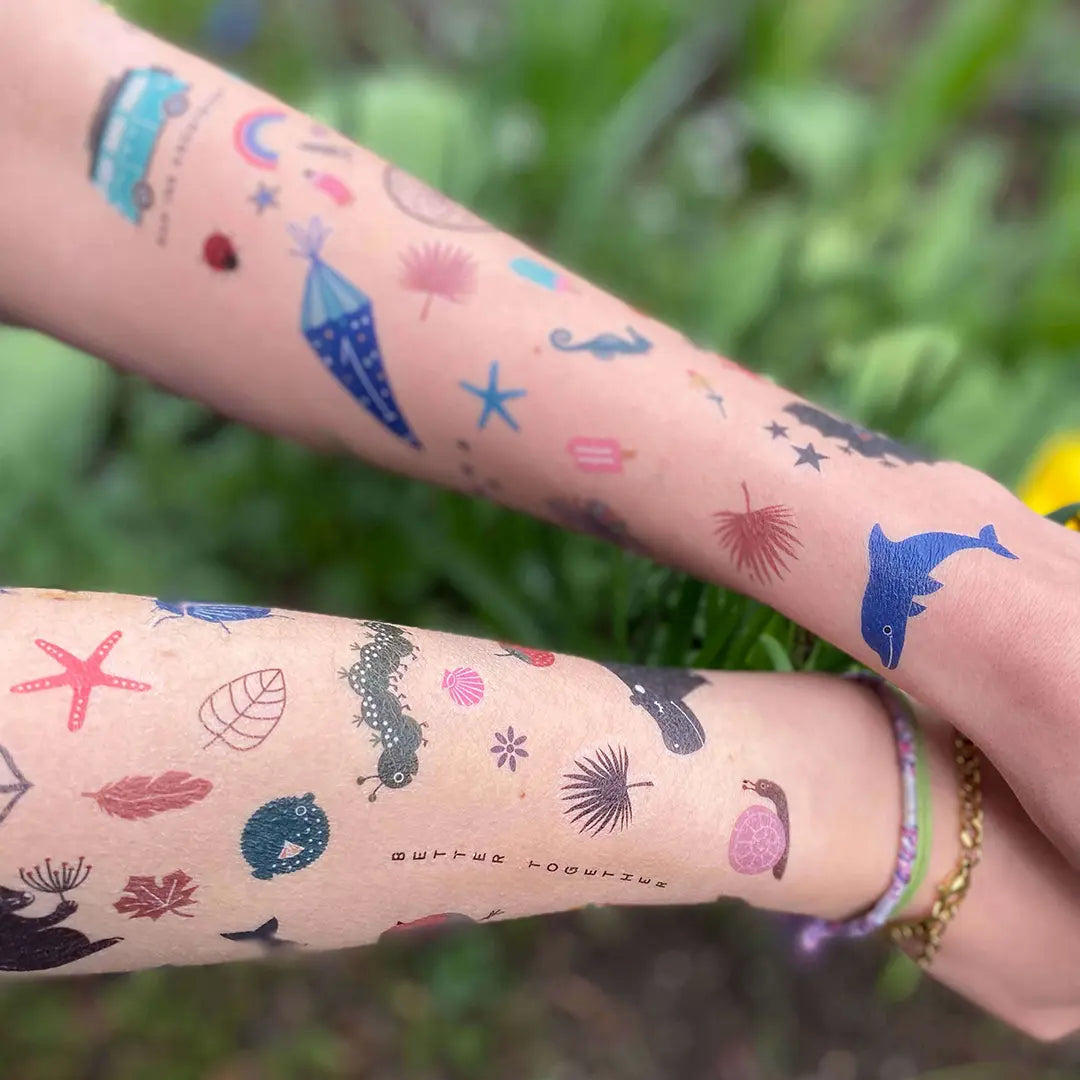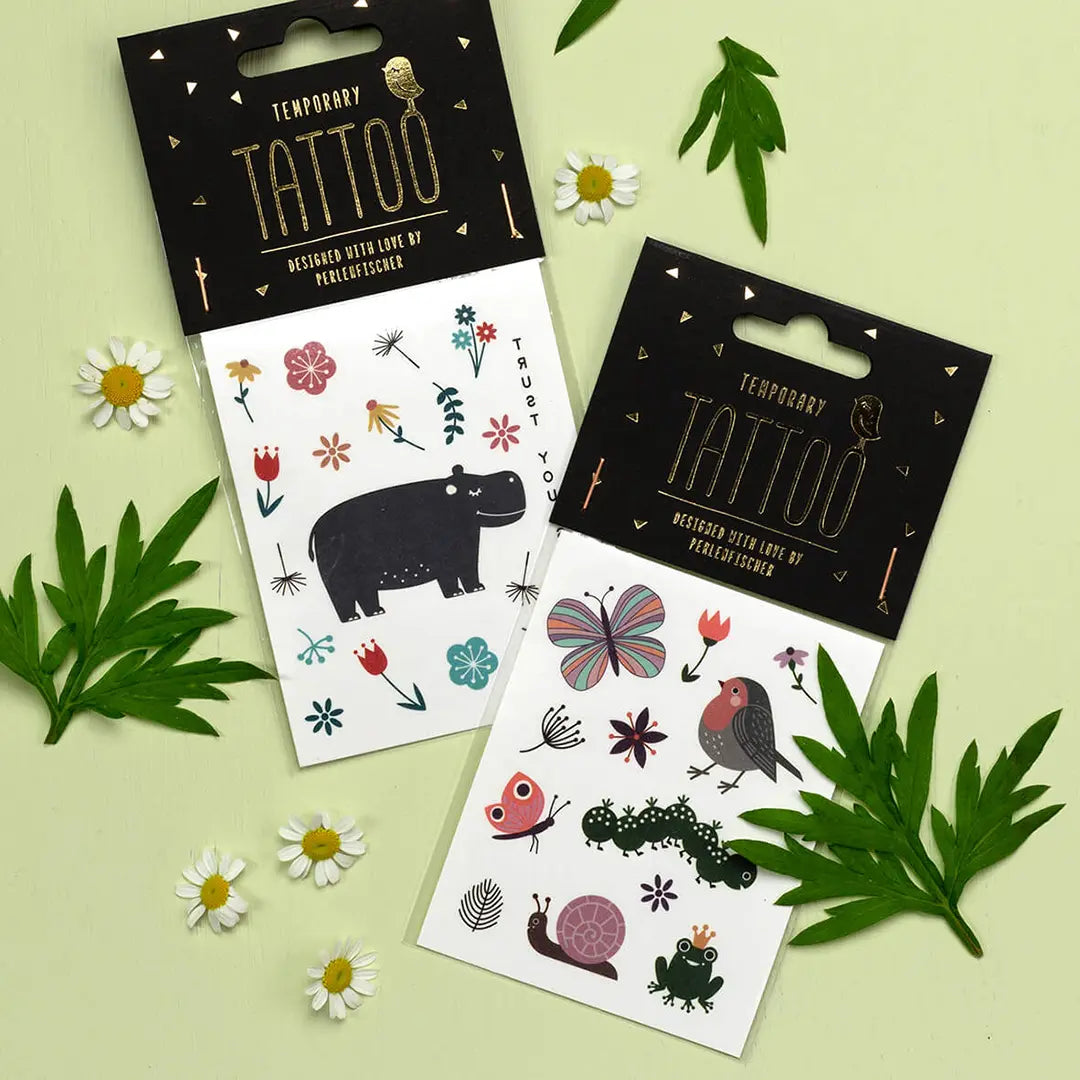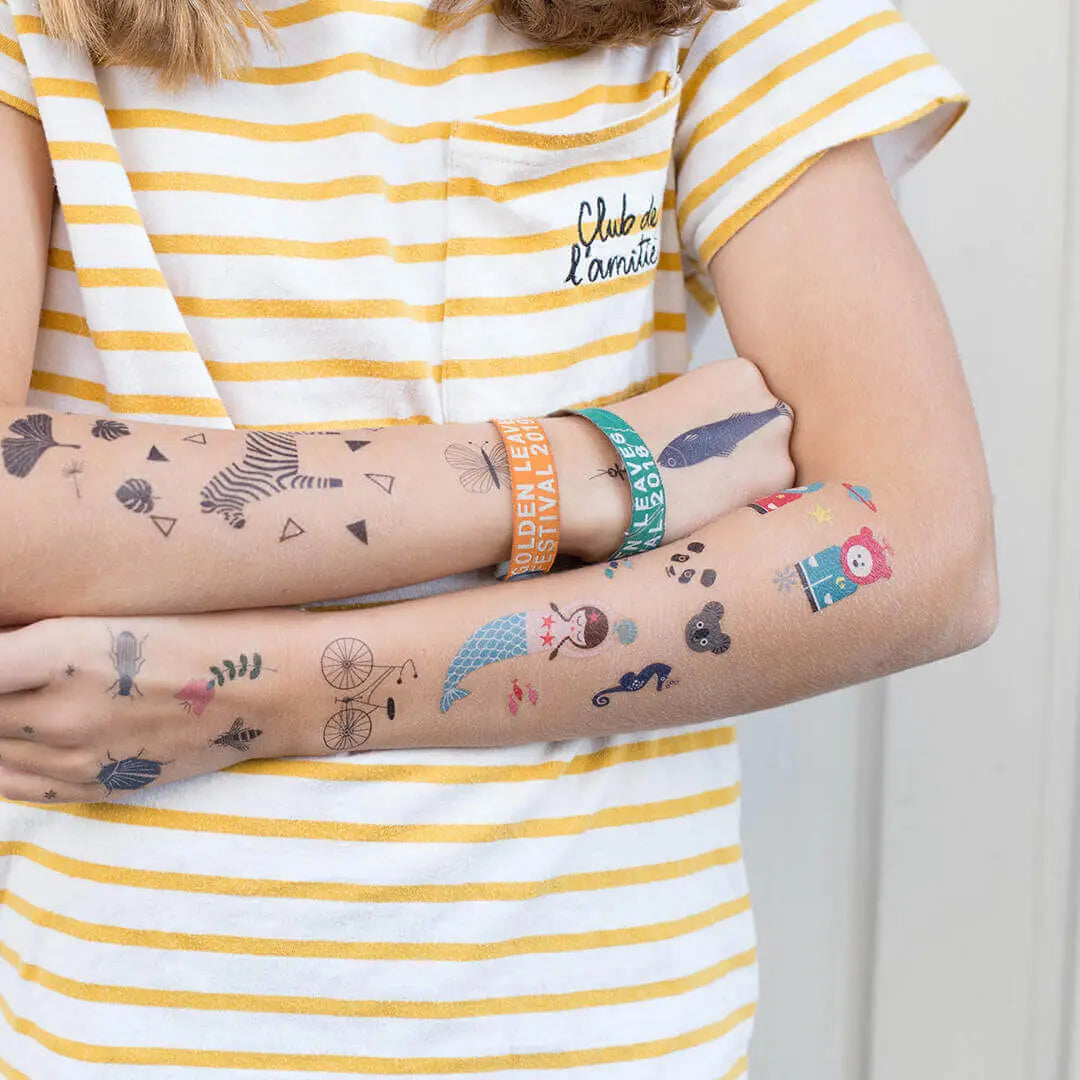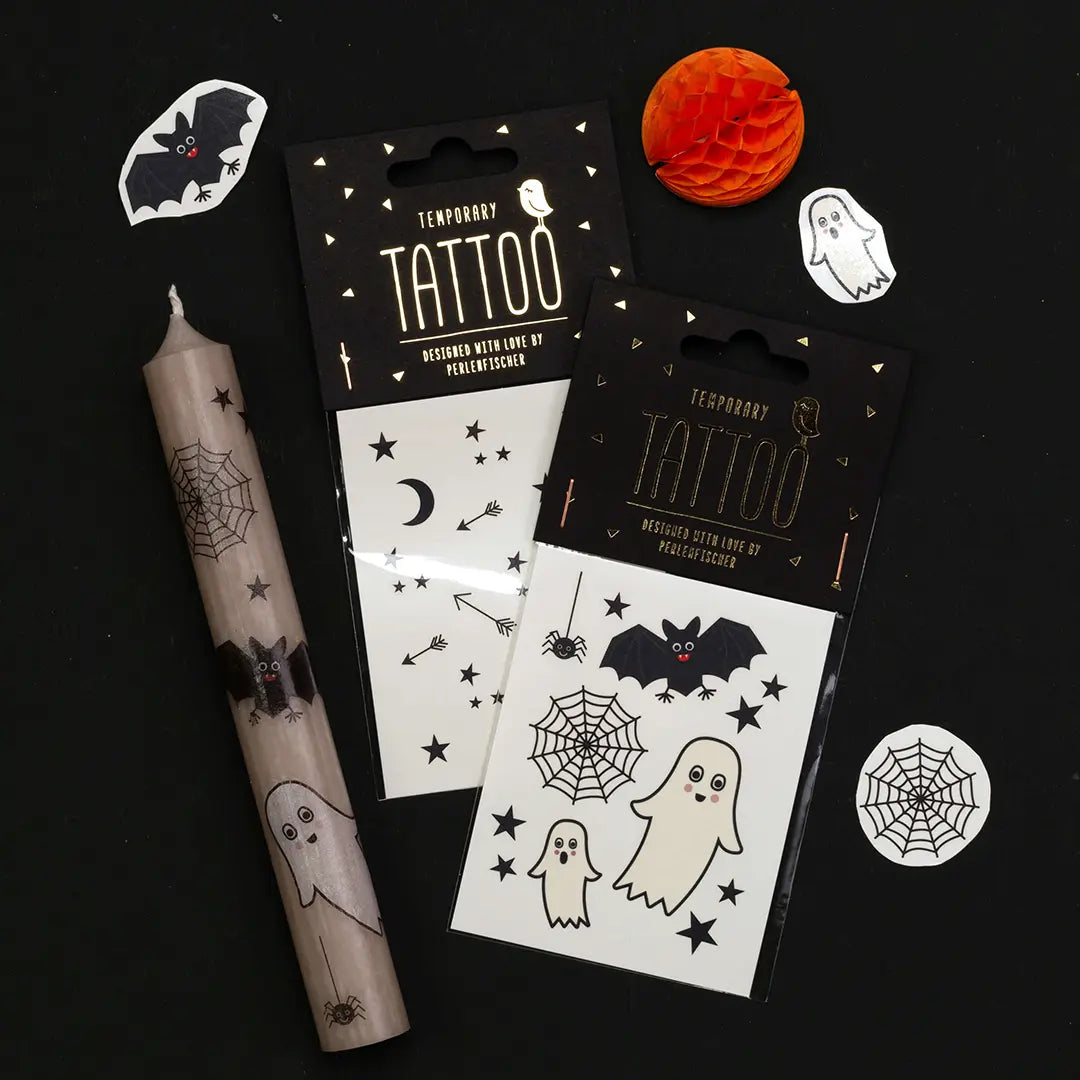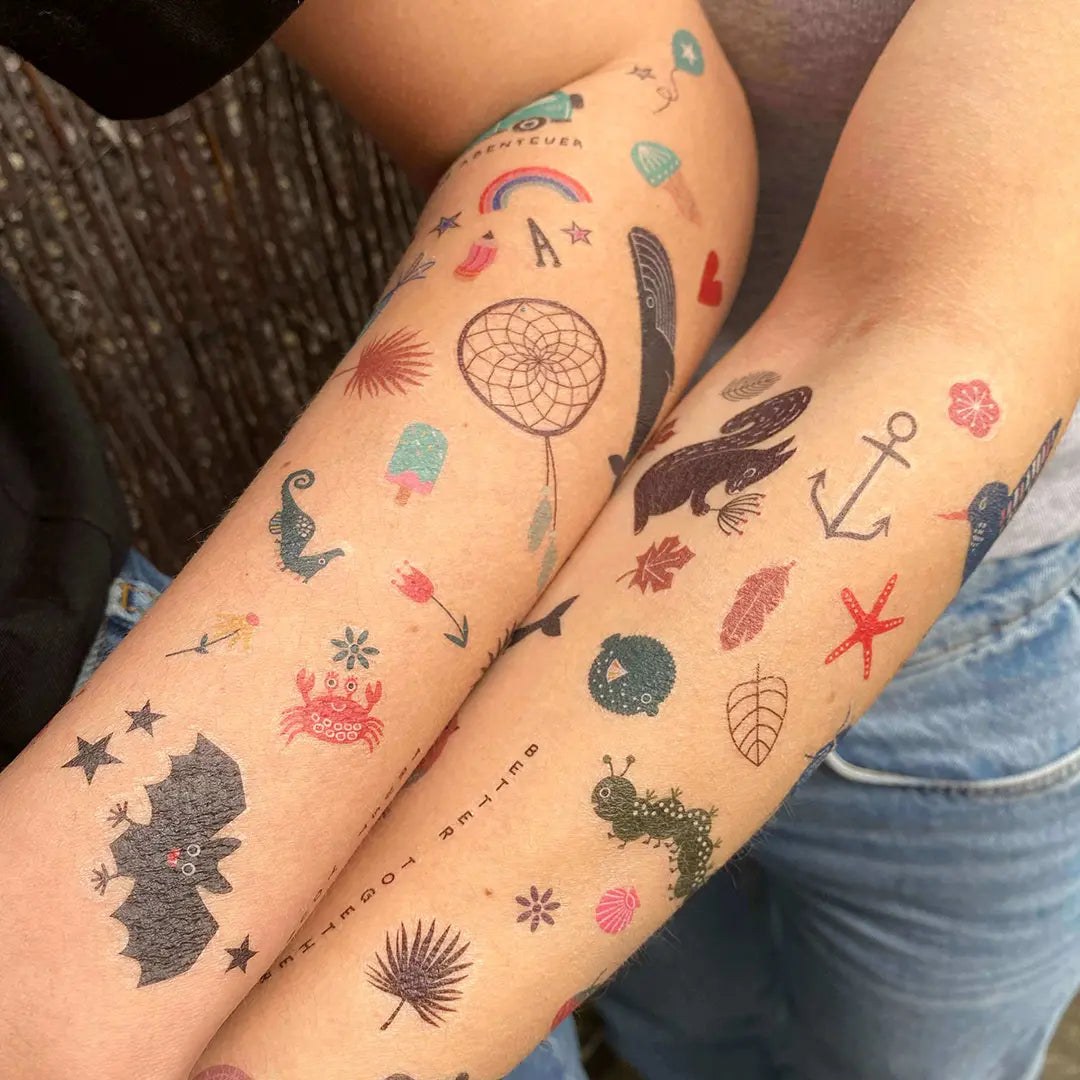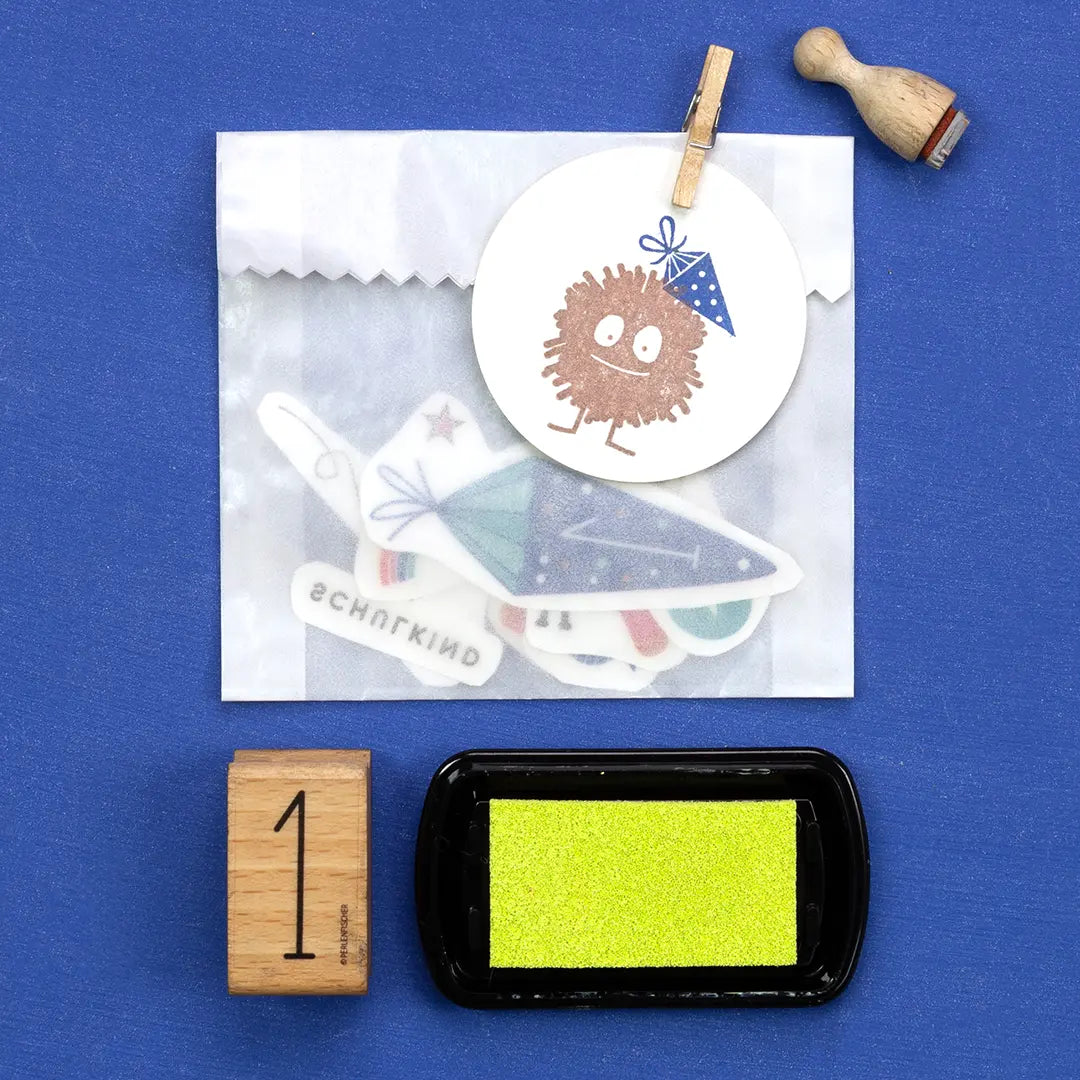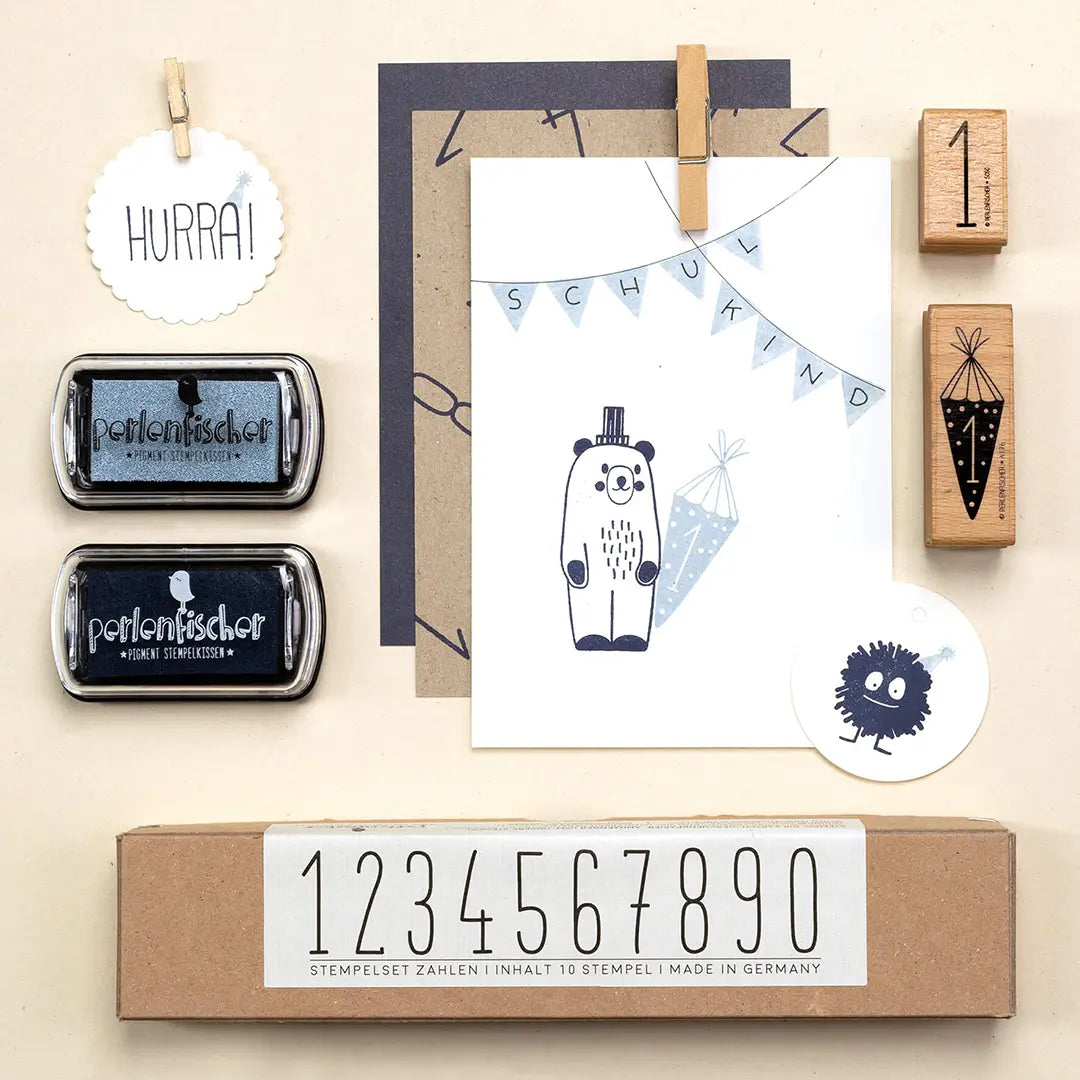 number stamps
Numbers stamp set for kids
Our number set is not only wonderful for upgrading children's birthday cards with the age of your child every year or for stamping your child's self-made advent calendar. It is also ideal for your children's development to learn numbers through play and fun.
Stamp animals for kids
Get to know animal motifs in a playful way
Children are curious and love animals from an early age. With our animal stamps, you can integrate this into a stamping afternoon in a wonderfully playful way. In this way, your children get to know the great variety of animals with ease and under artistic influence. In our animal stamp category, your child's favorite animal is sure to be included!
Stamping with children at Christmas, stamp pictures & Co
Christmas stamping projects for kids
What is Christmas without children? You can use our Christmas stamps to make your own great Christmas calendars for your little ones, make individual Christmas tree decorations or stamp uniquely cute Christmas cards with them. For even more creative inspiration, take a look at our Christmas category .