Temporary tattoos - Our stamp designs for the skin
We really wanted to put our stamp motifs on the skin. Our semi-permanent tattoos can not only be applied to the skin, they also look great on candles, Easter eggs and other textiles!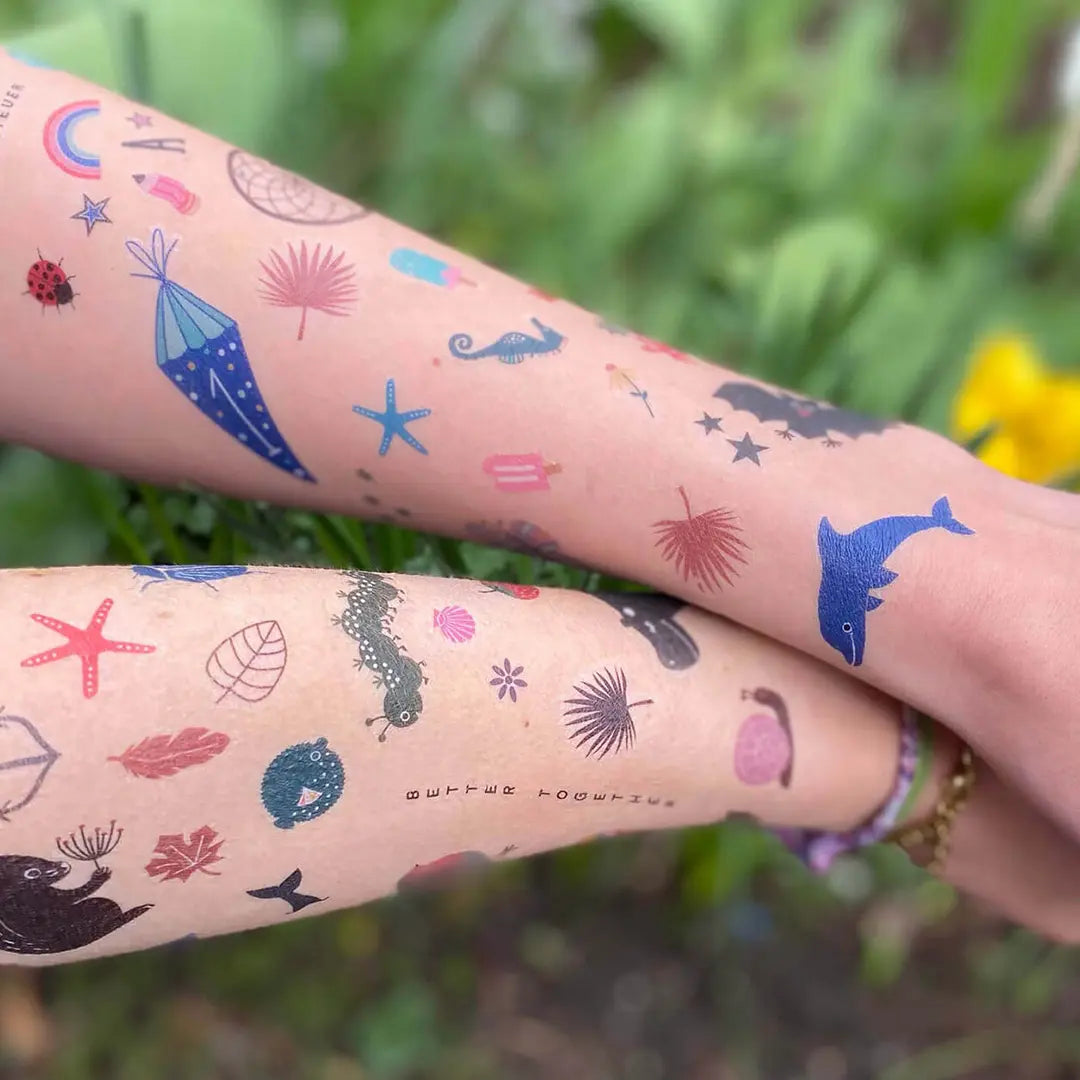 Can I apply the temporary tattoos on my skin?
Love them on Paper & Love them on your skin
Our tattoos are all produced in Germany and have of course been checked for the European cosmetics guidelines. So you can apply it to your skin without hesitation.
Since we love our stamp motifs so much and you can of course only stamp on paper and textiles with our stamp pads , we have developed these wonderful temporary tattoos. So that almost all of our motifs can now also come into their own on our skin!
Fake tattoo lettering
Simple & beautiful words
Special lettering simply looks classic and noble. With our adhesive tattoos you can put different sayings and typos on your skin. Discover our large selection of loving words:
Adhesive tattoos for children
Cute kids tattoos
Semi-permanent tattoos are also great fun for the little ones. Our beautiful tattoos are made according to the guidelines of the EU Cosmetics Regulation. So you can apply them to your children without hesitation and enjoy the great colors and variety of motifs to the fullest! Whether it's a child's birthday party, school enrollment, Halloween, christening, carnival or simply for sunny days in the garden. Feel free to take a look at our stamp children and stamp birthday categories, where you will find lots of party and children's motifs.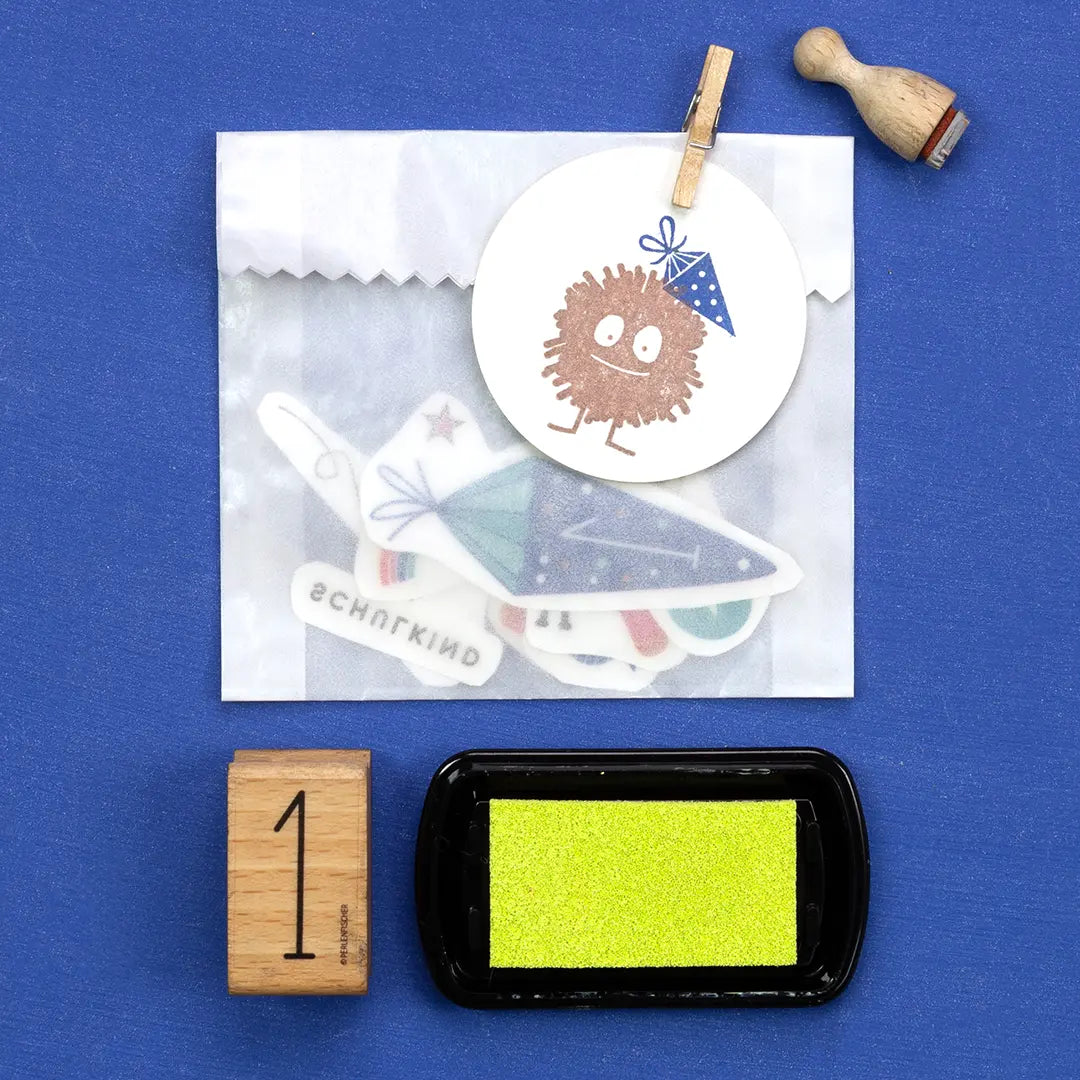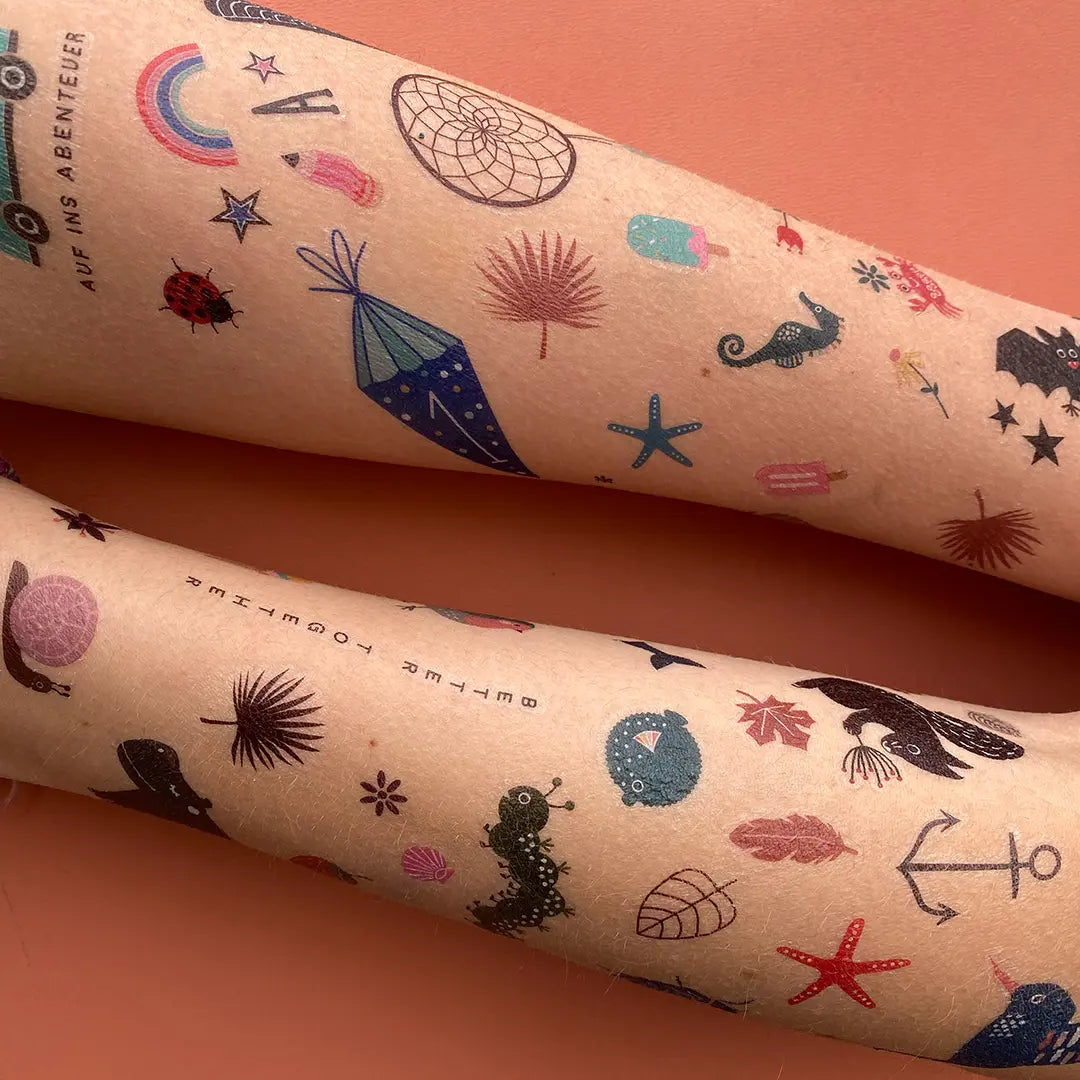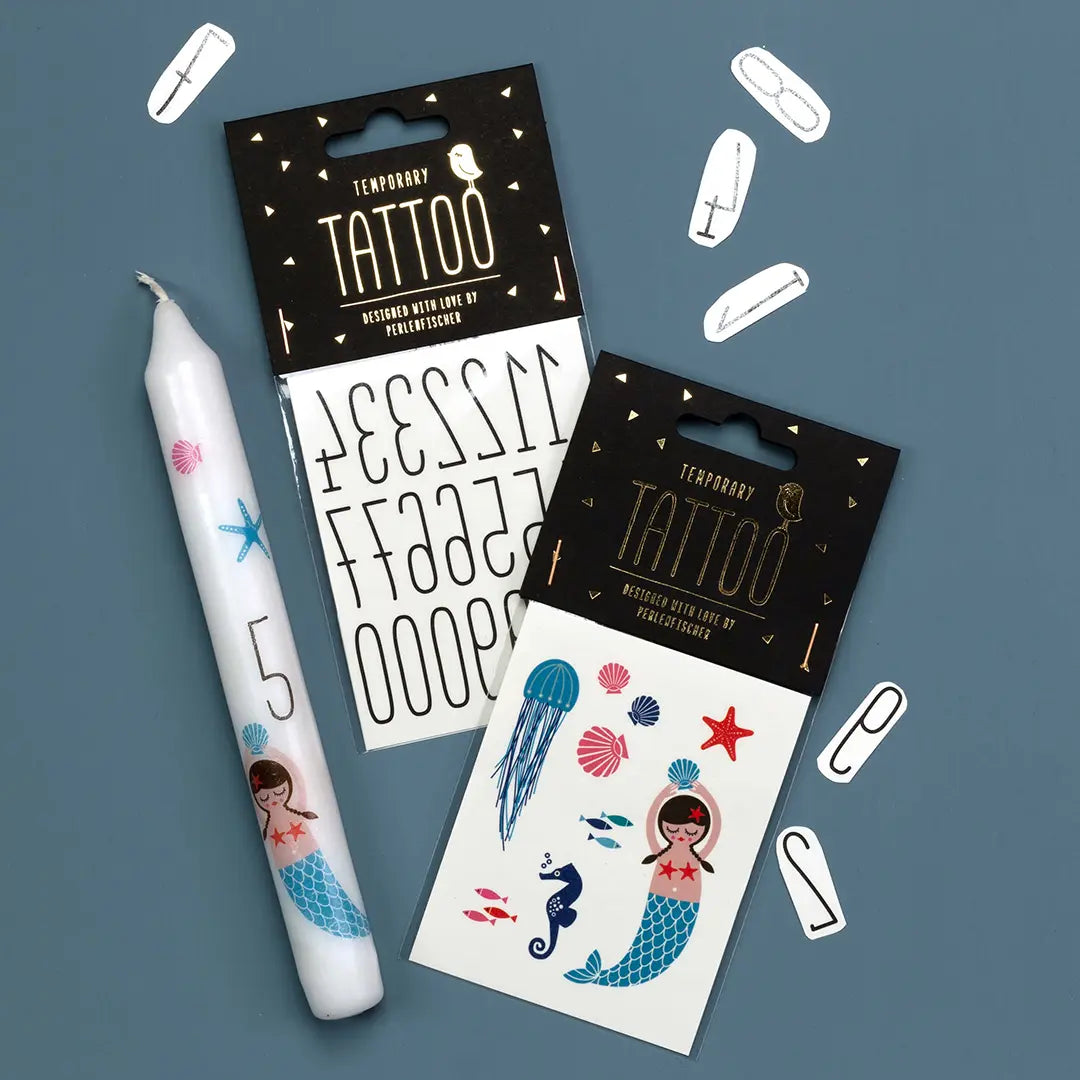 For the children's birthday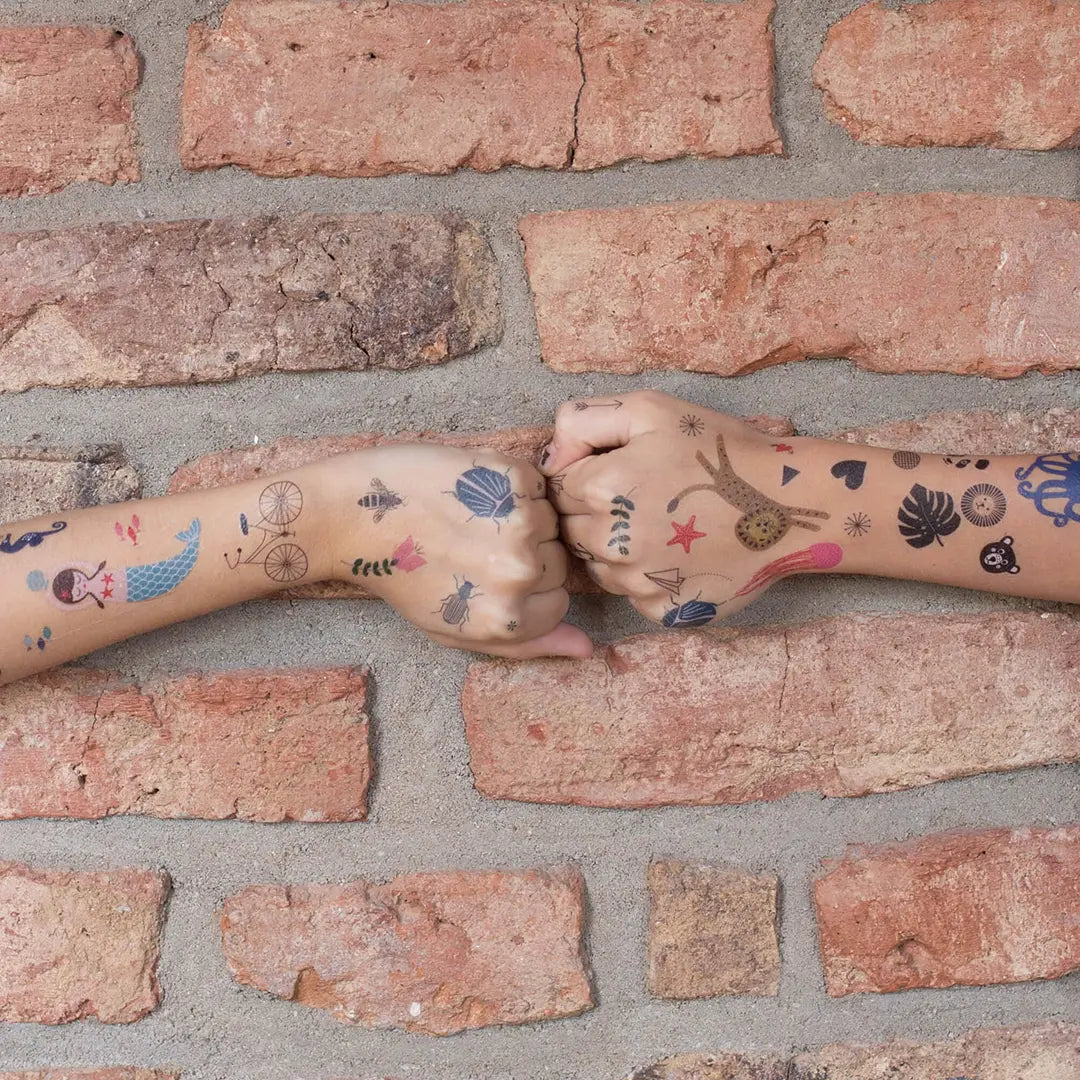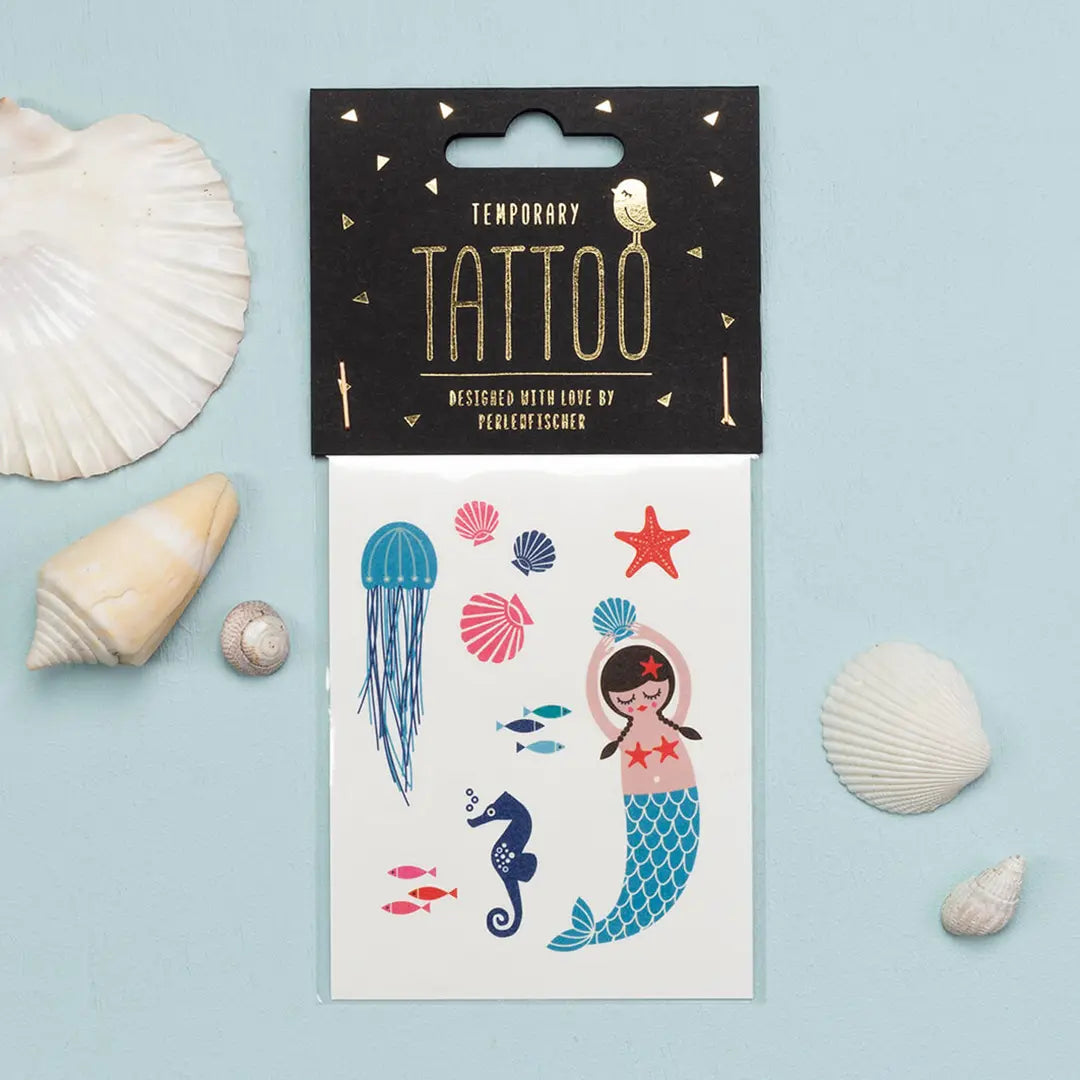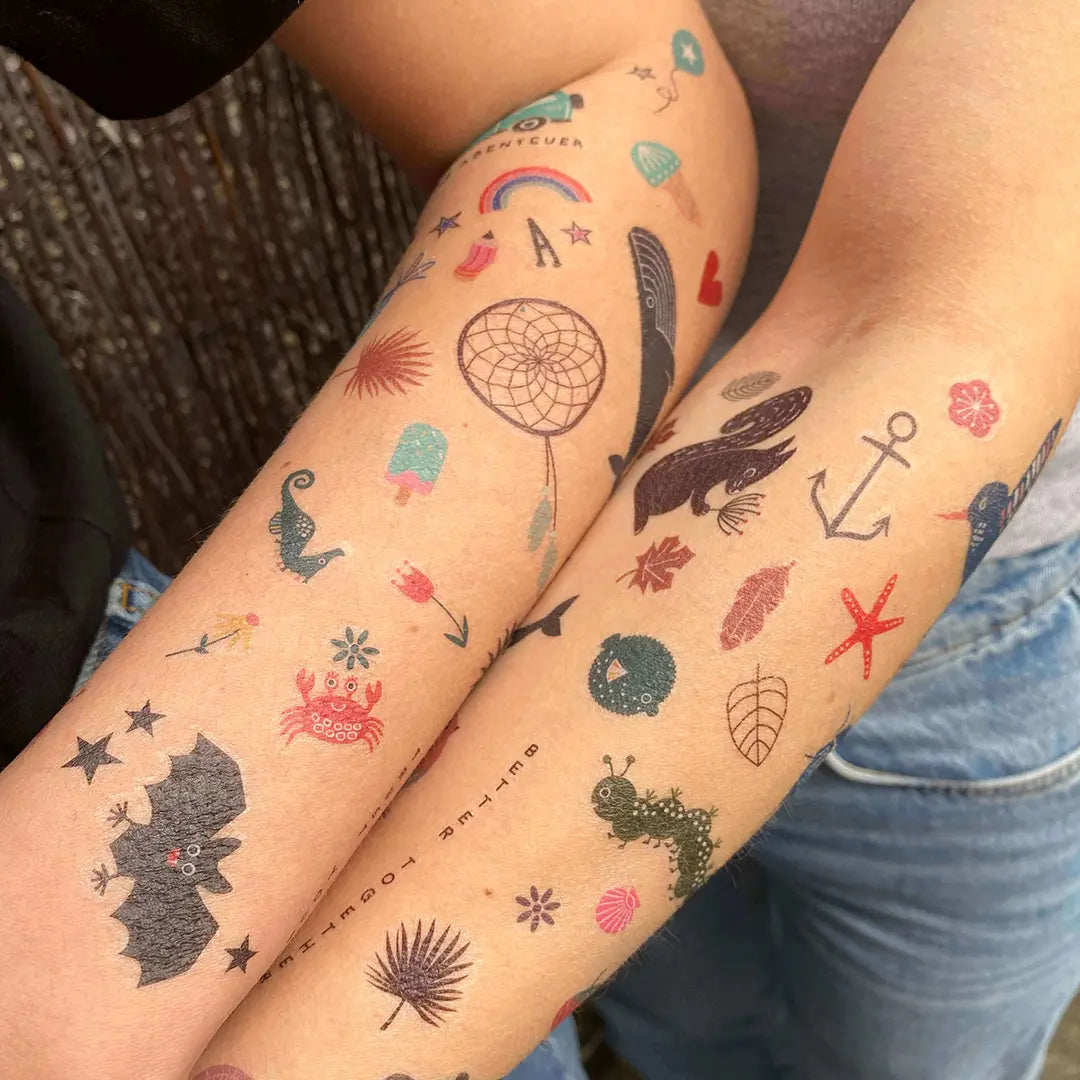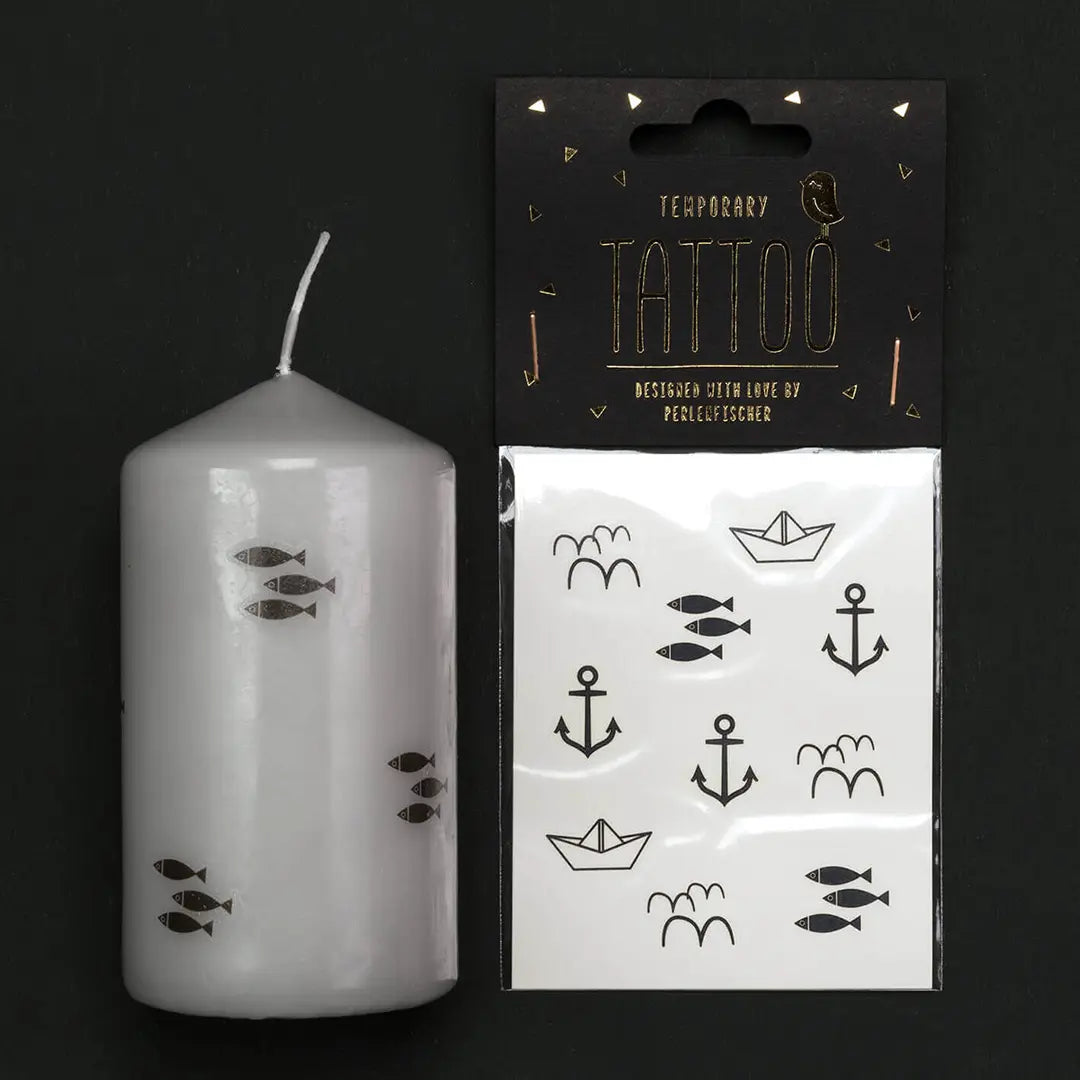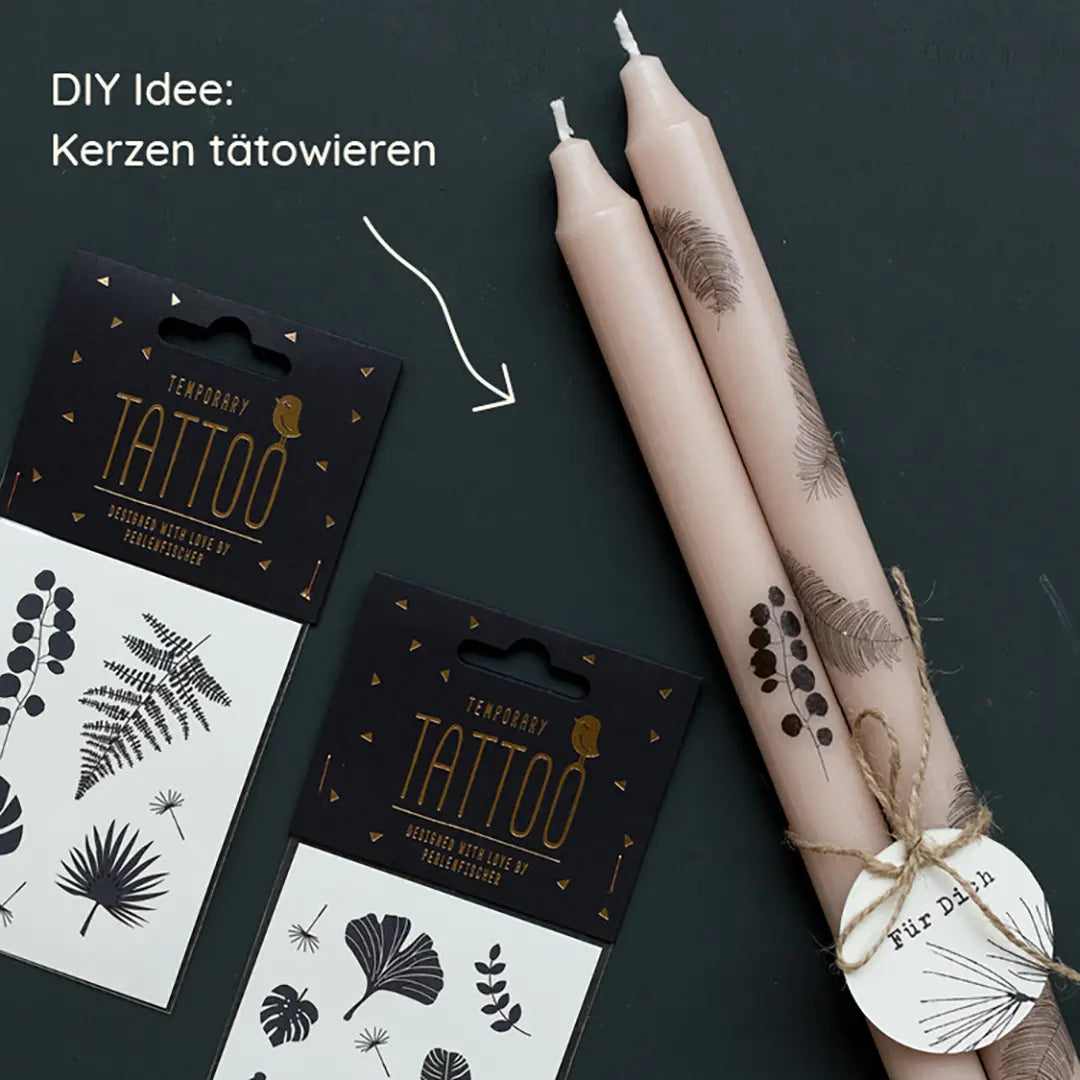 How do I apply tattoos on candles?
Glue on decorative candles
Simply stick candles with tattoo sheets of your choice. This works just as well as on the skin! So you can decorate your home beautifully or have a great homemade gift.
Step 1: Cut out the desired motif and remove the transparent protective film.
Step 2: Press the tattoo face down onto the candle and wet the paper well with a sponge.
Step 3: After about 30 seconds you can carefully remove the paper. Stand the candle upright so that the tattoo can dry well.
Fake tattoos for Easter DIYs
How do I put tattoos on Easter eggs?
Here you can see a great and simple DIY for Easter. Stick the tattoo sheets onto your Easter eggs super easily, using the same technique as applying to the skin, you will also find the instructions on the back of each tattoo sheet. We only have one little tip: Be careful not to get the areas around the tattoo too wet so that the egg color doesn't come off. In our Easter stamp category you will find lots of spring inspiration for Easter.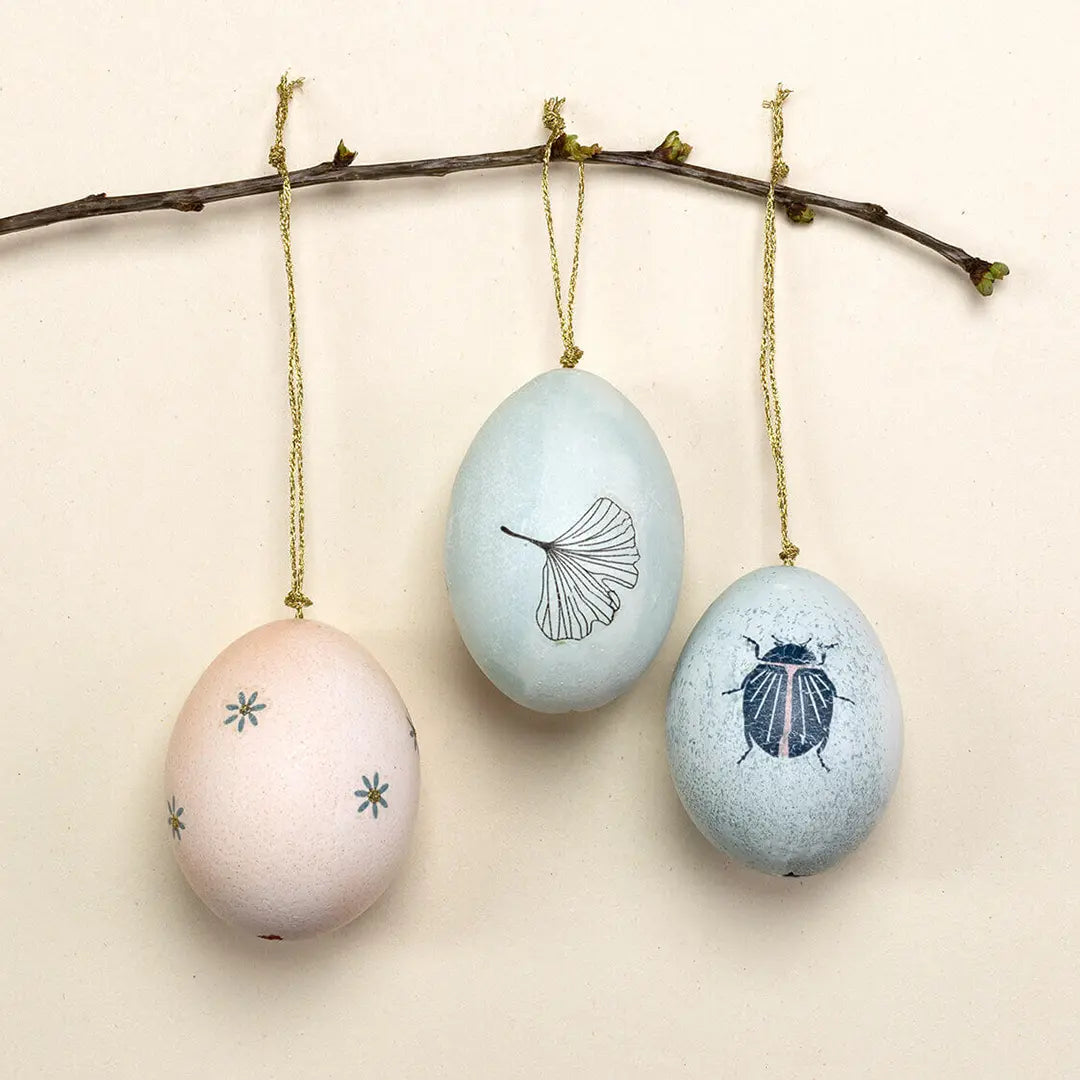 Step 1: Cut out the motif you want and remove the protective film.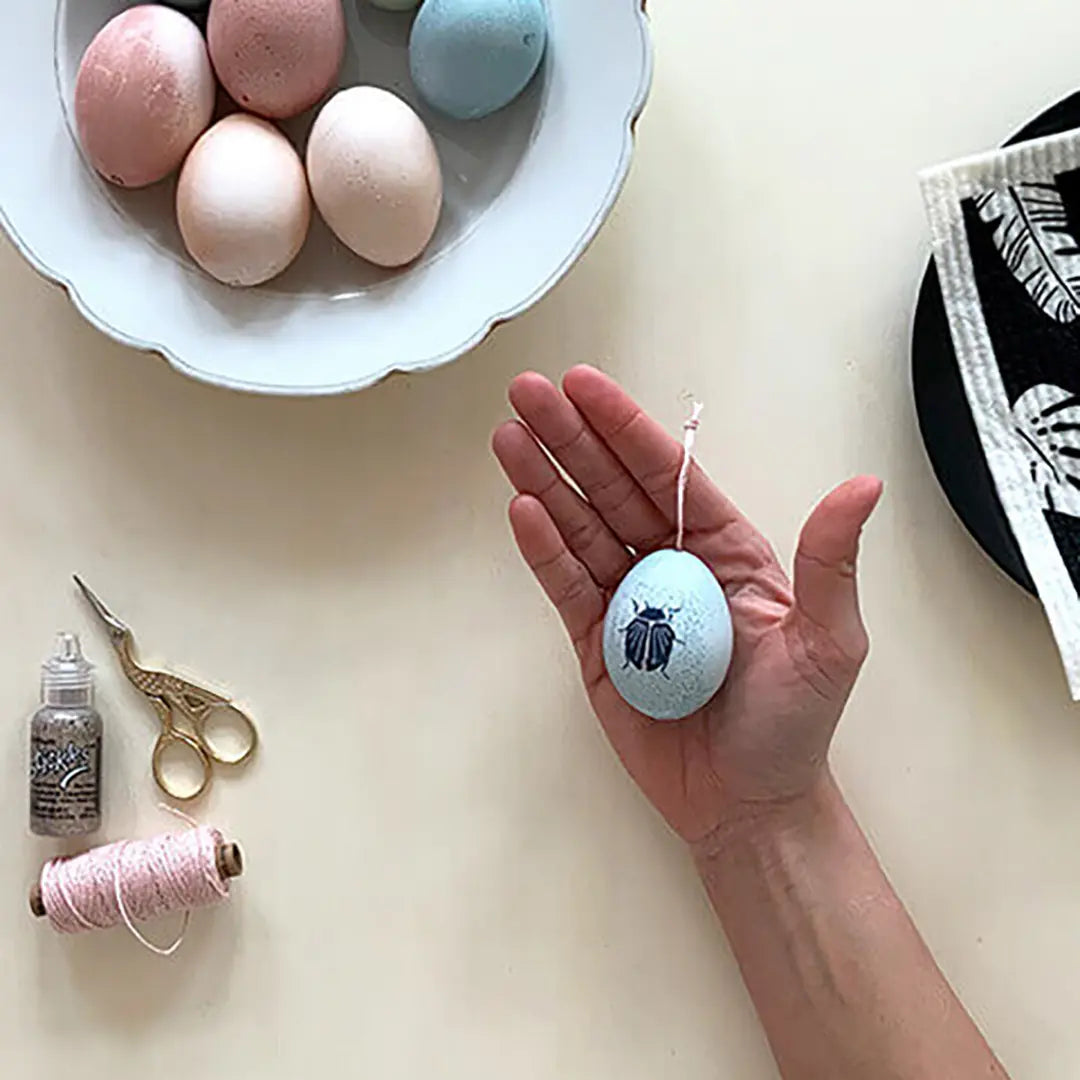 Step 2: Stick the tattoo onto the egg with the design facing down.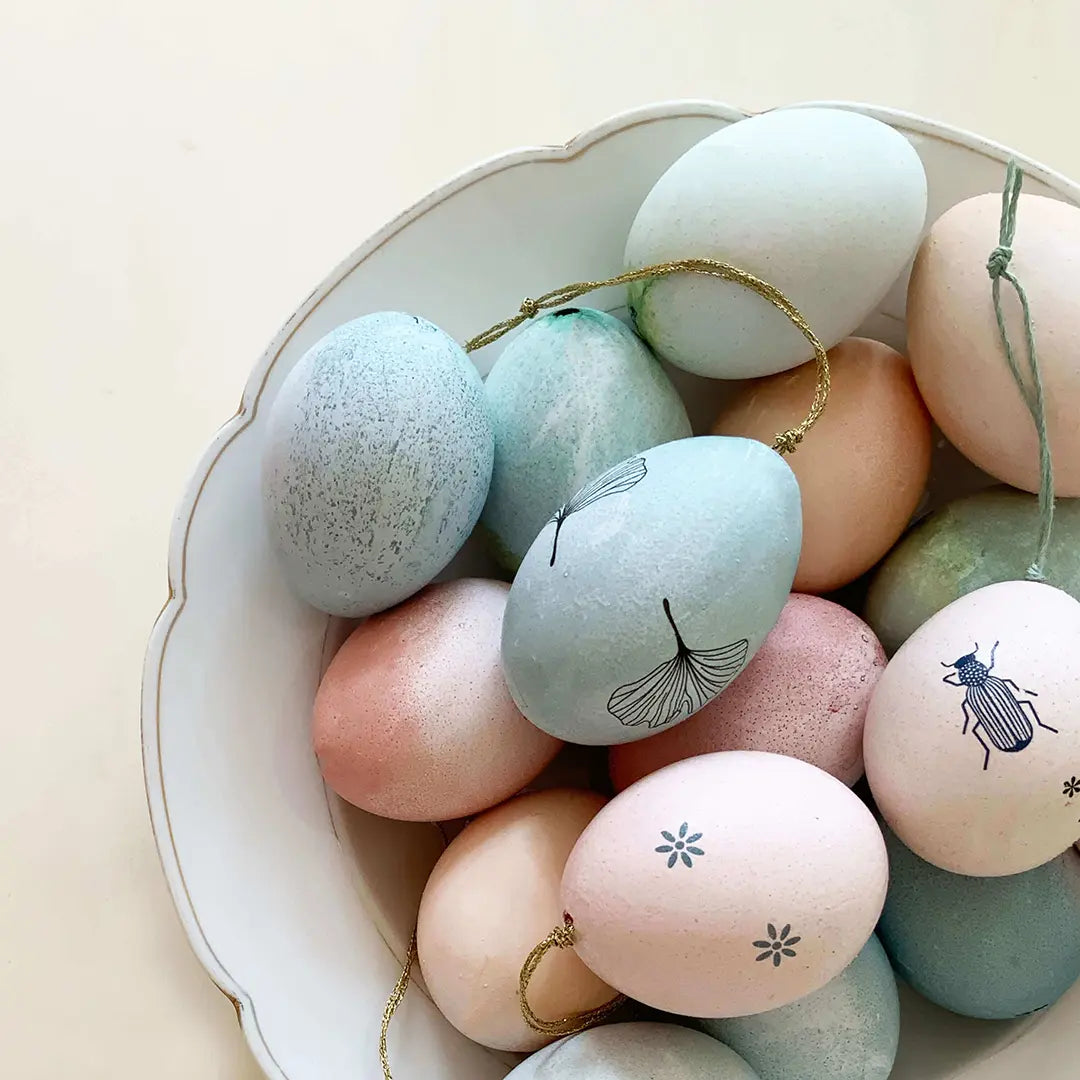 Step 3: Wet the paper with a damp sponge for about 30 seconds.
Heart Tattoo, Feather Tattoo and Co.
Adhesive tattoos for the wedding
Weddings are a great occasion to adorn yourself with sweet motifs. Getting tattoos on your skin is great fun and a great surprise for guests, young and old. You can also use it to make great decorations for your party, for example by sticking candles on them. Under Stamp Wedding you will find many more loving motifs and unique DIY's for Valentine's Day, Mother's Day and Co.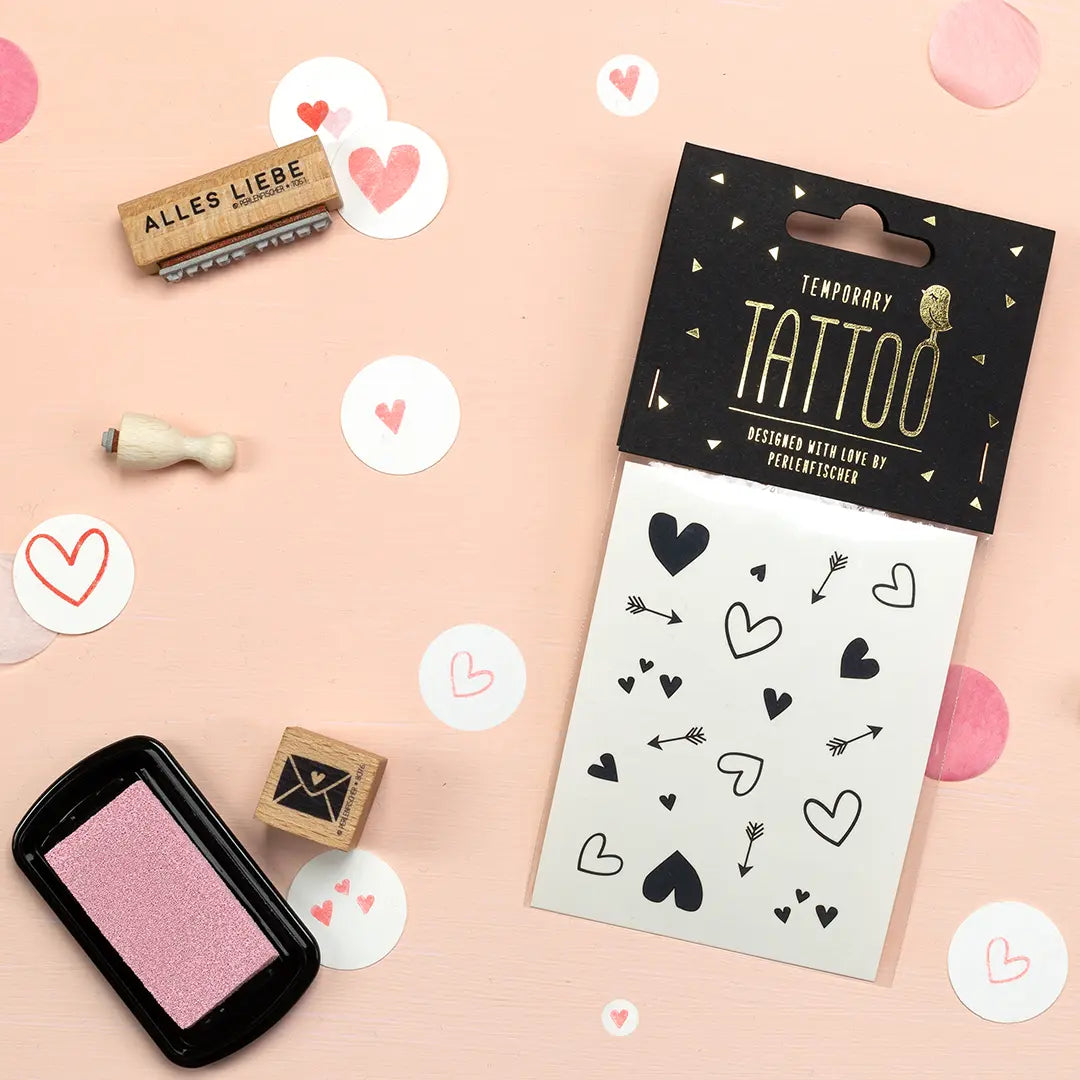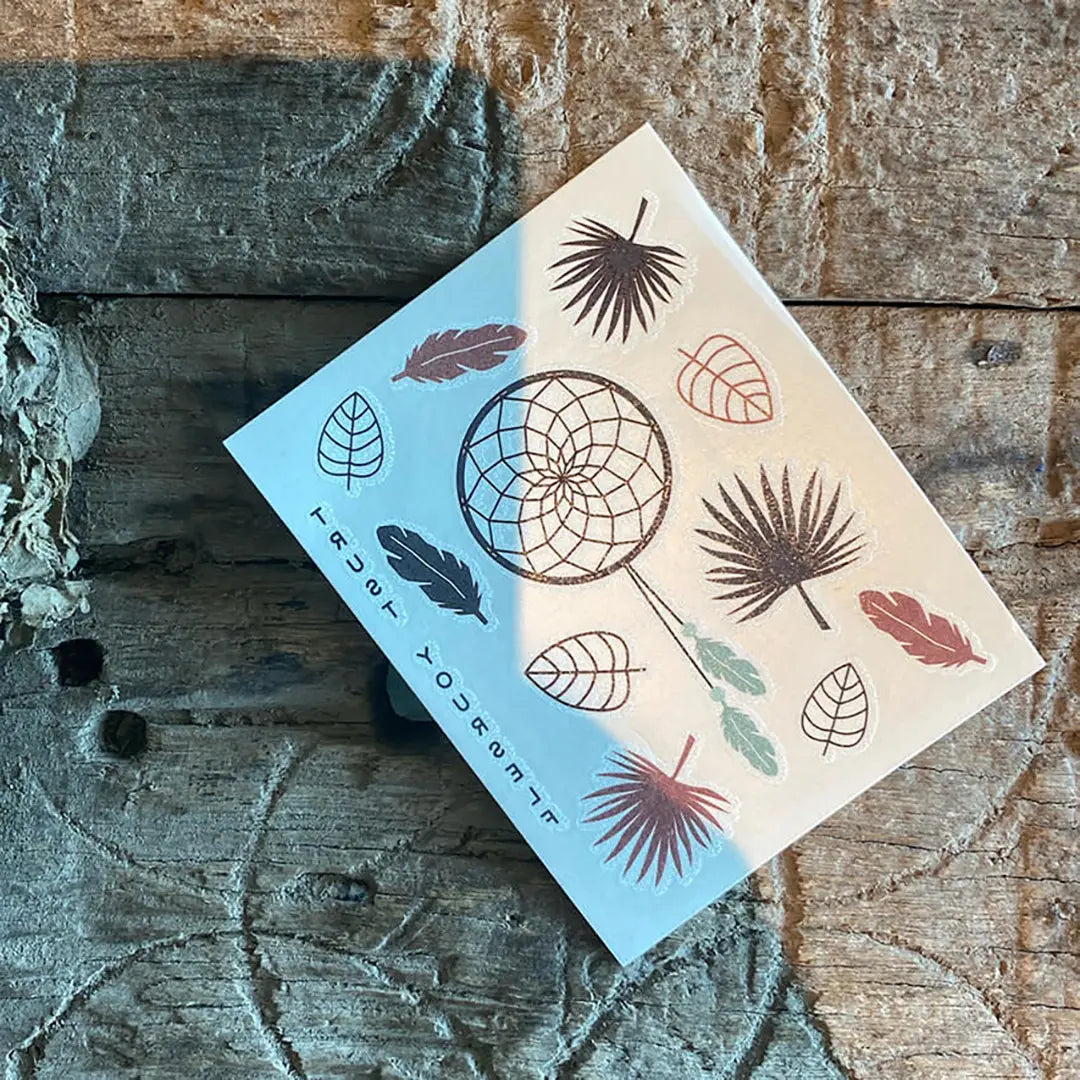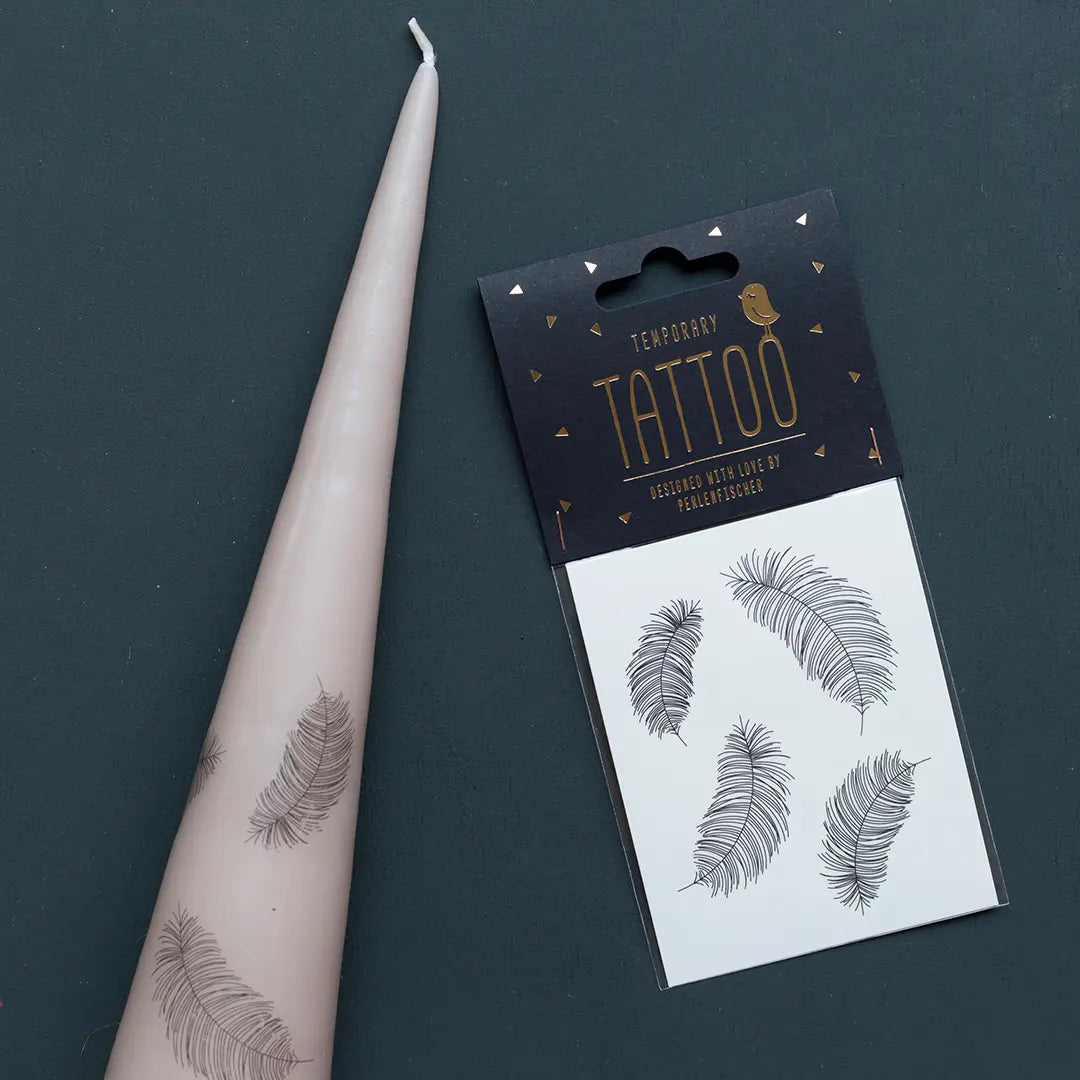 Feather tattoos as decoration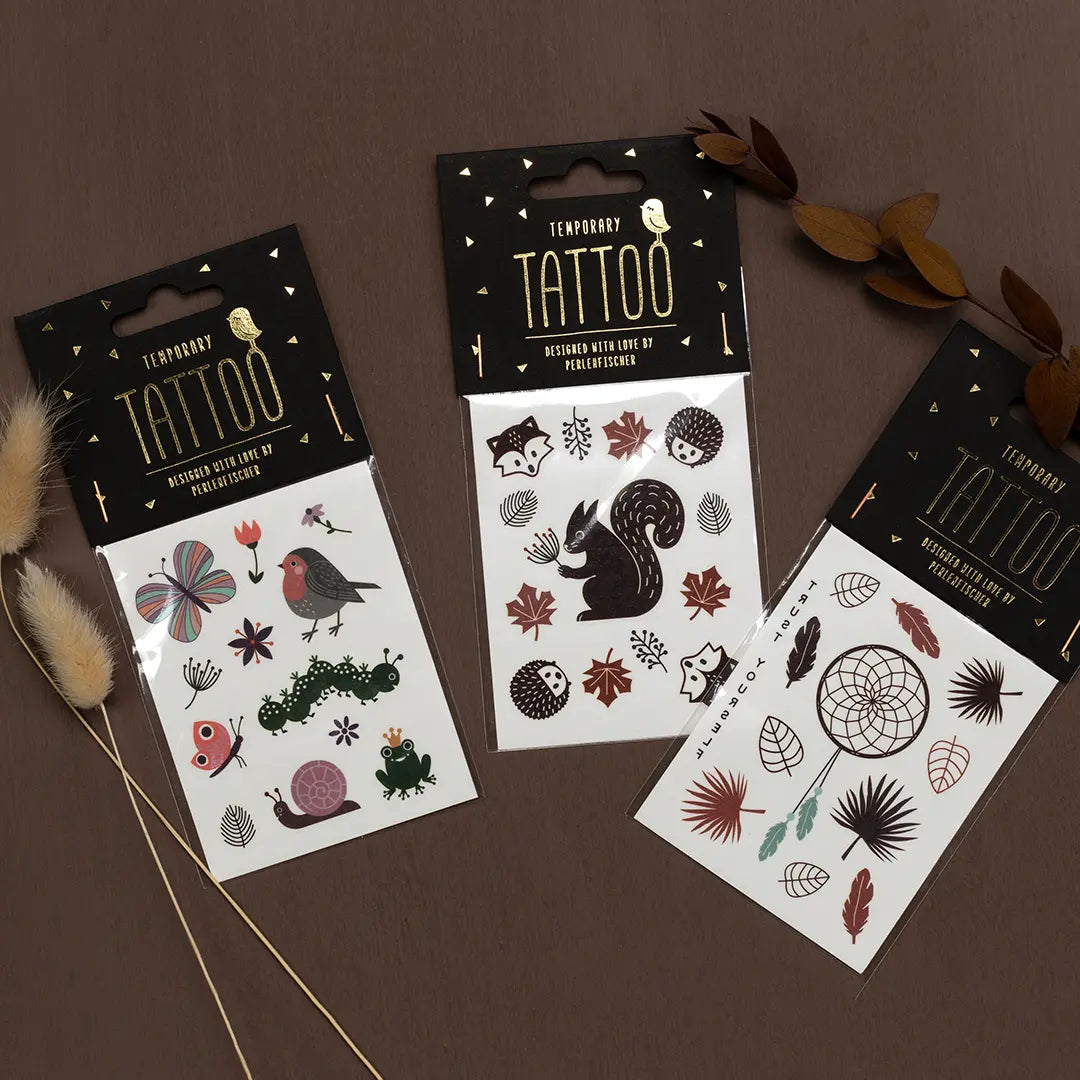 Removable tattoos with an autumnal look
Autumn themed tattoos
Even during the cozy autumn season, we have nature-related and autumnal tattoos that you can stage for various occasions. Feel free to take a look at our appropriate category to discover other great forest motifs, among other things:
Temporary Tattoos Flowers & Leaves
Floral greenery tattoos
Blossoms and leaves are simply wonderfully spring-like and summery. For even more floral natural stamp motifs, take a look at our Flowers & Leaves stamp category and let yourself be inspired!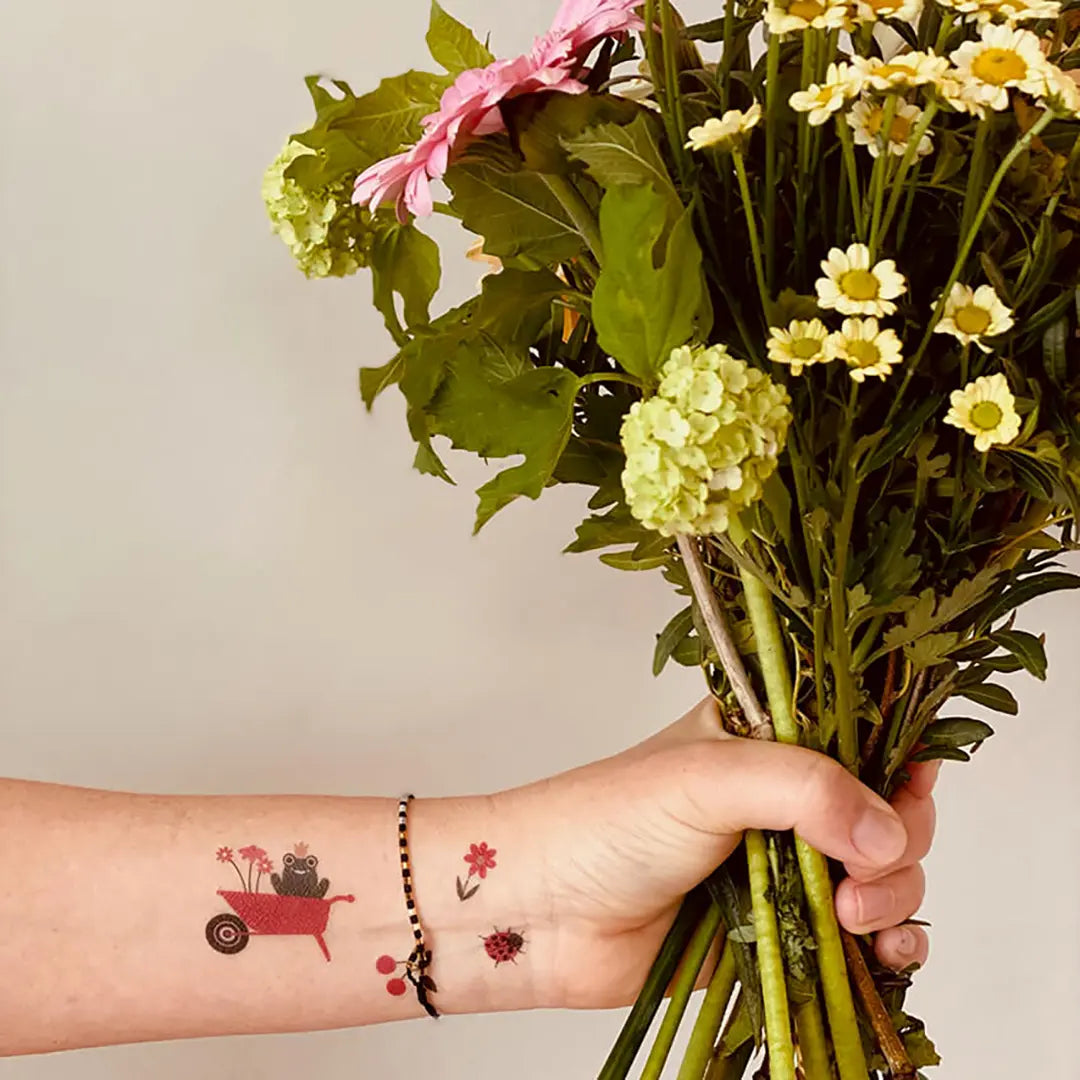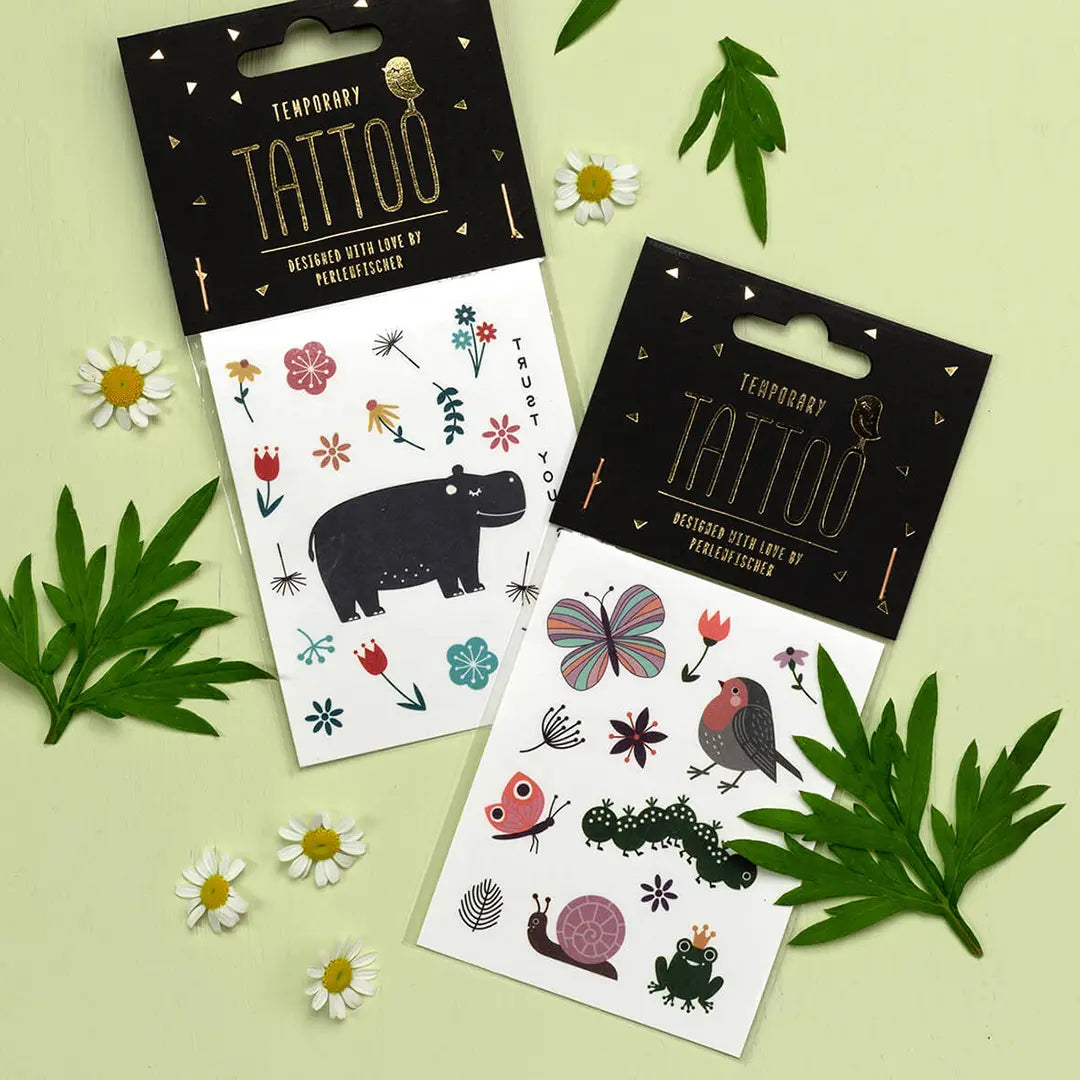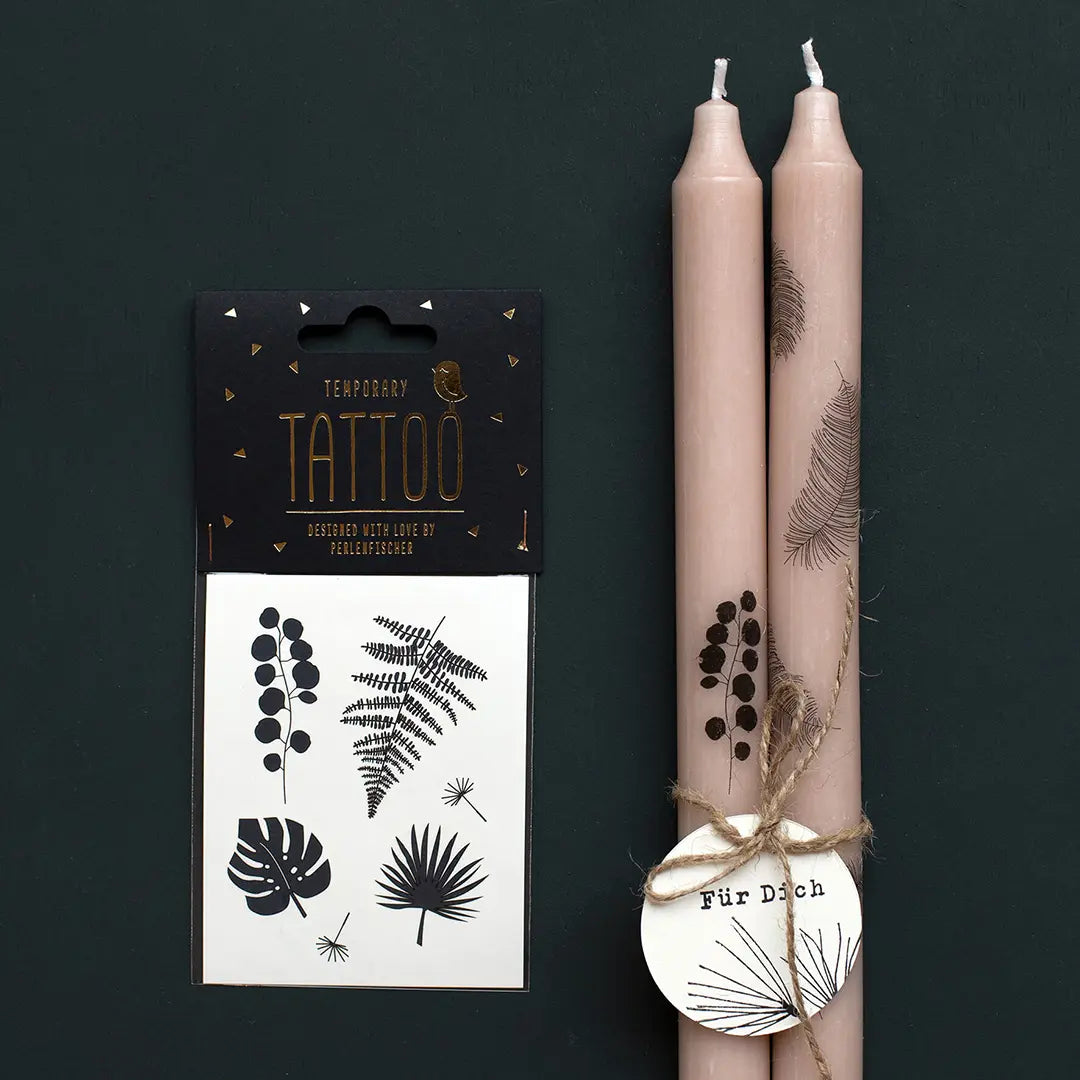 Adhesive tattoos with animals
Animal themed tattoos
Many people like to have animal motifs tattooed on them. With our adhesive tattoos you can choose again and again and bring a wide variety of animals to your skin. Discover one of our largest stamp categories: Stamps Animals .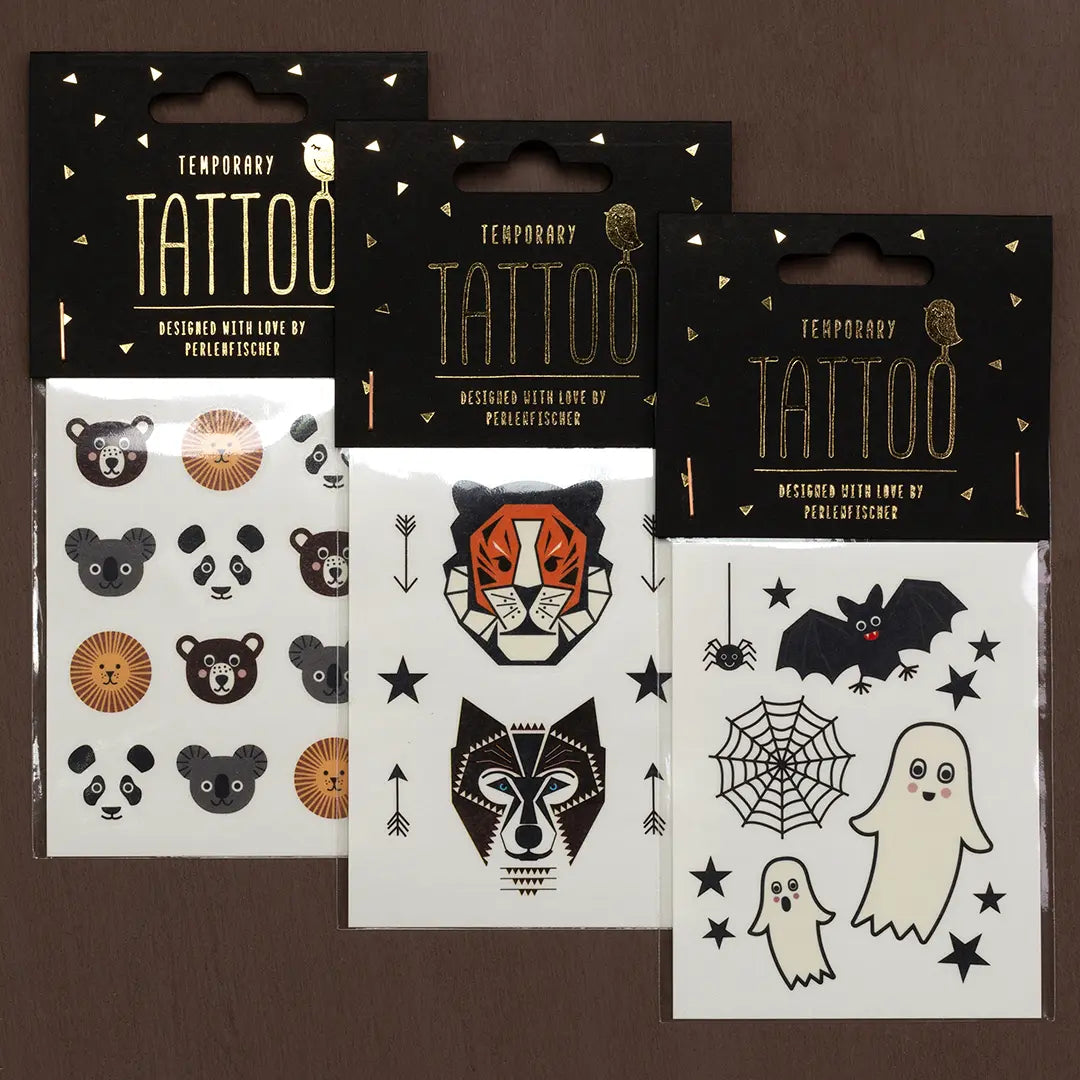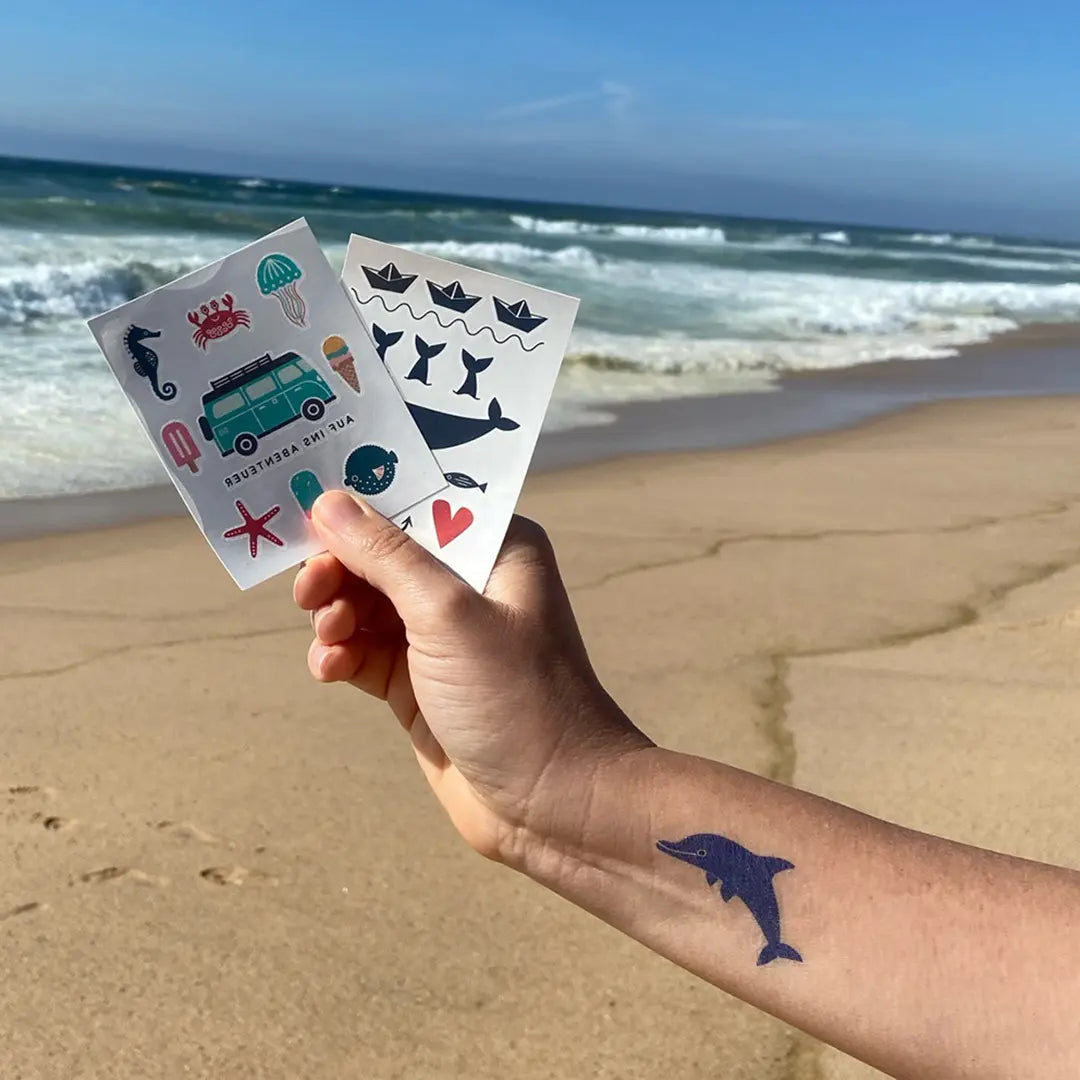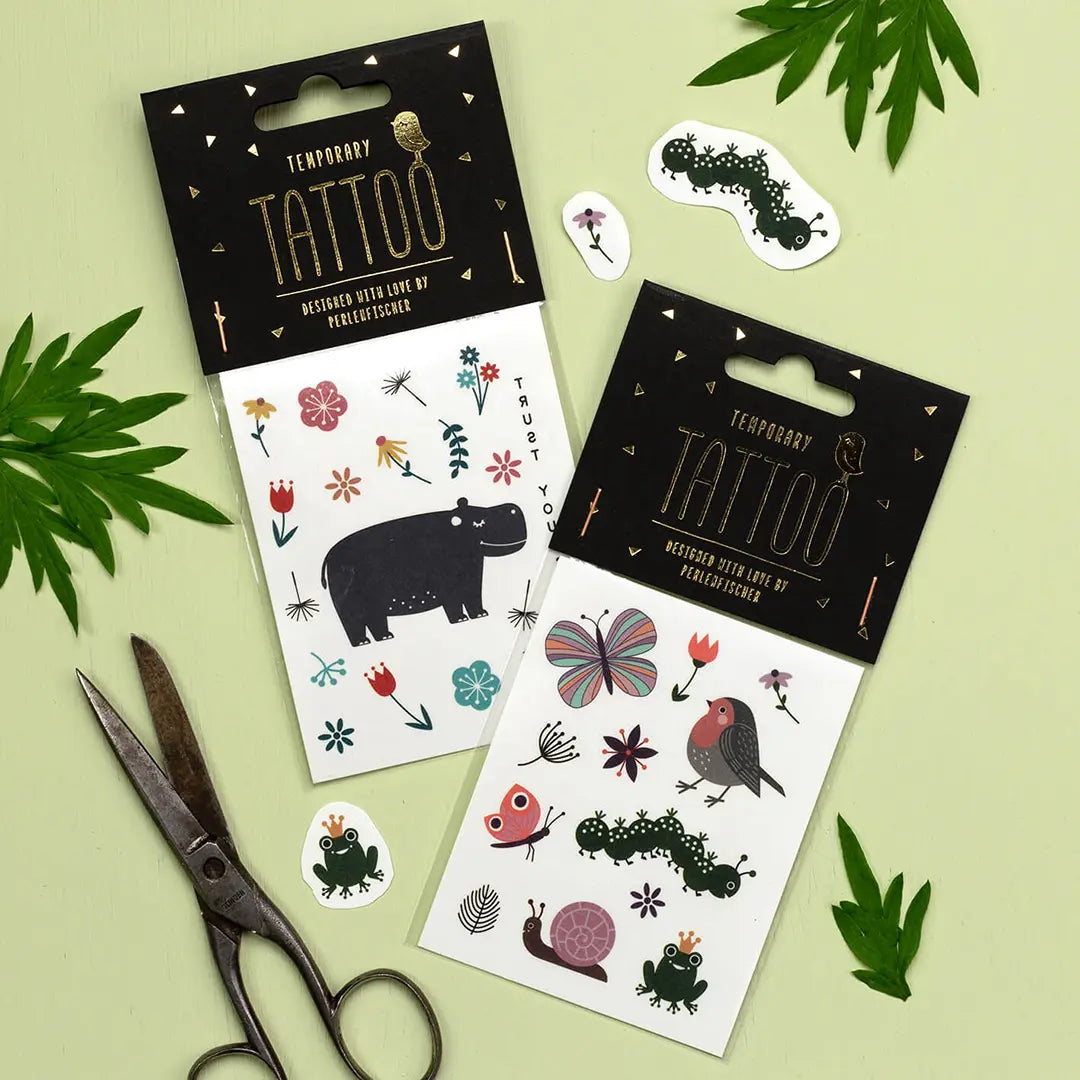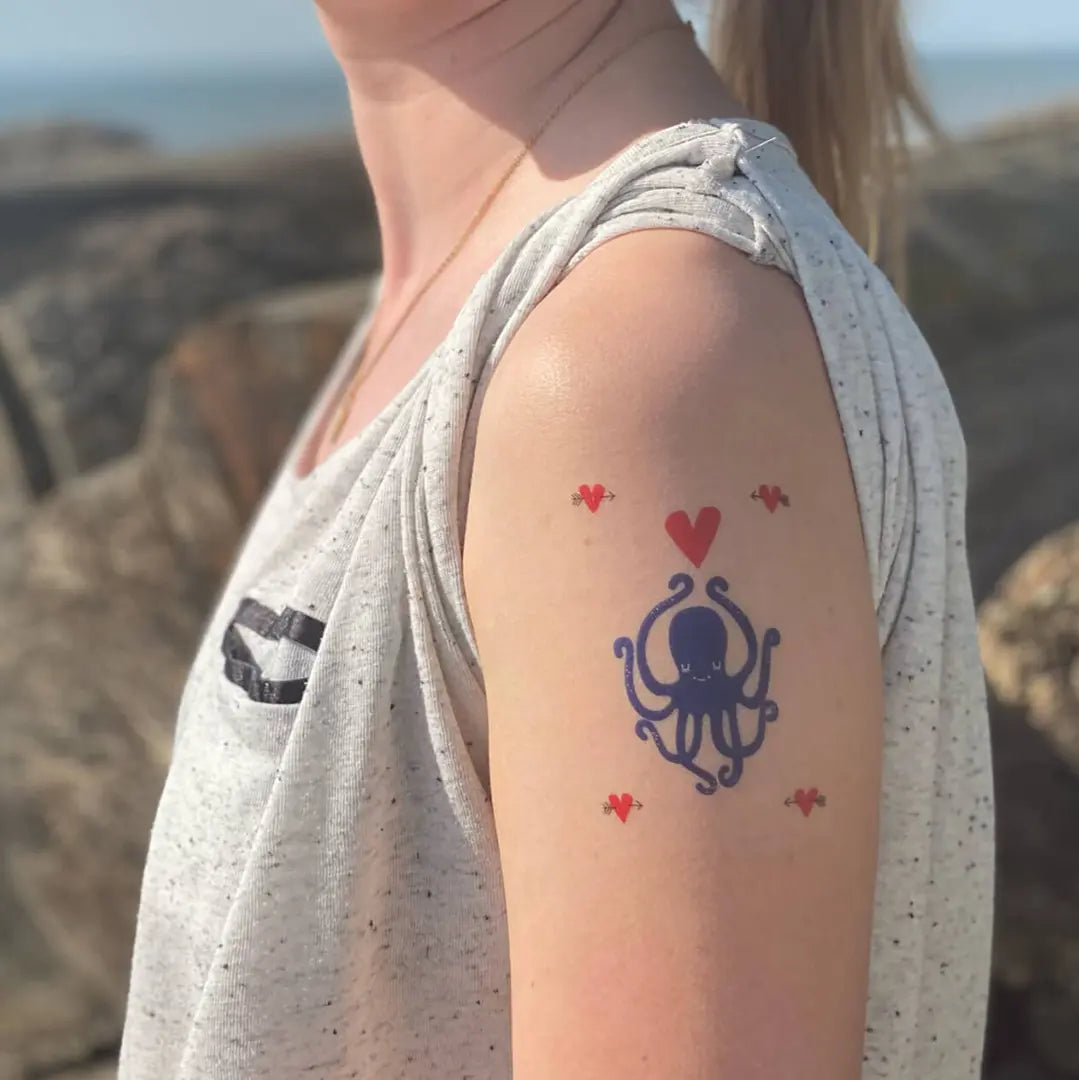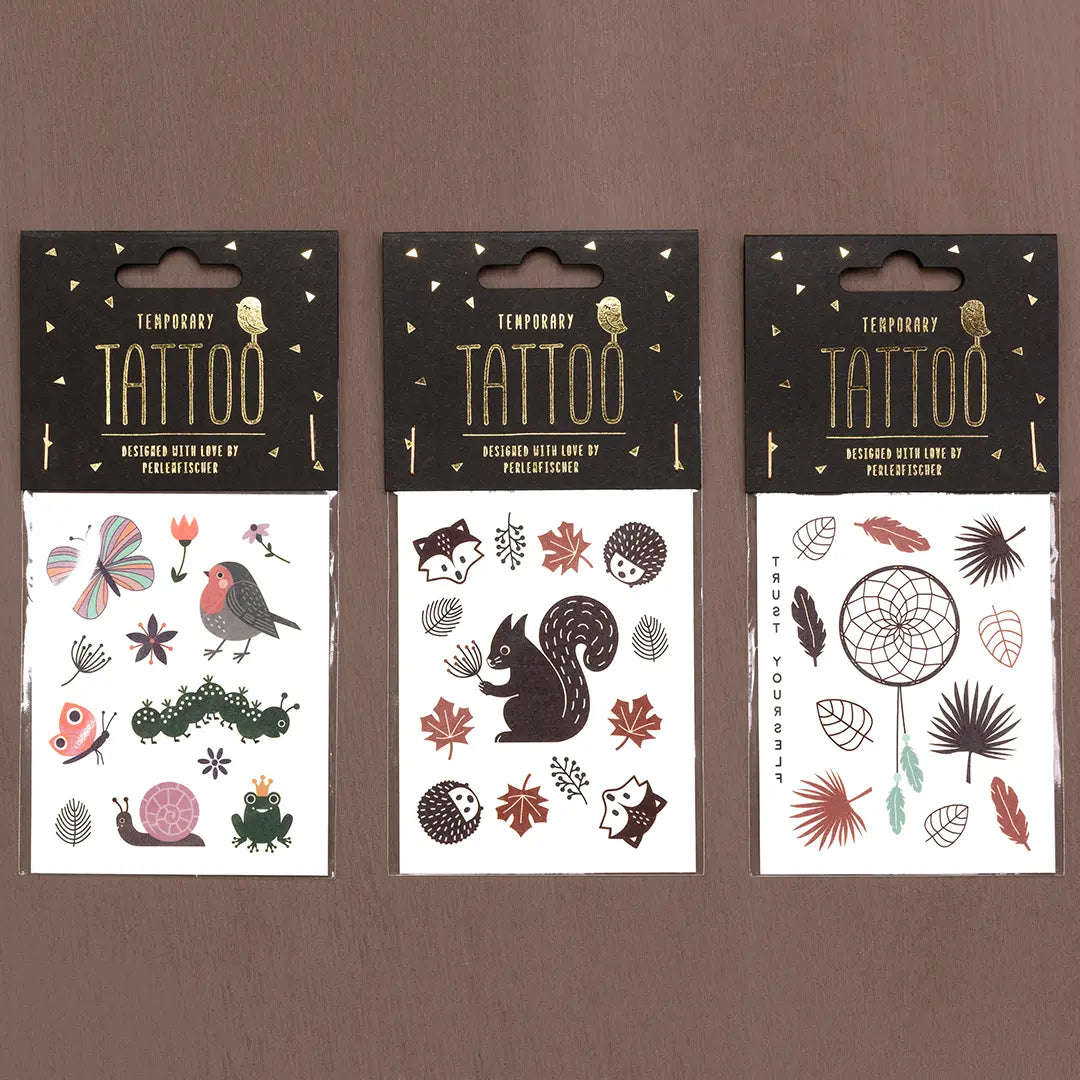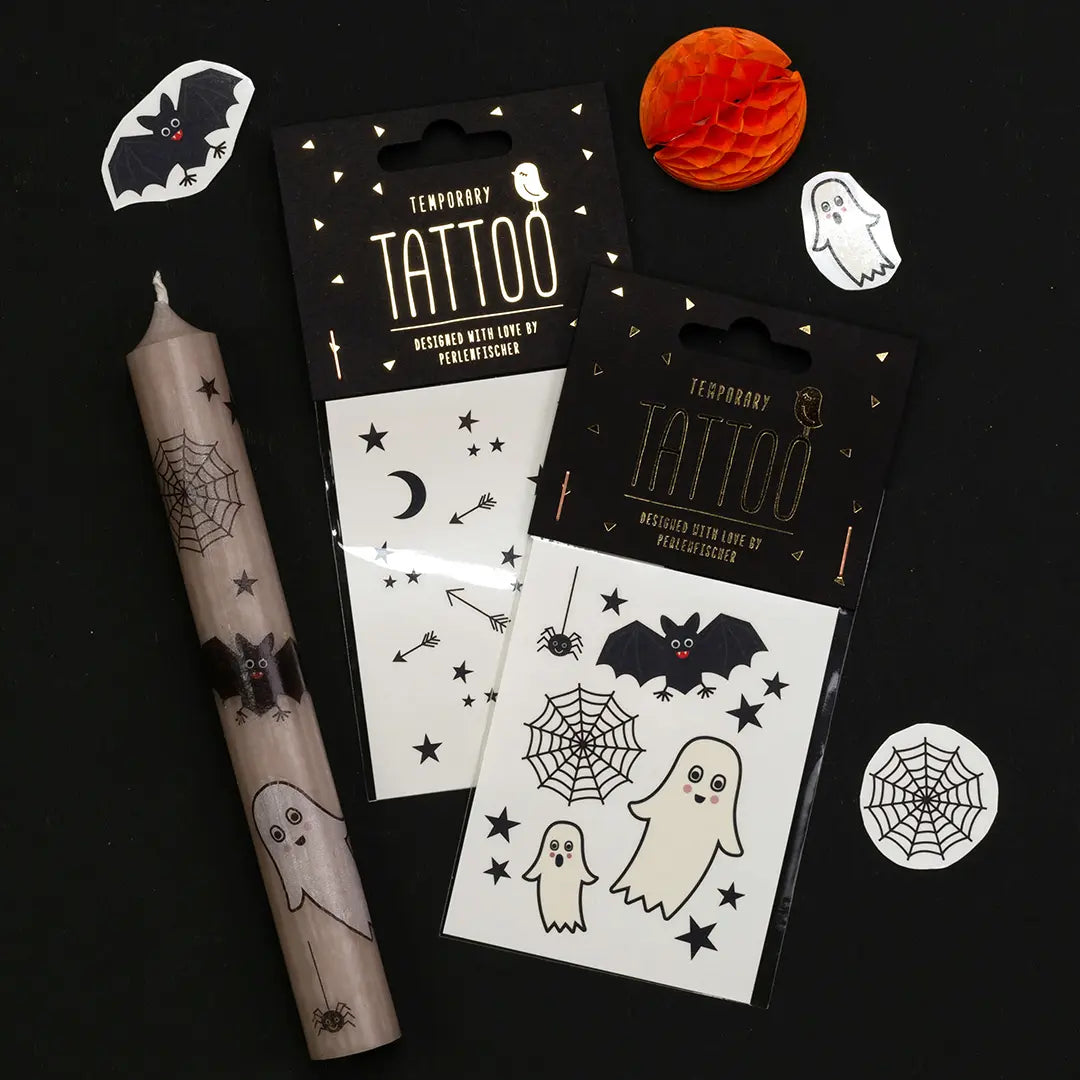 Halloween adhesive tattoos
Trick or treating Halloween tattoos
You can decorate and dress up with our scary-sweet tattoos to match Halloween. Or make your own Halloween decorations with tattoos on candles. You can find our entire selection of stamps at:
Moon Tattoo, Stars Tattoo & Number Tattoos
Tattoos for Christmas and Advent
With our number tattoos and sky motifs you can make festive decorations for Christmas. In addition to homemade Advent candles, there are many other countless great DIYs that you can discover under Christmas stamps .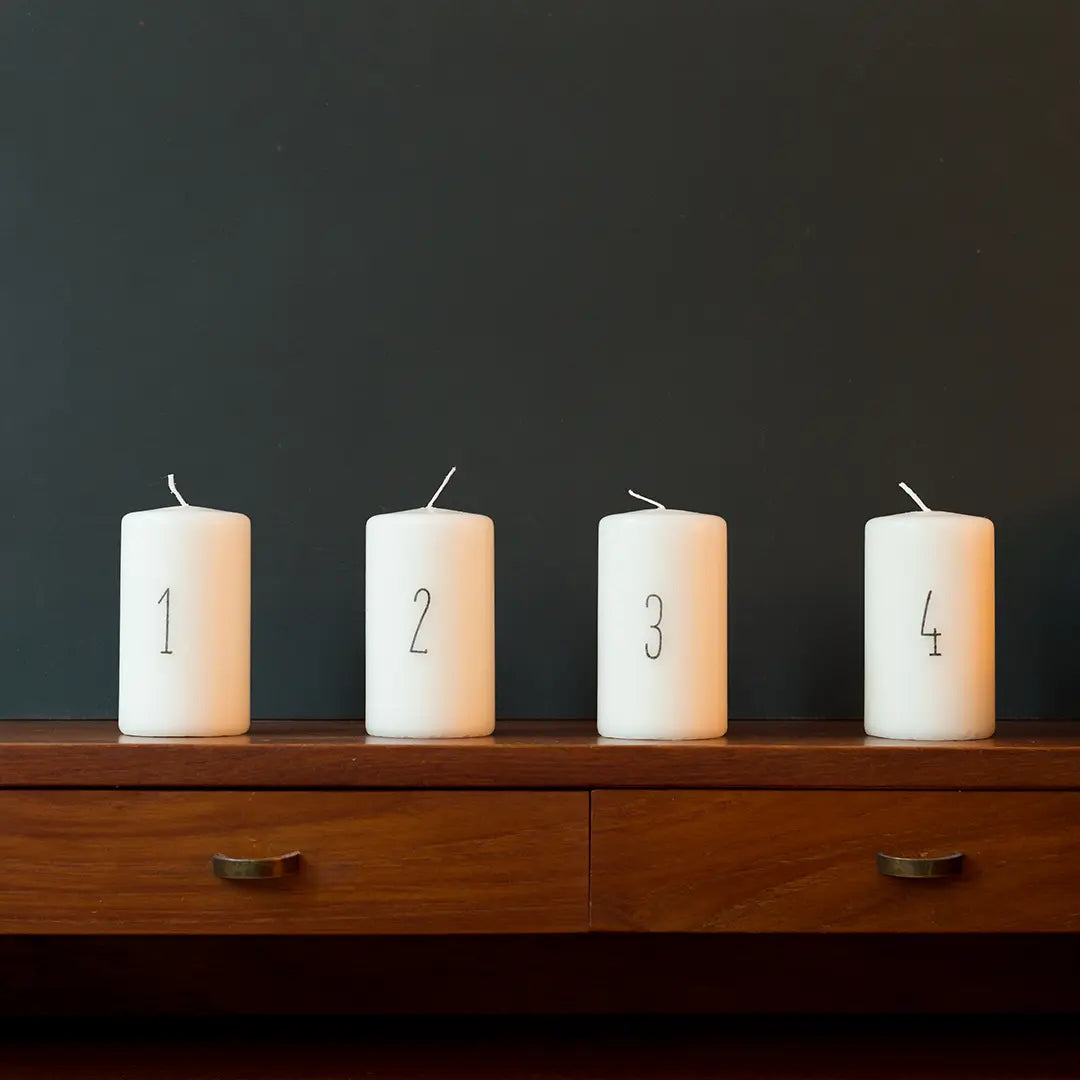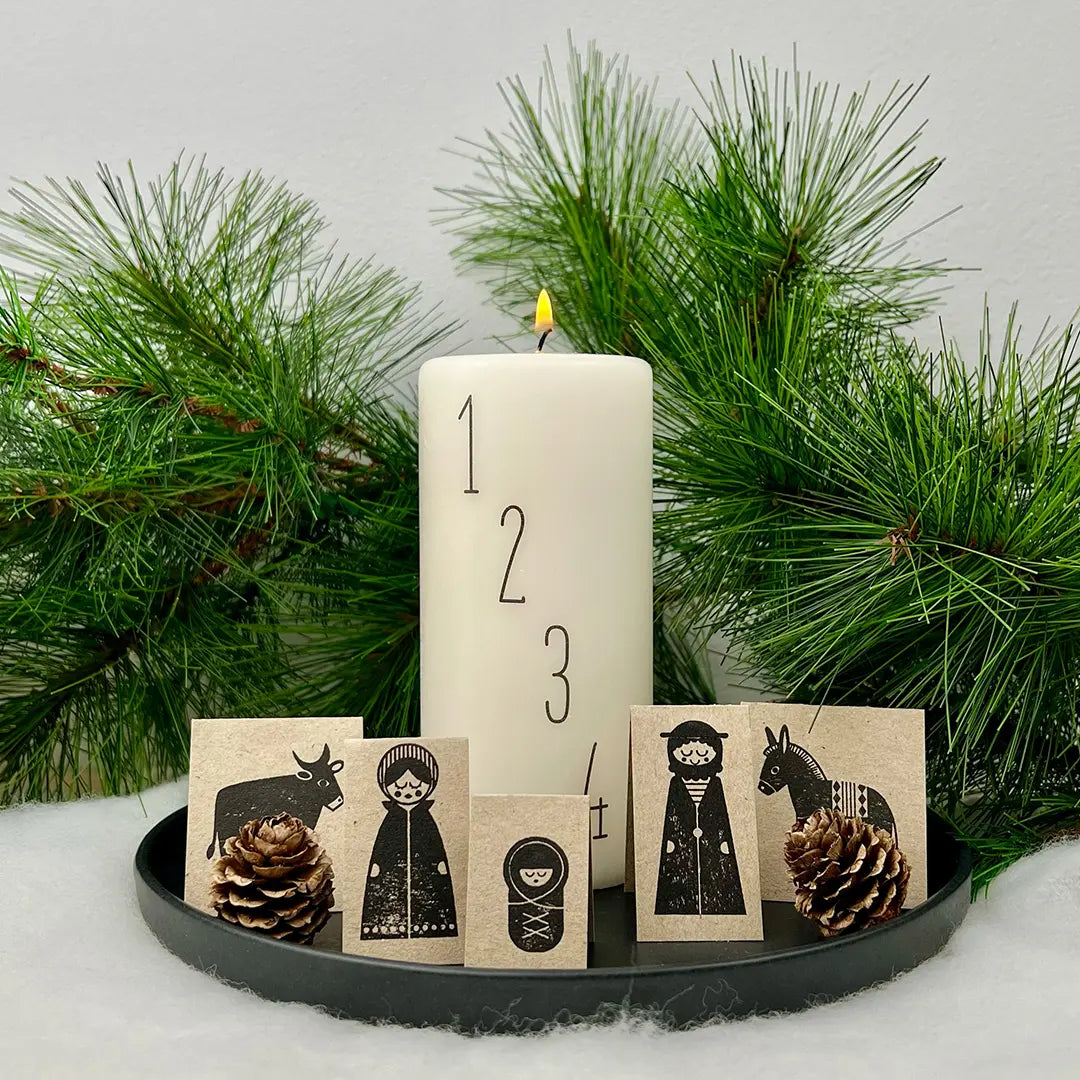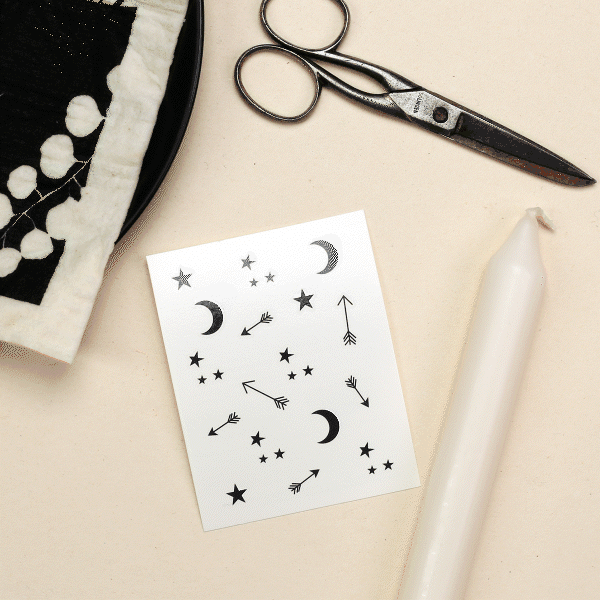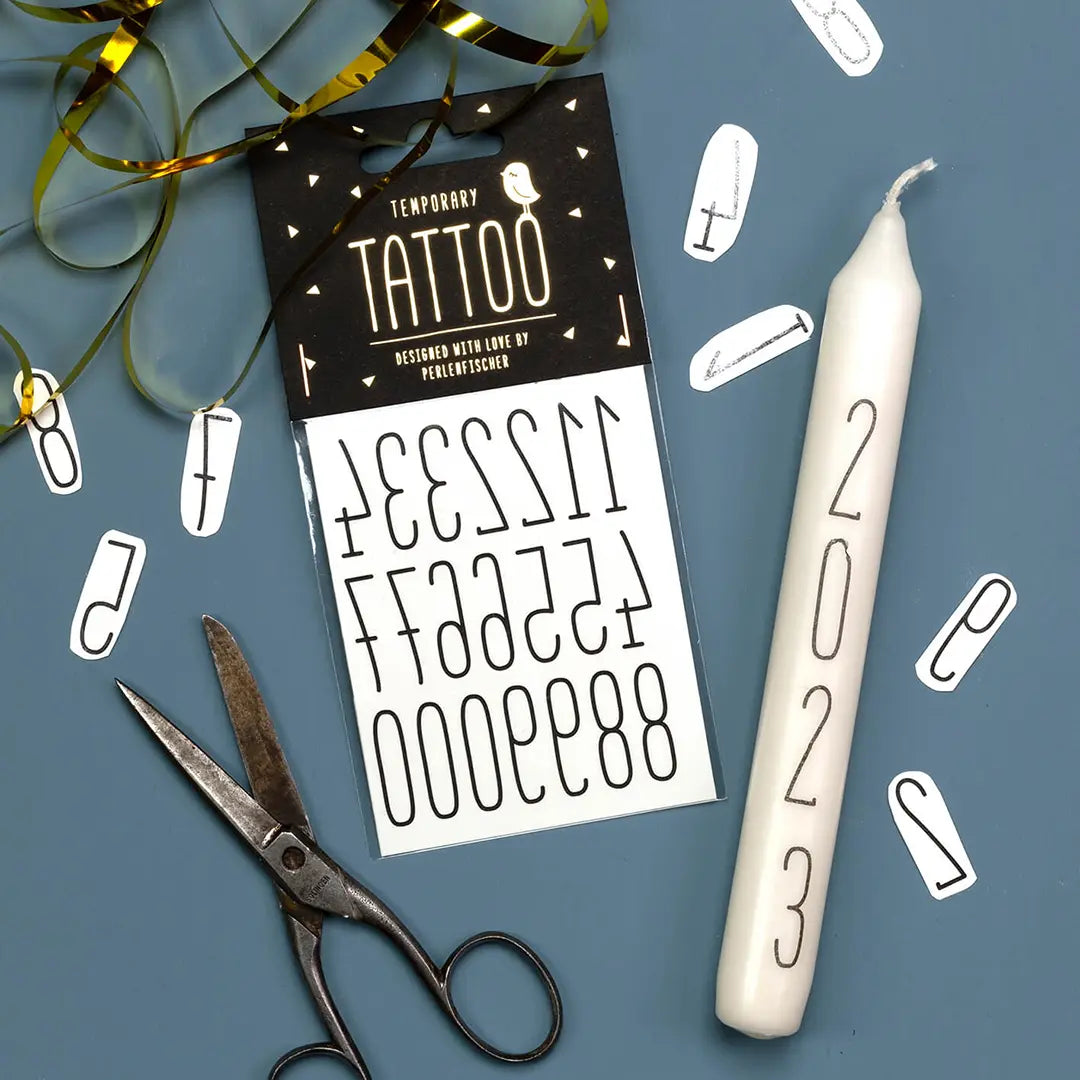 Fake tattoos for New Year's Eve
Candles for New Year's Eve
With our tattoo sheet numbers you can make your own New Year's Eve decorations for New Year's Eve. Other party motifs, such as rockets, New Year's Eve crackers and co. can be found at: