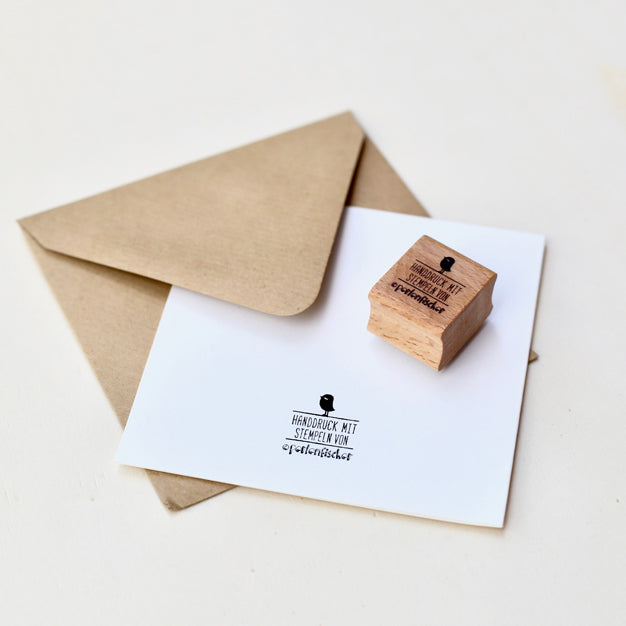 copyright
Please note that according to copyright law, our stamps may only be used for private purposes.
Terms of Use
Thank you for recognizing and appreciating our creative work and design achievement. We would be happy to support you with your stamp project.
You probably know: Our "Perlenfischer" stamp designs are protected by copyright. Please ask us for permission before using the stamps commercially. This applies above all to any type of sale of self-stamped cards or other printed products. We will be happy to give you written approval, but only if the following conditions are met:
1. The products you sell are hand stamped.
2. You produce one-offs or in small numbers. (max. 20 pieces per motif and year).
3. You sell your products exclusively to end customers (no middlemen).
4. Your products will be given the copyright notice: "Handprinted with Perlenfischer stamps". We will provide you with a stamp for this free of charge. Please send us a sample of your planned product or meaningful photo material via email. After that you will get the copyright stamp . Please note: the stamp is only free if it can be sent together with an order. Otherwise the usual shipping costs apply. You can find these in our terms of delivery.
5. You only sell your products online with a link in the product description that leads to our website (www.perlenfischerdesign.de). Your product description must clearly state that the designs are Perlenfischer designs or stamps and where they are available.
6. You mark "Perlenfischer" as the author in all online or social media posts, website contributions and other publications of your products. To do this, please link our website (www.perlenfischerdesign.de) directly or use the photo tagging or linking function (@perlenfischer) of the respective social media platforms to link our profile to your post.
It is forbidden to make or have made stamps based on "Perlenfischer" motifs. Electronic duplication or further processing of the motifs, even for private use, is also not permitted and will be prosecuted.
Thank you for your understanding and support. This is the only way small creative labels can continue to exist. Play fair.
Yours Perlenfischer