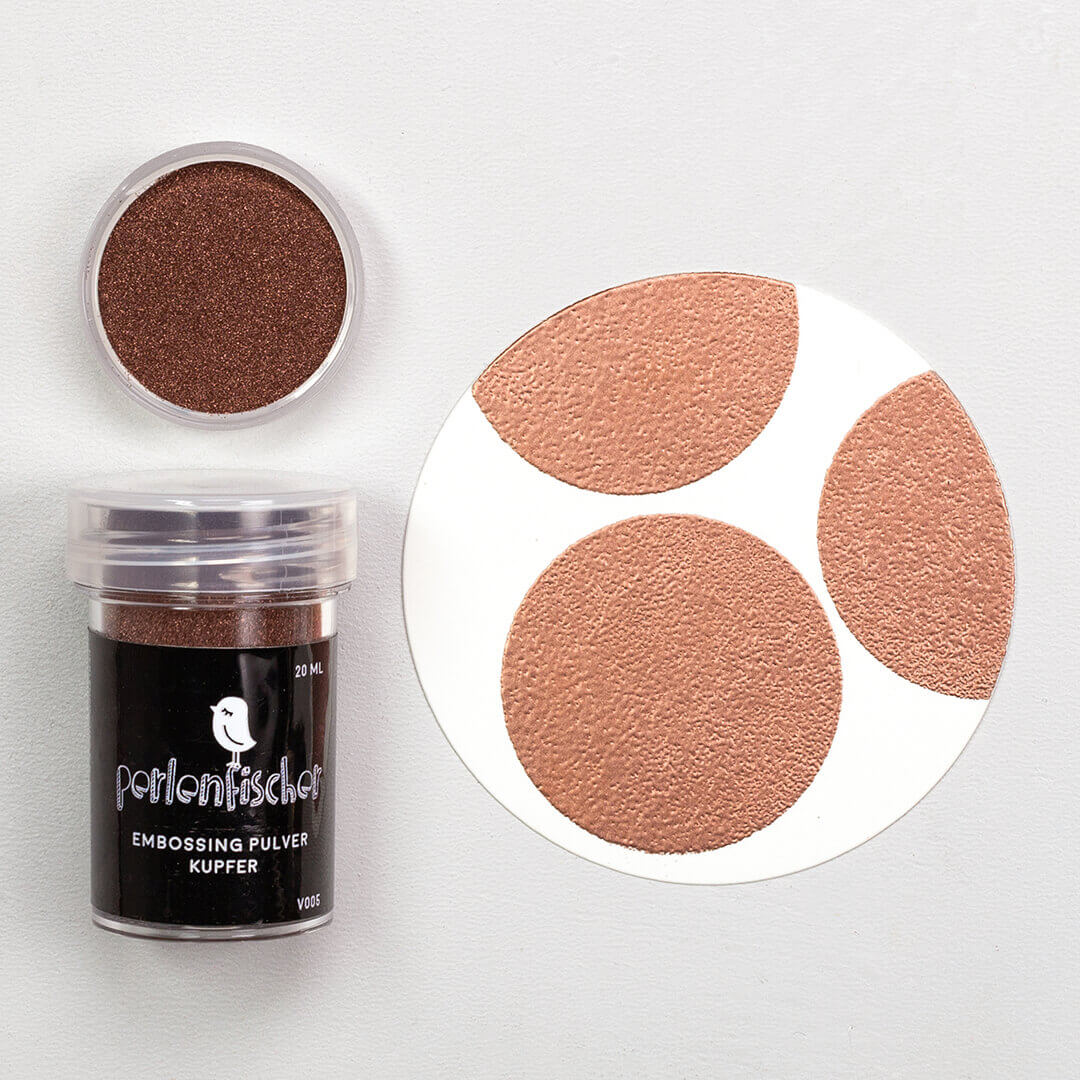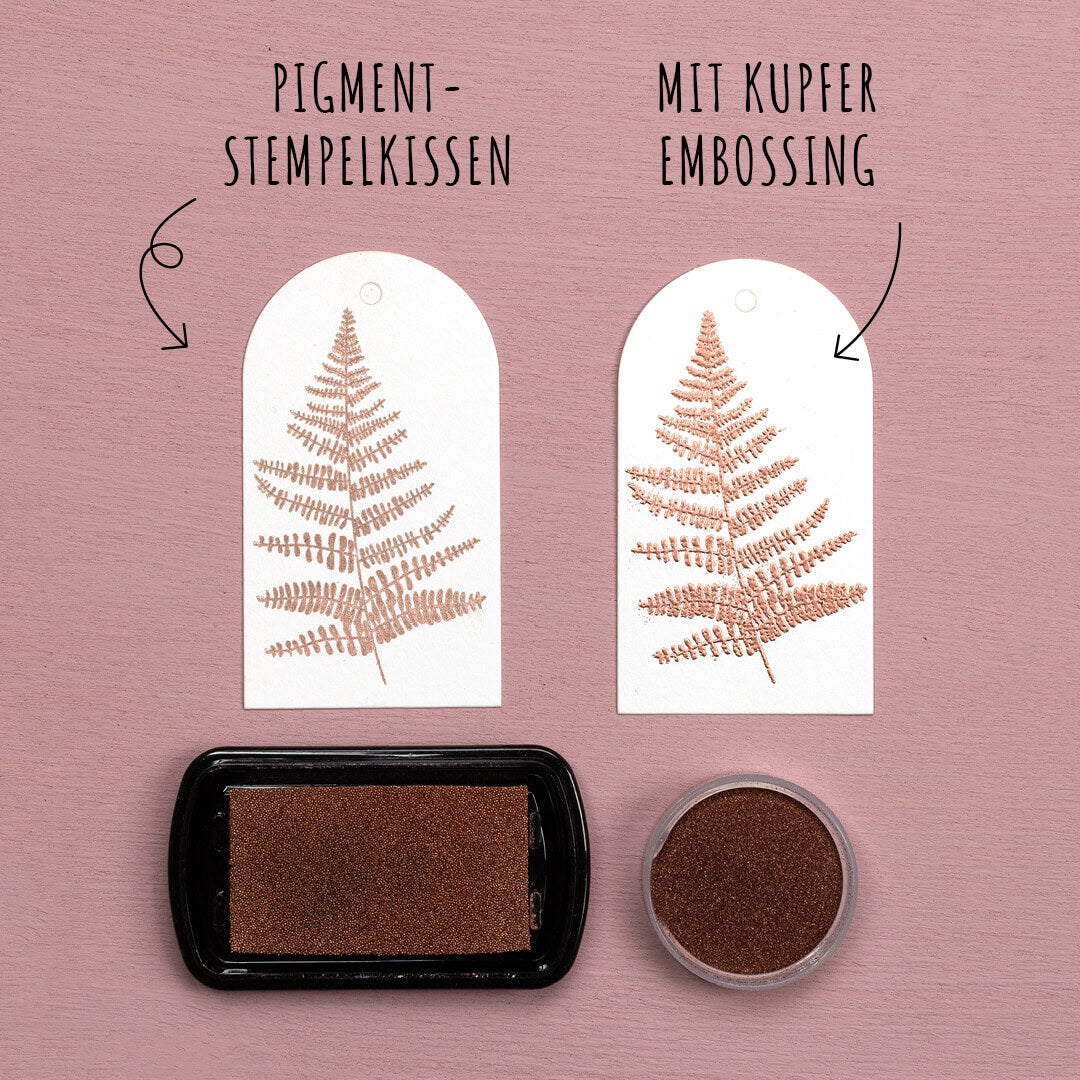 Perlenfischer Embossing Powder | Copper
In stock
Details
Color: Copper
Content: ca. 20 ml
Material: synthetic resin powder
1. Sprinkle the powder onto the stamp impression while it is still wet.
2. Tap off excess powder and collect it again with the jar.
3. Heat the powder with a heat gun until the powder is combined.

Caution: a hair dryer will not get hot enough.
Store the embossing powder sealed and protected from light.
If necessary, please dispose of powder and jars in the non-recyclable waste.
Not a toy
Our stamps and accessories are not toys. Therefore they are not certified or CE marked.

Warning notice
Caution. Not suitable for children under 12 years. Choking hazard due to small parts!
Third parties are not entitled to copy, reproduce, distribute or otherwise commercially use the stamps and the motifs on them for commercial purposes.

The lacquer-like and shimmering effect transforms your stamped art works into special one-of-a-kind pieces.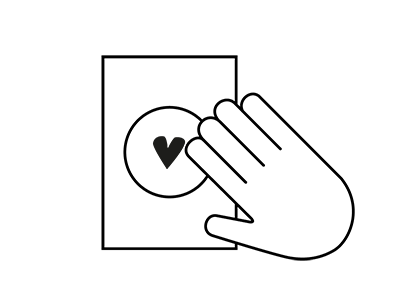 The embossing technique creates a relief like surface that brings out a unique feel.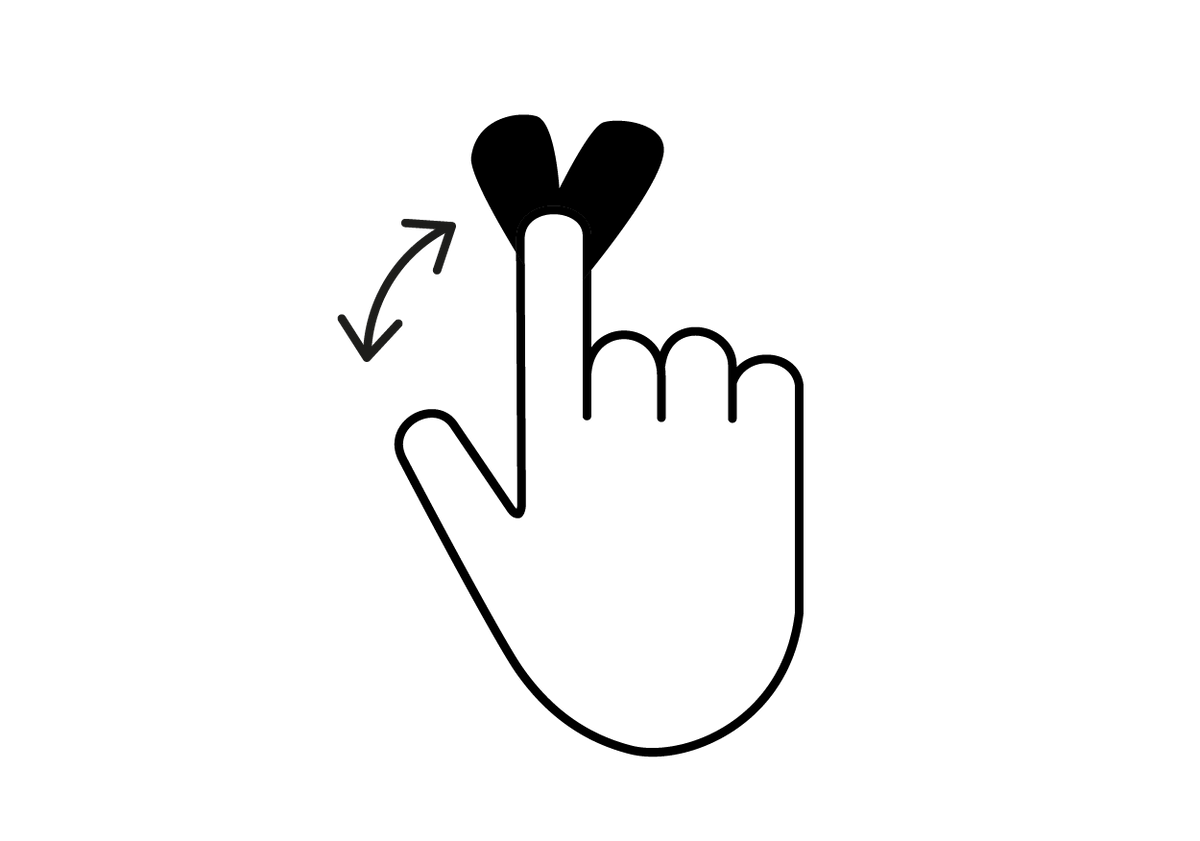 After the powder is heated and melted, the motif is completely dry.

Opaque embossing powders can be combined with any pigment ink pad, the end result is almost the same.

Choose pigment ink pad as base
Choose a pigment ink pad as a base and stamp your favorite stamp on paper, as usual.
Good to know: you achieve the strongest effect with an ink pad in a similar color to the powder.

Sprinkle embossing powder onto the motif
Sprinkle embossing powder generously over your stamped motif.

Tap off excess powder over a clean, center-folded scrap paper. Then simply pour the powder back into the jar.

Heat the powder with the heat gun. Keep a distance of approx. 10 cm from your card. After a short time, the powder melts and combines. You will get a varnish-like result.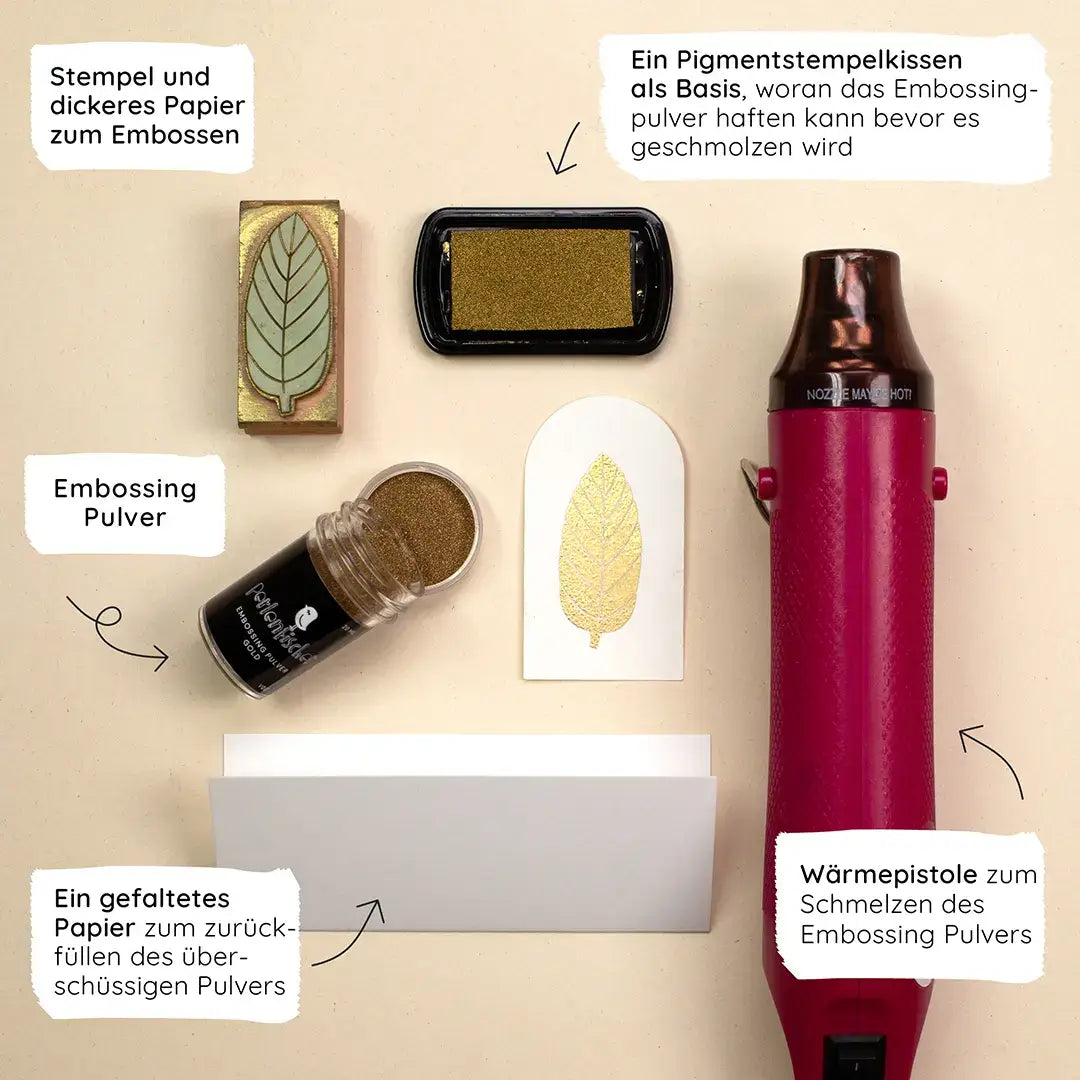 Embossing
What you need for Embossing
For the embossing technique, you'll need a powder of your choice, a pigment ink pad as a base, your favorite stamps, paper and a heat gun.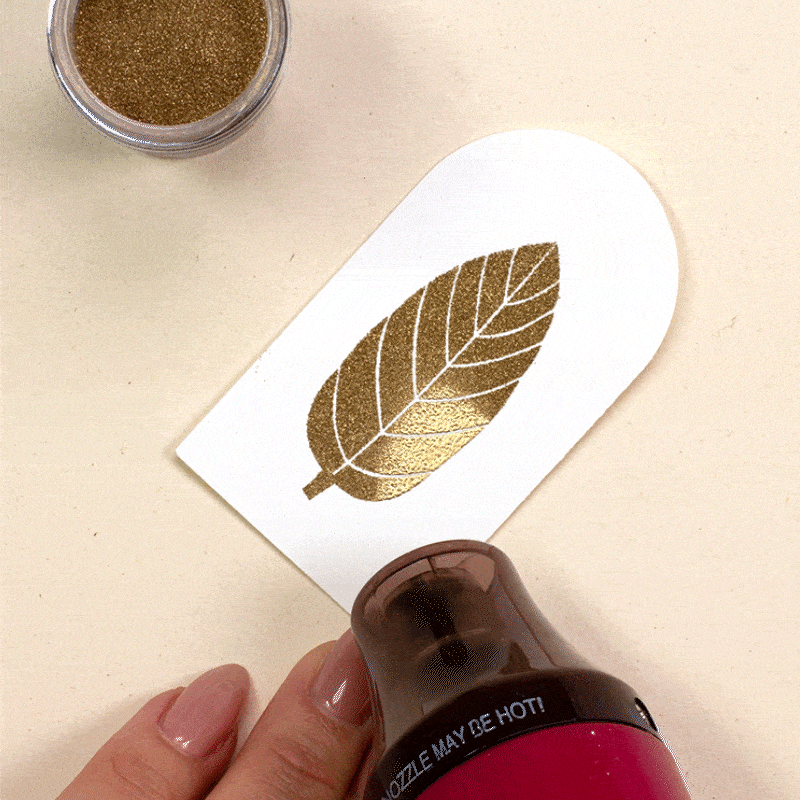 Heat Gun
Let it melt
By heating, the embossing powder combines to form a lacquer-like surface. The great thing: Your embossing work is dry in seconds.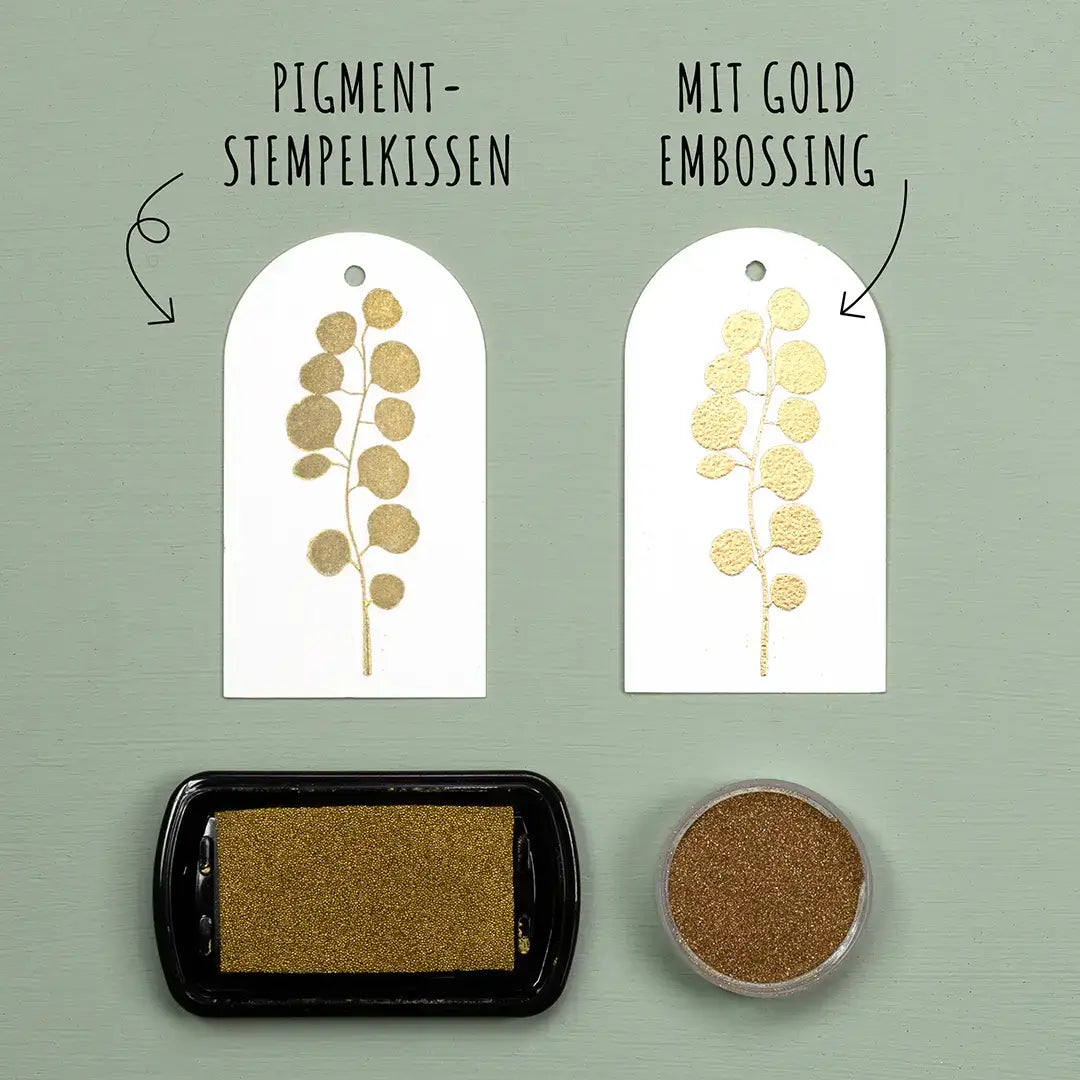 embellish your stamp works
special visual and haptic effects
The special thing about the embossing technique: you can not only see the end result, but also feel it. The lacquer-like finish looks great and the raised surface brings a unique feel.