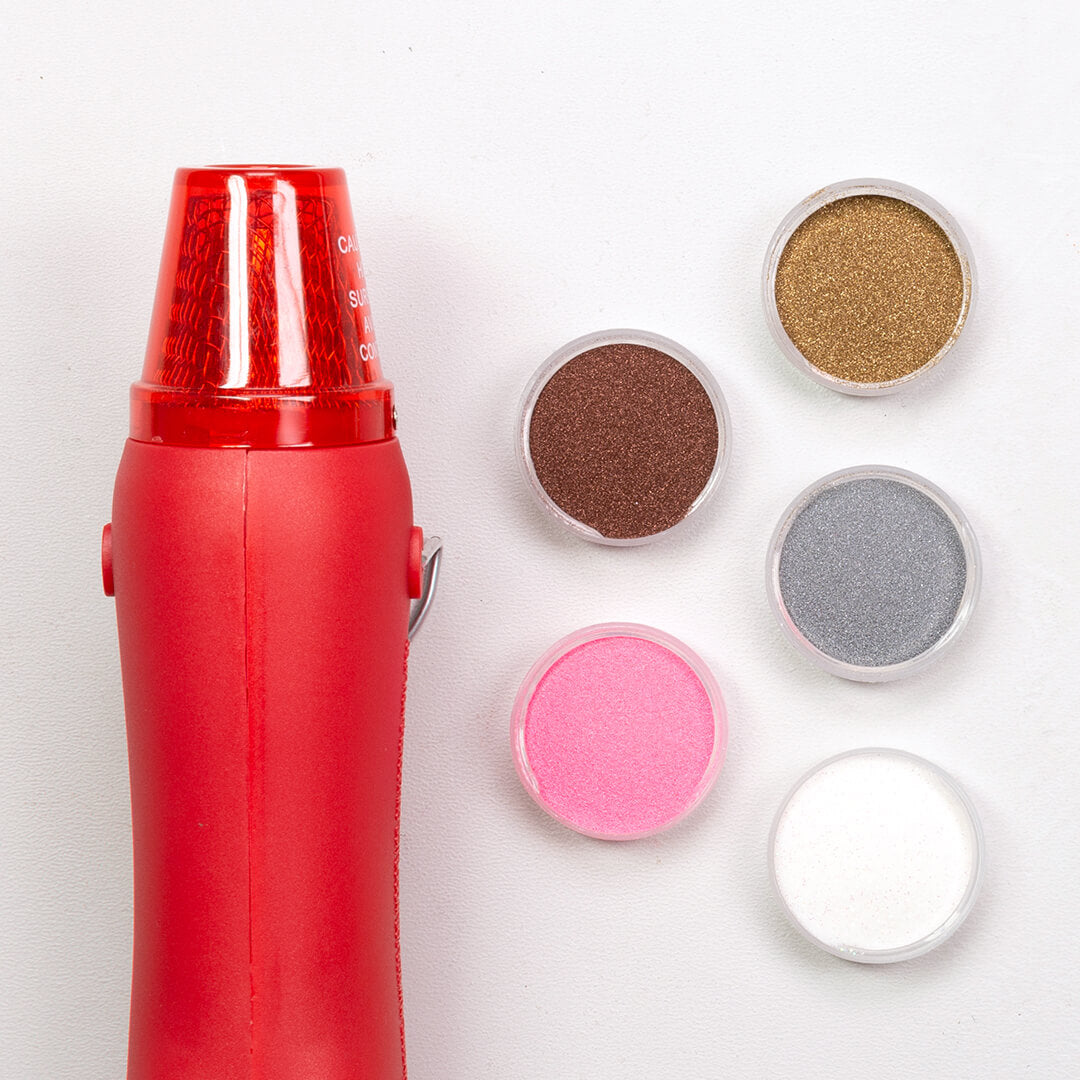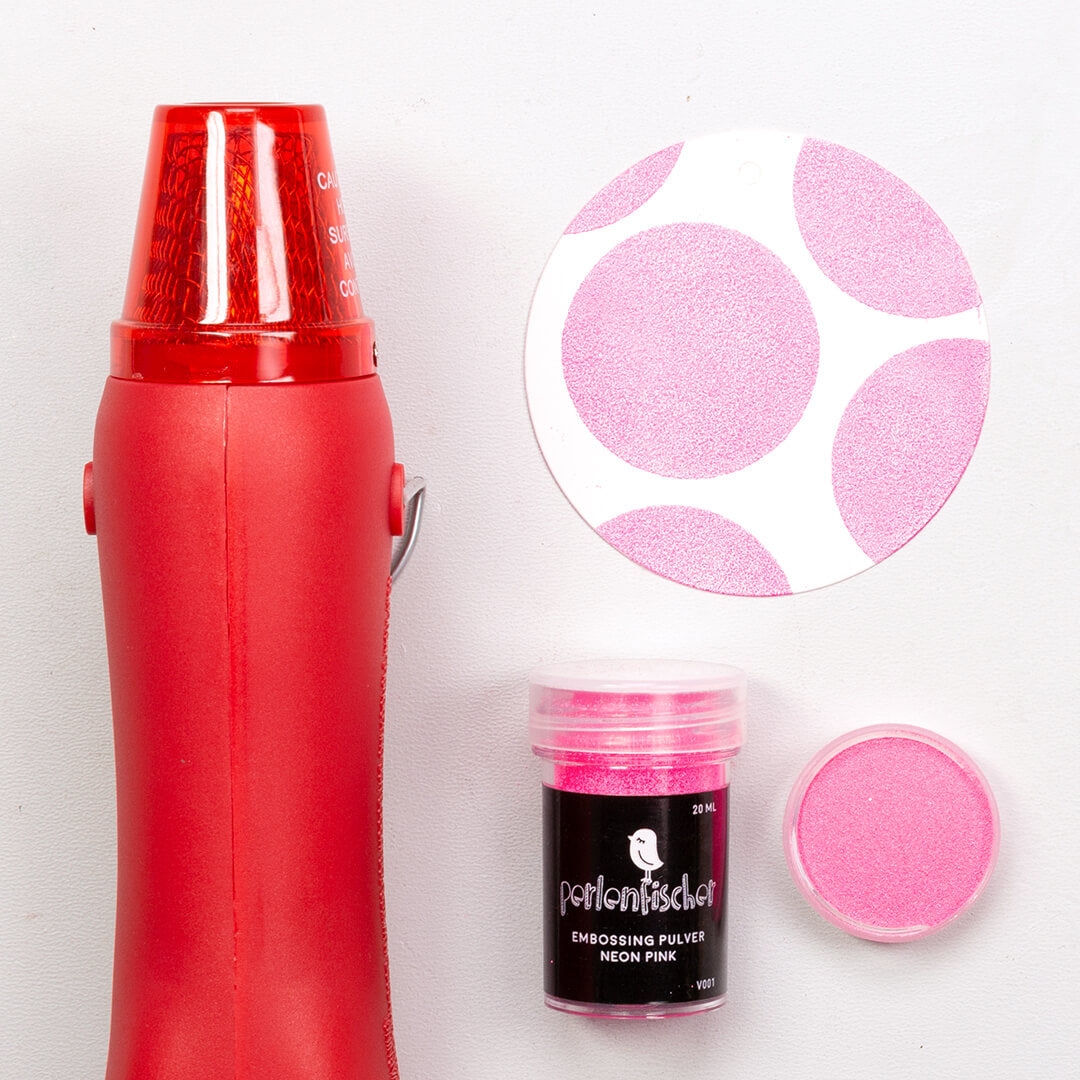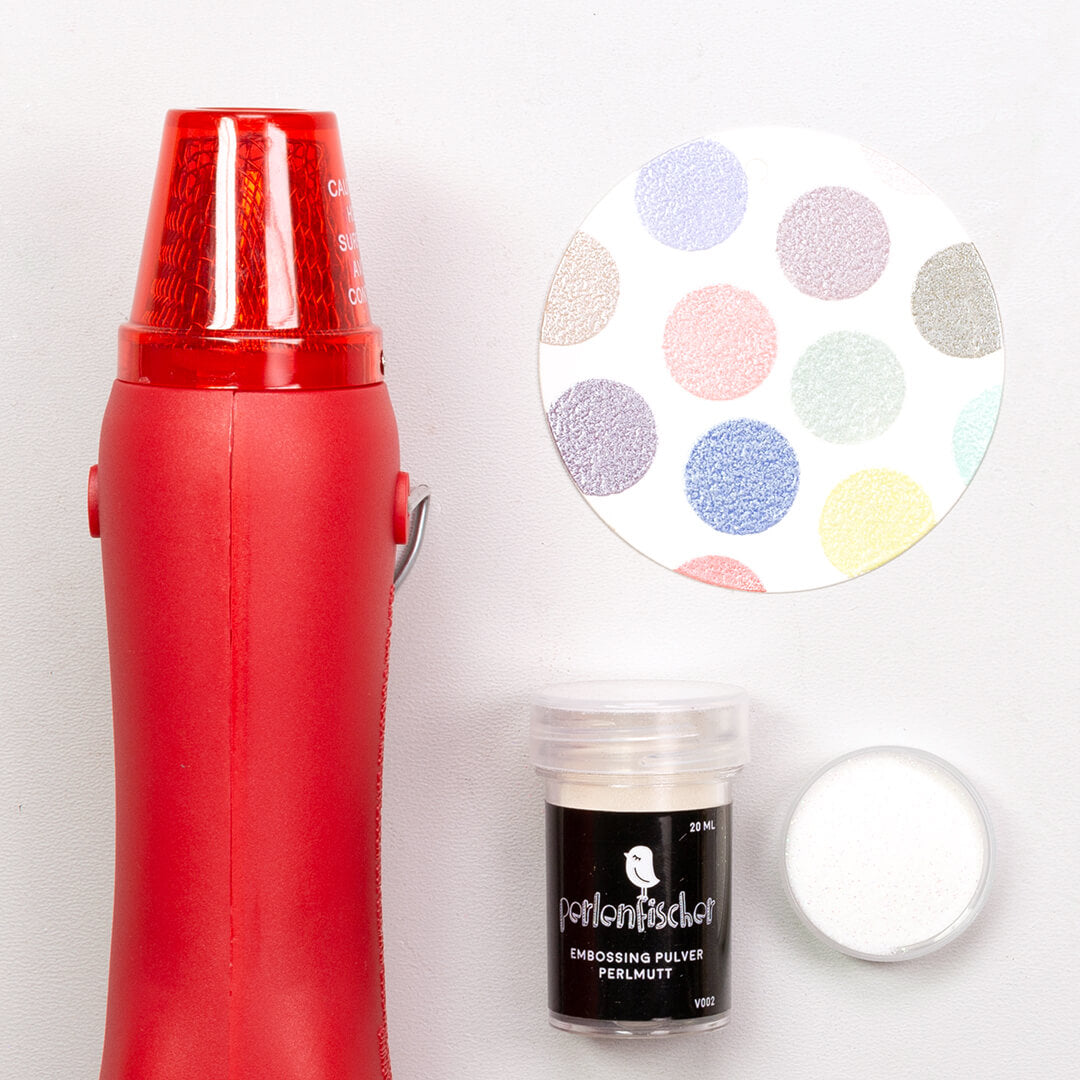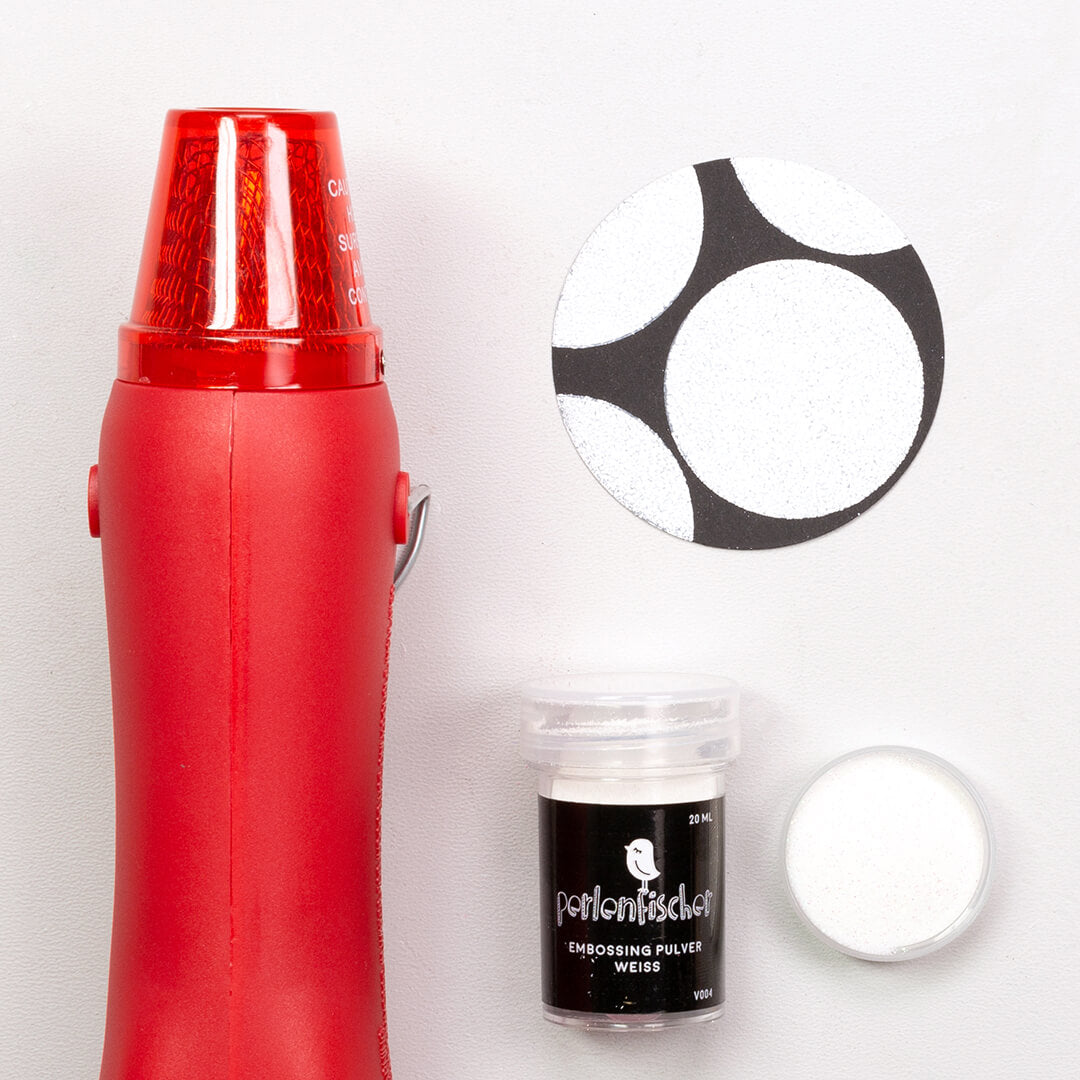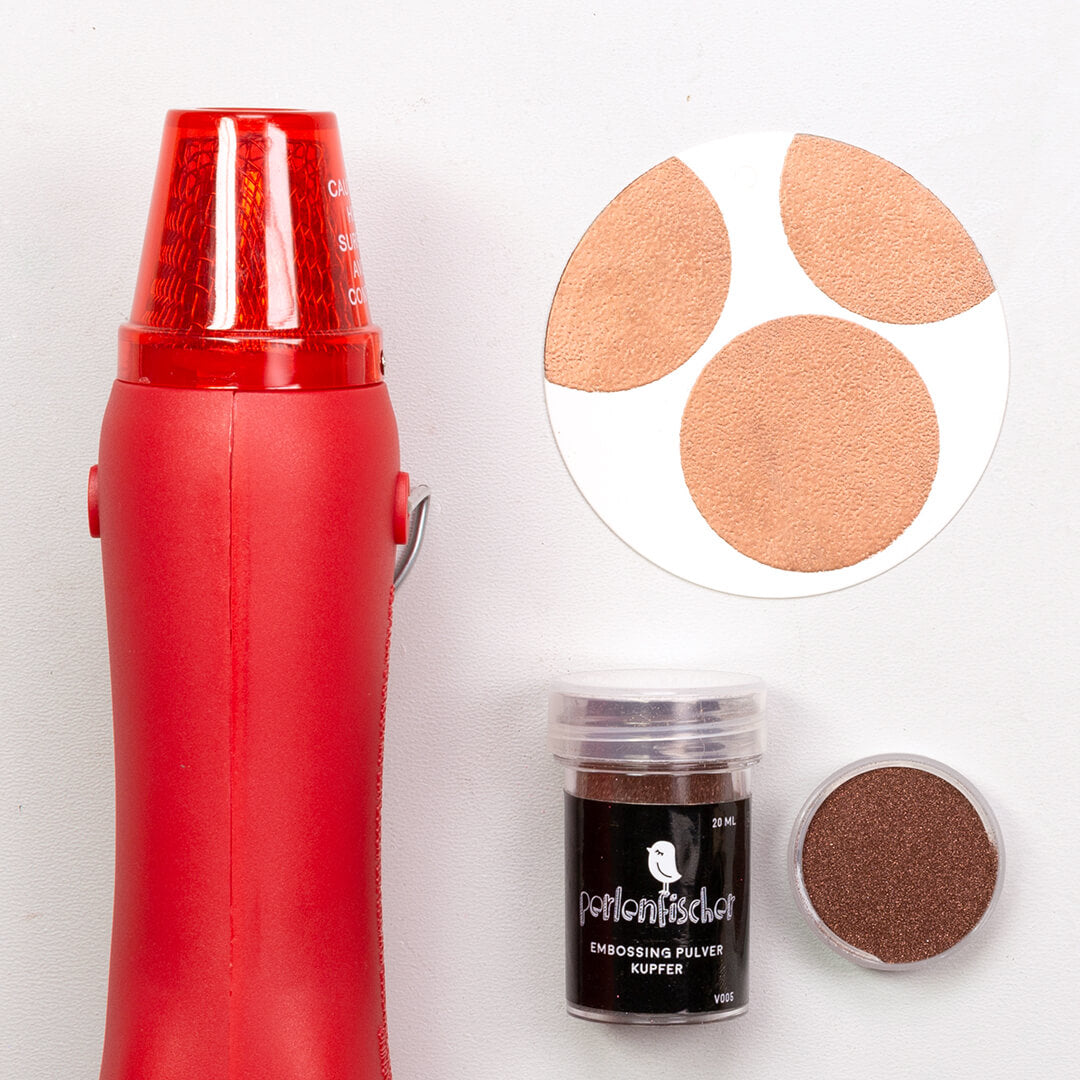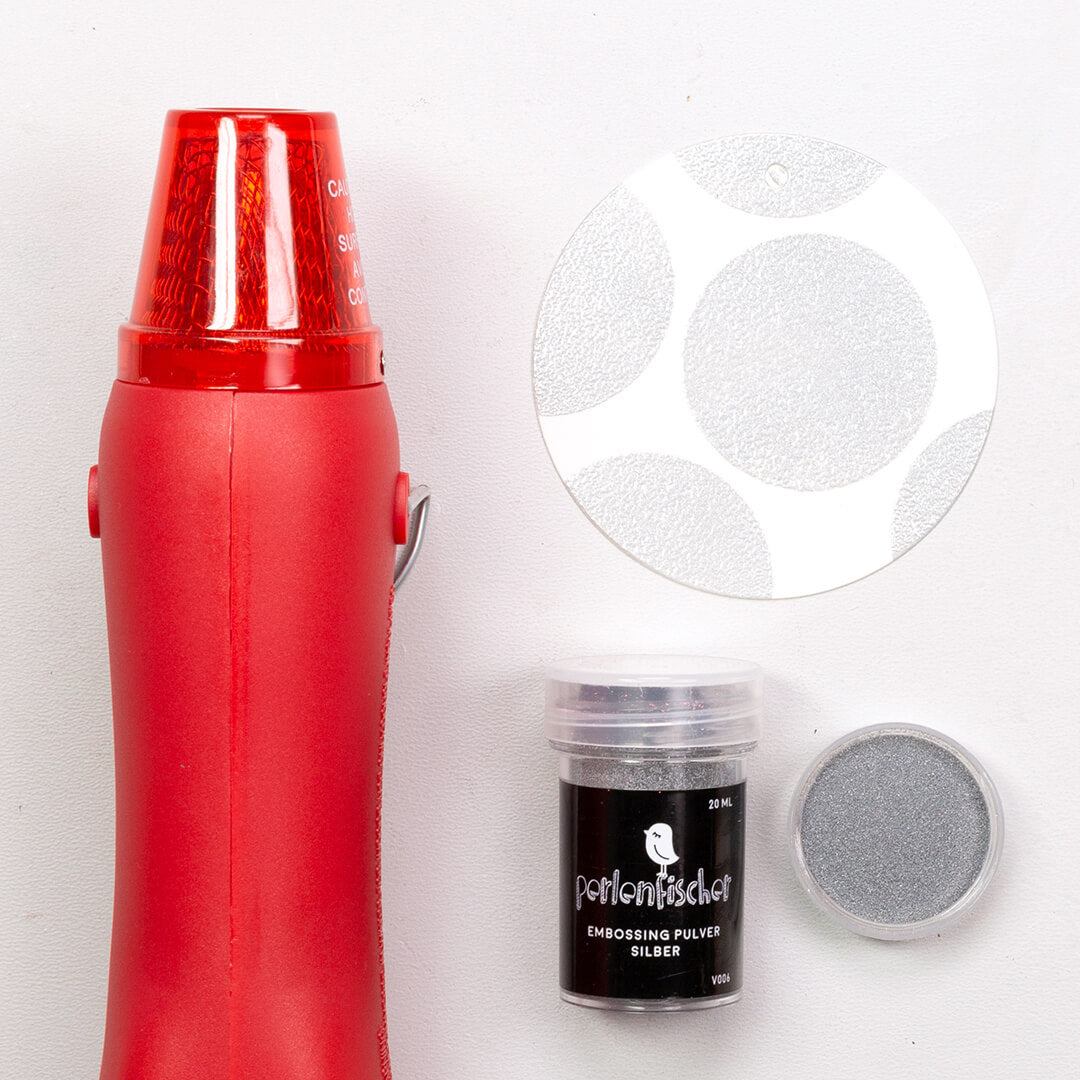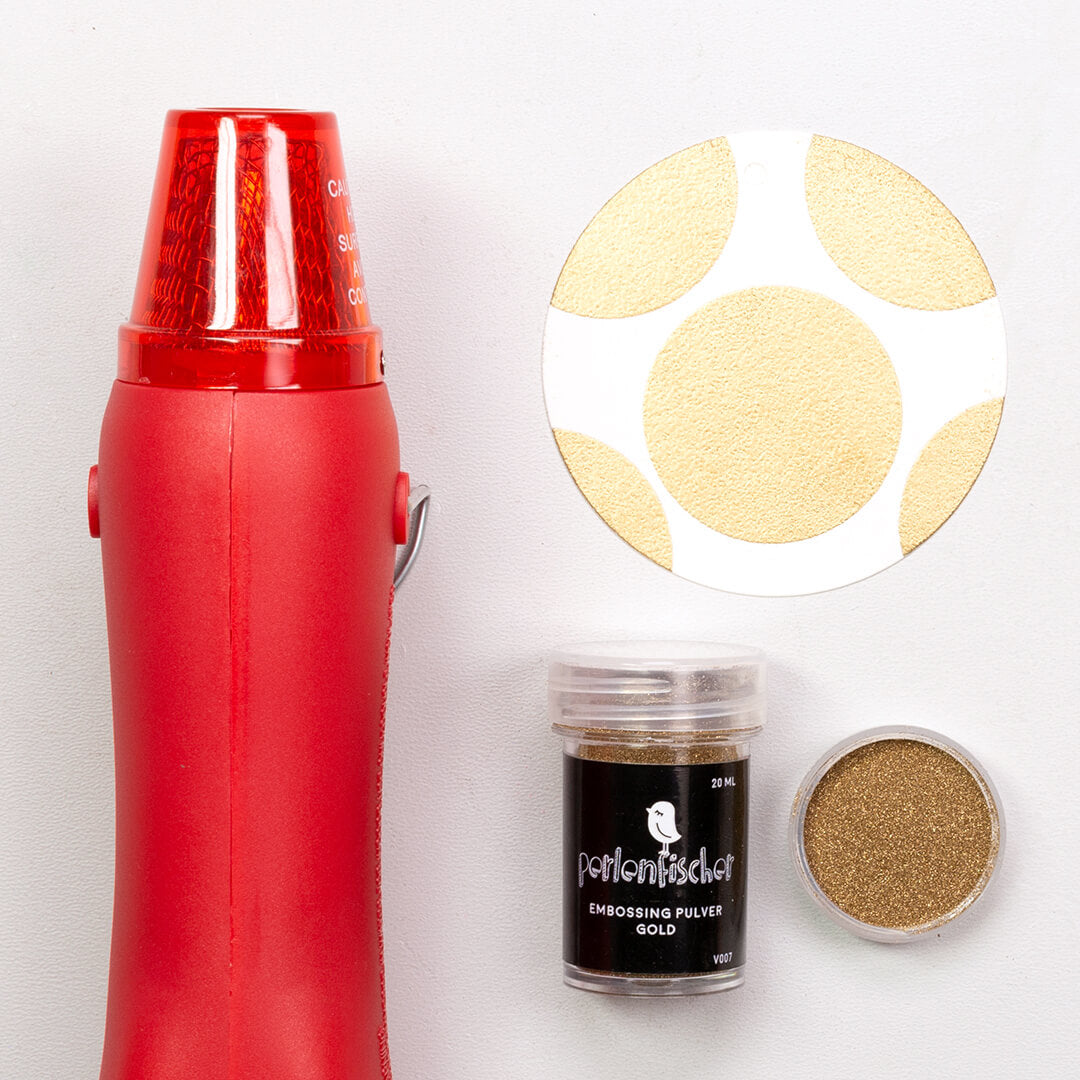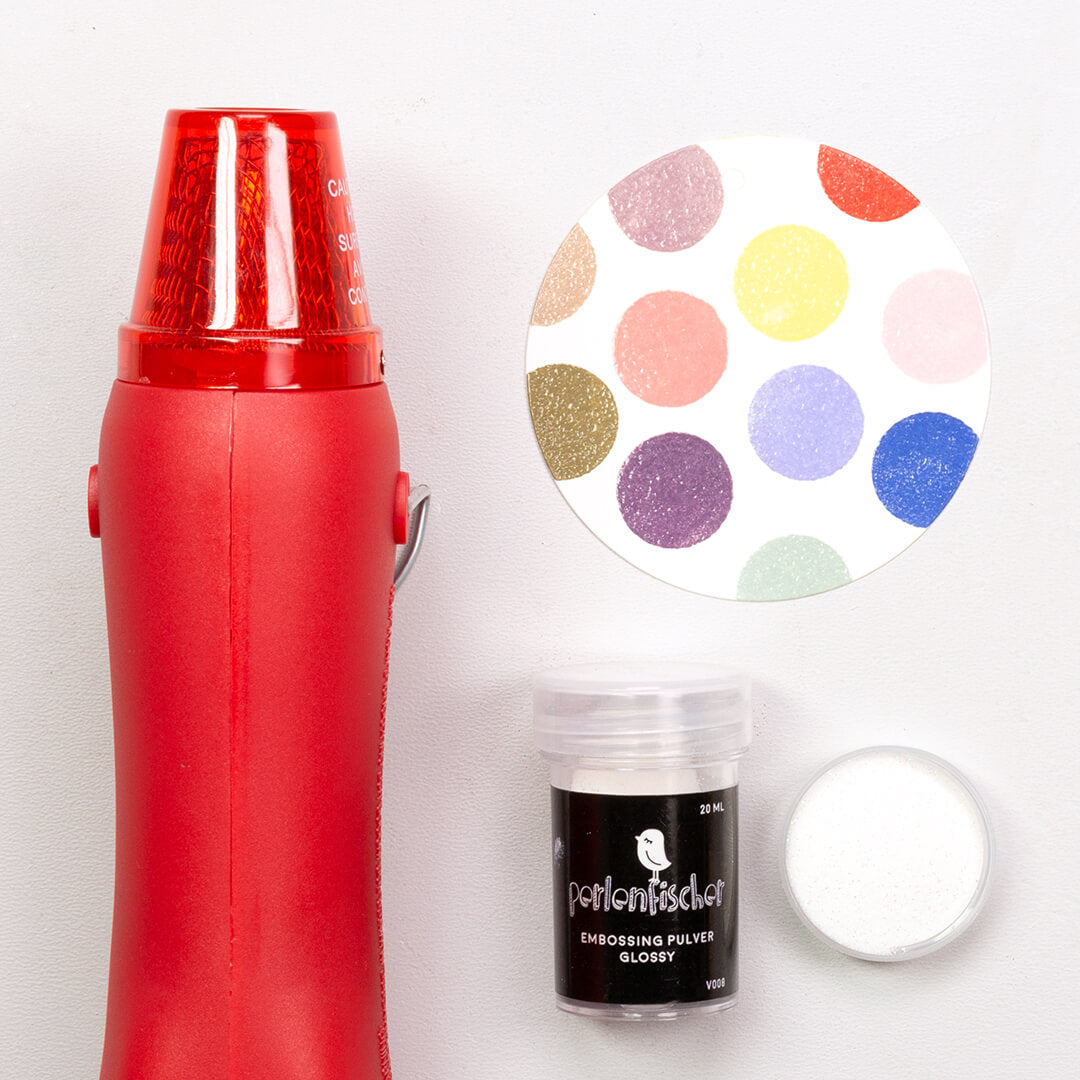 Embossing set | Heat gun + Powder
In stock
The set consists of an embossing heat gun and an embossing powder that you can choose from.

Details Heat gun
Length: 23 cm
Power: 300 watts

Details Embossing powder
Content: 20 ml
Material: Synthetic resin powder
1. Sprinkle the powder onto the stamp impression while it is still wet.
2. Tap off excess powder and collect it again with the jar.
3. Heat the powder with a heat gun until the powder is combined.

Caution: a hair dryer will not get hot enough.
Store the embossing powder sealed and protected from light.
If necessary, please dispose of powder and jars in the non-recyclable waste.
Not a toy
Our stamps and accessories are not toys. Therefore they are not certified or CE marked.

Warning notice
Caution. Not suitable for children under 12 years. Choking hazard due to small parts!
Third parties are not entitled to copy, reproduce, distribute or otherwise commercially use the stamps and the motifs on them for commercial purposes.

Der lackartige und schimmernde Effekt verzaubert deine Stempelwerke zu besonderen Unikaten.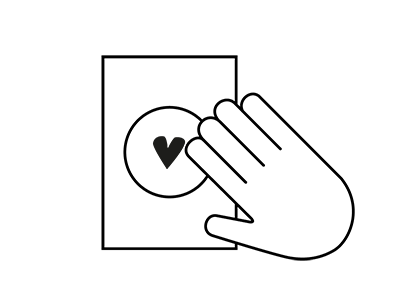 Die Embossing-Technik schafft eine erhabene Oberfläche, die eine einzigartige Haptik hervorruft.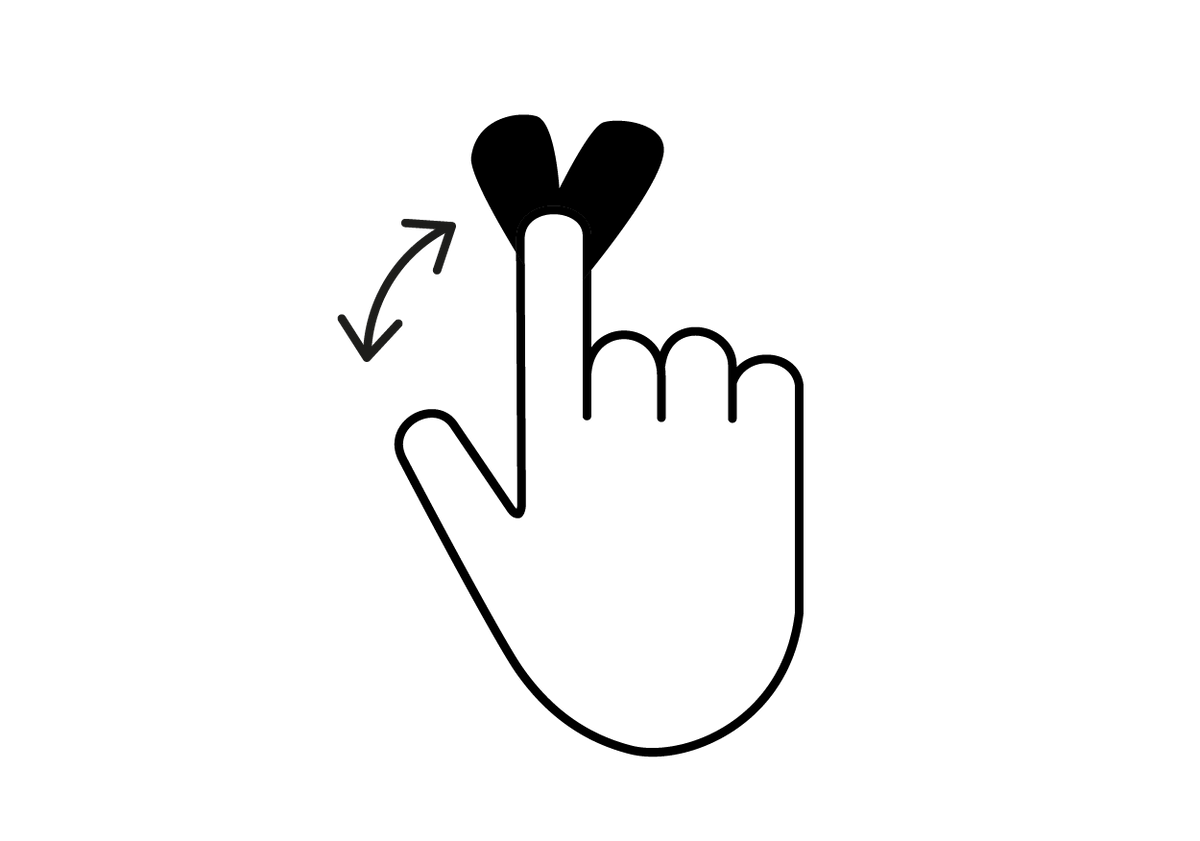 Nachdem das Pulver erhitzt und geschmolzen ist, ist das Motiv vollständig trocken.

Je nach Pulver erhältst du ein anderes Finish: deckende Pulver sehen immer gleich aus, transparente Pulver lassen deine Basisfarbe durchscheinen.

Pigmentstempelkissen als Basis wählen
Ein Pigmentstempelkissen als Basis wählen und deinen Lieblingsstempel auf Papier, wie gewohnt, abdrücken.

Gut zu wissen: den kräftigsten Effekt erzielst du mit einem Stempelkissen in einer ähnlichen Farbe wie das Pulver.

Embossingpulver auf das Motiv streuen
Embossing Pulver großzügig über dein gestempeltes Motiv streuen.

Überschüssiges Pulver über einem sauberen, mittig gefalteten Schmierpapier abklopfen. Das Pulver dann einfach wieder in das Döschen zurück füllen.

mit der wärmepistole Erhitzen
Erhitze das Pulver mit der Wärmepistole. Halte dabei ca. 10 cm Abstand zu deiner Karte. Nach kurzer Zeit schmilzt das Pulver und verbindet sich. Du erhältst ein lackartiges Ergebnis.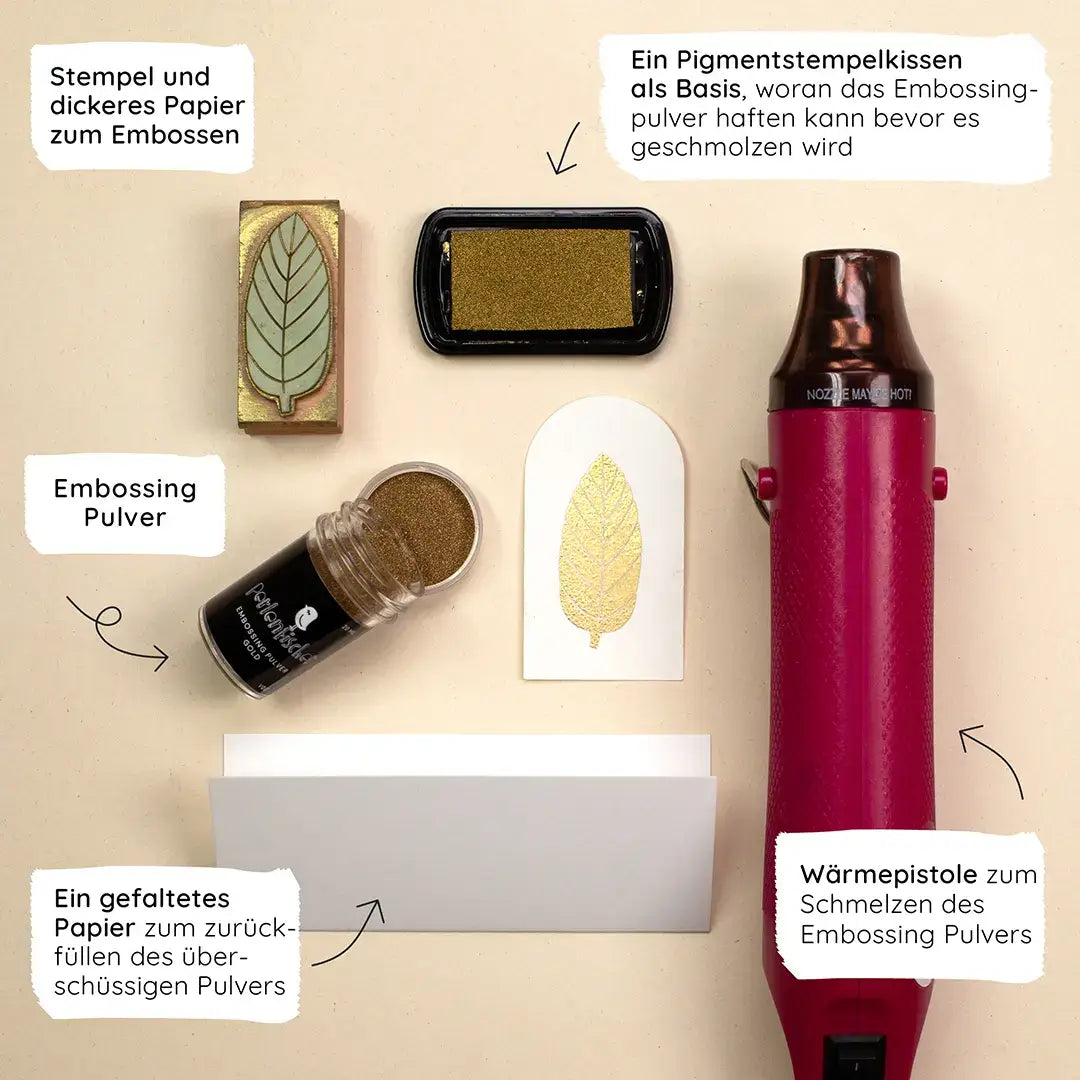 Embossing Zubehör
Das benötigst du zum Embossen
Für die Embossing Technik benötigst du ein Pulver deiner Wahl, ein Pigmentstempelkissen als Basis, deine Lieblingsstempel, Papier und eine Wärmepistole.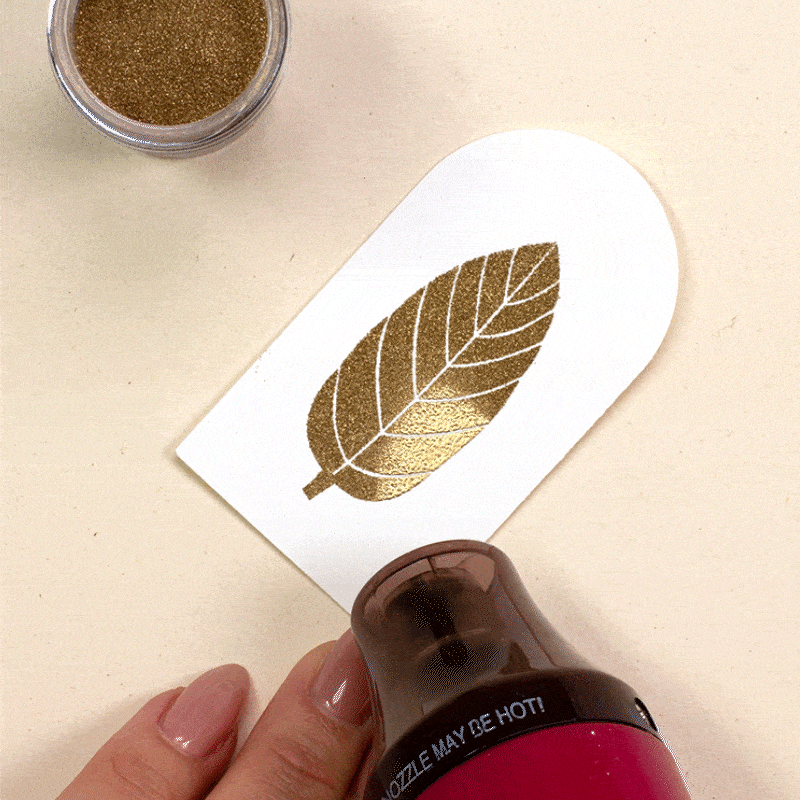 Embossing Fön
Lass es schmelzen
Durch das Erhitzen verbindet sich das Embossing Pulver zu einer lackartigen Oberfläche. Das Tolle: Dein Embossing Werk ist in sekundenschnelle trocken.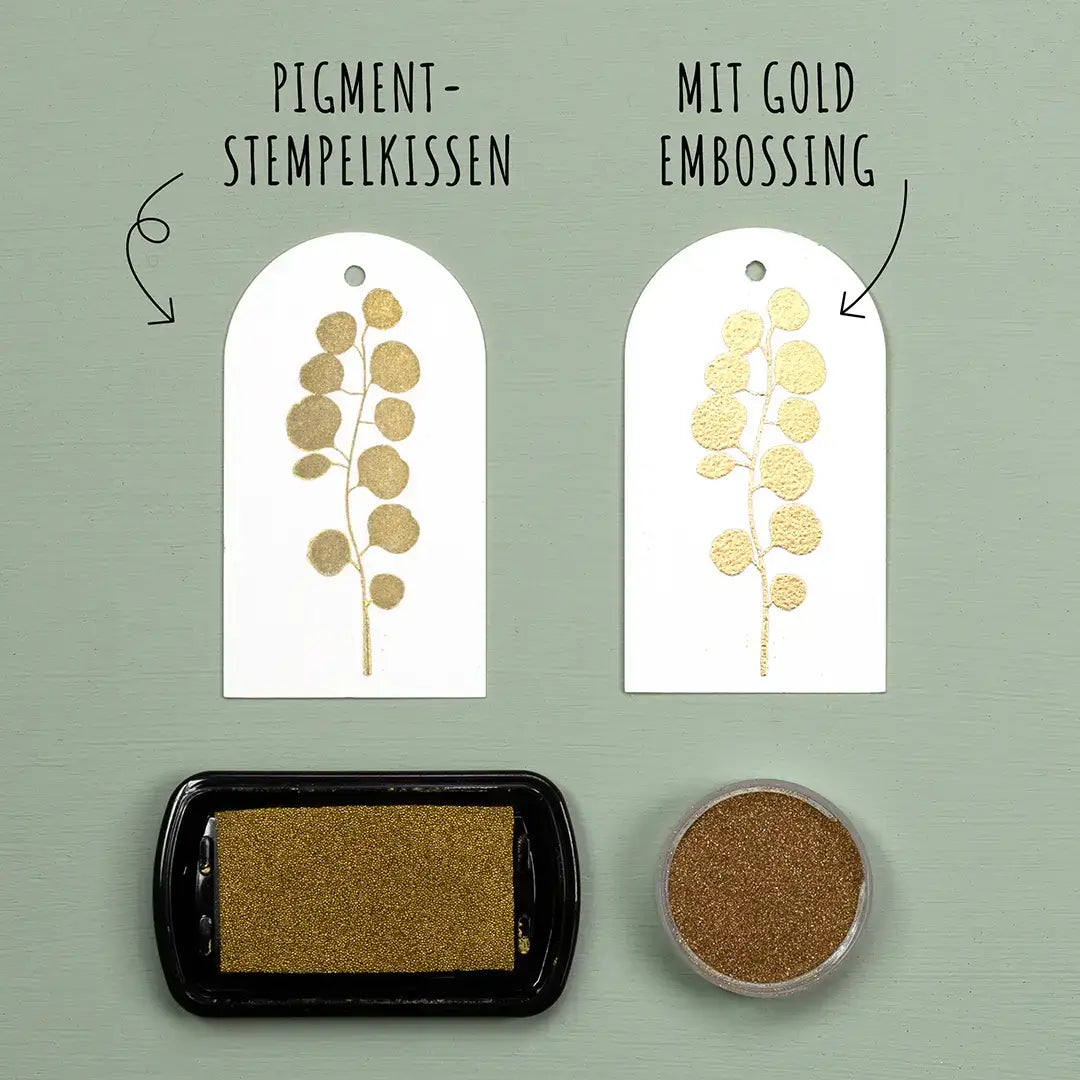 verzaubere deine stempelwerke
ganz besondere optische und haptische effekte
Das Besondere bei der Embossing-Technik: Du kannst das Endergebnis nicht nur sehen, sondern auch fühlen. Das lackartige Finish sieht toll aus und die erhabene Oberfläche bringt eine einzigartige Haptik mit sich.